The Samuel H. Boardman State Scenic Corridor is probably one of the most stunning areas of Oregon's coastline…
OK, we admit, we can probably say that about a lot of places along Oregon's coast but hey, Samuel H. Boardman really is beautiful.
Despite its popularity, there are some spots that aren't obvious and would be a shame to miss, and some other portions of the hikes that can be cut short if you're low on time.
We lay out everything you need to know about the Samuel H. Boardman State Scenic Corridor right here for you.
Samuel H. Boardman State Scenic Corridor
---
I'm not sure how much you've read about Samuel H. Boardman or what you know but we didn't know too much before going ourselves… But in my mind, and on the surface of my tiny bit of research, the area seemed small and easy enough to navigate!
When I got there, I opened up my handy dandy offline maps, Maps.Me, and was SHOCKED to see not one of the trails in Samuel H. Boardman was mapped out on it. This app has the most obscure trails on it, I've never come across a hike that wasn't on this app after using it for years.
So I decided to use Alltrails as my map while on the trails, just as a guide! It's not like I was going to get lost but I wanted to know distances and to make sure I was turning the right way here and there… Well, I found out quickly the Alltrails maps were actually more often than not, inaccurate! Which was again kind of rare since I use this app a lot too.
This left us to fend for ourselves, which is not a big deal, but it did make things a bit harder (and a bit more adventurous).
We love being crazy detailed on this site for you guys, I know I love more info rather than thin content leaving me wondering about all the details. So while I'd love to tell you how long all these trails are, like we usually do, I won't! Because they would be inaccurate!
---
RELATED: A Legendary Oregon Coast Road Trip—35 Stops & 3 Itineraries
---
So What's The Difficulty and Length of The Hikes at Samuel H. Boardman?
Well, all the trails are under a few miles… Some barely a mile long! But as mentioned, the exact distances were not clear. Should you be low on time, I offered up some shorter routes to some of the views too so should you do those, that would change the distance as well.
The trails all stem off random parking areas but some trails continue to the next area which you could follow, or just drive to cut off a few miles… For these reasons, I'm not putting the distance on this post because it would be misleading. You could get a guesstimate from Alltrails but again, we found some of the trails there to be incorrectly charted.
In terms of the difficulty, this is a bit weird too… Not only is this always a subjective matter, I usually use Alltrails as a standard. Considering the trails aren't necessarily accurate there, the difficulty level isn't too accurate either in my opinion.
In general, all of the trails here are rated as MODERATE. (Exceptions: Otter and Arch trails are easy)
The reason this is hard to gauge is that some of the trails are a simple walk on the beach… I'd consider this pretty easy. Then there's a trail that's SO steep with loose dirt leading off a cliff, which I'd consider hard, obviously. So with that said, I made this guide to Samuel H. Boardman for you so you're not majorly confused and can evaluate which hikes you'd like to do!
Here are all the trails from South to North which is the way we tackled it and I've included some coordinate links to assist you.
Lone Ranch South Trail
This one starts at the very southern tip of Samuel H. Boardman, and it turned out to be one of our favorites. The hike, or should I say beach stroll, with a short scramble uphill at the end, was quick and easy but it could have been even faster and even easier…
The trail went further and we followed it, only to end up at the back of an apartment complex parking lot. Oops! So yeah, unless you want to add a mile or two just for fun, don't go past this spot. There's nothing there but a forest walk to apartments.
The beach trail takes you to the rocks and hills all to the left of the beach where you can clamber up and get some pretty stellar views of the coastline.
This hike is an excellent intro to the area, and it will be your first spot if you're coming up from the south.
Lone Ranch to Cape Ferrelo Loop & House Rock
If you're wondering what's just on the other side of the Lone Ranch South Trail, you can take a wander in the opposite direction and explore the Lone Ranch to Cape Ferrelo Loop and House Rock. You can access both of these hikes from the same parking lot as Lone Ranch South or drive up to the closer parking spot just a tad north.
Whales Head Beach Trail to Indian Sands
Whales Head Beach is undoubtedly one of the better beaches to chill at in the Samuel H. Boardman Scenic Corridor so while you may be tempted just to hit the trails, head to the beach first!
There are two reasons for his… First, the beach is gorgeous with close sea stacks to roam around and vistas for miles. And the second reason is, the trail doesn't give you much in terms of views. So before you run off to loop around, take a look at the beach or the least, catch it on your way back from the loop.
The good news is, the Indian Sands portion of the trail is gorgeous, and there will be views in your future if you follow along the path! Indian Sands was steep in some spots but was overall quite manageable.
If you're low on time:
Head to Whales Head Beach and enjoy just the beach area, then make the small loop around Indian Sands after parking in the Indian Sands lot. This will shave a couple of miles off your trail time.
Natural Bridges (Popular Spot at Samuel H. Boardman)
This is likely what you've seen in pictures when looking at Samul H. Boarman which I'm sure is part of your goals of coming to the area, hiking to some of the coolest scenic spots! Now if only people would tell you where those beautiful spots are…
Yeah, you'd think it wouldn't be so difficult, right? We were pretty shocked when we had to roam for an hour trying to find this particular place (hey, we like hiking AND photography!)
Luckily, you're here, and we're not trying to keep you away from the pretty places, you'll have to get this spot which can be reached by hiking down to the right of the parking lot.
Most people will go left, get to the viewing platform, and either turn around or continue on the trail. Continuing on the path means you're going away from the bridges and you're hiking along the Coastal Trail. Head to the right of the parking lot and make sure you have good shoes on, no kids with you, and a strong sense of adventure.
This trail is not for the faint of heart and should be rated as DIFFICULT. Mostly because it's incredibly steep and the terrain is just loose sand and dirt with a few shrubs and tree roots sticking out here and there.
The trail is downhill toward the Natural bridges, and if you don't have a sound footing while coming down, there IS a chance of continuing off the cliff. This is not a joke nor a trail to be taken lightly. It's short but steep, and there's not much to hold on to so please hike this section of Samual H. Boardman carefully.
You can continue passed my pinpoint and along the trail which will take you to the top of the Natural Bridges. Again, this part isn't steep, but the path is very narrow with lots of tree roots to trip over. This area is not to be trodden on by just anyone, take care!
The views are worth it if you're fit and equipped enough to take on the trail. The vistas are gorgeous, and if you're genuinely into it, you can even climb on top of the Natural Bridge. It is called a "bridge" after all but again, take care, the bridge is narrow, dips down, is a bit smoother because of the traffic on it, and dangerous to walk on.
---
RELATED: 37 of the Best Oregon Hikes You've Got to Check Out
---
Secret Beach
While Secret Beach may not be a secret anymore, it doesn't make it not worth visiting! You'll want to park at the Thunder Cove Beach parking area. There are three "branches" off the main trail; I suggest walking to the last one. First, this will take you to the beach. Not just a view of the beach, the actual beach.
You'll have to clamber down some rocks to get there; bring a picnic, rest a bit, and enjoy the waves lapping on the shore.
When you head back, you can go down to the second branch if you want to add some mileage, but there's nothing there. We did find the trail that "married" up with the first branch though which offers some lovely cliffside views.
Arch Rock
I questioned whether or not I should add this to the list because this is not a trail. It's a parking lot with a great view, though! Arch Rock does stand pretty, and you mine as well pop by since you're passing it. Maybe take your hiking shoes off and enjoy a beautiful sunset here?
This will be the last spot you see in the Samuel H. Boardman Scenic corridor unless…
Going Beyond Samuel H. Boardman
It would be a shame to quit at Samuel H. Boardman! There are some other gorgeous areas within 30 minutes or less from Samuel H. Boardman, and they are just as worthy of your visit.
If you have an extra day to play in the area, here are some more spots to visit…
Otter Trail
To start it off easy, you can take on this non-trail trail. It's more of just a quick pathway to some great views. Hey, grab a coffee and drink it here, that's one way to start your morning!
The Mouth of Pistol River Trail
This was a really fun trail that we didn't expect. Mostly because there were dunes and the path was a beach walk… I'll tell you though, walking in soft sand will give your legs a workout.
First, you'll want to climb around the sand dunes. One, because it's enjoyable but two, it's the only way to get to the other side to walk along the beach. Where is the path to the other side? It's for you to find out.
There are no markers, so we spent some time climbing up and down the dunes for fun and looking for ways to get over them. Once we found our way, we gathered some sticks and left ourselves a mark so we could find it on our way back.
Walk along the beach and toward those massive sea stacks at the very end of the beach and then stare in amazement at your gorgeous surroundings.
Tips: The wind is pretty rough around here so bring a windbreaker and maybe even a scarf for your face. Sunglasses will help with the wind getting sand in your eyes. It would also be smart to walk down along the sand dunes for a little while to cut off your time walking along the beach as the wind isn't so bad on the other side of dunes.
Lola Lake Trail
Lola Lake Tail will also take you to these beautiful sea stacks to admire, but the trail is through the forest, just like the rest of the trails, which is why we decided to take the Mouth to Pistol River trail instead. This trail is shorter and more comfortable though!
---
READ MORE: 17 Breathtaking Oregon Coast Hikes
---
Where to Camp Around Samuel H. Boardman
If you ask us, camping is the answer! This is what we did. Here are some great campsites to consider in the area:
Harris Beach State Park – This camping spot in Samuel H. Boardman has some PRIME location. You're right there. The bad news? It sometimes gets booked out in a high season. If you want to stay here, it may be worth check if there's open space before going or just booking ahead of time.
Indian Creek Camp – We wanted to stay at Harris but it was booked out so we decided on Indian Creek Camp located in Gold Beach and we really liked the campsite. The staff was SUPER friendly and the amenities were perfect. They had toilets, showers, and the camping slots all had personal firepits. The cafe next door served up a mean breakfast too.
---
READ MORE: 17 Cool Oregon Coast Campgrounds to Stay At
---
Other Places to Stay Around Samuel H. Boardman
Tanbark Shores Guest Suite – Located in Brookings, Tanbark Shores Guest Suite is a one-bedroom with a garden, barbecue facilities, a private patio overlooking the ocean, and free WiFi.
Captain's Quarters – This colorful one-bedroom is close to Brookings Harbor and has a fully-equipped kitchen, large living area, and a private patio with a hot tub.
Sunlight Cottage – A sunny yellow cottage with a light-filled interior, Sunlight Cottage is located close to downtown Brookings. It has two bedrooms, a full kitchen, air conditioning, and WiFi.
Tips & What to Pack for Exploring Samuel H. Boardman
If you're camping, definitely bring all the camping gear needed, there's nothing provided. Even in summer it can get chilly so be sure your sleeping bag isn't thin as a sheet and your tent won't fly away with a gust of wind.
Bring a windbreaker/rain jacket no matter what time of the year you're going. The Oregon Coast gets rainy randomly and the wind is almost perpetual. Even in summer when the sun is out you can get chilly.
Wear good hiking shoes! You don't need anything crazy but wearing sandals would be a very bad idea (and this is coming from a person who lives in flip flops!)
Don't underestimate the hikes in Samuel H. Boardman, they are short and relatively easy but it comes with its dangers if you want to roam off on the paths, get to the other viewpoints around Natural Bridges, and want to climb around some of the rocky cliffsides.
Bring in your water and snacks for the day. There's not much along this strip of road and you'd have to go to one of the towns to grab a bite or a drink. Just keep whatever food and water you need for the day in your car to make life easier.
Hide valuables! Unfortunately, we saw broken car glass at a few of the parking lots. Don't entice anyone by leaving nice and shiny items out in the open.
Enjoy hiking around Samuel H. Boardman and check out the other things to do along the Oregon Coast.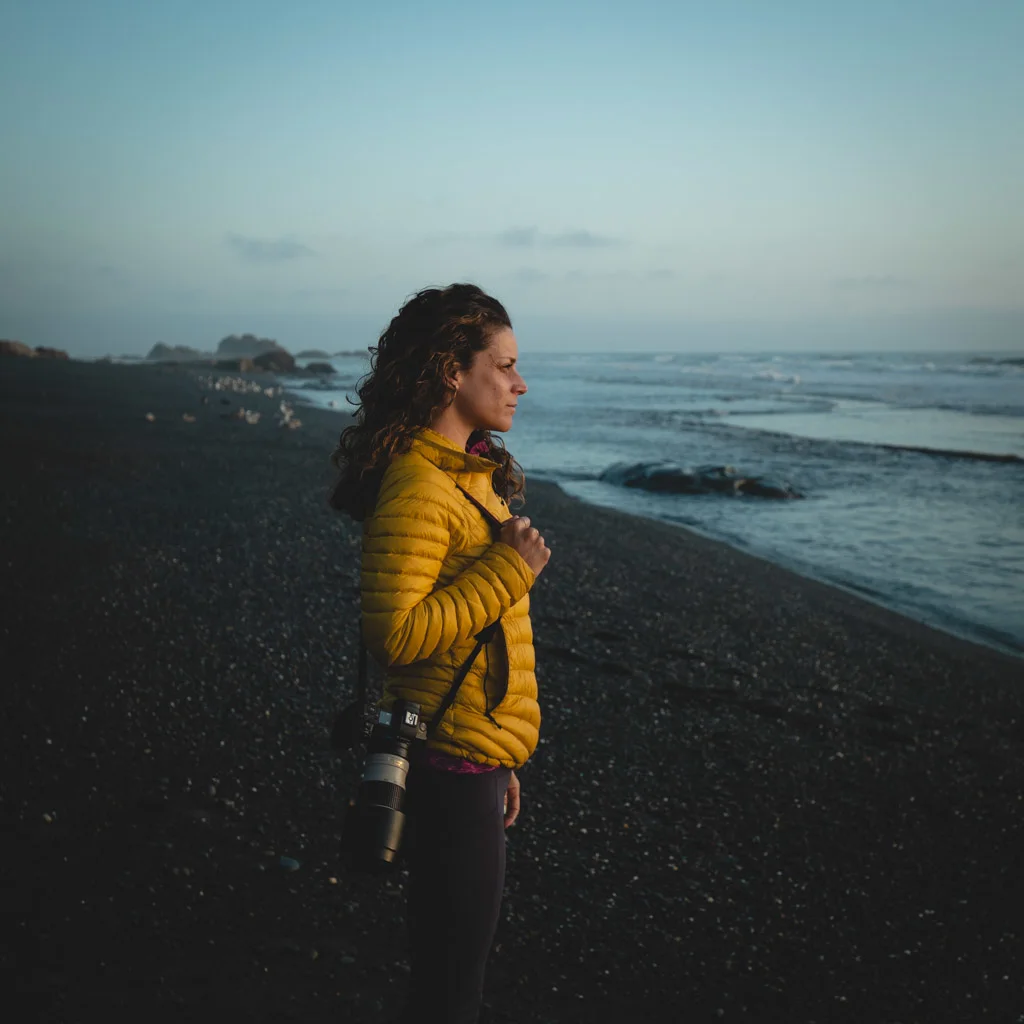 I've been perpetually traveling and living around the world for years but it's hard to beat Oregon and the PNW. After years of road-tripping the area, I guess you can say I know it pretty well! When I'm not writing guides for you, you can catch me somewhere petting a dog, attempting to surf, hiking a volcano, or stuffing my face with bread and cheese.