There's no question that Oregon is a state of beauty.
From the Columbia River Gorge to the high desert in the east, there's enough wonder to last a lifetime. One of the best places to experience the incredible beauty of this state is the coastline.
What better way to get to know it than to do an Oregon coast road trip?
Today, we're going to explore 35 different spots on the coast. In reality, this just scratches the surface of what Oregon's coastal towns and beaches has to offer. We'll organize things from north to south and divide the coast into its three main areas.
Oregon's North Coast stretches from the Columbia River to Cascade Head. The Central Coast picks up from there and stretches to Reedsport, and the Southern Coast continues to the California border.
Also, most of the spots on our list are accessible right off of scenic Highway 101. The highway winds along the coastline so you would have a great time even if it was raining and you wanted to stay in the car.
On our huge road trip, there are many things to do in each section of the coast. You could do them all or you could split things up into different trips. You could even do the even-numbered spots on the way down and the odd ones on the way back up.
However you choose to do it, these spots make for a fun and gorgeous road trip excursion. After we run through the list of places, we'll give you a few sample itineraries for different ways to explore an Oregon coast road trip.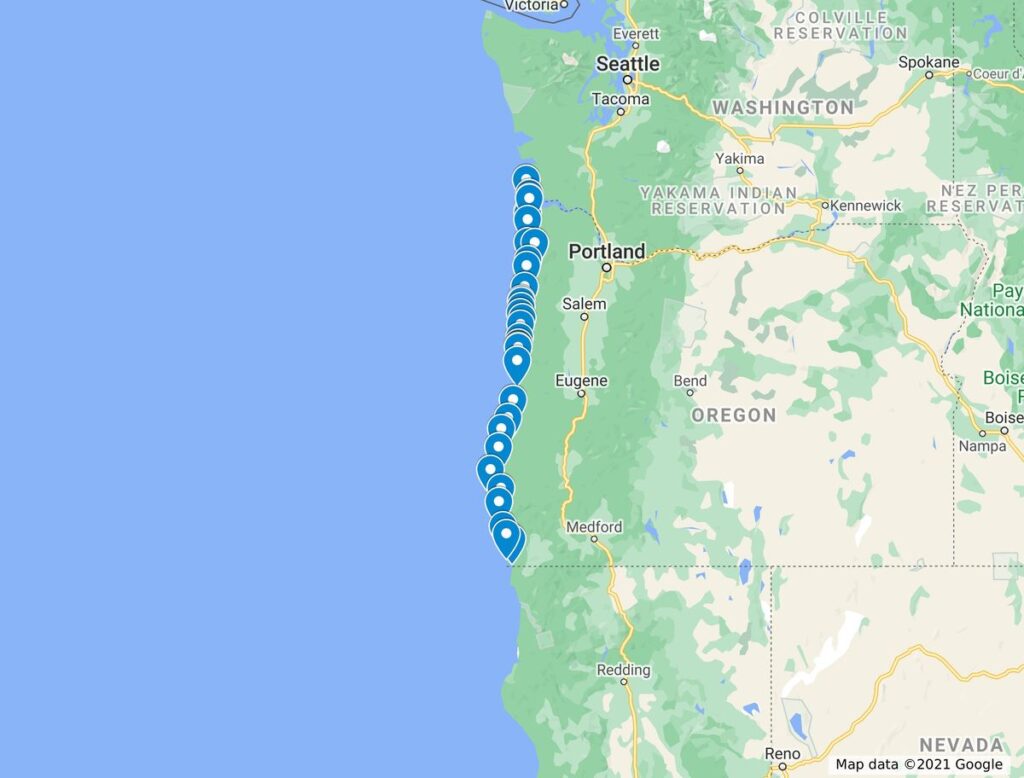 Don't Forget This!
A lot of the best adventures around Oregon will require a Northwest Pass. You can easily get one delivered straight to your door. Grab it now before you leave!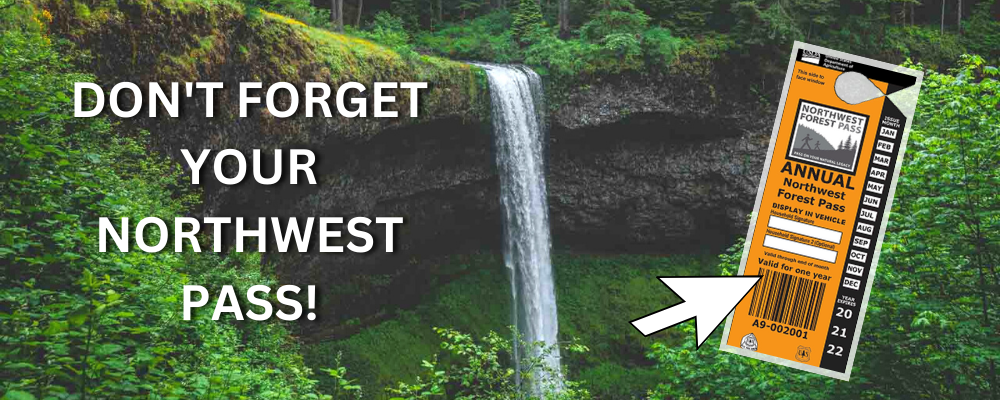 Oregon Coast Road Trip: North Coast
1. Fort Stevens State Park
We begin our quest at the farthest northwestern point of the state of Oregon. At Fort Stevens State Park, you'll find an old military installation that used to guard the mouth of the Columbia.
It dates to the end of the American Civil War and was named after a slain Civil War general.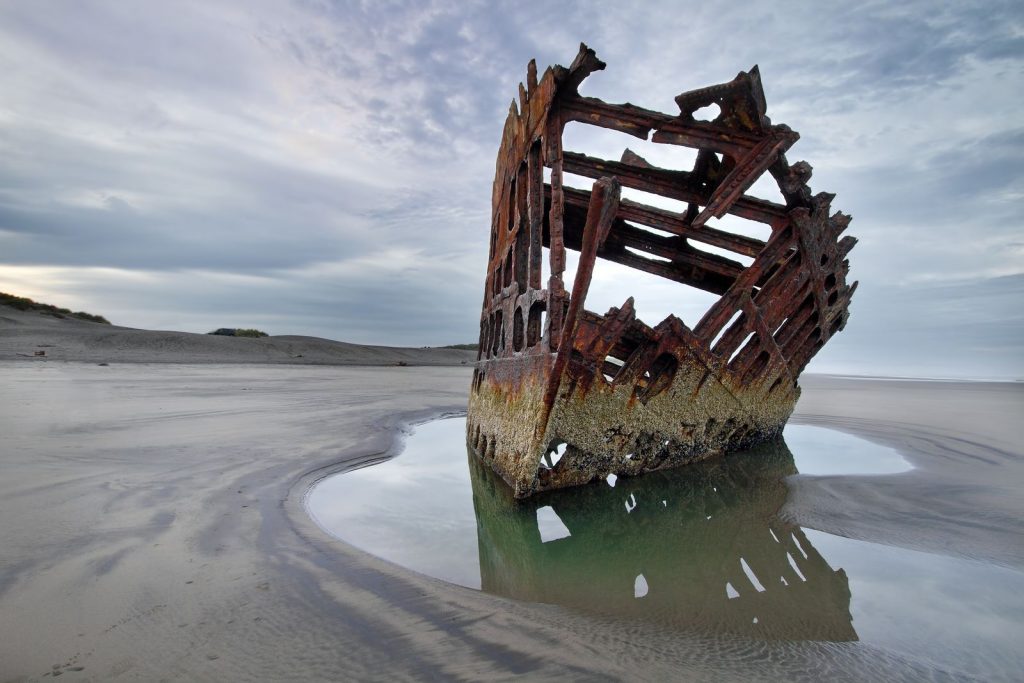 You can walk around and explore the old military base up close. Also, Fort Stevens has plenty of camping spots, biking trails, a historic shipwreck, and beach access. Not a bad way to start your Oregon coast road trip.
---
RELATED: 19 Must-Visit Oregon Coast States Parks
---
2. Del Rey Beach State Recreation Area
Driving a few miles south you'll find the Del Rey beach area. It's the quintessential un-crowded Oregon beach. The parking area is secluded right off Highway 101.
Also, if you go during the off-season you'll probably have the beach to yourself. Build a castle, dig a hole, fly a kite, do whatever you want. It's prime land for memory-making.
RECOMMENDED GEAR:
3. Ecola State Park
Do all the hikes. Or really, any that you can. Verdant forests, peeks out at the ocean, and a bit of a workout, that's what you'll get at Ecola State Park. You could spend the day roaming the trails here.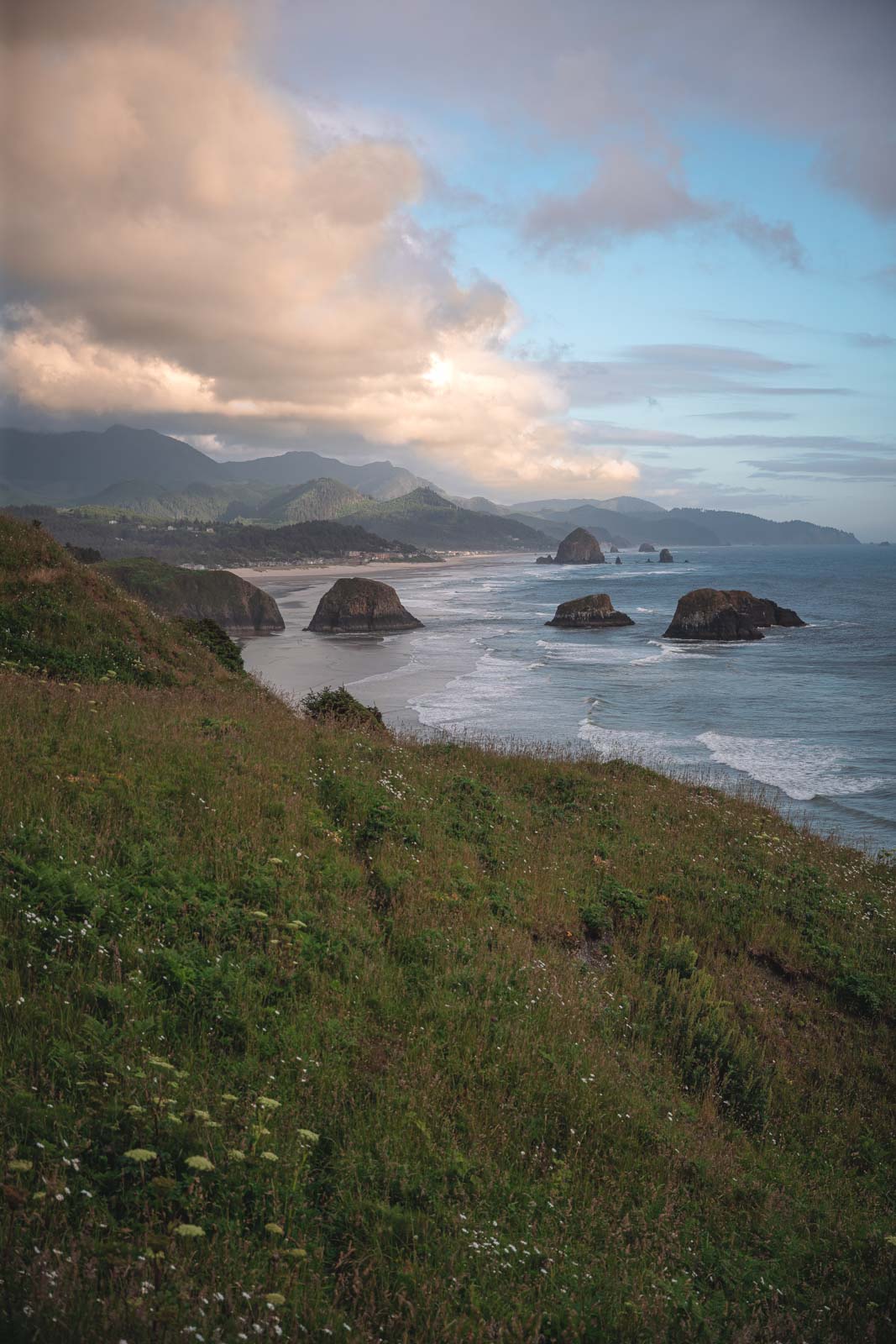 Clatsop, Cresent and Indians Beach trails are all 1-2.5 miles each and would keep you quite busy!
---
READ MORE: Your Guide to Ecola State Park on the Oregon Coast
---
4. Seaside Promenade
Take a step out of the car and walk along the Seaside Promenade—known as the Prom by locals. The paved Prom is 1.5 miles long and 15 feet wide. It's a great jog up and down and it offers some great views of the Pacific Ocean and Tillamook Head.
5. Arcadia Beach State Recreation Site
South of Cannon Beach you'll find a small beach called Arcadia. There's a small parking area that splits off from the highway here, and the beach features a cliff face with some cool little caves that you can explore.
Also, as with all the beach areas on this road trip, it's good to keep an eye on the tide. If you do decide to wade into deeper water, make sure you're with someone who can watch your location. Sneaker waves are a real thing out here.
6. Arch Cape
The next stop on our Oregon coast road trip is a little beachside community nestled between Cannon Beach and Manzanita. It is really tiny with just a few houses and a couple of businesses.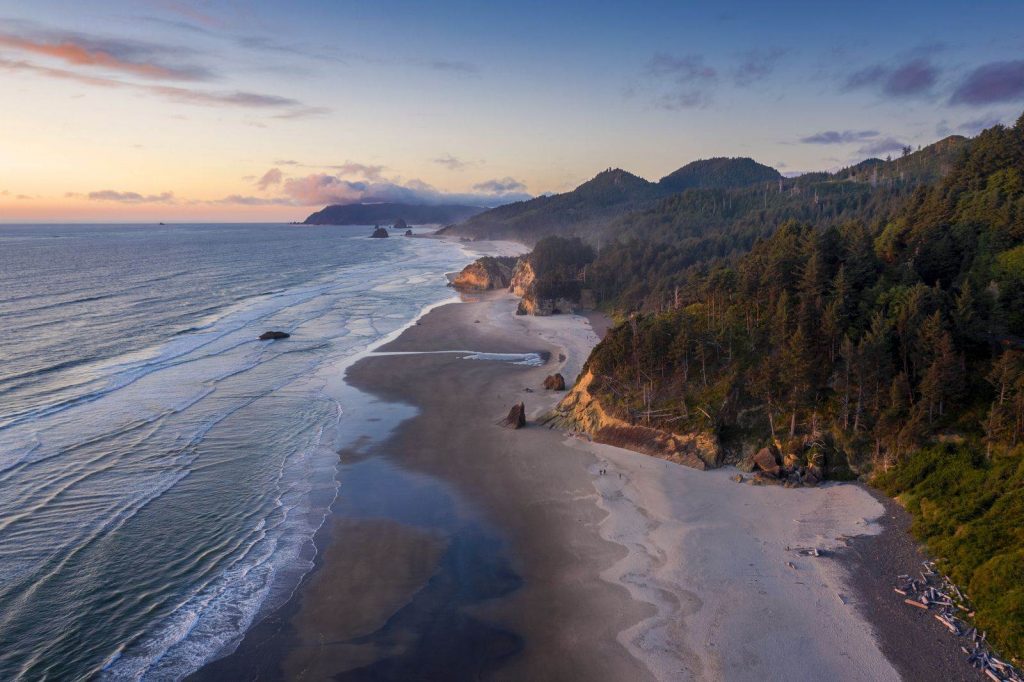 The spot features natural rock formations spread out across beach stone and sand. Also, there aren't any obvious markings for beach access, you just have to poke around the few neighborhood streets to find access.
7. Neahkahnie Viewpoint
Right before you get to Manzanita heading south, you'll drive along the edge of Neahkahnie Mountain and get the chance to pull off at a viewpoint. Definitely take the opportunity. You'll see panoramic views of the ocean and get to look over the whole town of Manzanita.
Local Indians thought the view from the mountain was fit for gods—Ne means "place of" and Ekahni means "supreme deity." It's definitely a highlight of an Oregon coast road trip.
8. Tillamook Creamery
As you make your way through Manzanita and Rockaway Beach, you'll come upon the town of Tillamook after a little while.
Tillamook actually sits a bit more inland, but now's a great chance to taste the famous cheese and ice cream that comes from this town in Oregon. Also, the creamery features views of the factory floor, a restaurant, and plenty of free samples.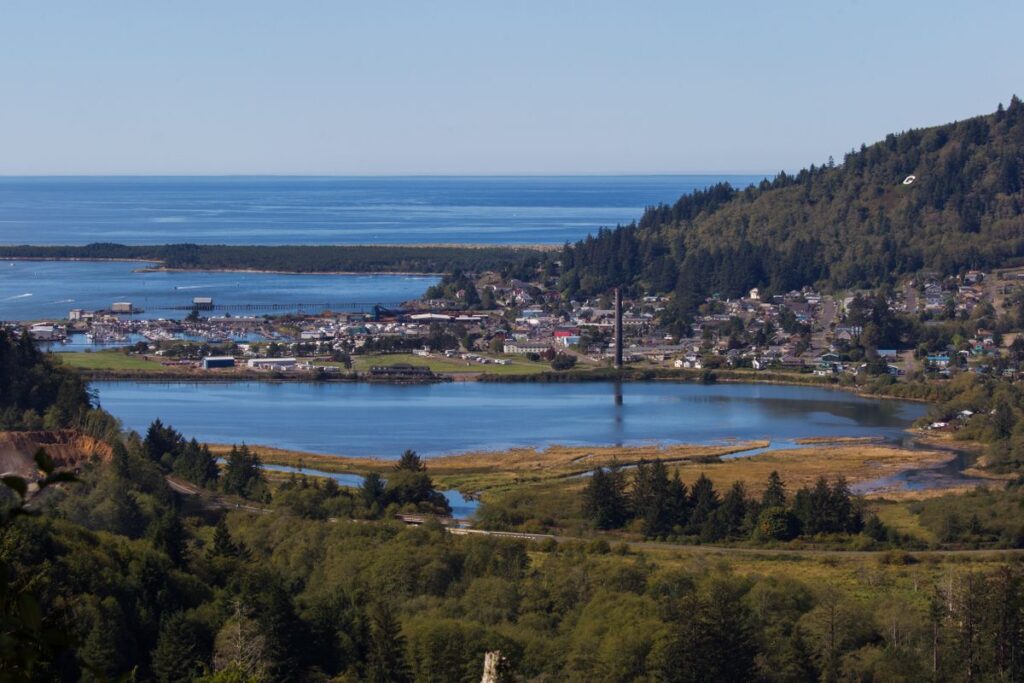 9. Cape Meares
Cape Meares is a not-to-miss spot on this Oregon coast road trip. Sitting 200 feet above the ocean, it's part of the Three Capes Scenic Route which also includes Cape Lookout and Cape Kiwanda.
One attraction here is that you get a great view of the largest colony of nesting common murres. Also, the site is popular for many other species of nesting birds as well.
In addition to natural life, you can explore a beautiful lighthouse that's free and open to the public.
---
READ MORE: Exploring Cape Meares State Scenic Viewpoint
---
10. Sand Lake Recreation Area
This place is a literal lake of sand. Sand Lake covers 1,076 acres of sand dunes that are hemmed in by forest and ocean. It's popular for off-roading but is also a beautiful place to walk around and explore.
11. Cape Kiwanda
Cape Kiwanda is the smallest cape on the Three Capes Scenic Route but it's the best one to spot intense wave action. The area features natural formations that swirl the ocean into frothy pools.
Also, it's a spectacular place, but make sure to stay in the fenced-off areas. Since 2009, seven people have died by venturing out onto the unstable cliff edges.
→ If you don't have a lot of time, do this Oregon Coast day trip from Portland to see the best of the coast with a local.
Oregon Coast Road Trip: Central Coast
12. Abraham Lincoln Memorial in Lincoln City
Alright, we're a third of the way through our road trip. No Oregon coast road trip would be complete without a swing through Lincoln City.
There are a number of things to do in this classic coastal town. The Historical Museum hosts a collection of beautiful Japanese glass fishing floats.
Also, there's a pretty cool statue of Abraham Lincoln here. It's called Abraham Lincoln Reads on a Horse because, well, he's reading a book on horseback.
A plaque says he used to tour the Oregon territory on horseback while reading books. That's pretty cool.
---
RELATED: 17 Breathtaking Oregon Coast Hikes
---
13. Boiler Bay State Scenic Viewpoint
This miraculous viewpoint is a great place to watch for gray whales year-round. At the point, you sit atop a craggy basalt rim that circles a bay.
And at low tide, you might notice something poking out of the water. That's the boiler from the J. Marhoffer, a steamboat that was sunk by an explosion in 1910.
14. Depoe Bay
Depoe Bay is known as the Whale Watching Capital of the Oregon Coast, and for good reason. There's a pod of gray whales that hangs out beside the town from March through December.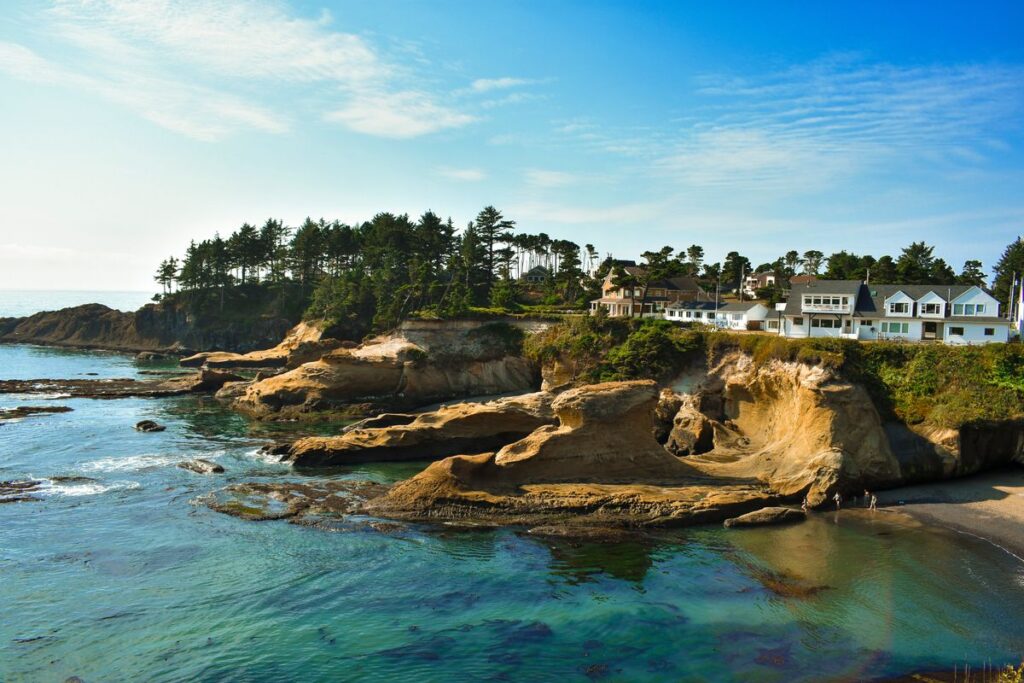 You can watch them from the new Whale Watch Center, various observation spots, or chartered boats.
The downtown area of Depoe Bay is built on a long sea wall. That means there are many great restaurants and spots with clear views of the ocean.
15. Devils Punchbowl State Natural Area
You'll find Devils Punchbowl just south of Depoe Bay. The main event is a huge bowl that was created by a collapsed sea cave or two.
During the winter months, waves churn into a fury inside the giant bowl and give off thundering roars. You wouldn't want to go take a dip in that. Also, there are some nice tide pools on the north side of the formation.
---
READ MORE: Devils Punch Bowl Oregon
---
16. Yaquina Head Lighthouse
Heading south, you'll find the Yaquina Head at the north end of Newport. This natural formation has a lot to offer.
First, take a drive up to the Yaquina Head Lighthouse. At a century and a half old, this lighthouse is an inspiration.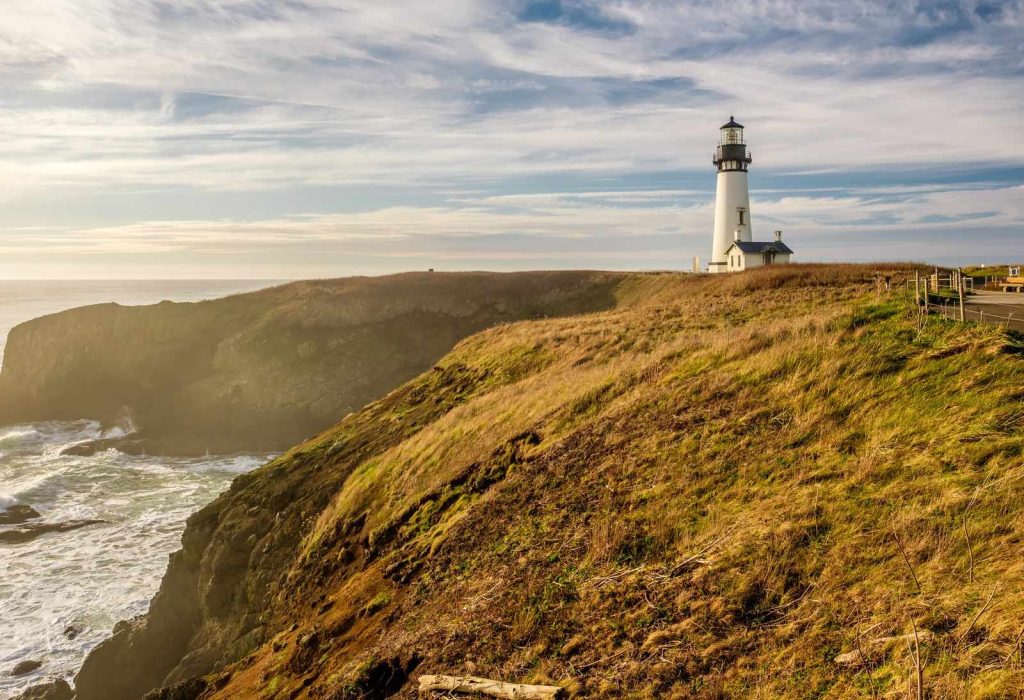 You can take a tour for free, but limited tickets are distributed on a first-come, first-served basis. Also, beyond the lighthouse, you can see a panoramic view of the Pacific Ocean.
---
RELATED: 11 Oregon Coast Lighthouses and the Adventures Nearby
---
17. Yaquina Head Marine Garden
The exploration continues at Yaquina Head in the Marine Garden. This is a 1.8-mile section of coastline that's chock full of life. You can see tidepools, nesting birds, and whales in the ocean. Also, one of the tidepools is even handicapped accessible.
18. Oregon Coast Aquarium
If you like aquariums, this is the one to go to. The Oregon Coast Aquarium is the largest in the state of Oregon and it's located in the city of Newport.
There are a number of exhibits that feature all kinds of aquatic life including otters, seals, giant octopus, reef fish, anemones, and sharks. If you've ever wanted to jump into an ocean episode of Planet Earth, this is how you can do it.
19. Lost Creek State Recreation Site
Here's another quintessential Oregon beach. A small parking area keeps this beach less crowded than other beaches in the Newport area.
It's a great place to watch a famous west coast sunset on your Oregon coast road trip.
---
RELATED: 11 Most Scenic Oregon Coast Towns (And What to Do There!)
---
20. Big Stump
Guess what's at this spot? Yep, it's a big stump. But it's not just any stump. It's a huge stump from a redwood tree. Also, according to the Native Americans in this area, the stump was here long before white settlers.
Today, how it got there is still a mystery. Most redwoods are located in a small strip of land in California, and only a few grow in Oregon close to its southern border. None except Big Stump have ever been found this far north.
21. Smelt Sands State Recreation Site
Interestingly, there isn't a whole lot of sand at this beach site. Instead, you'll find fields of rock formations and tide pools.
It's a great spot for whale watching and sunset gazing, and you can also access Yachats 804 trail from this location. Also, it gets its name from the yearly run of small silvery smelt fish.
22. Cape Perpetua
Ready for another great view? This headland viewpoint is 800 feet above the Pacific Ocean, and it's the highest viewpoint on the Oregon coast accessible by car.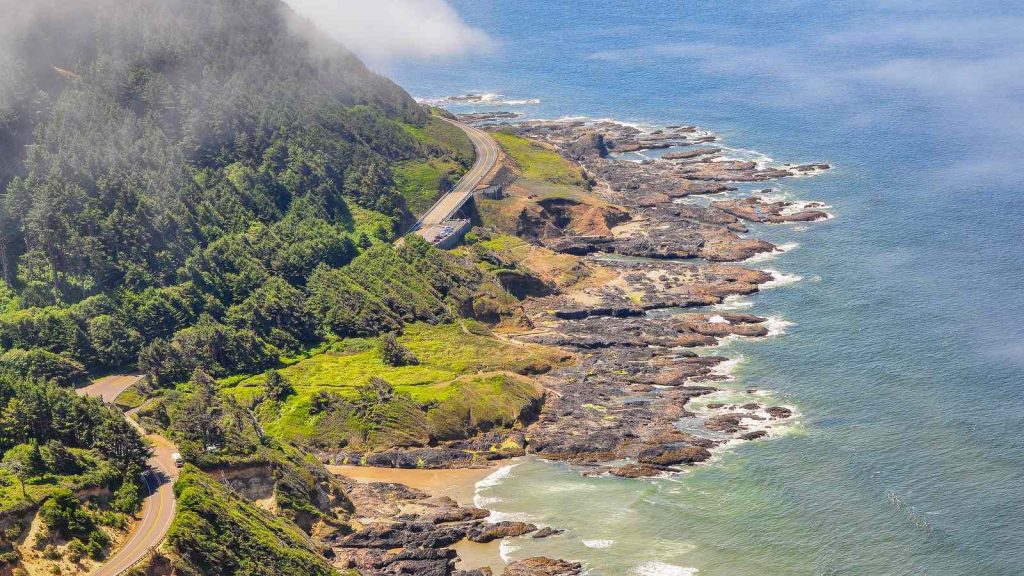 When it's clear out, you can see 37 miles to the ocean horizon and 70 miles along the coastline. Also, there's a visitor center here that's open year-round which will give you lots of info on your natural surroundings.
---
READ MORE: 9 Things to Do in Cape Perpetua, Oregon
---
23. Devil's Churn
This spot is also located in the same protected forest as Cape Perpetua—Suislaw National Forest. Devil's Churn is a small inlet that has been carved into the rock over thousands of years.
You don't want to get too close. That's because crashing waves can send water hundreds of feet in the air when they hit the end of the churn. It's really a sight to see.
24. Thor's Well
Alright, things are starting to sound a bit other-worldly on our list. The next stop is Thor's Well, and it's also located in the same general area as the last two stops. Thor's Well is a geological formation that plays a trick on your eyes. And it's easy to see where it got its name.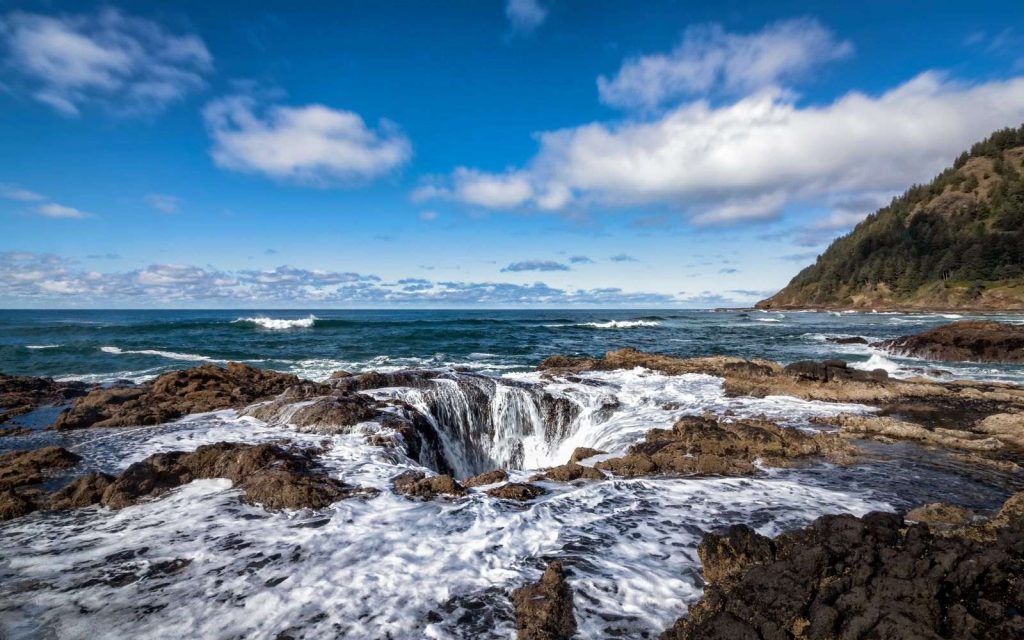 The well is a huge gaping hole in the rock that seems bottomless. Surrounding seawater constantly crashes into it but the hole never fills up.
An underwater opening drains the crashing foam back to the sea, but you can't see that from the top.
---
READ MORE: Visiting Thor's Well in Cape Perpetua, Oregon
---
25. Sea Lion Caves
Just past Heceta Head Lighthouse, you'll find the Sea Lion Caves. This is the site of the largest sea caves located in the USA.
However, when you drive up, you might not notice them. That's because they're actually beneath the visitor center.
For $14, you can take an elevator down into a cave shaft and view the immense caves. Also, there's a good chance you'll see some sea lions here. That's because a large number of them call the cave home.
Oregon Coast Road Trip: South Coast
26. Umpqua Lighthouse State Park
Now we've entered the southern part of our Oregon coast road trip. And the first stop here is Umpqua Lighthouse.
The 65-foot spire towers over Winchester Bay and is a beautiful site. Also, it contains a historic Fresnel lens that gives off a peculiar red and white light.
Furthermore, the area around the lighthouse is also a state park. There is a campground, dunes, and a picturesque Lake Marie.
27. Horsfall Beach
Horsfall Beach is located in Oregon's Bay Area, which includes the towns of Coos Bay and North Bend. The beach is a great spot for sunbathing and beachcombing in the warmer months.
In addition to a great Oregon beach, there's a huge dune area here. Also, if you want to stay awhile, you can camp in the Horsfall Beach campground for $25/night.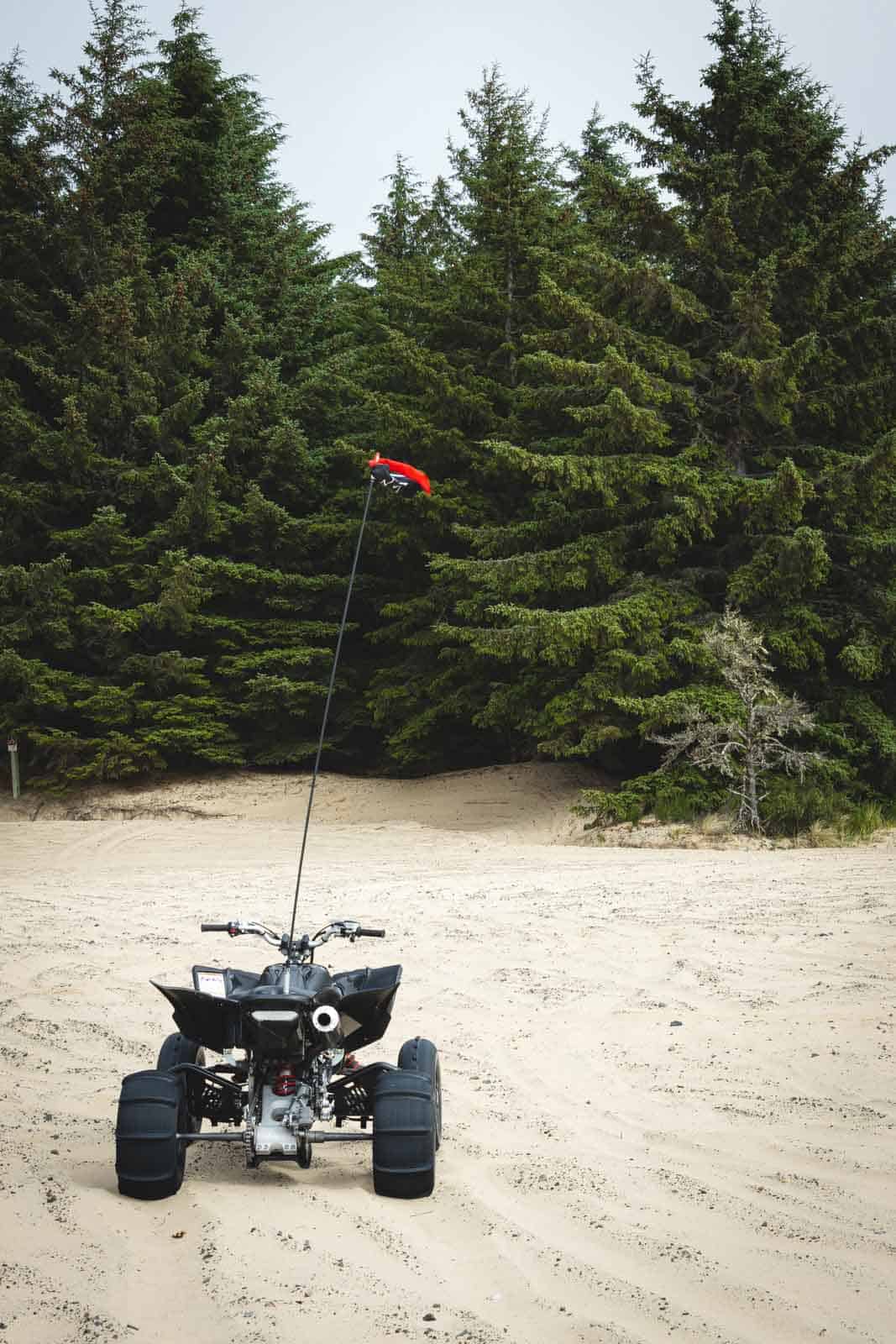 28. Shore Acres State Park
This park sits atop high cliffs at the edge of the ocean. It was once the site of pioneer logger Loius Simpson's mansion. Today, beautiful gardens cover the area including two rose gardens and a Japanese-style garden.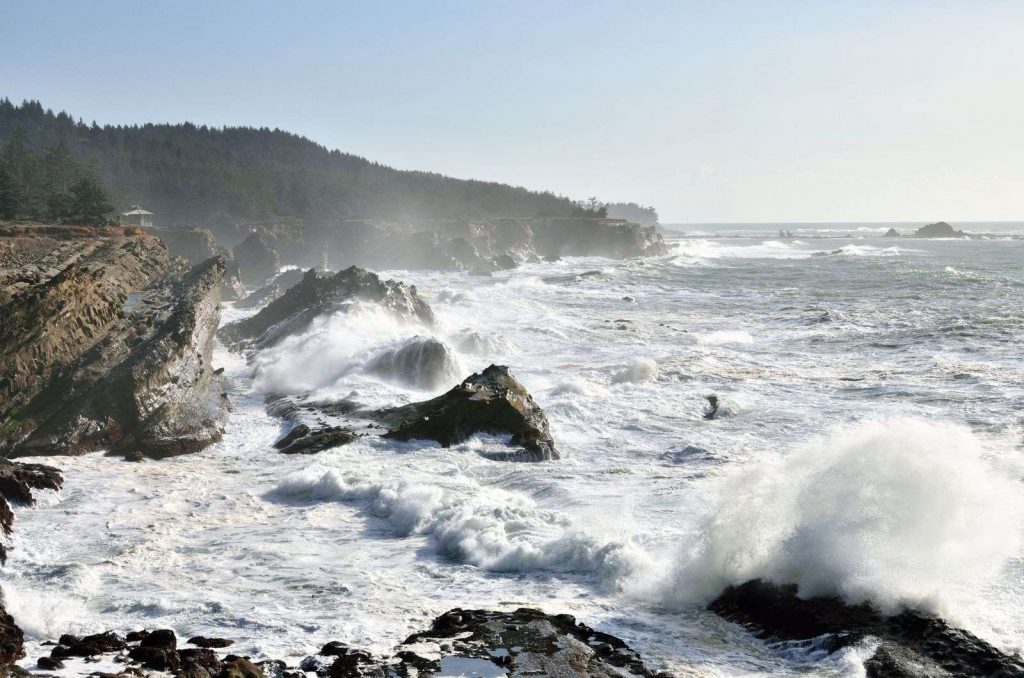 The park offers some incredible views along the cliff's edge, or you can take a trail down to a secluded cove at Simpson Beach.
29. Bandon Beach
Rugged Bandon Beach has several rocky formations, but one of them stands out from the others. Face Rock looks like a giant head that juts out of the ocean.
Old American Indian lore surrounds the formation of this rock, and it's a truly mysterious sight to behold. As you explore the area, you can also check out the numerous tide pools that come out at low tide.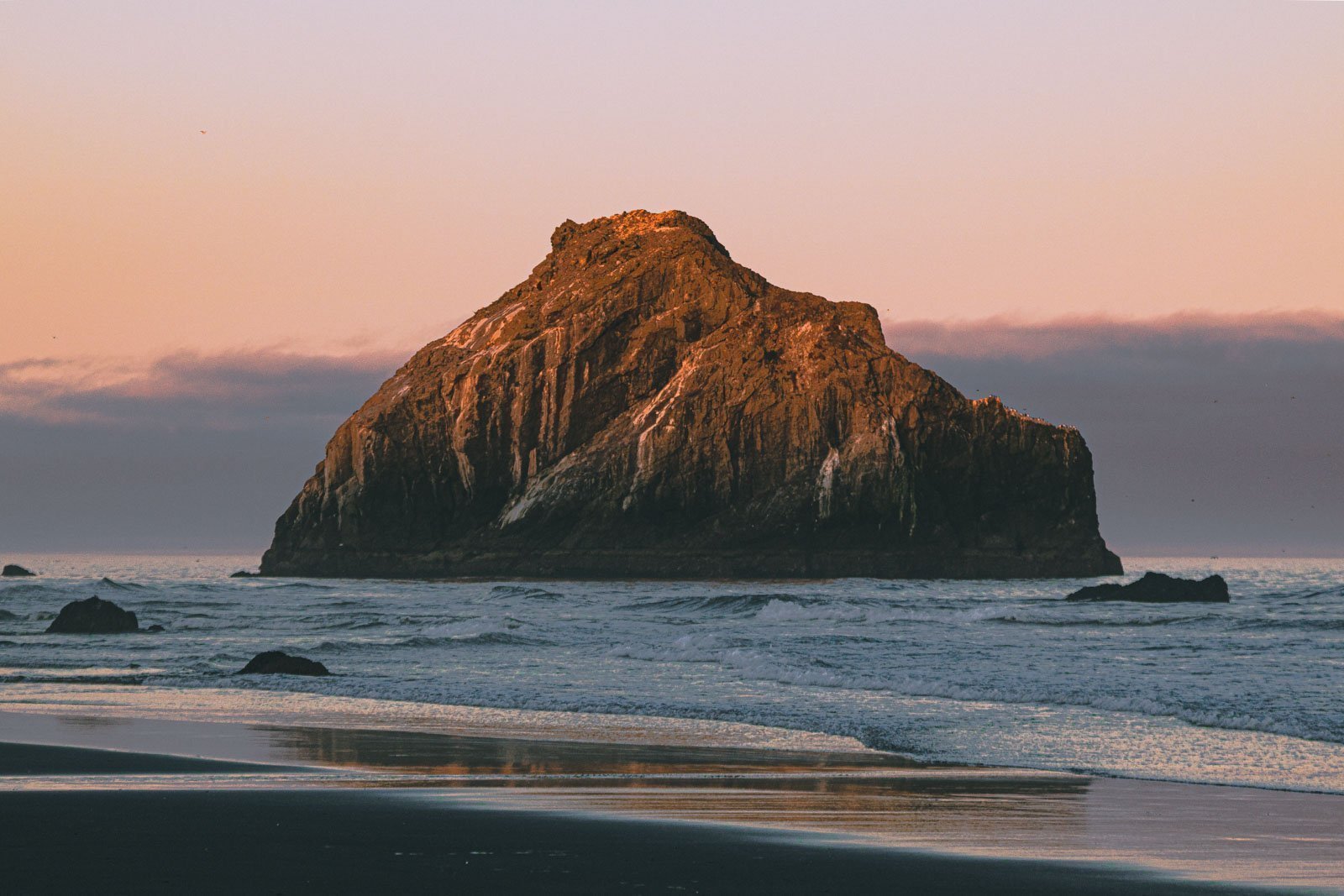 Keep an eye out for the Witches Hat too, another rock formation at this beach.
---
READ MORE: 9 Cool Adventures Around Bandon Beach, Oregon
---
30. Cape Blanco Lighthouse
The Cape Blanco Lighthouse is part of Cape Blanco State Park which includes a campground. The lighthouse was built in 1870 and it's one of the oldest on Oregon's coast.
Along with it, you can explore a Victorian farmhouse that was built in 1898. Also, you can take a tour of the lighthouse if you visit it anytime between April through October.
---
RELATED: Your Ultimate Oregon Road Trip—1 Week to 1 Month Oregon Itinerary
---
31. Blacklock Point Hike
At a 9-mile moderate hike, plan to take a chunk of your day to dedicate to this trail. Walk along Floras Lake, amongst cliffsides, and peek over the edge for glimpses of the coast.
Try to spot a beautiful natural arch below!
32. Otter Point State Recreation Site
Otter Point is a natural area just north of Gold Beach. Here, you can enjoy solitude on two hidden beaches.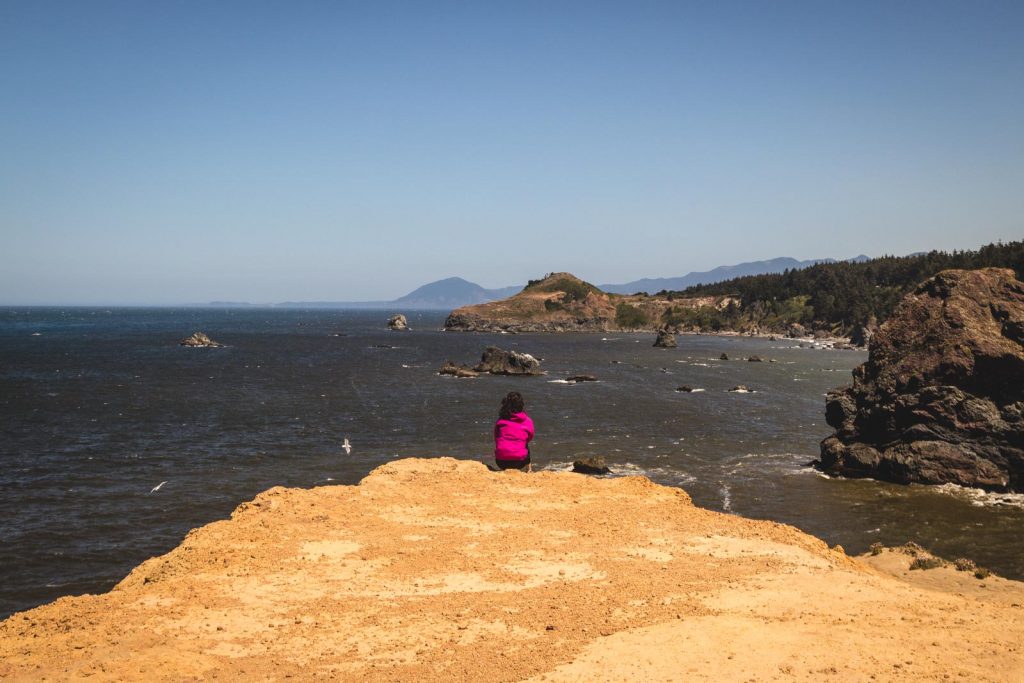 Also, you can explore views of a huge sandstone formation and watch for whales on walking and hiking paths. It's really a great place to see how the rocks have been sculpted by wind and waves over thousands of years.
33. Samuel H. Boardman State Scenic Corridor
This is a mandatory spot on any Oregon coast road trip. But really, if you're driving through, how can you miss it? The corridor has a number of turnoffs for viewpoints and trailheads.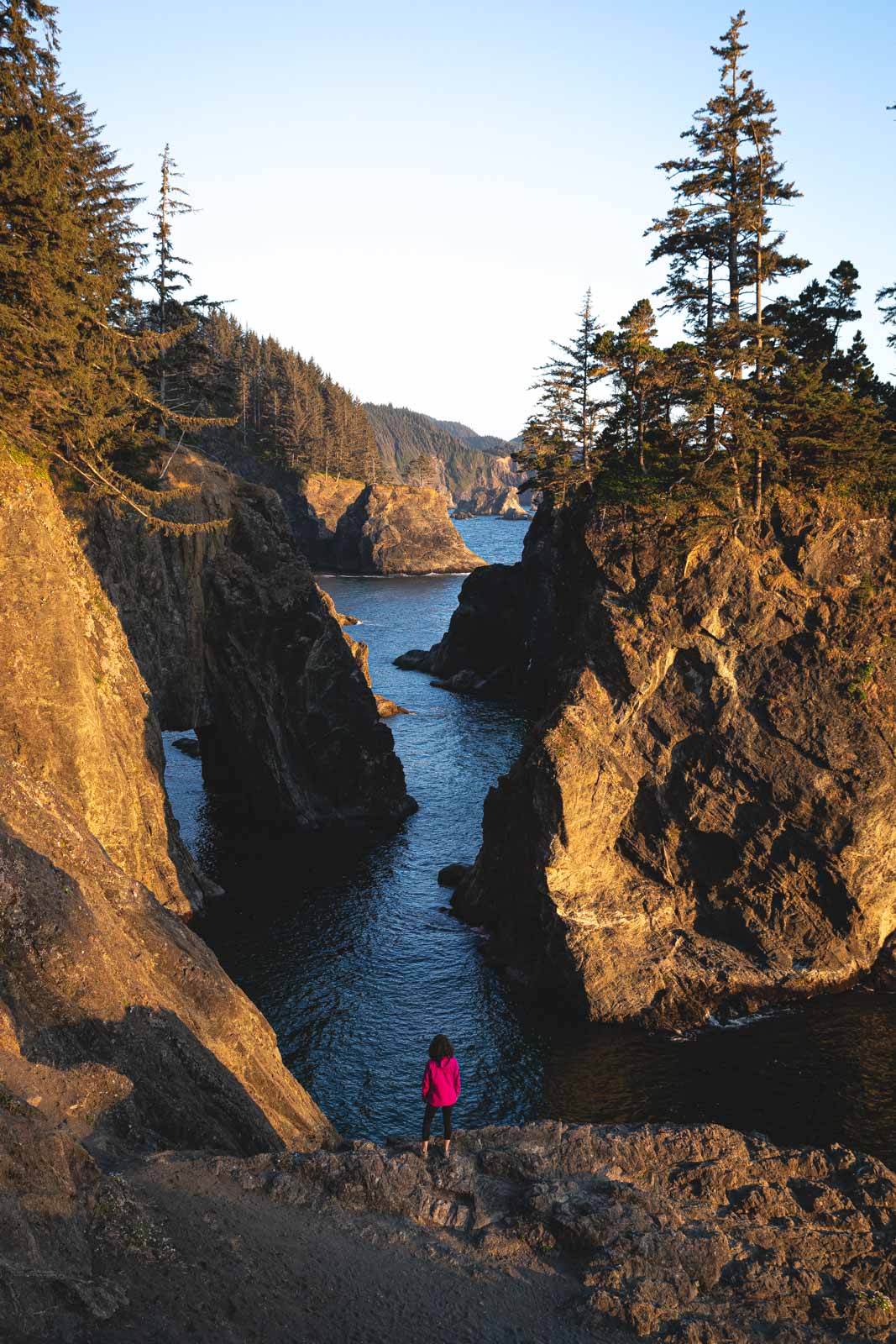 It's one of the most beautiful sections of the Oregon coast with rugged bluffs and abstract rock formations. It's so great, we've written a post about hiking the Samuel H. Boardman State Scenic Corridor.
34. Harris Beach State Park
Harris Beach gets its name from the pioneer George Scott Harris who settled there towards the end of the 1880s to raise cattle and sheep. Here you can view Bird Island (also called Sheep Island) which is the largest island off the Oregon Coast.
Bird Island is a National Wildlife Sanctuary and a breeding site for many species of birds. The sandy beach is nestled between rocky outcroppings and is another place to watch for whales.
---
READ MORE: Your Guide to Harris Beach State Park
---
35. Crissey Field State Recreation Site
If you've made it this far, you can see the Californian border. Crissey Field is a 40-acre recreation area that has beach access, wetlands, and a forest.
There's a center that welcomes visitors to Oregon and provides education on the natural surroundings. Also, if you like collecting driftwood, this is the place to be.
Example Oregon Road Trip Itineraries
Obviously, there are many different ways that you can do an Oregon coast road trip. We have even more of our Oregon Coast favorites right here that you can add to this but let's not get crazy, right?
Below, we've outlined itineraries for 5, 7, and 10-day trips. For these itineraries, we're assuming you're starting from the Portland area. You can always do these backward if you're starting from a southern part of the state.
5-day Oregon Coast Road Trip Itinerary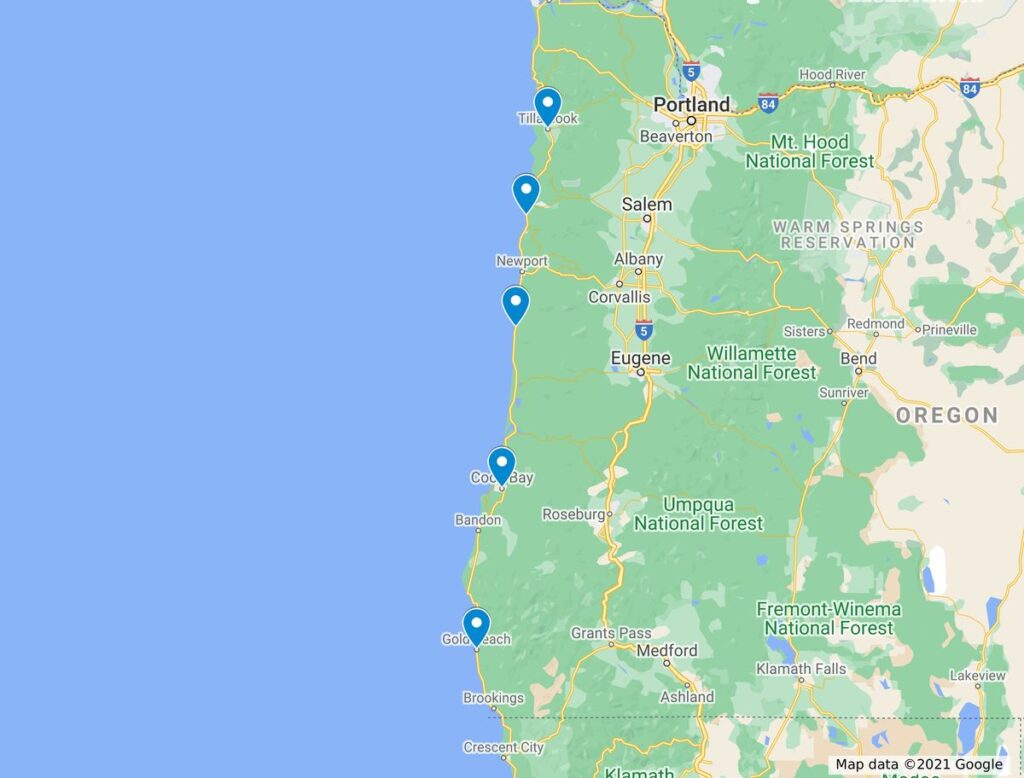 Where to Stay:

Day 2: From Tillamook, check out Cape Meares. Then head to Cape Kiwanda, and finish up by exploring Lincoln City for the evening.
Where to Stay:
Day 3: From Lincoln City, pass through Depoe Bay and check out Devils Punchbowl. Next, head down to the Yaquina area to see the lighthouse and Marine Gardens. Continue south through Newport and check out Big Stump beach for the sunset. Head to Yachats for the night.
Where to Stay:
Day 4: From Yachats, check out Cape Perpetua, Devil's Churn, and Thor's Well. Next, spend a little time in Florence exploring. Go by the Umpqua Lighthouse before heading to Coos Bay for the night.
Where to Stay:
Day 5: From Coos Bay, check out Shore Acres, Face Rock, and the Cape Blanco Lighthouse. Explore Otter Point before lodging in Gold Beach for the night. From here, you can either continue to California or head east to Grant's Pass and up I5 back to the valley.
Where to Stay:
7-Day Oregon Coast Road Trip Itinerary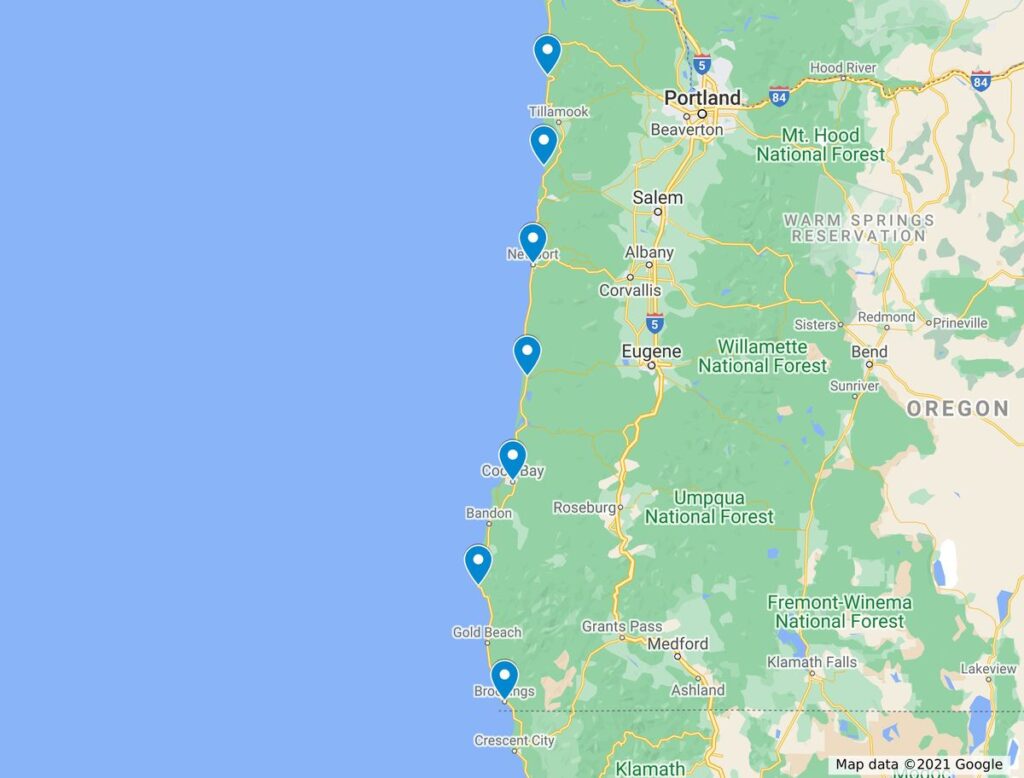 Where to Stay:
Day 2: Leaving Manzanita, go through the Tillamook Creamery, Cape Meares, and Cape Kiwanda. Next, head to nearby Pacific City for the night.
Where to Stay:
Day 3: From Pacific City, explore Lincoln City for a bit. Then, head south and try to spot the boiler in Boiler Bay. Check out Depoe Bay, Devils Punchbowl, and end in Newport.
Where to Stay:
Day 4: Take a stroll through the Oregon Coast Aquarium in Newport before heading out on the road. From Newport, check out Big Stump, Cape Perpetua (with Devil's Churn and Thor's Well), and then head to Florence for the evening.
Where to Stay:
---
RELATED: 9 Adventurous Things To Do in Florence, Oregon
---
Day 5: From Florence, check out Umpqua Lighthouse, Horsfall Beach, and Shore Acres State Park. Next, head to Coos Bay for the night.
Where to Stay:
Day 6: From Coos Bay, head to Face Rock and then spend some time at the Cape Blanco State Park. Lodge in Port Orford for the night.

Where to Stay:
Day 7: Head from Port Orford to check out the Prehistoric Gardens and Otter Point. However, you may just want to skip to the Samuel H. Boardman State Scenic Corridor and spend time hiking there. After your day, end in the town of Brookings.
Where to Stay:
RECOMMENDED GEAR:
10-day Oregon Coast Road Trip Itinerary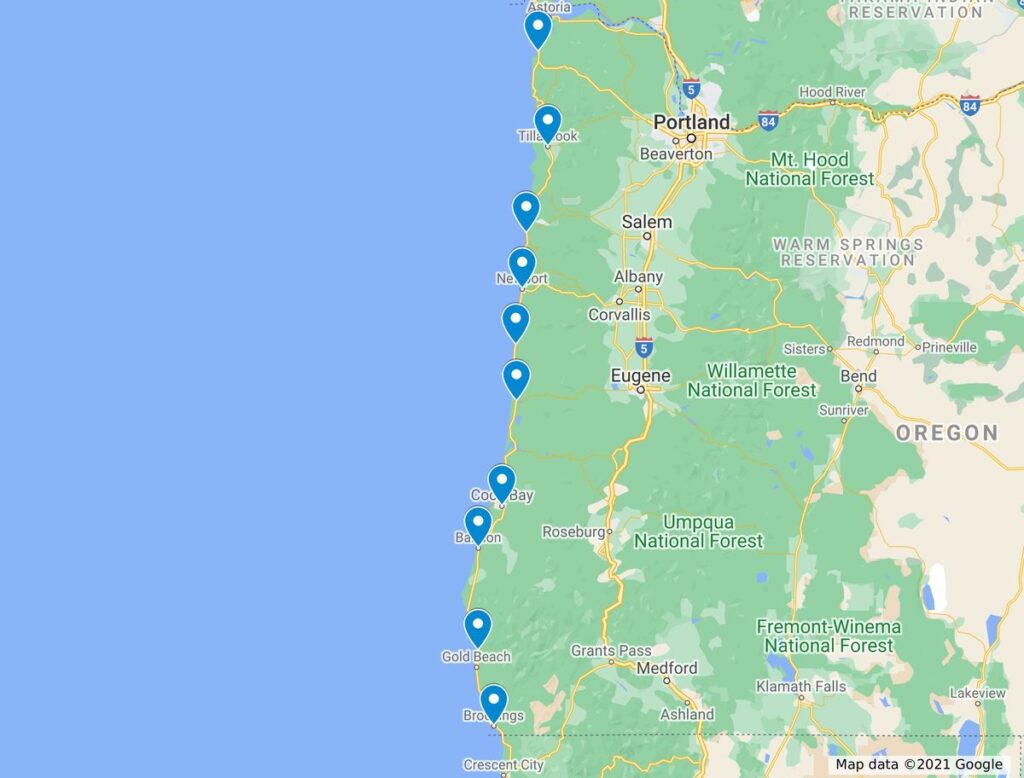 Where to Stay:
Day 2: Heading out of Seaside, pass through Cannon Beach and spend some time on Arcadia Beach. Next, head to Arch Cape and find the beach there. Then, drive over Neahkahnie Viewpoint and head to Tillamook for the night.
Where to Stay:
Day 3: After getting some cheese samples in the creamery, check out the views at Cape Meares and the dunes at Sand Lake. Next, head to Cape Kiwanda and lodge in Lincoln City for the night.
Where to Stay:
Day 4: Heading out of Lincoln City, explore Boiler Bay and Depoe Bay. Next, take in the scenery at Devils Punchbowl and the Yaquina areas. Lodge in Newport for the night.
Where to Stay:
Day 5: Check out the Oregon Coast Aquarium in Newport. Then, heading south, explore the Lost Creek State Recreation Site, Big Stump, and Smelt Sands. Finally, stop in Yachats for the night.
Where to Stay:
Day 6: Head out of Yachats and explore Cape Perpetua, Devil's Churn, and Thor's Well. Next, go to the sea lion caves and head to Florence for the night.
Where to Stay:
Day 7: Heading from Florence, explore Umpqua Lighthouse State Park. Next, check out Horsfall Beach and spend the night in Coos Bay afterward.
Where to Stay:
Day 8: Leaving Coos Bay, explore Shore Acres State Park. Then, travel south to Face Rock in Bandon. Lodge here for the night.
Where to Stay:
Day 9: Heading from Bandon, explore Cape Blanco State Park. Next, go to the Prehistoric Gardens. Then, check out Otter Point State Recreation Site and end in Gold Beach for the night.
Where to Stay:
Day 10: Leaving from Gold Beach, explore the Samuel H. Boardman State Scenic Corridor. Next, check out Harris Beach and Crissey Field. Lodge in Brookings on the last night.
Where to Stay:
Tips for a Successful Oregon Coast Road Trip
---
RELATED: 29 Awesome Things to Do on an Eastern Oregon Road Trip
---
We hope these tips will help you to plan your successful Oregon coast road trip. Here are more posts on Oregon's coast and epic adventures around Oregon to check out.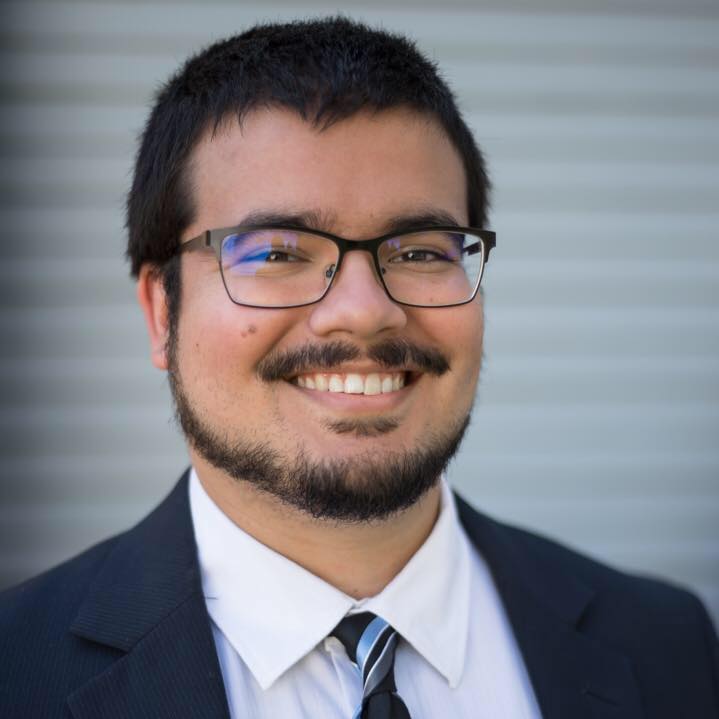 Brogan is a jazz guitarist and freelance content writer living in Portland, OR. His favorite spot in nature is Soapstone Lake. When he can't get outside to go hiking, he enjoys watching Anime and cooking.