Cape Blanco sits at Oregon's most western point and is arguably one of the most remote state parks on the coast. It's not right off Highway 101 and does require a few minutes on a rural road.
For those that decide to detour, you'll be greeted with a beautiful lighthouse, a bunch of historical walks, beach trails, horseback riding, biking, and camping too!
This coastal state park is well located between Bandon Beach and Gold Beach and could be a great base to explore the area. Here's everything you need to know about adventuring Cape Blanco State Park!
Cape Blanco State Park
---
Trails at Cape Blanco
Pacific View Trail (1 mile, easy) – Catch a glimpse of Cape Blanco in the distance with the vast Pacific as a backdrop. This is an easy trail with great coastal views.
Cape Blanco North Shore Trail (0.5 miles, moderate) – While a quick one, it does take some effort. Of course, this hike just takes you down to the beach, and you can surely add on some mileage as you stroll the beach.
Cape Blanco Coastal Trail (0.8 miles, easy) – Walk through wildflowers and keep your eyes open for birds, this trail is another enjoyable and quick hike with great views over the coast!
Huges House Trail (2 miles, moderate) – You can drive up to the historic Victorian house or take this gorgeous hike through the valley down to the Sixes River. Hughes House is the work of a prosperous dairy farmer and the house is now open for historical tours.
Mouth of Sixes River Trail (1.8 miles, easy) – Coming from around Hughes House, you can meander down a bit more for an easy stroll along the Sixes River. You can walk right out to the river's opening into the Pacific and take a breather on Sixes Beach. Look out for fluffy sheep!
---
RELATED: 17 Breathtaking Oregon Coast Hikes
---
Cape Blanco Lighthouse
Jutting over a mile into the Pacific Ocean, you'll easily spot Cape Blanco lighthouse if you're on the beach on either side of it but otherwise, you'll drive right past it. It's the most southern lighthouse on the most western part of the state of Oregon!
In fact, Cape Blanco Lighthouse is even the oldest continually operating light for Oregon as well, it's quite a special spot. James Hughes (yes, the same from Hughes House) was one of the lighthouse keepers.
He felt too cramped at the lighthouse with the other keepers and their families so that's why he built his own home down the way from the lighthouse.
The keepers were kept really busy at the lighthouse as life was a bit rough on the cape. The storms and winds created a lot of damage around the property. The reason the lighthouse was erected was because the cape was dangerous for maritime commerce.
Today, Cape Blanco still shines its light as a warning to ships and is open for tours.
---
RELATED: 11 Oregon Lighthouses and the Adventures Nearby
---
Biking Around Cape Blanco
Bring your bike and cruise down Hughes House Trail that lines the northern coast end, and goes down to Hughes House. Or take the Bluff Trail that skirts by the campsite and takes you on a tour of the southern Oregon coast. Check out the bike routes here.
Camping at Cape Blanco State Park
As mentioned, Cape Blanco is well located along the Oregon Coast. You have Bandon to the North and Port Orford and Gold Beach to the south, both under an hour away. It's a great spot to base yourself to explore the area.
There are 52 electrical sites with water, cabins, group camps, toilets, and hot showers.
Cape Blanco also has a horse camp and trail for anyone trailing with their horse. The same trail is just off the campsite and can be used for your pups too as long as they're on a leash.
---
RELATED: 19 Must-Visit Oregon Coast State Parks
---
Near Cape Blanco State Park
Port Orford – A sweet town with gorgeous coastal views, trails, and a huge beach to walk along. So many drive right past this town but it's actually really charming!
Humbug Mountain – Another great state park with excellent camping and a cool mountain to hike up from your campsite for some great views. Be sure to enjoy the drive from Port Orford to Humbug with great viewpoints along the way to stop at.
Floras Lake – Yet another easily passed area you shouldn't miss, Floras Lake is great for kiteboarding, hiking, and strolling the orange rusted cliffside beach. Keep an eye out for the coastal waterfall!
Bandon Beach – Some of the most gorgeous rock formations along the Oregon coast are found here and there are tons of tiny state parks just north of Bandon that are great too! Check out Coquille Lighthouse while you're here too.
More Oregon Coast State Parks
We hope this post helped you better explore Cape Blanco State Park! Check out more posts on the Oregon Coast and even more adventures around the state.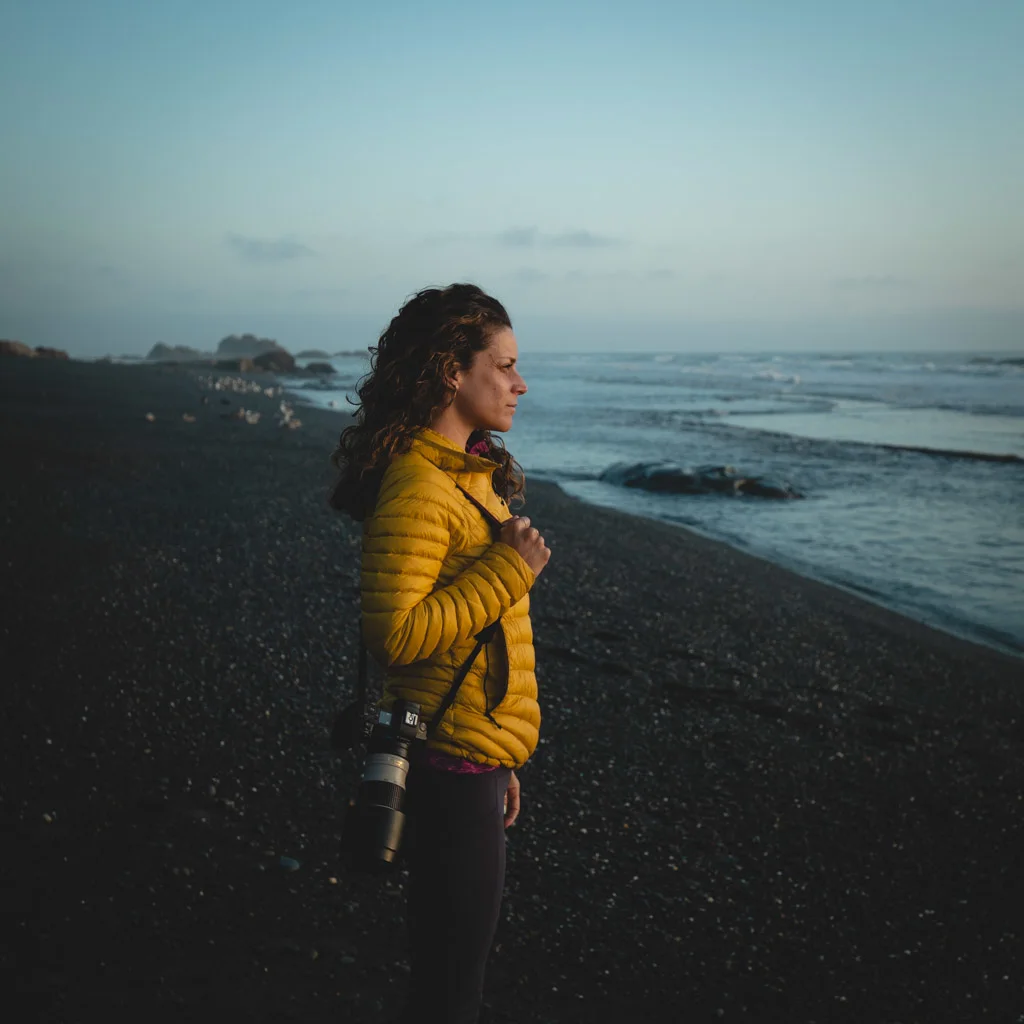 I've been perpetually traveling and living around the world for years but it's hard to beat Oregon and the PNW. After years of road-tripping the area, I guess you can say I know it pretty well! When I'm not writing guides for you, you can catch me somewhere petting a dog, attempting to surf, hiking a volcano, or stuffing my face with bread and cheese.