Encompassing Oregon's dunes, its verdant forests, and stretching along the coast, the Siuslaw National Forest is a stunning playground!
You'll find harrowing hikes, flowing waterfalls, sandboarding opportunities, swirling ocean wells, a lighthouse, and more when exploring this side of Oregon. Here are our favorite spots that we think you should visit!
Things To Do in Siuslaw National Forest
---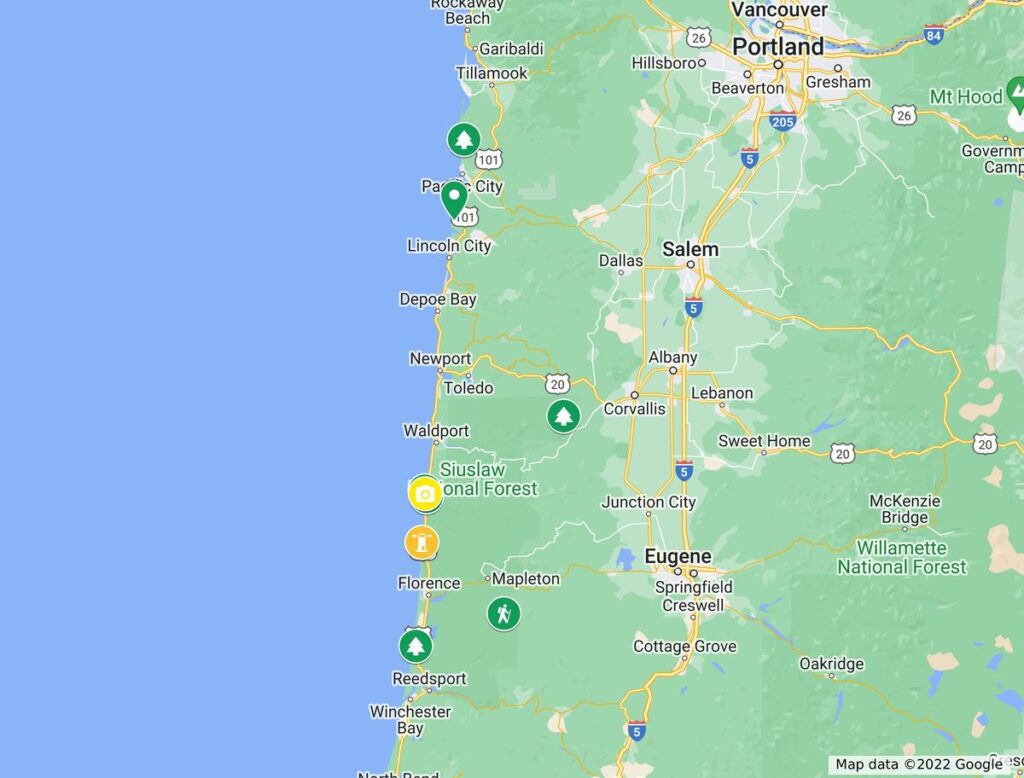 1. Sand Dunes
You will feel like you are in the middle of the Sahara rather than the middle of Oregon when you set foot in the Oregon Dunes (OK fine, the breeze and bits of green will give it away that you're not but still!).
This vast area stretches for miles, and there is plenty to do and see, making it one of the best things to do in the Siuslaw National Forest.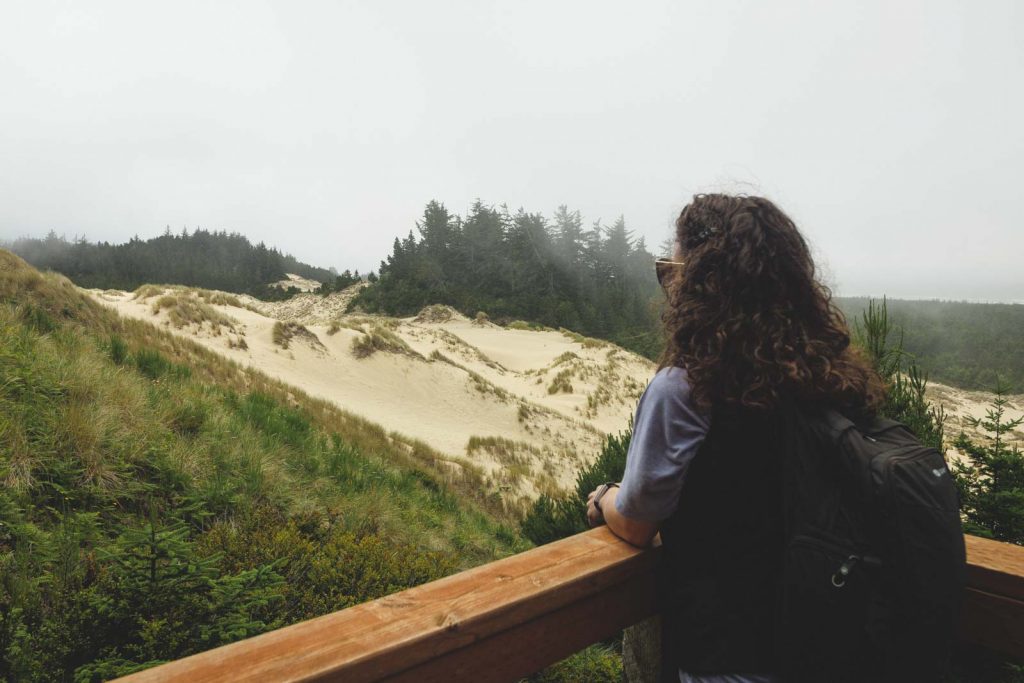 This strange mixture of sand and thick coastal forests covers about 40 miles and offers several means of adventure and exploration. Start at the Oregon Dunes Day Area, where you'll to admire this otherworldly sight from the viewing area.
Although several trails allow the dunes to be explored on foot, such as looping around Tahkenitch Dunes, you can also get a bit of a thrill on an ATV or dune buggy. A few companies offer these tours, such as Sandland Adventures and Spinreel.
---
READ MORE: Your Adventure Guide to The Oregon Dunes
---
2. Thor's Well
Thundering Thor's Well almost seems as though it is a bottomless pit. This notorious sinkhole can be found in the Siuslaw National Forest. When the water is rugged and angry, as it often is in this part of that world, you will be able to see the waves crashing up through the hole.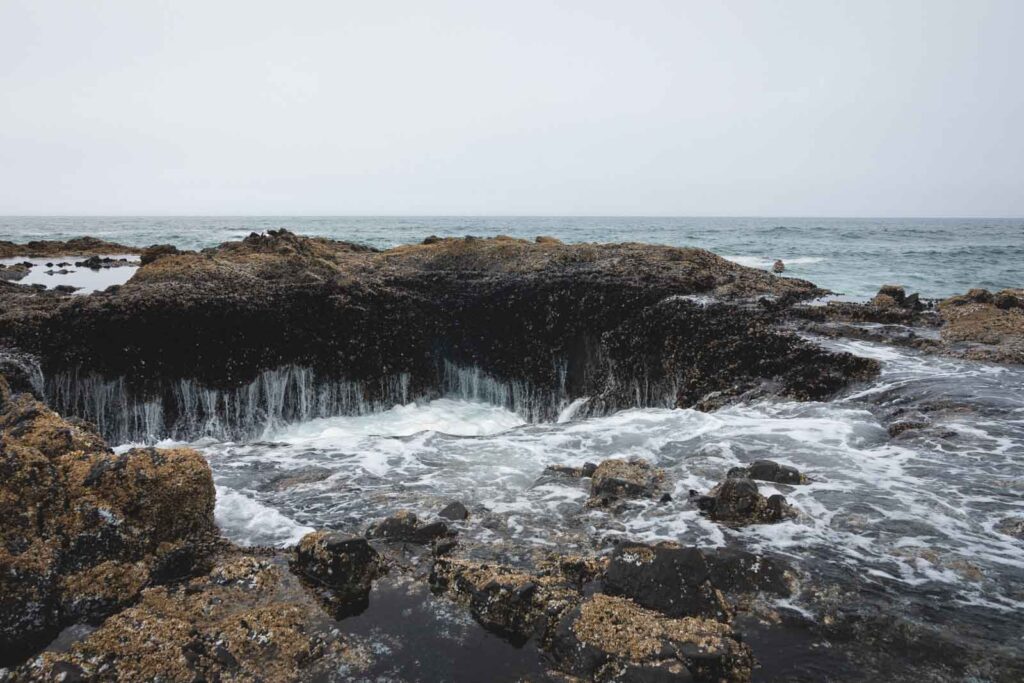 This large collapsed sea cave is in the middle of a field of basalt rocks. The hole is a scary 20 feet deep, and when the waves rush in, they can flow back out just as fast, with seawater explosions reaching up to 20 feet in the air.
The well has also been called the 'Gate to Hell,' for a good reason. It can be hazardous, so best to stay back and be careful. It is easy to access Thor's Well, as it is just a short walk from the parking lot.
---
READ MORE: Visiting Thor's Well in Cape Perpetua, Oregon
---
3. Heceta Head
It's impossible to miss the legend that is Heceta Head Lighthouse. This powerful light is known across Oregon and beyond, but that is far from the only thing to see and do at Heceta Head. It packs a lot of punch for such a small cove, with some stunning trails, lush beaches, and fun activities like tide pooling.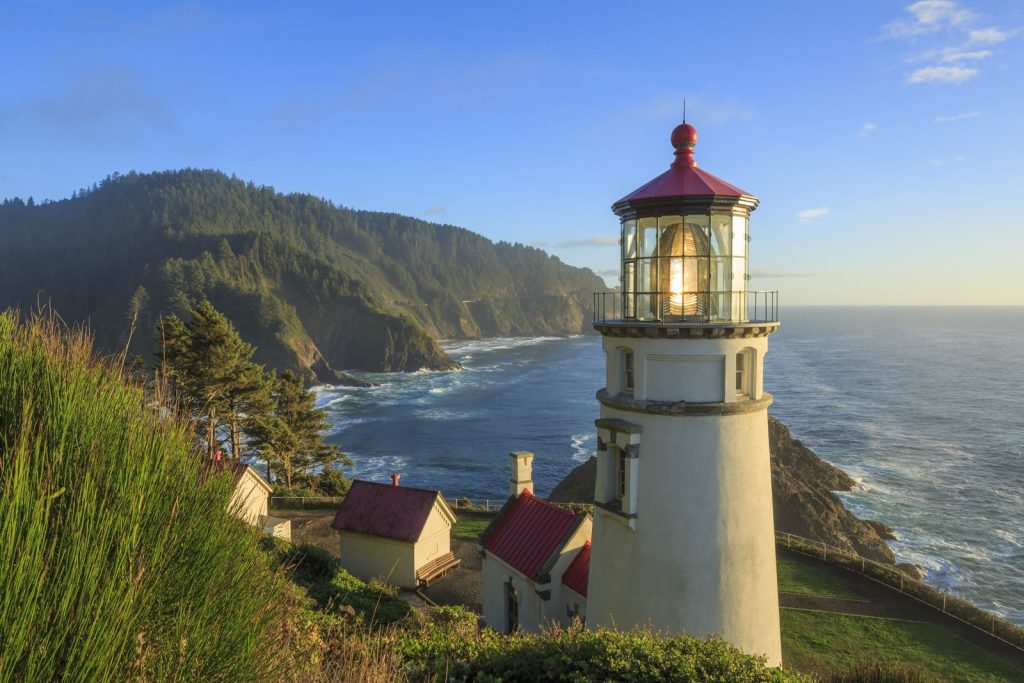 Let's start with the lighthouse. It was first lit in 1894, so it has been around for a pretty long time. It is hard to say what is more impressive, the imposing building or the dramatic landscape it sits on, but either way, it is worth getting the camera out and snapping a few artsy shots.
The Heceta Head Lighthouse Trail will take you right up to the lighthouse, and the views are pretty nice from up there. If you have the time (and the energy), carry on walking over to Hobbit Beach, which you will likely have to yourself.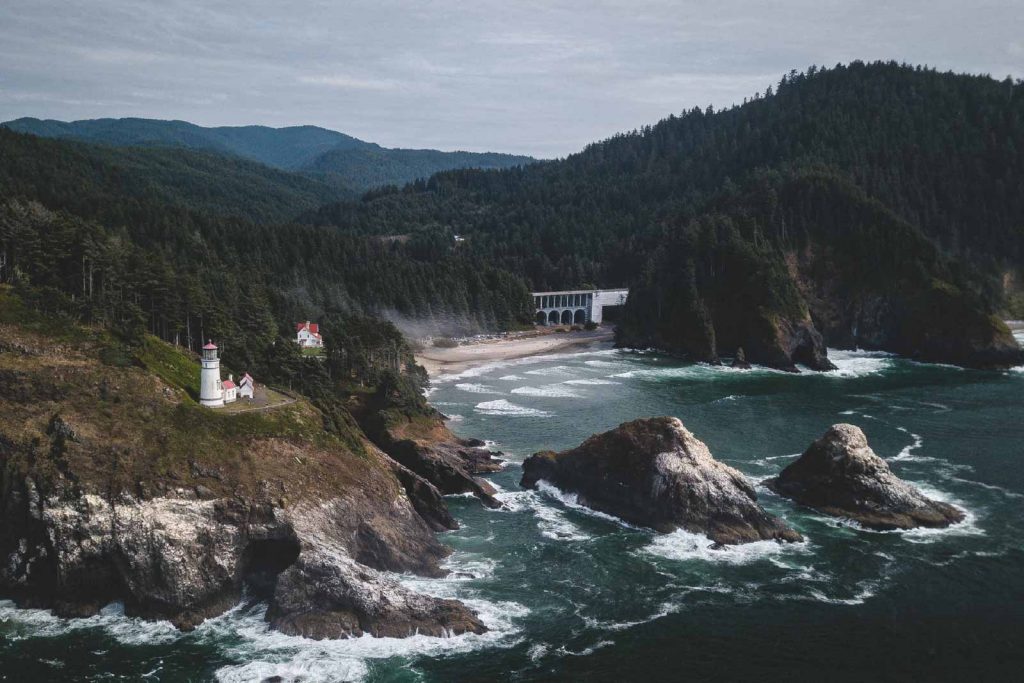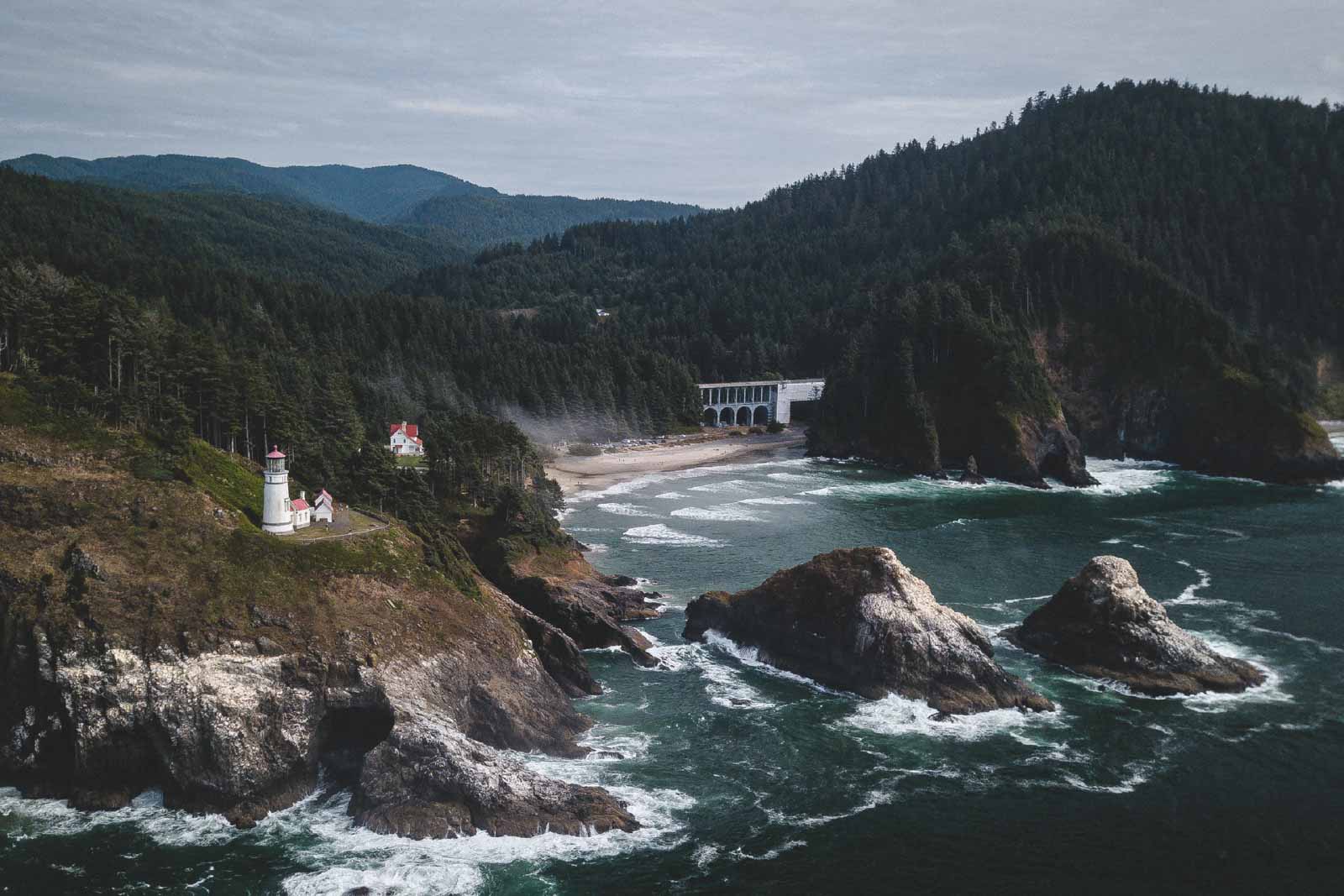 Cape Cove can be found at the bottom of the headland, and although small, it is very scenic and an excellent spot to check out the tide pools to see if you can see some of the local wildlife that lives in the Siuslaw National Forest.
---
READ MORE: Exploring Heceta Head Lighthouse, Beach, and Trail!
---
4. Kentucky Falls Trailhead
Distance: 3.7 miles
Type of Trail: Out & Back
Difficulty: Moderate
Elevation Gain: 987 ft
It's hard not to go on about waterfalls when Oregon is full of them, and we are not talking about weedy little trickles either. Kentucky Falls is no exception; this is a pretty big waterfall at 117 feet, and the 3.7-mile hike to reach it is almost just as impressive.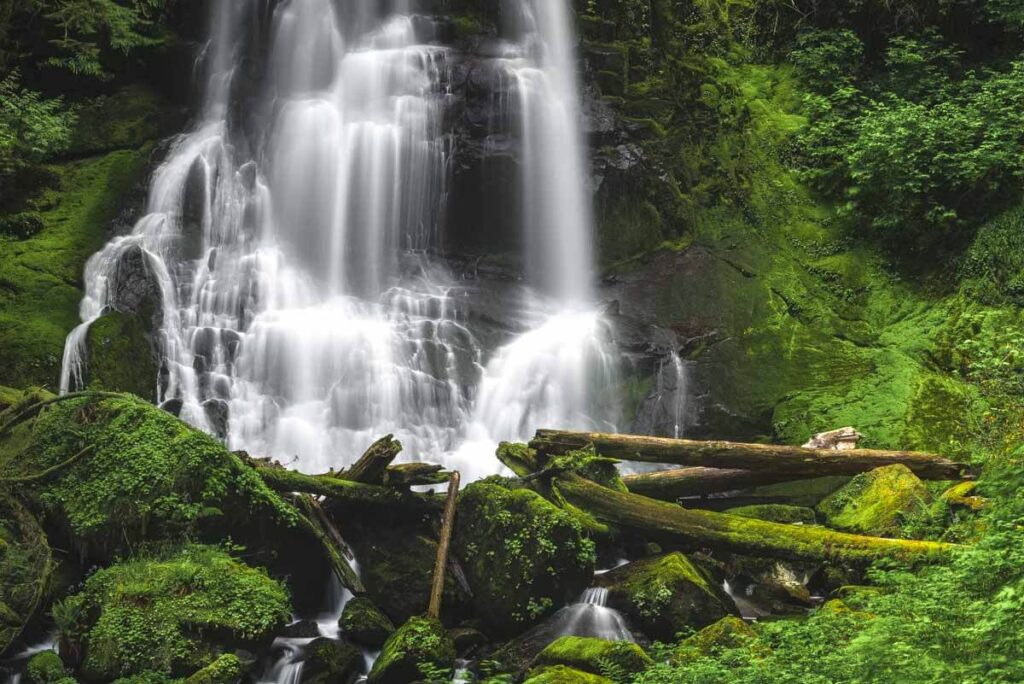 You won't just see one waterfall on your trip, but three, so strap on those hiking boots and get a move on. All three of the waterfalls along the trail are over 100 feet tall, crashing over the rocks and plunging into the forested canyon below.
As you hike, you'll be emersed in towering rainforest, branches, and rocks thick with moss and everything that makes this part of the world so beautifully moody and atmospheric.
From the trailhead, you only have to walk 1.6 miles before you'll come across the first waterfall and then just over half a mile again to reach numbers two and three.
If you fancy making a weekend of it, there is a handily placed campsite lining the North Fork Smith River. If you're staying in Eugene, you're not too far either!
---
RELATED: 9 Amazing Waterfalls Near Eugene, Oregon
---
5. Neptune State Scenic Viewpoint
Spend the morning or afternoon hiking up to Neptune State Scenic Viewpoint. Once you reach the viewpoint, you'll understand why this natural area has been named after the mighty god of the sea.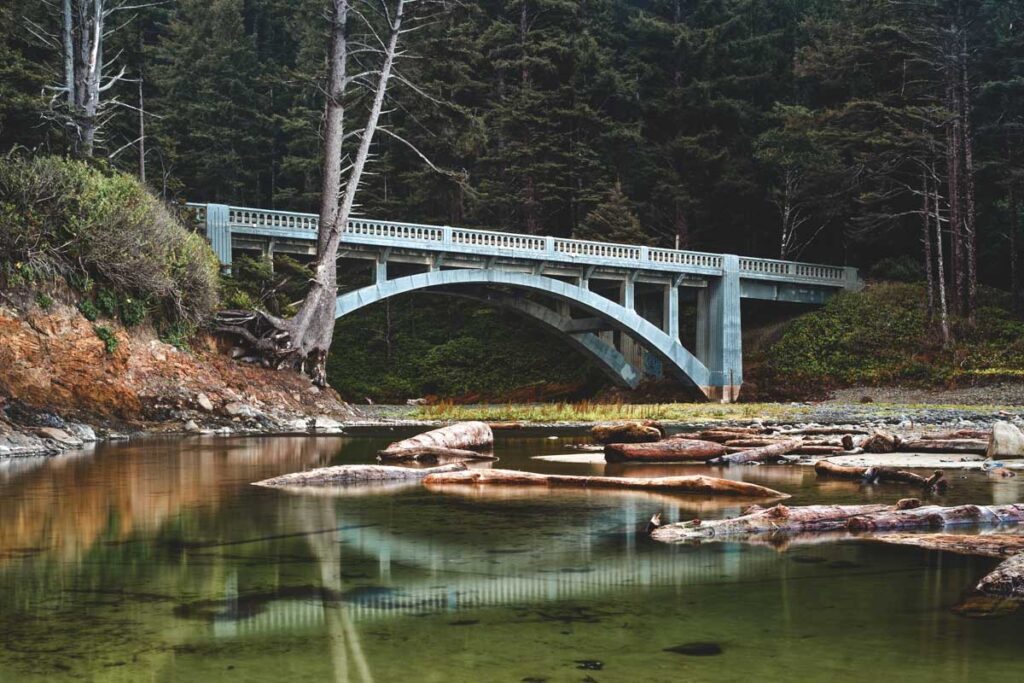 The strategically placed benches give you the perfect place to sit with a sandwich and gaze out at the Pacific Ocean and Cummins Creek below.
Keep your eyes peeled – if you are fortunate and you have got your timing right, you might be able to spot some of the migrating whales right from the shore.
6. Cape Perpetua
Sure, Cape Perpetua is located within the Siuslaw National Forest, but it is also a destination in its own right. You could spend the whole day in Cape Perpetua and still not see it all.
A series of hiking trails will take you from one national attraction to another, all with great names like Sprouting Horn and Devils Churn.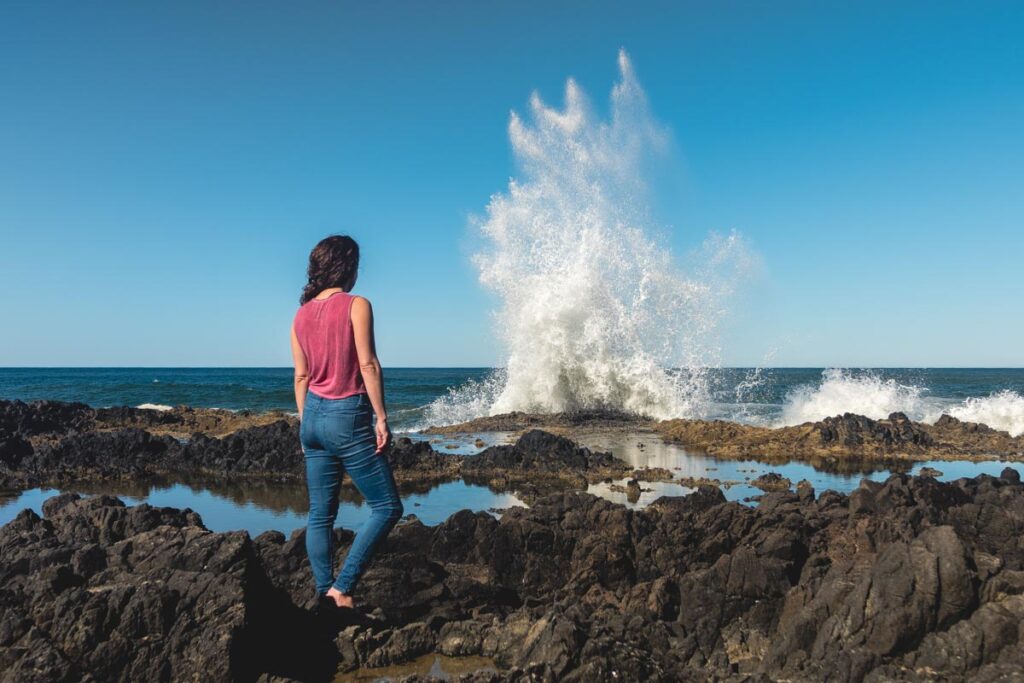 The Overlook viewpoint is just one of the stunning vistas that the cape boasts, but there are many others to choose from. This viewpoint, in particular, is accessible by car, so you'll be able to get this fantastic view with no effort!
If you're short on time, take the car, but if you can, we highly recommend hiking. The switchbacking Saint Perpetua National Recreation Trail is steep but equally as beautiful. It will also give you an excellent opportunity to experience the old-growth forest that dominates the area.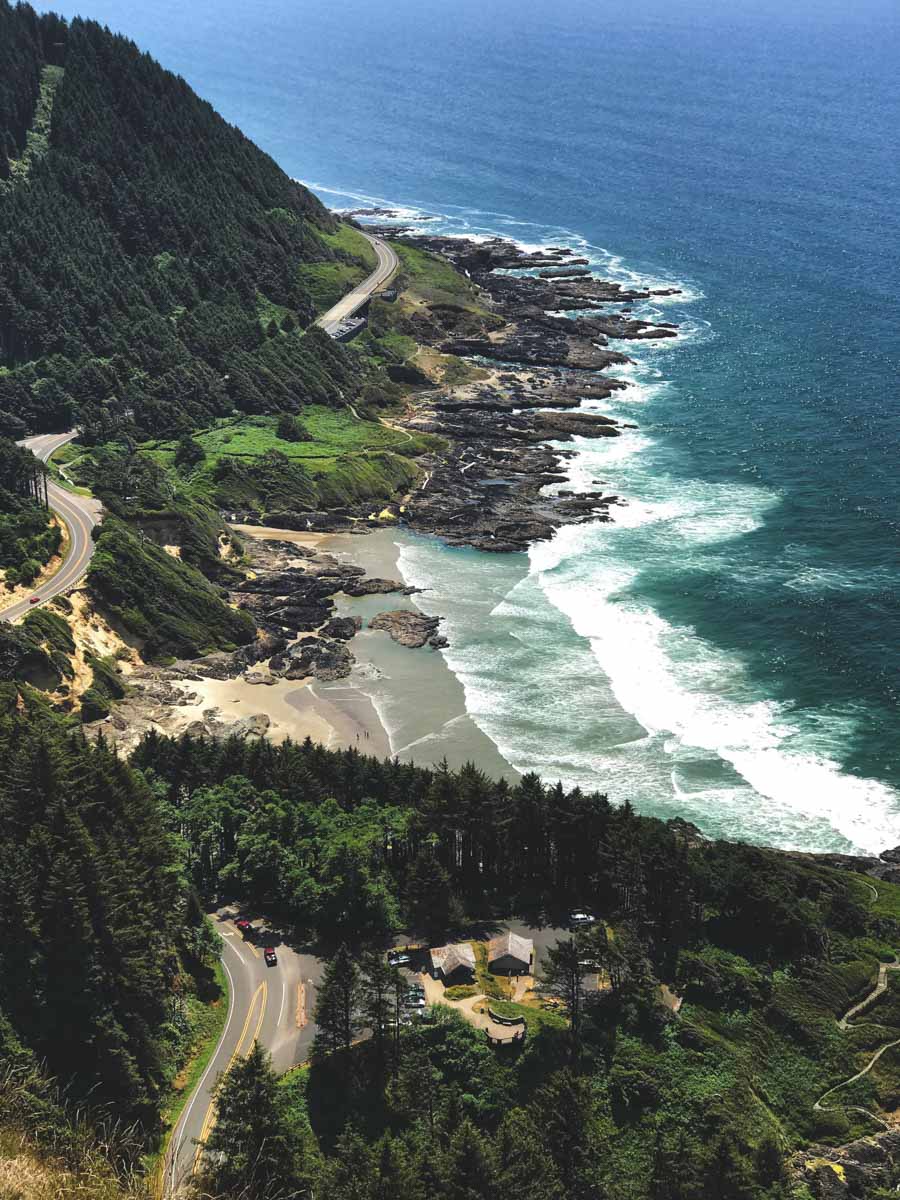 Now, let's talk about the crazy rock formations. For a start, there is the Spouting Horn at Cook's Chasm. This raging pit is an ocean geyser, which regularly explodes seawater high into the air. It is quite a sight! Equally as impressive is Thor's Well, which we have spoken in more detail about above.
Lastly, make time to reach the hidden gem of Cape Perpetua, Cape Cove. This quiet little cove is often overshadowed by some of the more prominent attractions in the area, but if you're looking for some peace and serenity, surrounded by natural beauty, this is your calling.
---
READ MORE: 9 Things to Do in Cape Perpetua, Oregon
---
7. Sand Lake Recreation Area
You'll be forgiven if you haven't heard of Sand Lake Recreation Area. It is not usually the first place people think of when thinking of things to do in Oregon or even the Siuslaw National Forest.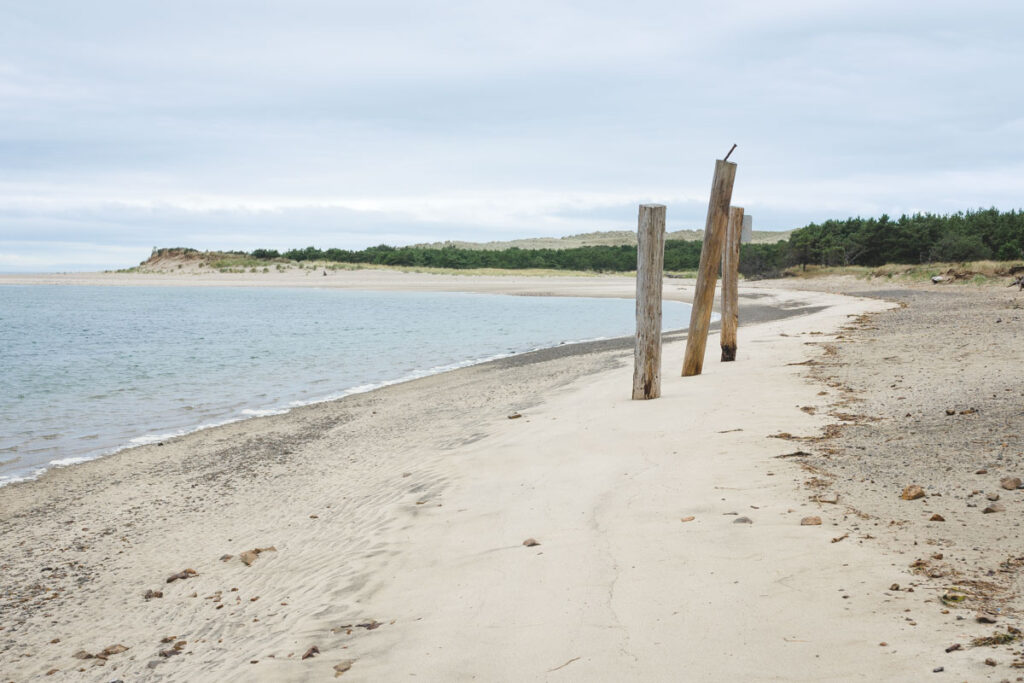 It is often overshadowed by the Oregon Dunes but is still an epic landscape in its own right, covering thousands of acres of sand and dunes.
Without a doubt, the best way to see the area is to pick up some speed on a quad bike. There are plenty of places to rent in the area, so anyone can go soaring over the sand.
The dunes cover over 1000 acres, so we are not talking about a small area. There are also a few lakes at an estuary, so water-based activities like swimming and kayaking can also be enjoyed here.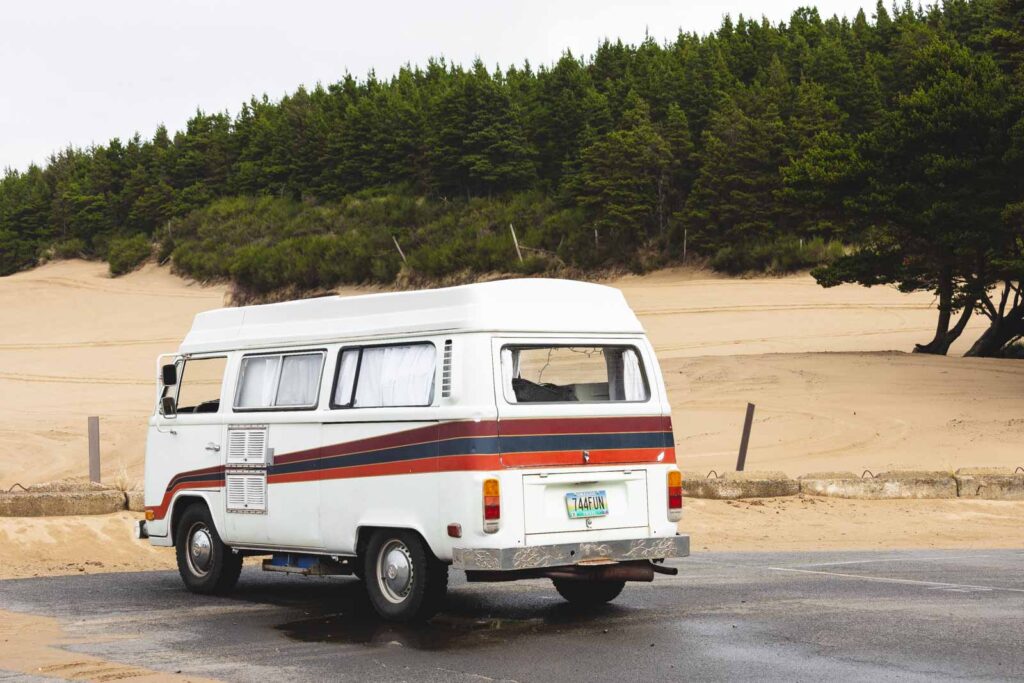 Yes, Heceta Head is impressive, and the power of Kentucky Falls will take your breath away, but the dunes are extraordinary, and they offer so many opportunities for things to do.
If you want to be one of the first people on the dunes in the morning and have all that natural beauty to yourself, stay at one of the campgrounds nearby, such as Sandbeach Campground or West Winds Campground.
---
RELATED: Your Ultimate Oregon Road Trip—1 Week to 1 Month Oregon Itinerary
---
8. Mary's Peak
Mary's Peak dominates the skyline. It is the highest point in Oregon's Coast Range, and trust us, it looks like it! For avid hikers, it is a peak just waiting to be climbed. At over 4,000 feet, it seems pretty scary, but it is a hike well worth doing.
You can do a whole lot more than hiking at Mary's Peak. Think bird watching, biking, skiing, snowshoeing, and nature watching, to name a few activities.
As with any lofty perches in Oregon, the views are stunning no matter which way you look. Some people will go so far as to say it offers one of the best views in Oregon, but you'll have to be the judge of that.
If you can't get enough of the peak in one day, you have the option to stay the night or two at the well-located campsite.
9. Harts Cove Trail
Distance: 5.3 miles
Type of Trail: Out & Back
Difficulty: Moderate
Elevation Gain: 1,089 ft
Get a bit of a thrill on the Harts Cove Trail, a trail filled with nature, a waterfall, cliff edges, and sea views; what more could you want? It is a stunning trail, taking you almost immediately downwards through stunning old-growth forest and beautiful open meadows.
You'll even pass through as UNESCO designated biosphere reserve. Keep alert as if you are fortunate, you might be able to see some of the creatures that the area is protected for, including black bears and bald eagles.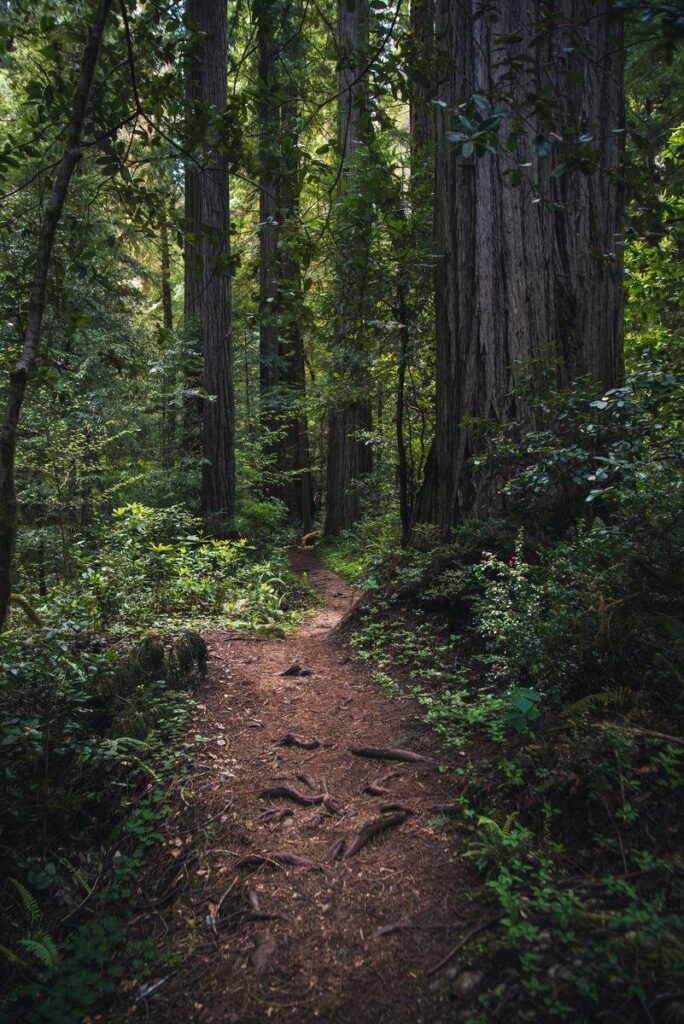 As you continue downwards along the trail, try not to think about the fact that you'll be heading back up those switchbacks on your return. It won't be long before you catch your first look at the ocean, and if you listen hard enough, you might even be able to hear sea lions calling you down.
The trees will start to get more and more sparse. Once you finally emerge from the trees, the natural vista opens up before you, and get ready to be in awe. The grasses of the meadow stretch right out to the cliff edges, so be careful!
The views are stunning no matter which way you look, but the real highlight is looking down into Hart's Cove, with its stunning blue waters and Chitwood Falls that drop down directly into the ocean. Once you've had your fill of the views, we are afraid it's time to turn around and head back up!
More Oregon Coast State Parks
We hope this post inspired you to visit Siuslaw National Forest! Before you go, don't forget to check out other great things to do on the Oregon Coast.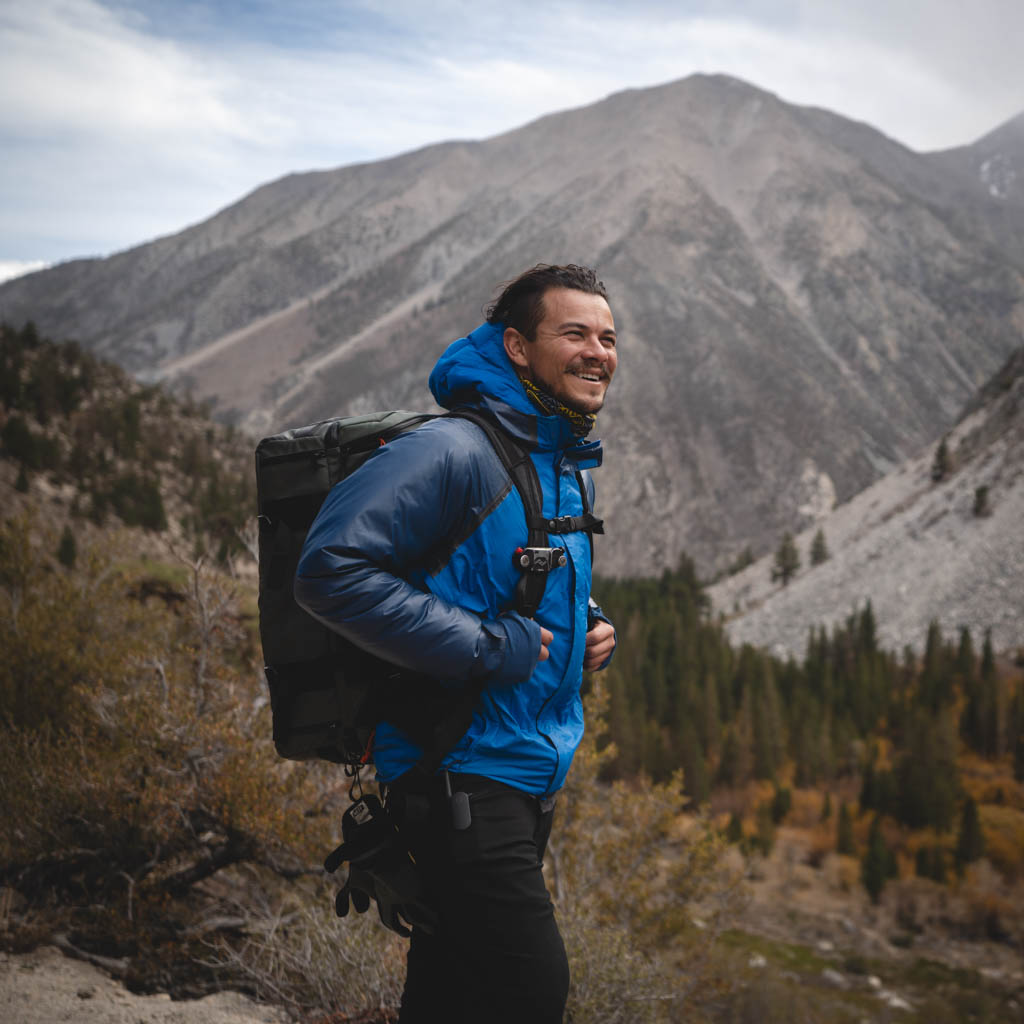 Oregon native and explorer at heart. Loves tackling expeditions around the world and drinking a good beer at the end of the day. PNW obsessed, VW nerd, and surf or snow riding fanatic.