Are there any cool waterfalls in Eugene? We can't lie, there aren't really any IN Eugene, but there are plenty around the city! We gathered up the closest and most worth falls near Eugene, Oregon for you to explore. Everything on this list requires a bit of a hike, some are short and easy and some require a bit more stamina.
Either way, all of these are incredibly worth it so we hope you've planned to stick around to fit them all in. We've ordered them for you from the closest waterfalls to Eugene to the furthest.
Waterfalls Near Eugene
---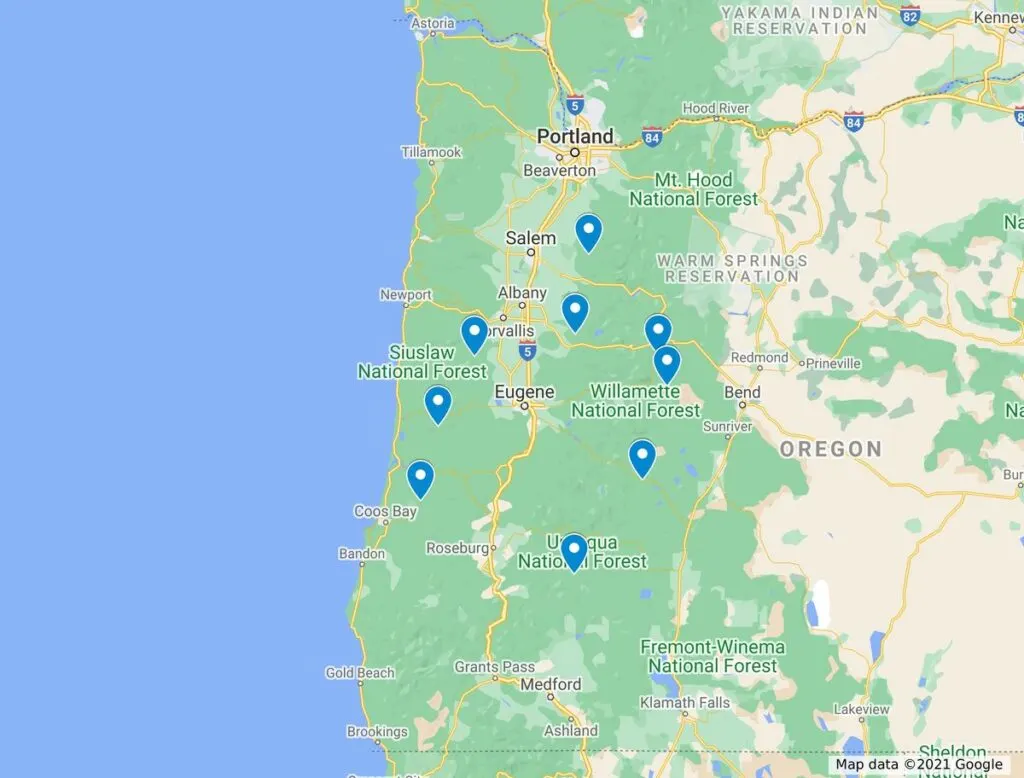 1. McDowell Creek Falls & Majestic Falls
1 hour 5 minutes from Eugene
Distance: 1.6 miles
Type of trail: Loop
Difficulty: Moderate
McDowell Creek Falls is set within a scenic park, complete with crystal clear waters and dramatic landscapes, pretty standard in Oregon! But, to make things even better, McDowell Falls are not the only cascades in the park. Majestic, Crystal, and the Royal Terrace Waterfalls are equally as stunning, as is the canyon that contains these hidden gems.
Majestic Falls and the accompanying Crystal Falls can be found near the upper parking area, and many people will say that Majestic is the most incredible out of the four found within the park.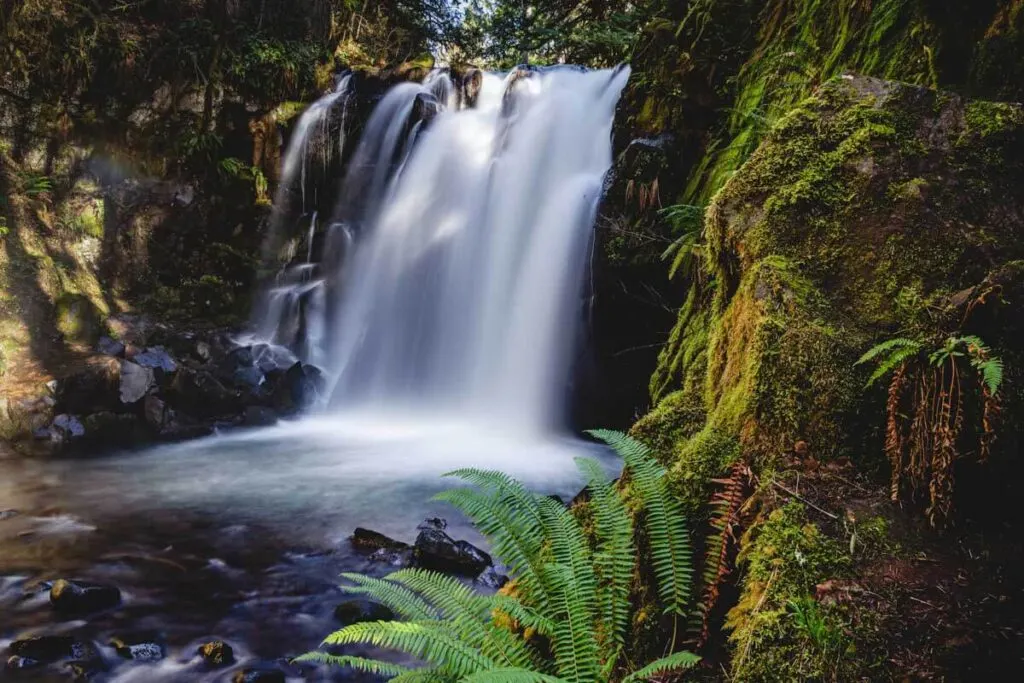 Because it is so beautiful, you are going to want to see it from more than one vantage point, trust me. This is why the park owners have created a system of staircases that allows you to see it from all sorts of angles.
Crystal Falls can be found just 0.2 miles downstream and is worth checking out if you have the time. If you're parking in the lower or middle parking area, the Royal Terrace and Lower McDowell Creek Falls are your nearest cascades.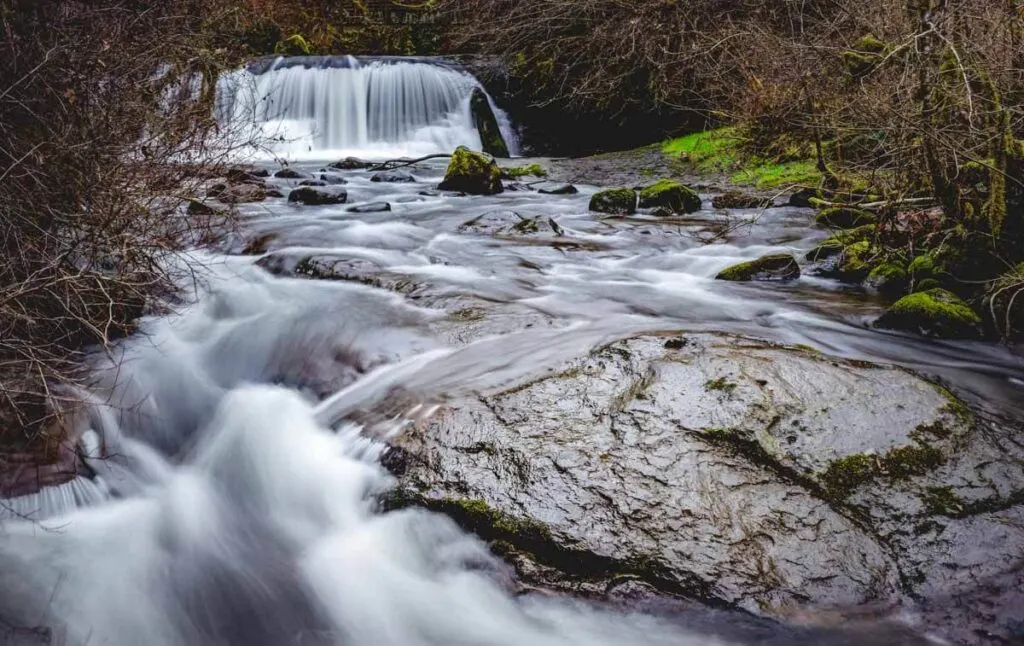 Wooden bridges and pathways make for an easy, scenic adventure through the undergrowth before reaching the towering 119 for Royal Terrace Falls and the base of McDowell Falls.
The best way to see these falls is to take the McDowell Creek Falls Loop Hike, which will allow you to see all the waterfalls within the park. The trail runs around the park and can be accessed from all three parking lots, meaning you are free to hike the full 1.6 miles or just a short distance from where you have parked your car.
---
RELATED: 14 Outdoorsy Things To Do in Eugene, Oregon
---
2. Green Peak and Alsea Falls (Easy Hike to a Waterfall in Eugene)
1 hour 10 minutes from Eugene
Distance: 2.4 miles
Type of trail: Out & Back
Difficulty: Easy
Because two falls are better than one, this trip is one that shouldn't be missed when visiting waterfalls near Eugene, despite the fact that very few people seem to have heard of them.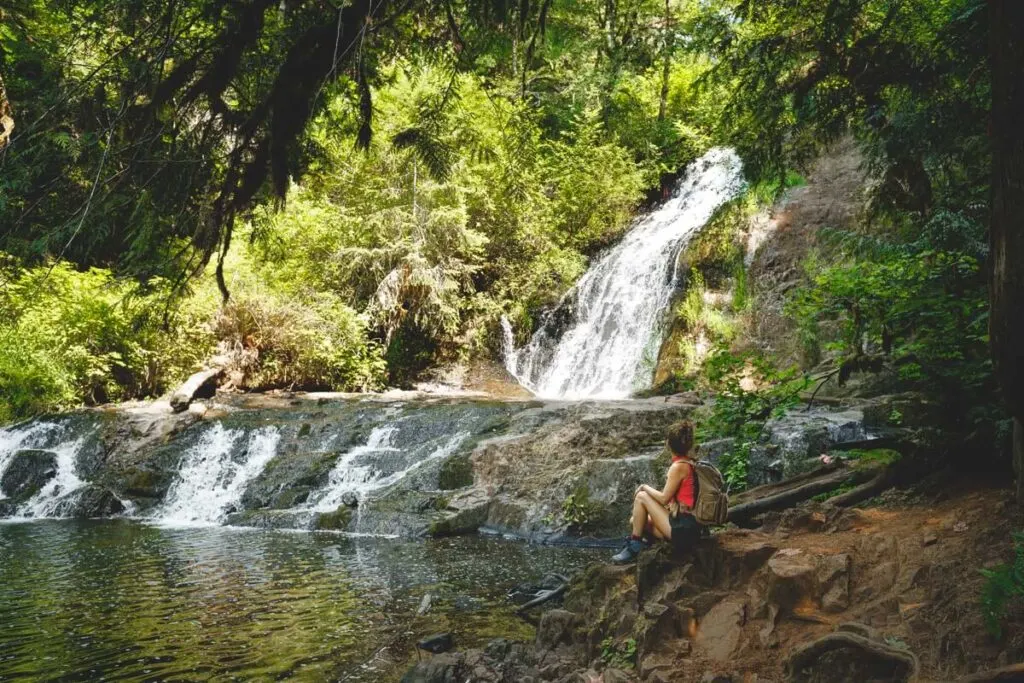 Sure, they may not be the most impressive waterfalls in Oregon, but the fact that you can see them almost without leaving the car, and that there are some rather picturesque swimming spots to plunge into on hot summer's day, they are definitely worth a visit.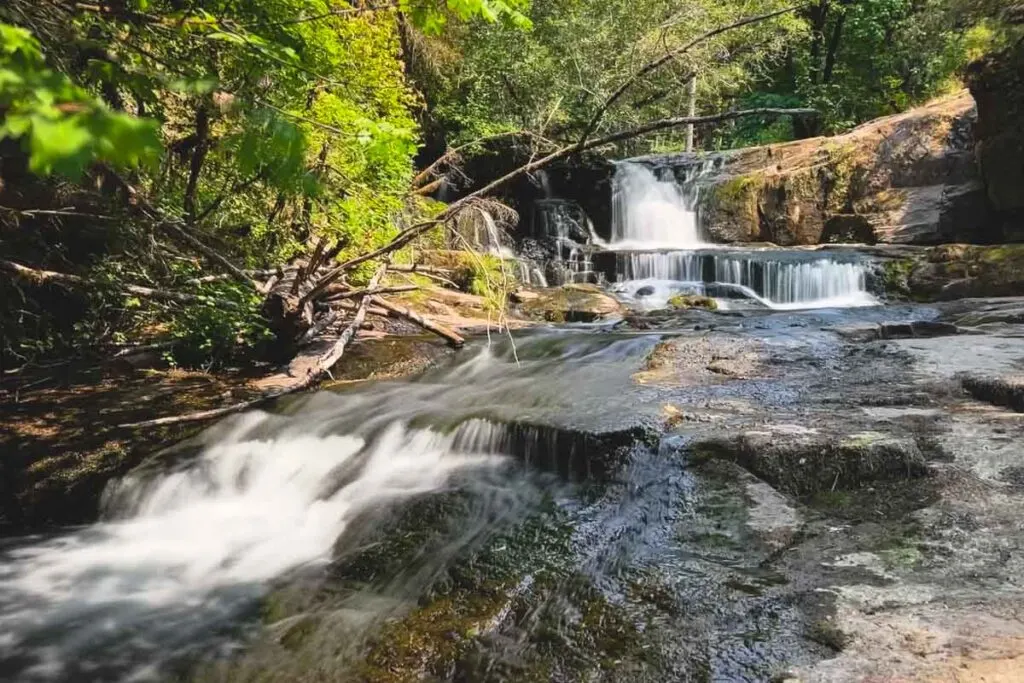 Take Alsea Falls and Green Peak Falls Trail to see the action up close. The hike is 2.4 miles long and relatively easy, and even without the waterfalls, is beautifully scenic. Alsea Falls can be found almost as soon as you head off from the trailhead, with Green Peak just a little further through forests of towering Douglas fir.
---
READ MORE: Hiking The Alsea Falls & Green Peak Falls Trail
---
3. Salt Creek and Diamond Creek Falls
1 hour 15 minutes from Eugene
Distance: 4.5 miles
Type of hike: Loop
Difficulty: Moderate
Salt Creek and Diamond Falls are huge. We are talking about some seriously big waterfalls near Eugene. One of them drops 286 feet and the other 120 feet, but despite the size of the falls, the 4.5-mile loop is pretty easy, although be aware of the dangers, such as open cliff edges.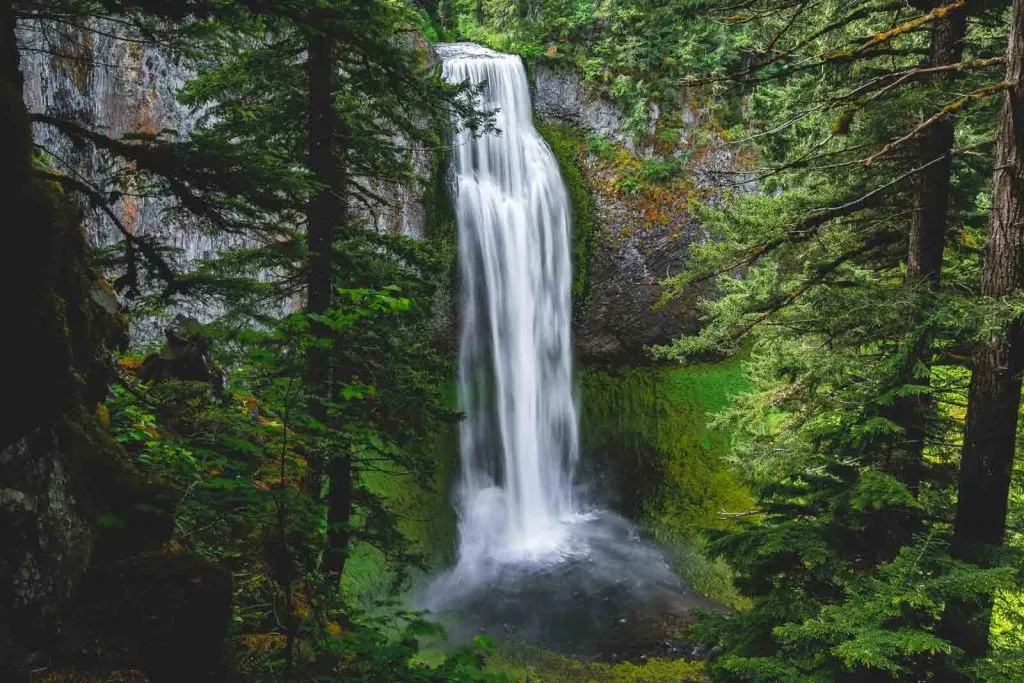 Salt Creek Falls is arguably the second largest waterfall in Oregon. Many people, upon reaching the falls, take a selfie or two and go on their way, but you would be silly to miss out on the smaller Diamond Creek Falls while you are there.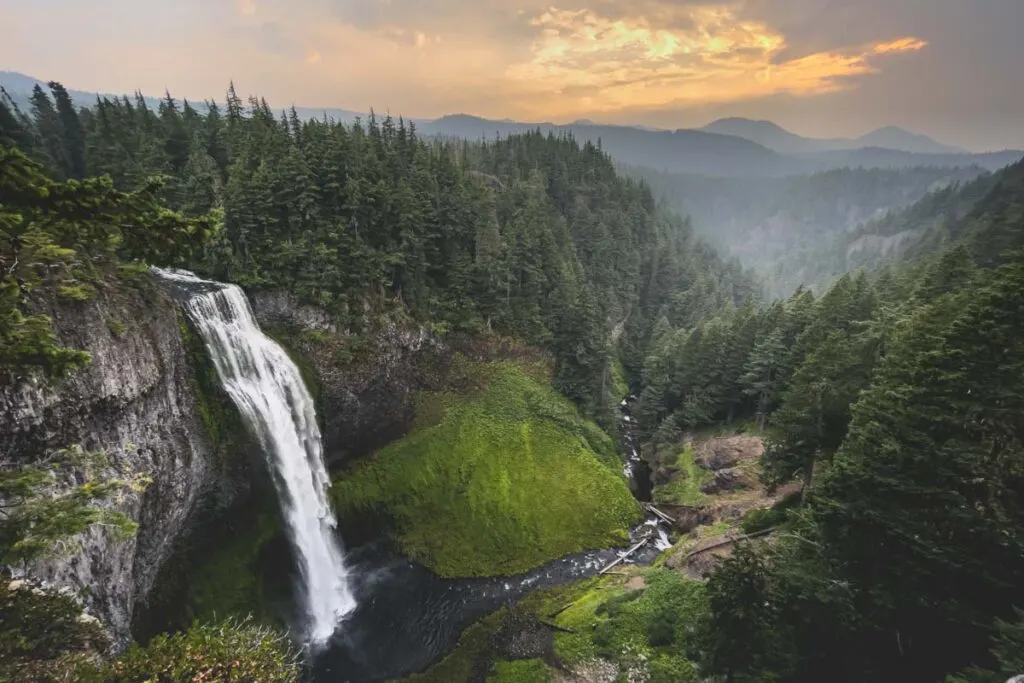 The whole hike should take you around 2 hours, and you will get fantastic views of both waterfalls. The main trail will start from Salt Creek Falls by following the paved pathway upstream for around 1.6 miles. It is here the trail heads downhill very steeply, with steep wooden stairs at some points to help you down.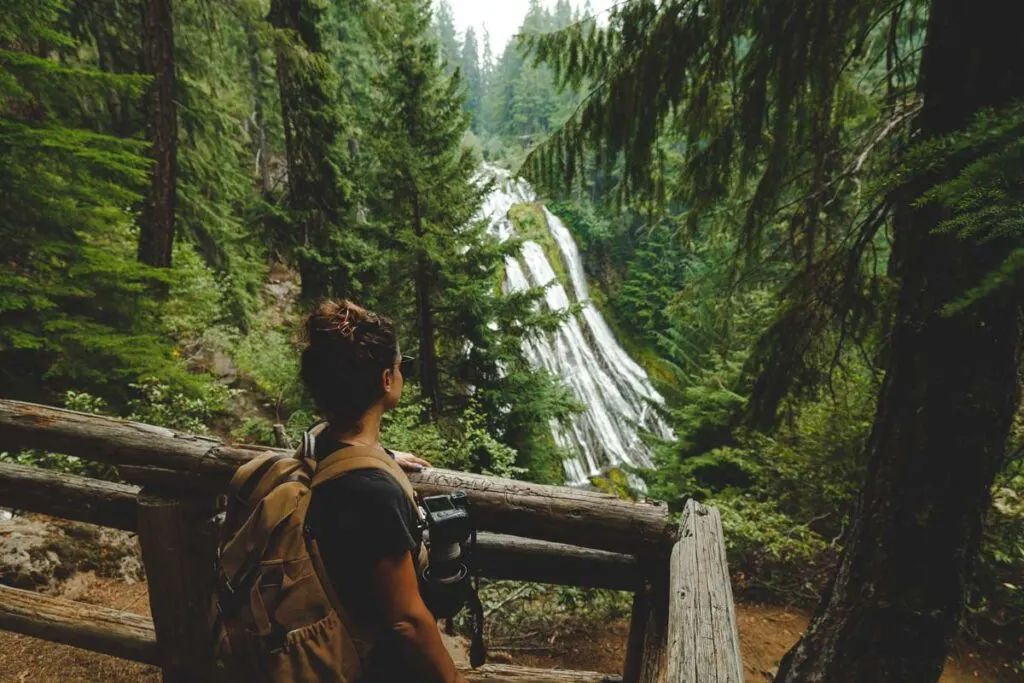 Once you have conquered the stairs, you will get to view the falls right from its base, and although it is not as big, you will get a better vantage point than at Salt Creek Falls.
---
READ MORE: Salt Creek Falls & Diamond Creek Falls Hike
---
4. Proxy Falls (Our Fav Waterfall Near Eugene)
1 hour 15 minutes from Eugene
Distance: 1.6 miles
Type of Trail: Loop
Difficulty: Easy
Beautiful Proxy Falls isn't as aggressive or impressive as the other waterfalls in Eugene, but as a 226-foot veil of water that tumbles gracefully down the rock, shimmering in the light, it is arguably one of the most beautiful.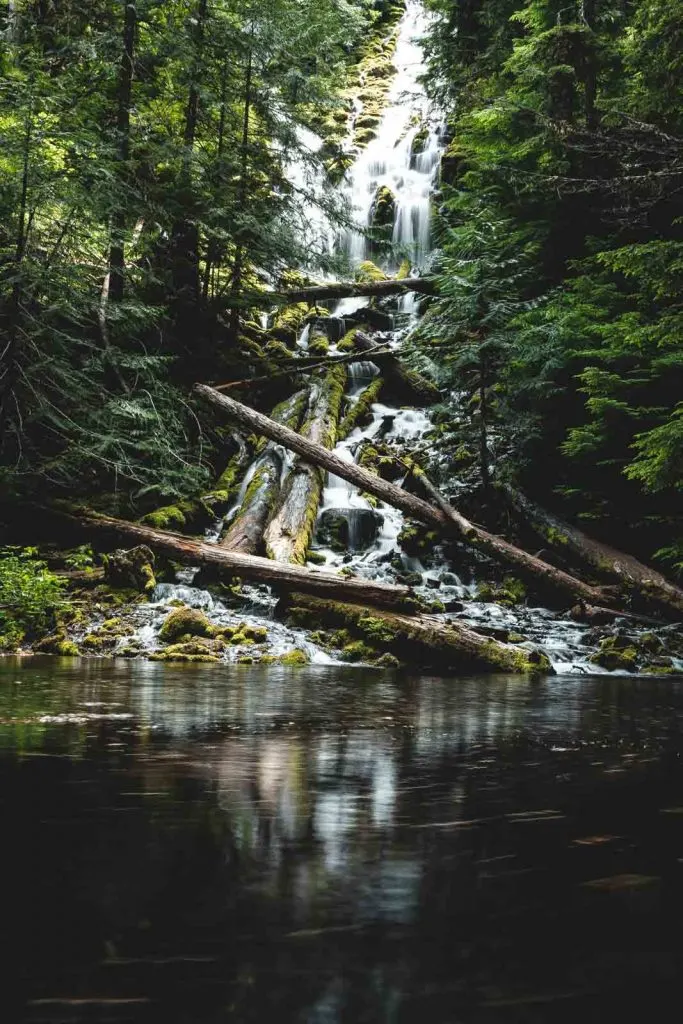 The cool thing about these falls is that when it hits the ground, the water seems to disappear completely, rather than continue on down a river. In fact, the rock at the bottom is porous lava, allowing the water to seep through underground.
The short and sweet Proxy Falls Loop is just 1.6 miles long and is all the more special thanks to the fact that it can only be accessed for half the year, during the summer months. In the winter, car access to the trailhead is completely cut off with a snow gate.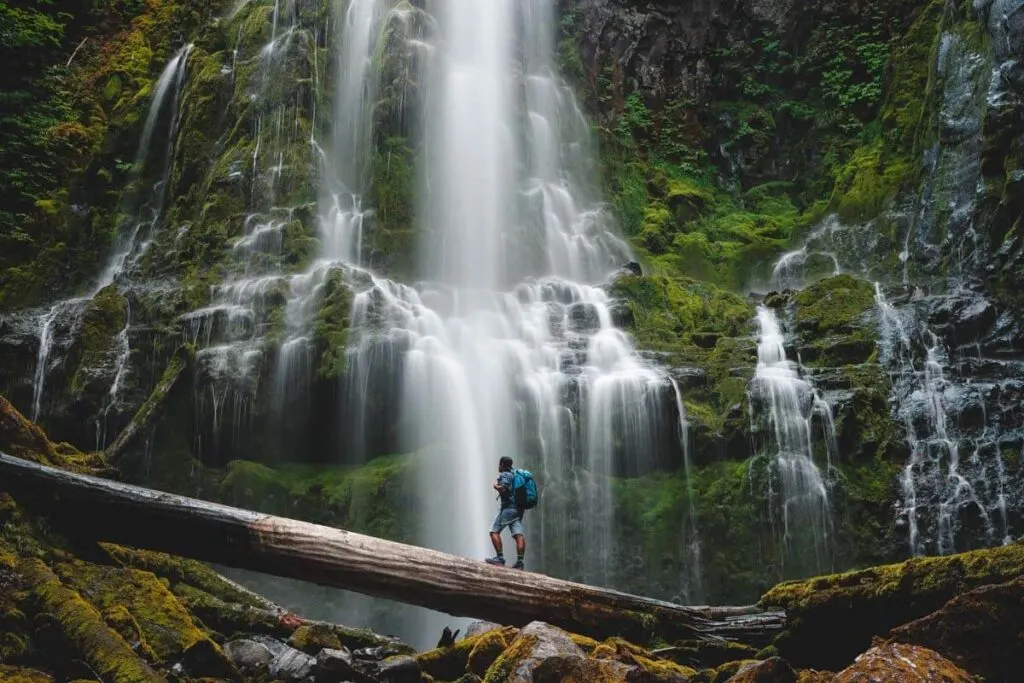 There is a marked trailhead and is an easy to moderate hike depending if you go to the base of the falls or not. The closer you get, the sketchier the trail.
---
READ MORE: Proxy Falls Hike—Central Oregon's Most Epic Waterfall!
---
5. Koosah and Sahalie Falls
1 hour 15 minutes from Eugene
Distance: 2.6 miles
Type of Trail: Loop
Difficulty: Easy
Located along the McKenzie River, Koosah and Sahalie Falls are easy to reach and are equally as stunning as each other, so add them to your waterfalls near Eugene bucket list.
You'll be able to hear the crashing sounds of Sahalie Falls right from the parking lot, as it drops 100 feet into the incredibly blue water below. The first time you see Koosah Falls, it will be from its top, which is quite a unique vantage point, but there is also another viewpoint that gives you a direct sight of this 70-foot waterfall.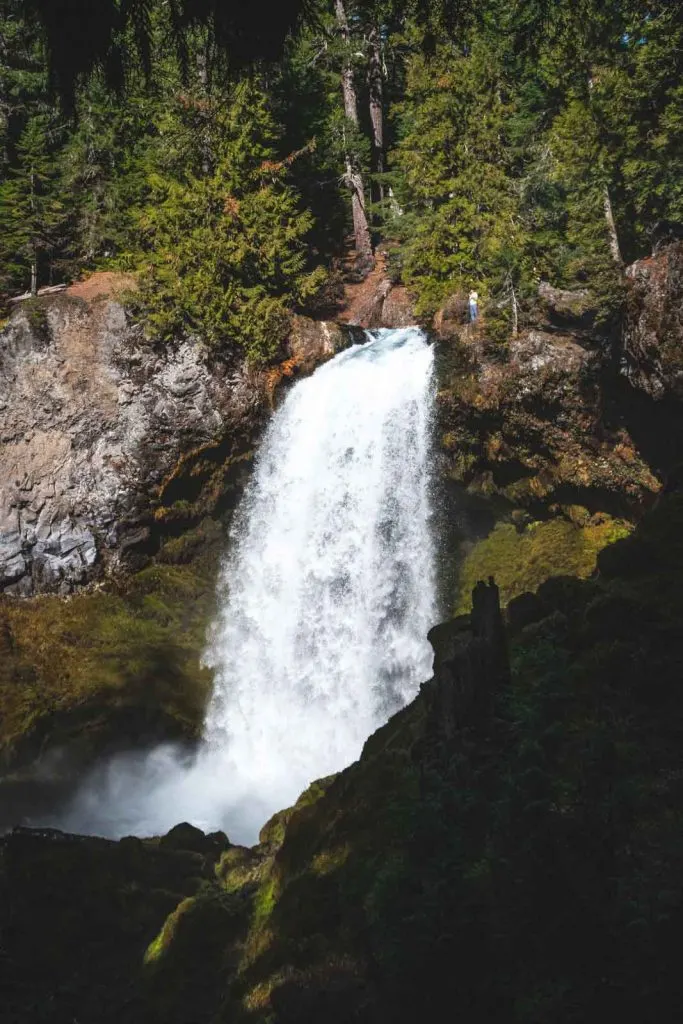 The hike is 2.6 miles in length and is an easy loop, with a 400-foot elevation gain. The loop hike is a good length if you want to stretch your legs, but if it is just the falls you are interested in, they each have their own parking lot.
---
READ MORE: Exploring the Sahalie and Koosah Falls Hiking Loop
---
6. Silver Falls
1 hour 25 minutes from Eugene
Distance: 7.6 miles (full loop)
Type of trail: Loop
Difficulty: Moderate
Silver Falls sits within its namesake park, an incredible, deep canyon that contains no less than 10 waterfalls, half of which are over 100 feet high. Many people call this park the 'jewel of the Oregon State Parks', and it is not hard to see why.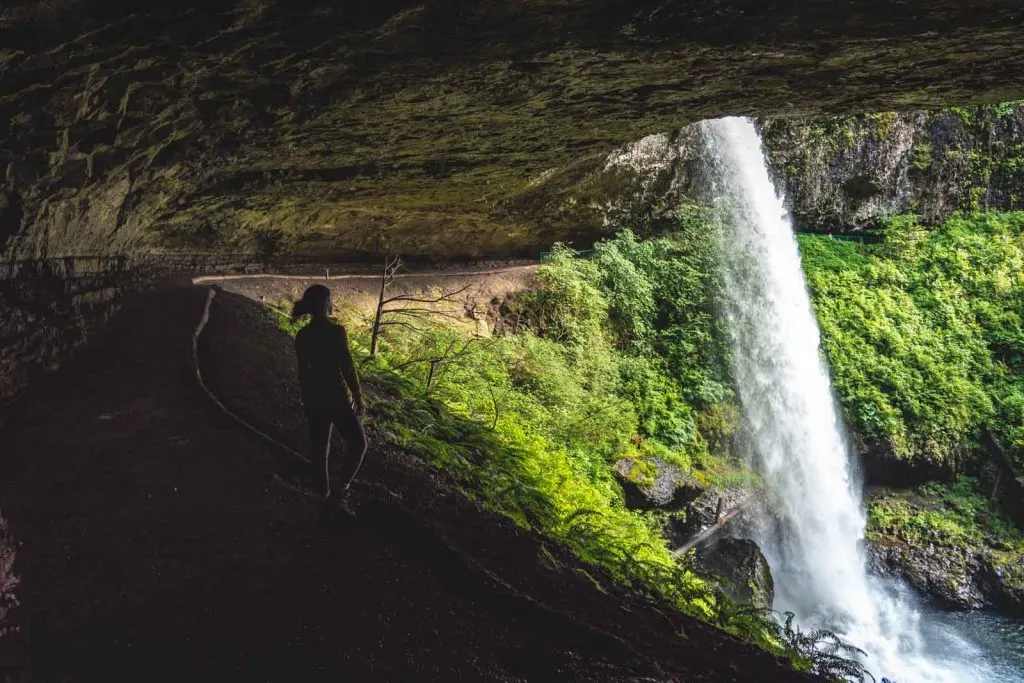 It contains one of the few waterfalls in the state that you are actually able to walk behind, one of them being the 177 foot South Falls. Located in the foothills of the cascades, it is a pretty popular park with some of the most well-known waterfalls in Eugene, but it is one worth battling the crowds for.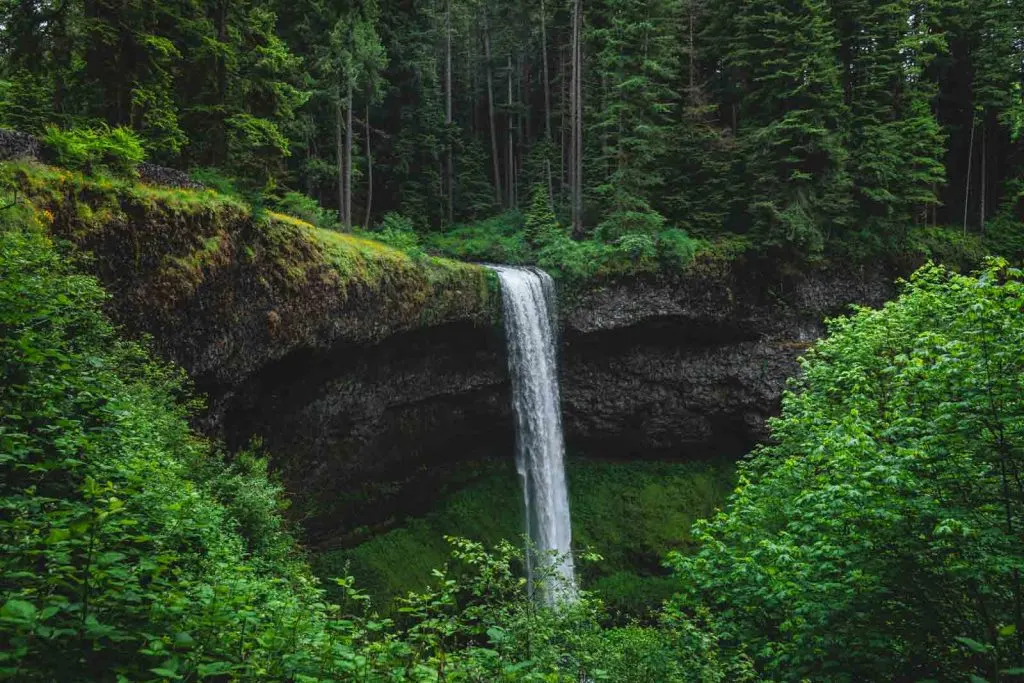 The most popular hike through the park visits all 10 of its waterfalls, so unsurprisingly and unimaginatively, it is called the Trail of Ten Falls. It really is a must-do when in Oregon, as you'll pass through a beautiful forest, with glimpses of the rocky canyon and several connecting trails to make the 7.6-mile loop either longer or shorter.
---
READ MORE: Your Guide to Silver Falls State Park—The Trail of 10 Falls & More
---
7. Kentucky Falls
1 hour 40 minutes from Eugene
Distance: 3.7 miles
Type of Trail: Out & Back
Difficulty: Moderate
Kentucky Falls is majestic, with the upper falls alone powering 100 feet down the rock. The Lower Falls and North Fork Smith Falls are equally as impressive, both of which can be seen from the viewing deck. If you want a closer look, there is a small trail that takes you to the edge of the river.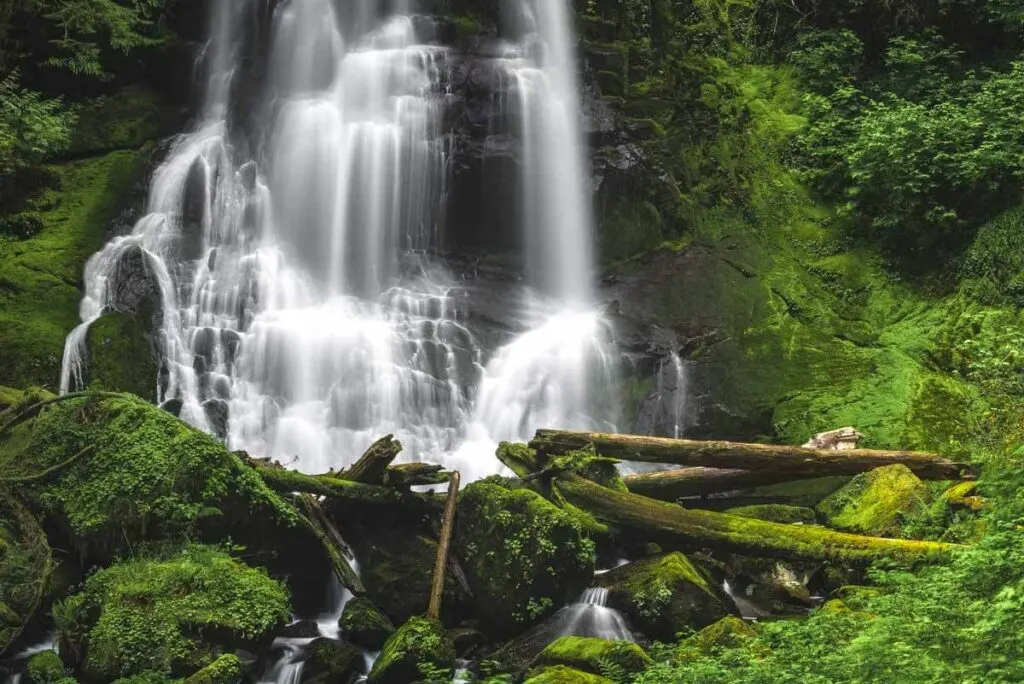 The total Kentucky Falls Trail is 3.7 miles, and in total, you'll take in 3 stunning waterfalls. The hike is out and back, taking you through the Siuslaw National Forest.
From the trailhead, you have to cross Kentucky Creek and start heading down through old-growth Douglas-fir forest for not even a mile, and you will reach Upper Kentucky Falls.
8. Umpqua National Forest Waterfalls
1 hour 45 minutes from Eugene
Numerous falls in this area!
Don't splash out on expensive waterpark tickets when you have natural water slides at your disposal. South Umpqua Falls, within Umpqua National Forest, forms almost the perfect water slide, with numerous cascades, swimming pools, and rocks to sunbathe on.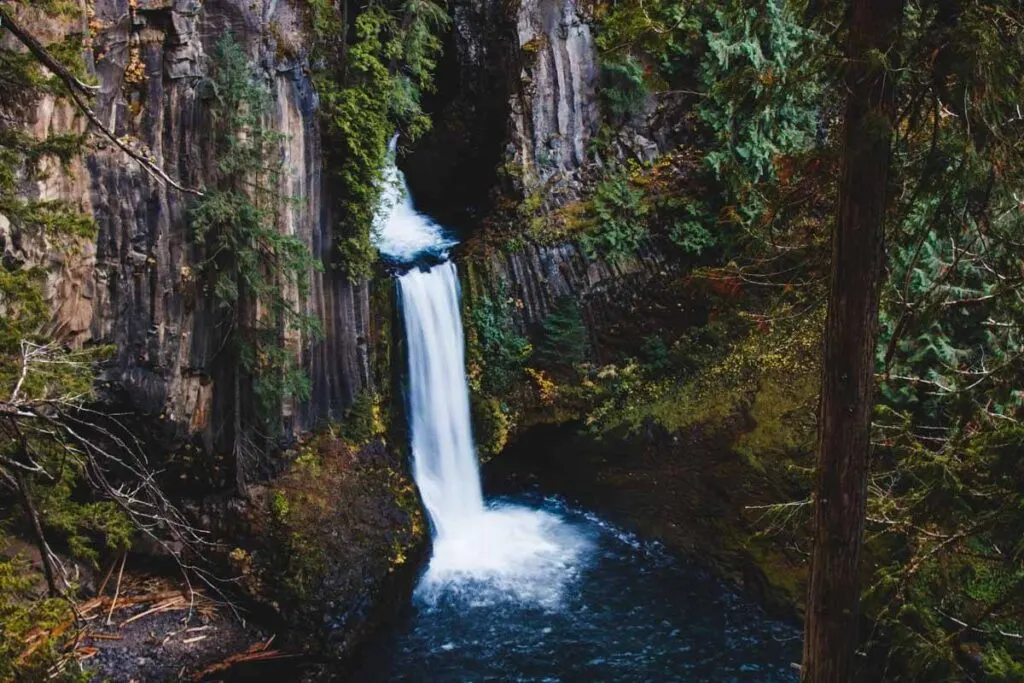 The water here is about 30 feet deep, making it perfect for splashing about in. The river flows over the mossy rocks before dropping 15 feet into a ready-made plunge pool. Many people also cliff jump here, but be careful! Keep in mind this is the furthest of them all at over 2 hours away but the rest mentioned here are under 2 hours from Eugene.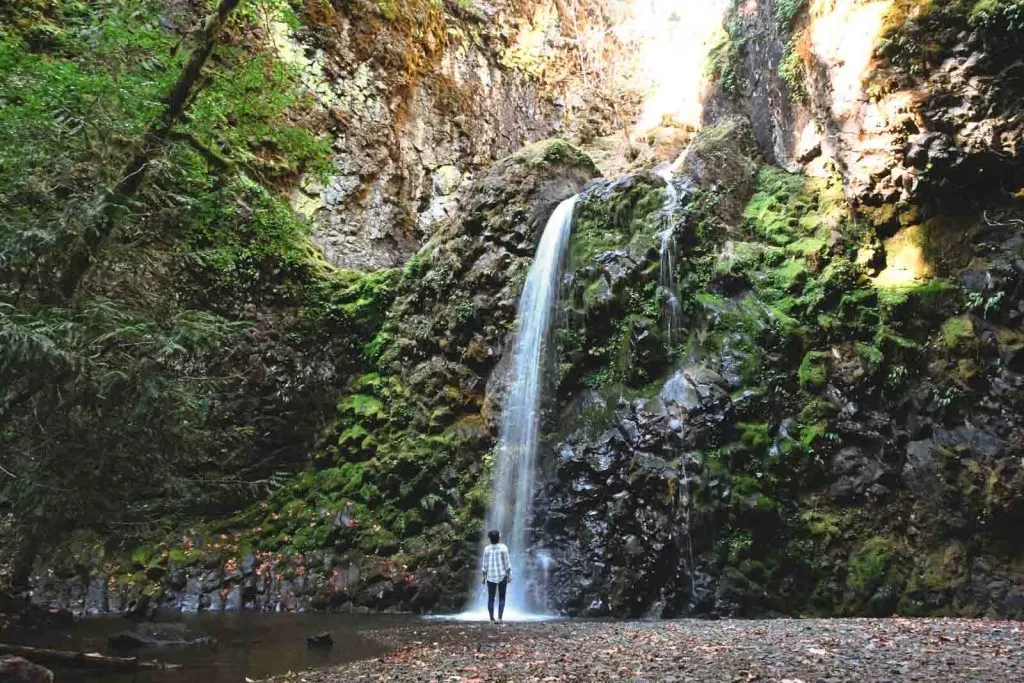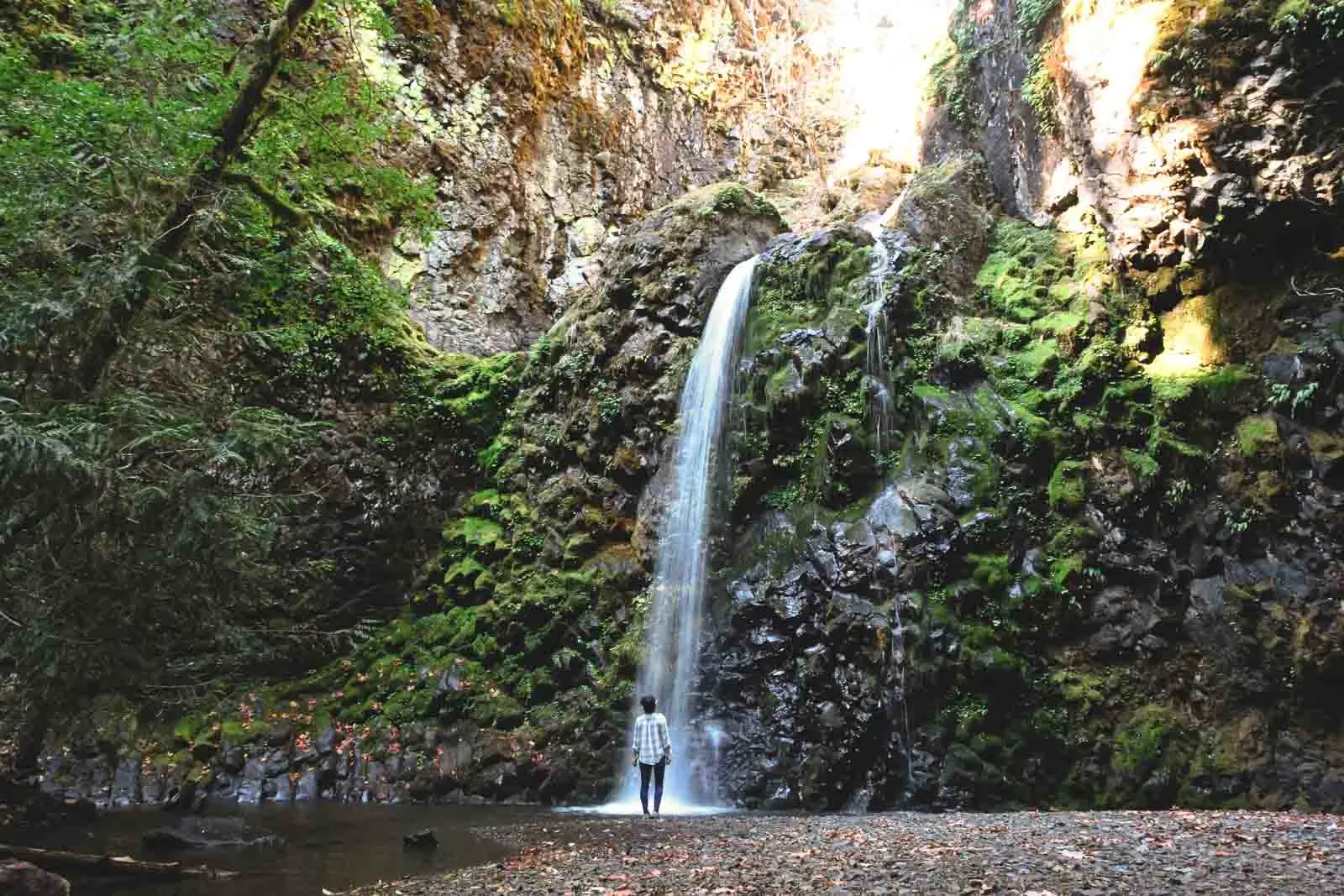 There are plenty of other waterfalls to see in the forest while in the area, such as stunning Susan Creek Falls, which can be found via a short, easy 1.9-mile hike. Toketee Falls (1 mile) is a pretty cool one thanks to the basalt-columned gorge that literally surrounds the water, and it is also very easy to get to.
Save the best until last though. Watson Falls are a huge 300 feet high, and the surrounding cliffs help to make it one of the most beautiful waterfalls in the forest, or even the whole of Oregon. Just come during the wet season otherwise, it dries up.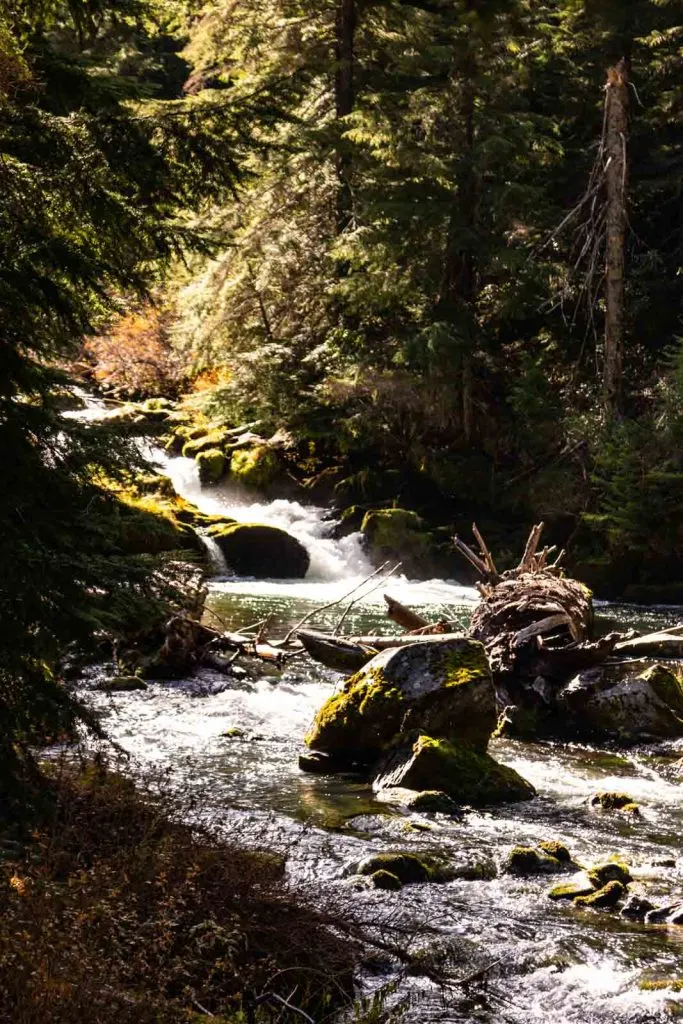 These are just a few of the many in the area, but if you have the time, you should also try and check out Fall Creek Falls, Lemolo Falls, Yakso Falls, Hemlock Falls, and Clover Falls.
---
RELATED: Guide to Umpqua National Forest: Waterfall Hikes & Hot Springs
---
9. Abiqua Falls (Most Impressive Waterfall Near Eugene)
2 hours from Eugene
Distance: 5.3 miles
Type of Trail: Out & Back
Difficulty: Difficult
Abiqua Falls is one of those places that presents a bit of a challenge to reach, but this fact alone makes it even more appealing. Although it is not the highest of waterfalls at 92 feet tall, it is extremely impressive thanks to the rock amphitheater that it sits in, made up of jagged basalt columns.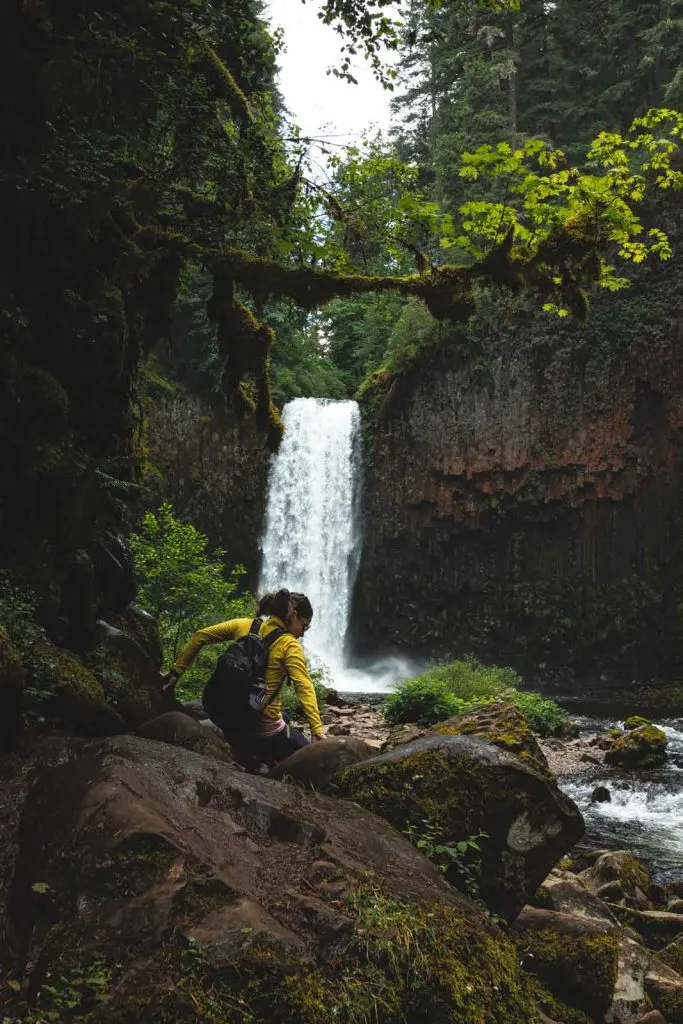 It won't take you long to reach these photogenic falls, but be aware that the trail is a little on the rugged side, with little to no markings guiding the way. Just follow the creek from the parking lot upstream, and you shouldn't have too much trouble finding it, although you may have to scramble over a few boulders.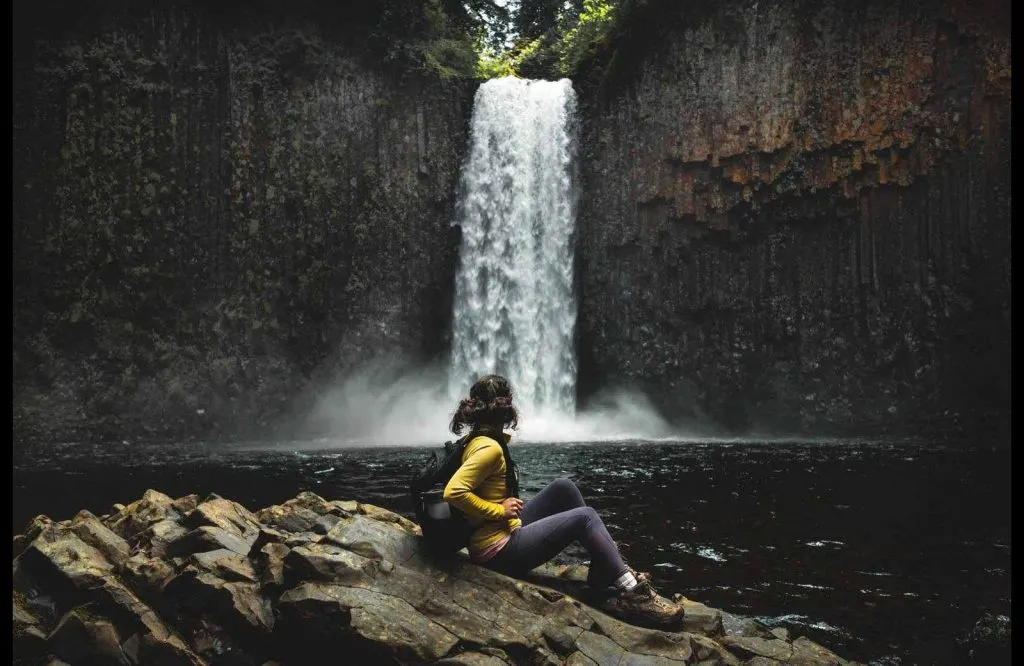 The path down to the creek is very steep, so steep in fact, that ropes have been set up to help you down. The end makes it all worth it though!
---
READ MORE: Your Guide to The Abiqua Waterfall Hike Near Portland
---
We hope this post help you plan a trip to visit the best waterfalls in Eugene! Don't forget to check out other hikes in Oregon and adventures around the state.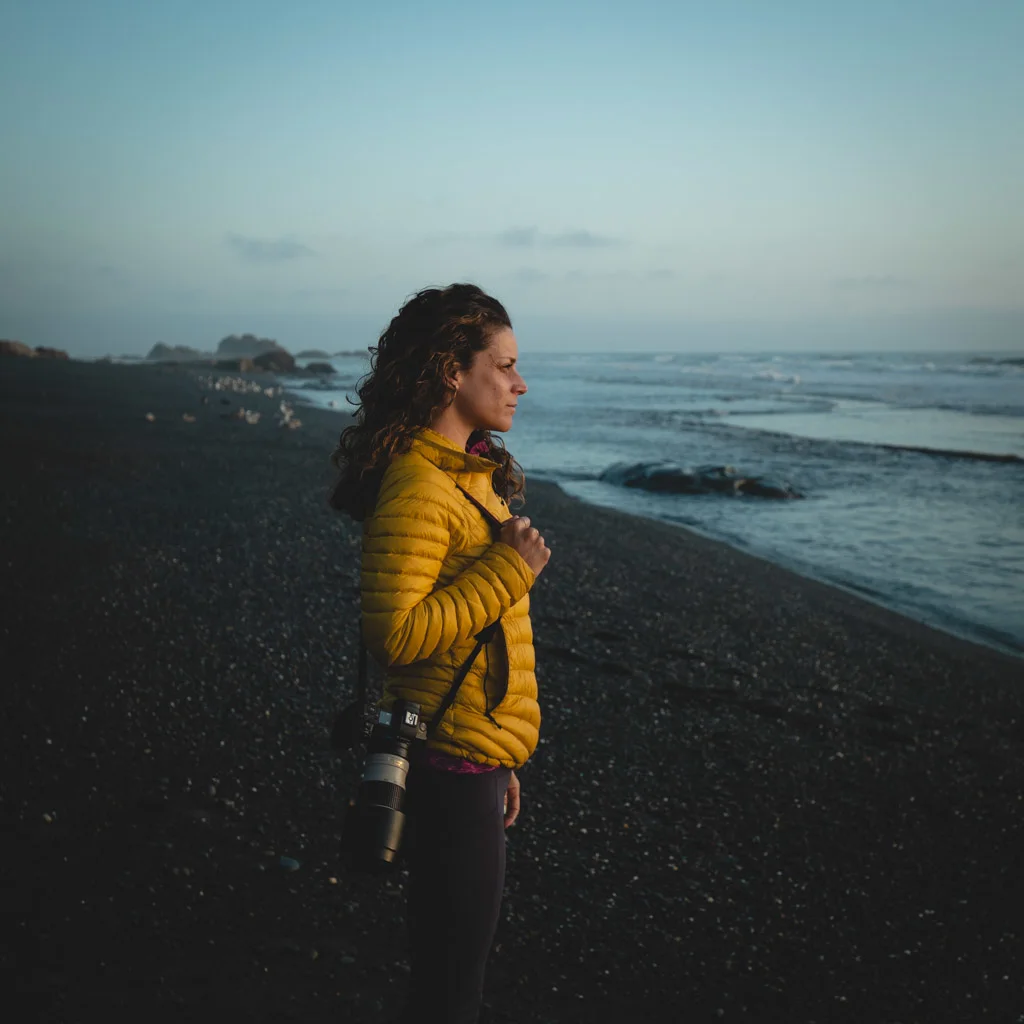 I've been perpetually traveling and living around the world for years but it's hard to beat Oregon and the PNW. After years of road-tripping the area, I guess you can say I know it pretty well! When I'm not writing guides for you, you can catch me somewhere petting a dog, attempting to surf, hiking a volcano, or stuffing my face with bread and cheese.