Just 14 miles from Bend, Oregon, the Tumalo Falls hikes is one of the areas most popular. The trail features several cascading waterfalls and beautiful forest to wander through.
Before you head out on this hike, here's everything you need to know.
Tumalo Falls Hike & Bike Trail
---
There are actually a few choices for this trail. You can do it out and back instead of a loop, you don't have to do it all yet still see Tumalo Falls, you can hike it or bike it… There are tons of choices, but the "regular" full loop hiking route is as follows.
Hiking details for the Tumalo Falls Trail:
Length: 7.5 Miles
Type of Trail: Loop
Difficulty: Moderate
How to Get to Tumalo Falls
Too easy, head east out of Bend on Skyliners Road. It takes about 30 minutes to get to the trailhead from Bend.
Do note, the last few miles to the trailhead is on a gravel road. The parking lot gets full, and it's quite common to have to park down the road and then walk to the trailhead. The parking lot isn't very big, and it's best to arrive earlier in the day.
Tumalo Falls Trail
The Tumalo Falls Trail isn't really the name of the trail you'll be hiking. The trail is actually called the North Fork Trail. If you decide to make the entire loop, you'll be using the Swampy Lakes Trail and Bridge Creek Trail as well.
As you walk from your car to the trailhead, you'll first hear Tumalo Falls. Just to the right after the parking lot is a viewing platform of Tumalo Falls. Yep, you don't even have to hike to get here! Tumalo Falls is mighty and gushing over a cliffside encompassed by a pine-covered valley. The view here is perfect but…
To get a closer look, the trail does go to the top of the falls; however, before you make it to the top of the falls, try to find the slightly hidden trail that goes to the bottom of the falls first. You'll get to walk right up to Tumalo Falls, but not many take this detour (probably because they aren't looking out for it. Hint hint, keep your eyes open!).
The grand entrance to this hike is certainly what most would think would be the finale, which is why tons of people turn around after hanging out just around Tumalo Falls, which is only about a mile or so in.
---
RELATED: 10 Waterfall Hikes Near Bend That Are Worth Visiting
---
Hiking Past Tumalo Falls
Continue along the trail, and you'll stumble on countless other waterfalls, all with names like Lower Tumalo Falls, Lower Middle Tumalo Falls… and other unoriginal names referencing the main event—Tumalo Falls!
Double Falls is one of the nicer looking waterfalls that isn't covered up by pines and hidden away. Just be careful not to get too close to the edges as many of the viewpoints are close to cliffsides.
The trail is pretty easy, and the inclines are gentle. You'll only get about 1,000 feet of elevation in total.
The very last waterfall on the North Fork Trail is quite stunning as well. There are two viewing areas, one from afar and one right at the base of the first falls. It's a beautiful double tiered-waterfall that gushes out of the verdant woodland. It's at this point that you can turn back, or you can continue to make a loop.
The loop will end with another few waterfalls, but it will be miles before you get there.
Either way, you choose, you still complete a bit over 7 miles.
The loop strings you along the Swampy Lakes Trail, which runs into the Bridge Creek Falls Trail. You'll have a relaxing few miles on a pine-lined pathway until you reach another couple of waterfalls before getting back to the main trailhead.
Biking The Tumalo Falls Trail
For those wanting to bike the Tumalo Falls Trail instead, you may do so! The North Fork Trail is shared with hikers and bikers. Bikers can only go uphill on this trail, meaning they can head from the parking lot towards the waterfalls only.
Bikers, to make it back to the parking lot, will go around a different loop than the hikers. There are tons of different biking trails to choose from, but a recommended route for a great 15-mile run is the North Fork to Fawerwell Loop.
Phil's Trailhead to Shevlin Trail is another option for a 44-mile path that circles the area. You can check these maps for more biking info in the area.
Tips Before Visiting Tumalo Falls
One note to keep in mind is that this Tumalo Falls hike is NOT in Tumalo State Park! In fact, you're about 40 minutes away. Some people get these two mixed up.
Keep in mind the last few miles driving to the trailhead is on a rocky dirt path.
During winter, the gates close adding a few extra miles to your hike. You'll be hiking around 6.5 miles just to get to the parking lot, where Tumalo Falls is.
Bring your dog! You can't do the loop but dogs are allowed on the North Fork Trail.
The trail is mostly dirt, rocks, and tree roots. Wear decent hiking shoes.
Bring water, sunscreen, and mosquito spray.
Take care on the trail if you're hiking it as it's pretty narrow at times and bikes will be coming up behind you.
Display your Northwest Pass or pay the $5 day fee. (Considering the popularity, they do check!)
We hope this post helped you plan an epic Tumalo Falls hike! Check out more about Bend and the other adventures in Oregon.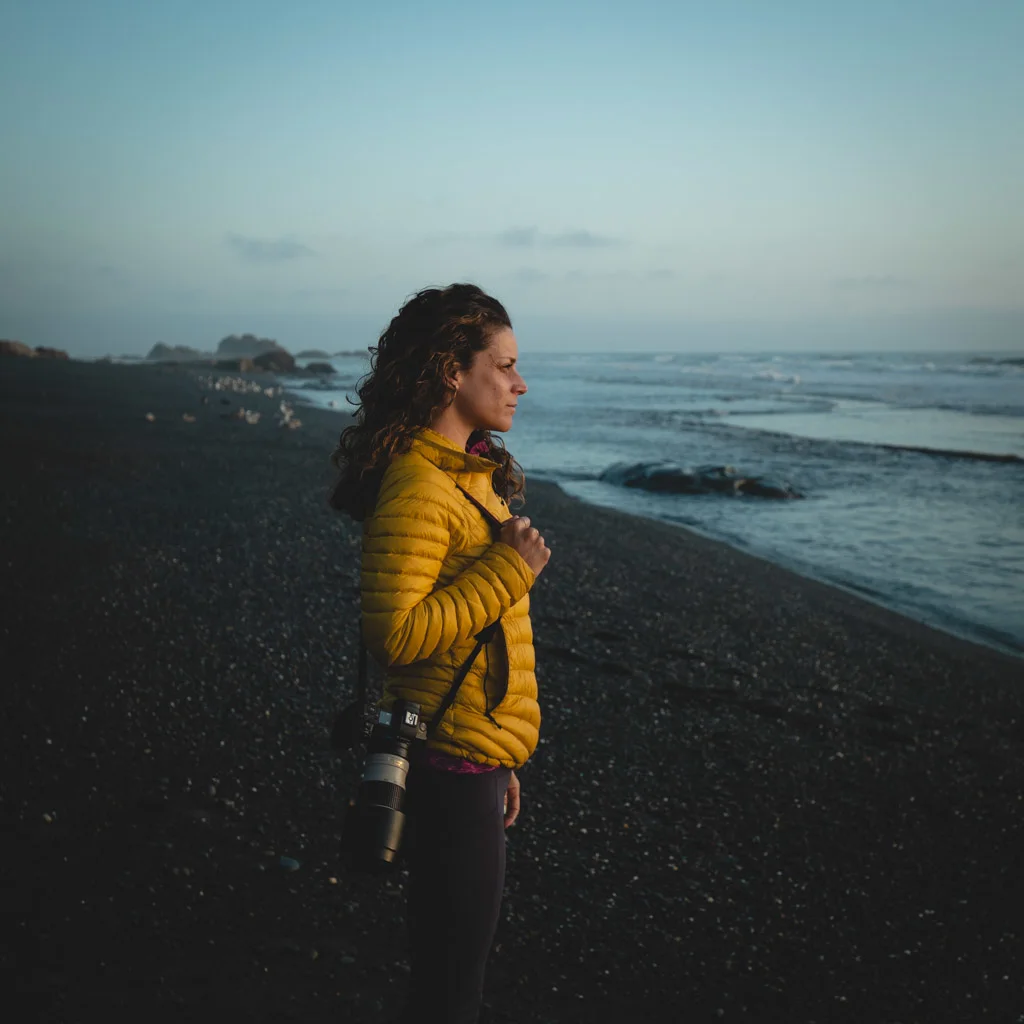 I've been perpetually traveling and living around the world for years but it's hard to beat Oregon and the PNW. After years of road-tripping the area, I guess you can say I know it pretty well! When I'm not writing guides for you, you can catch me somewhere petting a dog, attempting to surf, hiking a volcano, or stuffing my face with bread and cheese.