The Trail of 10 Falls is the star of the show at Silver Falls State Park, and it's no surprise why. It's a hiking trail with 10 gorgeous waterfalls that you can walk right up to! How many hiking trails can say that?
To add even more magic to this trail, you can walk behind a few of the falls which most waterfall hikes can't boast.
North, Middle North, South, and Lower South Falls are some of the tallest of the waterfalls in the park, and all four have dark caverns behind the falls. The trail fringes behind the falls, so you're backed into the cavern as the thundering waterfall gushes over your head.
It's certainly one of the coolest trails in the state, and we hope this post helps you explore it better.
Silver Falls State Park
Silver Falls State Park is a very easy and small park to navigate and it's only about an hour from Portland! The Trail of 10 Falls is the main thing to do in the area, and almost everything here leads you to this trail.
There are two main parking lots to park at so you can explore this trail: the North Falls Parking area and the South Falls Parking area. Below I'll help explain the many different routes you can take to best tackle this hike.
We recommend the entire thing since it's all so stunning, but we know people also love options, so we will help explain those.
→ If you don't have access to a vehicle, you can take this great tour to Silver Falls State Park from Portland to hike the Trail of 10 Falls.
The Best Silver Falls Hike—Trail of 10 Falls
Main details for the Trail of 10 Falls:
Distance: 7.6 miles (full loop)
Type of trail: Loop
Difficulty: Moderate
Before we head into the different routes of this trail, I'll talk about all 10 falls that you'll see and how they are clustered on the trail. All 10 are pictured and labeled in this post so you can see what you're in for as well!
1. South Falls
At a 177-foot drop, South Falls is Silver Fall State Park's tallest waterfall. You can easily see this waterfall just a few minutes into the Trail of 10 Falls.
This is probably the most visited waterfall simply because it's the first from the main parking area, and you can complete a one-mile loop if you're in a rush and can only squeeze in one waterfall.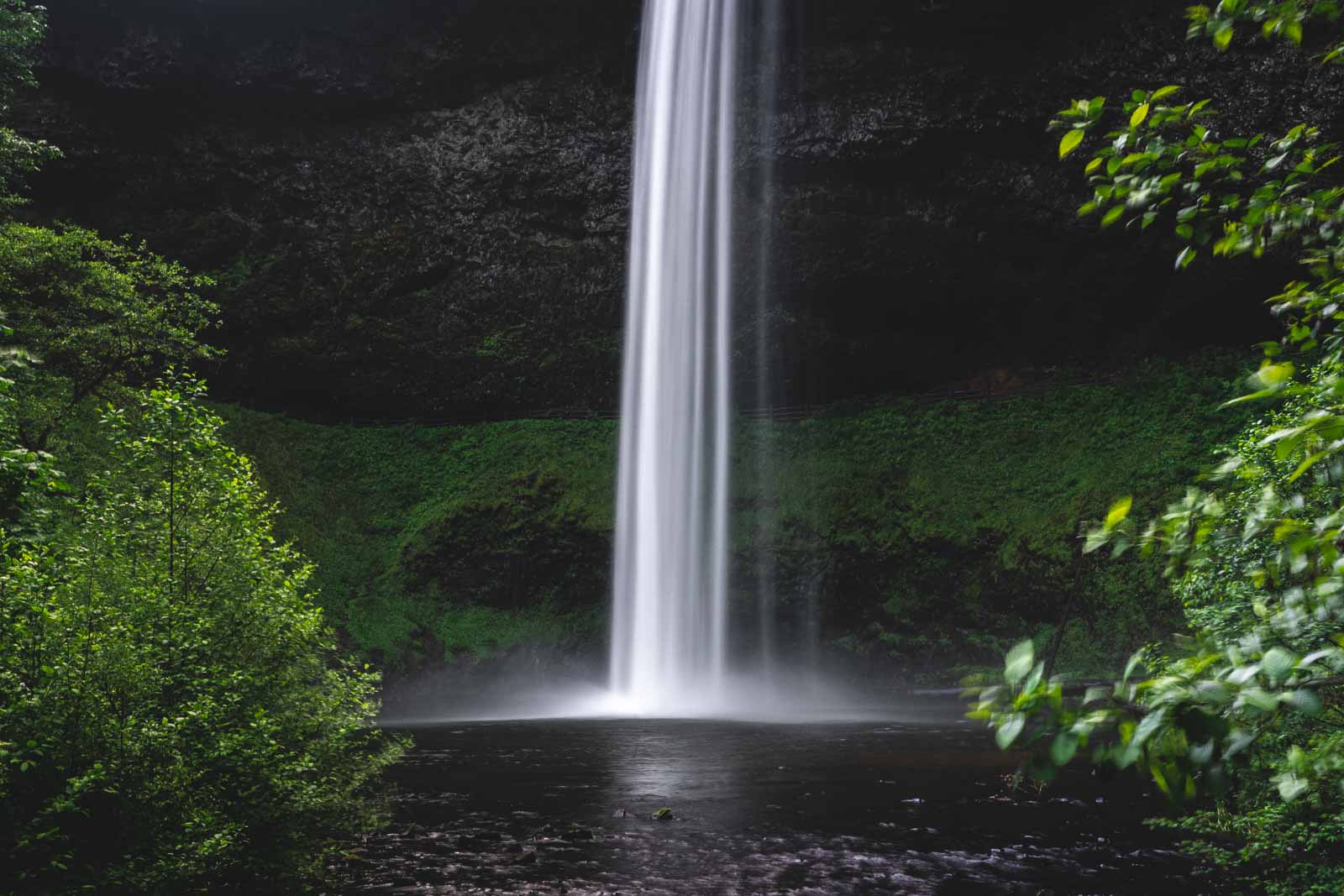 South Falls is an almost perfect rectangle of flowing water with an alcove directly behind the curtain of water. Waking behind the waterfall is all part of the trail, and it's very cool. Just take care as the stairs and path are a bit slippery due to all the misting.
South Falls also has a viewing bridge just across from the falls; you can use this to make the quick loop to just this waterfall or skip the bridge loop and continue on to the next waterfall.
2. Lower South Falls
Just about another mile down on the Trail of 10 Falls, you'll reach Lower South Falls, which is yet another incredible waterfall you can walk behind.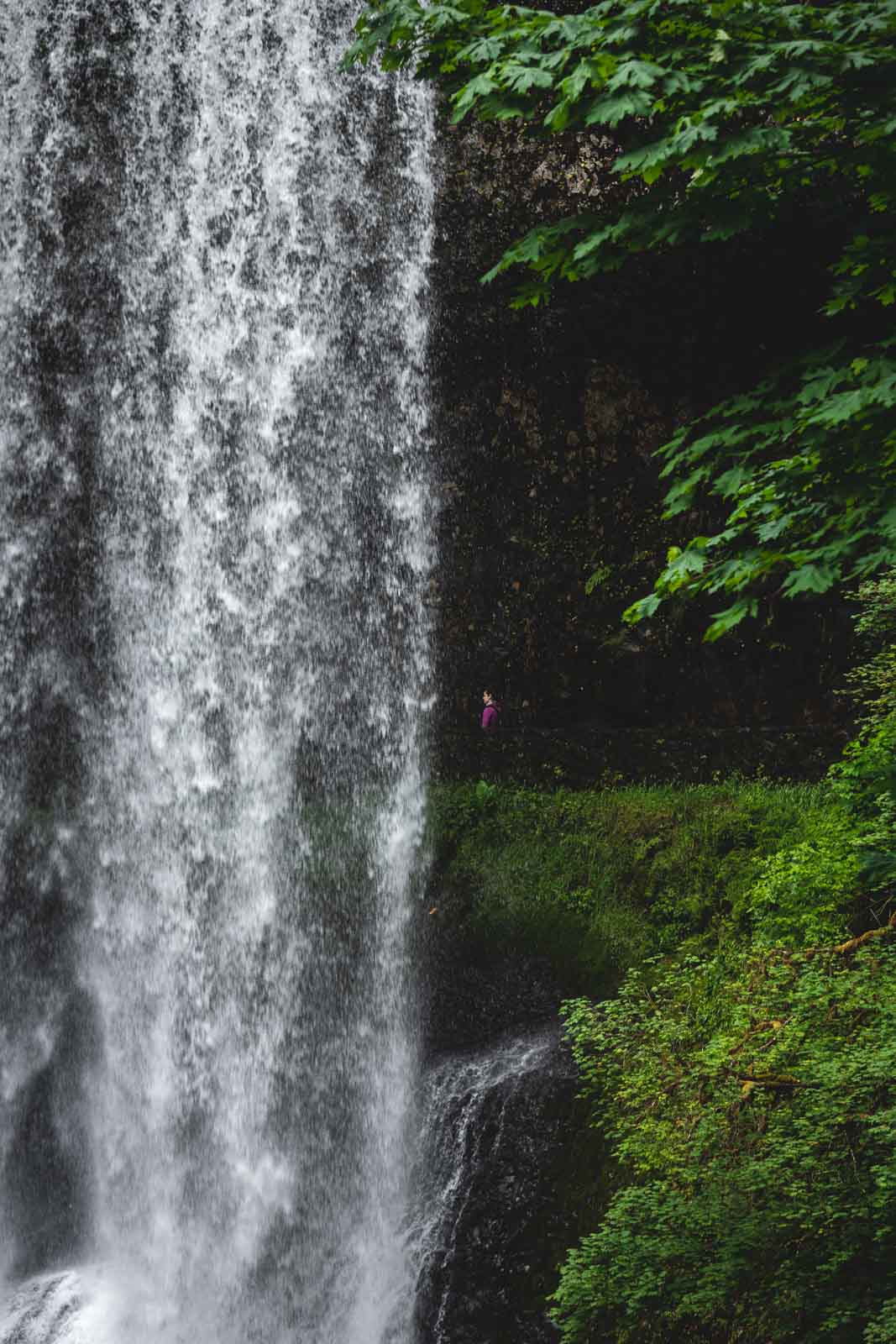 This one looks similar to its bigger sister, South Falls, but falls just 93-feet into the pool below. You can see in the picture above how tiny I am when walking behind the falls, the power you feel back there is unbelievable.
3-8. Lower North, Double, Drake, Middle North, Twin and Winter Falls
Right in the middle of the Trail of 10 Falls are six beautiful waterfalls. They aren't as tall or as impressive as South and Lower South but are all still worth visiting. There are all clustered on the path at the top of the loop, with Winter Falls falling south of the rest.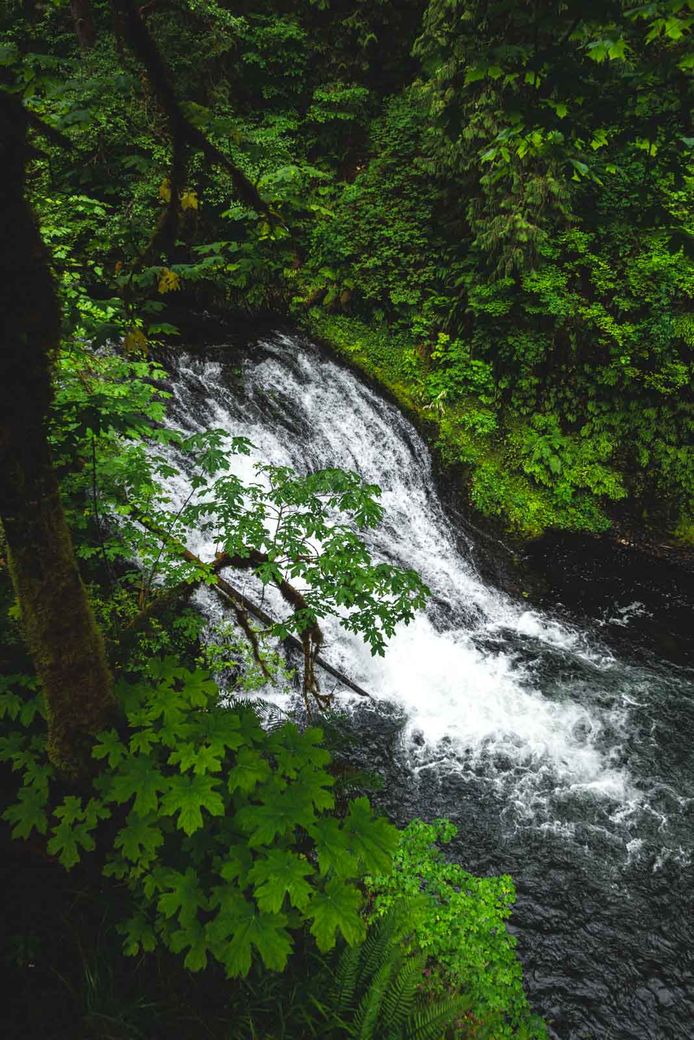 These "middle falls" on the trail are… Lower North Falls at 30 feet tall, Double Falls at 177 feet tall, Drake Falls at 27 feet tall, Middle North Falls at 103 feet tall, Twin Falls at 31 feet tall, and Winter Falls at 134 feet tall.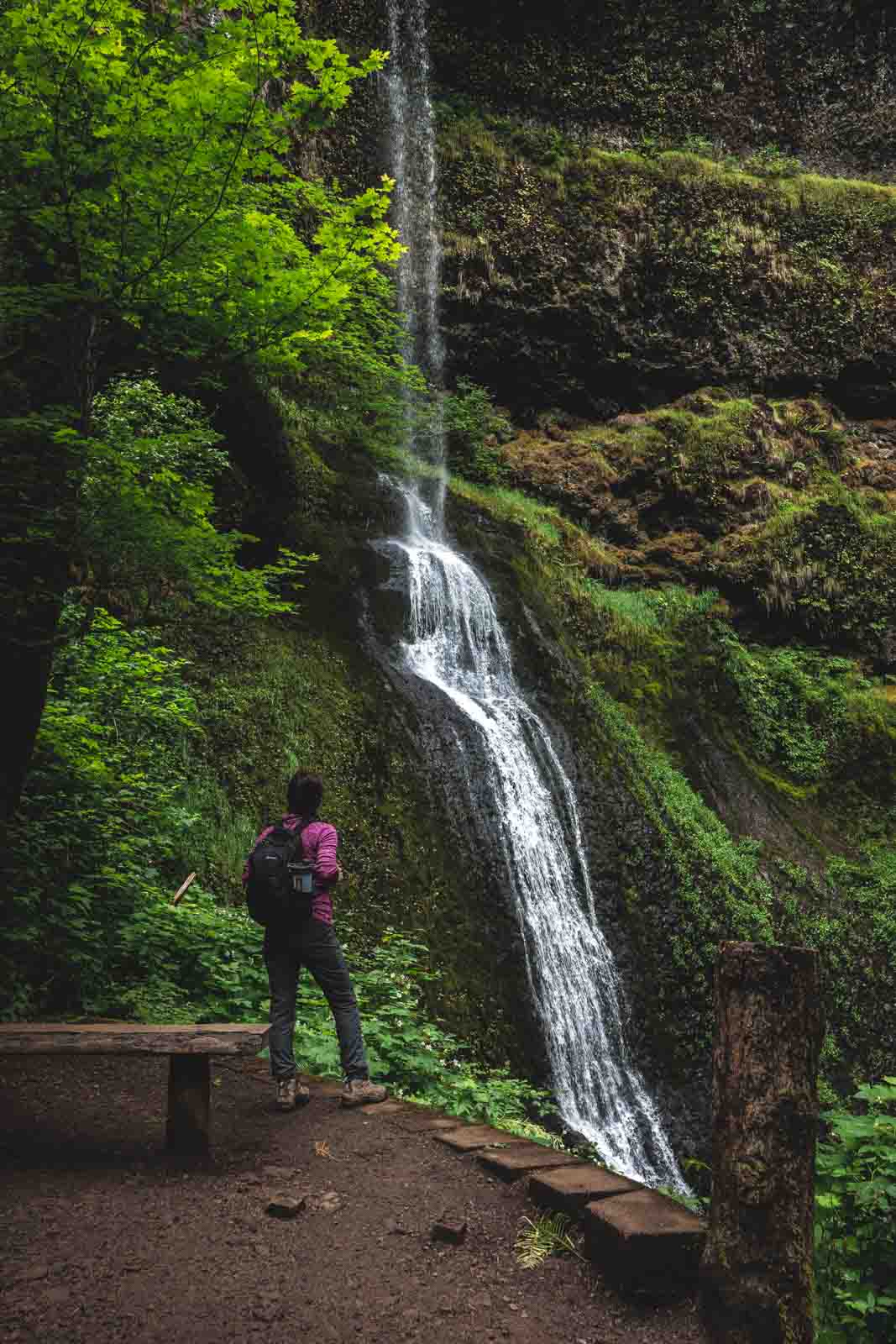 Double Falls is a little hidden and requires a small detour, but it lives up to its name with a small tier on top tumbling down to an even bigger tier, and you get to walk behind Middle North.
The trail brings you right up to all of the waterfalls, so if you're on the trail, you'll see them!
9&10. North and Upper North Falls
The last waterfalls on the Trail of 10 Falls are North Falls at 136 feet tall and Upper North Falls at 65 feet tall.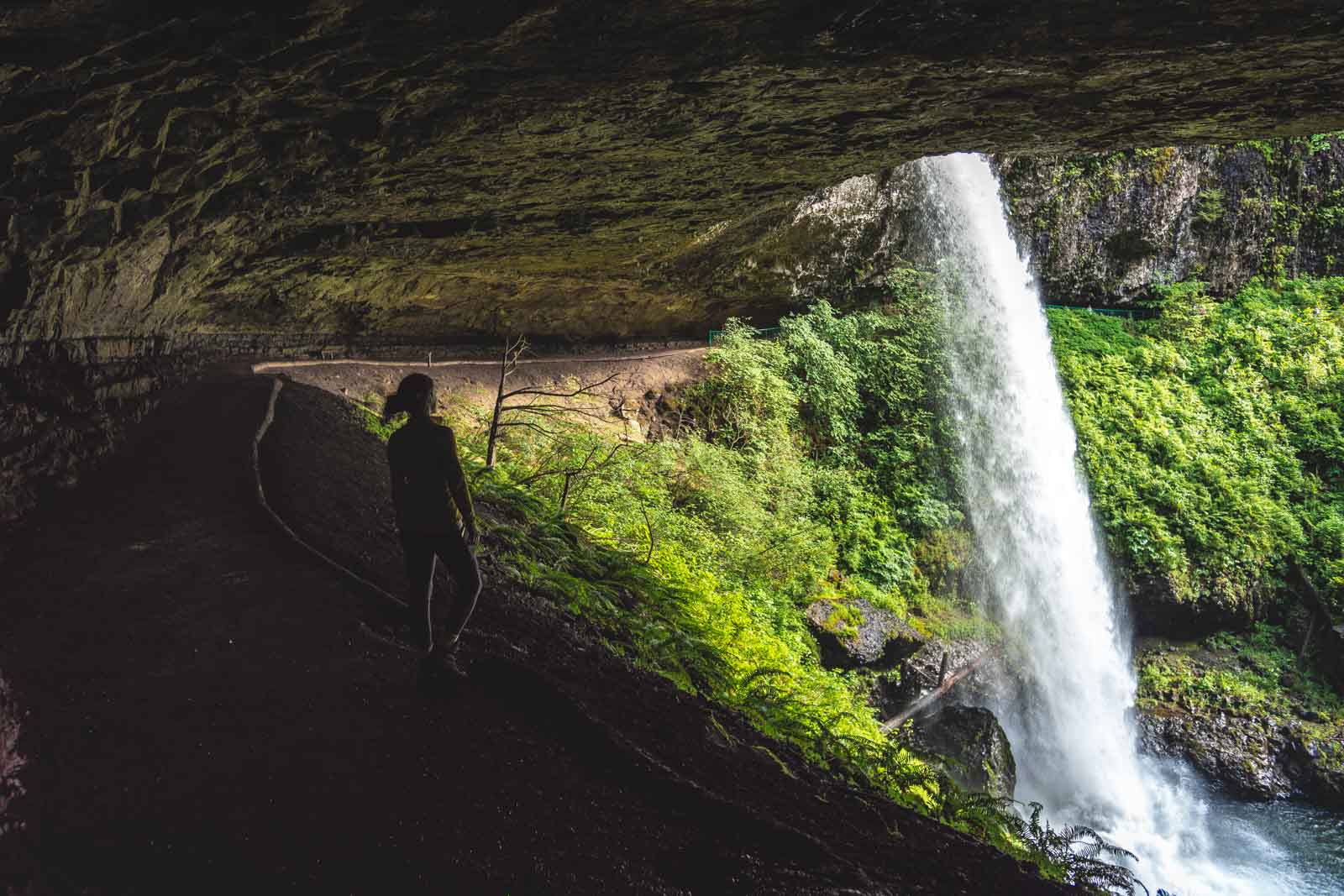 North Falls will be quite the waterfall finale! Yet again, you'll come across another towering and spouting waterfall that you can walk behind to hear and feel the power of the falls.
Luckily, North Falls is another waterfall you can see individually if you don't have much time, it's only about a half-mile round trip from the North Fall parking lot.
---
READ MORE: 10 Hikes to Waterfalls Near Portland—That Are Open Now!
---
Variations of The Trail of 10 Falls
If you're short on time or want to squeeze in some other spots, we are going to go ahead and tell you a few ways you can tackle the Trail of 10 Falls.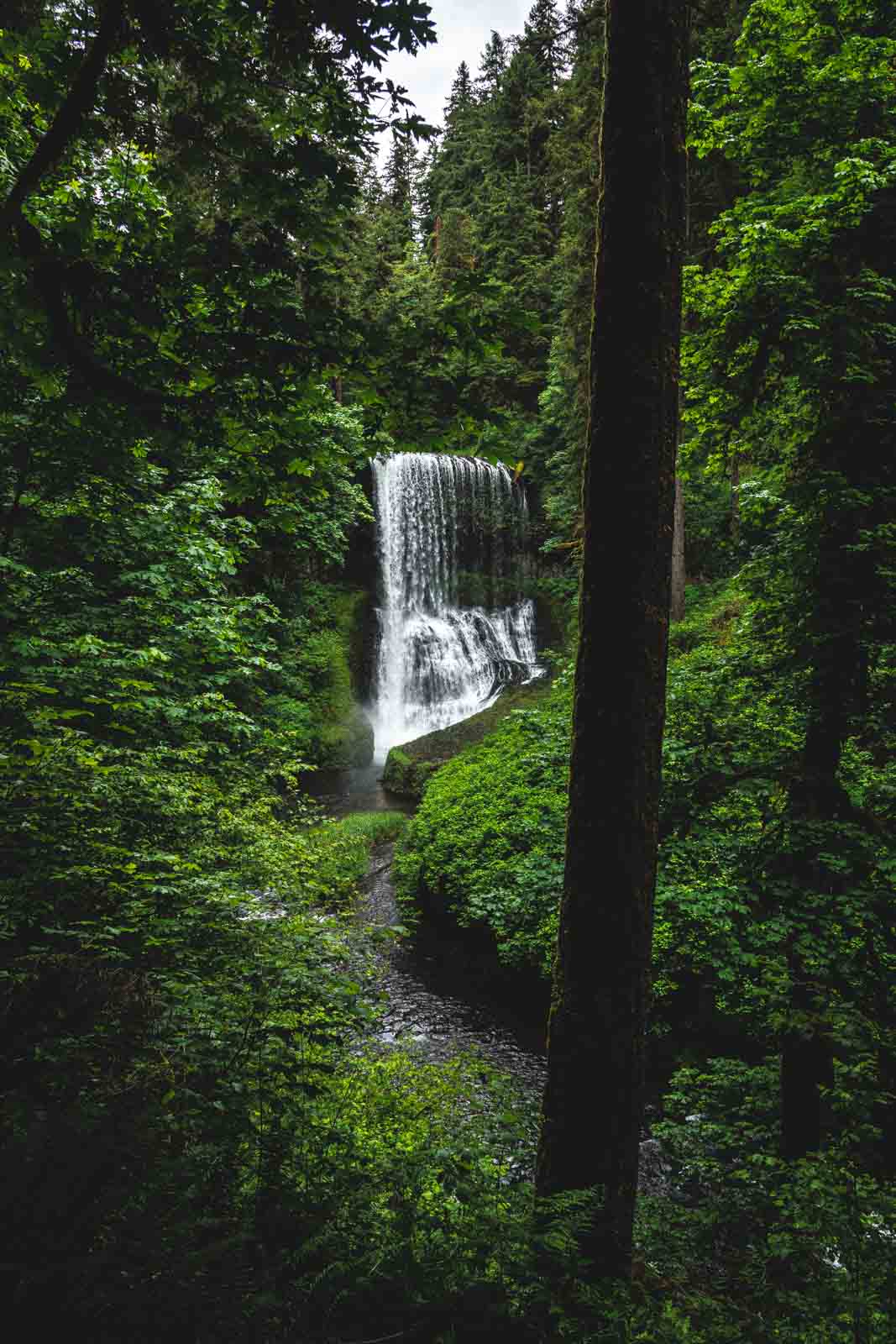 Trail of 10 Falls—Entire Loop
Distance: 7.6 miles
Type of trail: Loop
Difficulty: Moderate
The entire loop will take you from the South Falls parking lot, around to South Falls via the Canyon Trail, to North and Upper Falls, and then completing the loop by using the Rim Trail. We think the whole trail is really worth doing if you can.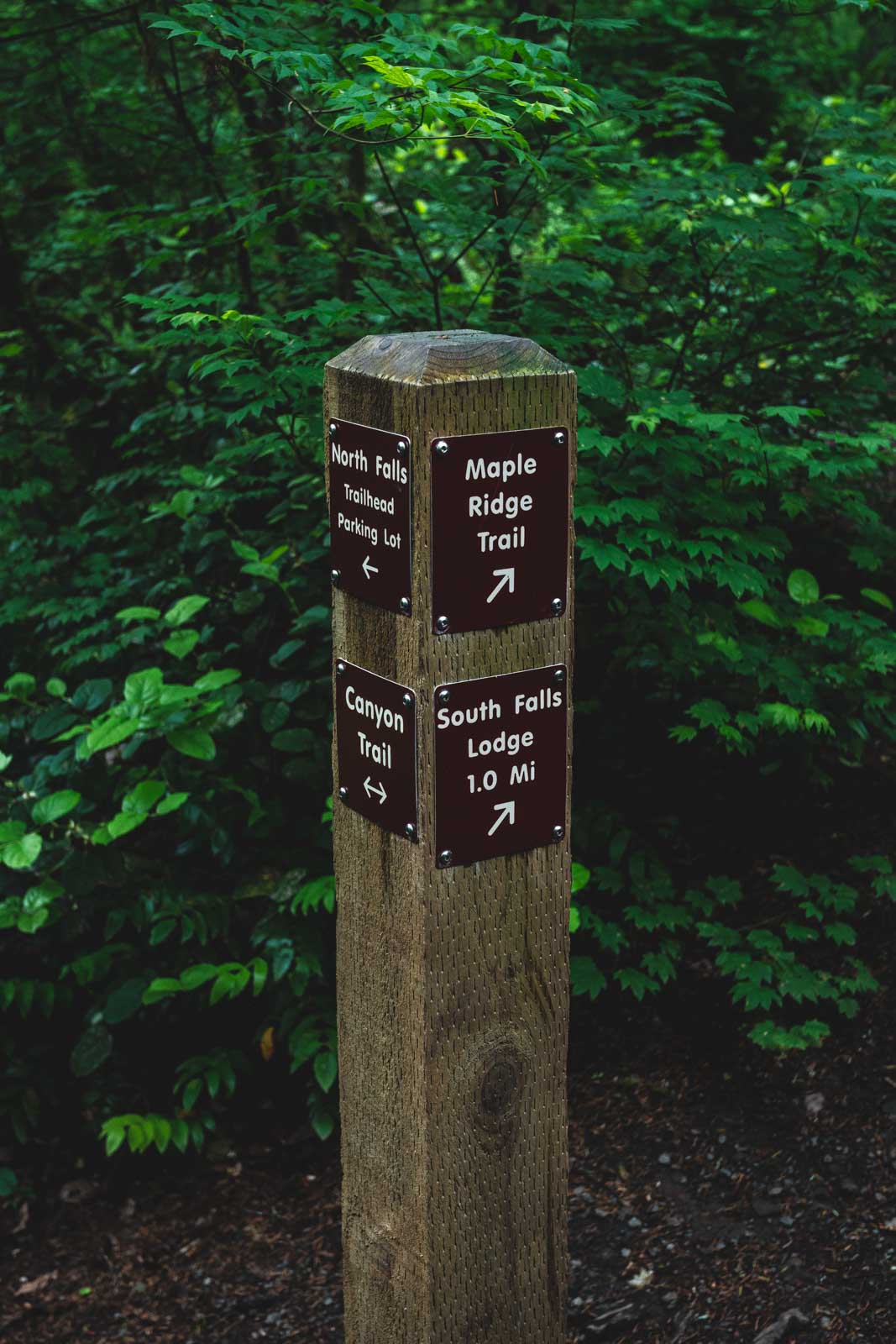 We went clock-wise during our visit because if you go counter-clockwise (from the South Falls parking area), you won't run into a waterfall for a few miles! The south part of the Trail of 10 Falls loop isn't the most exciting part, so we left it for last.
Trail of 10 Falls—Short Canyon Trail Loop
Distance: 5 miles
Type of trail: Loop
Difficulty: Moderate
For a bit of a shorter hike, you can cut off the North and Upper North Falls, and still pack in the other eight falls using this loops trail. You'll have to detour to Twin Falls and then backtrack to continue on the loop if you want to see this one, or else you'll cut this one off too and just see seven of the falls.
This loop cuts down to Winter Falls and then comes back around to the South Falls parking area. You're shaving off a bit more than 2 miles or so by using this route.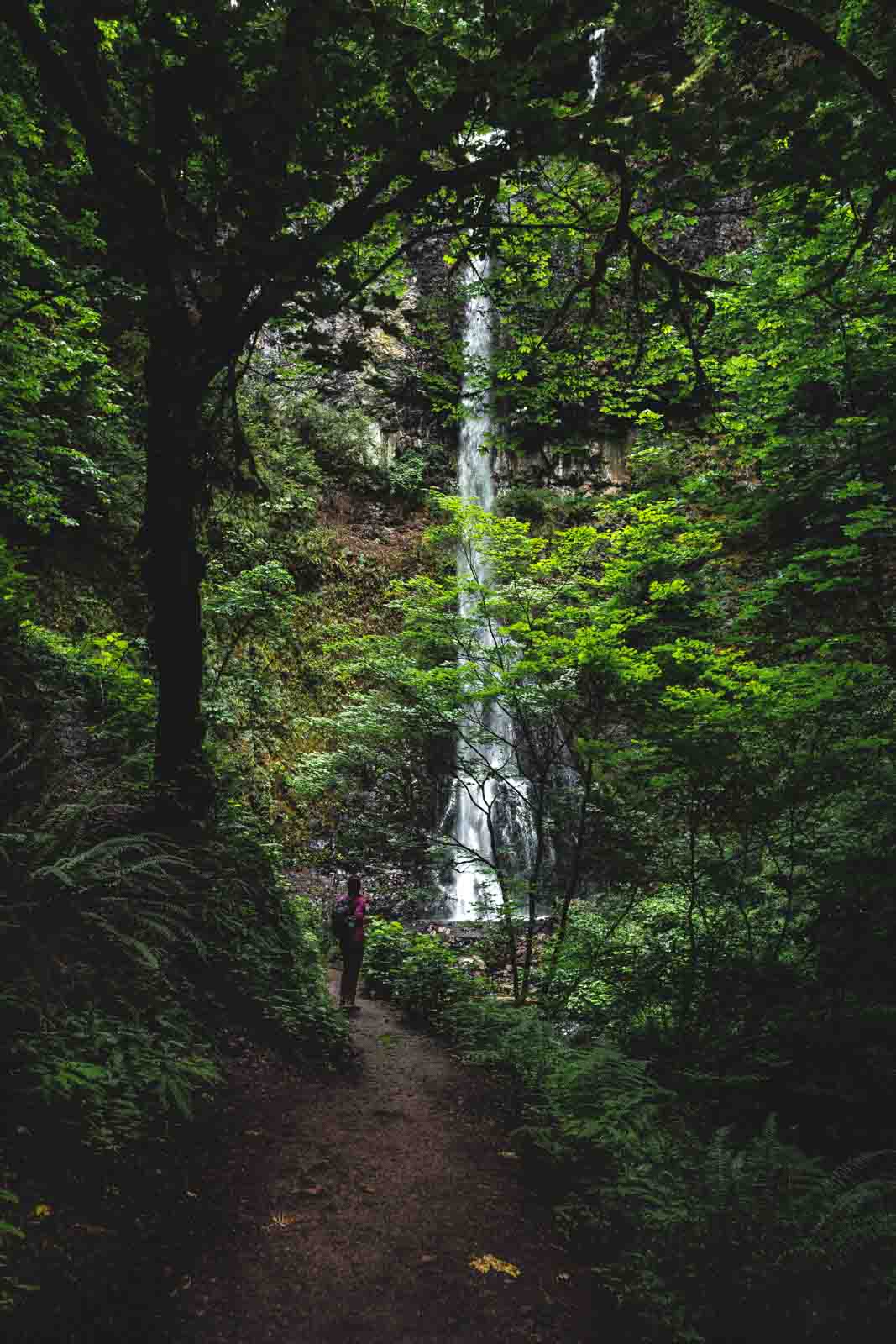 Trail of 10 Falls—Just North & South Falls
Distance: 1 mile and a half mile
Type of trail: Out & Back
Difficulty: Easy
North and South Falls are by far the stars of the show on the trail of 10 Falls, so while we LOVED the entire trail, we know some people just don't have the time. So if you had to do the shortest hikes with the best reward, do the North and/or South Falls trail.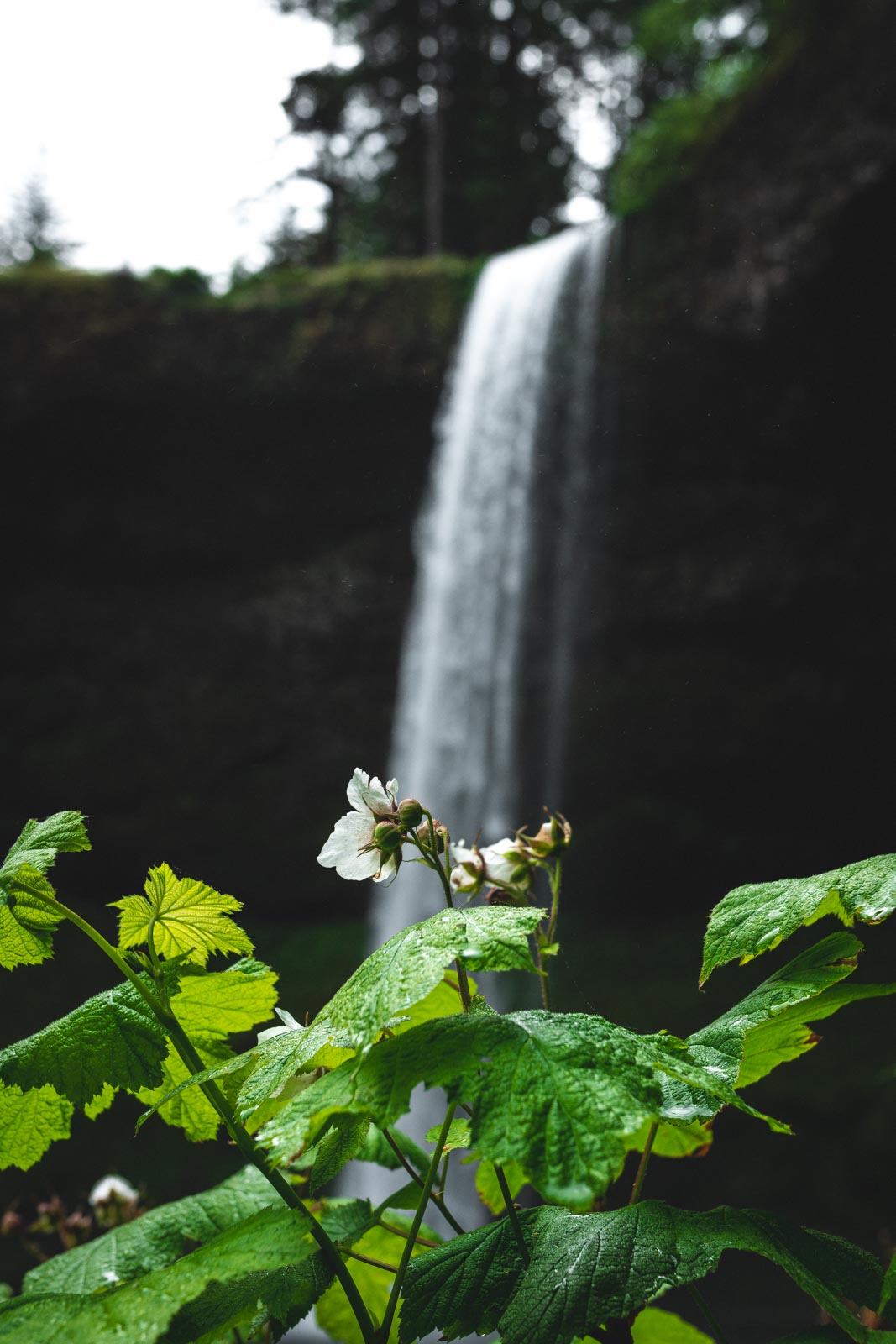 South Falls is about a one-mile round trip, and North Falls is only about half a mile. You can walk behind both of these waterfalls, and they are equally impressive.
Remember that you will need to drive to each of their respective parking lots to access them at the different points on the hike. You will be shaving off all of the rest of the waterfalls on the hike if you only do these two.
There's more to do at Silver Falls State Park though, so hopefully, you saved time for another few activities…
Swimming at Silver Fall State Park
While you can't swim at any of the waterfalls at Silver Falls State Park, there is a swimming area. Despite what you may think, this part of Oregon does get pretty hot in the summers.
The South Falls Day Use Area has a swimming area just down the way from the gushing waterfall!
You can jump in to cool off, head to the cafe, bring your furry friend to the dog park, and bring a picnic too.
---
READ MORE: 25 Day Trips From Portland, Oregon + Road Trip Ideas
---
Biking Trails at Silver Fall State Park
There are no bikes allowed on the Trail of 10 Falls, but it doesn't mean you can't bring your bike and try out some other trails.
Silver Falls Bike Path – 3.5 miles
We wouldn't recommend this bike path if you're itching to see the falls, there are no falls on this trail, so it's only for a relaxing biking ride near the falls. The trail starts at the South Fall parking lot.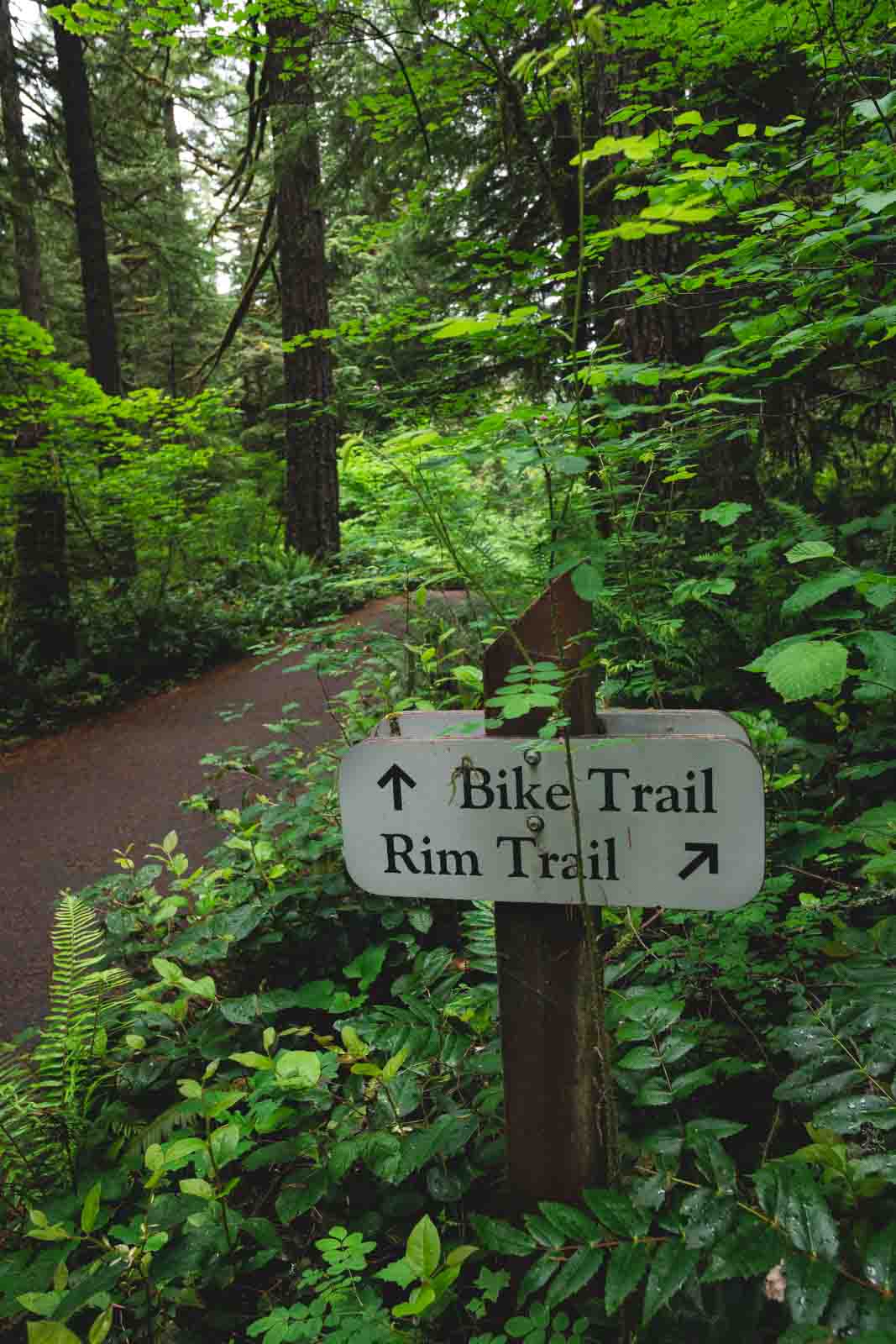 Catamount Trail Loop – 12 miles
This is supposed to be the bike trail to do in the area. It's an intermediate bike ride through the woods with some rock features and hills. This is the trailhead.
Shellburg Creek Trail – 1.3 miles
Ride through Douglas firs on this short and smooth trail; it does meet up with other trails to make for a longer ride.
---
READ MORE: 19+ Awesome Hikes Near Portland to Escape the Bustle
---
Other Waterfalls Near Silver Fall State Park
Are you sick of waterfalls yet? We hope not! There are actually a TON more to see in the area, but we have two favorites. While these two are not in Silver Falls State Park, they are both VERY worth it and very close to the park.
Abiqua Falls (And OHV Riding)
Distance: 5 miles
Type of trail: Out & Back
Difficulty: Hard
This is one of the most beautiful waterfalls the state has to offer, and it's only about an hour away from Portland! It's quite the adventure to get to involving a rocky road to drive on and ropes to assist you hiking down into a canyon.
In the end, you'll find the massive Abiqua Falls falling over a basalt cliffside.
There are OHV trails out here for some fun four-wheeling through the woods too!
---
READ MORE: Your Guide to the Abiqua Waterfall Hike Near Portland
---
Shellburg Falls
Distance: 3.5 miles
Type of trail: Loop
Difficulty: Moderate
I hope you guys aren't tired of waterfalls that you can hike behind, are you? Because Shellburg is another stunner with water tumbling down into a pool and a cavern behind it for curious trekkers.
Note that you're wondering near private property here and through farmland, and the trail is mostly a gravel pathway. Just be extra respectful of the landowners.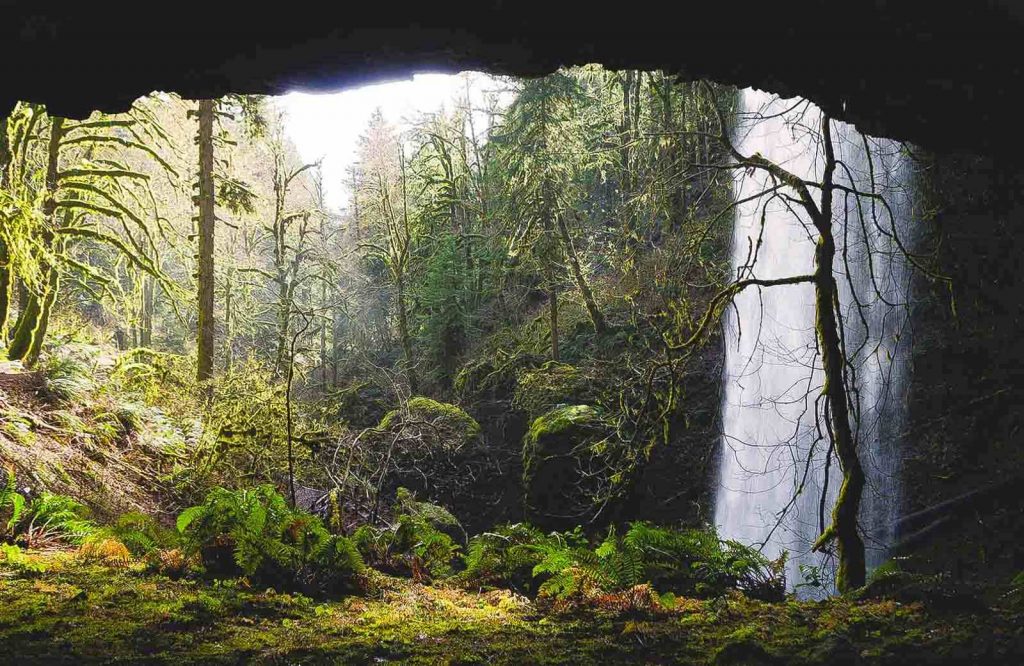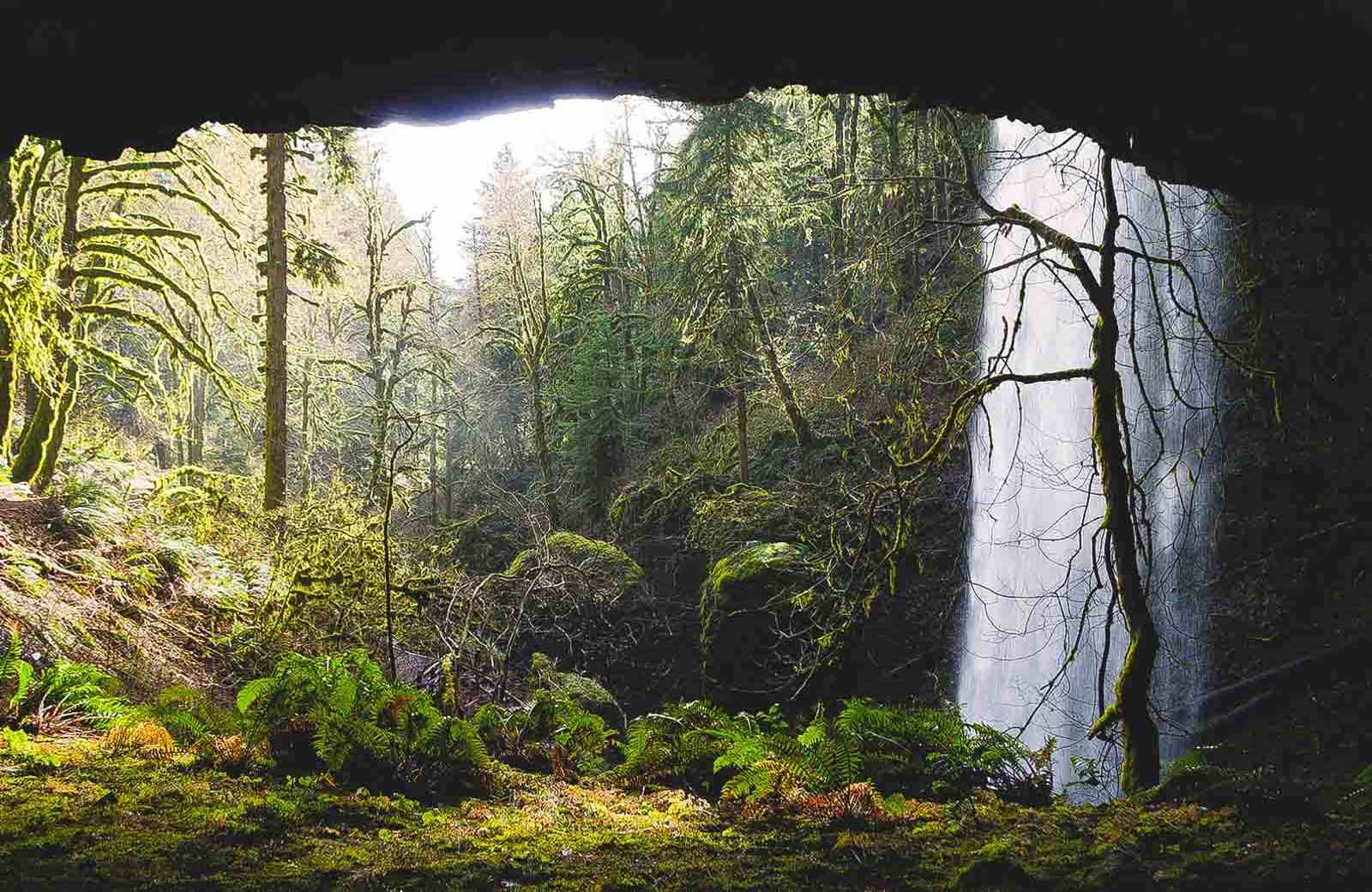 Also, note that the parking area is very small and it does get busy here. So be prepared to hike further if you have to park down the road.
---
RELATED: 43 Best Things To Do in Portland, Oregon For Adventurers
---
Camping and Lodging at Silver Falls State Park
Here are the two main areas to stay while exploring Silver Falls State Park.
Silver Falls State Park Campground
There are over 40 tent sites, 14 cabins, and almost 50 RV parking spots with electrical hookups.
The campsite is like most in the state, a parking area with a picnic table and a firepit. If you're lucky, you can nab one of the tent sites near the creek and fall asleep to the sounds of rambling water. There are dump stations, water for drinking, and restrooms.
You can start your hike straight from this campsite with just a bit of added mileage but the bonus of not having to drive your car to the day-use parking lot.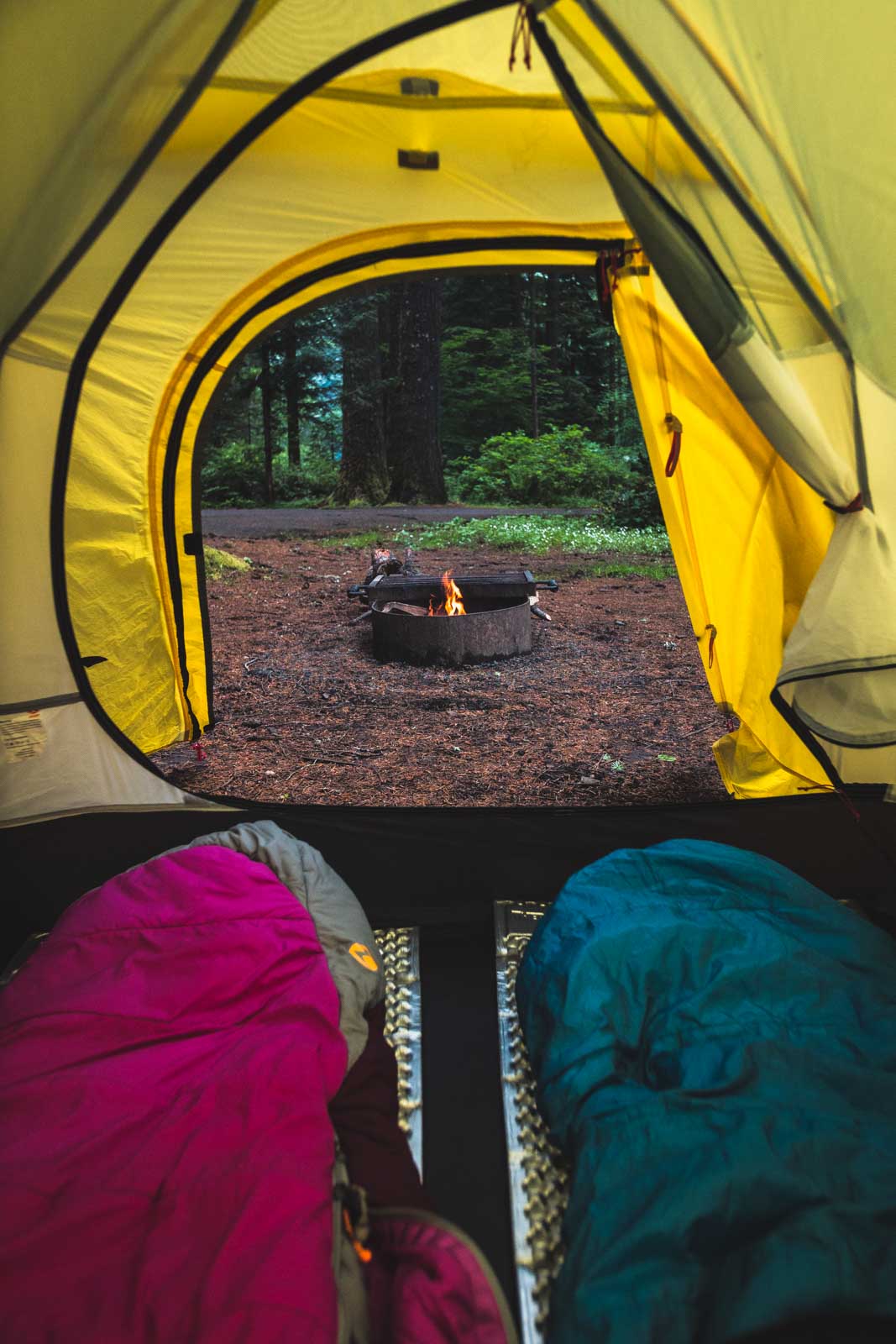 Silver Falls Lodge
If you're not in the mood to camp but want to be in the thick of everything, you can stay at the Silver Falls Lodge. They have beautiful rustic cabins and a lovely lodge for you to put yourself up for the night without the need to stake a tent.
The lodge is within the state park; however, you'll need to drive to the trailhead of the Trail of 10 Falls unless you want to add a few miles to your hike.
Molalla River Cottage
Molalla River Cottage is cozy and bright and offers a peaceful getaway in a beautiful rural setting. It is only steps away from the river and it has a porch with BBQ to grill on a hot summer night.
The Bali House
This unique glamping cabin is a converted greenhouse on an organic farm located outside Silverton. The cabin has a cozy loft bedroom, a well-stocked kitchenette, and a private spring-fed cedar soaking tub.
Farmland Guest Cottage
Located six miles east of Salem, the Farmland Guest Cottage sits on ten acres of Willamette Valley farmland. There is a full kitchen, deck, fire pit, and WiFi.
Tips For Visiting Silver Falls State Park
This area of Oregon is wet. Rain is frequent and considering you're literally hiking behind waterfalls, even if it's not raining, rain gear would be smart. Make sure to have something to protect your bag and a rain jacket for yourself. You don't want to be hiking seven miles and soaking wet.
On a similar note, it's muddy in areas, so hiking shoes would be best. Anything mesh or open-toed would likely be a bad idea.
You do need a parking pass. Either get a parking day pass for $5, display your Oregon pass, or if you're camping, you don't need a parking pass. Just display your camping receipt instead.
The campgrounds can fill quickly, so get your booking online if you're coming at a busy time or be prepared to mosey on to the next campsite if it's full when you get here.
If you love photography like we do, try to come on a gloomy day but with no rain. It will make for great photos with no sun splotches!
On that same note, for the sake of photography or not, get started EARLY! This park is no secret, but it's not that busy first thing in the morning. We planned to do the hike after we camped for the night, which meant we were at the doorstep of the falls and were on the trail around 7:15 am. We only met a handful of others on the trail.
We hope this post helped you better explore the Trail of 10 Falls at Silver Falls State Park! Check out more things to do near Portland and other adventures in Oregon.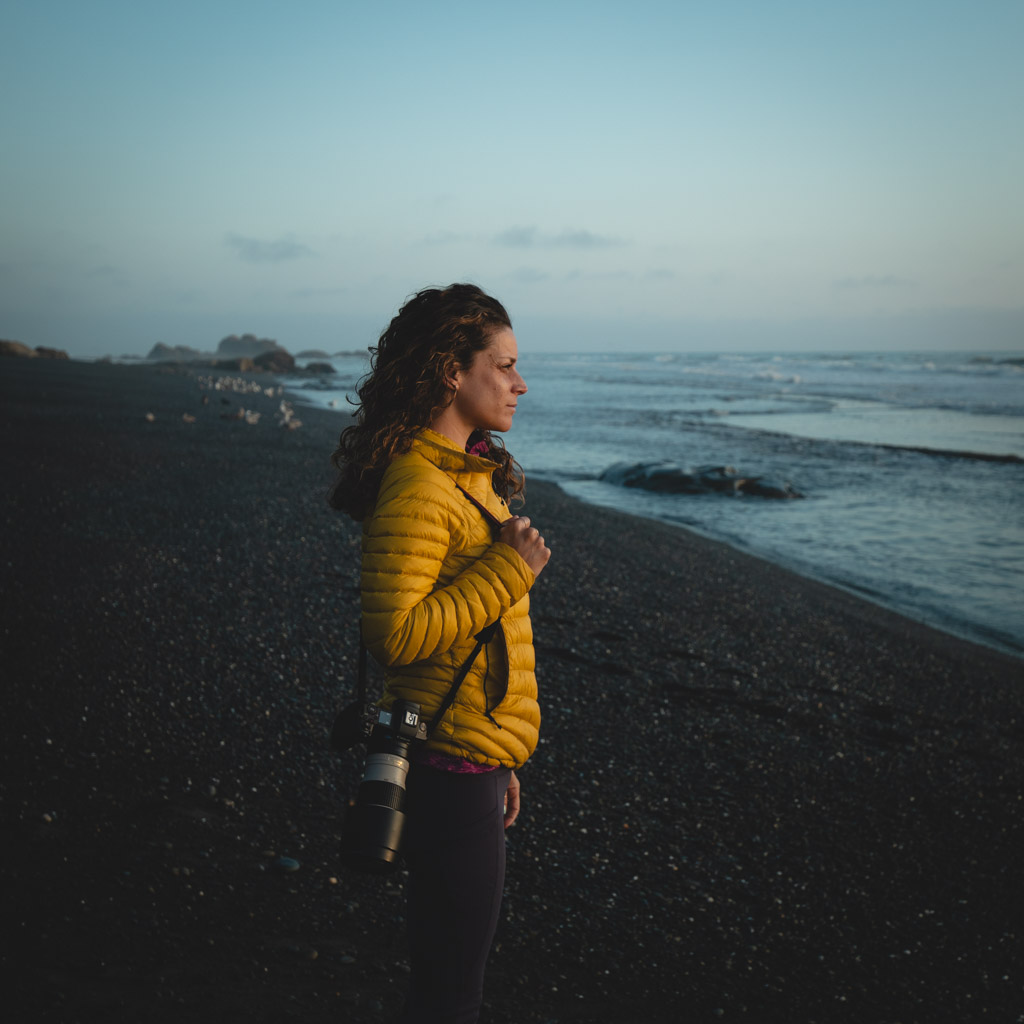 I've been perpetually traveling and living around the world for years but it's hard to beat Oregon and the PNW. After years of road-tripping the area, I guess you can say I know it pretty well! When I'm not writing guides for you, you can catch me somewhere petting a dog, attempting to surf, hiking a volcano, or stuffing my face with bread and cheese.