Just about an hour outside of Portland are tons of absolutely stunning waterfall hikes—Abiqua Falls is one of many! You can wander around the Columbia River Gorge and Mount Hood area for days and still not hike to all the waterfalls in the area.
But if you look just a bit more south of Portland, you'll find Abiqua Falls. This remarkable waterfall is hidden in the Santiam Forest, behind coniferous trees, and amongst old basalt columns.
It's quite the adventure to get to as well! Here's everything you need to know.
How to Get to Abiqua Falls
---
The Abiqua Falls Trail details:
Distance: 1 mile-5.3 miles (explained below)
Type of Trail: Out and Back
Difficulty: Difficult
While the hike is pretty straight forward, you'll see there are some quirks like where to actually start the trail and the fact that there's zero signage. So throughout this article, I linked to some Google coordinates to help you understand a bit more.
Abiqua Falls Trailhead
This is the trailhead to Abiqua Falls, which isn't accessible to most people by car. Depending on your vehicle, you have different parking choices.
You will see a small parking area as soon as you turn down the dirt road here, but if you can drive a bit further, go for it. We parked here (with our regular two-wheel-drive vehicle).
There are small pullouts to park at as you drive down to the last parking lot.
NOTE: To get to the last parking lot (where the trailhead is), you will need a 4×4 or be very confident in your driving skills and rate the risk to your car. Just park towards the beginning if you're unsure. If it's been raining, it will make this driving path very muddy, which makes it even harder to maneuver.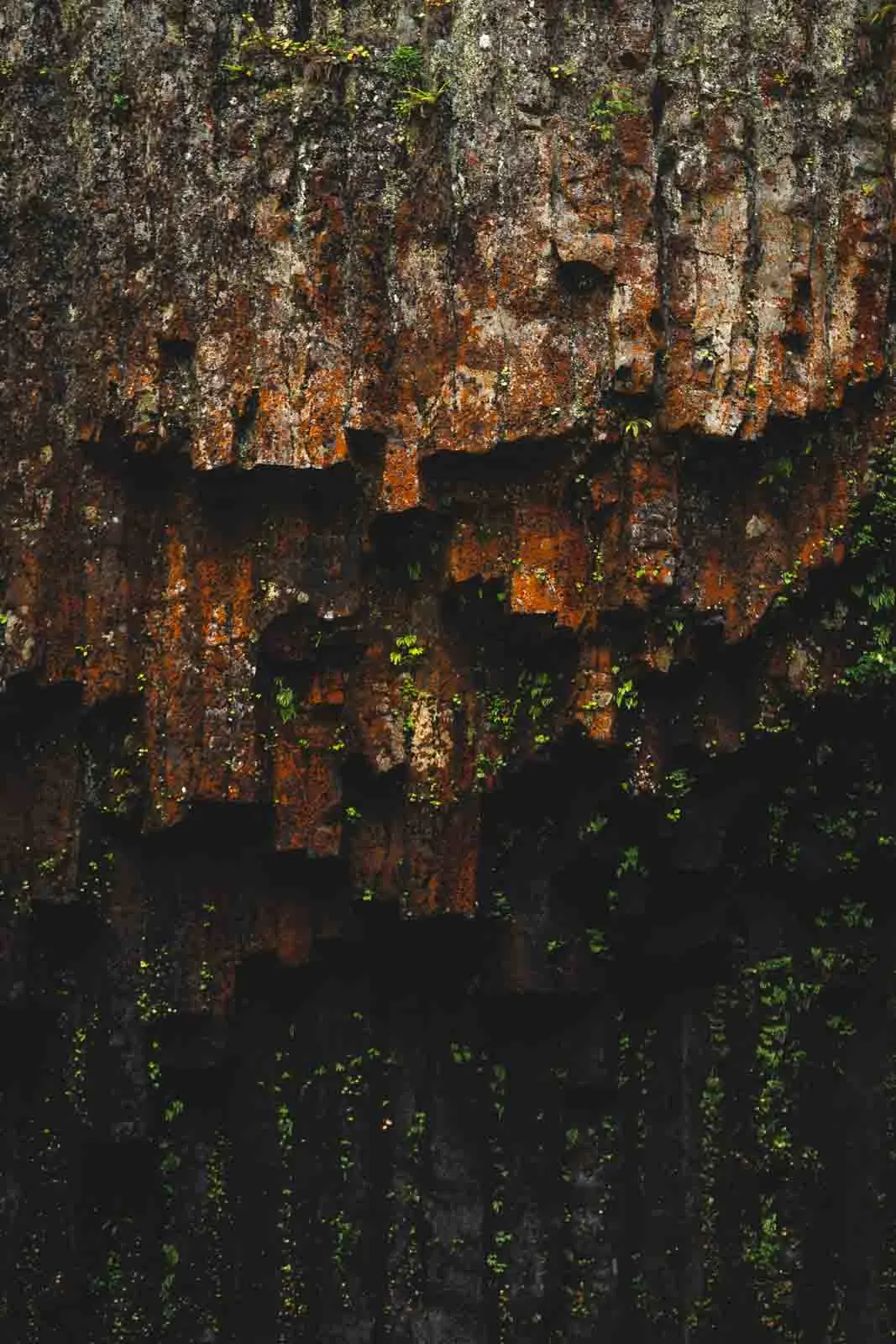 As mentioned above, the hike can be shorter. If your car can't make it down the hill (yes, you're driving downhill making the bumpy road even worse), then you'll need to walk. The first parking area makes this hike a 5-mile round trip hike.
We were able to park here, just a little way down, shaving off about a mile or so. This is just a bumpy dirt road into the forest. The true hike doesn't really begin until you get to the last parking lot. You'll notice the white fence and end of the road when you've made it.
---
RELATED: 10 Hikes to Waterfalls Near Portland—That Are Open Now!
---
How's the Hike to Abiqua Falls?
Hiking to Abiqua Falls is a bit of an adventure! The actual hike isn't very far, only about 1 mile round trip from the last parking spot/trailhead. Your trail is mostly downhill. This would regularly be a breeze, but it's a bit steep here and wet, too, making for a slick and slippery path.
The trail has a few possible deviations, so use an offline map like Maps.Me to keep you in the right direction. There is no signage.
As you continue along the trail, you'll make it to a roped area. There is a rope railing, held up by trees, steeply leading you further down into a canyon. As you make your way down, holding the ropes, trying not to get covered in mud, or slide down into a tree, you'll make it to a massive downed tree pointing to the river.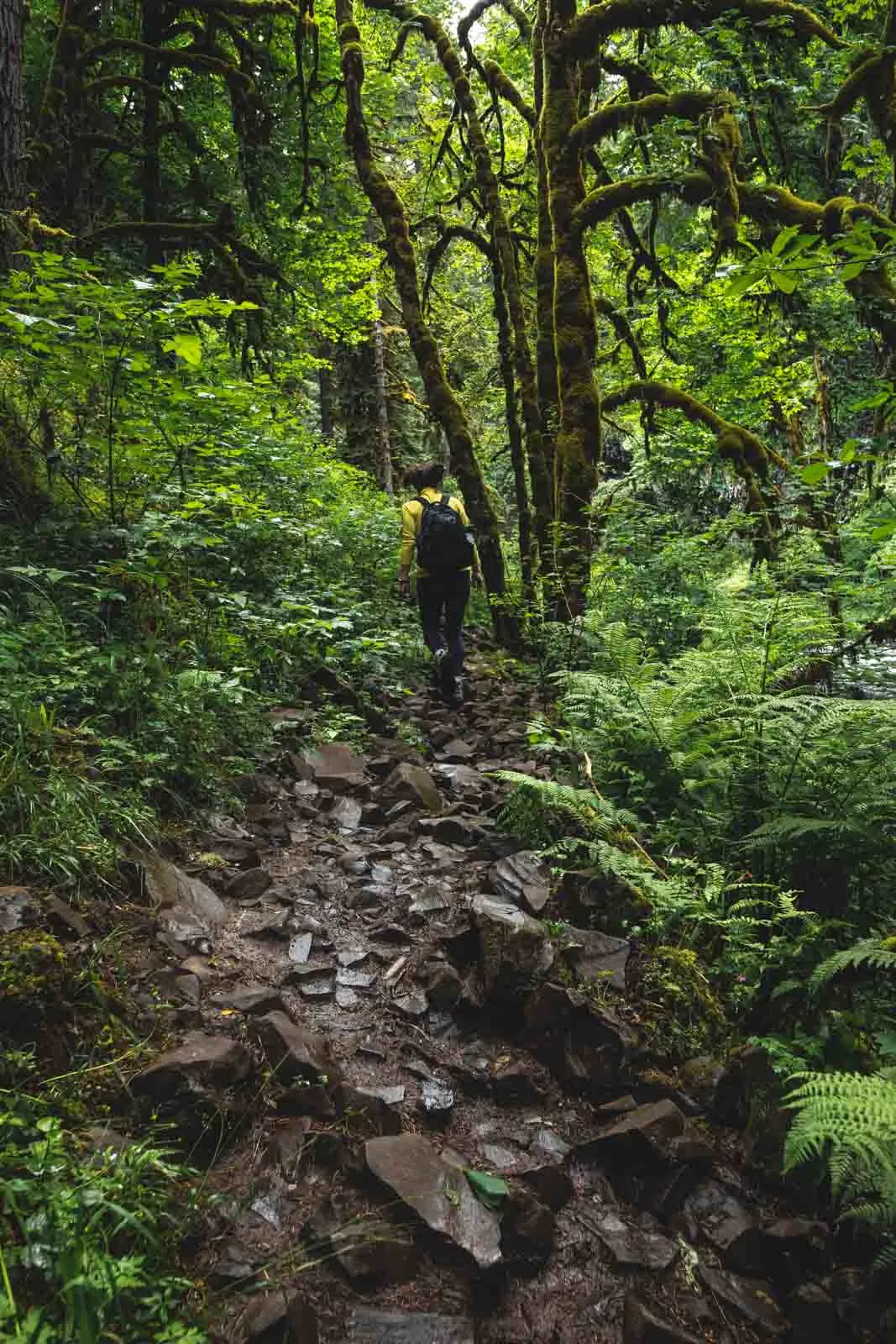 It's here where you'll take your last rope-assisted descent and follow it down to the river.
Here is where you need to assess the situation and choose one of two paths.
#1 Abiqua Falls Side Trail
The side trail was a trail we saw to our left as we made our way down that tree trunk to the river. We saw the trail to the left before making it all the way down to the river and figured this was the way. Again, no signage.
We were walking one foot in front of the other on a precariously steep slope that was parallel with the river. One fall, and it wouldn't have been pretty. Add to this that the trail is muddy and slippery, and at times, kinda just loose dirt in semi-trail form! Ekk!
Luckily, we came to another huge downed tree trunk with a rope leading down the river, and at the same time, we saw two people down there. Whoa, there's a trail down there that doesn't involve the possibility of tumbling down into the river?! Let's go!
Down we went, just to find out what we should have done…
#2 Abiqua Falls River Trail
Once you reach that FIRST downed tree with a rope leading down, take it ALL THE WAY down and assess the situation! We assumed the higher trail must be used when water levels are really high or something, but it's much harder and more dangerous.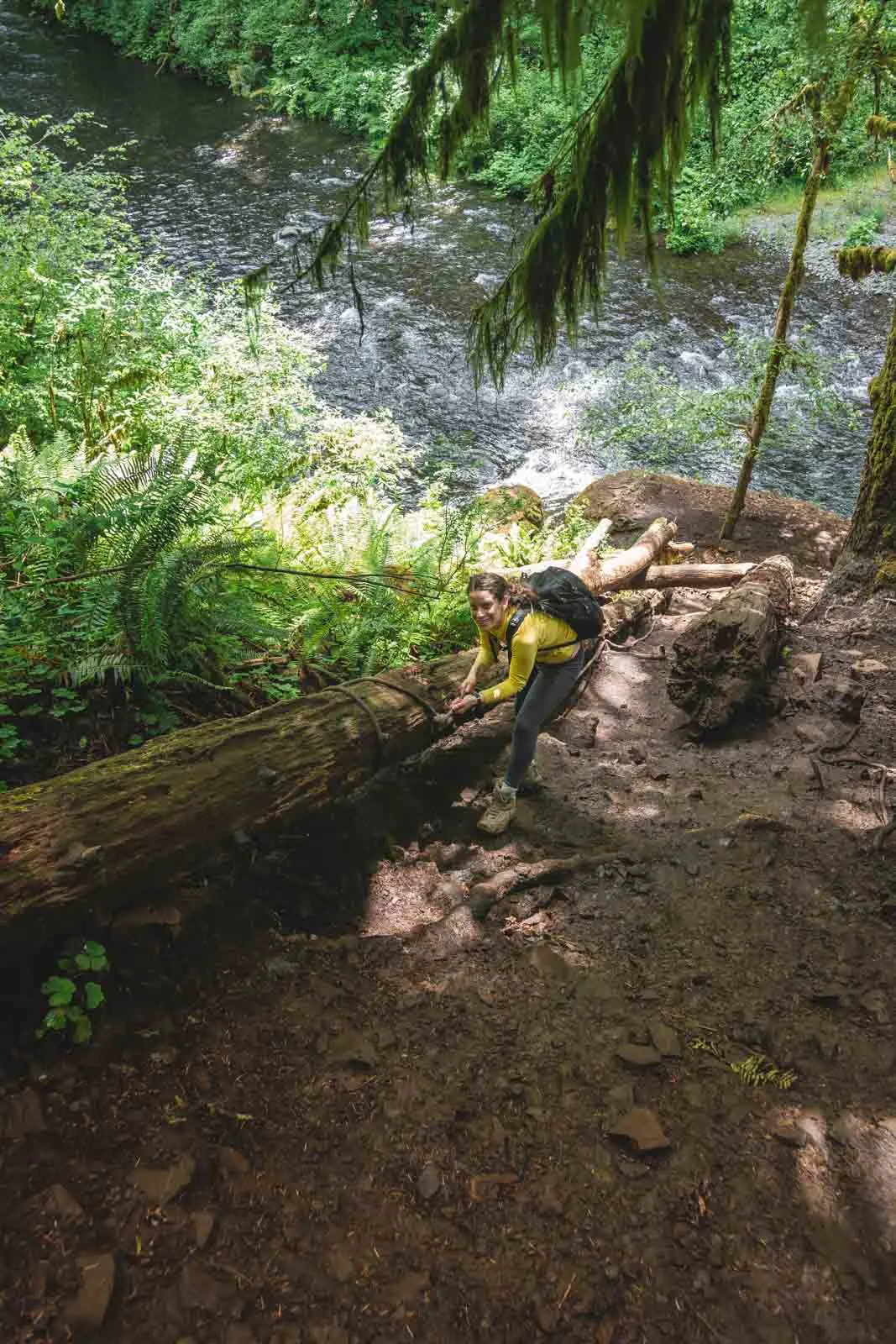 So if you can make it all the way down to the river using the first opportunity presented, and you see a clear rock trail along the river to your left—take it!
It's a far more accessible and better way to get to Abiqua Falls. From here, it's a piece of cake, and you're practically there.
---
RELATED: 43 Best Things To Do in Portland, Oregon For Adventurers
---
Getting to Abiqua Falls
Once you get there, you'll be impressed. Abiqua Falls is quite unique!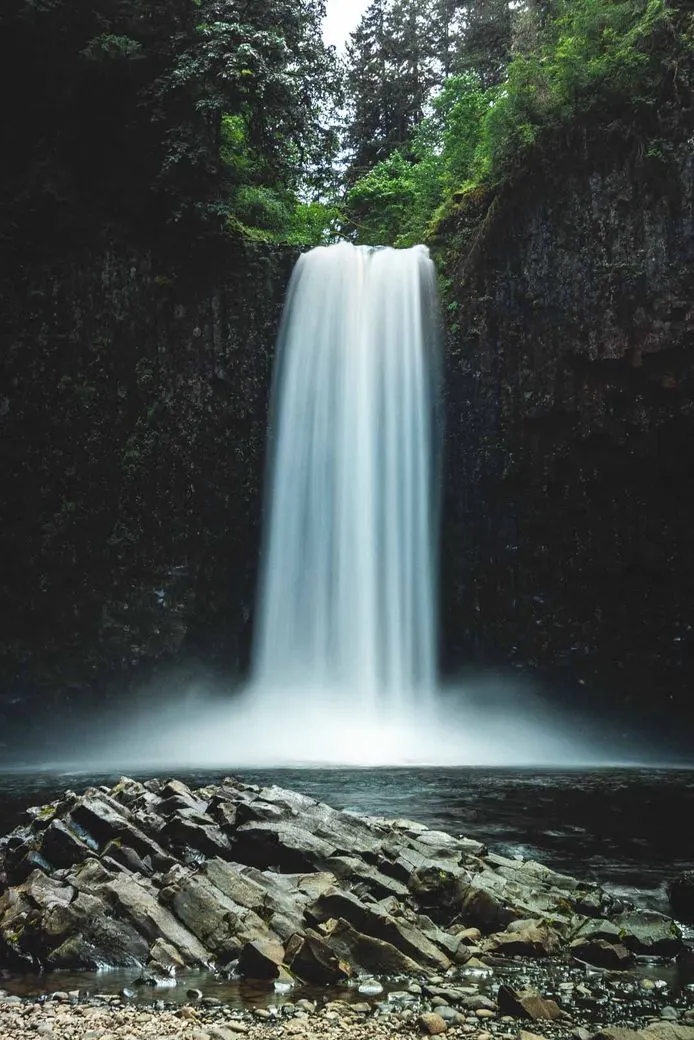 It's a 92-foot waterfall that comes gushing over black basalt columns and into a mossy amphitheater. It's incredible! The force is felt even if you're just onshore. However, if you're into cold baths, you can easily take a dip here on a hot day.
It's quite the adventure to get here, and it's certainly worth it.
Tips for Hiking to Abiqua Falls
Take care on your way driving to Abiqua Falls. Aside from being a bumpy road, there are actually a couple of shooting range buttes here, so if you hear gunfire, you know why. One of the parking areas is near the shooting butte as well, and I'd recommend parking a little way down the road from this, so you don't come back to a hole in your car.
This area of Oregon is WET. Be prepared with proper gear like a rain jacket and good shoes.
Hiking shoes are best; it's muddy and slippery.
Don't drive too far down to the park when you see a lot of cars; it will be hard to turn around.
It's open year-round, but the best views of Abiqua Falls, are when there's a lot of rain and the snow is melting so you can really see the waterfall flowing.
You can use Google Maps to route to the road that leads to the trailhead, but otherwise, Google Maps was mostly inaccurate. Maps.Me and Alltrails were a bit better, but nothing was totally accurate. While there isn't signage or a 100% reliable map, after reading this, you'll know exactly what to do to get there.
---
RELATED: 19+ Awesome Hikes Near Portland to Escape the Bustle
---
Things to Do Near Abiqua Falls
OHV Trails
For anyone looking to stay in the area and wondering what else there is to do, you may want to lug over your ATV for some fun on the trails. There are over 6 miles you can ride through here, and overall, the area is pretty desolate.
You can whip around through the forest on the Crooked Finger ATV trail, but the trail does not lead to the waterfall.
You do need an ATV permit to ride the trails, and the trails do close during fire season. More info on ATV trails in the area here.
Silver Falls State Park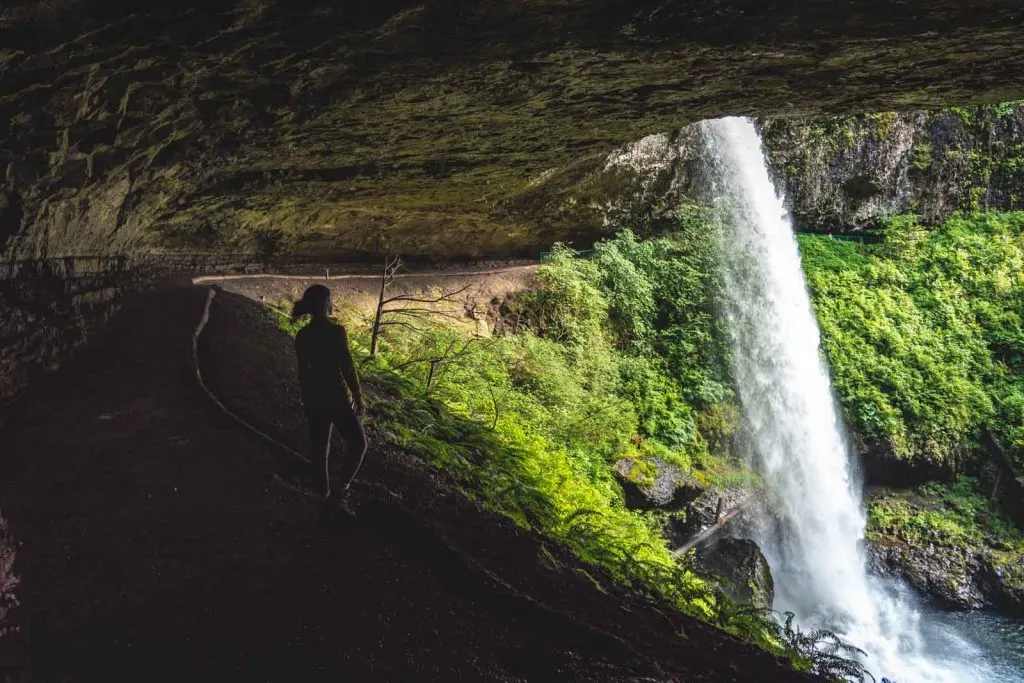 Abiqua Falls is gorgeous, but Silver Falls State Park has the Trail of 10 Falls, which literally has ten more beautiful waterfalls for you to explore. In fact, these falls are pretty unique because you can fully walk behind four of them. This park is a must-see, and it's so close to Abiqua, you can certainly squeeze both in during your visit.
We hope this post helped you better explore Abiqua Falls! Check out more things to do near Portland and other adventures in Oregon.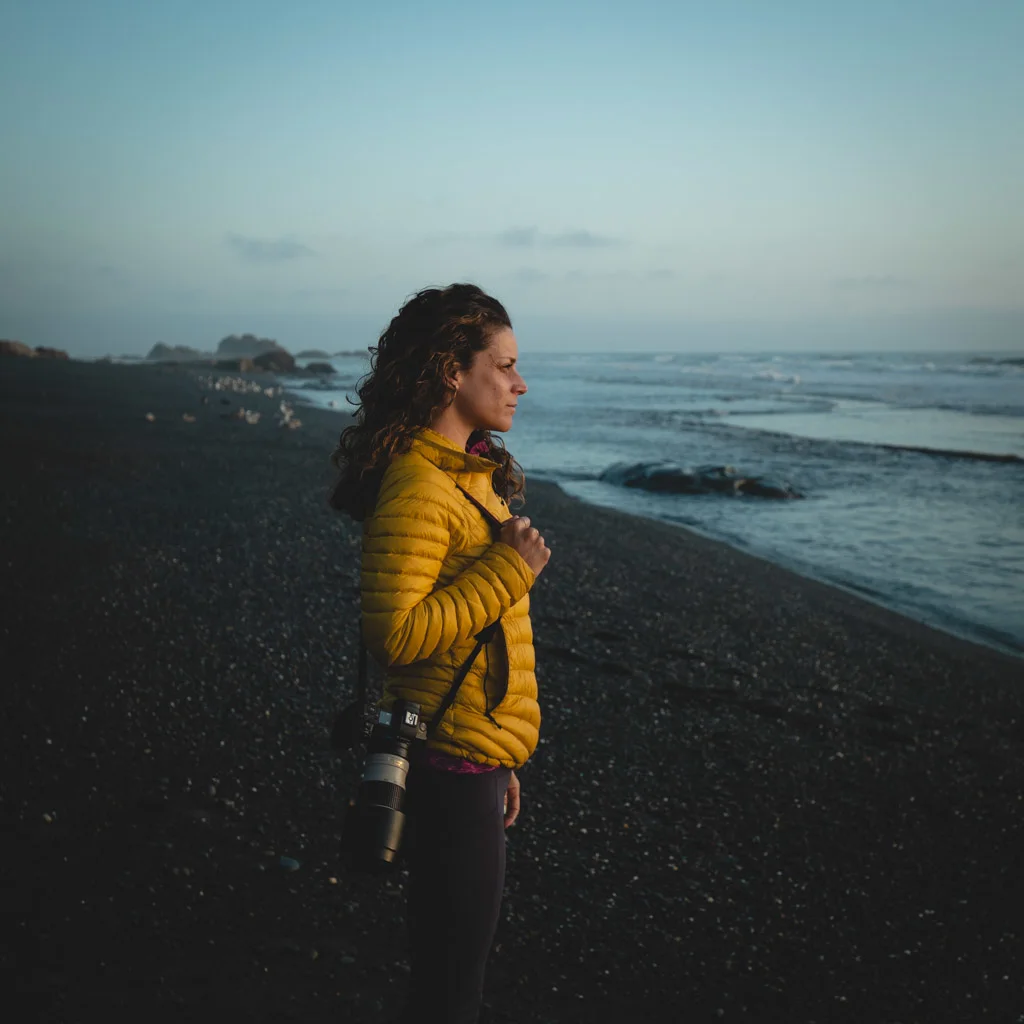 I've been perpetually traveling and living around the world for years but it's hard to beat Oregon and the PNW. After years of road-tripping the area, I guess you can say I know it pretty well! When I'm not writing guides for you, you can catch me somewhere petting a dog, attempting to surf, hiking a volcano, or stuffing my face with bread and cheese.