Hiking is great, but you know what's even better? Hiking and ending up at a waterfall! There are few things more rewarding than heading up on a hike, hearing the roaring falls in the distance and then making it to the base of a raging waterfall.
Waterfall hikes are fun and beautiful, and luckily, there are plenty of them near Bend!
Everything on this list requires a hike to get to the falls, but most of them are quite easy to reach. The furthest waterfall on the list (Marion Falls) is about an hour and thirty minutes away; otherwise, we kept it pretty close.
Get your hiking shoes on, grab your lens cloths (it gets misty!), and head out on one of the waterfall hikes near Bend!
10 Hikes to Waterfalls Near Bend
---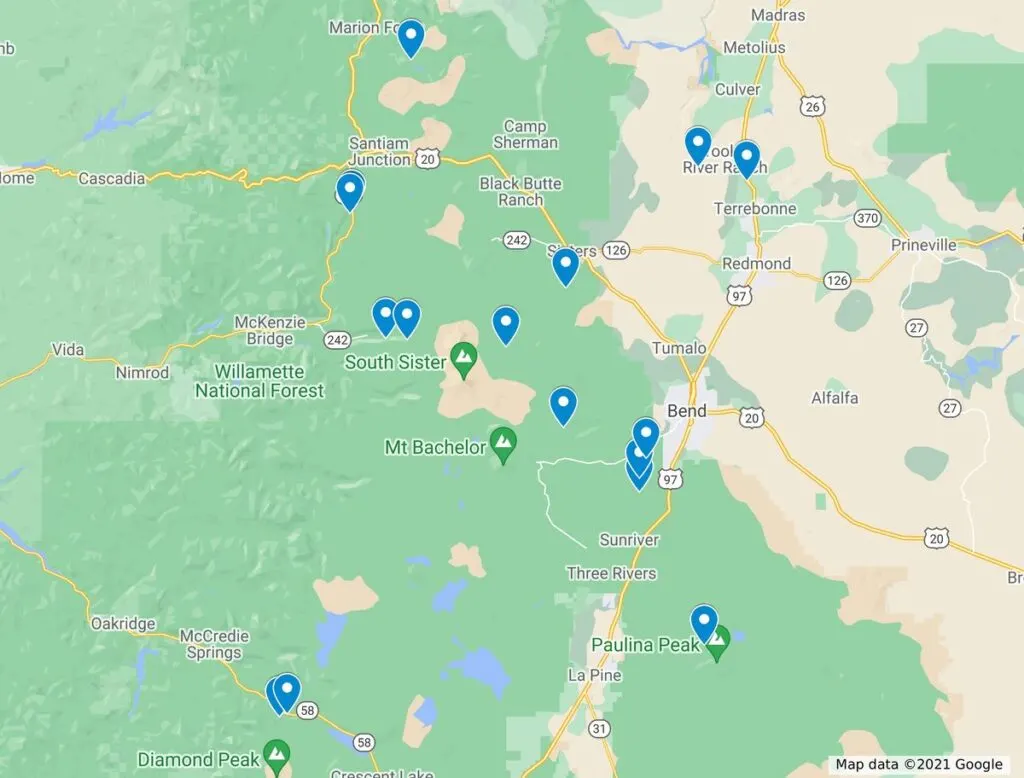 ✋ HOLD UP! Don't Forget…
You need some wheels! It's nearly impossible to get around the USA and check out the best adventures without a car! Here are our top recommendations…
🚗 Rent a car
If you don't have your own, renting a car is your best bet!
🚐 Rent a home on wheels
For the more adventurous, rent a van or RV and ditch the hotel.
Don't Forget This!
A lot of the best adventures around Oregon will require a Northwest Pass. You can easily get one delivered straight to your door. Grab it now before you leave!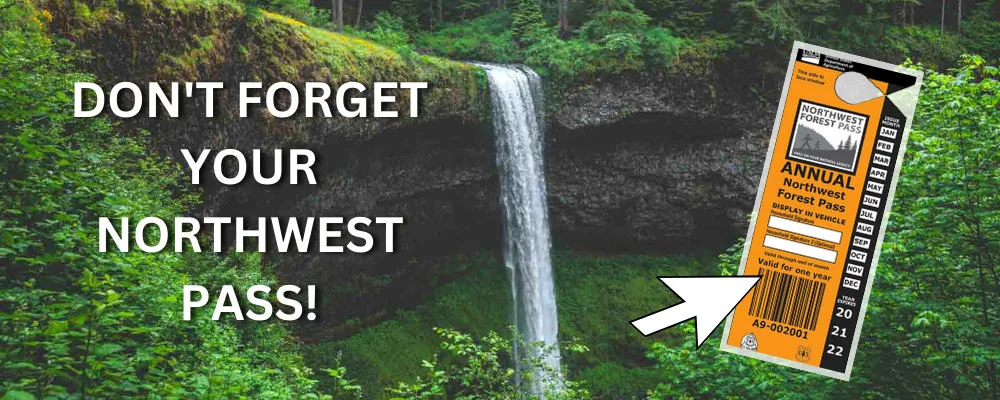 1. Tumalo Falls Hike
Distance: 6.5 miles
Type of trail: Loop
Difficulty: Moderate
Tumalo Falls is one of the most spectacular falls on Tumalo Creek, but the Tumalo Falls hike will reward you with several falls along the route.
Start the hike at the Tumalo Falls Day Use Areas, and an easy one-mile trail will take you to this iconic waterfall that is arguably the most photographed in the whole of central Oregon and one of the best waterfalls near Bend.
The waterfall tumbles nearly 100 feet from a cliff in the Deschutes National Forest, crashing noisily into a small pool below. Once you've reached the first falls, carry on along the trail where there are a series of smaller falls just waiting to be found.
2. Sahalie and Koosah Falls
Distance: 2.6 miles
Type of Trail: Loop
Difficulty: Easy
To reach these waterfalls near Bend, there is a short and easy loop trail that connects the two. Sahalie Falls is a mass of foaming white water that tumbles around 100 feet over a natural dam formed from lava.
Koosah Fall is slightly smaller at 70 feet but is still impressive as it drops into a deep pool.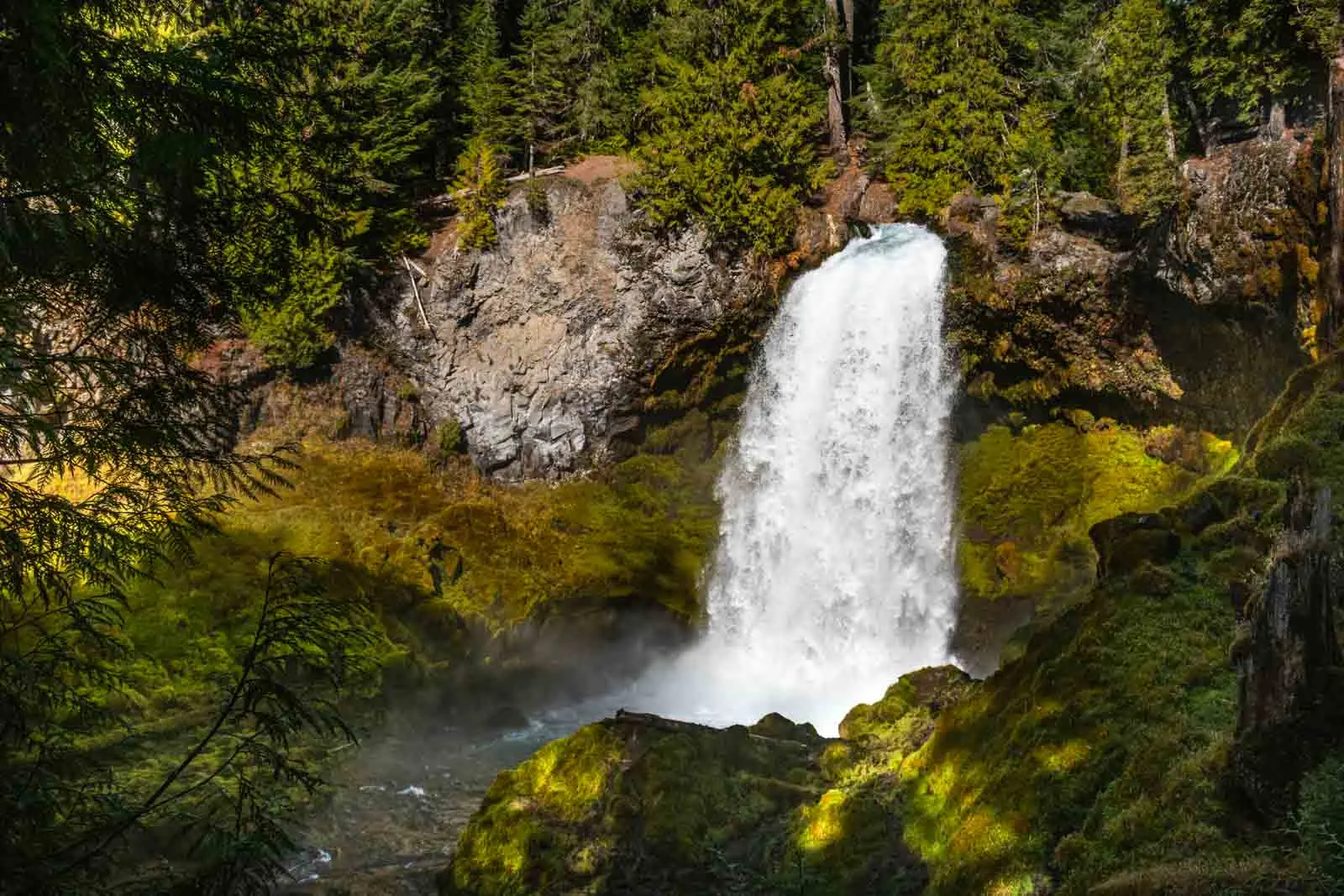 The starting point of this hike is at Sahalie Falls, which is less than 100 feet from the parking lot. You can then follow the trail to Koosah Falls, with beautiful scenery along the way.
After passing both falls, you can turn and head down the other side of the river through the old-growth forest.
Along the way, there are many different pathways that lead off from the main trial, many of which will lead you to some little know lookout points.
This trail is actually a section of a large one called the Mckenzie River trail. You could potentially add on Tamolich Blue Pool and Clear Lake too which would make for a huge day of hiking and epic views.
---
RELATED: Exploring the Sahalie and Koosah Falls Hiking Loop
---
3. Peter Skene Ogden Trail
Distance: 8 miles
Type of Trail: Out and Back
Difficulty: Moderate
There are plenty of waterfalls near Bend on the Peter Skene Ogden Trail to keep all you waterfall lovers satisfied. Although the main trail is 8 miles, there are plenty of options for hiking on longer if you are up for more of a challenge.
There are several options to where you can start this trail, but a good starting point is at the McKay Campground site, where McKay Falls is the first falls you will come across, with is 500 feet tall.
Paulina Creek should be on your right for the first part of the hike, and after about 30 minutes, the first rapids will start to appear, which then begins to turn into waterfalls.
The majority of the trail will follow these rapids, with smaller paths taking you closer to some of the more impressive falls. If you are only looking to do the 8-mile hike, turn back after 4 miles when you reach a waterfall with a wooden bridge 100 feet behind it. If you would like to carry on, Paulina Lake is a further 3 miles, and Paulina Falls are even closer.
In the summer months, some of the rocks are used for waterslides, and the pools beneath some of the waterfalls can be used for swimming. You can also start this hike from Paulina Falls and head toward McKay Falls.
4. Steelhead Falls Hike
Distance: 2 miles
Type of trail: Out and back
Difficulty: Moderate
This is a great short hike with a small incline on the return journey. The hike from the trailhead will take you through a winding and beautiful gorge for little over a mile before reaching the main falls.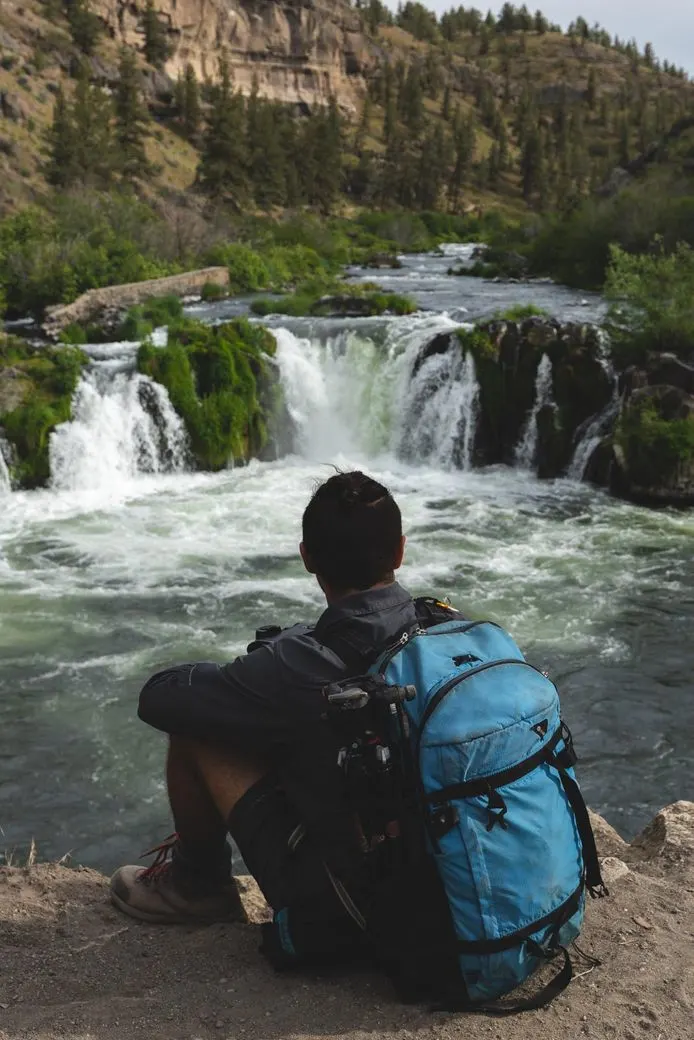 It is relatively easy-going, with one small steep section. During the summer months, the area is filled with people swimming in the calm waters downstream from the falls, despite it being a location that is slightly off the beaten path.
The area has miles and miles of trails through the pristine canyon to explore and is open all year round.
5. Proxy Falls
Distance: 1.5 miles
Type of Trail: Loop
Difficulty: Easy
The Proxy Falls Trail starts by heading west, taking you into the Three Sisters Wilderness, continuing over an old lava flow, starting at the southwest end of the parking lot. The first 0.5 miles of the trail is a little rocky due to the lava flow, but it soon levels off as you start to head into the forest.
At this point, the trail splits, with the trail to the right, taking you to the lower falls, and the left will continue the loop to the upper falls.
The path down to the lower falls is steep and eroded, so if you don't want to head down, there is a lookout point from the top of the trail. If you decide to go down to the lower falls, head back up the way you came to get back onto the main trail.
Upper Falls is seriously impressive, as it spills down into a grotto. The rest of the loop reveals some stunning scenery of the surrounding area. Be aware that the hike is only open in the summer months from mid-June to early November, depending on the snowfall.
There is a viewing point for Proxy but the base of the waterfall is worth going to. Just keep in mind there are fallen trees and the misting of the falls has made the trees and rocks very slippery so take care.
---
READ MORE: Proxy Falls Hike—Central Oregon's Most Epic Waterfall!
---
6. Linton Falls
Distance: 4.3 miles
Type of Trail: Out and back
Difficulty: Moderate
Dropping 615 feet and consisting of 7 drops, Linton Falls is a pretty impressive waterfall near Bend. The final drop is, without a doubt, the tallest and most impressive. The hike begins at the trailhead to Linton Lake, just off the Mackenzie Pass Highway.
Make the most of the first 1.5 miles of trail, as this is by far the easiest part of the hike. It is well defined along the edge of the lake, leading through a series of lava fields.
After this, the adventure really begins, with lots of scrambling, mud and fallen trees steadily uphill. Before long, you'll find yourself on the edge of a gorge, which overlooks the lower of the falls.
If you are feeling up to it, head to the more scenic falls by climbing directly upstream to the base of the upper falls. It is from this viewpoint that you will fully be able to appreciate the beauty and power of Linton Falls.
---
RELATED: 17+ Badass Bend Hikes to Conquer During Your Visit
---
7. Marion Falls
Distance: 5 miles
Type of trail: Out and Back
Difficulty: Moderate
The route to Marion Falls is pretty well hiked, but most people in the trail will be heading to Marion Lake rather than the falls and may miss the turn off leading to the falls. The waterfall is off-trail, but only a short way, and allows some close-up views of the two falls.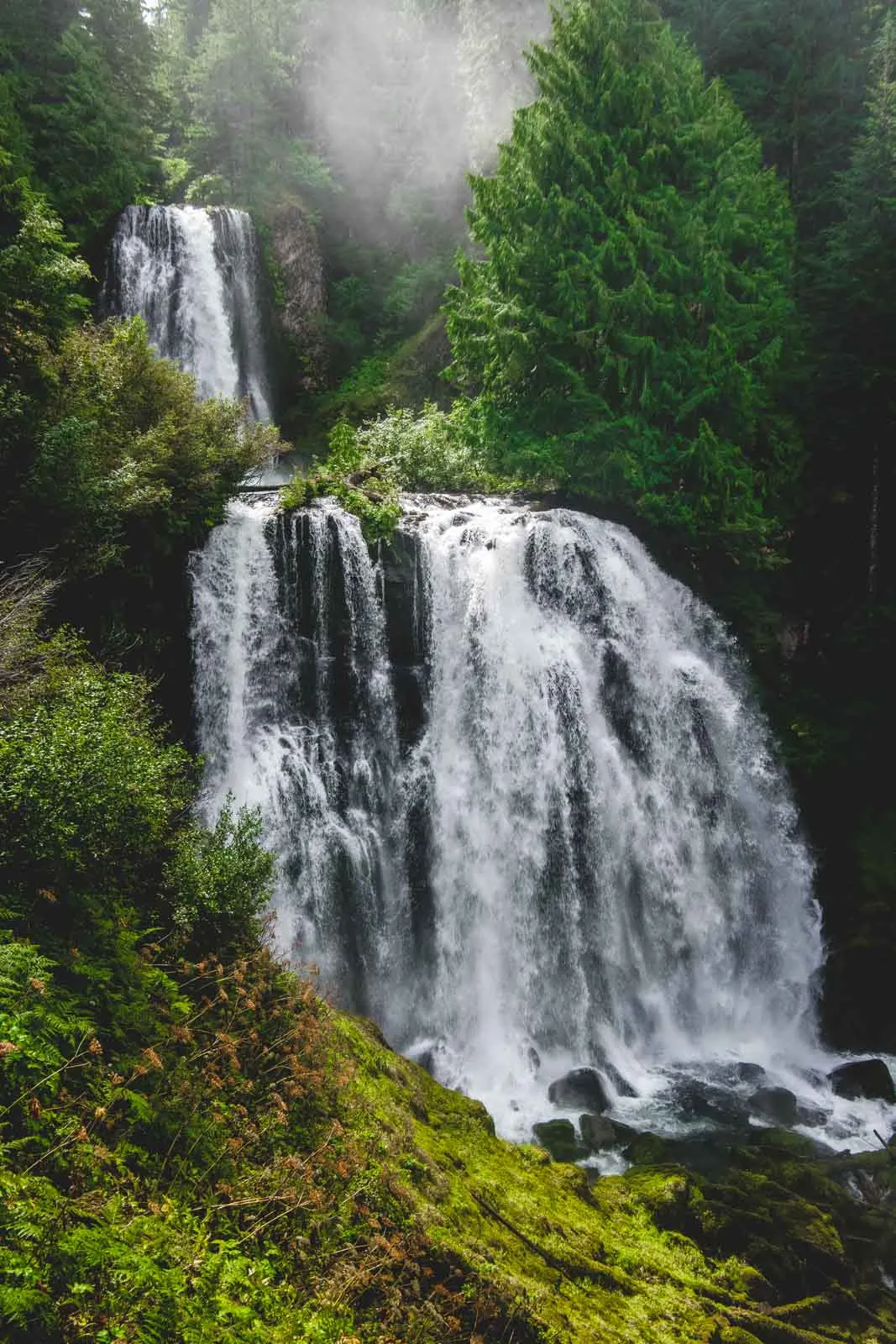 To kick off the hike to Marion Falls, start at the Marion Falls Trailhead through the forest. The trail starts off as a steady incline, and about a mile in, you should hit your first lake, Lake Ann.
A short walk further on, you'll come across a well-defined spur trail that will take you to the waterfall.
Be prepared for a bit of a scramble at this point so you can get the best view of the tumbling Marion Falls with Gatch Falls also in view. Some people have argued this is really just a lower tier of Marion Falls, so see what you think!
8. Benham, Dillon and Lava Island Falls
Distance: 6.8 miles
Type of Trail: Out and Back
Difficulty: Easy/Moderate
These waterfalls near Bend are accessed by the Deschutes River Trail, all of which are formed by the lava channels that were formed by the eruptions of Mt.Newberry thousands of years ago.
The trail is a scenic local favorite, and starts at Benham Falls and follows along the west side of the Deschutes River, with some steep climbs along the way.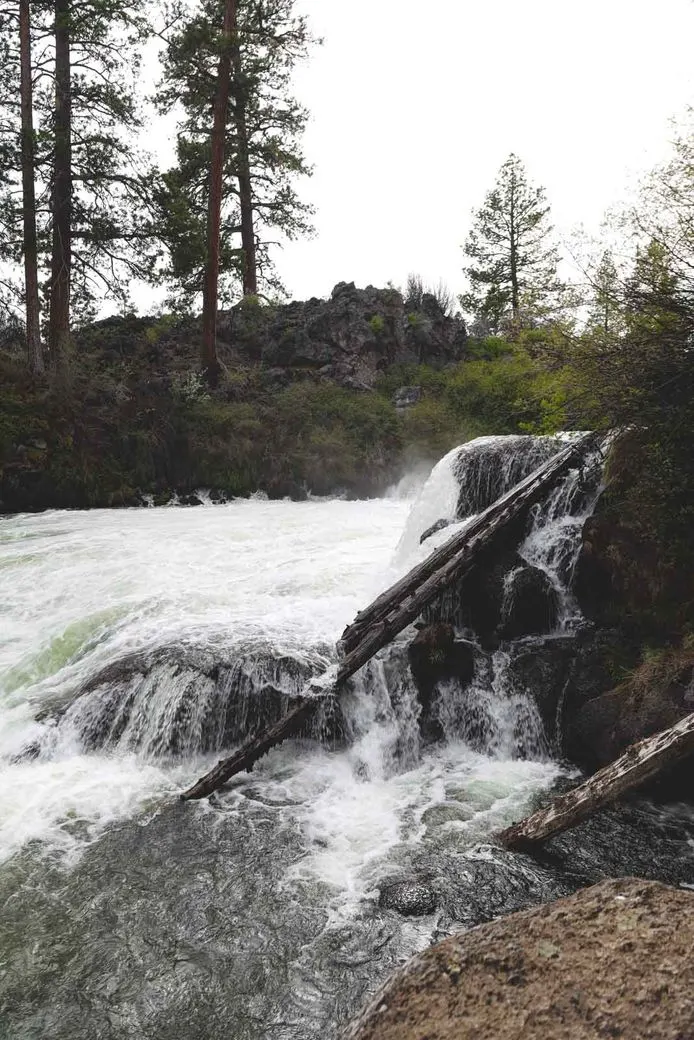 Benham is the biggest and the most impressive of these rapid like falls and can be seen best from the Benham Falls overlook. Those that venture beyond this viewpoint will be rewarded with a dramatic landscape that was created by boiling lava and churning water.
Dillon Falls are less documented as they are a little harder to see. They start off as a dramatic 15-foot drop and then transform into rough class-5 rapids. Lava Island Falls are also rated as class-5 rapids and can be quite difficult to see from the trail.
These three falls are much more like rapids, especially in spring when the water is truly gushing, so much so that you can't see the water "fall."
Don't come here expecting huge waterfalls but also, I wouldn't miss this spot either, the Deschutes River Trail is one of the best trails in Bend.
---
RELATED: The Deschutes River: How to Float, Trails and Info (Bend)
---
9. Whychus and Chush Falls
Distance: 5-6 miles
Type of Trail: Loop
Difficulty: Easy
With sweeping mountain views and two stunning waterfalls, it is seriously surprising that this hike is rarely busy, even in the summer months. It used to be a 2-mile roundtrip to the falls, but the Pole Creek Fire ravaged the area so dramatically, that the hike is around five miles, and six if you want to also head to the upper falls.
The hike will take you through a spooky but beautiful section of burnt forest with views of the Three Sisters and Broken Top along the way.
The trail is not particularly well maintained, making it a bit of an adventure, but after a windy section, you'll come to a small incline, which will signify that you are close to the falls.
When you reach the top, you will have a view of Chush Falls, and then there is a path worn down by other hikers, which will take you to the base of the falls. This is where it is most impressive, with a close-up view of the 67-foot drop surrounded by a lush meadow.
Climb back up to the main trail and continue on to Wychus Creek, with several other falls along the route. Winter here can be a challenge, and the road closes. Always make sure you have GPS as it is very easy to get lost.
---
RELATED: An Adventurer's Guide to Things to Do in Bend, Oregon
---
10. Salt Creek Falls and Diamond Creek Falls
Distance: 3.7 miles
Type of Trail: Loop
Difficulty: Easy
This short hike will give you a breathtaking view of one of the state's highest waterfalls, Salt Creek Falls. After taking in the sights from the spectacular clifftop viewpoint, you will pass above a deep gorge before encountering Diamond Creek, where a short spur will take you to the pretty Diamond Creek Falls.
This is a great leg stretcher if you are in the area, but if you were looking for something a bit longer, you could take a longer hike into the Diamond Peak Wilderness with the Vivian Lake HIke.
The trail starts at the Salt Creek Falls Trailhead, which features plenty of information on the formation of the falls. The trail is wide and paved through a Douglas fir forest to the clifftop overlook, which offers incredible views over the Salt Creek Falls' amphitheater – it is an extremely impressive sight with the water tumbling over 300 feet.
Pass the picnic area and continue on the Diamond Creek Falls Trail. This waterfall is distinctly different, where a glittering fan of water first flows over a 90-foot drop before then following a series to tiers, falling a further 500 feet.
---
READ MORE: Salt Creek Falls & Diamond Creek Falls Hike
---
RECOMMENDED OREGON ADVENTURE GEAR:
Tried and tested gear that we use around Oregon and the PNW!
Hiking and Camping
Road Trip
Clothing Gear
Car Rental:
Where to Stay Near Bend
We have a massive list of great camping spots in the Bend area, but here are a few quick recommendations…
Tumalo State Park Campground: One of the closest campgrounds to Bend, beautiful Tumalo State Park Campground is right on the Deschutes River and has lots of tent and full hook-up sites.
Driftwood Campground: Driftwood Campground has beautiful views of the Three Sisters Lake, and is a peaceful campground to relax in nature.
Bend Sunriver RV Campground: This campground on the Little Deschutes River offers full hook-up and tent sites, as well as yurts, cabins, and cottages. It is close to both Bend and Sunriver.
Hummingbird Cottage: Hummingbird Cottage is an adorable craftsman style Bungalow in a quiet part of Bend that is close to breweries, hikes, and more.
Tall Pines A-Frame: This cute A-Frame in La Pine sits on an acre of Ponderosa Pine and has a full kitchen, bathroom, and two bedrooms.
Cozy Sunriver Cabin: Located right in central Sunriver, this cute woodsy cabin is surrounded by trees and has a wood-burning fireplace, a full kitchen, and WiFi.
We hope this helped you plan your visit to some pretty epic waterfalls near Bend, Oregon! Be sure to check out our other posts on Bend and adventures in Oregon.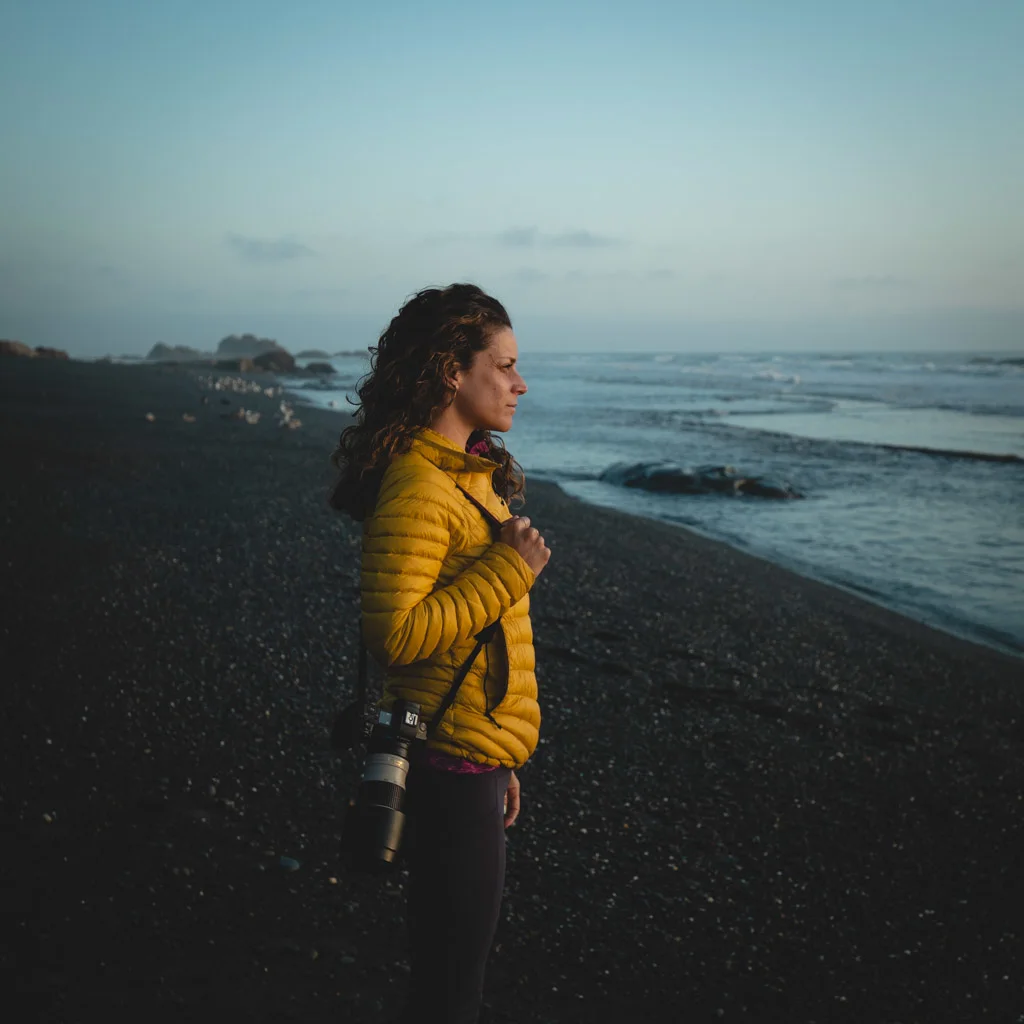 I've been perpetually traveling and living around the world for years but it's hard to beat Oregon and the PNW. After years of road-tripping the area, I guess you can say I know it pretty well! When I'm not writing guides for you, you can catch me somewhere petting a dog, attempting to surf, hiking a volcano, or stuffing my face with bread and cheese.