With two stunning waterfalls within easy hiking distance of each other and requiring very little effort, it is no wonder that the Koosah and Sahalie Falls trail is a pretty popular hike.
These beautiful falls are located along the McKenzie River in the Cascade Mountains and can be an easy stop off if you are hiking the McKenzie River Trail.
The two falls were created thanks to the lava that poured down the McKenzie River Valley 3000 odd years ago, creating the benches that both Koosah Falls and Sahalie Falls tumble over.
Hiking To Sahalie and Koosah Falls
---
Distance: 2.6 miles
Type of Trail: Loop
Difficulty: Easy
There is a 400 foot elevation gain along the way, and the best time to hit the trail is from May through to November.
Each waterfall has its own parking lot and you can see them within a short walk, but the loop is certainly more rewarding.
---
RELATED: 29 Stunning Oregon Waterfall Hikes
---
The falls are very popular, and parking is limited. The best way to make sure you get a spot in the car park is to get there early, plus this way you'll have the added benefit of the trail and viewpoints being less crowded.
Since both of the falls have separate parking areas, you can choose where to start the hike.
Sahalie Falls
Sahalie Falls is an impressive rush of foaming white water that cascades down around 100 feet over a completely naturally formed lava dam.
At times of high water, you may be able to see a second, smaller stream of water that drops from a lava bowl to the right of the main cascade which makes the falls even more impressive.
Sahalie is the Chinook Jargon word for high, and as soon as you set eyes on the falls you will see why it got its name.
Koosah Falls
Koosah Falls is slightly smaller at 70 feet, but this plunging stream of water is still likely to take your breath away as it falls into the deep pool below.
In the drier months, the waterfall falls into two smaller streams, and when the water flow is heavy it is just one big mass of water.
Keep your eyes peeled as you look towards the base of the falls, as you may be able to see a series of springs where part of the river comes up from, where it has found passage under the water. The word Koosah also means sky or heaven in Chinook.
---
RELATED: 9 Amazing Waterfalls Near Eugene, Oregon
---
Hiking the Sahalie and Koosah Falls Loop
The 2.6-mile loop to see the falls is considered easy, and with two huge cascades of water to see, you are certainly getting a lot of bang for your buck.
If you're starting at the Sahalie Falls parking area, walk just 100 yards down to the viewpoint of the falls. The viewpoint is railed and gives you a great angle of the water. From the viewpoint, start heading left, following the 'Waterfall Trail'.
You'll be heading downstream following the river, where the water will be a mass of churning white water alongside you for around half a mile.
There are a number of other picturesque cascades as you walk along through a canopy of droopy limbed western red-cedar, western hemlock, and 6 foot thick Douglas-fir.
It is at this point you'll hit the first viewpoint for Koosah Falls. Once you have finished taking it all in, continue along the loop, be sure you're turning right at all junctions, and before long you'll get the very best views of Koosah Falls.
This viewpoint offers a headlong look down the canyon, which is impressive in itself.
---
RELATED: Your Guide to Exploring Clear Lake, Oregon
---
Halfway on the McKenzie River Trail
Carry on going right and take the bridge over the McKenzie River that will take you onto the McKenzie River Trail for a short while. You will know you are in the right place as you will have reached the Carmen Reservoir.
Heading upstream this time, you'll be able to get some more great viewpoints of the falls from different angles.
Be aware that the viewpoints on this side of the river do not have any railings. At the viewpoint of Koosah Falls, there is a spur trail that will lead you down to the river bank, from here you'll get a secret view of another waterfall that's located just above Koosah.
There is also another trail that will take you to an incredible vista overlooking the Sahalie Falls amphitheater, a very unique viewpoint.
---
RELATED: Hiking to Tamolitch Blue Pool in Central Oregon
---
After heading back to the main trail, it twists and turns through mossy lava outcroppings before reaching another great viewpoint of Sahalie Falls. This time you are much higher up, so you'll almost be looking down at the water from the lip of the falls.
Carry on heading up the river to the footbridge, and after crossing begin back downstream.
Before you return to the car park, you'll be greeted with one last view of Sahalie from above. You can get pretty close to the top of the falls at this point, so it is well worth a look.
Camping Near Sahalie and Koosah Falls
The nearest campground to the falls is the Ice Cap Camp. You can practically open your tent and be on the trail to the falls. You'll have access to simple vault toilets and that's about it.
Cold Water Springs Campground sits on the south end of Clear Lake. It is surrounded by picturesque maple, alder, and Douglas fir, providing natural shade and privacy.
There are 34 campsites available, all of which come with a picnic table and campfire ring. It is pretty rustic with no hookups available, but there are vault toilets and drinking water.
You could actually park and camp here and then hike to the falls from here as well. You'd only add on about a mile one way and would be hiking another portion of the McKenzie River Trail.
---
RELATED: Your Guide to Hiking the McKenzie River Trail
---
The McKenzie River Trail
This short but sweet waterfall loop trail is part of the 26 mile McKenzie River Trail. For some of the waterfall hike, you will actually be on the McKenzie River Trail. Many people who are taking this longer hike will stop off to see these impressive falls along the way.
There are plenty of stunning sites to see along this trail just a short distance from Koosah Falls and Sahalie Falls, such as Clear Lake and the Blue Pool.
We hope this helped you plan your trip but don't leave yet! There's more to see in Central Oregon and more adventures in Oregon to be had.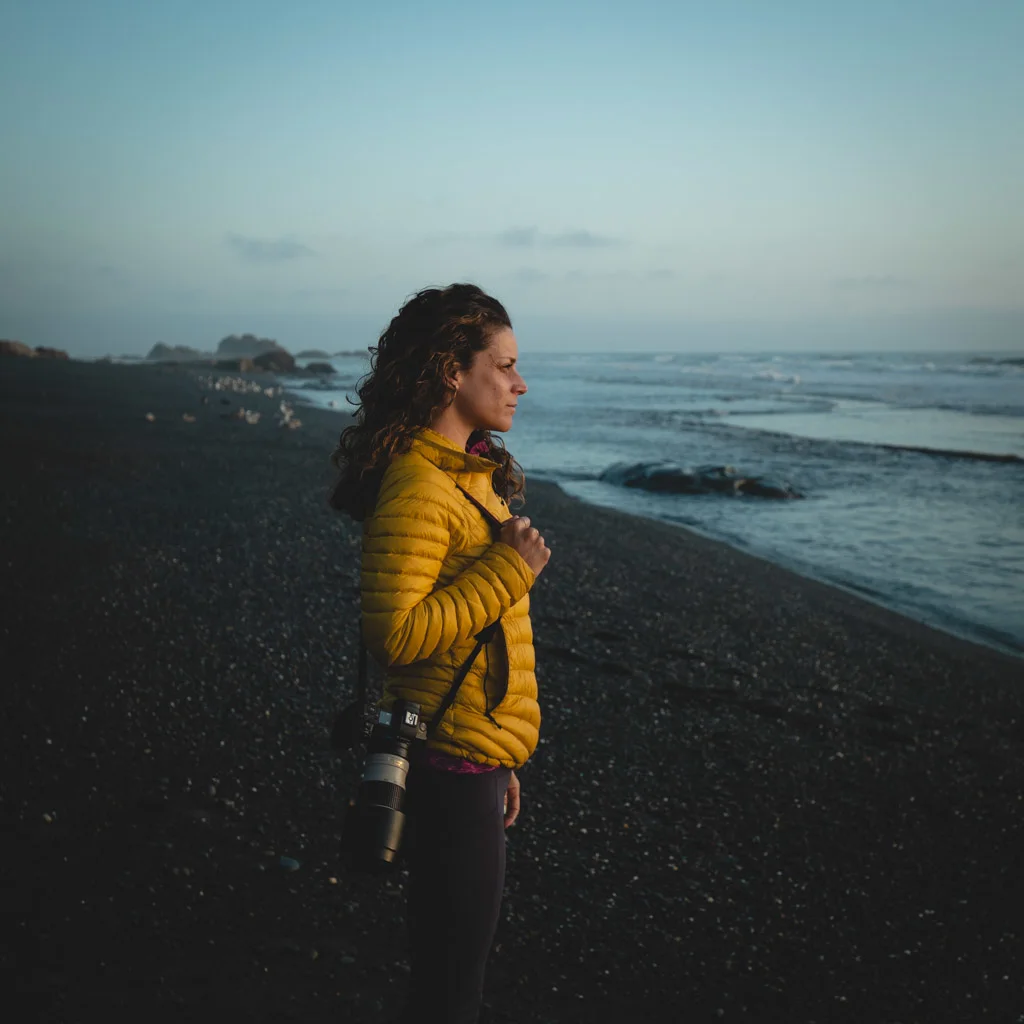 I've been perpetually traveling and living around the world for years but it's hard to beat Oregon and the PNW. After years of road-tripping the area, I guess you can say I know it pretty well! When I'm not writing guides for you, you can catch me somewhere petting a dog, attempting to surf, hiking a volcano, or stuffing my face with bread and cheese.