The Deschutes River is teeming with activities and fun, and lucky for Bendites, it's right in the center of the city! In the summers, it's the place to hang out and have fun on the water.
Floating, hiking, kayaking, and even surfing are all possible.
Here's a guide to pretty much everything you can do on The Deschutes River straight from the center of Bend, Oregon.
Floating the Deschutes River
This is the quintessential thing to do in Bend and is a SIN to miss out on. Seriously, you have to do it! And here's everything you need to know on how…
Getting a Raft to Float the Deschutes River
We use this two-person tube. It comes complete with cooler and an air blower hook up for your car. It's durable and relaxing but a simple donut tube would work too.
Now, if you want to pop into Walmart and get a tube big enough for a few friends but don't want to spend a lot, you won't be the only ones on the river on a cheap air mattress, so go for it!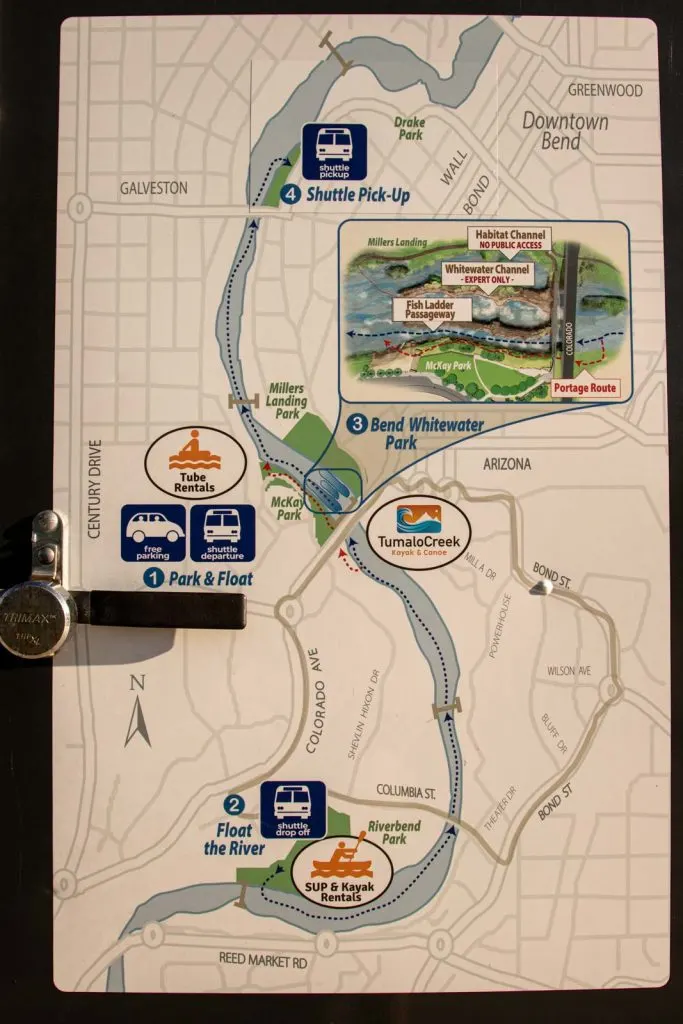 Don't want to shop for one? You can rent them at the river.
Find Tumalo Creek rentals at the river right here. They rent from 10-5 pm.
Cost: $20 for two hours (Including a ride on the shuttle)
Where to Start Your Float Down the Deschutes River:
If you have your own and a car, then nearly anywhere. Riverbend Park through Bend Whitewater Park (the rapids) and ending in Drake Park is the usual route with a choice to get out before or after the rapids for a shorter ride.
If you plan on using the shuttle and renting a tube, the smartest way to float the Deschutes River is to head to Riverbend Park where you can rent your tube and head down the river.
You'll get out at Drake Park to catch the shuttle back to your vehicle.
The Shuttle Pass for Floating the Deschutes River
If you float the Deschutes River you're going to need a ride back to your car, or you'll have to walk it.
The shuttle pass will give you and your tube a ride all day for $3. They usually operate June-Septemeber and run every 15 minutes. You can check the times and updates on their site. (only bring exact change, bus drivers don't have any change)
Walking is totally possible depending on where you get out. We often put in at Riverbend Park and get out after Bend Whitewater Park– it takes us around 15-20 minutes to walk back.
Don't forget you'll have your tube in tow!
Alternatively, if you and your buddies have two cars between all of you, you could easily leave one of the cars at the endpoint so you all have a ride back.
Tips for Floating the Deschutes River
You'll use your water shoes or flip flops like a paddle, that's what locals do at least. You'll want some type of footwear as getting in and out is rocky. The safety signs at the river recommended proper water sandals or shoes.
Start your float earlier in the day or later in the afternoon to beat the crowds. It can get pretty busy so a 10 am or 4 pm start may serve you better.
Be on the lookout for rocks, you will need to paddle away from some!
Have fun, crack a cold one and eat some snacks but make sure all those wrappers and cans go in the trash. (Side note: drinking on the river is illegal but I've grown up here and I've never seen it stop anyone. I mean that's why Hydroflask was invented in Bend in the first place right?)
Bring a dry bag if you plan on bringing your keys, phone, and other things that probably shouldn't get wet. We use one every time!
The rapids are fun but will definitely rock you, so be prepared to hang on to everything, especially if you're in a wonky tube or air mattress—Have fun! 🙂
If you want to skip the rapids, there's an obvious and signed area to do so right before the rapids start!
Bring a change of clothes so you can grab something to eat at one of the many Bend, Oregon restaurants you'll be near! The river runs right through downtown and the Old Mill area which is packed full of great spots.
Surf, SUP, and Kayak the Deschutes River
SUPing and kayaking the Deschutes River is pretty simple. You'll go to the same places as above, Tumalo Creek rentals or at Riverbend Park where you can rent a SUP or kayak.
For one/two hours rentals it's:
single kayak $30/$40 | double kayak $45/$70 | SUP $30/$40
If you have your own, you're free to put in at these two spots as well.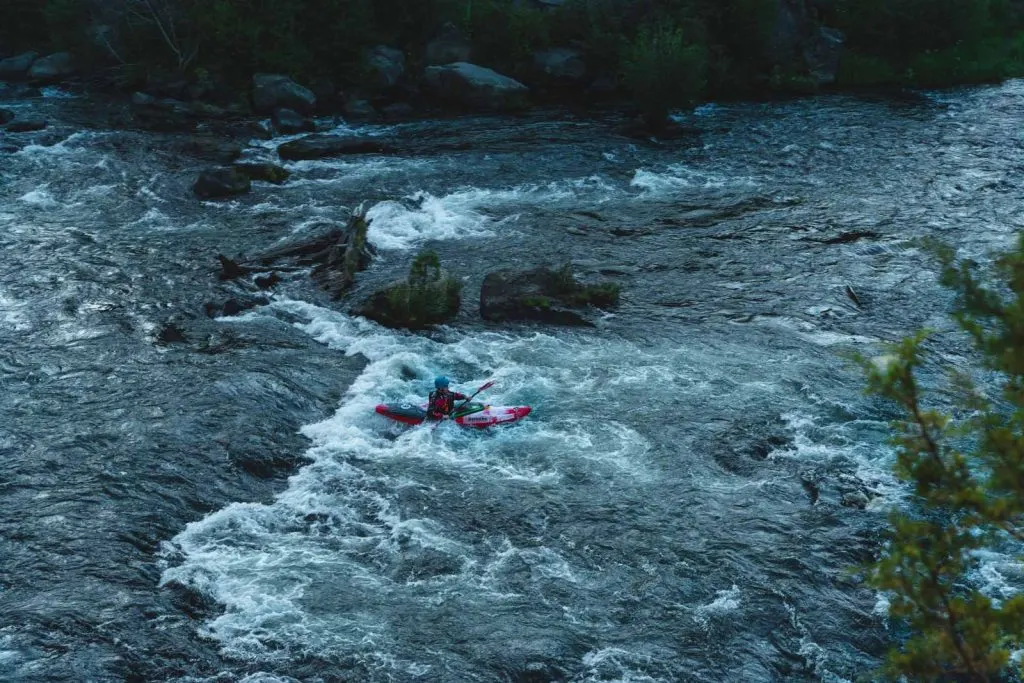 There are plenty of more experienced kayakers that come in and take on the rapids too.
For surfing the Deschutes River, yes, I said surfing, head to Bend Whitewater Park. You can surf, kayak or paddleboard on some of the man-made waves that were installed in the area. The "Whitewater Channel" is for the pros and is right next to the "Fish Ladder" which are rapids for the people on floats.
Check their Facebook for any condition updates on the waves.
If you want to watch some surfers or hear the bellows of people floating down the rapids (which is very entertaining by the way) then head to the bridge near McKay Park!
→You can also whitewater raft the Deschutes River – take this guided rafting trip for a thrilling day out.
The Deschutes River Trails
If it's much too cold to get on the river or you'd rather head out for a walk, there are a few trails right in town for you to take advantage of. Both of these trails can start/finish at Farewell Bend Park or River Bend Park since they are both loops. This area is one of the best spots for hiking in Bend.
Deschutes River Trail – South Canyon
My personal favorite that I grew up running on is the Deschutes River South Canyon trail that goes from Farewell Bend Park south along the Deschutes River and loops back around for an easy and scenic 3 miles walk. The walk can get a bit busy during peak hours but it's perfect for burning off some of that beer.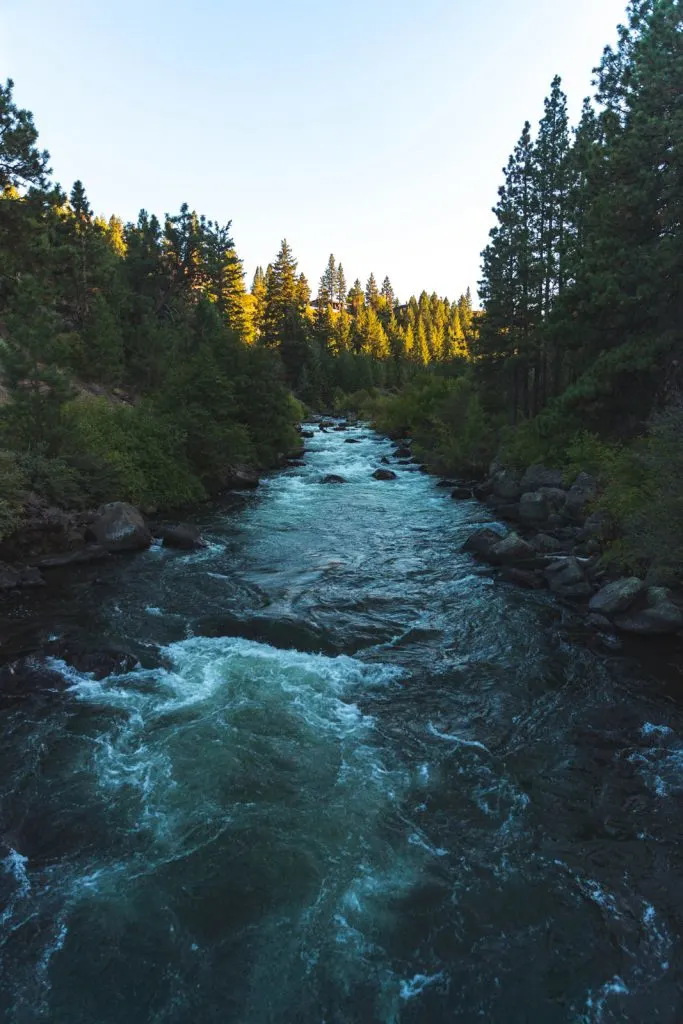 Deschutes River Trail Loop
For a shorter loop, you can take the Deschutes River Loop but head north towards Columbia St bridge and loop back around to Farewell Bend Park. This walk will give you a good tour of the Old Mill District along with showing the new whitewater park where local surfers are always shredding.
There are plenty of other trails but these are the most pleasant and central as well all being along the river. If you're staying in the city. Here's a map with all the info here that I've listed for you.
→ You can ride a horse by the Deschutes River too! This excellent horseriding tour is a great way to experience the beauty of the river on four legs.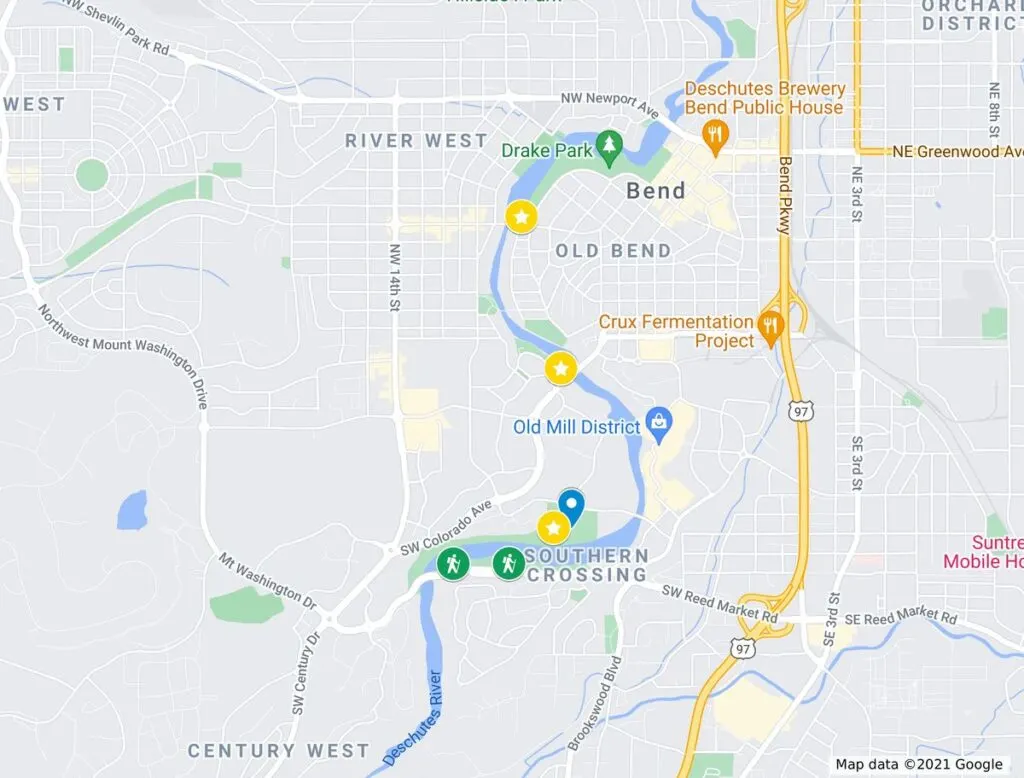 Deschutes River Trail Near Sunriver—Float, Hike, Bike
The Deschutes River Trail is actually a long trail with tons of deviations to explore either on foot or by bike. Everything above was easily accessible from Bend but there are different access points to the Deschutes River from Sunriver as well.
Hiking along the Deschutes River Trail from Sunriver will bring you to small falls and rapids, around canyon walls, and over rocky buttes. There's an entire network of trails here and, of course, floating too!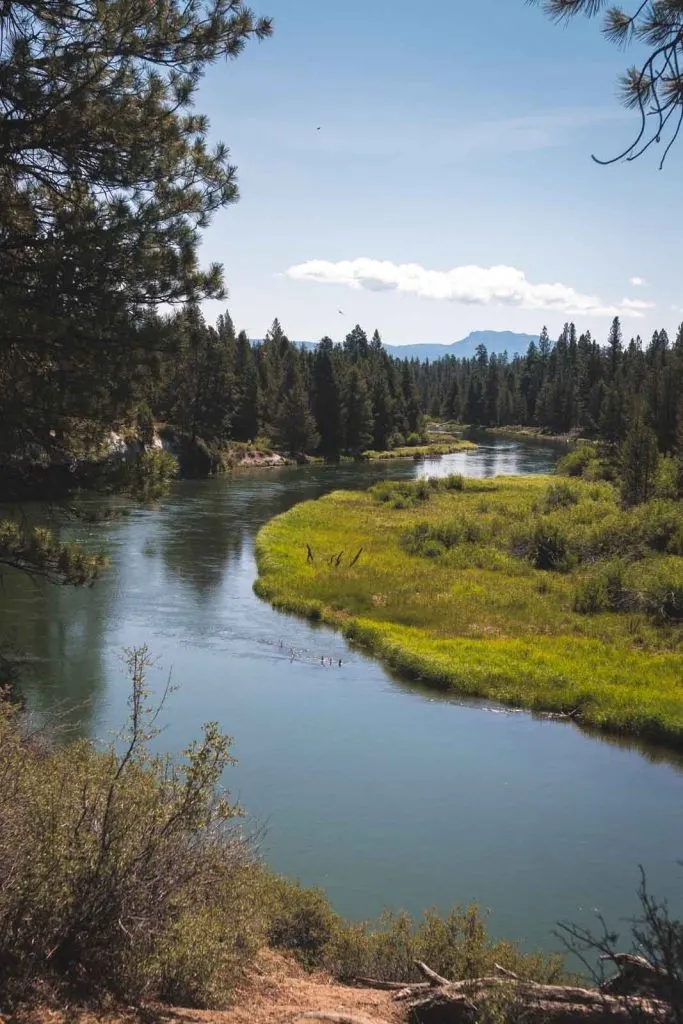 The Sunriver Marina has a convenient access point to the river along with rentals of kayaks and tubes. You can also use the Besson day area put in along the river if you have your own equipment.
Check out our guide to Sunriver to what else you can do in the area.
Curious about whitewater rafting down the Deschutes River? Check out our guide to whitewater rafting in Oregon for more information.
Here are more adventures around Bend for you to get into.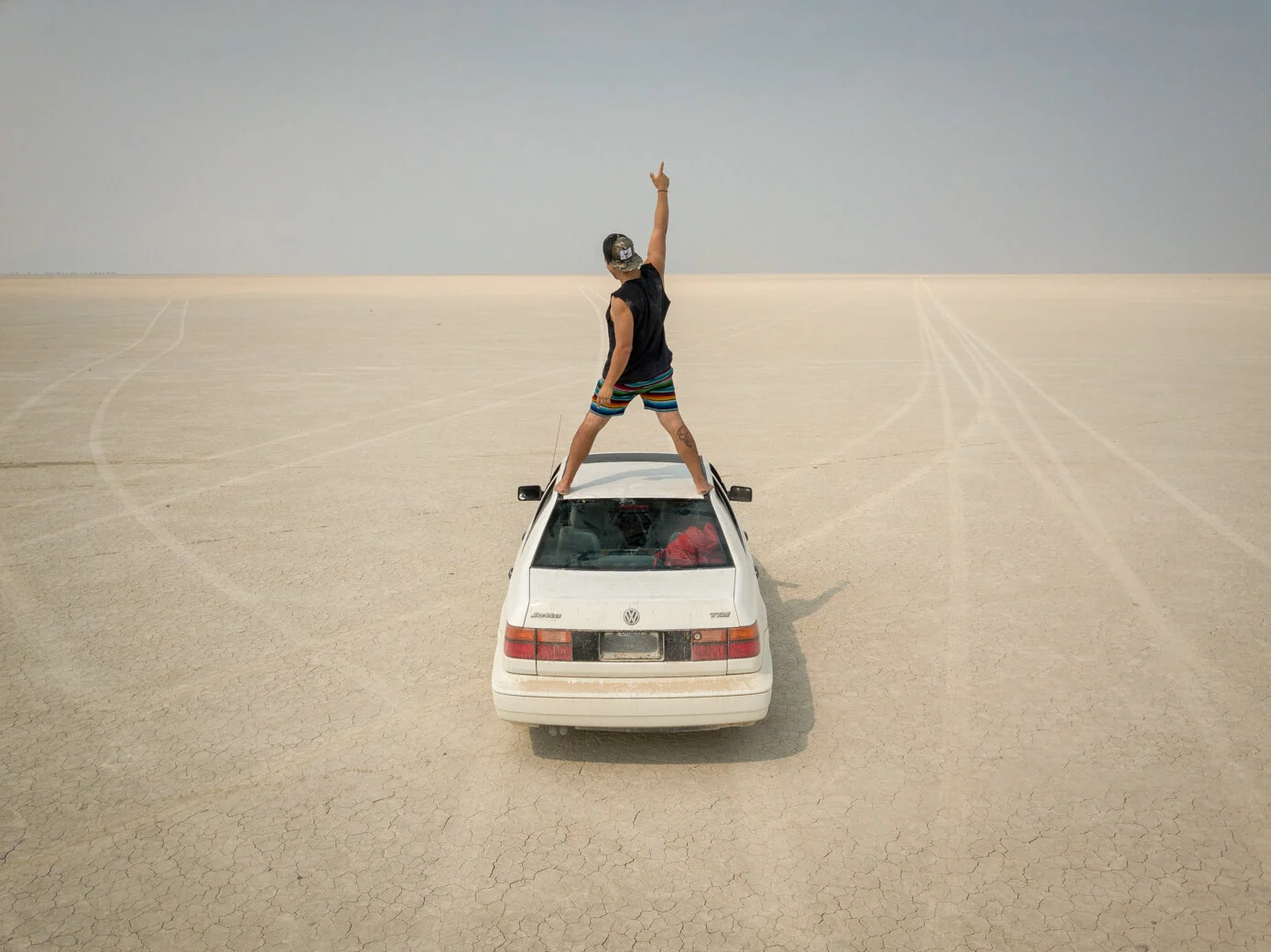 Oregon native and explorer at heart. Loves tackling expeditions around the world and drinking a good beer at the end of the day. PNW obsessed, VW nerd, and surf or snow riding fanatic.