Whether you're just swinging by for the weekend or settling in to call Bend home, nothing starts the adventure quite like embarking on the Bend River Float.
From floating lazily to SUPing, kayaking, or even trying your hand at river surfing, the options are as diverse as the river itself. You can come equipped with your own gear or effortlessly rent your vessel of choice right by the river's edge.
So, if you're up for it, here's your comprehensive guide to all the adventures the Deschutes River has to offer, all starting from the heart of Bend, Oregon.
What Is the Bend River Float?
The Bend River Float encompasses a mellow 1.5-mile section of the Deschutes River, guiding you from the southern outskirts of Bend, through the Bend Whitewater Park rapids and then right into the town center.
The river's current is as laid-back as a Sunday afternoon, and when summer hits its stride, the water temperature hovers around the lower 60's – refreshing enough to keep you comfortable in Central Oregon's desert heat.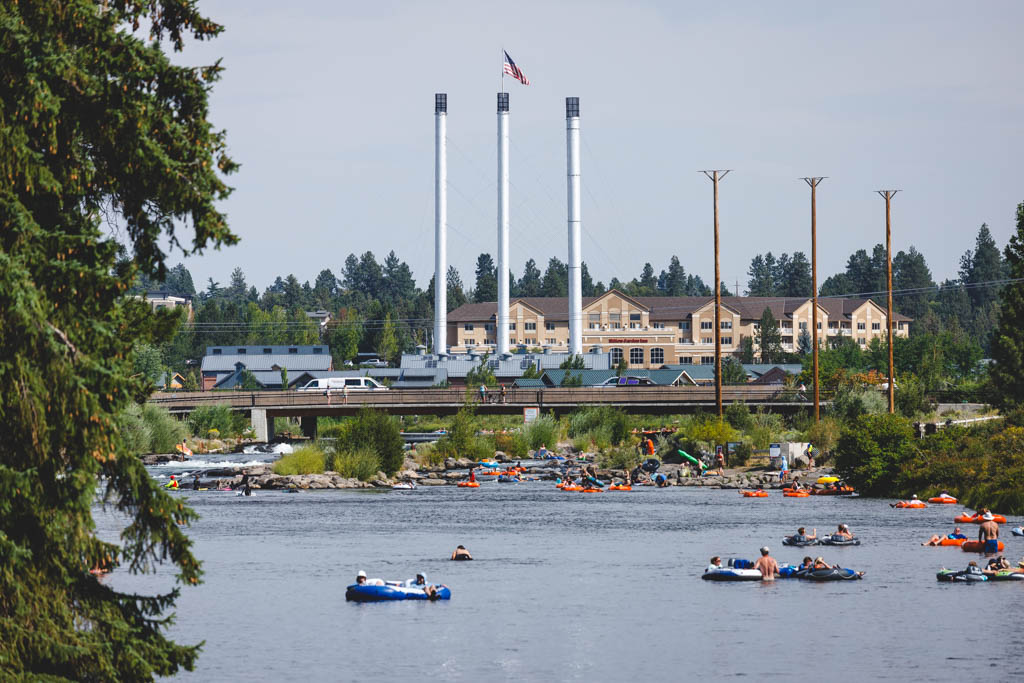 This lazy river welcomes folks of all ages, making it an easy and accessible escape. If you plan to do the complete float you will want to set aside about 2 hours.
What sets this experience apart is the chance to take in the surrounding landscape while giving the sweltering summer heat a run for its money.
How to Float the Deschutes River
First things first, you're going to need the right equipment and figure out where your start and end points will be.
Acquiring a Tube
Let's start with the tube.
Since we live in Bend we use this two-person tube and pump. This has been our favorite raft to date as it comes with a cooler, beverage holders, and center storage space for our dry bag or flip-flops.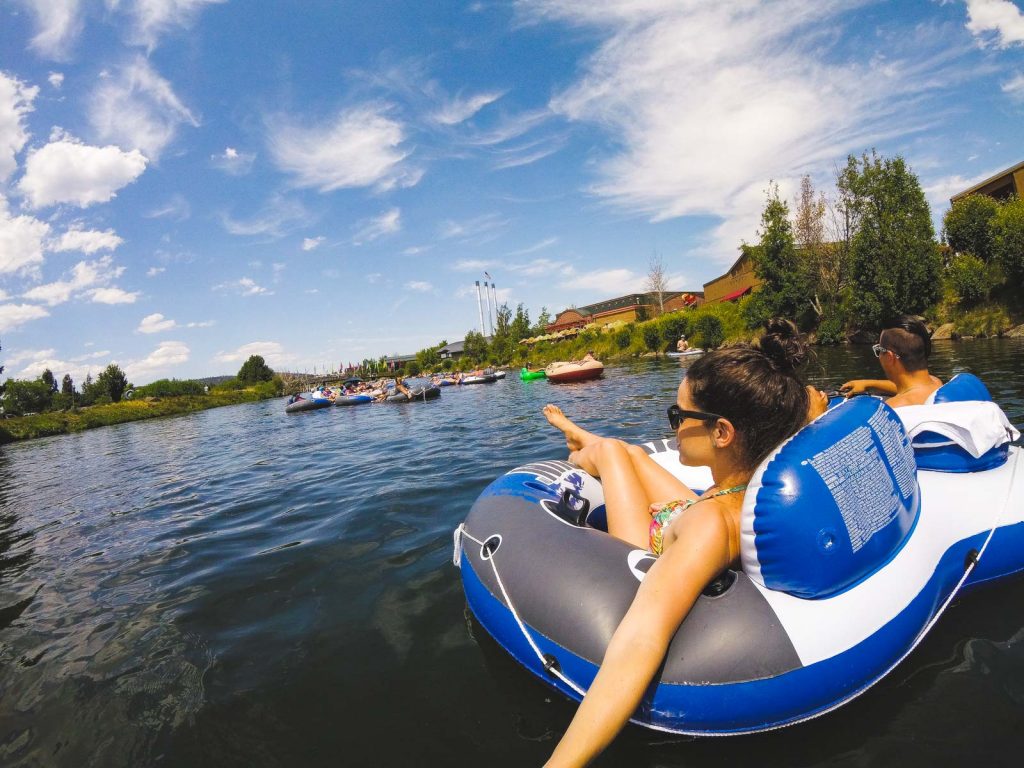 Now, if you want to pop into Walmart and get a floaty big enough for a few friends but don't want to spend a lot, you won't be the only ones on the river on a cheap air mattress, so go for it!
However, if you are visiting Bend, don't plan on multiple float days and value your time, renting will be your best bet as they make it very convenient here in Bend to do so and it ends up being less expensive than buying at the store.
The MOST convenient place to rent your floaty is the Tumalo Creek Rental truck at Riverbend Park. There is limited parking within the park however just across the street is an overflow parking area that is massive and at the time of this article FREE. So no worries there.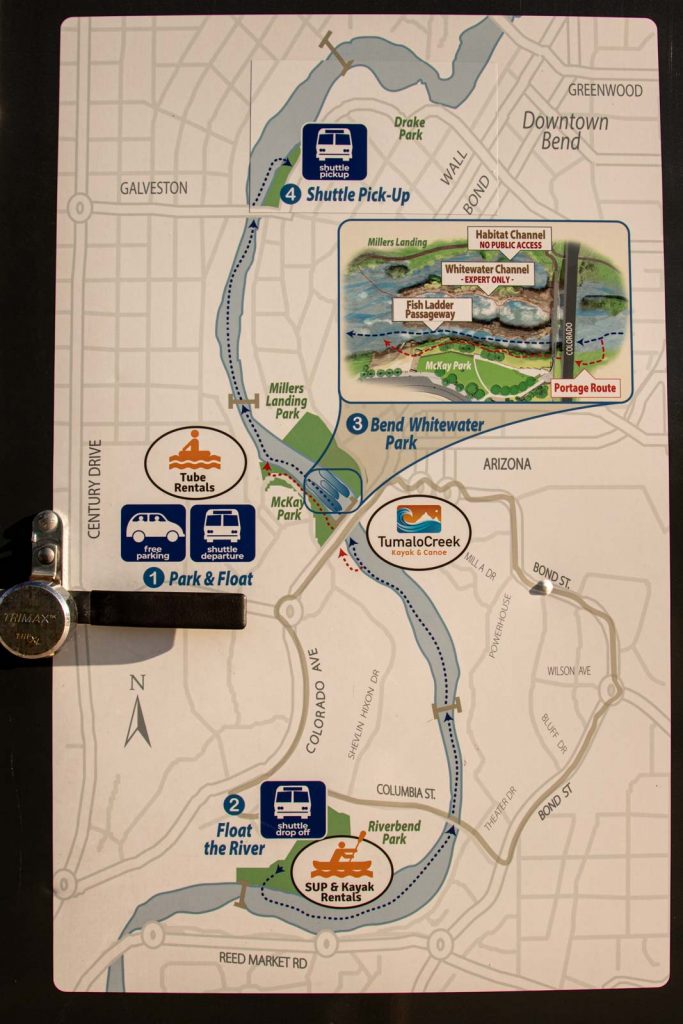 Find Tumalo Creek rentals on the map here. They are open from 9 am-6 pm and rent up until 4:30 pm.
Cost: $24 for a 2 hour tube rental (Includes a shuttle pass to bring you back to Riverbend park)
For walk-ins it is not unheard of them running out of tubes at the rental kiosk on the river. If this happens to you then your best bet is to drive to the Park & Float just up the road. They will have a much larger inventory of rental tubes. Click here for that GPS location.
Aquiring a SUP or Kayak
SUPing and kayaking the Deschutes River is pretty simple as well. You can go to the same places as above, Tumalo Creek rentals or at Riverbend Park where you can rent a SUP or kayak.
Cost: solo kayak $40 | tandem kayak $80 | SUP $40 for 2 hour rentals.
However, our recommendation is going directly to Tumalo Creek Rentals Headquarters on Industrial way and using their private dock to launch. It puts you right in the center of the action and skips the crowds at Riverbend and Drake Park.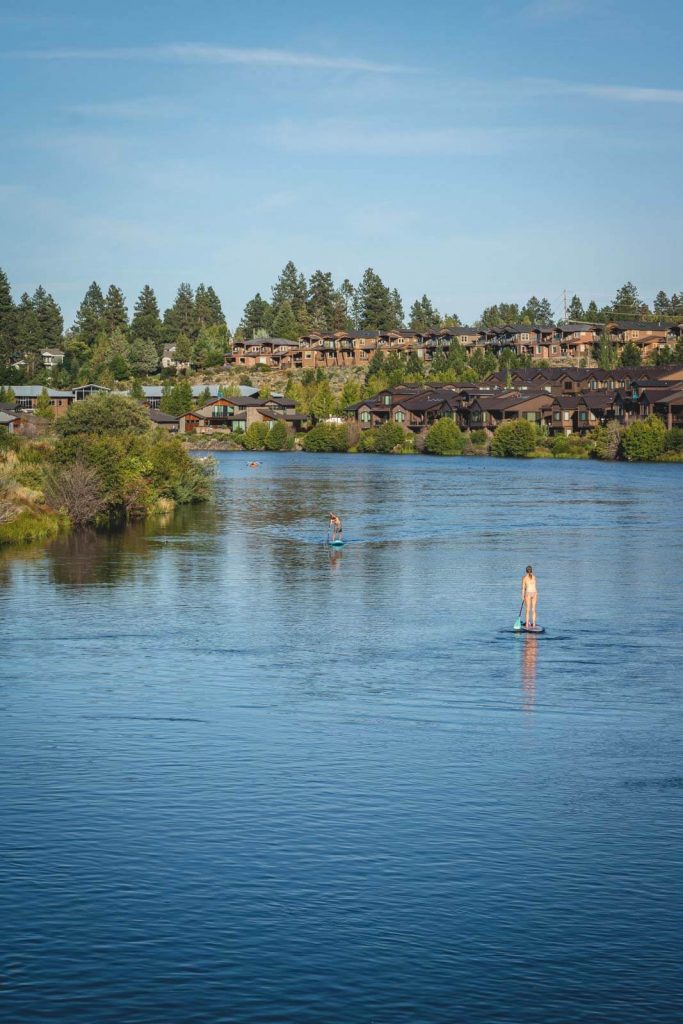 If you are reading this during the peak of summer we also recommend booking online to ensure you get the tube, kayak or SUP at the location and time you want.
Where to Start and End the Bend River Float
Riverbend Park through Bend Whitewater Park (the rapids) and ending in Drake Park is the full route.
Now with that said, there is one more option to be aware of if you are short on time or just decided you didn't like floating after the first half.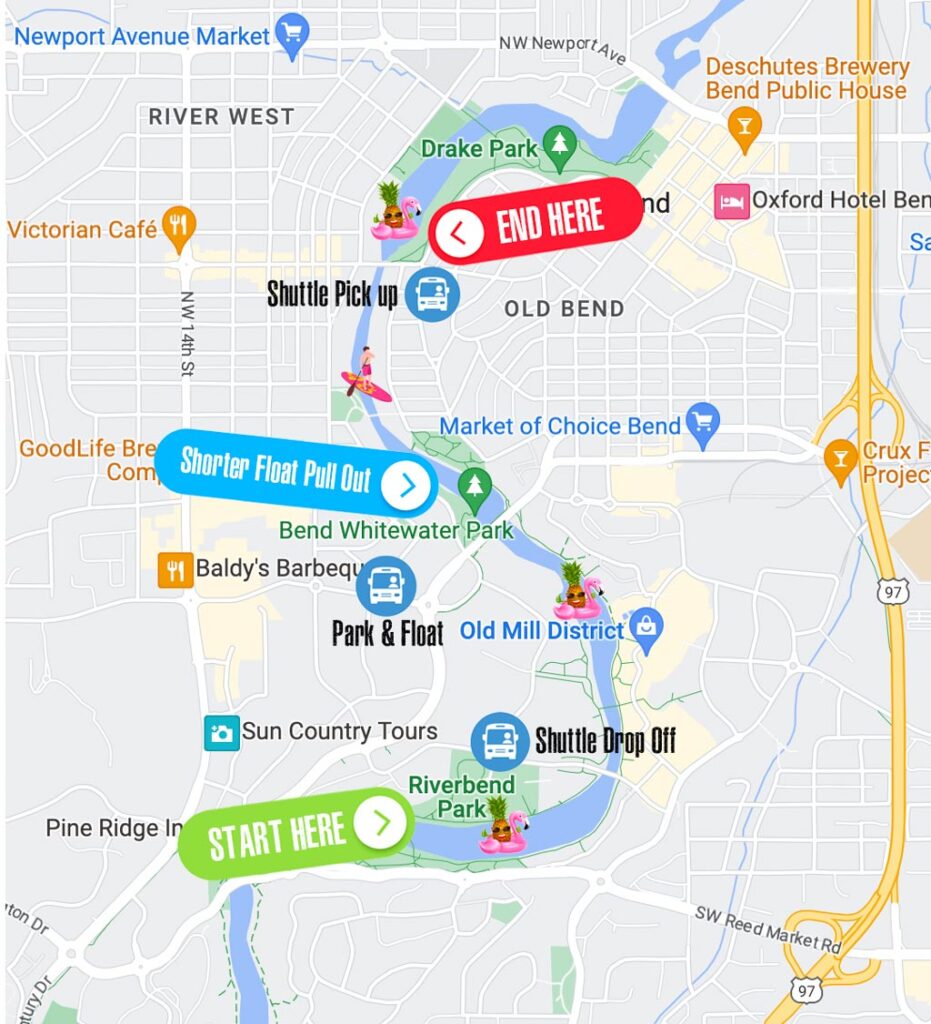 To do half the float you will pull out either after the Bend Whitewater Park right after the rapids. At that point if your car is at Riverbend Park then you will need to walk .6 miles(12-15 min) back to Riverbend Park or you can walk .2 miles (3-5 min) to the Park & Float and catch the shuttle to Riverbend park.
If you know ahead of time that you are doing a half-day float your best bet is to start your Bend river float at the Park & Float and take the shuttle to the starting point. That way when you end at the whitewater park, it's an easy walk to your car.
The Shuttle Pass for Floating the Deschutes River
If you float the river in Bend you're going to need a ride back to your car.
There are two ways to get a shuttle pass. If you rented your tube from the kiosk at Riverbend Park then your shuttle pass should be included in your rental and they will give you a wristband.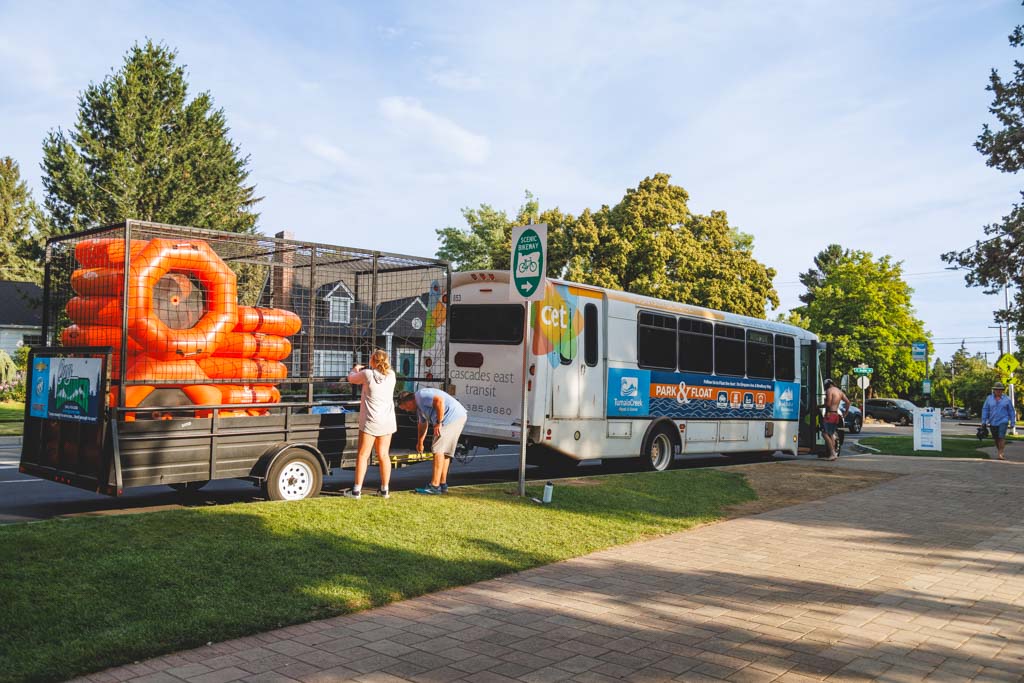 If you do not get a pass through your rental vendor then no worries as you can just walk up to the Cascade East Transit "Ride the River" bus and pay on the spot.
The shuttle pass with CET will give you and your tube a ride all day for $4. They usually operate late June through Labor Day and run every 15 minutes. You can check the times, and updates on their site.
For buying the pass you can either bring exact change (bus drivers do not carry change) or book on the Umo app (Enter location, press buy passes, and then Ride the River).
Commonly Asked Questions about the Bend River Float
We figure you have some questions so here's a quick list of the top questions we get asked.
What Footwear Should I Wear to Float the River in Bend?
You'll want some water shoes or sandals as getting in and out is rocky, muddy and sometimes duck poopy. However, I believe recently they fixed the duck poop problem to some degree. Yay!
How Long Is the River Float in Bend Oregon?
It takes 1.5 hours to complete the float from Riverbend Park to Drake Park. However, there is a shorter float option of 45 minutes if you start in Riverbend Park and pull out at the Bend Whitewater Park.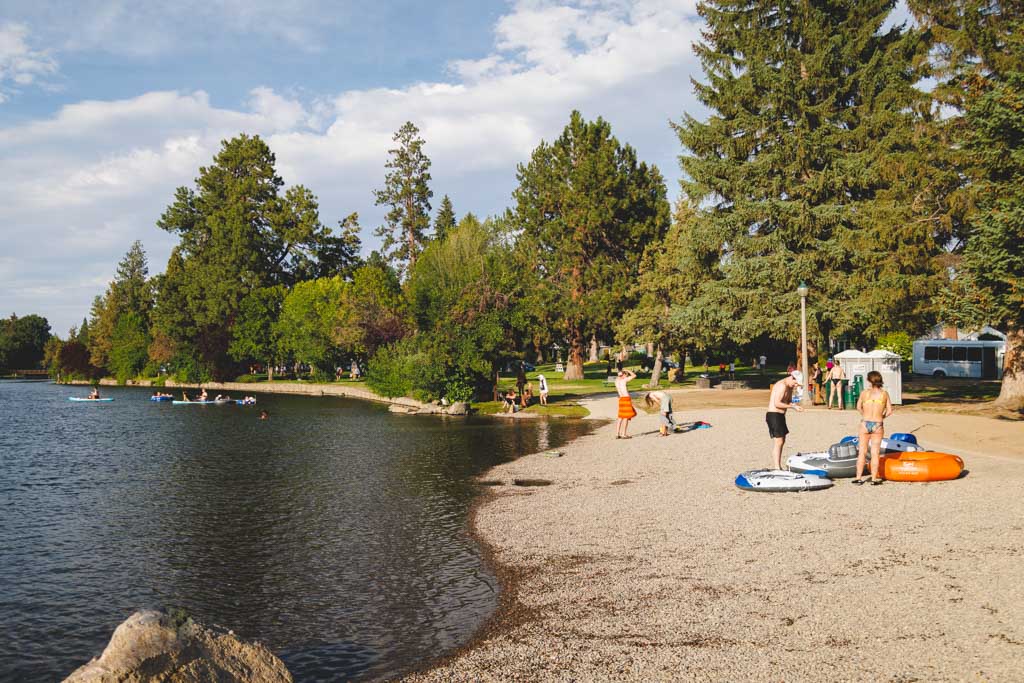 What's the Best Time to Float the Deschutes River?
The optimal time to float the Deschutes River is late June-Labor day. Perferably mid-day during the week to avoid crowds and keep from getting too cold. But weekends are a vibe too if you don't mind some good ol' socialization with your floating neighbors.
How Strong Are the Currents When Floating the River in Bend?
Currents are fairly mild. Still you will need to paddle a few times to avoid being pushed into the rocks or grassy marsh on either side of the river.
Is Alcohol Allowed on the Bend River Float?
Drinking on the Deschutes River and in the parks is illegal but that shouldn't stop you from bringing a nice cool N/A beverage. Most locals find the Hydroflask is a great zero-waste solution to keeping those N/A beverages ice cold while on the river.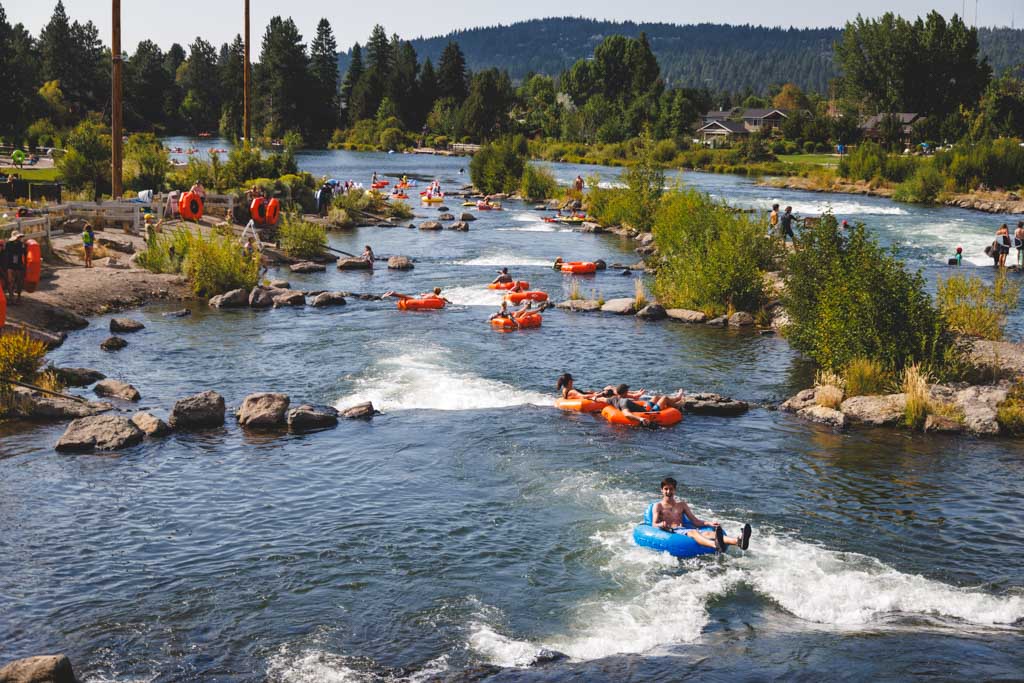 Is the River in Bend Safe?
Yes, it is safe. However, it is important to remember that the Deschutes is a natural river environment. Although safety measures have been put in place and are monitored, it is important to be aware and educated on the potential dangers of floating wild rivers.
There will be signs at the river access points that can educate you further. Make sure to read them.
What about Surfing and Kayaking the Rapids!
For surfing the Deschutes River, yes, I said surfing, head to Bend Whitewater Park. You can surf, kayak or paddleboard on some of the man-made waves that were installed in the area.
The "Whitewater Channel" is for the pros and is right next to the "Fish Ladder" which are rapids for the people on floats.
If you don't have your own board there is a pop-up business renting surfboards right there at the park during peak season.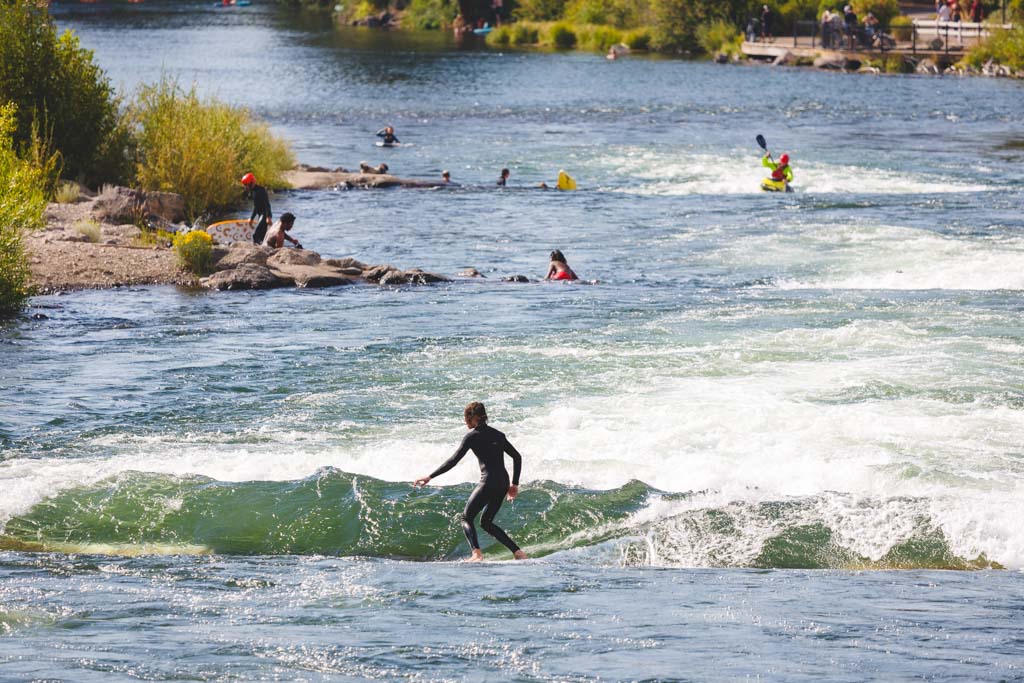 Check their Facebook for any condition updates on the waves.
If surfing is a bit out of your range of skills, watching the surfers is super fun too.
To watch the surfers or hear the bellows of people floating down the rapids (which is very entertaining by the way) then head to the walking bridge accessible from Mckay Park. You get a very cool top down look at all the action.
→You can also whitewater raft the Deschutes River – take this guided rafting trip for a thrilling day out.
Additional Tips When Floating the Deschutes River
Bring a dry bag if you plan on bringing your keys, phone, suncream and other things that probably shouldn't get wet. We use one every time!
The rapids are fun but will definitely rock you, so be prepared to hang on to everything, especially if you're in a wonky tube or air mattress—Have fun! 🙂
If you want to skip the rapids, there's an obvious and signed area to do so right before the rapids start! Stay left and you won't miss it.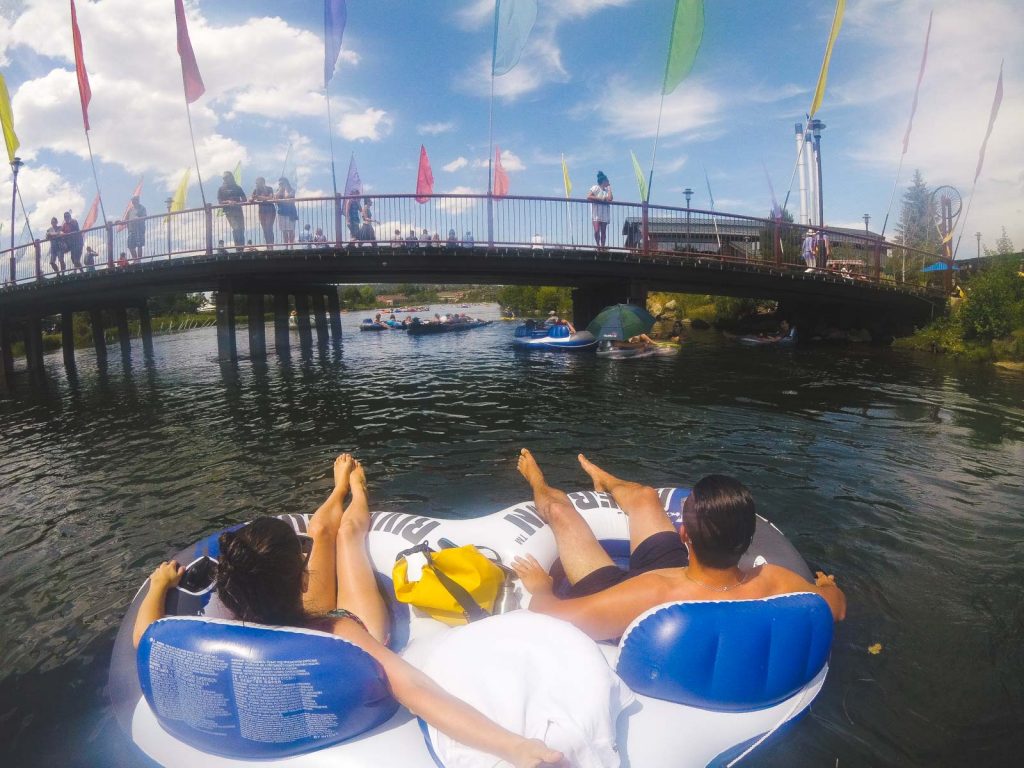 If you have two cars and are planning to have a pickup and drop-off car beware of where you park around Drake Park. Parking tickets for overstaying are strictly enforced.
Bring a towel and a change of clothes so you can grab something to eat at one of the many Bend, Oregon restaurants you'll be near! The river runs right through downtown and the Old Mill area which is packed full of great spots.
Check out our guide to Sunriver to what else you can do in the area.
Curious about whitewater rafting down the Deschutes River? Check out our guide to whitewater rafting in Oregon for more information.
Here are more adventures around Bend for you to get into.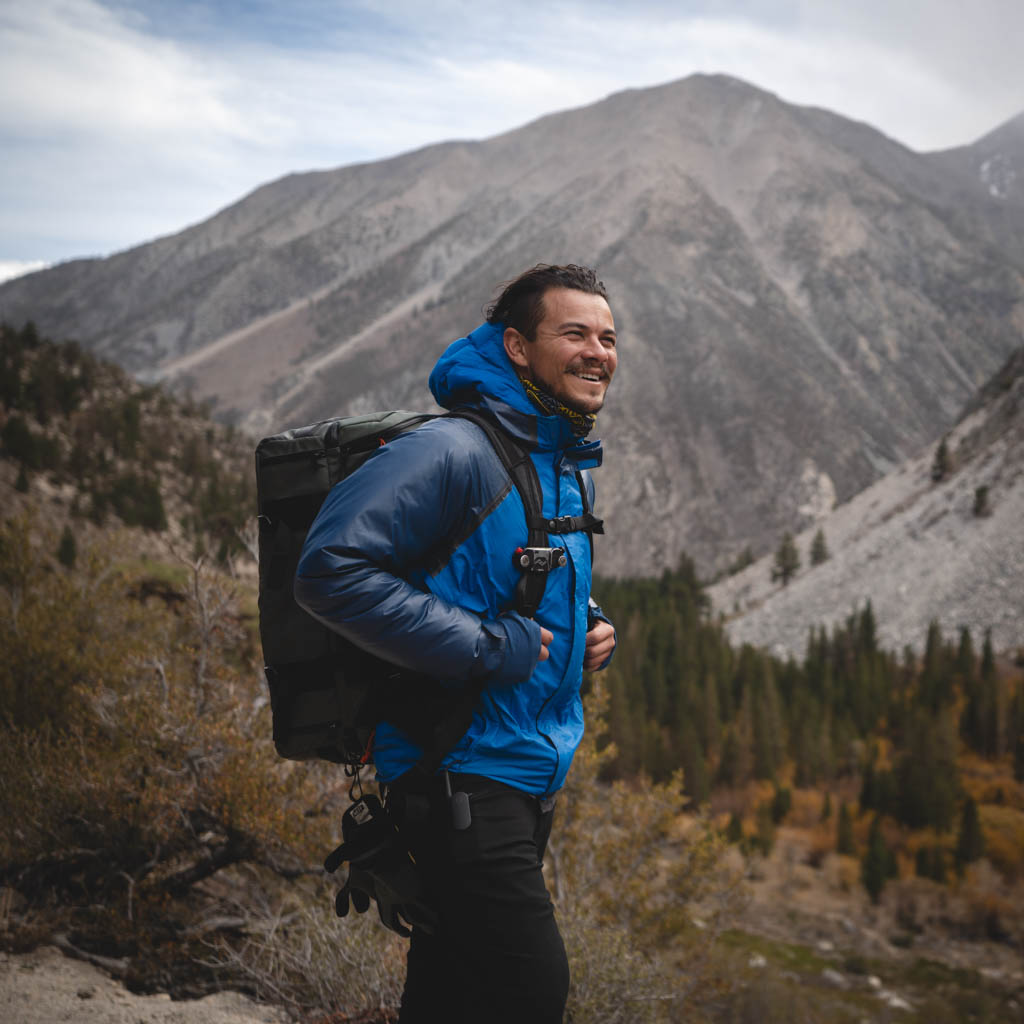 Oregon native and explorer at heart. Loves tackling expeditions around the world and drinking a good beer at the end of the day. PNW obsessed, VW nerd, and surf or snow riding fanatic.