Sunriver is one of Oregon's most popular getaways, and this resort community is anything but boring. Being only twelve or so miles away from Bend, Oregon's adventure capital, you bet there are a LOT of things to do in Sunriver.
The Cascade Mountains are your backyard, the lava fields are your playground, and the 300 days of sunshine this region sees per year beckons you to come and play outside. Everyday.
Here's why Sunriver is a fine place to base to do precisely that…
Things to Do in Sunriver, Oregon
---
Being that Sunriver is SO close to Bend, pretty much all the things you can do in Bend are precisely what you can do from Sunriver too. With that said, we did tailor this post a bit more to the immediate things to do from Sunriver.
For even more adventures, check out our even bigger guide on what to do in Bend.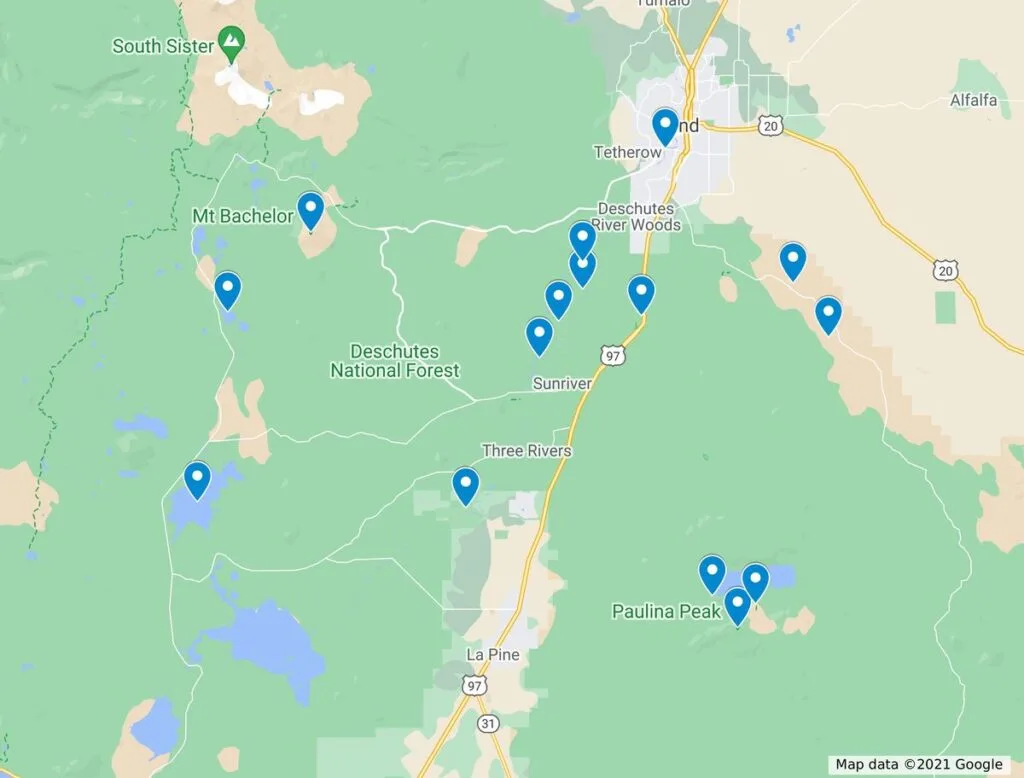 1. Deschutes River Trail
Spanning more than 10 miles (there are lots of possible deviations and additions), the Deschutes River Trail can take you from Sunriver to Bend!
The trail winds and twists with the sparkling river, and depending on how long you want to walk or bike, these trails give you tons of options. The "main" trail runs alongside the river, as the name suggests.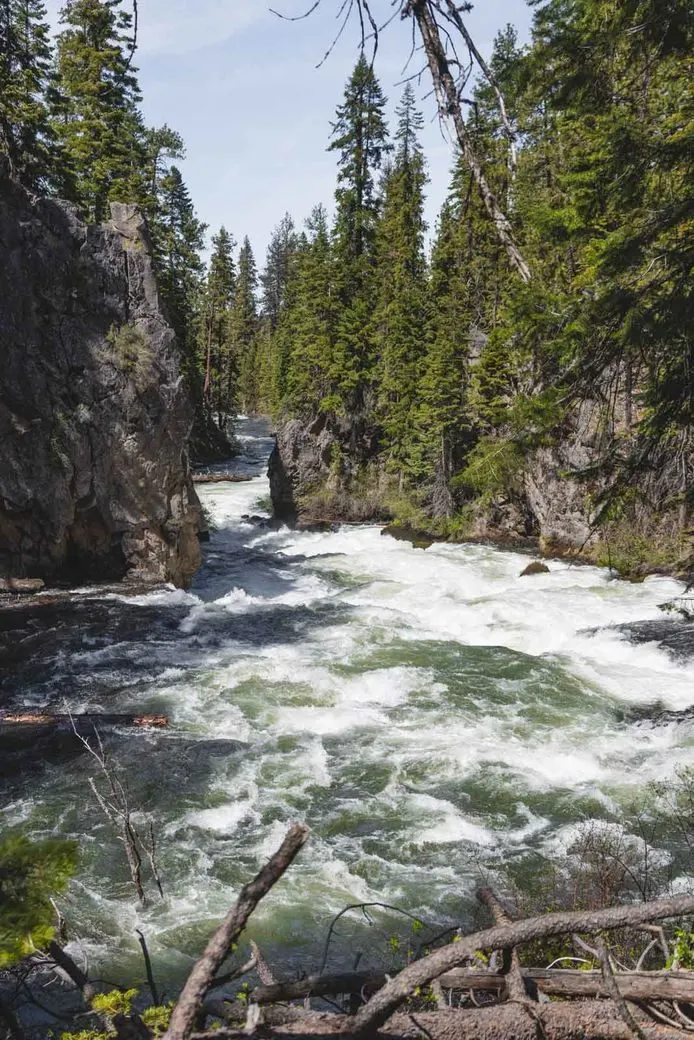 One of the most scenic chunks along the Deschutes River Trail is from Sunriver up to Lava Island. 12 or so miles long, this section of the path will take you through lava flow zones and pine trees.
Dillon and Benham's Falls are also on the way, and you can take a breather at Big Eddy or Aspen day-use areas.
The trail isn't challenging the majority of the way, and you can expect dirt, rocks, and tree roots along the way. You'll also be sharing this beautiful trail with bike riders at specific points.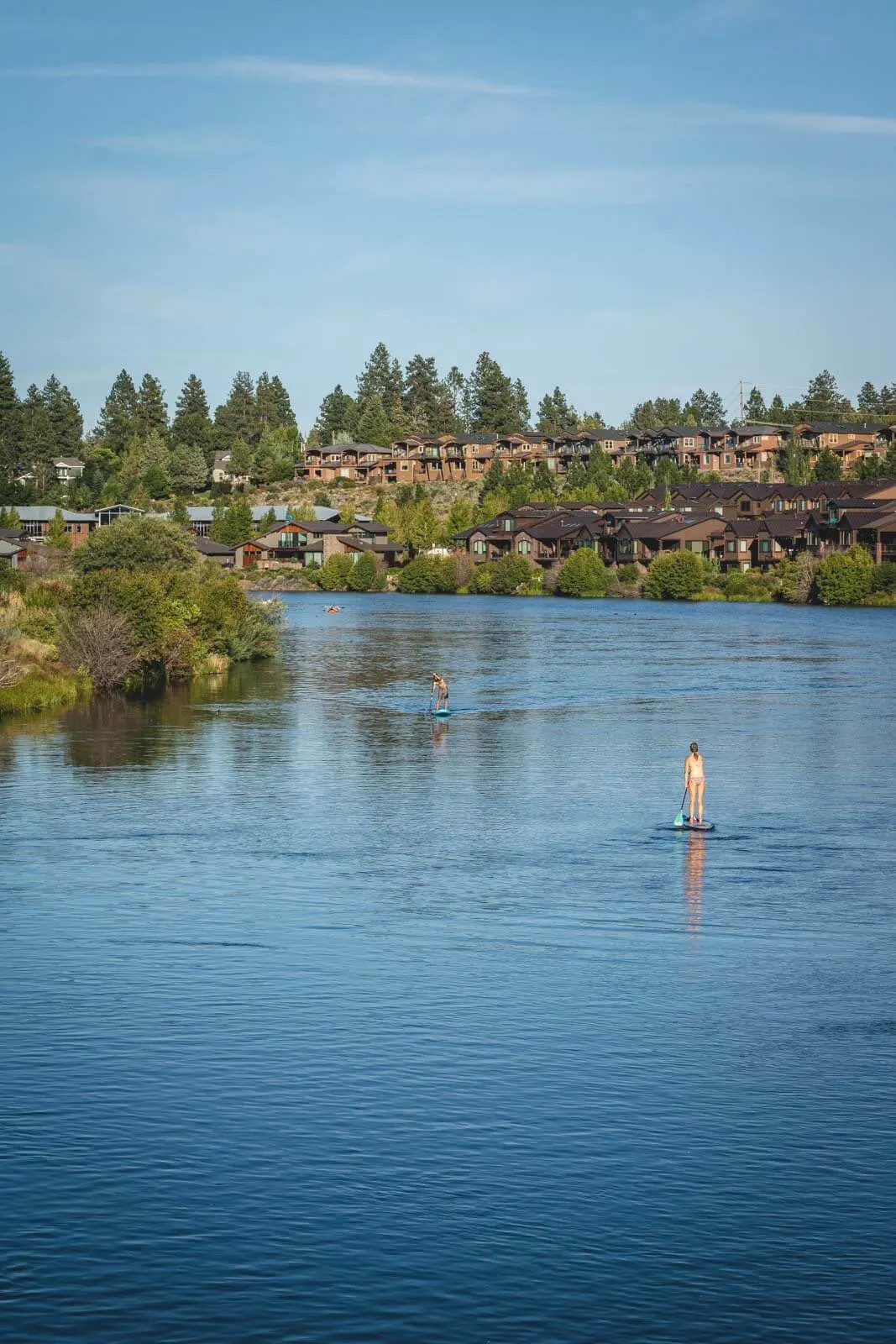 Of course, Bend is only a few minutes north of Sunriver, so you could visit Bend and hike the Deschutes River Trail in that area too.
---
RELATED: The Deschutes River: How to Float, Trails and Info (Bend)
---
2. Newberry National Volcanic Monument
Featuring acres of lava flow and geological wonders, the Newberry National Volcanic Monument is a wildly different area of Oregon to check out.
It was formed by a magma chamber collapsing inwards, creating a 17 square mile wide caldera right in the middle of a volcano! The area is still active today.
Inside the caldera, you'll find two gorgeous lakes, Paulina Lake and East Lake; both have trails stemming off. Paulina Lake Trail is an easy 7.5-mile trail that even brings you to a small hot spring that's best between May and July (the hot spring gets submerged in the lake otherwise).
The Obsidian Trail is .6 miles long and is a total mind trip. You're surrounded by lava rocks and jagged formations you've never seen.
The Peter Skene Ogden Trail to McKay crossings (11 miles) is beautiful with small gushing waterfalls as you hike along Paulina Creek.
A favorite hike in the area is Paulina Peak, a steep 3 miles up (6 miles round trip) with some incredibly stunning views of the lakes from above, and the bizarre lava swirls in the distance.
Don't have a lot of time? Check out this epic tour that takes you all around Newberry and Paulina Peak!
RECOMMENDED GEAR:
3. Canoe, Kayak, SUP (One of Our Fav Things to Do in Sunriver!)
Head straight to Sunriver Marina and grab your watercraft of choice for a day on the river. Renting here means you can take to the water without having your equipment, plus they pick you up at the end to get you and your equipment back to where you started (if you choose this option).
Choose a SUP, kayak, or canoe and head out on the water for a few hours, depending on your preference. You'll be floating along the Deschutes River, the same river you'll be hiking along as mentioned above.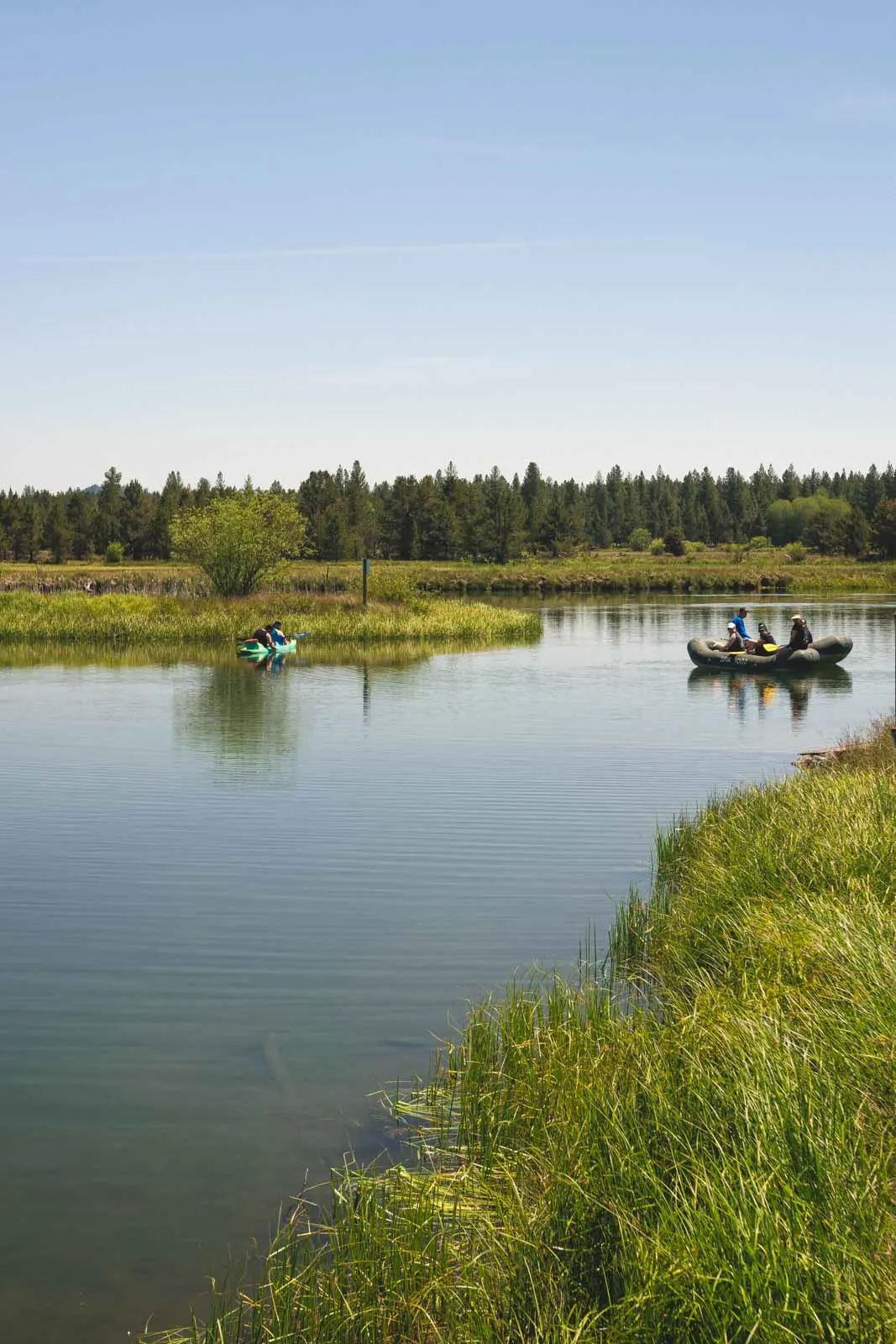 Of course, if you have your equipment, you can also take to the river to splash around the Besson Day Use Area, you have to take out before you reach Benham Falls though.
If you're in Bend for the day, there's more floating and fun on the river up there too. You can even surf a wave in Whitewater Park!
---
RELATED: 17+ of the Best Lakes in Oregon for Adventures & Camping
---
4. LaPine State Park
With towering ponderosa pines and wildlife, fishing, hiking, and biking trails galore, LaPine State Park is a great place to go from Sunriver for a day full of fun in nature.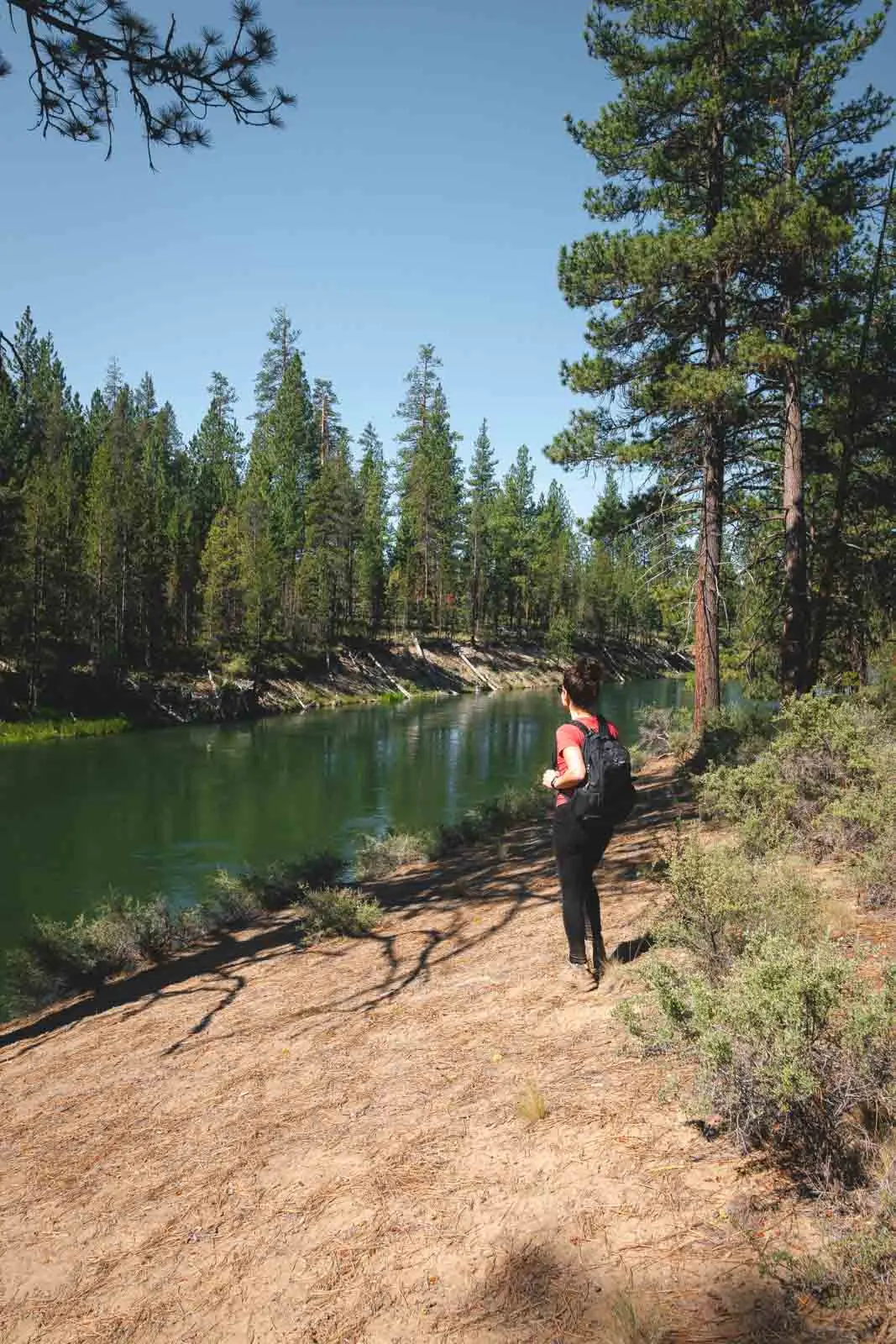 Cougar Wood and Fall River Loops are two hikes at 3 and 4 miles respectively, both of which are a stroll partly along the Deschutes River and both offering wildlife viewing along the way and river vistas.
For a bit more of a challenge, take on the 9-mile Deschutes and Macgregor Loop. For the bikers, try a ride on the Cougar River Trail or the tons of other trails in Sunriver like…
5. Bike Trails Around Sunriver
Sunriver itself has some pretty great trails for biking; there are over 30 miles of bike trails just near the town. Check this out for a map of the bike trails in Sunriver.
Just north, as you are now well acquainted with, there's the Deschutes River Trail which welcomes mountain bikers with miles and miles of trail for you to tackle. Check this map out for more biking trails from the Deschutes River.
That map will also show you a thrilling bike trail from Paulina Peak to Horse Butte with lake vistas, high desert terrain, and lava rock pit stops along the way.
Wizz pass pines, around river bends, and over rocky buttes, one of the things to do in Sunriver is head out for a biking adventure!
6. Southern Cascade Lakes
The Cascade Lakes cannot be ignored when visiting Sunriver, Oregon. The Cascade Mountains are true stunners, and you've been staring at them since you've arrived. There's no denying their beauty and adventure potential, for that matter.
In less than an hour from Sunriver, you're on the Cascade Lakes Scenic Byway, and you have the Cascade Mountains before you. Below are gorgeous sparkling blue lakes just waiting for you to hop in.
Boat, SUP, kayak, hike, and canoe to your heart's content.
The closest alpine lakes to Sunriver are Lava Lakes or the Crane Prairie Reservoir. Crane Prairie doesn't get too many people, and it's pretty massive, offering plenty of space.
It's full of rainbow trout for fishing, has an incredible view of the mountains, and you'll be sharing the lake with tons of shorebirds, heron, and eagles.
At Lava Lake, you'll get much of the same activities and beauty, just at a different angle. The snow-capped South Sister directly peaking out from the front of the pier makes this one of my favorite of the Cascade Lakes.
Of course, there are trails galore and over ten more Cascade Lakes to visit and play on, so read our Cascade Lakes post for information on what else to do in the area.
---
RELATED: Exploring the Cascade Lakes in Oregon—Hiking, Camping, & Water Sports
---
7. Exploring Caves
Sunriver's location means it's directly in the middle of lava fields, which means tons of lava tubes and caves are in your backyard. In fact, there are over ten within an hour of Sunriver.
The Newberry National Volcanic Monument is just minutes away from Sunriver and holds a few of the best caves in Oregon. After you're done exploring, there are a few more favorites of ours—Arnold Ice Cave, Hidden Forest Cave, and Boyd Cave.
Check out some of the most interesting and spectacular caves in the area on this tour. They are the only providers allowed to tour some of the caves in the area!
---
READ MORE: Exploring The Coolest Lava Tubes and Caves in Oregon
---
BONUS: Things to Do in Sunriver in Winter
Don't think that the only things to do in Sunriver happen in summer. Nope, wintertime will welcome you just as much.
Grab your beanie and snow pants and head to Mount Bachelor, where you'll have 88 runs for all levels of skiing and snowboarding. The season is from November to May.
There are several sno-parks all around Sunriver for any snowmobiling, cross-country skiing, sledding, and any other winter sport you love! After a great day on the slopes, get yourself a hot drink or a craft beer, and sit around a fire.
Don't forget your Sno-Park pass.
---
RELATED: What to Do at Mount Bachelor in Winter
---
Where to Stay in Sunriver
There are tons of options for places to stay in and around Sunriver, from campsites to luxury vacation homes. Here's our top picks of places to stay in Sunriver.
Campsites Around Sunriver
Bend-Sunriver RV Campground
This friendly campground can be found on the Little Deschutes River. As it is also surrounded by lakes, fishing, boating, and swimming are all very popular activities in the area. The campground also offers cabins, cottages, and yurts as well as campsites.
Price: Tent $38, RV around $50+ | More Info: Website
Paulina Lake Campground
Paulina Lake Campground is located near Paulina Lake, a lofty 6,350 feet above sea level in Newberry National Volcanic Monument. The site is suitable for all types of camping, and the views from the shoreline trails around the lake are incredible.
Price: $18 | More Info: Website
LaPine State Park Campground
The LaPine State Park Campground has over 100 spots for camping and a few rustic cabins for rent. There are RV hookups, restrooms, showers, and water at this campsite, although amenity availability changes in winter.
Price: $26+ | More Info: Website
Glamping and Cabins Near Sunriver
Tall Pines A-Frame
This cute A-Frame between Sunriver and La Pine sits on an acre of Ponderosa Pine and has a full kitchen, bathroom, and two bedrooms.
Cozy Sunriver Cabin
A cozy, woodsy one-bedroom cabin right in the heart of Sunriver and with access to all the resort amenities, including trails, pools, golf courses, and hot tubs. There is a wood-burning fireplace, WiFi, and a fully-stocked kitchen.
27 Circle Four Cabin
This cute and cozy cabin surrounded by trees is located right in Sunriver and has a hot tub, a patio, a fully-equipped kitchen, and WiFi.
More Things to do in Central Oregon
We hope this post helped you find some awesome things to do in Sunriver! Check out more things to do in Central Oregon and other adventures in Oregon.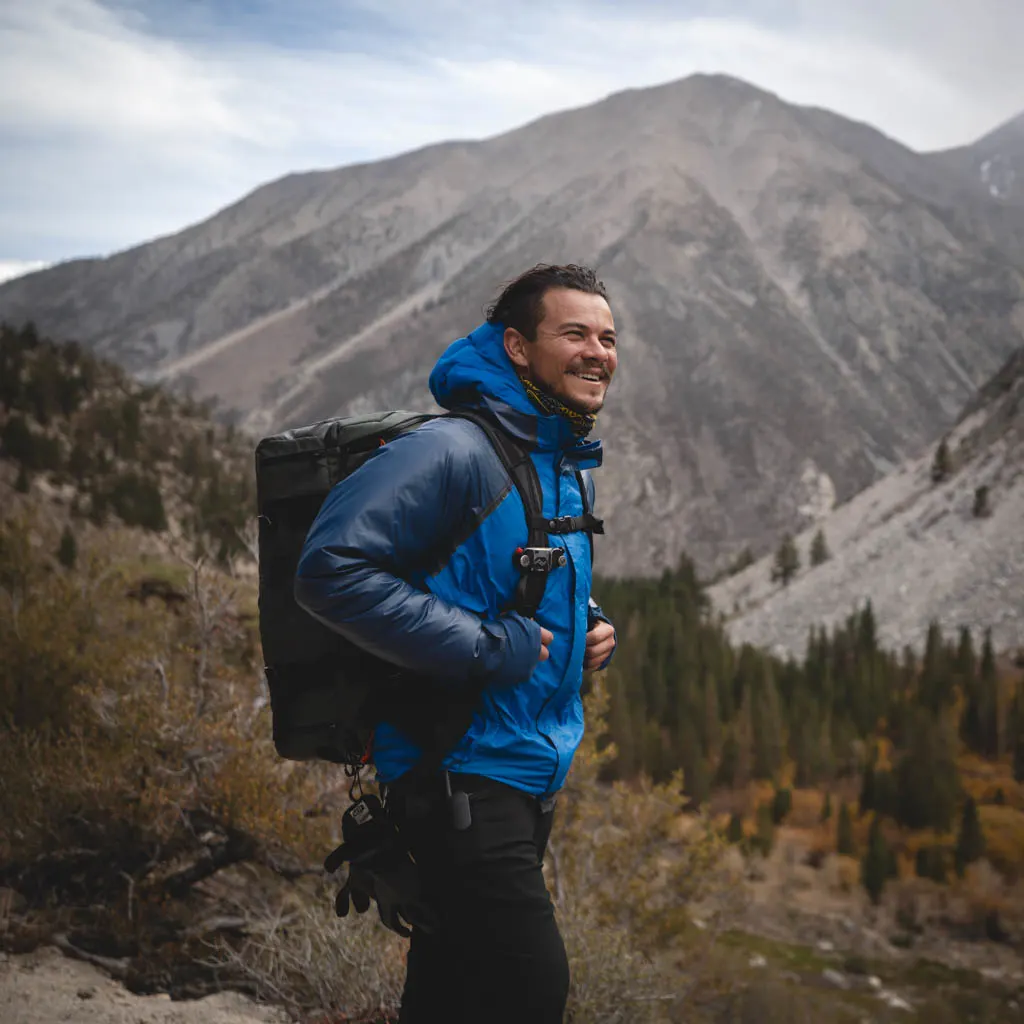 Oregon native and explorer at heart. Loves tackling expeditions around the world and drinking a good beer at the end of the day. PNW obsessed, VW nerd, and surf or snow riding fanatic.