Oregonians don't go inside when the weather turns damp or cold. To the contrary, they get out the right gear and get outside!
While most flock here in the summer to enjoy the coast, summit some epic mountain tops and play in the sparkling rivers and lakes, leave it to us to convince you to come to Oregon in winter.s
There's just as much going on here when we're blanketed in fluffy white snow; you'll just need a thicker jacket and some gloves, and you'll be good to go.
Here's a great list of some of the best places to go and fun things to do to defy old man winter.
Winter in Oregon: The Best Spots for Epic Winter Fun
---
To help with your adventures in Oregon in winter, we compiled all of the fun stuff right here in a handy map. Below you'll find more helpful links, including more specific maps for tricky trails, and all the info you can possibly need to keep yourself busy here in Oregon during winter.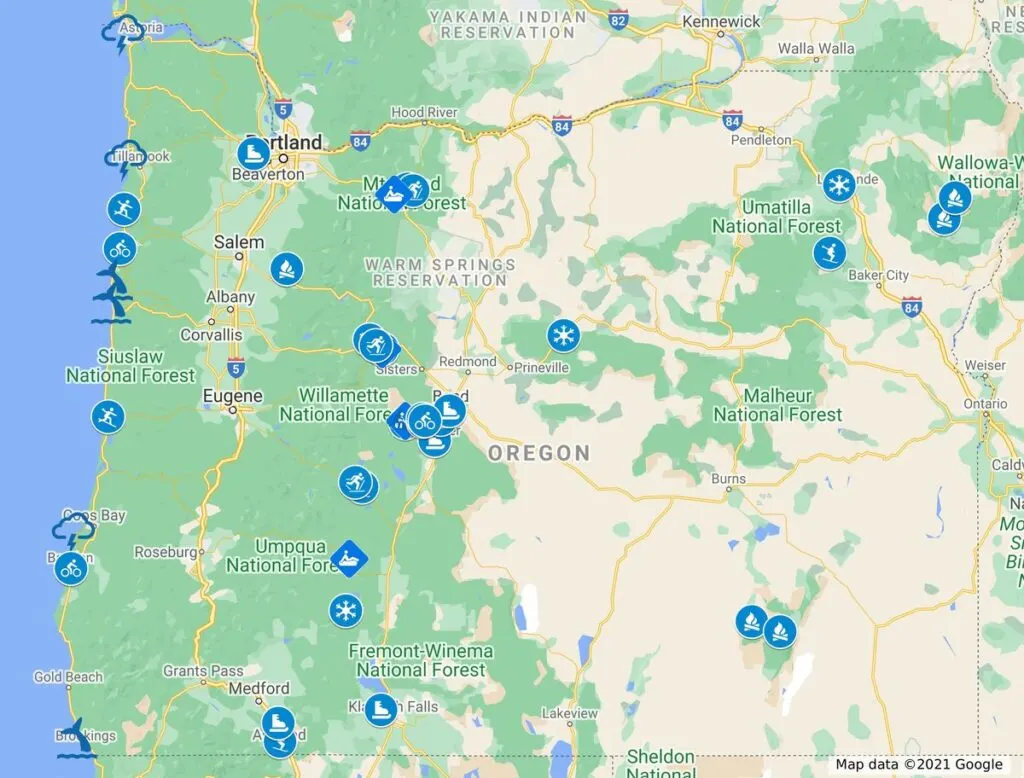 It all goes to keeping the roads and parking areas plowed and safe. Throughout this post, we will note where the permit is required.
Portland, Oregon in Winter
It doesn't get cold in Portland as compared to say Minnesota or Idaho yet there is a distinct winter, with temps getting down into the 40's and occasional freezes delivering only an average of 4.3 inches of snow per year.
Portlanders seeking classic winter sports and activities generally head to the high country, primarily the Mt. Hood area and parts of the Columbia Gorge where a tub full of action awaits.
RECOMMENDED GEAR:
Skiing and Snowboarding Near Portland
When one thinks of winter in Oregon it is inevitable that downhill skiing and snowboarding come to mind. And why not with the extraordinary Mt. Hood, an 11,240 ft. gem boasting 4 ski and boarding areas with a combined total of 11 high speed, detachable lifts; 12 double or triple chairs; and 9 rope tows servicing a total of 4,575 acres, 787 of which are lit for night action.
A combined 13 terrain parks pack a wallop. Mt. Hood Meadows, the big daddy in total scope will drop you 2,777′ but Timberline Lodge, around the bend, can thrill you with 3,690′ of elevation.
All four resorts (ranked by size) – Mt. Hood Meadows, Timberline, SkiBowl, and Cooper Spur are under a 2-hour drive from downtown Portland on either well maintained US Hwy 26 or I-84/Oregon 35 via Hood River.
Parking is abundant as are dining and rental options. Mt. Hood is a semi-active stratovolcano averaging 429″ of snow per year at Meadows.
Snowshoeing or XC Skiing Near Portland
There are 10 or more superior winter play areas within an hour of Portland – Cloudcap, White River, and Crosstown to mention just three high on everybody's list.
Trillium Lake Loop probably gets the most attention because of its awesome views of Mt. Hood and being only 4.5 miles in length, a paradise run for beginners and "strollers".
→ Do a guided snowshoeing tour around Trillium Lake followed by local craft beer at Mt Hood Brewing Company in Government Camp.
But Teacup gets my vote – and most others – for its 21-km trail system. The variety of interconnecting trails range from several easy 'greens' to scenic 'blues' and some serious 'blacks' that will get your heart pumping.
For skiers, thank an amazing group of volunteers who groom the trails every Monday, Wednesday, Saturday and Sunday from mid-November to mid-April and more frequently Christmas to New Year and spring break.
There's a heated warming hut at the starting point and fab views of Mt. Hood. Two maintained pit toilets are close by. The trails are wide enough for two with room between tracks for skating, a less used technique. The Outer Loop gets the most traffic being easier in nature.
You must have a pass- daily, season or lifetime. Adults are $10 on the honor box system for a day in addition to your Oregon Sno-Park Permit. If possible avoid the weekends as this is primo terrain.
→ Take this guided moonlight snowshoe adventure in the Mount Hood forest from Troutdale.
Suggested Route
The usual route is up Teacup Road to Lakeside, right on Nordic Way, then left on Hood River Road, another right on Larch and left again on Meadow bringing you back to your start.
More experienced skiers have some nice choices especially Tom's Revenge, Screamer Hill, (get the picture?) Mountain View, Raven's Way and Vista Ridge with some stunning vistas.
Snowshoers must keep to the right of the tracks and yield to skiers. Many XC trails are off-limits to shoeing. However, there are plenty of Forest Service un-groomed trails that are highly satisfying to the most advanced snowshoer.
These include the Pocket Trails – Pocket Rocket and Pocket Creek, Teacup Lake and Meadows Creek. All offer varying views of Oregon's tallest mountain, Mount Hood.
---
RELATED: What to do at Mount Hood in Winter
---
Snow Tubing
The Snow Tube and Adventure Park at SkiBowl East at Government Camp is a favorite, if not the favorite since it has the only tube conveyor lift at Mt. Hood.
You can get pretty extreme here with heart-pounding speeds and bumps. There is even nighttime tubing with 300,000 LED lights that are timed to the music. Twelve lanes in all served by the magic carpet lift. Walk up after exiting to the Extreme Tubing hill.
Outdoor Ice Skating
Winter Village is now in its fifth year with open-air ice skating. It's set amid shopping, music, and dining. The location is outstanding, just yards from the Orenco Max Station in the Jerry Willey Plaza.
It's a relatively short season generally the last week in November through the first week in January. When it's cold enough, not that often in Portland, the shallow ponds in the parks freeze over and skaters will venture onto the ice when it's safe.
Winter Camping Near Portland
Of course, all the usual favorites are ready for the camping enthusiast – Timothy Lake, Little Crater, Tollgate, Roaring River, Trillium and Kinnikinnick. The majority are above 3,000 ft. pretty much what you'll need for pitching in the white stuff.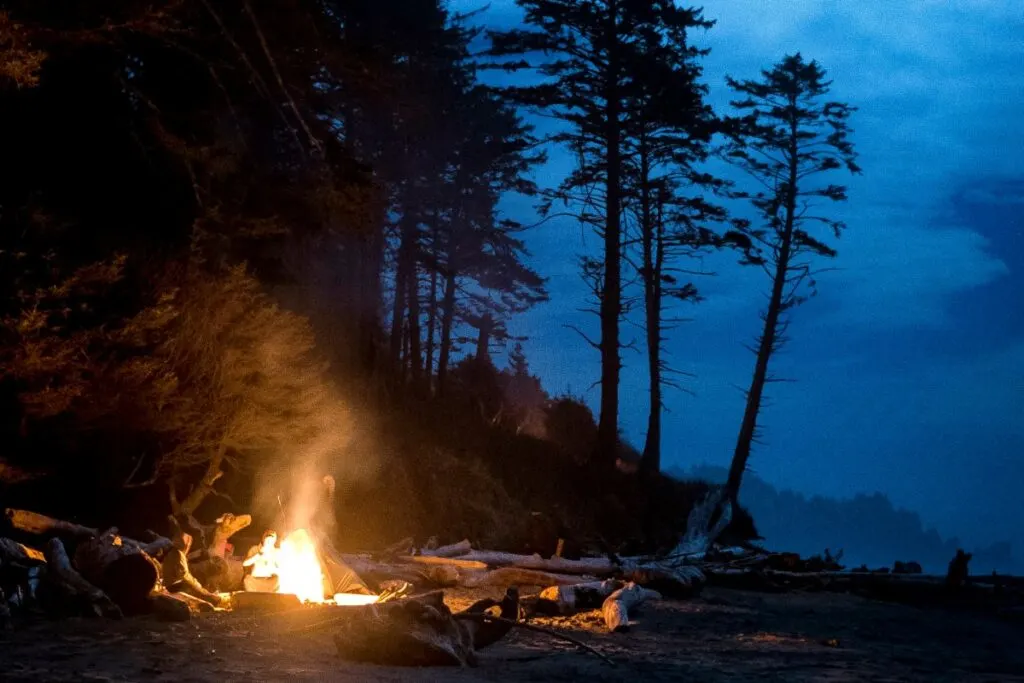 Snow camping isn't for everybody but the solitude created by near-zero campers and long celestial nights present a unique experience. The glow of a winter campfire is especially comforting.
More than 80 sites dot the Zigzag, Barlow, Hood River and Clackamas Ranger Districts, none more than 75 minutes from downtown.
Portlanders are particularly fond of L.L. Stub Stewart State Park for winter, snow-free camping. If you don't want to rough it reserve a spot in Mountain Dale Cabin Village.
The 15 cabins are fairly upscale by winter standards with on-site hot water showers and flush toilets. There are a fire pit and a picnic table to enhance the experience.
---
RELATED: Where to Camp Near Portland
---
Camping 'Stub' or not, consider its famed 21-mile rail-trail converted from a discontinued train route. Biking nirvana for flat trails with 13 bridge crossings and a memorable 733-foot long wooden trestle, 80 feet high. Talk about some views!
Best Places to Stay Around Portland in Winter
SnoBird: This beautiful cabin is only a short walk to the cute village of Government Camp, and a short drive to ski resorts and other winter mountain adventures around Mount Hood. Warm up by the fireplace after a day of adventure on the slopes.
Cozy Cedarwood Cabin: Enjoy the rustic charms of Cedarwood Cabin, an authentic cabin experience in the woods. Built in 1922, this historic cabin will make you feel like you have stepped back to a simpler time.
Oberon's Junction: This super cute cabin is right on the river in Rhododendron, making it the perfect location for a winter vacation near Portland. And at the end of a long day of winter adventures, there's a cozy wood fire and a private deck with a grill.
Bend—The "Hottest" Spot for Winter in Oregon
Bend's reputation for adventure and sports activities is well deserved. Nestled along a river, in the shadows of the Cascades, with a desert on the other side gives it just about all anybody would want or need for outdoor life at its fullest.
Skiing and Snowboarding in Bend
Mt. Bachelor, topping out at 9,065 ft. has it all. 8 high-speed quads, 1 quad and 3 triple chairs plus 3 rope tows get you around this 4,318-acre wonderland. There are 101 runs, half of which are Black or Double Black.
You can get a 3,365 ft. drop or shred one of the 14 terrain parks. Or cruise as long as 4 miles! It's all under one hour from downtown Bend to the top of the summit.
The climate is dry producing much more powder than Mt. Hood which you can see from the top of Bachelor on clear days. Apart from the top-level skiing and boarding, the scenery is breathtaking being surrounded by the 10,000 ft. Three Sisters, Mts. Washington and Jefferson, Broken Top and Three Fingered Jack.
---
RELATED: 13 Ski Areas & Resorts in Oregon for Winter Fun
---
Bend Has It All for XC Skiing and Snowshoeing
Deschutes County is considered by many as the epicenter for winter adventures and it's easy to buy into that premise. You only have to go 13 miles from downtown Bend to find yourself at the Virginia Meissner Sno-Park with 25 miles of groomed trails for every level of experience.
Or if it's solitude you seek there's Swampy Lakes. But for the most action and just plain fun, it's hard to beat Wanoga Sno-Park a few miles past Meissner and just downhill a few miles on the same road from Mt. Bachelor.
Wanoga is a shared trail Park, one of only two statewide where dogs are as welcome as humans. I imagine some skiers might take exception but for the most part it is a big party.
The 'skater's get primo groomed trails while classic Nordic skiers, snowshoers (and the four-legged gang) get an enormous patch of mostly flat terrain. Loops abound so you can go far and not go very far if you get my point.
This is one of the best places and tours for snowshoeing around Bend!
Sno-Park Permit needed.
Snow Tubing in Bend
Snowblast Tubing Park is part of the Mt. Bachelor scene. An 800 ft. drop is served by a tow. Six lanes aren't always enough and lines can back up on weekends, the only days the tubing hill is open except for a few added days around the holidays.
---
RELATED: What to do at Mount Bachelor in Winter
---
Outdoor Ice Skating
Bend has the impressive Pavilion within sight of the historic Old Mill District and Deschutes River. It's a large facility with a wide range of options for all skill levels – hockey for all ages, figure and speed skating, curling and good old people watching.
Dozens of winter sports leagues call Pavilion home and numerous statewide and regional tournaments are hosted here.
Fat Biking the Bend Snow
Once again Bend is out front when it comes to biking in the snow. Tires are the key being at least 3.5″ in width and a low 10 psi pressure. You need the low pressure for traction.
Wanoga Park has designated Snow Bike trails with loops giving you either a 3 mile or 6-mile ride. In the snow, you will make only half the speed as on bare dirt so do a double loop or loops and have yourself a very fine outing.
Almost any Sno-Park in Oregon has an opportunity for snow biking. Avoid the XC ski trails but you should be ok on the wide trails marked out for snowmobiles. Obviously, a bike is no match for a fast-moving, 600 lb. motorized beast but common sense and vigilance should enable both enthusiasts to share the trail.
Snow-covered horse trails are typically wide enough for fat bikes and unlike summer riding no encounters with horse manure.
No snow? Don't let that stop you. Fat biking on muddy trails can be a thrill with one caveat. Don't tear up the trails. Stick to Forest Service roads where mud ruts and potholes will give you plenty of pop without damaging trails.
True, you will get dirty but isn't that part of the fun? Follow good trail etiquette and have a blast!
Dog Sledding in Bend
Get in the action and get on a sled. Mt. Bachelor has long been a favorite for the activity.
Rides are about an hour in length with sparkling, pristine views of Broken Top and the surrounding mountains. For the real canine lover, you can take part in the care, feeding and watering of the dogs after the ride.
It is the last remaining place in Oregon, and an ideal one it is, for this memory-filled outing.
Each dog pulls about 50 lbs. in weight so with two riders and a musher it takes up to 11 dogs to make the run. The scene is one of seeming chaos with frenetic barking and lurching until the moment the sled is released from its tether and the dogs take off. Then it is total silence as they go about their work and you glide about the snowy wonder.
While we share concerns for the welfare of dogs engaged in long-distance racing, the dogs that pull you around a few miles here are as happy as any I have seen and beg for the chance to be on a team.

These are working dogs and need to work to be fulfilled. Much like herding dogs need to herd. They are also part of a business and as such are remarkably cared for as any other asset.
Best Places to Stay Around Bend in Winter
Westside Cottage: Location is key at this light and bright one-bedroom cottage. You can walk to the river in 5 minutes, and you're perfectly placed to access both downtown and the Newport area with its many restaurants. Outside is a private fenced-in patio with a grill.
Guest Haven: This one-bedroom cottage is the perfect balance of cozy and practical, comfortably furnished by with lots of space. There's a full open plan kitchen, a large bedroom with four-poster bed, and a small private yard. It's also a dog-friendly property if you want to bring your furry friend with you.
Old Mill Townhouse: Even in winter you'll have plenty of natural light in this beautiful split-level townhouse. There's a private patio with a barbecue, or you can cozy up around the fireplace in the living room. You'll be within easy walking distance of the Old Mill district and downtown.
Central Oregon in Winter
Central Oregon epitomizes winter in Oregon. Dominated by the spectacular cluster of high peaks in the Cascade range that often remain snow covered the entire year, it just oozes winter. Led by Bend if it can be done in the snow it will be done in Central Oregon.
Skiing and Snowboarding
Notwithstanding the attraction to Bachelor, Central Oregon has two other good options.
Hoodoo is a favorite with its "steep, deep and cheap" reputation. Hoodoo, closest to Salem and frequented by Eugene and Corvallis fans, has 5 lifts, 34 runs on 806 acres, 200 of which are available for night skiing. 40% of its terrain is rated Black Diamond. Most years Hoodoo is blest with powder on one side.
Willamette Pass moves you round with 4 lifts, none high speed, and a rope tow. There are 29 runs over 555 acres, 60 of which have snow-making capability. Only 21% are designated Green so it's a mountain more suited for intermediate to advanced skiers and boarders.
The 24% Double Black terrain packs a punch. Willamette has a decent 1,563 ft. drop. The longest run is a very respectable 2.1 miles.
XC Skiing and Snowshoeing in Central Oregon
Fuji Shelter
It'd be a long and arduous walk in snowshoes, but even longer on memories. Nordic skis will get you the eight miles roundtrip in a shorter time, especially the downhill return. The elevation gain is 1,500 ft. an accomplishment without snow.
The beauty of this trail apart from the vistas like the view of 8,700 foot Diamond Peak is the overnight potential made possible by the Fuji Shelter.
It sits at the 5,600-foot mark and features a wood stove – with wood – and a picnic table plus a sleeping loft courtesy of the Forest Service. On a clear night, it's galactic notwithstanding the cold temperatures.
It all begins at the Salt Creek Sno-Park. It's a steady, 4 mile uphill climb in a dense Douglas Fir forest with occasional openings for dramatic panoramas of the Salt Creek Canyon and nearby peaks.
More venturesome trekkers start at Waldo Lake Road and connect to the Fuji Tie Trail. You can add splendor, especially in snowshoes by extending your walk to Salt Creek or Diamond View Falls. Start early if you plan to do it all in one day to avoid running out of daylight.
Sno-Park Permit needed.
Maxwell Butte – The Best Sno-Park in Santiam Pass
Or so says just about anybody who regularly frequents the 11 area Sno-Parks. Some are carved out for snowmobilers. Others are winter playgrounds for family outings – tubing, sledding, winter picnicking.
But Maxwell is about as good as it gets for Nordic skiers and snowshoers this close to "the Valley."
And no matter your level of endurance or fitness, Maxwell has you covered with 7 primary trails for a total of 23 miles and as much as 3,700 ft. in elevation depending on your starting point.
Be sure to get a map and use it. Otherwise, the crisscrossing trails can get you lost in a short time. The trail system is numbered from 1 to 24 with easy to find and read boundary markers. Plan ahead for the most enjoyment. And believe me, there are lots to enjoy from the 360º views.
Like Salt Creek/Fuji, Maxwell has a shelter and is easier to reach. Just 4 miles out and back and a comfortable 500 ft. gain. As you would imagine, the shelter that can sleep 15, will be quite popular. So, don't be surprised, especially on weekends, if there is "no room at the inn". It's been known to squeeze in 20 if you're so inclined.
For the More Adventurous
Summiting Maxwell Butte is another matter. Now we are talking 9.8 miles out and back with a rigorous 2,500 ft. gain. Tough enough in the summer. Highly challenging in the winter. From either Mountain View Shelter (aptly named) or onto the summit there are sterling views of Mts. Washington and North Sisters as well as Three Finger Jack itself but 6 miles in distance.
Sno-Park Permit needed.
Potato Hill Hash Brown Loop for XC Skiing and Snowshoeing
If you think the names are fun you will really find the 8.4 mile out and back trail a fun time day. With only an 868 ft. change in elevation this is not a strenuous outing. It's perfect for younger adventurers or beginners.
It all starts on Jack Pine Road 1 mile east of Santiam Junction on OR 22. From the parking lot it's 1.8 miles through some old growth before ending at a scenic bowl where Three Fingered Jack stares back at you. Mt. Washington and Black Butte will also be seen today, clouds permitting.
---
RELATED: Hiking the Black Butte Trail Just Outside of Sisters, Oregon
---
Take the 3 mile Hash Brown Loop or continue up Potato Hill. I'd go with the Loop and catch the Little Nash Trail to its start and backtrack. Much of this outing is in the 90,000 acres burned in 2003.
Today it is an interesting mixture of regrowth and ghostly stumps. The fire created a number of openings with pleasant views. It is one of the least used winter trails providing seclusion and tranquility. No shelters, none needed but be sure to have your permit.
Bandit Springs
Located in the Ochoco National Forest, the Bandit Springs cross country ski trail is the undisputed top trail in this Forest. What you really have is a delightful series of loops ranging from Loop A a 1.4-mile beginner trek to Loop B a 4.2-mile intermediate outing.
There's the Ponderosa Loop, an easy 1.7 miler. Or jump off the Ponderosa at the one-mile point and try the more difficult Woodpecker.
From Ponderosa, at the 1.2-mile mark, you can pick up the McGinnis Creek Loop, a 4.2-mile intermediate effort. Remember you are in almost a maze of trail opportunities. Here is a helpful map.
The lesser trails and connectors are designated by letters: "S", "N", etc. or numbers ergo #811 Easy, easy as in name, not degree of difficulty.
The number 806, Ochoco Way, is a difficult 3.5-mile trek off the Ponderosa Loop with steep terrain, even a footbridge. It will lead to a three-sided snow shelter, some wood, not much else.
The View Point sits at 6,181 feet and should only be tried by very experienced skiers who can make the 12-mile out and back undertaking safely. The key takeaway is that there is something for every Nordic skier at Bandit Springs starting with easy access and relatively few users. I don't suggest snowshoeing being that there are so many better options within driving range.
Snow Tubing in Central Oregon
In my mind, there is no more bang for the buck than snow tubing. Find a 100 ft hill, a foot of snow and an inner tube from grandpa's old tractor and bam, you're in fun territory. This is an ageless winter in Oregon activity.
The bigger the tube and the more generations can climb on board. Who needs handles? Hang onto each other and let 'er rip.
But if you want to take it to the next level, Oregon has a choice of high energy tubing opportunities around the State. The Autobahn at Hoodoo Mountain Resort has seven lanes and an 800-foot drop.
The length and speed are great but no turns, not much adrenaline. You can get a lot of runs in with the help of the swift tow. Hoodoo, primarily a ski and snowboard mountain, is easy to reach from central Oregon's main cities.
Winter Camping Central Oregon Style
If camping in the snow-packed high Cascades is too much solitude for you but you want to camp in the winter then Silver Falls State Park. Within its 9,000+ acres is the Trail of Ten Falls.
Water flow tends to slow down in winter until the spring thaw. But no matter how you slice it, ten falls in a short hike is very special.
Likewise, a few of the great McKenzie or Santiam rivers sites are as idyllic in the winter as the peak of summer. I'm thinking primarily of Cougar Crossing and Lookout on the McKenzie and Shady Cove on the Little North Santiam.
---
RELATED: Places Near Bend to go Camping
---
Central Oregon Is The Place for Outdoor Ice Skating
We've already talked about the Pavilion in Bend but there's more. The Inn at Seventh Mountain, on Cascade Lakes Highway (OR 46) just 7 miles west of Bend, has its outdoor rink in operation since 1972. The rink is round, not the typical oval.
There is no hockey play it's primarily figuring skating. However, Broomball cranks up usually the first week of January. Seasonal events include skating with Santa and the Holiday Bazaar.
The Pavilion in Sunriver Resort received a major facelift recently. It's a long-running family skate arena limited to leisure skating, no hockey or league activities. It sits in a charming setting, right in the center of "the Village" with a wide choice of dining and music options just a few feet away.
Best Places to Stay in Central Oregon in Winter
27 Circle Four Cabin: This cute and cozy cabin surrounded by trees is located right in Sunriver and has a hot tub, a patio, a fully-equipped kitchen, and WiFi.
Chalet on the River: A spacious chalet-style home that immerses you in country living. From the large wrap-around deck you'll have views across the back meadow leading to Little Deschutes River, and Mount Bachelor in the distance.
Velvet Pines: Tucked away near the entrance to Deschutes National Forest you'll find this beautifully decorated two-bedroom house. It has a full modern kitchen, a cozy wood stove, and a private balcony with views of the forest.
Southern Oregon in Winter
Crater Lake is a mystical, magical spot that draws three-quarters of a million visitors a year. Born of a cataclysmic volcano eruption 7,700 years ago, it is the deepest lake in America at 1,943 feet.
Crater Lake is one of the snowiest locations in the United States with an average annual snowfall of 516 inches. That makes it one of the most perfect places in the world for snowshoeing or Nordic skiing.
Snowshoeing in Crater Lake National Park with A Guide
From late November clear to the end of April NPS Rangers lead 2 hour walks on Saturdays and Sundays at 1:00–how cool is this? Snowshoes are provided. It's a 1-2 mile moderate to strenuous trek. Most walks start at Rim Village and take in the forests and meadows of the Caldera's rim.
The scenery is breathtaking and entirely different than the iconic summertime images. Weekday walks are also available from December 16 to New Year day.
Snowshoeing in Crater Lake National Park on Your Own
The terrain is so abundant that you can easily make your own path. However, most will take one of the 4 most popular routes all originating at Rim Village:
1.2 mile to Discovery Point
2.3 miles to Wizard Island Overlook
3.1 miles to Union Peak Overlook
4 miles to Watchman Peak
These are out and back distances. Don't be fooled by the seemingly short distances. It takes much more exertion on snowshoes than on foot in July. You will travel at half the speed or less so plan your time accordingly.
Now if you want a true adventure, shoe the entire 31-mile Rim Drive. Only about 50 hearty souls a year make the 3-5 day trek camping in the snow. This is a pristine experience of awesome solitude.
All you need to know for 3 hours or 3 days will be found at the Steel Visitor Center where you can rent snowshoes and get the necessary permit for camping. Only plan overnights if you have sufficient survival skills that include avalanche knowledge.
The Park Service does a herculean effort keeping the Park open but road closures are common. Know before you go and dress for the weather.
XC Skiing in Crater Lake National Park
It is relatively flat in all directions making Crater Lake an ideal setting for XC trekkers. There are no 'groomed' Nordic trails, all are self-made. The sheer number of skiers make obvious trails in a matter of hours. The terrain is mostly gentle with a few mild uphills and downhills.
The biggest climb is around 240 feet for day outings. Overnight skiers can expect much more rigorous contours with occasional treacherous slopes. Nearly all skiers start from either the Visitor Center or the historic Lodge, closed for the winter. Parking is abundant.
Courtesy says that skiers have the right of way over shoers and it is bad form to shoe on top of trails made by skiers. The number of skiers is steadily declining as the numbers of snowshoers has grown.
Don't be surprised to find German, Swiss and Austrian skiers on the snow as Crater Lake is world-renowned for winter adventuring.
Getting to Crater Lake National Park in the winter is accomplished only through the West and South Entrance. Know before you go by checking conditions here where you will also find essential maps.
Skiing and Snowboarding
Mt. Ashland, serving southern Oregon and northern California, tops out at 7,533' in the Siskiyou range, only 15 minutes from I-5. Five lifts, none detachable, service 240 acres that include 40 for night skiing.
One of the knocks on Mt. "A" is its limited terrain for beginners – 11% but on the flip side 36% is Single Black and 11% Double Black for some awesome runs. Its small terrain park is a groan made up by adequate tree skiing.
There's a sweet bowl atop that in order to get out you need lots of speed going down. The bowl is not for the faint of heart.
Southern Oregon Snow Tubing
Diamond Lake Resort has 7 fast lanes served by a 470 ft. 'wonder carpet' moving 1,000 tubers per hour so that results in lots of runs. At holiday time you will find scheduled Interstellar Night Tubing that on a clear night is, well, heavenly comes to mind.
It is the most remote of the best tubing hills in the State. The roads in the deep of winter are unlikely to be plowed to bare pavement. But we always say: Getting there is half the fun.
So much of Oregon is blanketed in snow for months on end that finding a suitable place for tubing or sledding is unlikely to be more than an hour from any starting point.
Outdoor Ice Skating in Southern Oregon
I'd like to say that you can find a large number of ponds or lakes organized for outdoor skating but the fact remains that while there are hundreds of lakes and ponds, deeply frozen and safe, alas they are snow-covered or inaccessible.
However, you can still get your outdoor skating fix all around the state. And you will find those occasional all-natural settings; they just won't be easily marked or encouraged for use. A number of municipal parks around the State have shallow ponds that don't require many days of sub-freezing temps to get safely iced.
Klamath Falls may have the best option in the State. Located at the entrance to Running Y Resort is the Bill Collier Community Ice Arena, also known as Winter Wonderland for resort visitors. There is even Broomball and Curling if you don't want to lace up skates. The setting is woodsy and rural.
Check out some other things to do in Klamath Falls.
Ashland has its Centennial outdoor rink at the entrance to its renowned Lithia Park. Built by gifts from Rotary Club the rink is a family favorite. There are no changing rooms and no speed skating is allowed. Hockey for all ages is enjoyed with 3 on 3 very popular.
Best Places to Stay in Southern Oregon in Winter
Red Blanket Cabin Near Crater Lake: This cozy cabin has everything you need for a relaxing winter stay near Crater Lake. Enjoy the peace and quiet on this wooded-acre property near the town of Prospect.
Creekside Cabin: This cozy 1930s cabin has been restored to its former glory and turned into a comfortable guesthouse. It's set in the woods outside Ashland and has a covered patio with views of the nearby creek.
Lake of the Woods Cabin: This secluded cabin sits between Ashland and Crater Lake, making it an ideal base for exploring the greater area. The traditional chalet-style home features a queen-sized loft bedroom, full kitchen, and a covered deck.
Eastern Oregon in Winter – More Remote, More Awesome
Often overlooked and dwarfed by the abundance of winter activities found in Portland and Bend, it's easy to forget the rugged, natural beauty of eastern Oregon. It has a certain majesty crowned by the Wallowas, one of Oregon's Seven Wonders.
Hell's Canyon, deeper than the Grand Canyon, and the Snake River that runs through it can be seen from high elevation lookouts in the Wallowas.
Skiing and Boarding
Anthony Lakes in Eastern Oregon, a 30-minute drive from Baker City, is spread over 1,100 acres, none for night, has one lift and two rope tows. It peaks at 8,000 ft. offering 900 ft. of drop. One run is a mile and a half for cruising.
For boarders, there are two terrain parks. It also has a small footprint for beginners – 20% yet 38% marked Blue make it a good all-around mountain.
XC Country Skiing and Snowshoeing Blue Mountains
The Cascade and Wallowa Ranges so dominate the Oregon winter scene that we forget about the Blue Mountains in Northeast Oregon. Situated between Pendleton and LaGrande this range, not as steep nor imposing, is nonetheless full of beauty and adventure.
Meacham Divide at Mt. Emily Sno-Park is home to Oregon's second-largest Nordic area. It's a 13-mile long system of eight trails featuring a variety of terrain, length, and difficulty from beginner to advanced and much in between.
The base area, 4,100 ft. elevation, boasts 12 ft. wide groomed runs, the main artery being the Loppet Trail, about 7 miles out and back. You can jump off the Loppet at a number of points for fun loops:
The Roller Coaster, Butcher and Tillicum rated Green (easy)
Quarry, Whitman Whip and Kansas- Blue (intermediate)
I Scream and Pendleton Plunge – Black Diamonds!
Loppet Loop
Staying on Loppet is a cruise for the first 1 and a half miles when you hit Moose Huff Hill, steepest in the Park. It then is glides into Red Saddle before descending into The Lillehammer Lunge and The Trondheim Trembler.
Don't you just love those names? They conjure up all sorts of images of just what kind of day it will be.
Loppet ends with its own very short loop at Loppet Point that exposes a 20-mile wide panoramic vista. It's possible to do every one of the loops and Loppet itself in one outing, 13.5 miles overall.
Snowshoers are required to stay to the right of the groomed surfaces so as not to damage the Nordic tracks.
You don't have to travel far in Oregon to feast on a day of XC skiing or snowshoeing the latter of which is an affordable and fun activity easily enjoyed by all ages.
Sno-Park Permit needed.
Dog Sledding
Unlike Bachelor where you are on the sled, dog sledding in eastern Oregon means watching. In other words, making sure to get to "the Extremes" a once in a lifetime experience.
In January high in the Wallowas are the Eagle Cap Extreme Dog Sled Races, 4 in all including a 200 mile Iditarod and Yukon Quest Qualifying event, the only one in Oregon! As with many a high-level sport these athletes are pampered professionals with every need meticulously met.
Winter Camping in Eastern Oregon
Winter in Oregon usually means lots of people having lots of fun particularly on the hillsides skiing, boarding, tubing. Winter campers are far fewer of course. Often the most remote settings fill our most escapist desires.
Especially true at Page Springs Campground in Frenchglen. Or the Steens Mountain Wilderness close by. Similarly remote is Wallowa Lake State Park campground at Joseph. As close as you will get to a European Alps feeling. The more remote the higher the risks, so preparation cannot be overstated.
Best Places to Stay in Eastern Oregon in Winter
Classic Cottage: Stay within easy reach of Anthony Lakes Ski Area, but with all the convenience of downtown. This delightful two-bedroom home in Baker City has all the comforts you could need, including a full kitchen, a large deck, and a hot tub and sauna.
Eagle Cap Chalets: This resort is just an 8-minute drive to the center of Joseph and Wallowa Lake State Park is only 1 mile away. With all your adventures close by this resort is perfect for your travels. For your downtime, there's a hot tub on site.
Antone Creek Cabin: Stay at this cabin tiny house, with a private setting on Antone Creek. It is located at 4,000 ft above sea level and is only 9 miles from Anthony Lakes Mountain Resort.
Winter on Oregon's Coast
Winter is a great time to discover nature's fury on the Oregon Coast. I say fury because on a good day the surf can roar with waves 30, 40 even 50 feet in height. Not that picnic-on-the-beach kind of day typical of summer. Bigger the wind, bigger the wave.
Of course, there are plenty of gentle days in the winter on the Coast. Pretty much anything you can or want to do in June you can do in January, outerwear adjusted. Fly a kite? You bet. Climb a haystack? Of course. Explore tide pools? For sure. Kayak? Suit up and go.
Fat Tire Biking the Sand
With 350+ miles of Oregon coast, winter is a fine time to take some air out of the tires and hit the sand. It's all about finding the sweet spot, that line where the pack is just perfect. Too close to the water and the sand is like mashed potatoes. Too far from shore and the sand is all wobbly.
Usually, it's the 5 feet either side of the tide line when the sand is damp and harder packed. It's all a matter of choice. Find your own line and adjust air pressure accordingly. The Central Oregon Coast from say Depoe Bay south to Bandon may have the best stretches of beach biking.
The sand on this stretch has just the right balance of texture and moisture. A particularly nice ride is between Florence and the dunes, 45 miles roundtrip with a 654 foot gain.
For a bigger challenge do the 9.4 miles from Otter Rock to Newport or vice versa. The 19-mile roundtrip has a 662 foot gain taking in the iconic Yaquina Head Lighthouse. Part of this ride is over rock and a few creeks adding to both the thrill and the diversity.
The popularity of fat biking the Coast has led to the proliferation of shops that sell, rent and repair these fat boys. There's Safari Town in Lincoln City, Bike Newport in Newport and South Coast in Bandon.
Cannon Beach is now home to a Fat Bike Festival, albeit in the spring, yet it shows the growing popularity of riding on the sand.
Whale Watching
The Oregon coast is home to at least ten of the roughly 80 worldwide species of whales, dolphins, and porpoises. You basically need a boat to sight the mighty humpbacks as they prefer water 5 to 15 miles out. With decent, optically stabilized binoculars and a lot of patience you will spot one of more on the horizon.
Make it easy on yourself and look for the school bus-size gray whales that are as large in number as their size. Some 20,000 make the annual southern migration in late December to early January and retrace their route northbound in the Spring. They travel only a few miles offshore.
About 400 of them have understandably decided to make Oregon home so spotting these magnificent creatures is almost assured any time you visit.
Depoe Bay is the epicenter of Oregon whale watching but a dozen more spots are popular with frequent sightings. Pick a spot where the land juts farthest into the sea, the spots where lighthouses are situated or points like Battle Rock, Yaquina Head.
Lookouts by their very names make excellent sighting points- Rocky Creek, Boiler Bay, Battle Rock or any of the Capes: Lookout, Perpetua, Meares, Foulweather, Ferrelo. You will be mesmerized not only by the whales but the breathtaking scenery from which you observe.
Sandboarding
Sandboarding (or dune surfing as it is also known) is every bit the fun in the dead of winter. Florence even has the 40 acre Sand Master Park, the world's first official sandboard park! It boasts a 40-foot ramp that attracts many a snowboarder impatient for the ski resorts to open.
But Mecca for Oregon is arguably Pacific City. Here, any month of the year, you will find dozens or a hundred gliding down the 45-degree dunes on surf or boogie boards, sans fins.
Just about anywhere in the Oregon Dunes National Recreation Area, a roughly 40-mile section of the Oregon Coast between the Coos and Siuslaw Rivers, is ripe for sandboarding.
Nowhere – yet – on the Coast is there a rope tow or other device to get you to the top so plan on a workout. Naturally, the sand needs to be dry and loose, the more granular the better, faster the ride.
Storm Watching
300 ft. waves? No way. True but wave crashes easily hit that height and often when it's storming from November to April. These are the spectacular iconic images you find on the Weather Channel or the pages of National Geographic.
It's not the weather per se – wind, rain – that moves the giant waves as much as ocean conditions – current, tides, temperature.
A 20-foot swell of water hitting a 100 ft. rock can make a 200 – 300 ft. aerial spray. One is more spectacular than the next and best viewed from a safe distance. Winter on the Oregon Coast can have deadly consequences for the unaware or unprepared. Killer sneaker waves are just that – killers.
Get above it all, like at Shore Acres State Park. Just like the best spots to find whales, these are usually a great place to catch the waves. Other popular spots include Fort Stevens State Park the closest observation point to Portland.
Or just down the coast a bit to Cannon Beach and Ecola State Park. Yachats is a favorite and Cape Meares State Park gets high marks by storm watchers. Dramatic is an understatement when describing Oregon's coastal storms. I liken it to a daytime fireworks show.
Winter Camping on the Oregon Coast
31 Oregon State Parks offer yurts or cabins most all for year-round indoor camping when you are not ready to rough it in winter. A dozen on the Coast.
On the other hand tent camping on the coast is delightful no matter the month where seasonal temps do not change much. Umpqua Lighthouse State Park at Reedsport is top-rated in part as it is close to Lake Marie, a favorite of anglers and kayakers as well as its proximity to Oregon Dunes National Recreation Area.
Here are some more of our favorite places to go camping in Oregon.
Best Places to Stay on the Oregon Coast in Winter
Saltwater Cottage: This lovingly restored 2-bedroom home in Lincoln combines a country feel with oceanfront living. The tranquil home with a private garden includes a jacuzzi and firepit for cozy nights, and is just a 3-minute walk from the beach.
Bayfront View Condo – Wake up to water views every day from this modern one-bedroom condo in Newport. You'll have a private balcony that looks out over the bridge and marina, a fully equipped kitchen, and a fireplace for the colder months.
The Dude's Abode Tiny A-Frame: This A-Frame tiny house is part of a tiny house village with private beach access. It has been restored to reflect a retro 1969 vibe, and has gorgeous views of the beach from the property.
This is just a sampling of all that awaits you when you mix winter with Oregon.
More Things To Do During Winter in Oregon
We hope this post helped you plan your winter in Oregon! Check out more great winter activities and other fun adventures in Oregon.