When choosing your adventure in southern Oregon's Umpqua land, Diamond Lake is an ideal base camp. Set in a pristine section of the Cascades, the lake itself covers some 3,000 acres and is a mile high (well ok, 5,183 ft. to be precise). It is the epicenter of a year-round playground for a wide range of activities from gentle canoeing to heart-pounding whitewater. From dog sledding to cat skiing.
Its location just couldn't be better. No matter your point of entry it's pure scenic beauty. Under 2 hours from I-5, 30 minutes from US 97. You know when you are but a few miles to arrival when 9,184 ft Mount Thielsen appears in your vista. Featuring a horn-like peak with a 3,342′ prominence and set in a designated Wilderness Area, "Big Cowhorn" as it is called by the native people, might as well have a big neon sign saying: "Here I am. What are you going to do about it?"
Hiking Mount Thielsen
Hiking Mount Thielsen is at once exhilarating and potentially exhausting with precipitous slopes and sheer walls. It is not a technical climb per se and most make the daylong ascent and return without the aid of ropes or other gear.
There are a number of ways to get on top and all will require at least 3,800 ft of vertical gain. What is easy to overlook is the trek you'll make before starting your hike – 4 miles for the most popular route and then 5 miles to the summit. Or, the more interesting route is 7.5 miles in and 8 miles to the top.
Having enough water is critical. While it starts off as a walk in the woods, this is a serious hike with potentially catastrophic consequences. Thielsen is also called lightning rod of the Cascades drawing the most amount of lightning strikes in the enormous range. Plan carefully. Start early. Pack lunch and enjoy to the max.
Turning the Mount Thielsen hike into an overnight is a great option. Camping at Thielsen Creek Meadows is a spectacular setting, 2,700 ft below the thrilling north face. Standing on top can be momentarily unsettling with drop-offs in all directions. The north and east face boast near vertical 2,200′ walls.
The breathtaking views of the Three Sisters to the North and Shasta to the south provide a well-deserved sense of accomplishment. And this is the only spot outside of Crater Lake where you can actually see Crater's 1,949 feet deep, mystical blue water.
The Trail to Mount Thielsen
The most common approach is the namesake trail also known as Umpqua National Forest trail #1456. The trailhead is only 1.4 miles from where Oregon highways 230 and 138 intersect, just 1.5 miles from the Diamond Lake entrance. Begin the 3.8-mile steady climb to an elevation of 7,350′ connecting with the Pacific Crest Trail (PCT) junction.
It is mostly lodgepole pine the first mile turning to mountain hemlock and true fir. Now the adventure begins with a climber's path to the ridge. The trail steepens as you exit the tree line. Markers are non-existent but the pathway is intuitive.
The scramble, rated class IV to 5.1, is strenuous for about 200 feet, basically hand over hand. Stay right looking for a gully at the SW pinnacle. Find the notch for the last 80 feet on the south face. No water is to be found absent last spring snow patches so pack plenty. Allow 6 – 8 hour for fun enjoyment. Remember that you are in a designated wilderness area. Restrictions apply requiring a Northwest Forest Pass.
---
RELATED: 11 Things to Know Before Going to Umpqua Hot Springs (To Rest Those Muscles)
---
Fishing, Boating, Swimming on Diamond Lake
Summer is the busiest time at Diamond Lake probably best known for fishing and boating – the tamer kind. No high powered ski rigs here as the speed limit is a leisurely 10 mph. Fishing is big and so are the fish.
The lake is routinely stocked with 300,000 rainbow trout every year. The limit is 5 per day of which one can exceed 20″ in length. 14″ to 16″ is routine and typically limits are reached in a few hours. Now both Tiger and Brown Trout are being fed into the lake but limited to catch and release only.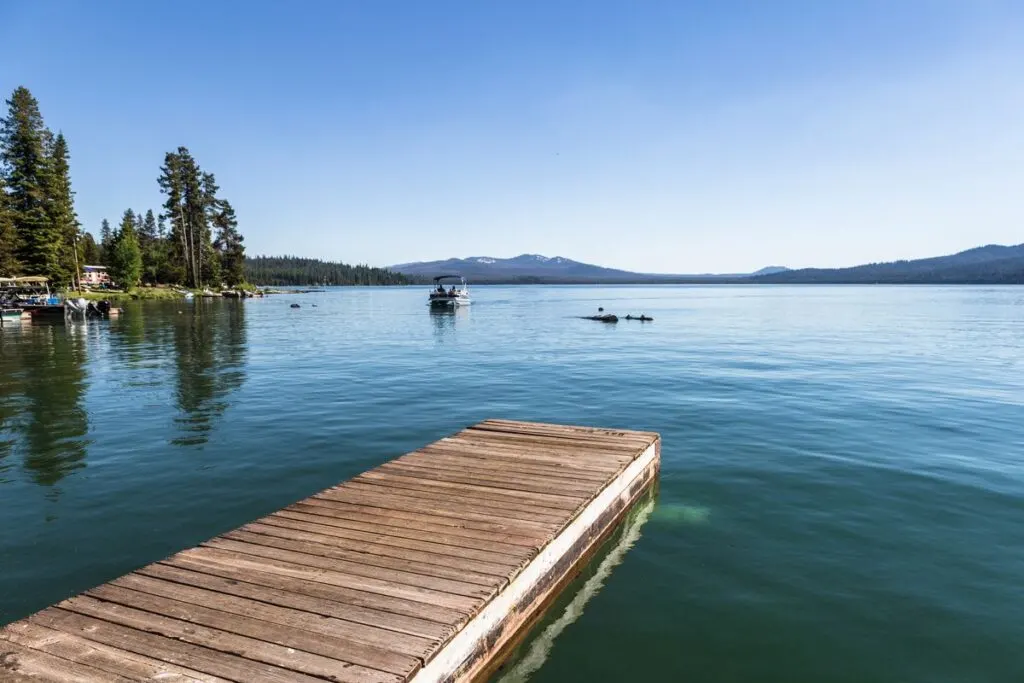 If you don't have your own boat, not a problem. The Diamond Lake Resort has a variety of watercraft to match most needs. There are of course 16′ and 18′ aluminum fishing boats but for fun rent a paddle boat, patio boat or bumper boat. As the name implies kids of all ages will have a roaring good time bumping and racing. Kayaks and canoes are ubiquitous with an increasing number of stand up paddle boards.
A Trail of Waterfalls Around Diamond Lake
Diamond Lake is on Oregon Hwy 138 which at that point is running north and south. Travel north a few miles and 138 makes a sweeping 90 degree left turn and changes to the Umpqua River Wild and Scenic Corridor with a series of some of the best waterfalls in the State. It's the sheer number that is most impressive – 10 in a 50-mile stretch.
The first traveling east to west is Lemolo Falls, a 102-foot horsetail-style waterfall. Followed in succession by Warm Springs, Clearwater and Whitehorse Falls, next is Watson, a 272-foot plunge-style waterfall that roars over a basalt cliff and into the waiting pool.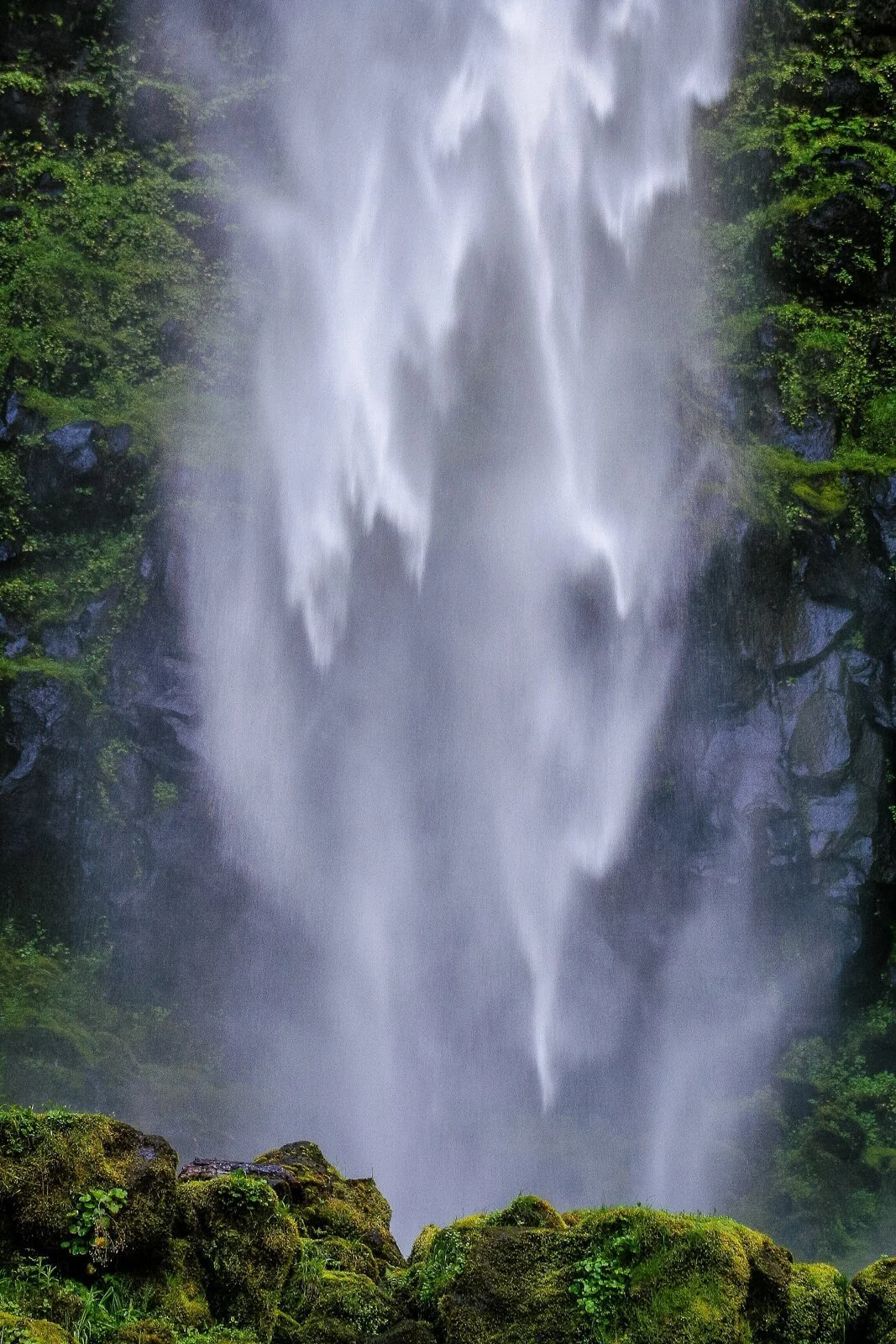 Shortly after, find Toketee Falls where the North Umpqua flows through a narrow gorge. Toketee has two drops, the first 40 feet and the second 80 feet over a sheer basalt edge. If you haven't had enough at this point there's still Steamboat, Fall Creek, Susan Creek and Deadline Falls. Naturally, the waterfalls are scenic wonders but a number also present excellent hiking, some of moderate difficulty, and camping opportunities.
Don't Let Winter Get in Your Way
Snow tubing at Diamond Lake is a hoot starting with the 470 foot ride up on the wonder carpet dropping you onto 7 lanes, each plenty fast. For more thrills, snowmobiling is the most popular winter activity at Diamond Lake and if you are at least 21 you can rent a machine. Topping off the list of winter adventure is snowcat skiing at Mt. Bailey. Depths of 400 to 600″ are not uncommon in this 6,000-acre playground.
Cat skiing on Bailey is serious fun. There is 360º of terrain ranging from tree skiing to 3,000′ alpine faces with high bowls right from the summit. Skiers and snowboarders need to be advanced or expert rated. Expect 15 – 18,000 feet of vertical feet in a typical day. No more than 12 can be accommodated for this 6,000-foot pristine action.
Camping in and Around Diamond Lake
Diamond Lake itself has 238 campsites with picnic tables and fire pits. 51 are lakeside on the conifer-lined eastern shore. More remote, interior sites offer more seclusion. An 11-mile paved path rings the lake making it accessible to nearly all. A USFS interpretive Ranger is on duty during summer months for Saturday night gatherings at the amphitheater. Of the 238 sites, including standard and double, 189 can be reserved. Grills are in abundance as is drinking water and flush toilets.
Other Diamond Lake Camping Opportunities
A bit more wilderness can be found within a few miles of base camp Diamond. There's Thielsen View with 20 sites, Broken Arrow with 57. Whitehorse Falls and Clearwater Falls campgrounds are less than a 20-minute drive. Each is located on the stunning Rogue-Umpqua National Scenic Byway. Poole Creek Campground, also on the Scenic Byway. Situated at 4,200′ with 60 sites, it is one of 5 campgrounds in the Lemolo Lakes Recreation Area.
For equestrians, nearby is Kelsay Valley Trailhead Horse Camp with 15 sites. In short, there are no fewer than 16 campgrounds all easily accessible from Hwy 138 and within 25 miles of Diamond Lake. Those managed by the Forest Service can be found here. The variety of settings range from lakes, rivers and streams to deeply forested to wilderness.
If glamping is your thing then Diamond Lake Resort has you covered. Choose from 38 motel style rooms, 10 studio units, 5 two bedroom cabins- even a Jacuzzi suite.
---
RELATED: Our Guide to Umpqua National Forest: Hikes, Waterfalls, and Lakes
---
Eat In, Take Out
Unless you're cooking what you caught that day, dining is limited to Diamond Lake Resort. The menu is complete, full of the kinds of offerings you'd expect at a lake resort set largely in the wilderness. Two choices should handle the appetites of all comers. There's the Mt. Bailey Grill & Sports Lounge and South Shore Pizza. Both are self-descriptive, casual and family friendly of course.
Have fun camping around Lake Diamond and climbing Mount Thielsen! Check out these other great hikes around Oregon.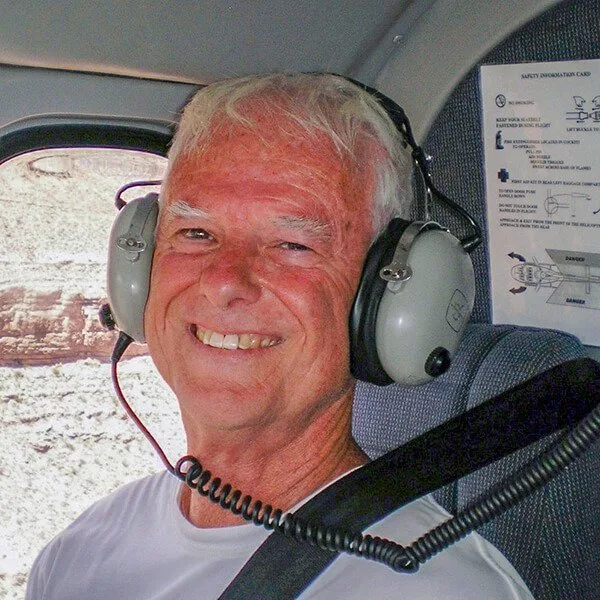 Bill Bartlett is owner of Cascade Travel & Photo. He has explored every county in Oregon and visited over 250 name places in the State over a 25-year span.
His passion is capturing the history and architecture of the lands he visits.