Seeing as the Columbia River Gorge has the highest concentration of high waterfalls in North America, choosing which ones to visit can be a bit of a minefield.
These incredible scenic and impressive waterfalls in the Columbia River Gorge sit in what is commonly referred to as the waterfall corridor, and with so many waterfalls in such a small area, you can easily see more than one if you are on a day trip from Portland or elsewhere nearby.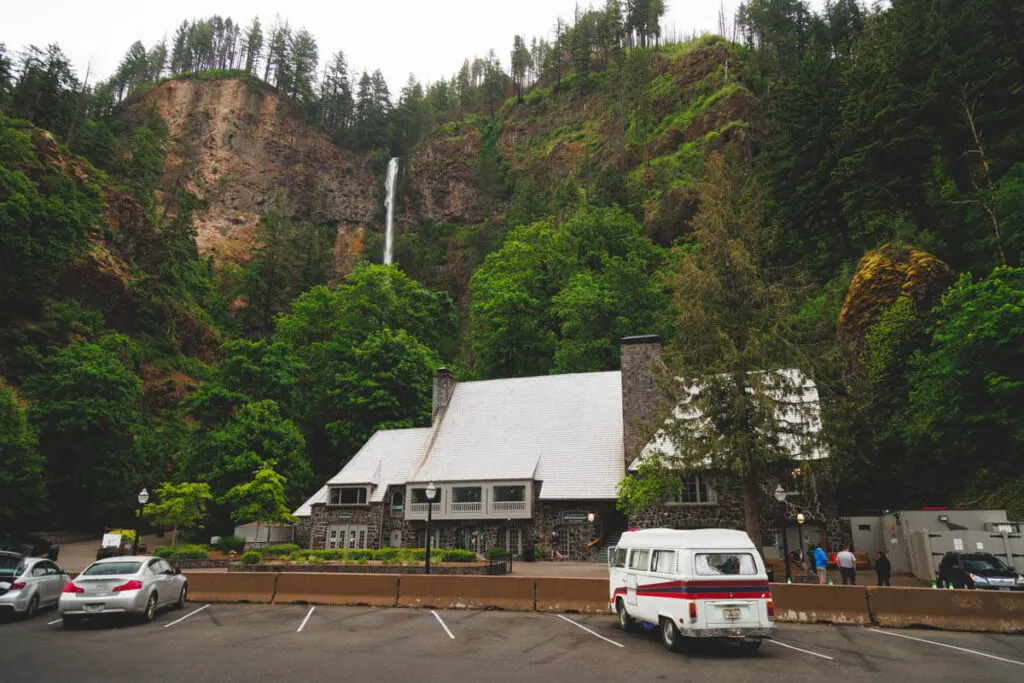 Whether you desire a long hike to see multiple falls, a waterfall right by where you park your car, a powerful single-drop fall, or those that cascade down rocks in multiple tiers, there are options for all.
You could spend days (weeks!) in the area and still not tick off all the Columbia River Gorge waterfalls! Luckily for you, since we are experts in Oregon, we can point you in the right direction so you can get the most out of your visit.
✋ HOLD UP! Don't Forget…
You need some wheels! It's nearly impossible to get around the USA and check out the best adventures without a car! Here are our top recommendations…
🚗 Rent a car
If you don't have your own, renting a car is your best bet!
🚐 Rent a home on wheels
For the more adventurous, rent a van or RV and ditch the hotel.
When to Visit the Columbia River Gorge?
Spring (March to May): This is a popular time because of the lush greenery and the waterfalls are usually at their peak flow due to melting snow. Multnomah Falls and others are stunning during this time, but be prepared for crowds, especially on weekends.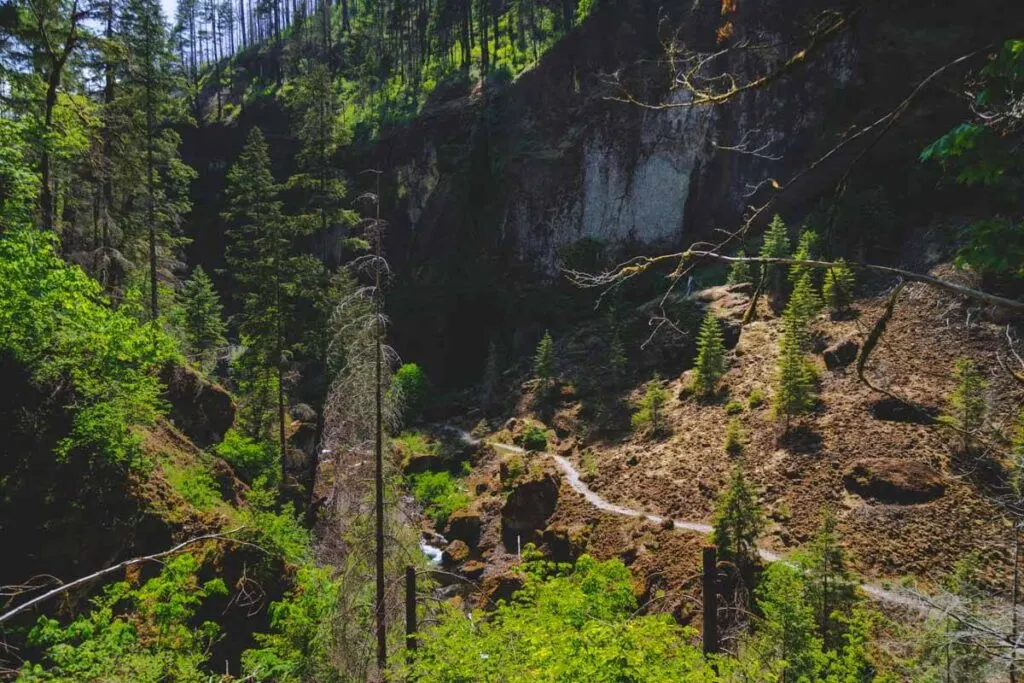 Summer (June to August): If you prefer warmer weather and longer daylight hours, summer is great for hiking and enjoying the scenery. Some waterfalls might have slightly less water, but the weather is typically more predictable.
Fall (September to November): The gorge looks magical with the fall foliage, making it a photographer's dream. Crowds start to thin out in the later part of this season, and the weather is still quite pleasant. The water flow will definitely be less during this time, though.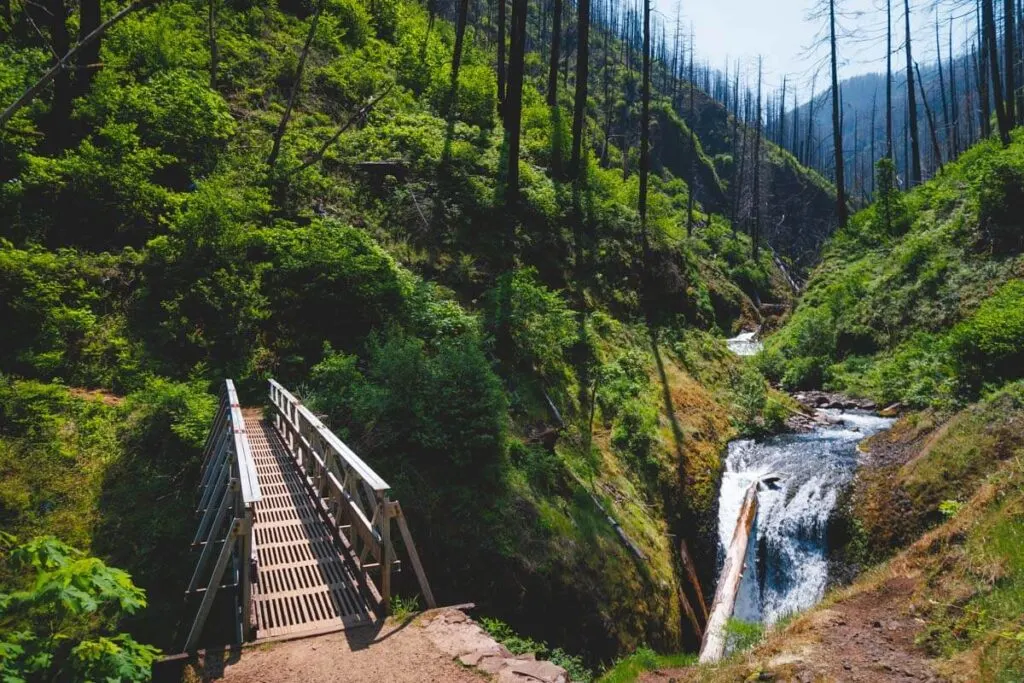 Winter (December to February): If you don't mind the chilly temperatures and occasional rain, winter can be a quieter time to visit. Waterfalls can be partially frozen, creating a unique vibe! Just check road conditions, as snow and ice can affect accessibility.
Wait, How Did The Columbia River Gorge Form?!
Great question—We want to say unicorns and fairies came in and designed the place because it's so magical, but it's a bit more scientific instead…
The Columbia River Gorge's formation began 40 to 60 million years ago due to volcanic activity and granite uplift. Massive basalt flows between 6 to 17 million years ago shaped its distinctive rock layers!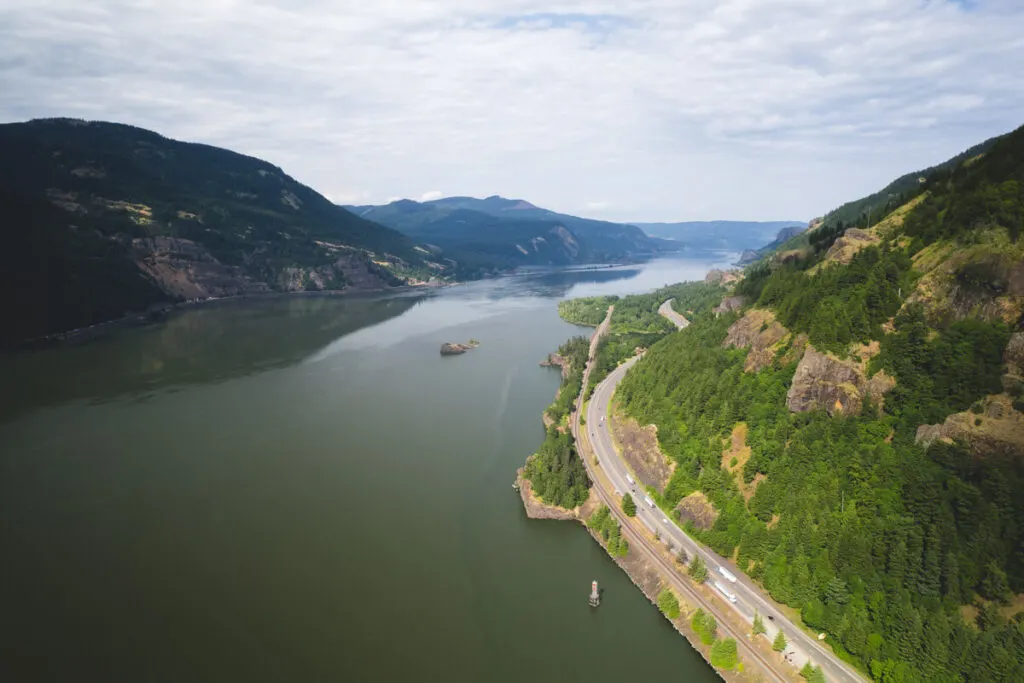 During the Ice Age, around 40 colossal floods sculpted the gorge, creating about 80+ waterfalls, including the famous Multnomah Falls.
Today, the Columbia River continues to carve the gorge, with canyon walls reaching 4,000 feet high. Nearby, active volcanoes like Mount Hood and Mount St. Helens add to the region's geological significance.
BEST Waterfalls in The Columbia River Gorge
---
If you're chasing waterfall (despite explicitly being told by TLC not to), you're definitely in the right area! We can't think of a better place in the US (or maybe even the world) to go waterfall chasing.
Most of the waterfalls in the Columbia River Gorge will require a hike to get to, and most are on the Oregon side.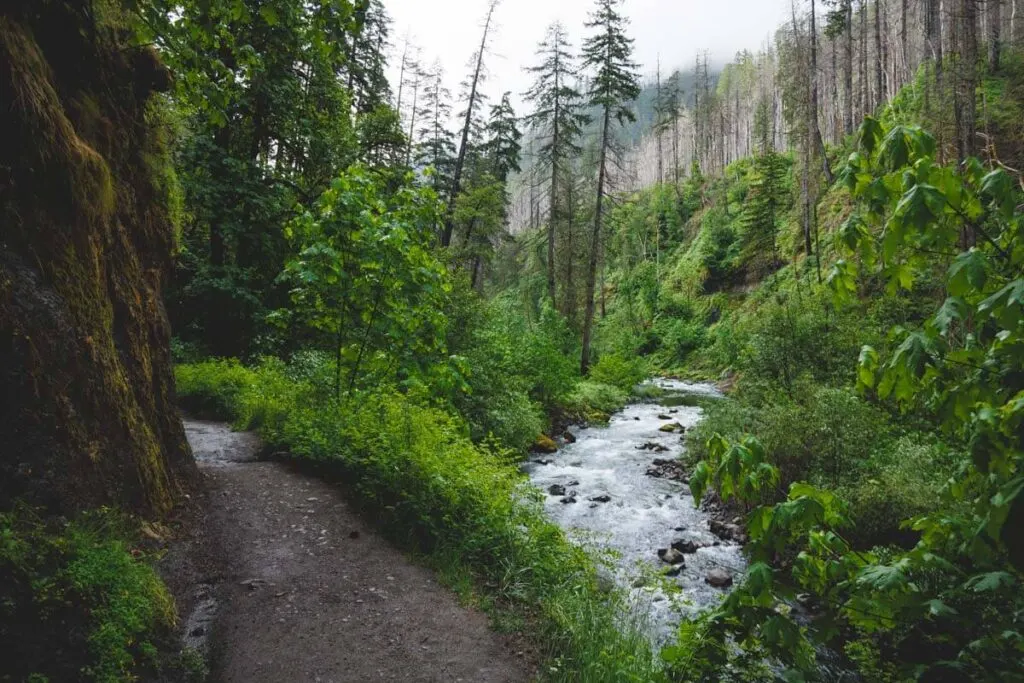 Something you should also be aware of is this area has suffered from quite a few forest fires, including the infamous Eagle Creek Fire.
You'll see naked trees in many areas here, and while each of these spots is still 100% worth visiting while it's healing, keep in mind the following:
Bring extra water as the hikes are more exposed without the tree canopy.
Definitely don't forget your hat and sunscreen, either.
Be respectful! Some trails and routes are STILL closed; don't jump over barriers.
Keep up to date with the fire restrictions in Columbia River Gorge.
So with all of that understood, let's finally check out the most worthwhile waterfalls in the Columbia River Gorge!
1. Wahkeena Falls and Fairy Falls
Distance: 3.1 miles
Type of Trail: Out & Back
Difficulty: Moderate
Elevation Gain: 941.6 feet
Wahkeena Falls makes up just one of the many incredible waterfalls in the famed waterfall area along the Historic Columbia Highway. It may not be as tall as the more well-known Multnomah Falls, but its 242 feet of tiered tumbling water is pretty special.
Wahkeena is the Yakama word for 'most beautiful,' and as soon as you see it, you will see why it has got its name. There is a very accessible overlook once you get to the end of the hike that gives you a clear look at the waterfall. Couple this with the nearby picnic area and fire pit; many people turn a quick visit into a day trip.
What makes this day trip even better for many is the addition of Fairy Falls. Just a bit further ahead of the Wahkeena Falls viewing area, you'll find the trailhead for the scenic Wahkeena Trail.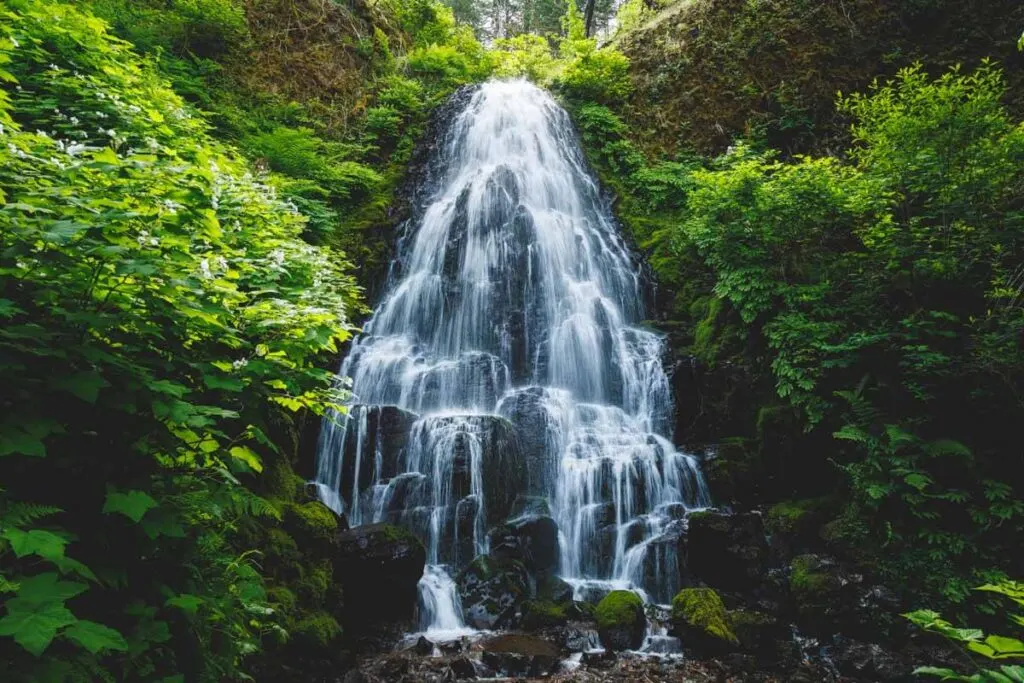 The trail ascends steadily via switchbacks, where the spray from the waterfall can help to cool you down. Just over a mile along the trail, you'll reach Fairly Falls. It is short at 20 and 30 feet, but the fall's fan shape is completely different from the Wahkeena plunge, so it is nice to combine the two.
2. Horsetail Falls
Although the surrounding area is incredibly scenic, sometimes a view without a hike can be pretty nice. With its 176-foot cascade, Horsetail Falls is one of those natural wonders and can even be seen without getting out of the car. It is one of the only Columbia River Gorge waterfalls where this is possible.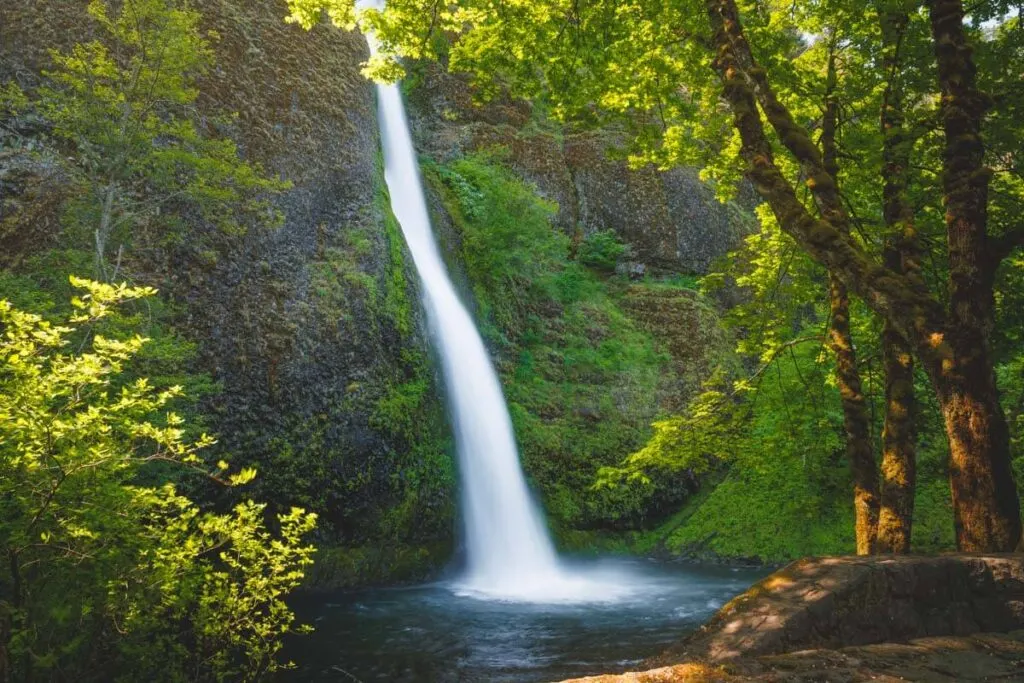 If you do fancy stretching your legs, parking is free, and there is also a small picnic area so you can lunch with a view. Although you can see the waterfall as well as you need from the street level, if you need to get a little closer to feel the spray on your face, it is possible to head down to the plunge pool.
You could also turn the trip into a longer hike and take the Horsetail Falls Loop, which takes you to three waterfalls: Horsetail Falls, Ponytail Falls, and Lower Oneonta Falls. Speaking of which…
3. Ponytail Falls
Distance: 0.8 miles
Type of Trail: Out & Back
Difficulty: Easy
Elevation Gain: 320 feet
If you have already visited Horsetail Falls and are eager for more waterfall action without getting back in your car, you can take the short hike to Ponytail Falls.
Although the trail may look daunting with its series of switchbacks, you reach the waterfall after walking for only 0.4 miles, so it won't be long before you can catch your breath and enjoy the views.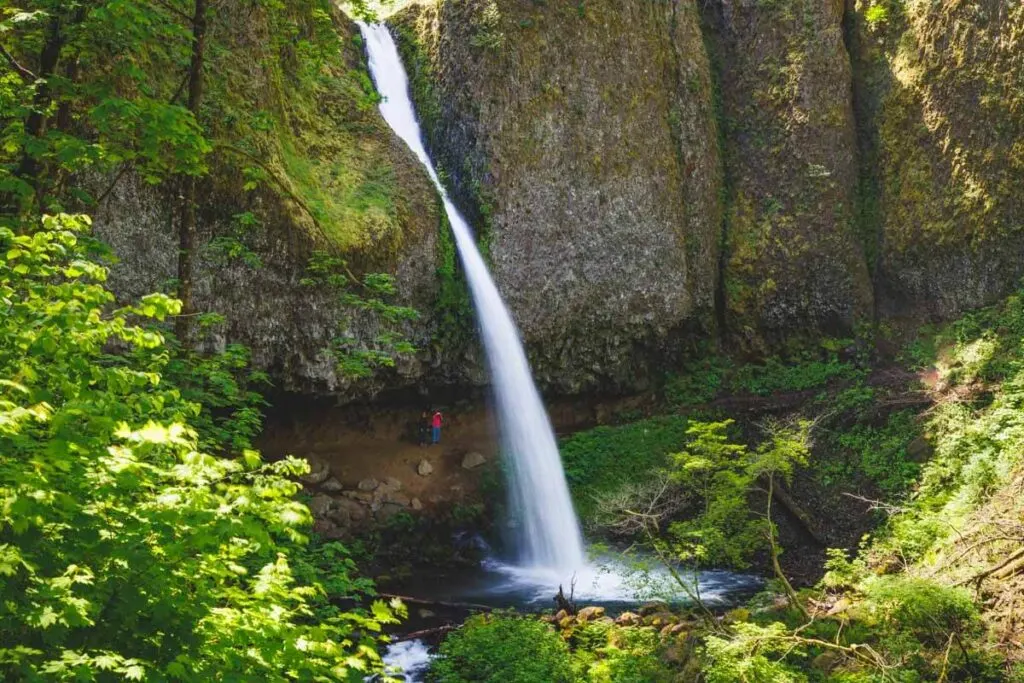 As well as viewing Ponytail Falls from your lofty viewpoint, you'll be able to gaze over the Columbia River to Hamilton Mountain. The falls rush over a basalt half tunnel, and if you don't mind getting a little wet, you can walk right behind it!
4. Wahclella Falls
Distance: 1.93 miles
Type of Trail: Out & Back
Difficulty: Easy
Elevation Gain: 232.94 feet
Not so many people will have heard of Wahclella Falls compared to some of the other waterfalls in the Columbia River Gorge, but the hike itself is a great family hike in the Columbia River Gorge. The short walk is relatively flat and follows a bubbling creek through a beautifully forested landscape.
It has some beautiful views along the way, with fun obstacles such as huge boulders to dodge around, making you feel as though you are on nature's game show. There is also a narrow slot canyon to navigate and several river crossings.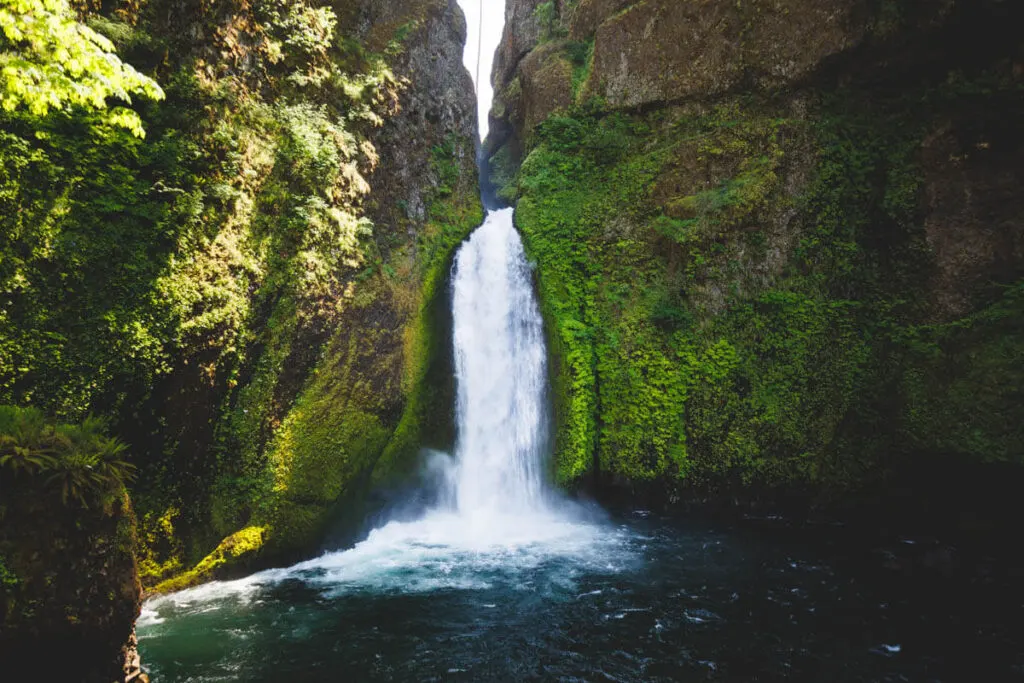 When you reach the falls, you are in for another treat: a 350-foot-high waterfall! Wahclella falls in two distinct tiers, with the upper tier deep into the canyon behind the lower falls. The lower falls lack nothing when it comes to power and have caused a large plunge pool surrounded by rocky walls.
5. Panther Creek Falls
Distance: 0.31 miles
Type of Trail: Out & Back
Difficulty: Moderate
Elevation Gain: 121.39 feet
Panther Creek Falls is one of the most impressive waterfalls in the Columbia River Gorge and is so easy to get to. Head downhill through towering trees to a viewing platform where you will be able to see these spectacular falls in all their glory.
The hike is less than 0.4 miles, with around 200 feet of elevation gain, so nothing too strenuous.
The waterfall is a stunning 130 feet, with a strategically placed observation platform for optimum viewing. A trail also takes you to the base of the falls so that you can see it from all angles. It only takes about 10 minutes to walk to and from each viewing spot, so most visitors tend to tackle both. They are signposted.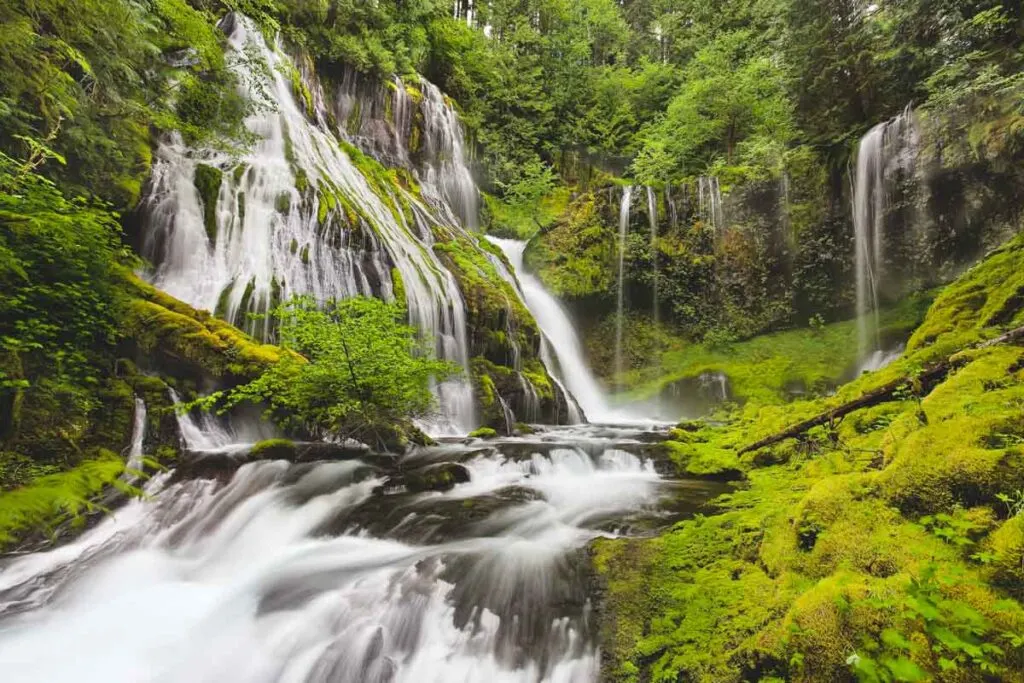 Panther Creek Falls is particularly scenic as the water runs in multiple rivulets over the rocks, landing in a series of pools surrounded by rocks and logs covered in bright green moss.
Do note that there are barriers, so you can't get right up to the edge as it's dangerous. Many people cross the obvious gate with a do not enter sign—Don't be this person!
6. Falls Creek Falls (The Best Columbia River Gorge Waterfall on The Washington Side!)
Distance: 6 miles
Type of Trail: Loop
Difficulty: Moderate
Elevation Gain: 1279 feet
If you fancy seeing one of the tallest waterfalls in Southern Washington, then Falls Creek Falls is where it is. A loop hike along Falls Creek will ease you to the waterfall, although you will gain 1279 feet in elevation.
The waterfall itself is 335 feet tall, dropping in three district tiers. The first is 109 feet, followed by the tallest 135 feet, and then finally 91 feet into the gorge. The second tier is the most impressive, as it drops down in several segments, running in thick, powerful streams down the rock.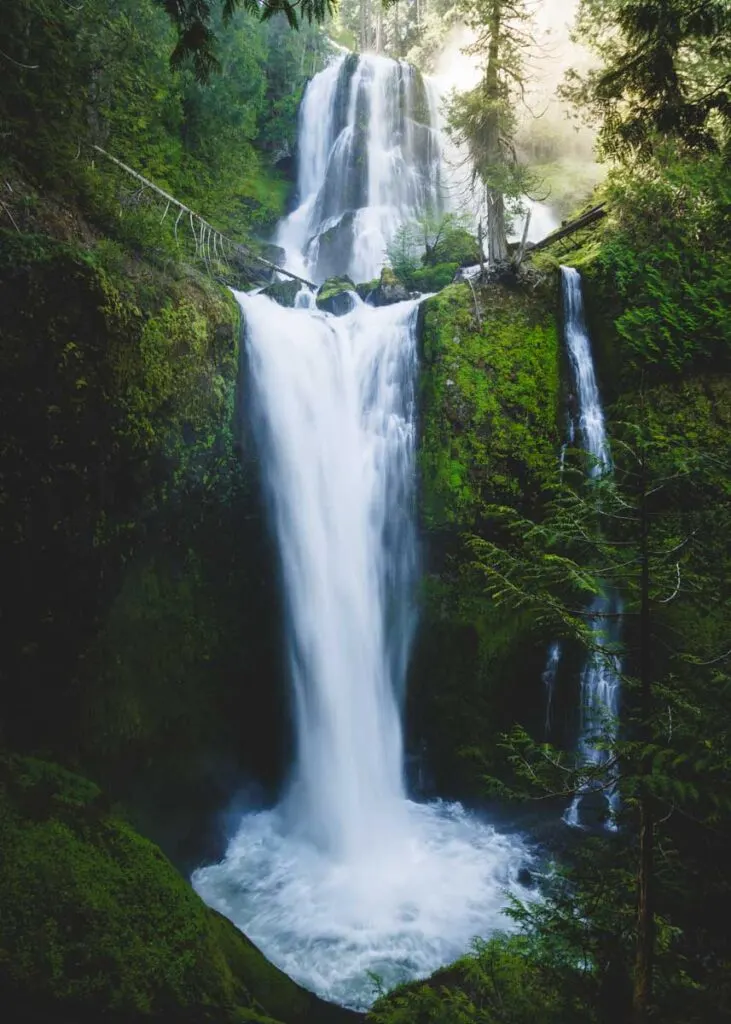 Once you have had your fill of gazing at this captivating but rather unimaginatively named waterfall, it is time to turn around and head back down with a nice gentle descent. Many people choose to make this an out-and-back hike, but we highly recommend you do the loop.
The reason is this waterfall is not a secret—and unless you want to run into everyone who's on their way to the falls, you're better off heading back via the higher trail and making it a loop.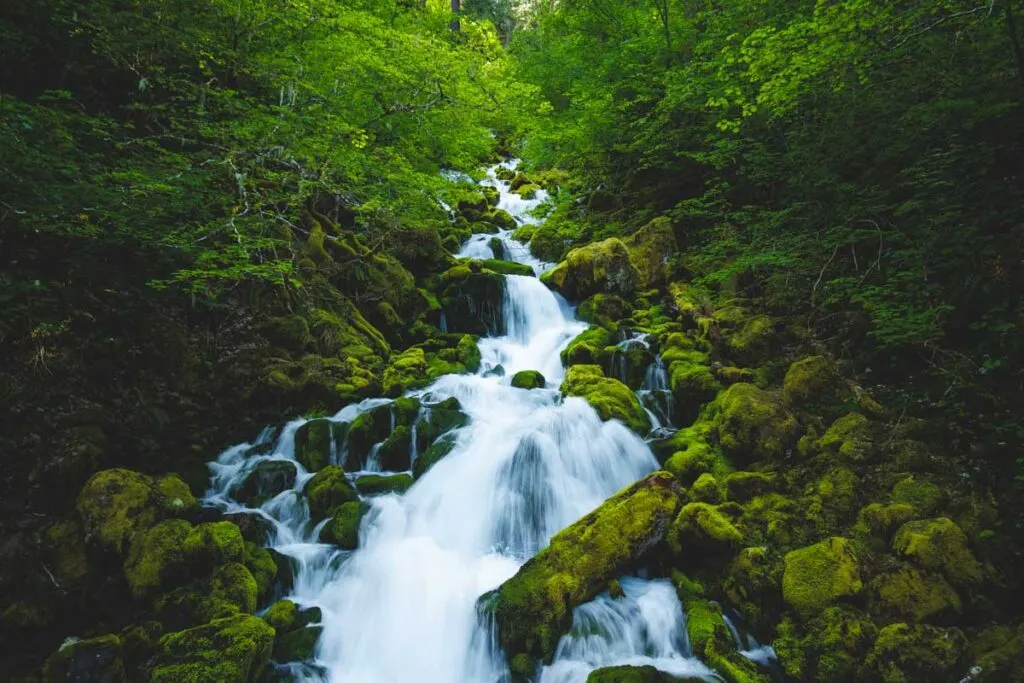 We must admit, this waterfall is STUNNING, but you'll have to make an effort to get out here. The road to get here is NF3062, and it gets bad at 2.5 miles, with the last half mile being the worst. Any car can do it, you just have to go slow. It's going to be gravel with a bunch of potholes. Be careful coming out here during the rainy season!
7. Latourell Falls
Distance: 2 miles
Type of Trail: Loop
Difficulty: Moderate
Elevation Gain: 639.76 feet
Get two Columbia River Gorge waterfalls in one with this waterfall trek. The hike is 2 miles long in total and will take you first to the lower viewing area of Lower Latourell Falls, followed by a hike up to a viewpoint of the falls from above.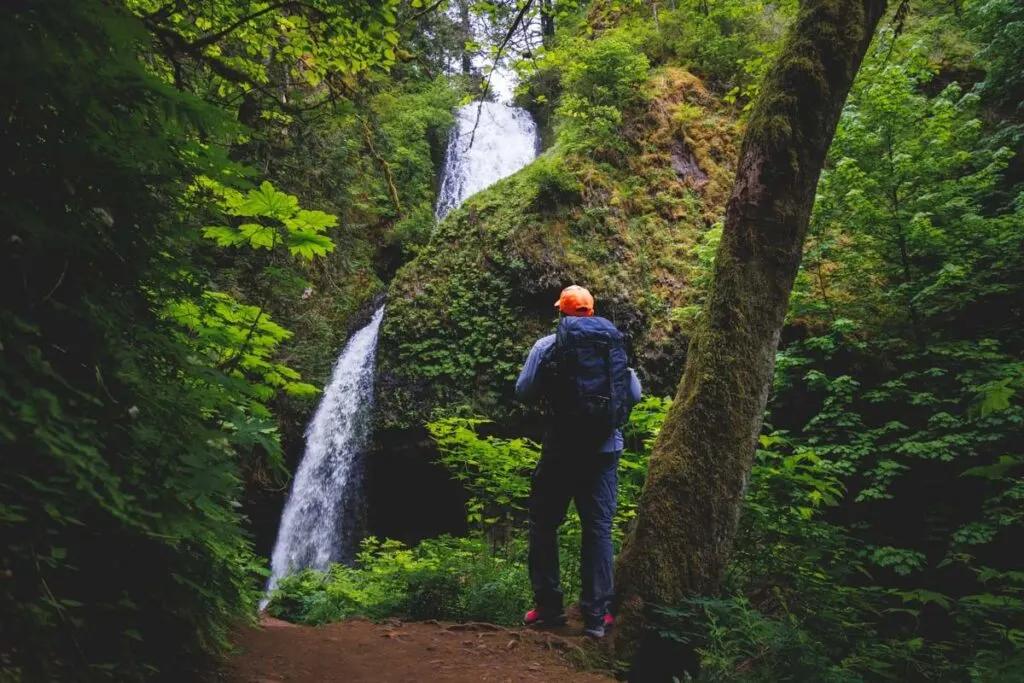 The lower falls are incredible, as it is made up of one solid plunge of 224 feet, cascading down into an amphitheater of dark, columnar basalt.
You can walk right up to it and feel the powerful spray on your face. Following this, you will continue the hike to another great waterfall, Upper Latourell Falls, via switchbacks and bridges. You then finish the hike on the other side of the creek.
The waterfall is frequently visited because it is one of the most photogenic waterfalls in the state and the closest of the major Columbia River Gorge waterfalls to the city of Portland, making it pretty accessible.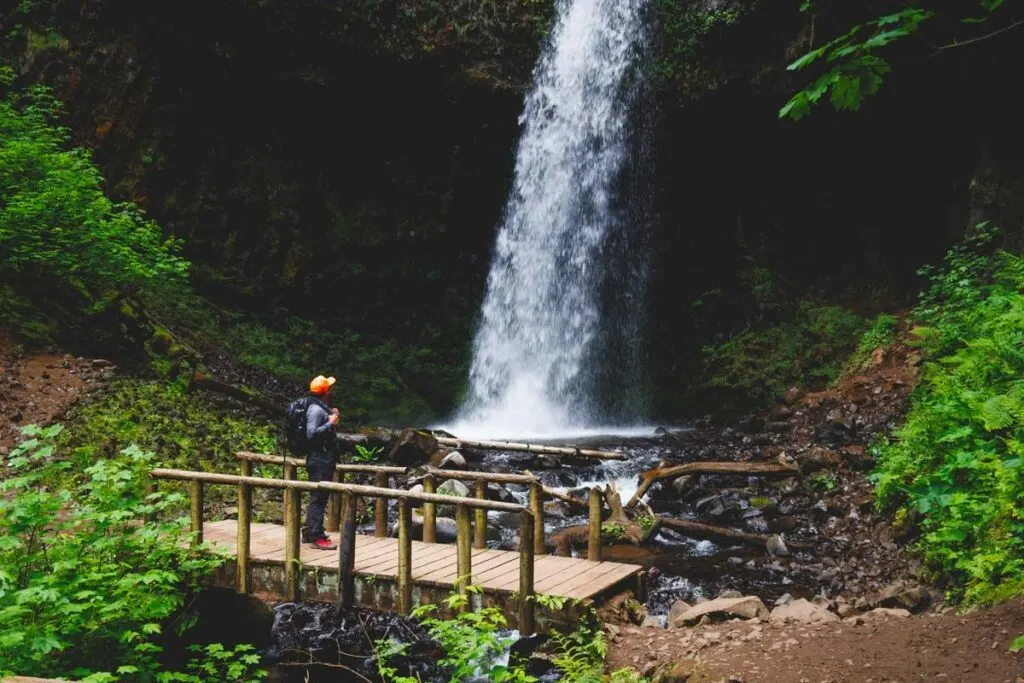 As soon as you get out of your car, chances are you will hear the roar of the falls. The first viewpoint is just a short walk along a paved pathway, so if you don't have much time, just seeing the Lower Falls is a great option.
8. Triple Falls
Distance: 3.4 miles
Type of Trail: Out & Back
Difficulty: Moderate
Elevation Gain: 823.5 feet
You may have seen a waterfall that splits in two before plunging to continue its journey along the river, but have you ever seen a waterfall that splits cleanly in three? Triple Falls does just that, yet despite its impressive looks, the trail doesn't have half the crowds that some of the more well-known waterfalls in the area have.
This majestic waterfall can be found in the Oneonta Gorge and is quite a climb to reach. Most of this area has been severely burned in the 2017 Eagle Creek fire. Therefore you won't have much forest canopy, but it is still a beautiful hike.
Start the hike from the Oneonta Trailhead, and be warned, quite a bit of climbing is involved. There are stretches of sleep inclines, some of which can be dodgy underfoot.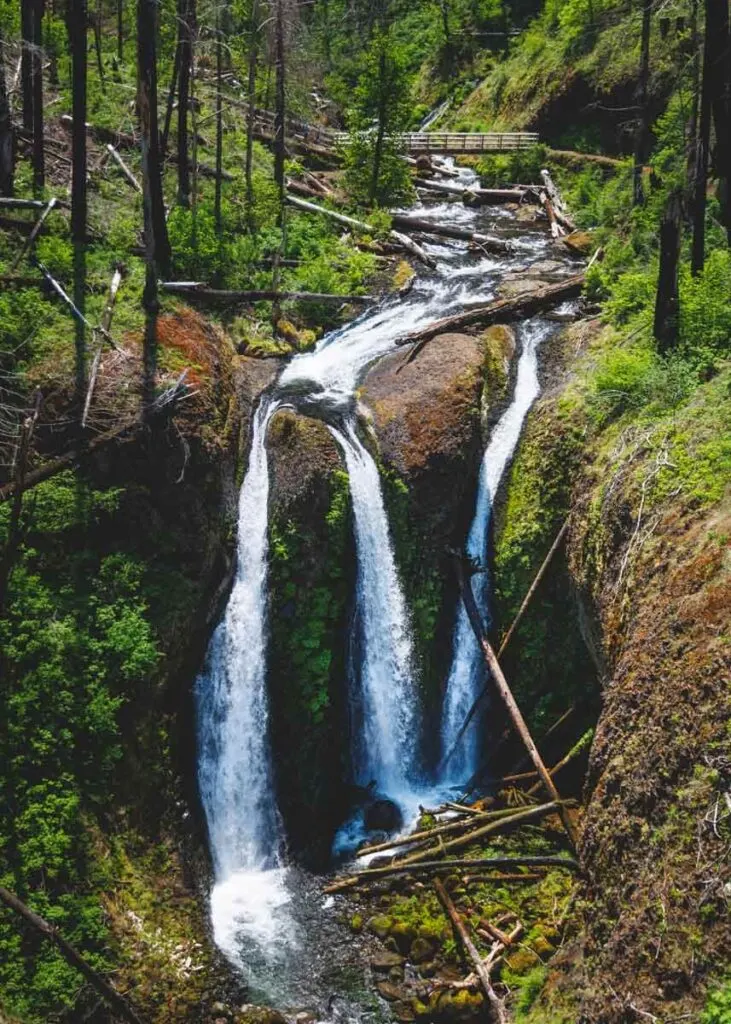 The hike starts with a strong incline. Keep left when you reach the first junction. Skirt the Oneonta Gorge and continue to climb. Although you are heading up most of the way, rest assured that you get the hardest climb out of the way first. Before long, you will reach a great viewpoint of the three distinct drops.
The trail continues on for miles and miles, so you don't have to stop at this waterfall if you don't want to!
9. Starvation Creek Falls (+ 3 Bonus Waterfalls in The Columbia River Gorge!)
Distance: 4.3 miles
Type of Trail: Out & Back
Difficulty: Easy
Elevation Gain: 145 feet
Waterfall enthusiasts rejoice as the Starvation Creek Trailhead allows you to take in not one, not two, not three, but four beautiful waterfalls in the Columbia River Gorge!
The first waterfall along the route is Starvation Creek itself. At 190 feet and in two distinct tiers, it's yet another incredible waterfall. A picnic area is right at the viewpoint, making it the perfect place to stop for lunch.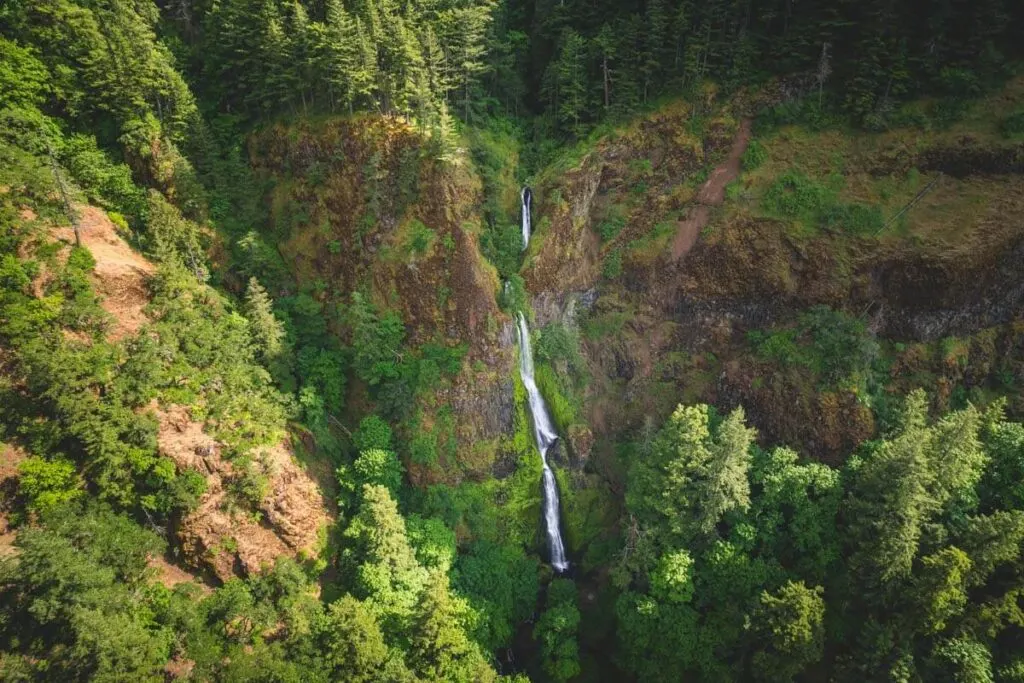 Back on the trail, you will come across Cabin Creek Falls, arguably even more impressive at 220 feet.
The last two waterfalls in the trail are Hole in the Wall Falls and Lancaster Falls. Hole in the Wall Falls is 95 feet tall and is a bit different from the other waterfalls, thanks to the fact it is manufactured. As the name suggests, the water pushes enthusiastically through a tunnel in the rock and falls immediately.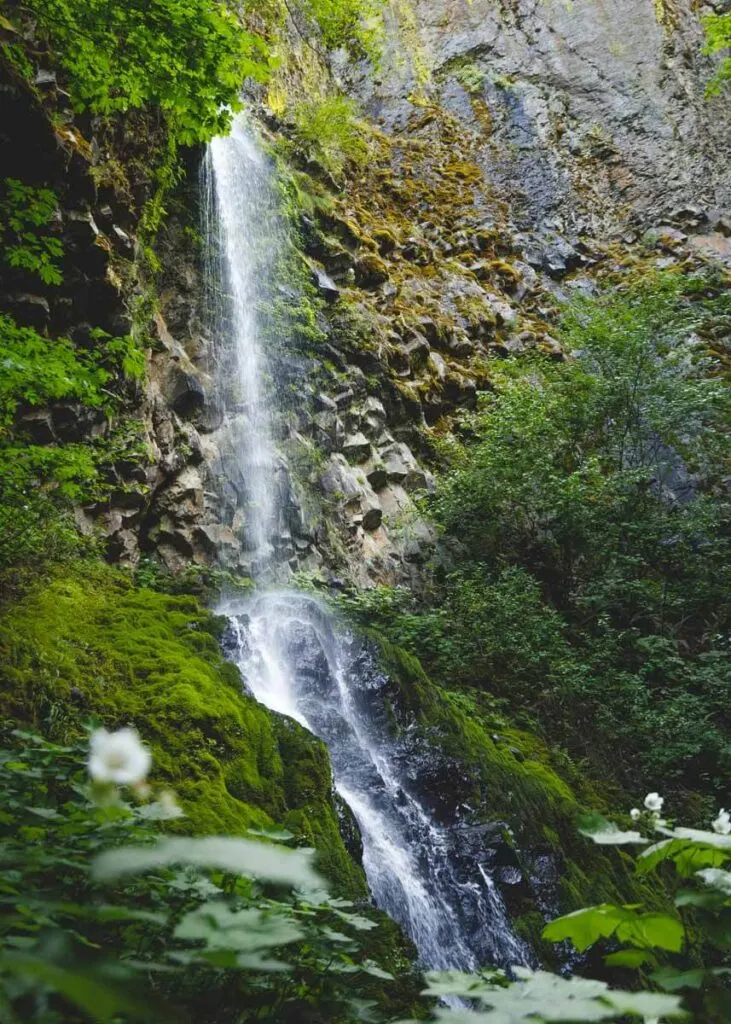 Next is Lancaster Falls, the biggest on the trail. It may not look like it at first glance, but that is probably because you're only looking at the lowest tier. Draw your eyes upwards to the upper level, which you might be able to make out beyond the trees, an impressive 250 feet by itself.
10. Punch Bowl Falls
Distance: 4.8 miles
Type of Trail: Out & Back
Difficulty: Moderate
Elevation Gain: 1020.34 feet
The hike to Punch Bowl Falls is one of the most popular hikes in the Columbia River Gorge or even Oregon. The falls are not huge, at 35 foot tall and 10 foot wide, but its surroundings make it so popular.
At the point of the falls, Eagle Creek powerfully rockets through a small channel and out into the rocky bowl that gave the falls its name. In fact, this waterfall started the waterfall classification of 'punchbowl.'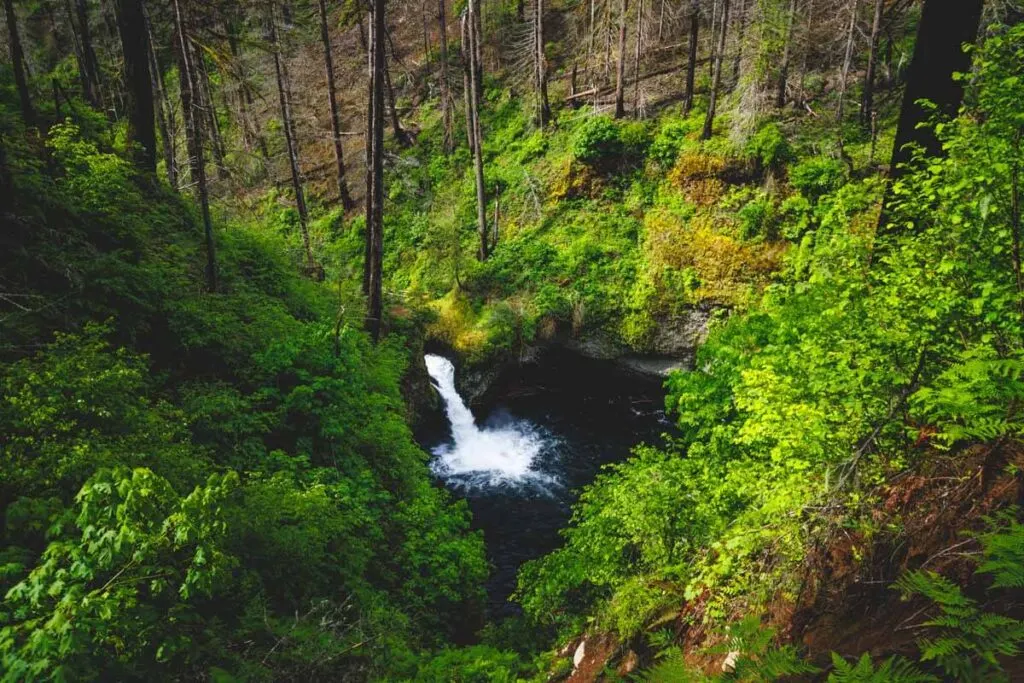 During the warmer weather, you can reward yourself after the hike with a refreshing dip in the water at the base of the falls. It may be a bit of a scramble, but it is worth making it to the base of the falls to relax.
The trail to the falls is known as Eagle Creek to Punchbowl Falls. Start the hike at the Eagle Creek Bridge, and although it is not a challenging hike, there are a few water crossings and steep rock faces to consider. It is a wonderfully scenic hike, as huge basalt cliffs will accompany you, and water views most of the way up.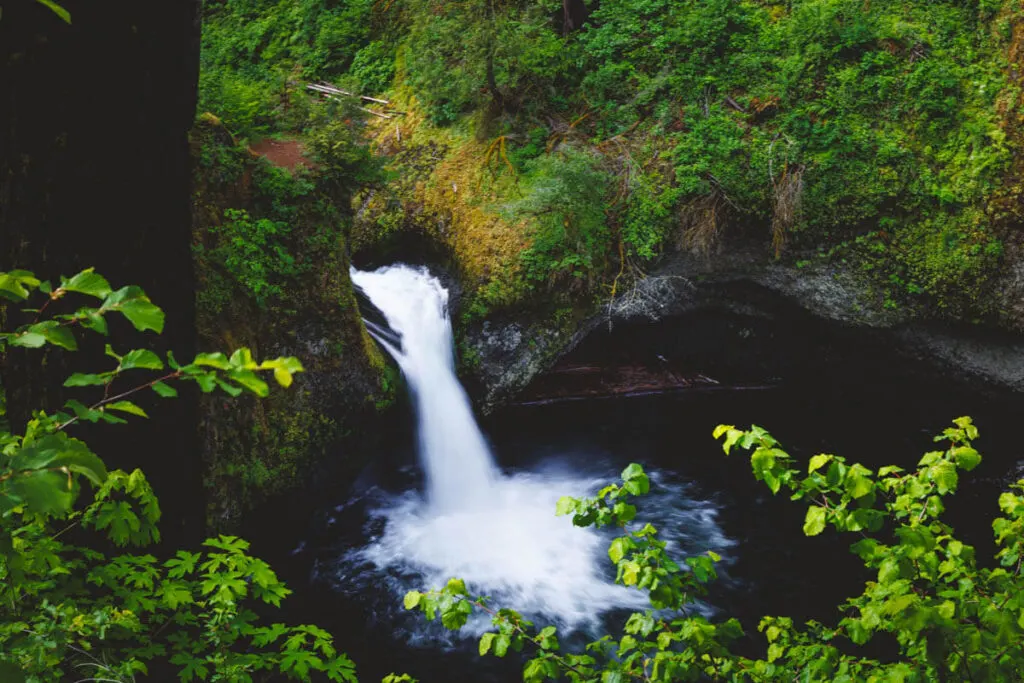 Don't want to stop walking? Have more time? Amazing! This next waterfall in the Columbia River Gorge is on the same trail!
11. Tunnel Falls
Distance: 13.6 miles
Type of Trail: Out & Back
Difficulty: Hard
Elevation Gain: 2362.2 feet
Tunnel Falls allows you to walk behind a huge waterfall through a tunnel. The waterfall is impressive, although you will have to tackle a LONG hike to reach it. The hike is part of the adventure, though, as you'll enjoy plenty of other waterfalls along the way, plus walk over a bridge that towers 300 feet above a narrow basalt chasm.
The trail starts on the same path as the one to Punchbowl Falls (mentioned above), and most people will turn around at this point, but if you are lucky enough to have the luxury of time, we recommend you push on.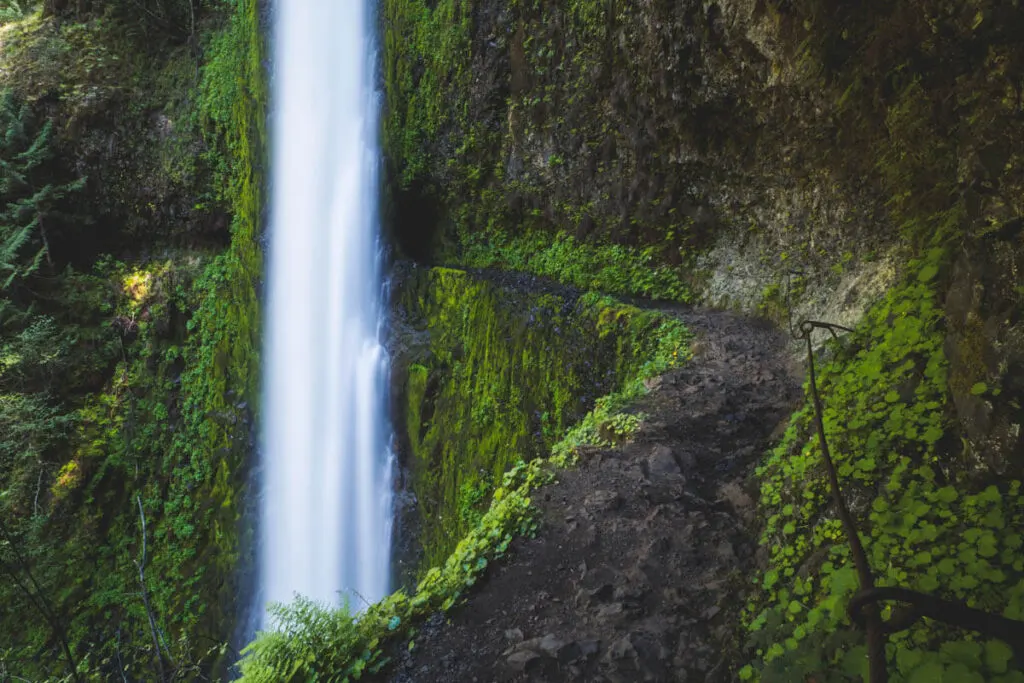 Once you finally reach the waterfall, you can choose whether you want to venture into the damp tunnel behind the waterfall and continue (I hope you brought your tent to stay overnight!) or turn around and head back. The water cascades down a sheer cliff face, covered in sparkling green mosses, and into a clear basin of water below.
---
RELATED: 25 Columbia River Gorge Hikes + Other Adventures
---
12. Bridal Veil Falls
Distance: 0.5 miles
Type of Trail: Out & Back
Difficulty: Moderate
Elevation Gain: 121.4 feet
Bridal Veil Falls offers a short and sweet hike of half a mile. There are a couple of options when viewing the falls, depending on whether you just want a viewpoint or want to venture down to the base of the falls. We recommend doing both!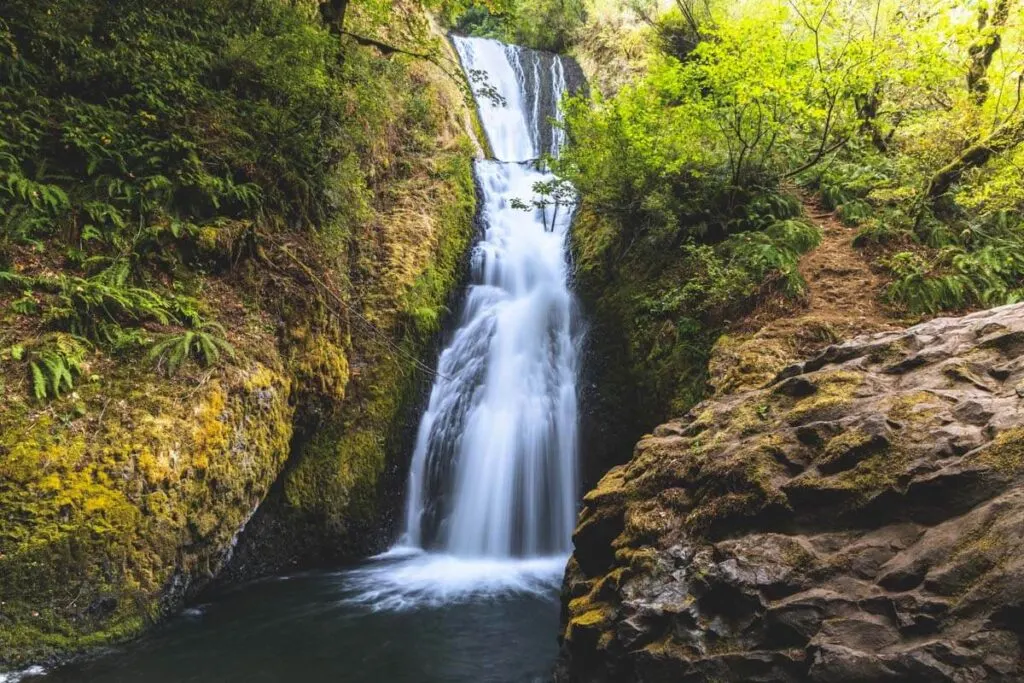 The most well-trodden trail is the universal access path. As well as the waterfalls, you will also get a great view of the Gorge and Pillars of Hercules rock formation.
To get down to the base of the falls, the hike is still short and sweet, although there is some more elevation change using stairs. Therefore it is not as accessible as the main trail.
The waterfall is beautiful and is your classic bridal veil formation, with the water trickling over the moss-covered rocks.
13. Multnomah Falls (The Most Popular Columbia River Gorge Waterfall)
You can't have a list of waterfalls in the Columbia River Gorge and NOT mention Multnomah Falls. It is one of the most iconic waterfalls in the region and on most people's Oregon Waterfall bucket list if they have such a thing. In fact, in 2023, it will be the most visited attraction in Oregon, just to give you an idea of how popular it is.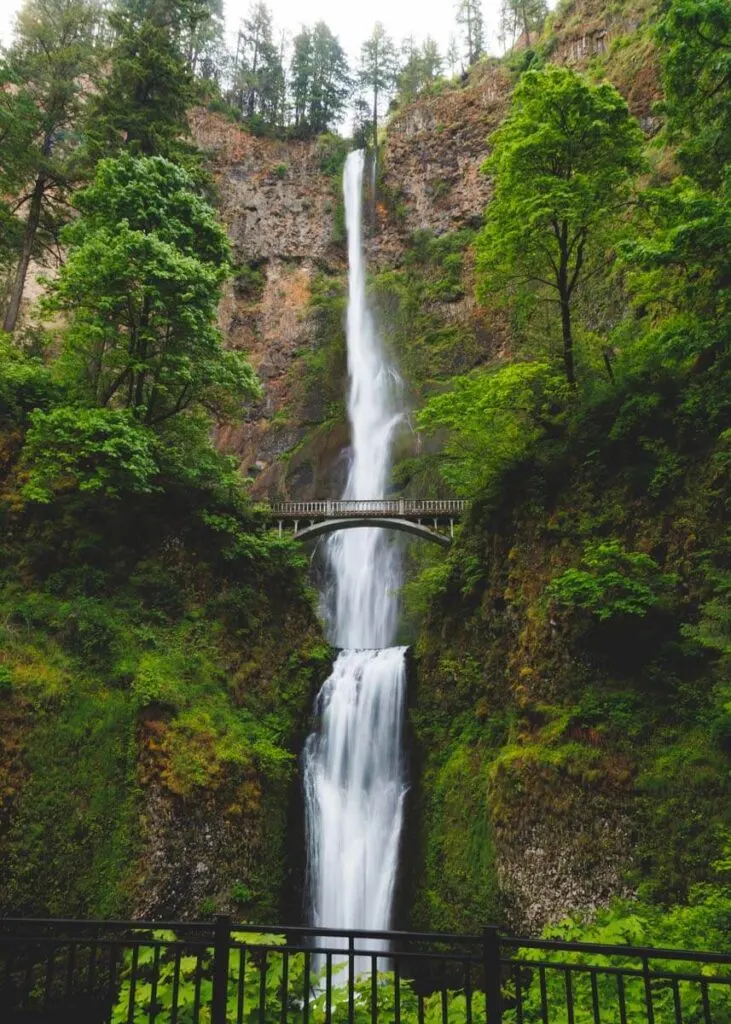 The waterfall falls in two distinct tiers, which you can see from a few different viewpoints. In total, it is a powerful 611-foot-tall waterfall. Benson Bridge sits at the base of the first tier, offering a clear view of the 542 first tier and a brilliant way to look over the top of the smaller second tier.
If you are interested in JUST seeing the waterfall, one of the easiest ways to reach it is by using the nearby parking lot, which gets you close to the waterfall. You may need a timed permit to park here, depending on the time of year.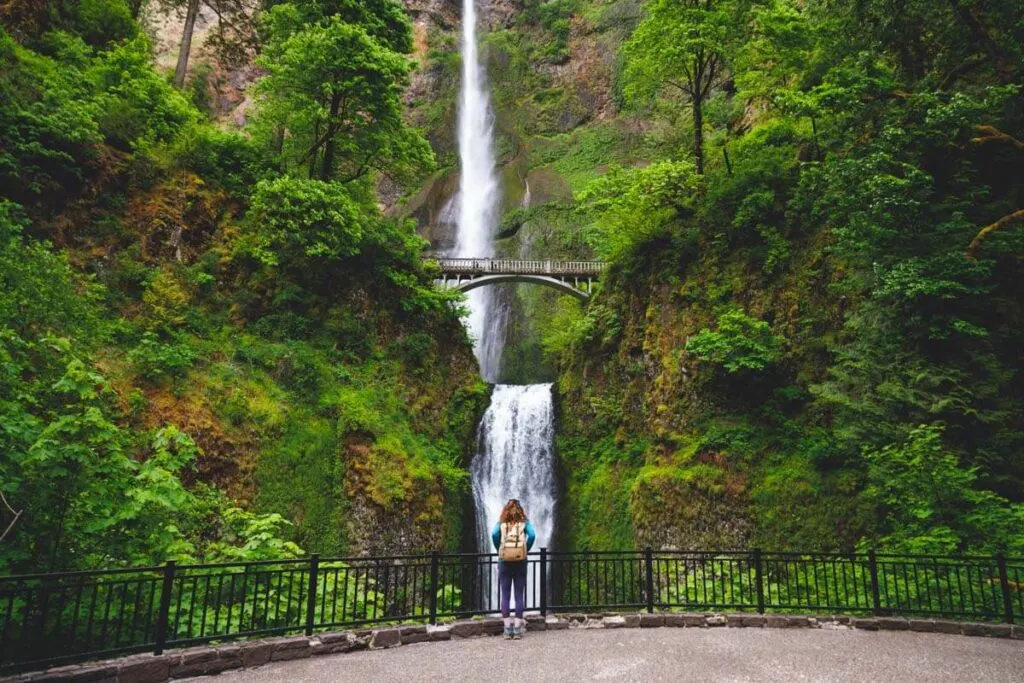 Your best chance of seeing the falls without so much of a crowd is to visit as early as you can in the morning, so you could go camping in the Columbia River Gorge as we do, so you won't have as far to travel when you wake up.
Now while there's not really a hike to see Multnomah, especially if you don't even want to head up to the bridge, you might like to know there are some 'semi-secret' falls just behind it…
14. Multnomah's BONUS Waterfalls in The Columbia River Gorge!
Yes, Multnomah Falls has some BONUS waterfalls! You can combine your trip with seeing three other incredible waterfalls as part of a longer hike, which we highly recommend doing!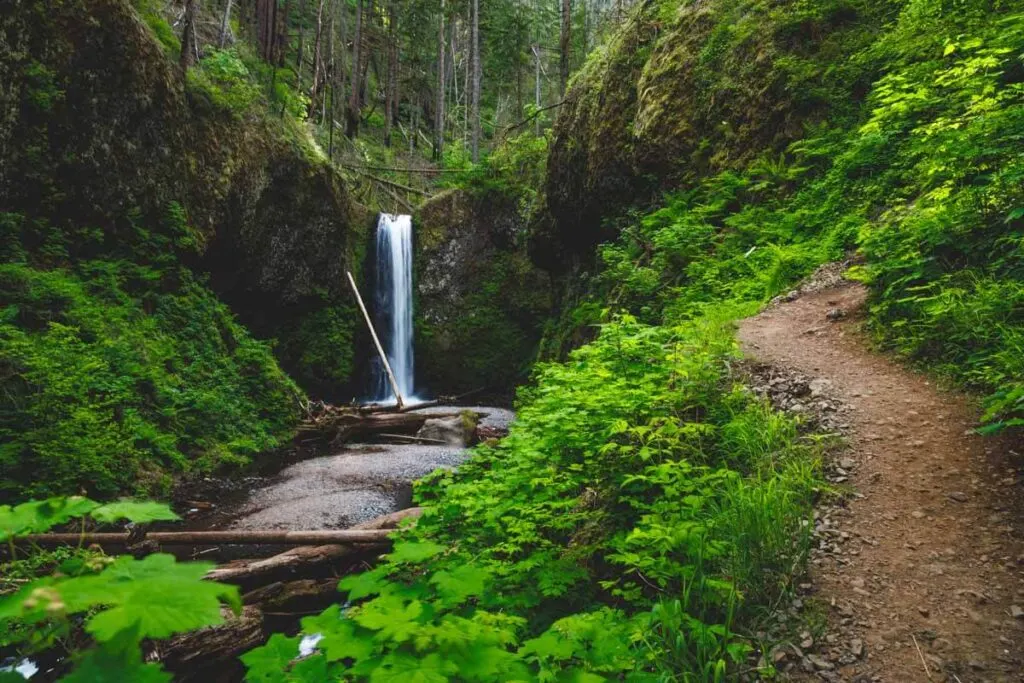 Dutchman Falls, Wiesendanger Falls, and Ecola Falls are just a hop, skip, and a jump away! OK, fine, it's more like 2 miles one way, but still, if you want to get away from the crowds at Multnomah and see waterfalls in the Columbia River Gorge that most people miss, keep walking.
Walk up, up, up from Multnomah, and you'll quickly reach the next three falls making your visit to the most famous waterfall even more worth it. And if you still don't want to stop, you can even make a big 'ol loop and see Wahkeena Falls, too, like we mentioned above!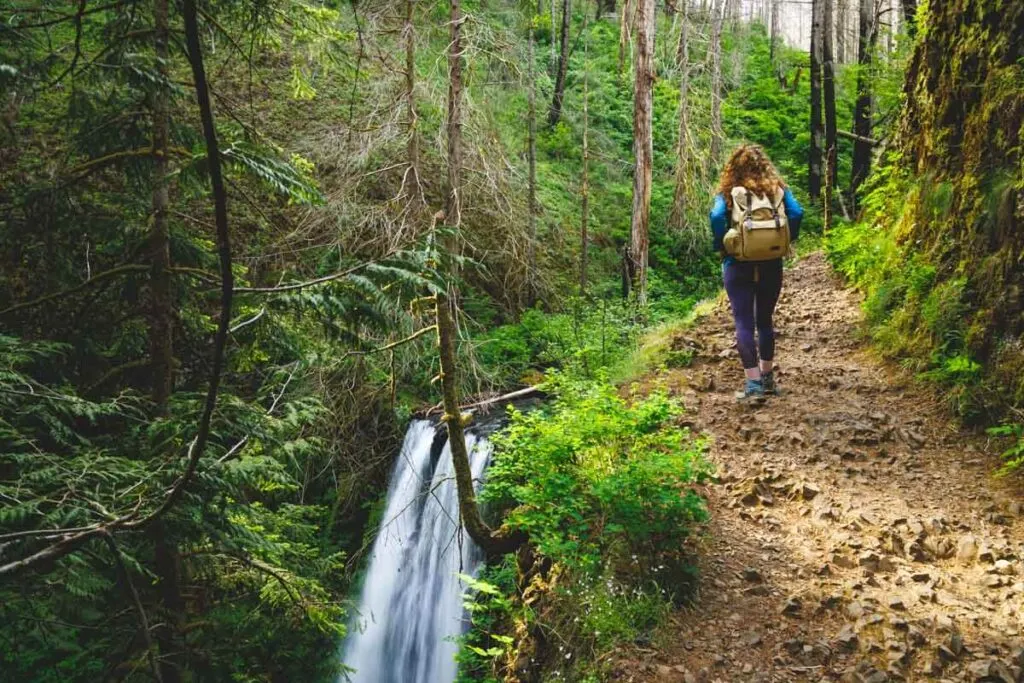 TIP: DO THE LOOP! This might be one of the most worthwhile hikes in the entire area. It's certainly our favorite.
---
RELATED: 17 Amazing Spots to Go Camping on The Columbia River Gorge
---
15. Elowah Falls and Upper McCord Creek Falls
Distance: 2.42 miles
Type of Trail: Out & Back
Difficulty: Moderate
Elevation Gain: 862.86 feet
Benefit from seeing two waterfalls in one on the Elowah Falls and Upper McCord Creek Falls hike. However, the hike spits into two separate paths, so if you are limited on time, you can just visit one of the waterfalls as well.
You only have to hike for 0.3 miles until you reach the intersection, and at this point, you can either go up to Upper McCord Creek Falls or down to Elowah.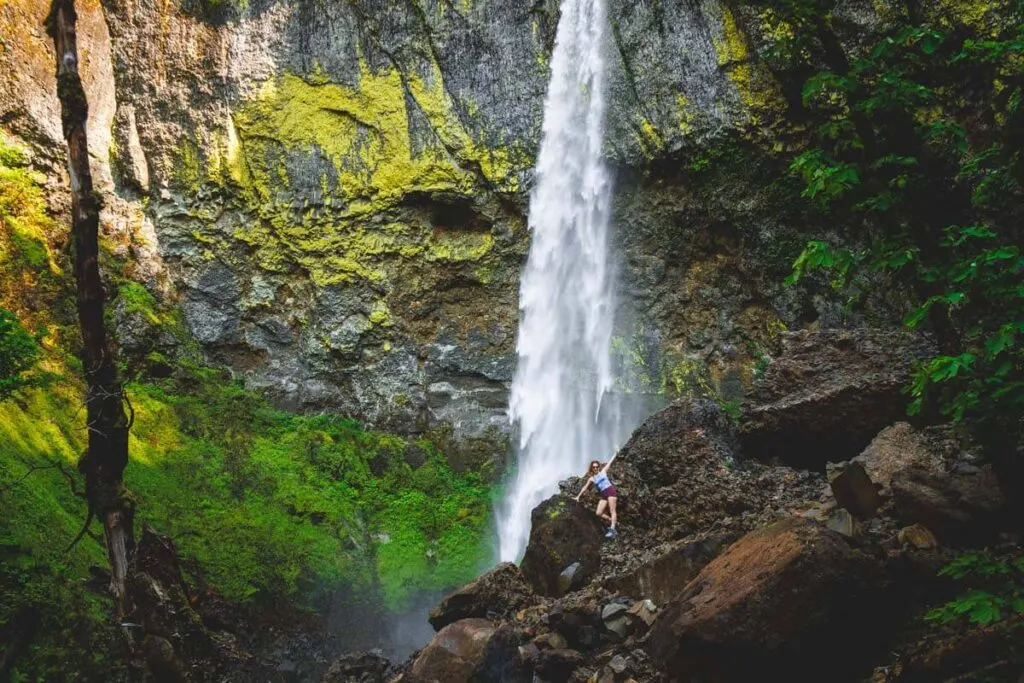 Let's start with Elowah Falls. To reach it, take the left path that starts heading down, down down into a steep ravine. You'll be able to get the best view of the falls from the footbridge at its base. At 213, it is a reasonably sizable waterfall, covering you in a thick spray of mist as the water hits the plunge pool at the bottom.
The hike on the right to Upper McCord Creek Falls is often considered a bit tougher, as the switchbacks are carved into the cliff as you ascend, and it is quite a climb. Although you will be watching your footing often, don't forget also to take in the views over the Columbia River, Table Mountain, and Mount Adams.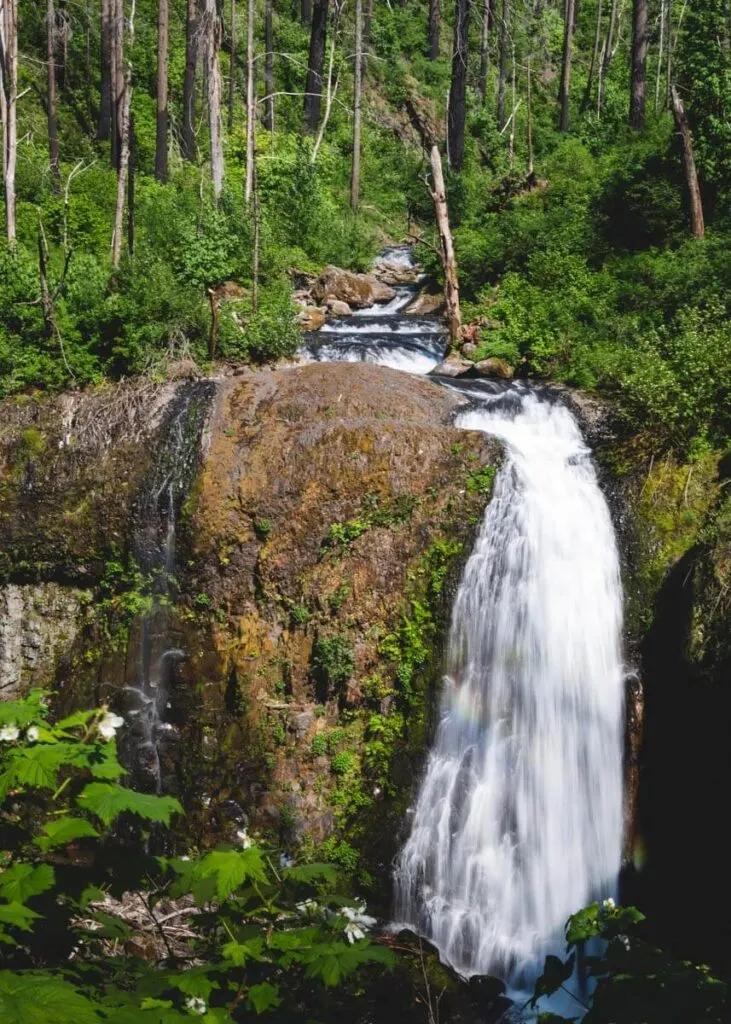 Don't worry; you won't have to climb that long, as in just under a mile, you will get your first glimpse of Upper McCord Creek Falls and even Elowah Falls below. This waterfall is smaller at 64 feet, but it is very cool to see how it splits evenly into two around a large rock.
While McCord might not be the most impressive waterfall in the Columbia River Gorge, the views getting to it make it worth it.
16. Dry Creek Falls
Distance: 4.4 miles
Type of Trail: Out & Back
Difficulty: Moderate
Elevation Gain: 860 feet
Dry Creek Falls is quite an impressive waterfall and well worth the hike, in our opinion, and it certainly is not dry! The fact that you need to walk for a bit before reaching it means you are more likely to avoid the crowds. This spot just isn't that crowded, but hey, we're not complaining!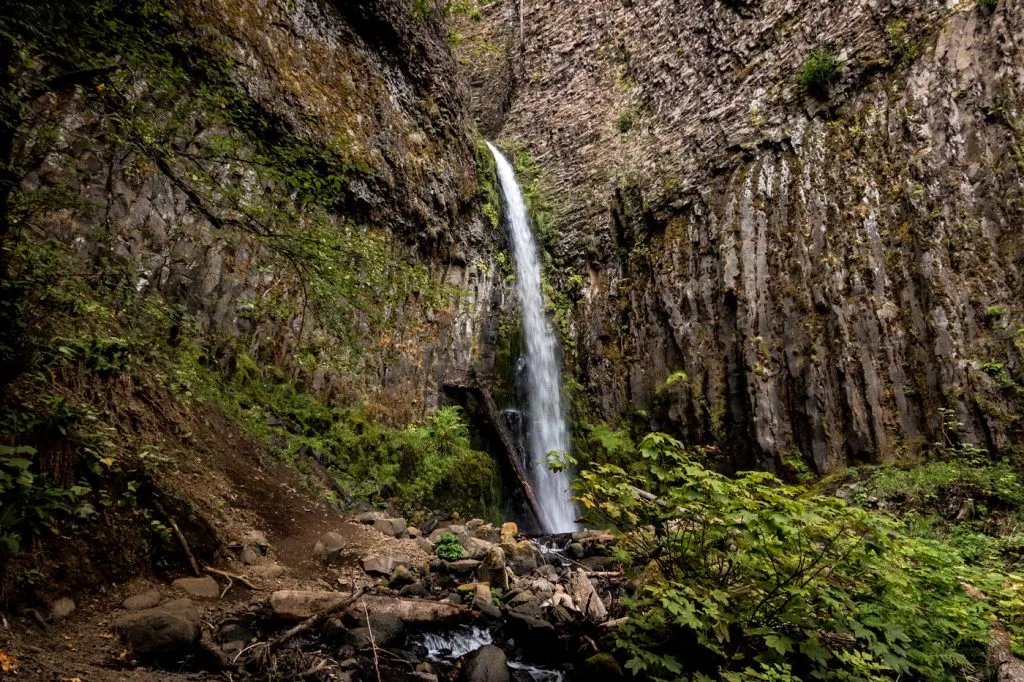 Start the hike from the Bridge of the Gods Trailhead, leaving your car at the Toll House parking lot, and begin heading along the Pacific Crest Trail. Slowly, the sound of the road will die away as you are immersed in the thick forests.
The waterfall crashes noisily over a solid basalt wall, plunging 74 feet into a mossy amphitheater. The stream of water is narrow, but pouring from the vertical pillared wall is something to see. You can use the concrete "bridge" that was once used to provide water to the residents of the area to cross over to another viewpoint. You can then turn around and head back the way you came.
17. Rodney Falls (Underrated Columbia River Gorge Waterfall on The Washington Side!)
Distance: 2.2 miles
Type of Trail: Out & Back
Difficulty: Easy
Elevation Gain: 700 feet
We have thrown a bit of a random waterfall in the Columbia River Gorge into this list. We think of Rodney Falls as a true hidden gem and can let you in on the secret. It can be found on the Hamilton Mountain hike in Washington.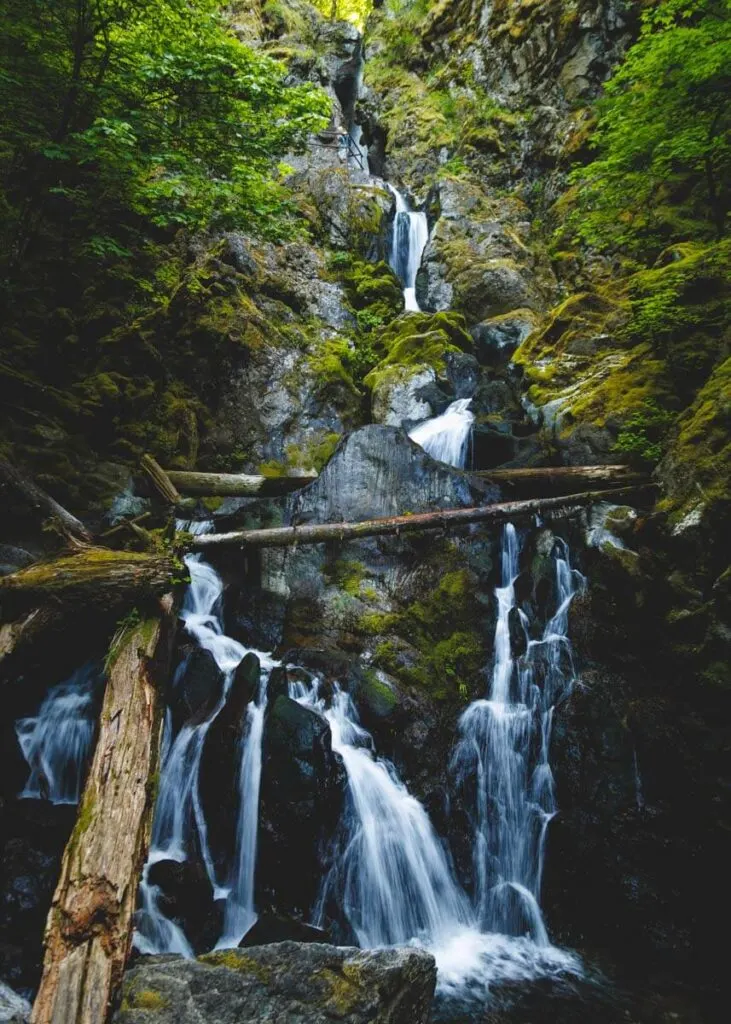 Rodney Falls is not anything spectacular, but it sure is pretty. It flows into two distinct tiers down along Hardy Creek. If you want the best view, stand on the strategically placed footbridge at the waterfall's base.
You also have the option of viewing the waterfall from above, as a viewing platform sits at the top of the waterfall. The top tier is hidden slightly from view, nestled deep into a rocky fissure dubbed The Pool of the Winds. The water rushes for 20 feet down the rocky chute into a whirlpool of water.
The cave-like structure got its name because wind seems to emanate out of the cave continuously, so if you are hiking on a hot day, stand close to the water for a lovely, breezy respite.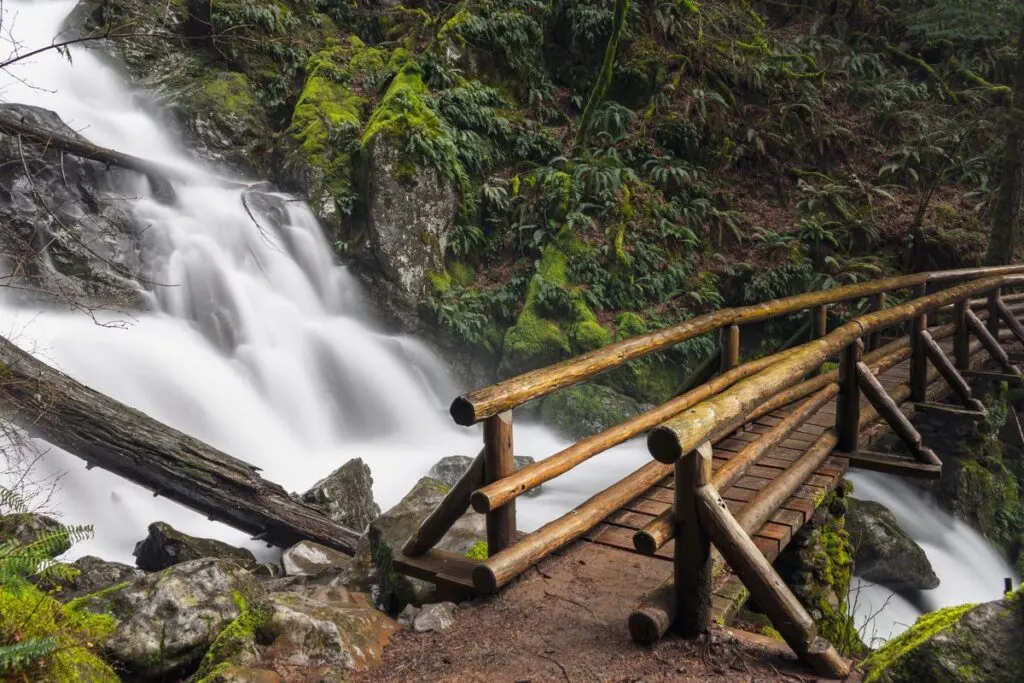 The second part of the cascade is the most visible; this is the bigger tier with a 45-foot drop and is easily viewable from the footbridge below.
After checking out the waterfall, you can either turn around and head back down or have a quick rest before mustering the strength to power up Hamilton Mountain.
RECOMMENDED OREGON ADVENTURE GEAR:
Tried and tested gear that we use around Oregon and the PNW!
Hiking and Camping
Road Trip
Clothing Gear
Car Rental:
Well, that's it! Over 17 epic waterfalls in the Columbia River Gorge to go chase…We hope this helped you plan your trip!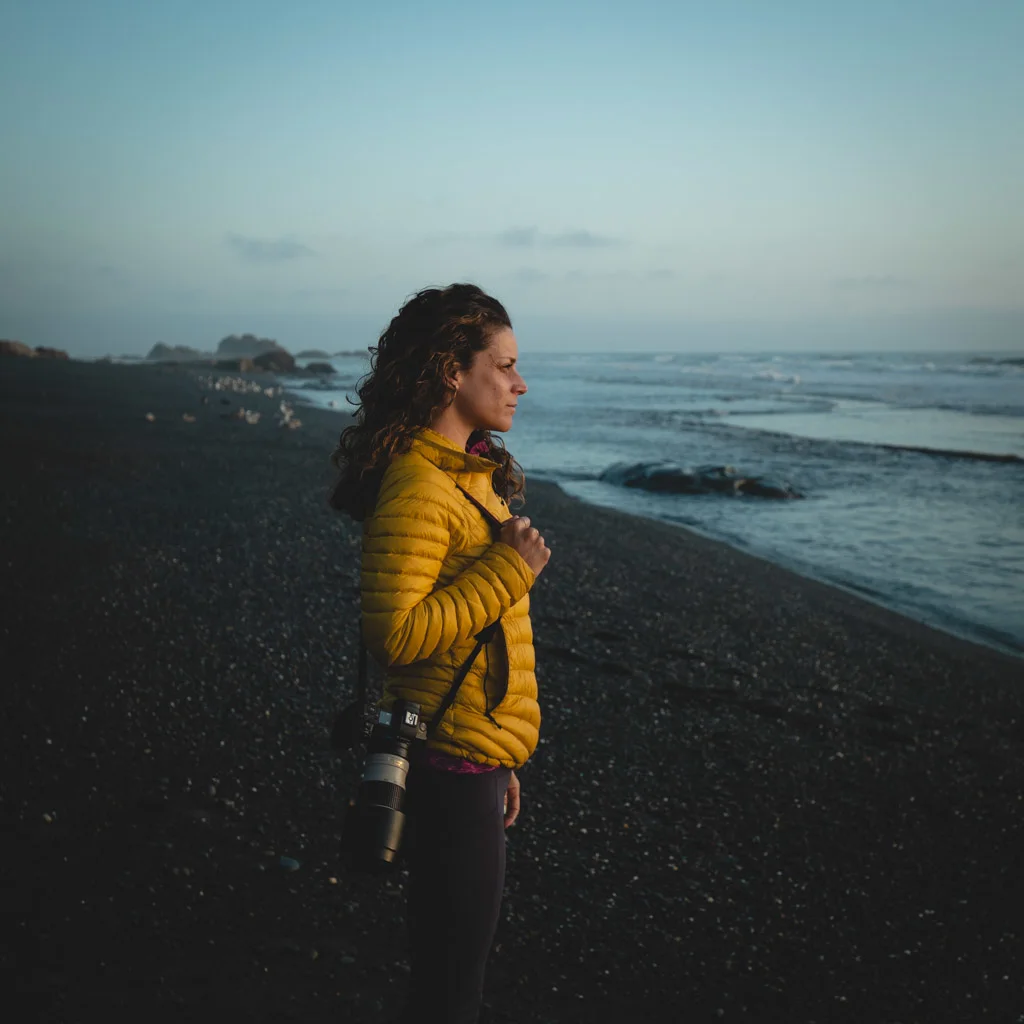 I've been perpetually traveling and living around the world for years but it's hard to beat Oregon and the PNW. After years of road-tripping the area, I guess you can say I know it pretty well! When I'm not writing guides for you, you can catch me somewhere petting a dog, attempting to surf, hiking a volcano, or stuffing my face with bread and cheese.