After waiting an hour for a Voodoo donut and getting a selfie with the "Portland is Weird" sign, you may be ready to see what else Portland offers… (JK, there's a lot more than this, we just aren't city people!)
Don't get us wrong, we LOVE Portland but mostly because of its proximity to so many badass places to go. Cascading waterfalls, insane mountains, surf, and sand are all under two hours away from this diverse city. Yep, Portland is really an outdoor-lovers dream city.
Don't hate us, but if you're looking for epic Portland day trips or ideas on how to road trip around Portland, our list will keep you busy for almost a MONTH. Sorry, not sorry?
25 Portland Day Trips and Road Trip Ideas
---
As you'll notice, we separated all of our Portland days trips into three sections to better organize everything for you. There are the places on the coast (yellow), the Columbia River Gorge (blue), and Mount Hood (purple).
At the end of our list of all the cool things to do around Portland, you'll find some road trip suggestions to help you as well if you're looking to hang around for a few days!
Day Trips From Portland on the Columbia River Gorge
30 minutes to 1.5 hours from Portland
The Columbia River Gorge has a little something for every outdoor enthusiast. Dreamy waterfalls, challenging hikes, jaw-dropping vistas, and aquatic activities, just to name a few.
And best of all? The quickest day trips from Portland to the Gorge only take about a 30-minute drive. Some adventures will take you over an hour to reach, but that still gives you plenty of time to explore one of Oregon's most spectacular regions.
RECOMMENDED GEAR:
1. Windsurfing at Hood River
How about a trip to the windsurfing capital of the world? This exhilarating day trip from Portland was made for those with a craving for adrenaline. The Columbia River Gorge creates a glorious backdrop, and the exposed portions of the river help riders catch big air.
Don't worry if you're a beginner who has never hopped on a board before. There are plenty of swells here ideal for newbies and the biggest windsurfing daredevils. Blustery winds barrel through the canyon right onto Hood River, but sheltered coves protect those trying the sport for the first time.
There are tons of windsurfing shops giving lessons on the calmer areas of the river, and beginners often conquer their first swells in minutes.
2. Wahkeena and Multnomah Falls Loop Trail
Distance: 4.7 miles
Type of Trail: Loop
Difficulty: Moderate
Multnomah Falls is not only one of the Gorge's most spectacular waterfalls, but it's one of the state's crown jewels. The waterfall itself is a must, but adding this looped hike takes you to several other worthy cascades.
You'll hike past Wahkeena Falls, Ecola Falls, Fairy Falls, and others before reaching Multnomah Falls on this loop trail. Enjoy the quieter side of the loop and listen to the peaceful creek approaching each waterfall beside the trail.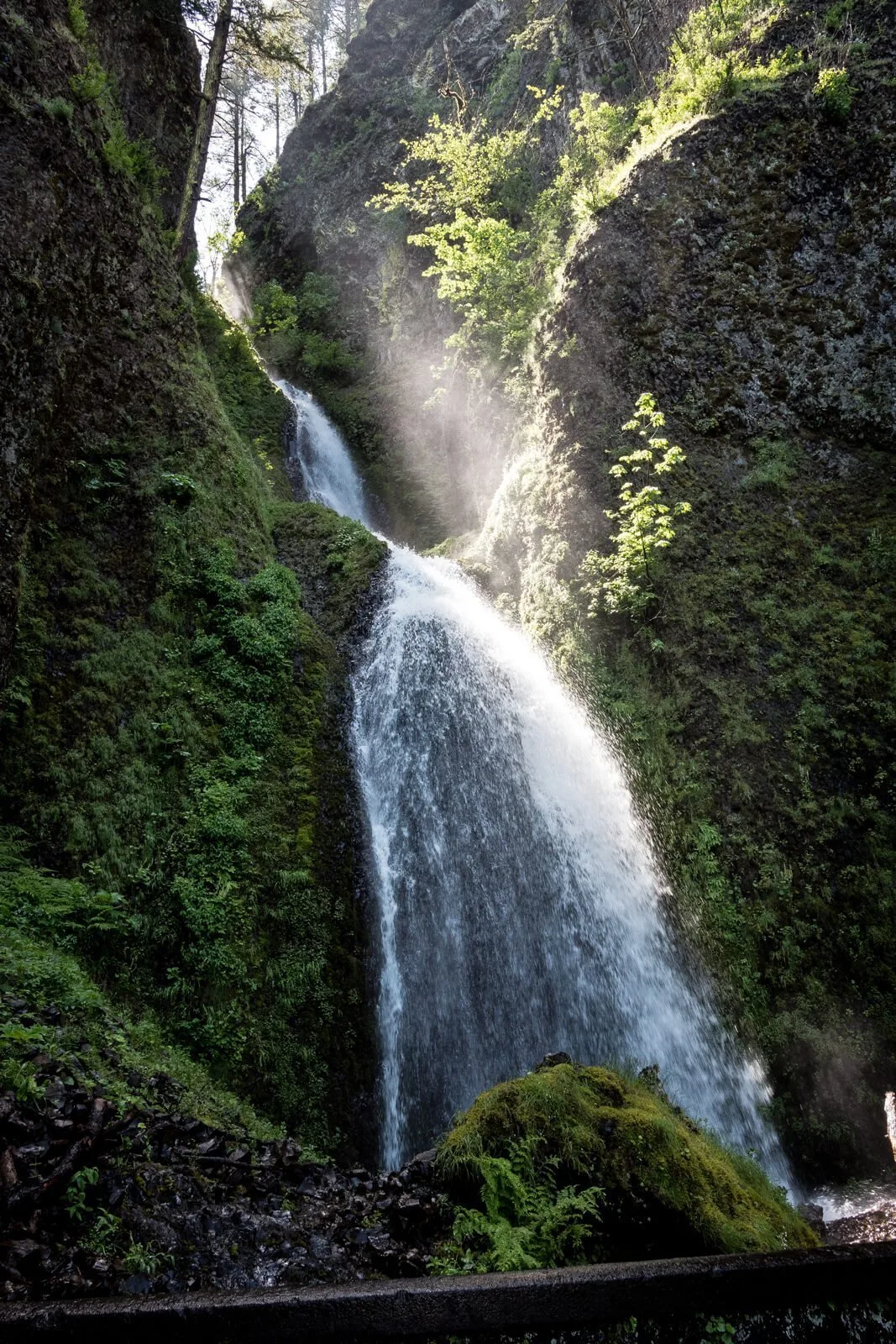 The trail makes a steady elevation gain of over 1,500 feet before coming out at the top of Oregon's tallest waterfall. Take in the sensational views and feel the rush of the falls on this famous day trip from Portland.
→ If you don't have access to a vehicle, join this awesome waterfall hiking tour to the Columbia River Gorge from Portland!
3. Bridal Veil Falls
Distance: 0.5 miles
Type of Trail: Out & Back
Difficulty: Easy
This short hike is great for all skill levels and presents one of the Gorge's most picturesque waterfalls. Follow the paved path to the viewpoint that gives you a spectacular vantage of the Pillars of Hercules.
Alternatively, you can follow the stairs and face a series of steep inclines to reach the base of the falls.
Although the trail is in great condition, it can get slippery after rainfall. Make sure to arrive early or during the week to beat the large crowds that flock to the trail.
---
RELATED: Waterfalls Near Portland: 17 Gorgeous Waterfall Hikes
---
4. Dry Creek Falls
Distance: 3.6 miles
Type of Trail: Out & Back
Difficulty: Easy
Not only is this surreal waterfall a popular Portland day trip, but it can also easily be reached off the Pacific Crest Trail. Start from the Bridge of the Gods trailhead and hike alongside the creek with gorgeous woodland scenery in every direction.
Pass Douglas-firs, hemlocks, and blooming wildflowers if you hike during the spring. Before making it to the falls, you'll notice an intriguing series of lava boulders blending with the trees.
Dry Creek Falls is situated in what appears to be an amphitheater carved by the hands of Mother Nature. Feel the cooling mist against your face while taking in the grandeur of the basalt column wall around the falls.
---
RELATED: 43 Best Things To Do in Portland, Oregon For Adventurers
---
5. Ponytail Falls
Distance: 0.8 miles
Type of Trail: Out & Back
Difficulty: Easy
Forest fires left a harsh scar in this section of the Gorge, but you can still enjoy a beautiful Portland adventure here. The trail only takes you to Ponytail Falls and the hypnotizing pool created by the cascade.
You'll have the chance to stand directly behind the falls for a magical view of the forest. Even though the path is closed beyond this point, seeing just Ponytail Falls is a Portland day trip not to pass up.
6. Latourell Falls Loop Trail
Distance: 2 miles
Type of Trail: Loop
Difficulty: Moderate
This loop may have a few muddy patches, but you'll gain incredible waterfall views in return. The trail is packed with lush greenery as it meanders around Lower and Upper Latourell Falls.
You can even stand close to the rear of the falls for dramatic shots of basalt columns and evergreen trees. There is marginal elevation gain on the way up but nothing too strenuous for those in at least relative shape.
→For a fun and active tour to Latourell Falls and other beautiful falls in the Columbia River Gorge, take this hike and bike waterfall tour from Portland.
7. Mount Defiance Trail
Distance: 12 miles
Type of Trail: Loop
Difficulty: Hard
You'll stare defiance right in the face during this leg-burning adventure from Portland. With 5,072 feet of elevation gain, your legs are in for a serious workout.
However, no other trail in Starvation Creek State Park offers dramatic panoramas like this one. With clear skies, you'll see soaring peaks like Mount Hood, Adams, and Rainier.
Plus, the path takes you by four cascading waterfalls within the first couple of miles. Those who would rather skip the rest of the trail can turn back after the waterfalls, but hardy trekkers can keep on trucking towards the shimmering Warren Lake.
The descent is brutally steep, which can present a difficult challenge for those with knee problems.
---
RELATED: A Guide to the Columbia River Gorge – 25 Hikes + Camping, Windsurfing, and More
---
8. Indian Point Loop
Distance: 7.3 miles
Type of Trail: Loop
Difficulty: Hard
Get your climbing shoes ready for this difficult trek as you cover 3,185-feet of elevation gain.
This hike is worth the challenge as you'll be greeted with sweeping views of the Columbia River Gorge. There are several other trails branching off the loop, which can easily make this one of the more exhausting Portland adventures.
You'll see areas with fire damage, but this has led to a plethora of wildflowers to bloom along the trail. Once you've made it through the treacherous climb, you'll have impressive views of Douglas-firs, the mighty river, and even Mount Hood.
Long pants are highly recommended for this trail since you'll encounter poison oak.
9. Herman Creek Trail
Distance: 19.8 miles
Type of Trail: Out & Back
Difficulty: Hard
This day trip from Portland requires an early start, but this trail lets you explore large portions of the wilderness. You'll use the same trailhead as Indian Point Loop, and with 5,150-feet of elevation gain, your legs are in for a long day of climbing.
You'll pass numerous waterfalls at certain times of the year, which includes some creek crossings. The dense forest and tranquil sounds of the flowing creek make this a wonderful place for solitude.
Just make sure to protect yourself from poison oak by wearing long pants and sleeves.
→ There are a couple of really fun and unique ways to experience the Columbia River Gorge – by taking a flightseeing tour from Portland and from the water on a sailing tour on a classic yacht!
Where to Stay Around the Columbia River Gorge
Ainsworth State Park: Ainsworth Campground is located right in Ainsworth State Park, and it's pretty central to any spot in the western Gorge area. There are about 40 full-hookup spots you can reserve along with six walk-in tent sites.
Deschutes River State Recreation Area: Located where the Deschutes River flows into the Columbia, this campground is a great spot to access the east end of the gorge. It has 34 electrical sites and 25 primitive sites.
Viento State Park: Viento State Park is in a great area, though it's a bit less popular than other campsites. That means there's almost always a spot to camp when other sites are full.
Conductor's Cottage: This cozy cottage is located right across from the river on the Washington side of the gorge. It has two bedrooms, a well-equipped kitchen, and mountain views.
Dragonfly Creek Retreat Cabin: Located in Mosier, this artsy cabin sits on 24 wooded acres with a seasonal creek. It's only two miles from town but it feels secluded and wildlife abounds.
Cottage in the Heart of the Gorge: This beautifully remodeled cottage in Mosier has river views, which are best enjoyed from the deck. It has everything you need for a relaxing and comfortable vacation.
Day Trips From Portland Around Mount Hood—Hikes & Lakes
1 to 2 hours from Portland
Oregon's tallest mountain sits at the doorstep of Portland, and the pristine forest surrounding this snowy peak is full of thrilling day trips. There are tons of hiking trails that give you incredible views of this iconic peak and take you to many of Oregon's picturesque lakes.
Whether you're an avid trekker or you prefer a calmer day by the lake, the Mount Hood Wilderness has a bevy of Portland day trips at your fingertips. Some are just over a 1-hour drive from Portland, while others are closer to the 2-hour range.
---
RELATED: What to Do at Mount Hood in Winter
---
10. Tom Dick and Harry Trail
Distance: 9 miles
Type of Trail: Out & Back
Difficulty: Moderate
The Tom Dick and Harry Trail presents Mount Hood in all her glory and goes around the sparkling Mirror Lake.
The trail has a steady elevation gain of 1,705 feet but is not a difficult trek to conquer. After traversing along a paved road and then through some switchbacks in the forest, you'll reach the Mirror Lake Loop.
This section of the trail gives you a breathtaking vantage of Mount Hood and its surrounding evergreen forest.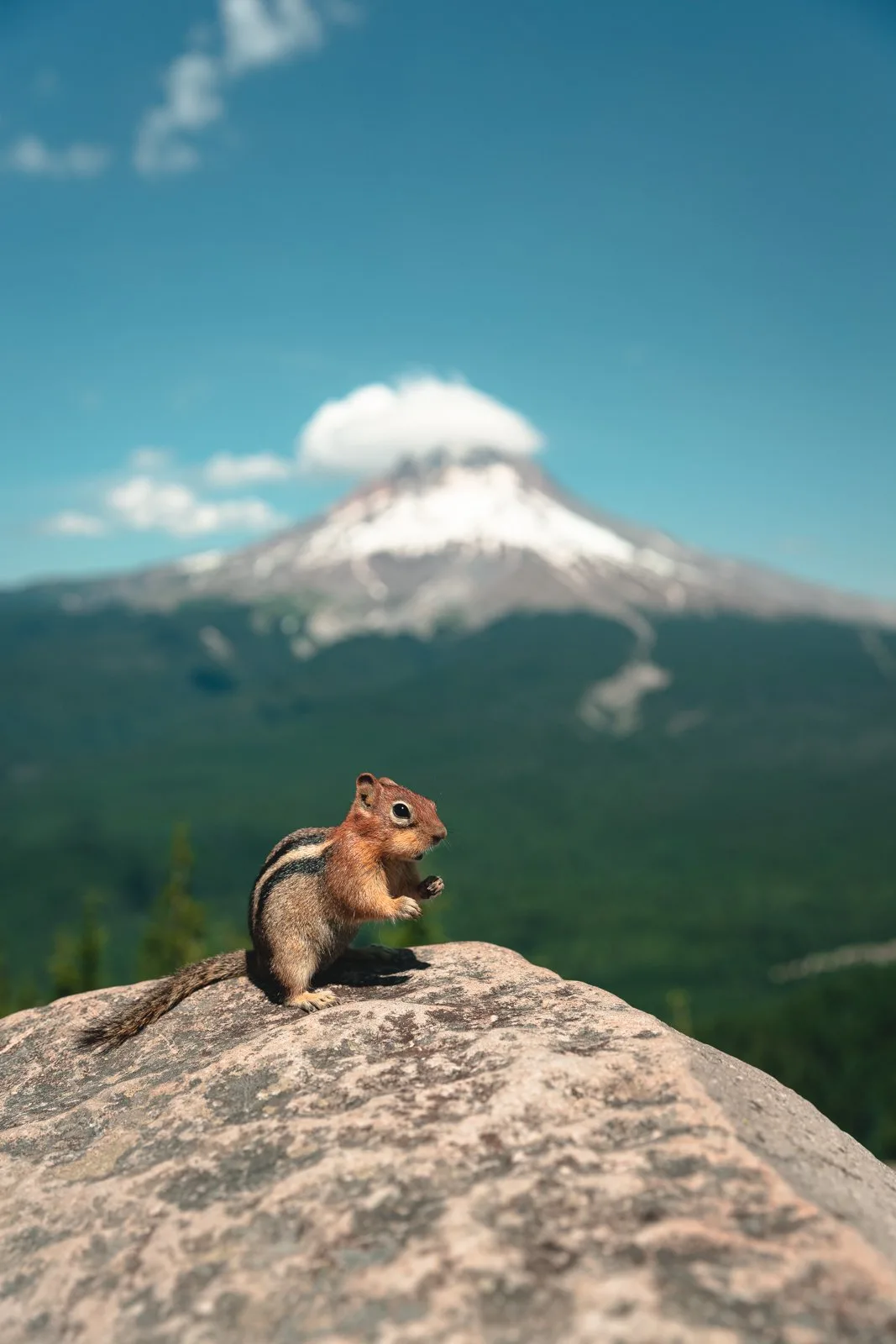 Once you pass the loop, the trail gets rocky and a little trickier to navigate, but eventually opens to incredible viewpoints of Mount Hood. You can summit Tom Dick and Harry Mountain if you're up for the challenge and have the time to spare.
For the complete rundown on this thrilling day trip from Portland, check out our guide to hiking the Tom Dick and Harry Trail.
11. Bald Mountain
Distance: 6 miles
Type of Trail: Out & Back
Difficulty: Moderate
This trail is mostly through the dense forest but gives patient hikers sensational mountain vistas. Since much of the trail is shaded, this would be one of your best Portland day trips for a hot day.
Most of the elevation gain is through a series of switchbacks in the trek's early stages, and you may need to catch your breath at times. Once you peek through the forest, you'll have an unbelievable view of the mountain and nearby wildflowers.
12. Tamanawas Falls
Distance: 3.3 miles
Type of Trail: Out & Back
Difficulty: Moderate
If you're up for waterfalls instead of mountain views, the relatively easy Tamanawas Fall hike near Mount Hood has you covered. The hike meanders through the forest, offering plenty of shade and to a tumbling waterfall.
Make sure you have proper hiking boots since you'll have to scramble near the falls, and the rocks can be slippery. You can even stand behind the falls for a unique panorama looking into the Mount Hood Wilderness.
We know this one is one of the furthest out (1.5 hours), but it's one of our favorite waterfalls near Portland!
---
READ MORE: Hiking the Gorgeous Tamanawas Falls Trail
---
13. Umbrella Falls and Sahale Falls
Distance: 3.4 miles
Type of Trail: Out & Back
Difficulty: Moderate
You won't have to go far on the trail to reach the cascading Umbrella Falls. The 60-foot falls tumble down a staircase-like bedrock and offer some unbelievable pictures.
You'll have to scramble downhill to reach Sahale Falls, but there won't be as much traffic on this section of the trail. Before trekking back from Sahale Falls, you can dip your feet in the refreshing pool at its base.
14. Trillium Lake
Hikers of all levels can enjoy the relaxing trail around this gorgeous lake sitting beneath Mount Hood. The mountain's reflection shines on the lake's surface on a sunny afternoon with thick forest and wildflowers around its shores.
There's a small beach situated in one corner, which makes the ideal spot to begin a kayaking or SUP adventure.
---
READ MORE: Checking Out Trillium Lake: Paddling, Hiking, and Camping
---
15. Lost Lake
This shimmering lake is another magnificent spot near Mount Hood to take your kayak or SUP for a relaxing day on the water. It's impossible to take your eyes off the snow-lined mountain as it towers over the wilderness.
When your feet are ready for another hike, the trail loops around the lake without much elevation gain, there is a popular campground nearby, so the trail often gets crowded during peak season.
---
RELATED: 7 Mount Hood Hikes and Waterfalls
---
16. Frog Lake
Frog Lake provides more impressive views of Mount Hood and a serene spot to kayak, SUP, or swim. You'll have to venture out for hiking excursions, but there are plenty of trailheads nearby to work up a sweat.
Pine, hemlock, and Douglas-fir trees encircle the lake as Mount Hood's reflection can be seen on a clear day.
→ If you don't have a lot of time, do this Mount Hood Day Trip from Portland to see the best of the area.
Where to Stay Around Mount Hood
Nottingham Campground: Located off of Highway 35, this campground is centrally located and is next to Mt. Hood and Hood River. It's also next to Tamanawas Falls, and you'll have a peaceful experience here.
Sherwood Campground: Sherwood Campground is further down the road and is located on the East Fork Hood River. The campsites here are quite close together and had little privacy so it wouldn't be my first choice to stay here.
Trillium Lake Campground: Trillium Lake Campground sits next to beautiful Trillium Lake at an elevation of 3,600 feet, and offers dozens of single and double sites for tents and RVs.
Little House on the Mountain: Relax and unwind in this custom-built, one-of-kind cabin that is furnished with art and furniture from local artisans. The cabin sits on four acres of private wooded land, bordering Mt. Hood National Forest Land.
Private Cabin With Hot Tub: This dog-friendly cabin at the base of Mount Hood has a wood-burning stove to keep the inside cozy, and a hot tub to relax in after a day of adventure.
Romantic Mount Hood Cabin: A cozy cabin with touches of home that is nestled in the Mt. Hood National Forest and is the perfect backdrop for any romantic getaway. Relax in the hot tub under a canopy of trees.
---
RELATED: 13 Portland Tours for The Adventurous!
---
Day Trips From Portland on the Oregon Coast
1.5 to 2 hours from Portland
The Oregon coast is packed rugged sea stacks, dramatic cliffs, lush forests, and charming coastal towns. The coast stretches roughly 362 miles from the California border all the way to the mouth of the Columbia River.
Although it's not realistic to reach many areas of the Oregon Coast from Portland, there are still several areas you can easily reach within 2 hours. Whether you're craving a seaside hike or want to explore sand dunes, the Oregon coast has plenty of day trips from Portland.
---
RELATED: 11 Most Scenic Oregon Coast Towns (And What to Do There!)
---
17. Cannon Beach
No trip along the Oregon coast is complete without a stop in this surreal town and all its outdoor adventures. Cannon Beach is one of the most convenient Portland day trips and a picturesque escape from city life.
The moment you lay eyes on the dramatic Haystack Rock, you know a coastal paradise awaits.
There are endless hiking trails in Ecola State Park that take you through tranquil forests and offer jaw-dropping ocean vistas overlooking enormous sea stacks. Climbing the nearby Neahkahnie Mountain is another beauty offering panoramic views of the Oregon coast.
If you prefer staying on the water, kayaking Ecola Creek is a real treat for nature lovers. The waterway is easy to navigate, and you'll see incredible scenery right on the beach. Just make sure to bring your own kayak since no rentals are available.
Just 2 miles south of Cannon Beach, Arcadia Beach Recreation Site has some unique caves worth checking out on this Portland road trip.
---
RELATED: 19 Must-Visit Oregon Coast State Parks
---
18. Tillamook Bay
Besides its well-known cheese factory, Tillamook Bay offers a world of outdoor adventures for any Portland road trip. Fishing is embedded into the local culture, and a boating trip is a great way to stock up on fresh seafood.
More spectacular views of scenic hills and sea stacks await in Cape Lookout State Park. This hiking paradise has lots of trails for all skill levels that meander through old-growth forests and give you fantastic views of the beach.
19. Seaside Beach
Don't be put off by Seaside's glamorous appearance. There are lots of activities to satisfy any outdoor enthusiast who wanders into town.
The Necanicum River offers a kayaking excursion that leads you straight into the Pacific Ocean. This peaceful stream is also one of the top places near Portland to fish for trout and Chinook salmon.
If you're connecting to or from Cannon Beach on your Portland road trip, hike the Tillamook Head Trail for a scenic stroll along the coast. Just be aware that the road leading to the Cannon Beach entry is closed as of February 2020.
---
READ MORE: 13 Adventurous Things To Do in Seaside, Oregon
---
20. Astoria Beach
Sitting at the mouth of the Columbia River, Astoria is a goldmine for a Portland day trip on the water. This is one of the state's cherished fishing spots, and anglers will be in paradise exploring the town's waterways. Buoy 10 is the most popular spot near Astoria that is known for producing high-quality salmon.
Of course, it's not all about the fishing excursions when you arrive in Astoria. There are plenty of hiking trails to keep you busy during your day trip from Portland.
Despite its depressing name, Cape Disappointment State Park is full of uplifting treks to explore. The park is just over the state line in Washington, but the trails wander through dense forests, and you'll have a front-row seat to powerful ocean waves.
---
READ MORE: 11 Adventurous Things to do in Astoria, Oregon
---
21. Neskowin Beach
This cozy Oregon town is an amazing spot for those seeking solitude and a day full of adventures near Portland.
Proposal Rock sits right along the beach, and getting up this steep rock face can pose quite the challenge. The views from the top are incredible, but you'll need to be in good shape to reach it.
You'll have to hop in the car to find the trailhead, but Hart's Cove Trail is one of the best outings for hikers near Neskowin. The relatively flat trail takes you to craggy overlooks, thick forests, and awe-inspiring ocean vistas.
22. Manzanita Beach
If you're searching for peace and quiet, Manzanita Beach is a wonderful place to escape the crowds. This beautiful town has tons of adventures without the hordes of tourists in more popular Oregon coast towns.
The 4.6-mile Cape Falcon Trail is one of the most underrated hikes on the Oregon coast with its breathtaking panoramic views towards the end. There are lots of offshoots from the trail that allow you to explore more of the area.
Nehalem Bay State Park offers more hiking trails, and you can take your kayak onto Nehalem Bay for a relaxing day on the water.
---
READ MORE: Your Guide to Nehalem Bay State Park
---
23. Sand Lake Recreation Area
With over a thousand acres of sand dunes, this one of Oregon's most exciting spots for an off-road adventure. This vast pit of sand is mesmerizing to behold, and you can spend hours riding around peering out at the ocean.
If you'd rather explore on foot, make sure your legs are prepared for a serious workout climbing the dunes.
24. Pacific City Beach
Some of the adventures in Pacific City Beach will be a bit out of the ordinary compared to other places on the Oregon coast.
In particular, the mesmerizing sand dunes make for quite a unique experience on your Portland road trip. Climb the largest dune for impressive views, but don't underestimate the difficultly of the steep incline.
After catching your breath, head over to the Nestucca River where you can swim, fish or kayak. The diverse scenery surrounding the Nestucca makes it one of the most picturesque rivers on the Oregon coast.
---
READ MORE: 11 Adventurous Things To Do in Pacific City
---
25. Lincoln City Beach
Lincoln City is a favorite for many Portland locals looking for a beach day with many outdoor adventures. You could spend hours just roaming the beach, gazing at the rocky cliffs overlooking the ocean.
Siletz Bay is one of the most gorgeous places in the area with kayaking and fishing as two popular ways to enjoy its beauty. Elsewhere, Devil's Lake is a great alternative where you can hike, kayak, fish, or even camp if you want more than just a day trip from Portland.
Hikers can head to the north end of Lincoln City for an exhilarating trek at God's Thumb. The steep basalt formation helps you break a sweat and presents a magnificent panorama of the Oregon coast.
→ If you don't have a lot of time, do this Oregon Coast day trip from Portland to see the best of the coast with a local.
---
READ MORE: 15 Adventurous Things To Do in Lincoln City
---
Where to Stay on the Oregon Coast
Fort Stevens State Park: Located in northwest Oregon in Astoria, Fort Stevens is a converted military space and is now one of the largest Oregon coast campgrounds with 500 spaces.
Devil's Lake State Recreation Area: Downtown Lincoln City is just a few minutes away from this campground, making it one of the only Oregon coast campgrounds in the middle of a city.
Honey Bear by the Sea: As one of the largest Oregon coast campgrounds and RV resorts on the Pacific Coast, Honey Bear by the Sea is a great choice, with broad sandy beaches and woodland.
Adorable Seaside Cottage: This dog-friendly cottage is close to the beach and town in beautiful Cannon Beach. It offers amenities like a gas fireplace and a flat-screen cable TV.
Shepherds Cottage Retreat: This cottage retreat is located on a peaceful farm close to Astoria. It has a fully stocked kitchen, an outdoor patio with a fire pit and grill, and great wildlife watching.
Whale Watch: This gorgeous seaside cottage in Lincoln City has amazing ocean views from the patio, an outdoor grill, and a wood-burning fireplace.
Your Portland Road Trip
You should be reeling with ideas on where to day trip from Portland, but if you're perhaps after a little Portland road trip adventure, we have some more recommendations there too. As you can tell from above, there are plenty of things to do around the city. Hiking, camping, coastal fun… You name it.
So depending on how long you have, it will depend on where to go on your Portland road trip.
2-Day Portland Road Trip
We're going to go ahead and recommend the obvious. If you only have a couple of days, choose only one of the three areas! Either hang out along the Columbia River Gorge, around Mount Hood, or along the coast. It will be hard to squeeze everything in with only a couple of days.
3-4-Day Portland Road Trip
With 3-4 days, we'd recommend hanging out around Mount Hood and the Gorge. You can easily combine these two areas, and they pair well. Go chase waterfalls along the Gorge and have your jaw drop at the mountain views at Mount Hood. Squeezing in the coast to a few days may be a bit tricky.
5-Day Portland Road Trip
If you have five days or more, you should be golden to comfortably see all three of the areas we've mentioned in this post. It will still be ambitious and a bit hurried, and you won't be able to see everything on this list but at least you'll get a taste of the three areas.
A Few Tips For Road Tripping Around Portland
Animals like to come out at night, keep your driving hours to during the day.
If you're driving out from the middle of the city, you'll have to add on some time to the estimates listed, traffic is always prevalent.
With that said, it'd best to stay on the outskirts of the city if you're planning on road tripping or day-tripping because unless you want to see things IN the city (of which, we mentioned none haha) you're better off staying outside of the congested areas.
If you're coming to Oregon in winter, or even just before/after, be aware of road closures.
For car rentals, we always check here first.
More Things to Do Near Portland
We hope this post helped you plan some awesome road trips! Check out more great activities near Portland and other fun adventures in Oregon.