The city of Portland, Oregon is packed with things to do and see, but sometimes you need to get away from city life and explore the great outdoors. The area surrounding Portland is stunning, and luckily, there are plenty of great campgrounds that are just a short drive away.
Whether you are looking for beautiful national forests, picturesque lakeside settings, or family-friendly sites, you'll be able to find it all within just a few miles of the city limits.
Find the perfect place to pitch your tent with some of the best campgrounds near Portland.
Camping Near Portland
Here's a handy map to help you see where are you can camp out near Portland. Notice that some campsites are just over the "border" and are in Washington due to Portland's close proximity to the State. Be sure to check out the other articles we sprinkled in so you can check out the adventures nearby these campgrounds.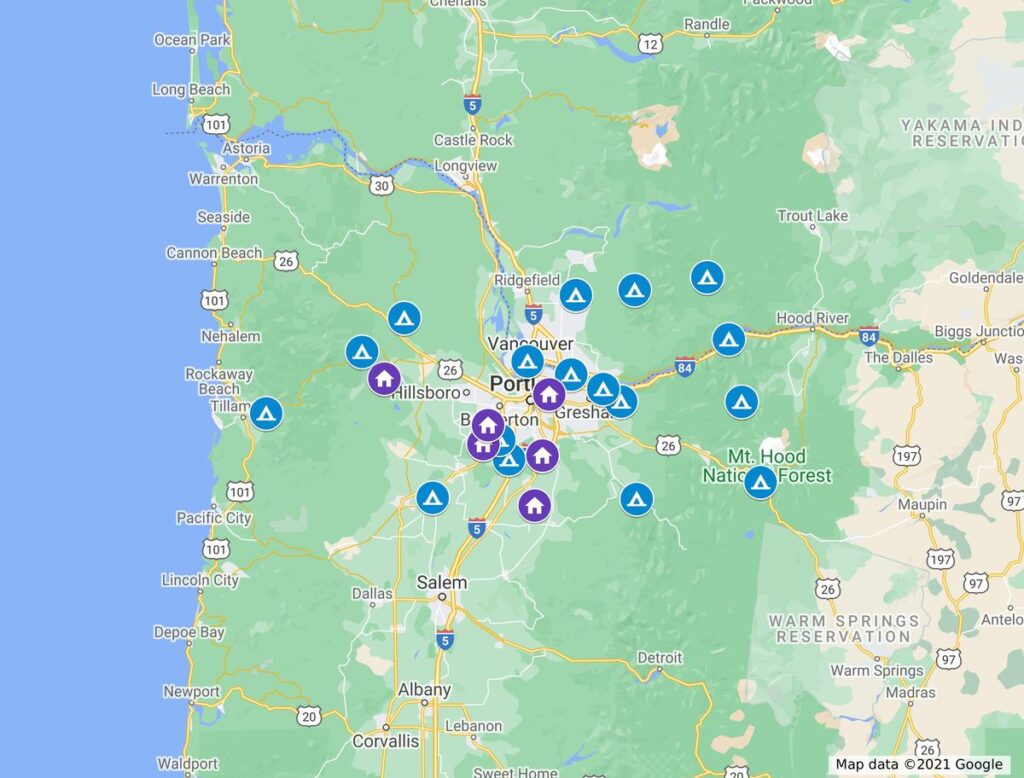 1. Beaver Campground
Nestled in between huge old maple trees and towering sycamores, Beaver Campground makes a great place to stay when camping near Portland Oregon. The Wind River flows nearby, which helps to add to the peace and tranquility of the area.
The surrounding forest is a great place to explore, and as the campgrounds are small, with only 24 tent or RV sites, you really will feel as though you are in the middle of nowhere.
Heading a little further out from the campsite, you can explore more of the Gifford Pinchot National Forest and Mount St. Helens National Volcanic Monument.
Price: Between $20-$100

More info: Website
RECOMMENDED GEAR:
2. Lost Lake
With 148 campsites, Lost Lake has plenty of room for everyone who wants to go camping near Portland. In addition to a place to park up for the night, the park also has numerous trails to explore, a public boat launch and a fishing dock, so you can really make the most of the beautiful lake that it sits on.
There are, of course, all the amenities you'll need for a comfortable stay, such as a dump station and toilets, but there are no electrical hookups available. As well as camping, you have the option to stay in some of the accommodation on site, which includes lodges, cabins and yurts.
The highlight of this Portland campground is the fact that it sits on the shores of the stunning Lost Lake, which provides many recreational activities.
Price: Tent site range from $29-32 depending on their location, while RV's and self contained vehicles are $35 a night.

More info: Website
3. Misty River
Misty River campground has some great river front RV sites, meaning you can wake up to the sound of the running water with some beautiful views. Sites have 30/50 amp services for RVs and trailers, or alternatively, there are also some tent sites available.
For something a little different and luxurious, you could sleep in the site's yurt, which is even furnished with a TV. Just around 10 minutes from the Portland campgrounds you'll find plenty of shopping and dining opportunities.
Nearby Cape Kiwanda is especially worth a visit, made up for the Three Capes Scenic Route. You'll see some spectacular wave action here!
Price: Tent spaces are charged at $30 a night, yurts $65 and RV sites between $39-$45

More info: Website
4. The Vintages Trailer Resort
Located in the heart of the Willamette Valley, camping in a vintage trailer can be a lot of fun, offering a unique lodging experience. It is a pretty luxurious experience, with terrycloth robes, pour-over coffee, propane grill, and breathtaking views of the neighboring vineyards.
There is also a pool and lawn games to enjoy. There is plenty to do in the surrounding valley, but primarily it is one of the nation's top wine-producing regions.
Price: Each trailer varies in price

More info: Website
---
RELATED: 20 Epic Places to Go Glamping in Oregon
---
5. Oxbow Regional Park
One of the most picturesque places to go camping in Portland is in Oxbow Regional Park, the perfect place for swimming, rafting, kayaking, fishing and much more.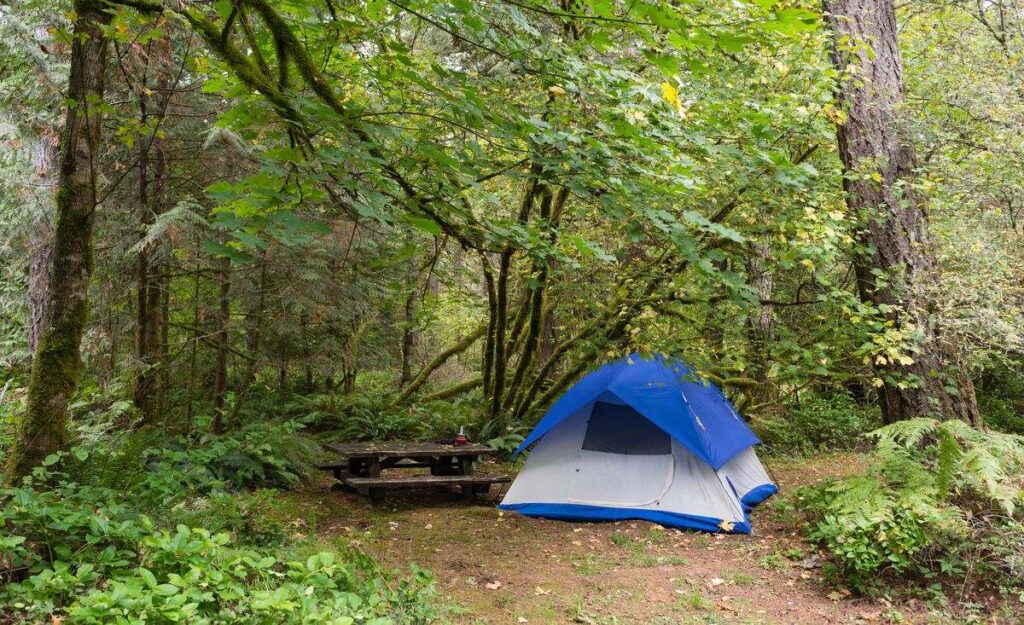 There are 12 miles of trails to explore either along the river terraces or up to the steeper trails. The park offers 74 drive-up campsites, each of which comes with a picnic table, fire pit, and cooking grill, there are also 12 RV sites.
Price: $22 a night

More info: Website
---
READ MORE: Oxbow Regional Park Outside of Portland—Hike, Paddle, Fish, & Camp!
---
6. Sandy Riverfront RV Resort
Sandy Riverfront really does have a prime location compared to other Portland campgrounds, near to a number of spots ideal for outdoor adventure. There are waterfalls and hiking just a short distance away, plus it is near the start of the Historic Columbia River Highway, leading to the historic Vista House.
The Columbia River is less than a mile away, and a number of waterfalls such as Multnomah, Horsetail and Punch Bow Falls are just a short distance away. All sites are full hookup with an additional car pad, free wifi and free cable TV which is a bit of a perk.
Price: $48-$55 daily

More info: Website
---
RELATED: 17 Amazing Spots to Go Camping on The Columbia River Gorge
---
7. Government Island State Recreation Area
For a campground that is only accessible by boat, try the Government Island State Recreation Area, where camping is permitted in a few select areas such as below the vegetation line around the perimeter, and in a few upland areas where there are picnic tables.
---
Check out all of our favorite hikes near Portland!
---
Price: Under $10

More info: Website
8. Cascade Locks/Portland East KOA
KOA campgrounds are a well-known brand of campsites, all of which offer some great amenities and can be found all over the country, so could be a good choice when it comes to camping near Portland.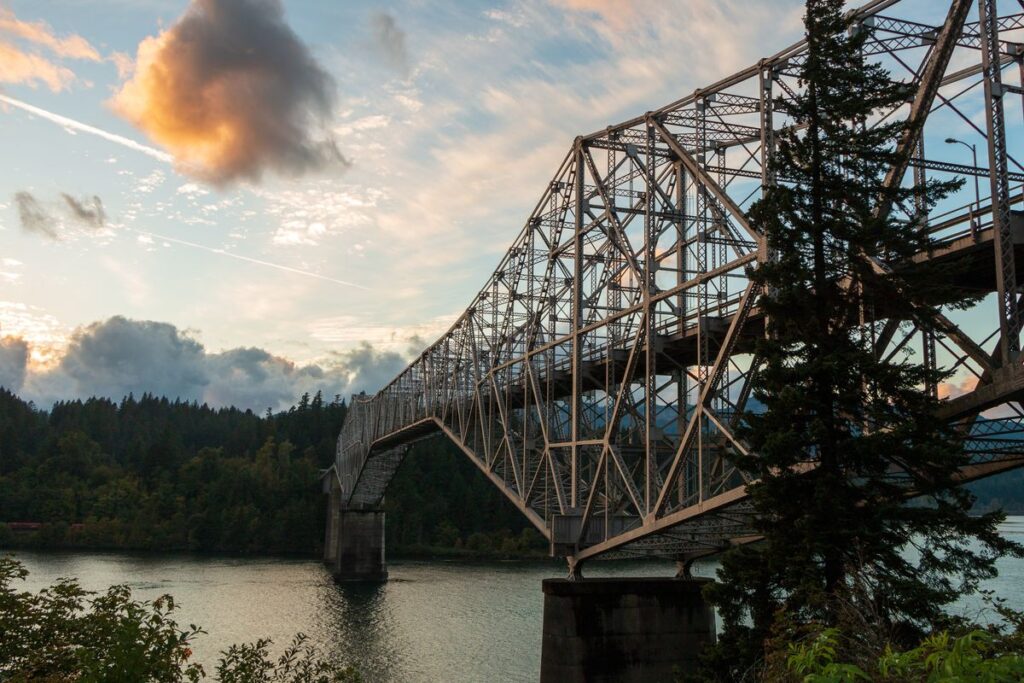 This campground is located in the heart of the Columbia River Gorge National Scenic Area, and scenic it certainly is!
Displays along the riverfront will tell you all about the locks that once made the river passable, or you could choose to hike some of the impressive Larch Mountain's trails. Options included camping in the forested tent sites, using the camping cabins or there are full-hookup RV sites available.
---
Check out these amazing waterfall hikes near this Portland campground!
---
Price: Vary depending on the accommodation option

More info: Website
9. Sunset Falls Campground
What better view to wake up to in the morning that of cascading water in the form of a waterfall? Sunset Falls campsites have views of the falls themselves, plus has the added benefit of being in close proximity to the Silver Star hiking area.
Camping near Portland Oregon here is available year-round, and there is plenty of parking, plus toilets and picnic tables.
Price: $12 a night

More info: Website
10. Pheasant Ridge
Pheasant Ridge is a great RV facility overlooking the Willamette Valley with a huge array of amenities. When not out exploring you can make use of the indoor pool and spa, shop for onsite groceries and make use of the wifi throughout the park.
It is just a short drive from many attractions such as Downtown Portland, Mt.Hood and even the beautiful Oregon coast is not too far away.
Price: $58 with optional extras

More info: Website
11. Roamers Rest
Just to the south of Portland is Roamers Rest RV Park, just minutes away from Wine Country. It is pet friendly, which is a great perk for many, plus comes with complimentary wifi and a range of other helpful amenities that lead to a comfortable stay. One of the best things about this park is just how close it is to Portland, making exploring the city easy.
Price: $58

More info: Website
12. Gales Creek Campground
Located in Tillamook State Forest, there is no better place to feel at one with nature, with the great outdoors right outside the entrance to your tent. These Portland campgrounds are pretty rustic, but that doesn't mean it lacks charm, surrounded by Douglas fir, alder and maple trees.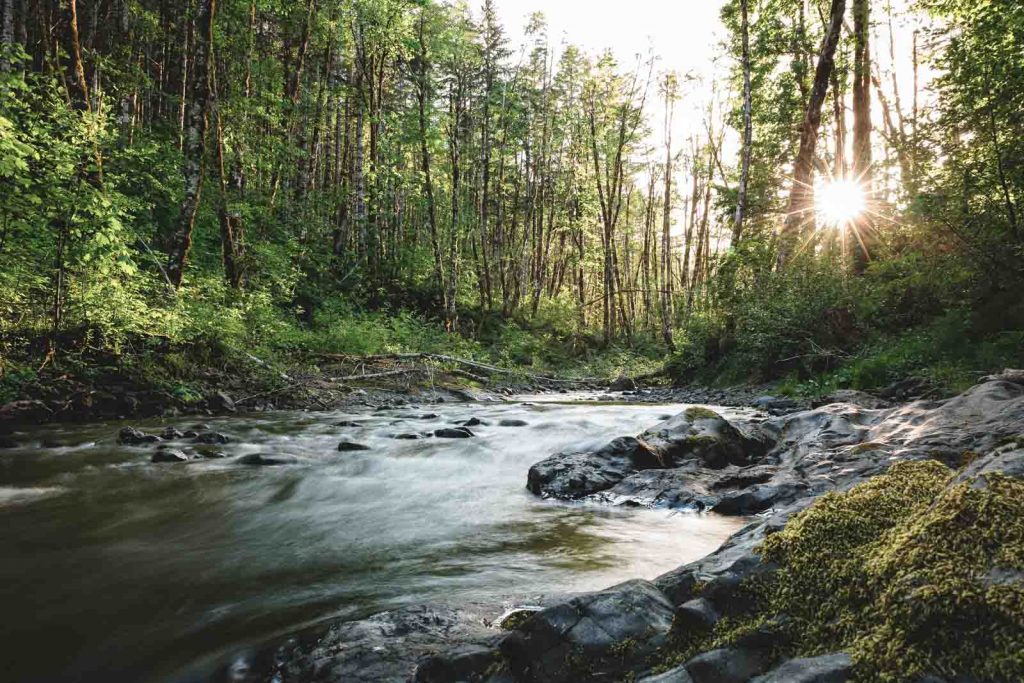 There are 19 campsites overall with a trailhead for hiking and mountain bike access nearby. Sites have picnic tables, fire grates and hand-pumped water for real camping in the woods experience. With Tillamook State Forest right on your doorstep, there is so much to explore.
Price: $15-20

More info: Website
13. Jantzen Beach RV Park
Jantzen Beach feels as though you are in the middle of nowhere, but still has the benefit and conveniences of allowing you to go camping near Portland, which is just 7 miles away.
The park has a heated swimming pool, games room, playground, clubhouse and fitness center, so plenty to keep you entertained on site, plus there are also plenty of grassy picnic areas to enjoy, with free cable TV and wifi at all sites.
There are a number of attractions just a short drive away such as Oregon Zoo, Enchanted Forest, the Aviation and Space Museum and Mount St. Helens to name just a few.
Price: $50

More info: Website
14. Battle Ground Lake State Park
Staying in state parks is great, as you have a thing to do and see right on your doorstep. Battle Ground is a forested park in the Cascade Mountain foothills, making it a great escape from the city and suburbs, yet should still be considered a Portland campground.
The green lake at the edge of the campground is ideal for swimming and fishing, plus there are 10 miles of hiking trails within the park, as well as a self-guided nature trail. Campsites are pretty primitive, and there is a bit of a hike from the parking lot, but it is great place to spend the night or longer.
Price: $15- $50

More info: Website
15. L.L. 'Stub' Stewart State Park
This is one of the newest campgrounds in the state park system, located around 35 miles northwest of Portland. The area encompasses over 1,600 of stunning, forested slopes containing multiple campsites.
There is plenty to do within the state park itself, such as mountain biking, horse riding, hiking and more, with 30 miles of trails to explore.
In addition to 4 camping areas, some of which cater for RVs and others which cover a more primitive setting to pitch a tent, there is also an additional Cabin Village.
Price: Tent $27, primitive $11, full hookup RV site $33, rustic cabin $47

More info: Website
16. Trillium Lake, Government Camp
On clear days, the stunning Mount Hood is visible from Oregon, the tallest mountain in the state. Surrounded by national forest, it is a playground of natural wonderland, with a plethora of camping opportunities.
Government Camp has 60 campsites for both tents and RVs, located on the shores of Trillium Lake. There are boat ramps, a fishing pier, a two-mile boardwalk and of course, outstanding views of the mountain itself.
---
READ MORE: Checking Out Trillium Lake: Paddling, Hiking, and Camping
---
Price: $22-45

More info: Website
17. Promontory Park, Estacada
Southeast of Portland you'll find Promontory Park, a family-friendly campground near the North Fork Reservoir and Clackamas River. There are 50 campsites and some more unique 'yomes'.
There are plenty of recreational activities available at the reservoir, plus just a short drive away is the incredible Mount Hood National Forest, making it an ideal place to go camping near Portland.
Price: Tent $30, RV $45

More info: Website
More Places to Camp Near Portland: Cabins and Glamping Options
18. Tiny House With Forest Views
This unique tiny house with two sleeping lofts is surrounded by trees and has a woodsy interior. Enjoy the forest views from the lofted beds. Enjoy all the amenities of a regular home including a full bathroom and kitchen.
19. Tiny Forest Cabin
This tiny forest cabin is close to Portland and the wine country while still being secluded and peaceful. The loft bedroom has a skylight so you can see the trees from the comfort of the cozy bed.
20. Peaceful Garden Cottage
This gorgeous, light-filled garden cottage is a peaceful spot while only being a ten-minute drive into the city center. Enjoy the flower-filled patio in the summer months.
---
RELATED: 21 of the Coolest Cabins in Oregon
---
21. Elk Moon Yurt
If you are looking for an off-grid experience close to Portland, then Elk Moon yurt is perfect. The yurt is comfortably furnished and has a wood-burning stove for cold nights. How romantic!
---
RELATED: 21 Cool Yurts in Oregon for a Memorable Stay
---
22. Tiny Float Home
This tiny float home is located at a quiet marina near Portland and has all the amenities you need for your stay, as well as a cozy vibe. Enjoy houseboat life while still being close to the city.
23. Scenic Wine Country Cabin
This cute green studio cabin is located in the heart of Willamette Wine Country on ten acres. It is a peaceful spot and has a large private porch, full kitchen, bathroom, and laundry facilities.
Exploring more? We have you covered for camping all around in Oregon!
Don't leave yet! Check out more of these stunning trips around Portland, where else to camp in the state, and more adventures around Oregon.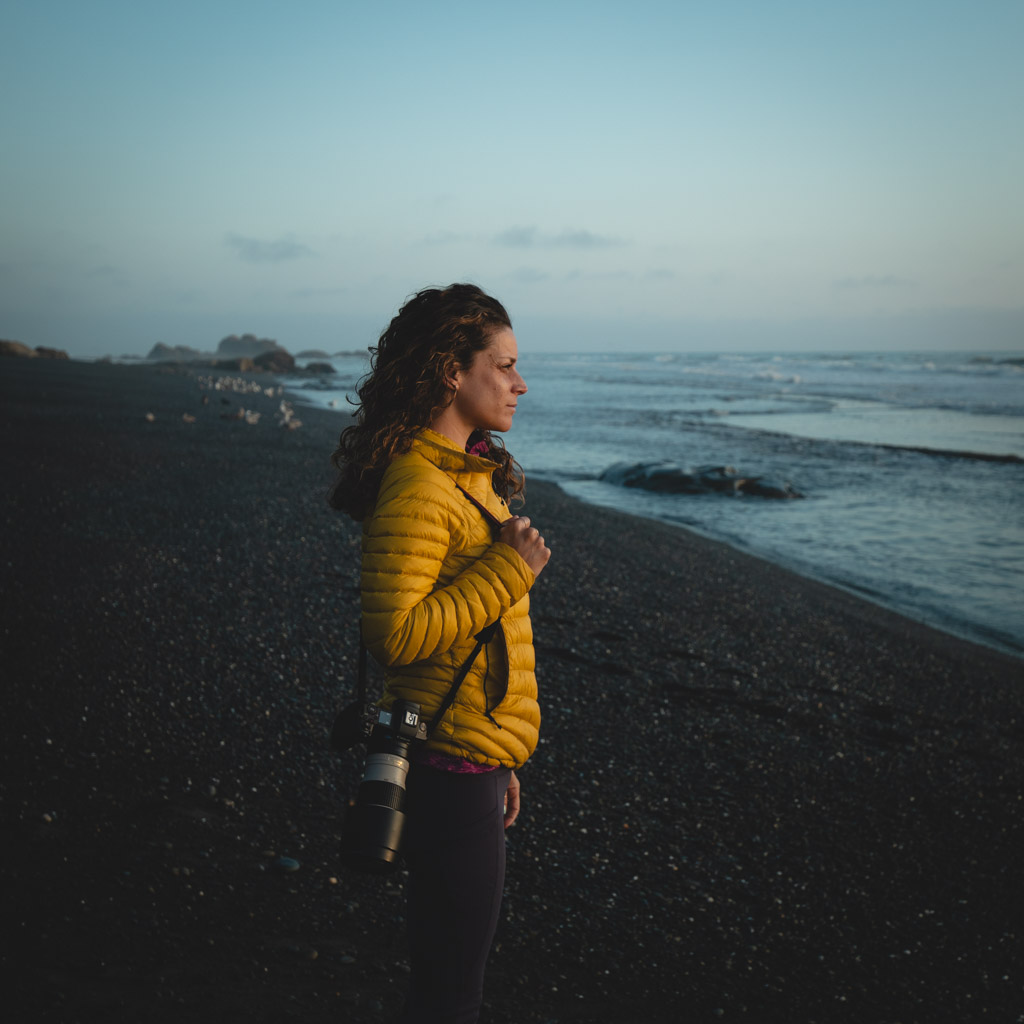 I've been perpetually traveling and living around the world for years but it's hard to beat Oregon and the PNW. After years of road-tripping the area, I guess you can say I know it pretty well! When I'm not writing guides for you, you can catch me somewhere petting a dog, attempting to surf, hiking a volcano, or stuffing my face with bread and cheese.