Camping in Oregon allows you to base yourself near, or sometimes even in, the state's most scenic areas and attractions, providing a base for many outdoor adventures. Pitch up your tent and get your bonfire started because there are plenty of Oregon campgrounds to choose from, all with something a little different to offer.
Whether you're looking for somewhere extra comfortable to head back to after exploring the scenic landscape or don't mind roughing it a little to get closer to nature, there is something for everyone.
Camping in Oregon
Here are some of the coolest spots to go camping in Oregon. Whether it's on the beach, near the best hikes, or on a stunning lake, we have you covered. Be sure to click through to some of the other camping posts we linked to for more choices and to get more info on things to do in the areas!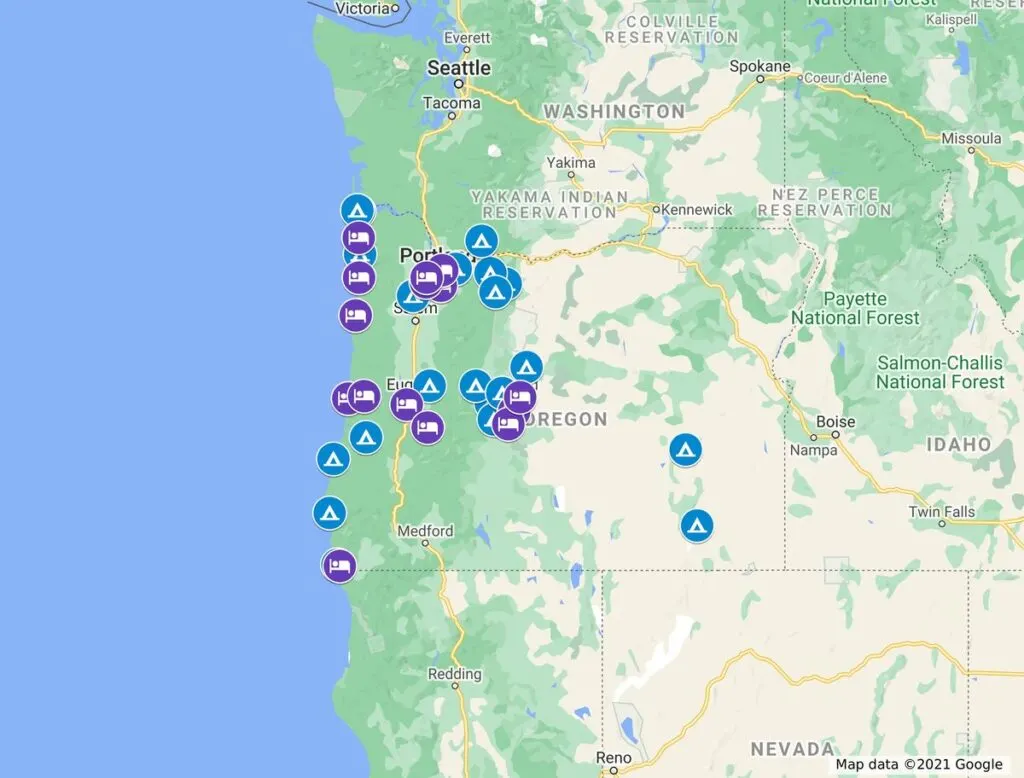 Camping Near Portland
1. Nottingham Campground
The best camping in Oregon thanks to the easy access to Mt. Hood and close vicinity to the river.
The not so local secret of Nottingham Campground is a gem, offering easy access to Mt. Hood and Hood River, just off Highway 35. The stunning Hood River runs right alongside the campgrounds so you can wake up to the sounds of running water, making it one of the most naturally beautiful and quiet campgrounds in the state.
In this Upper Hood River Valley area, there are plenty of resources for all sorts of outdoor activities like hiking, biking, and exploring. Just next to the Oregon state campgrounds is the trailhead to Tamanawas Falls, which is an excellent hike in Mount Hood for all skill levels with a gorgeous waterfall that you can walk behind.
Price: $21

More info: Website

There is no water, electricity ot sewer hookups available at this site.
RECOMMENDED GEAR:
2. Lost Lake
People come from miles around to stay on the stunning location on the shores of Lost Lake.
Lost lake is a beautiful place to spend the night, nestled on the shores of one of the most beautiful lakes in the region; there are 148 sites available. There are a vast number of trails to explore around the lake, plus there is a public boat launch so you can spend your days gliding about on the water.
As well as camping, there is the option to stay at some of the accommodation on site.
Price: Tent site range from $29-32 depending on their location, while RV's and self contained vehicles are $35 a night.

More info: Website

Although there are plenty of amenities, be aware there are no electrical hookups available.
---
RELATED: 20 Epic Places to Go Glamping in Oregon
---
3. Government Camp Trillium Lake
Best for its stunning views of Mt. Hood and lakeside location.
Trillium Lake campground offers stunning views of Mt. Hood, just a short distance from the small town of Government Camp. People often choose this campground for its stunning scenery and abundant recreational opportunities.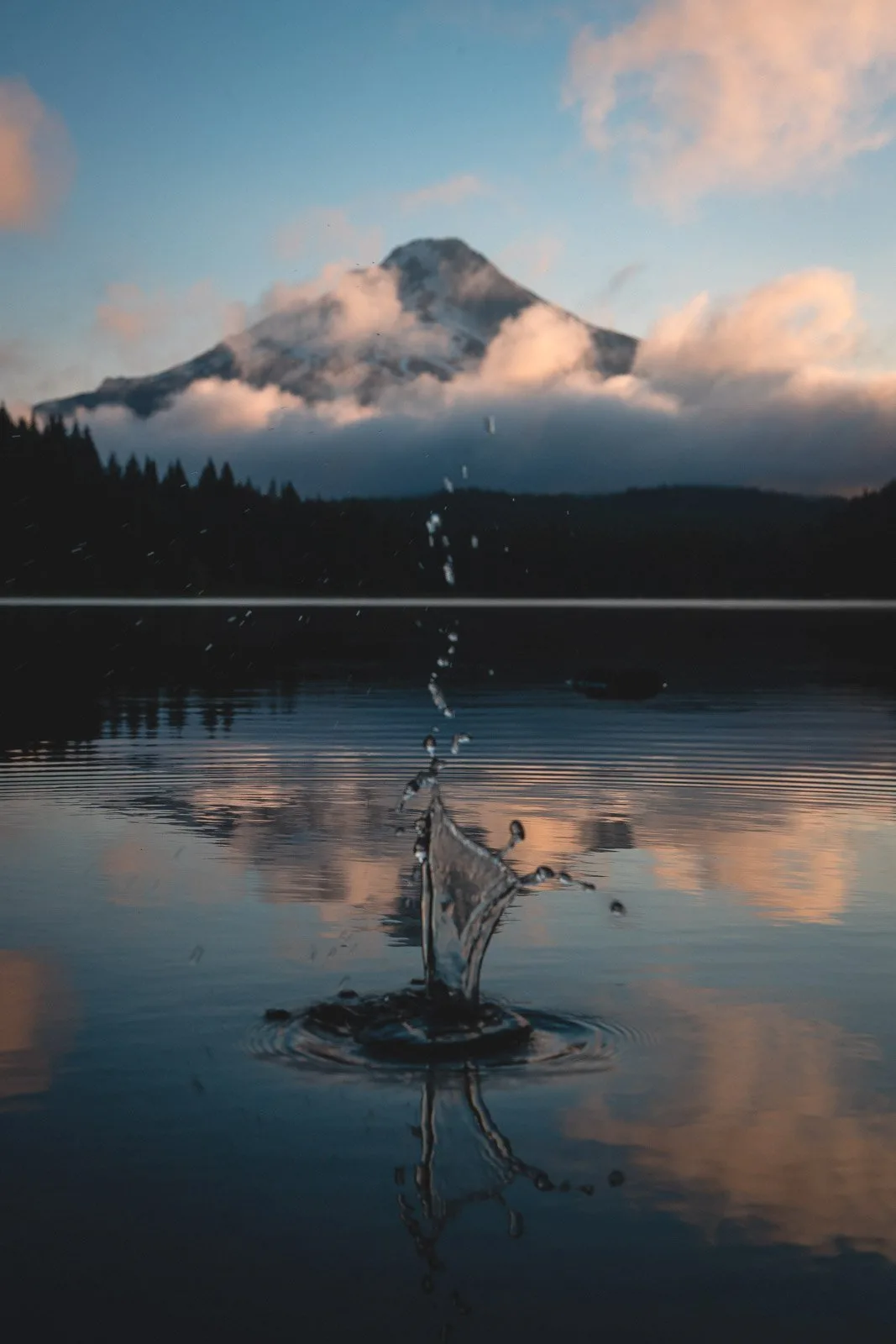 It sits next to beautiful Trillium Lake at an elevation of 3,600 feet, with dozens of single and double sites for tents and RVs. There are lots of parking available, boat ramps, a fishing pier, and a two-mile boardwalk. This is just one of many lakes in Oregon to camp on.
Price: $22-45

More info: Website

There is a large picnic shelter and amphitheater at the campground, ideal for family gatherings.
---
READ MORE: Checking Out Trillium Lake: Paddling, Hiking, and Camping
---
4. Sandy Riverfront RV Resort
Best for the massive number of waterfalls nearby and its prime location.
Trails and waterfalls surround this spacious campground, making it ideal for those with a passion for outdoor adventure. The rushing Columbia River is less than a mile away, and nearby waterfalls include Multnomah, Horsetail, and Punch Bow Falls, to name just a few (read our guide to the Columbia River Gorge for more!).
All sites are full hookup and offer free wifi and free cable TV.
Price: $48-$55

More info: Website

Once you have done exploring, take a breather at nearby Troutdale, where you'll find shops, eateries and more.
---
RELATED: 17 Amazing Spots to Go Camping on The Columbia River Gorge
---
5. The Vintages Trailer Resort
Best for its quirky and comfortable accommodation options that will give you a camping experience to remember.
This awesome trailer park is located in the Willamette Valley, offering a unique lodging experience. The site provides everything you need and more, with added perks such as terrycloth robes and stunning views over the neighboring vineyards. Each trailer is different, plus there are lawn games and a pool to enjoy.
Price: Each trailer varies in price.

More info: Website

The resort is located in one of the state's top wine regions, so it would be rude not to try a glass or two of the local wines.
---
Read more on camping in Portland
---
More Places to Camp Near Portland: Cabins and Glamping Options
6. Tiny House With Forest Views
This unique tiny house with two sleeping lofts is surrounded by trees and has a woodsy interior. Enjoy the forest views from the lofted beds. Enjoy all the amenities of a regular home including a full bathroom and kitchen.
7. Tiny Forest Cabin
This tiny forest cabin is close to Portland and the wine country while still being secluded and peaceful. The loft bedroom has a skylight so you can see the trees from the comfort of the cozy bed.
---
RELATED: 21 of the Coolest Cabins in Oregon
---
8. Peaceful Garden Cottage
This gorgeous, light-filled garden cottage is a peaceful spot while only being a ten-minute drive into the city center. Enjoy the flower-filled patio in the summer months.
9. Tiny Float Home
This tiny float home is located at a quiet marina near Portland and has all the amenities you need for your stay, as well as a cozy vibe. Enjoy houseboat life while still being close to the city.
Camping Near Bend
10. Elk Lake Campground
Great for its incredible views of South Sister, Mt. Bachelor, and easy access to Elk Lake.
Elk Lake is a beautiful destination in itself, so camping in Oregon anywhere near it is sure to be a great experience. The lake is known for its stunning clear waters and beautiful surroundings, which are full of hiking trails (South Sister hike is one of our favorites).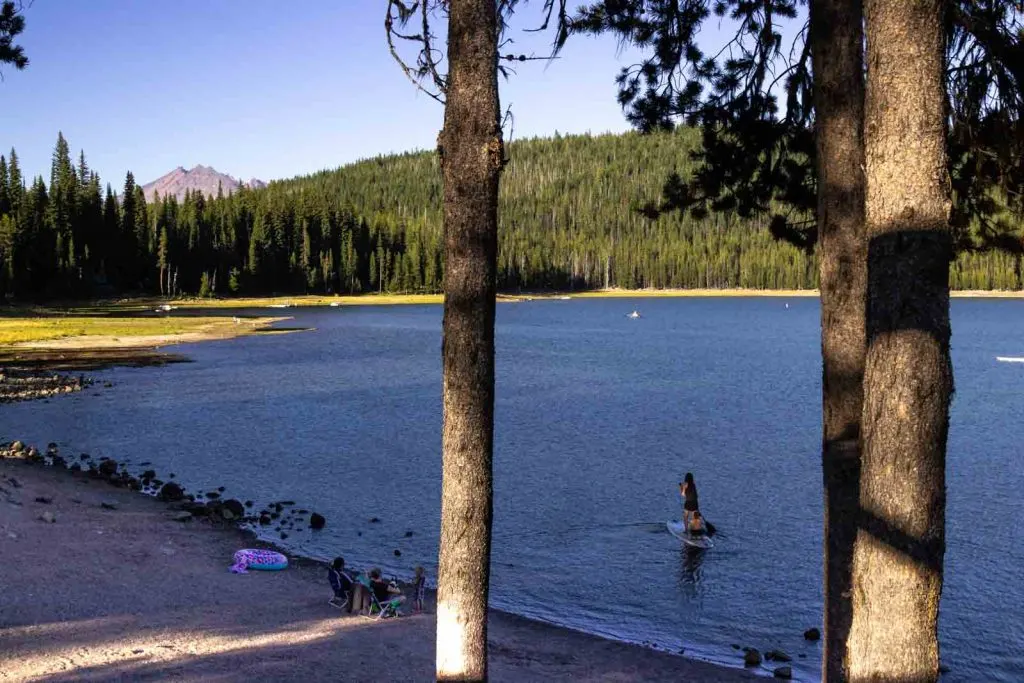 Although electric hookups are not available, it can accommodate all types of camping, plus there is the added benefit of the boat ramp, which provides easy access to the lake itself. Keep an eye out for wildlife, as the diverse forest provides habitats for birds, porcupine, and even black bears.
Price: $14

More info: Website

The Oregon campgrounds are located on the Cascade Lakes Scenic Byway, so there is easy access to the other lakes in the area.
---
RELATED: Your Guide to Elk Lake in Oregon
---
11. Crane Prairie Campground
The great thing about this Oregon campground is that it is close enough for easy access to the Cascade Lakes, but far enough away to avoid the tourist crowd.
Located in the Deschutes National Forest, Crane Prairie is a large campground with multiple camping loops to choose from. No matter where you stay in the camp, you'll be close to the shores of Crane Prairie Reservoir, plus you have the forest on your doorstep just waiting to be explored.
Price: $16

More info: Website

The area is a popular bird watching spot, so be sure to bring your binoculars.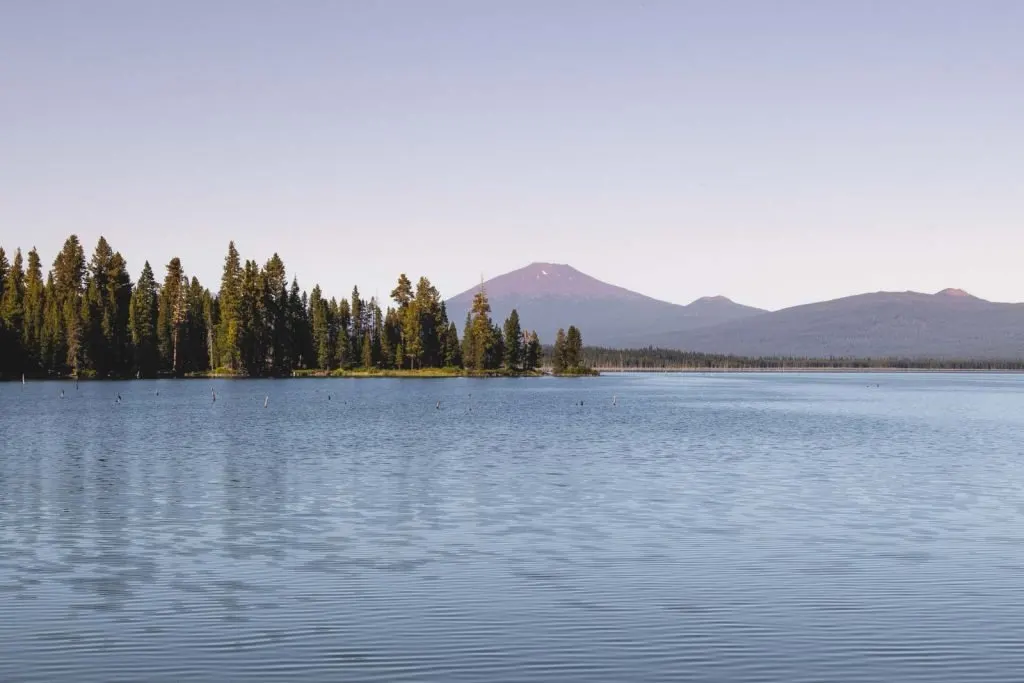 12. Panacea at the Canyon

Excellent for its laid back luxury and giving you the ability to disconnect, at least just for a while.
Staying at Panacea is a camping experience with a difference. The 40-acre luxury tent resort also has an on-site spa and 5-star amenities, although you will still feel surrounded by nature.
The park is situated in the Scenic Crooked River Canyon, therefore ideal if you are looking for a little adventure while having somewhere a little luxurious to head back to.
Price: Varies depending on package booked.

More info: Website

Bear in mind that the resort is completely signal free!
13. Driftwood Campgrounds
Great due to being at the head of the Tam McArthur Trail, which offers incredible views of the Three Sisters Peaks.
Views, views and more views are what you should expect from a stay at Driftwood Campgrounds, whether it is of Three Creeks Lake or the surrounding mountain ranges. Boating and fishing are available on the lake, plus you could add a visit to the nearby town of Sisters to your adventure.
Price: $14-16

More info: Website

Bring your camping boots, as there are some great hikes in the area.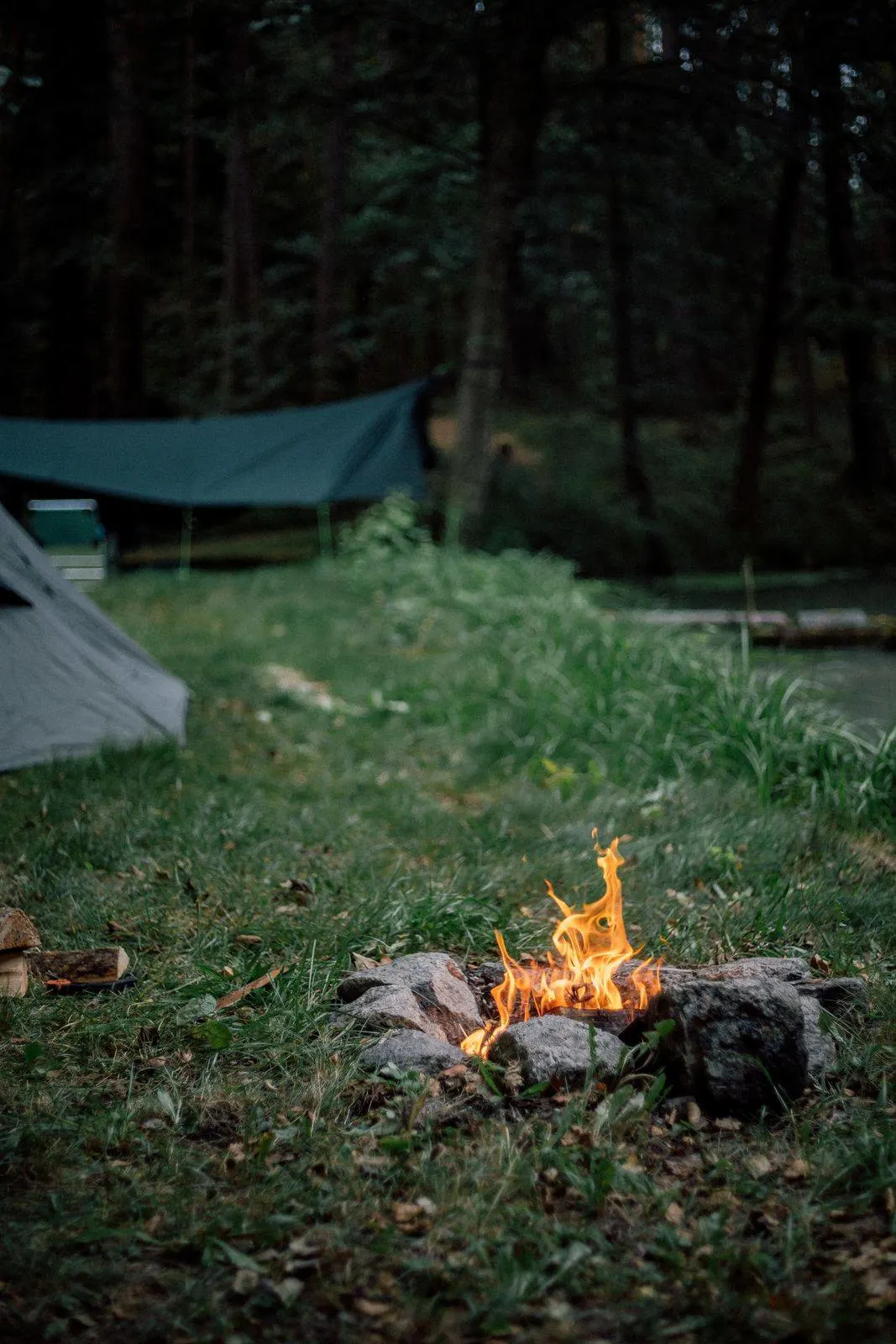 ---
Read more on camping near Bend
---
More Places to Camp Near Bend: Cabins and Glamping Options
14. Hummingbird Cottage
Hummingbird Cottage is an adorable craftsman-style blue bungalow in a quiet part of Bend that is close to breweries, hikes, and more.
15. Tall Pines A-Frame
This cute A-Frame between Sunriver and La Pine sits on an acre of Ponderosa Pine and has a full kitchen, bathroom, and two bedrooms.
16. Deer Lane Cabin
Located right in central Sunriver, this charming cabin is surrounded by trees and has a river rock fireplace, large deck, and a private hot tub.
Camping Near Eugene
18. Tipi Village Retreat
Staying at Tipi village is a different experience for those camping in Oregon, and is known for its incredibly comfortable accommodation.
Who doesn't love staying in a Tipi? Sometimes you have to do something a little different, and staying at Tipi Village Retreat should fulfill that need. Located in Mohawk Valley, it's just a short drive from the city of Eugene.
All tipis are furnished 'zen' style, with stone floors and plush beds, plus you get a gourmet breakfast served for you next to the creek. The incredible lava fields are an easy day trip from here, and the trailhead for the hike up to Lilian Falls is also nearby.
Price: Around $150

More info: Website

If you don't fancy staying in a tipi, the resort also offers a 'master bedroom' option.
19. Belknap Hot Springs Resort
Great for the onsite amenities such as the two mineral fed swimming pools and beautiful secret garden.
Offering cabins, tent camping, RV facilities, and lodge rooms, there is a camping experience for everyone at Belknap Hot Springs. The site is located on the McKenzie River, which offers a pretty scenic backdrop, plus the hot springs are a great attraction in itself.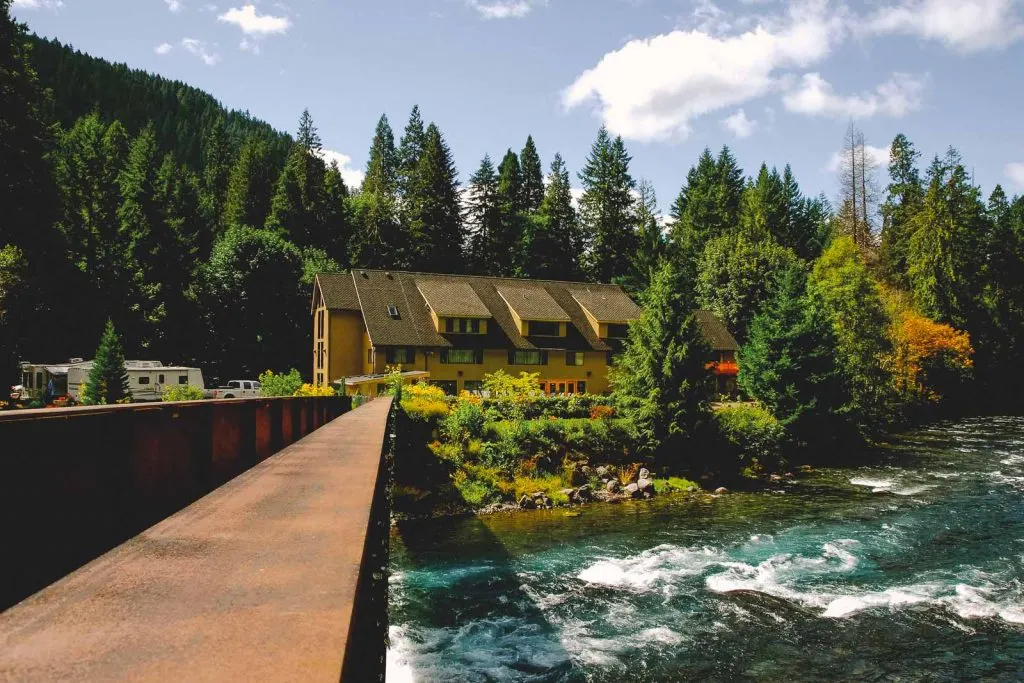 Nearby you'll find the lava beds at the base of the Three Sisters Mountains, as well as many trails that are ideal for mountain biking such as the 26 mile McKenzie River Trail.
Price: $30

More info: Website

Make use of the camp swim pass, which when used enough gets you some free swims.
---
More options for camping near Eugene
---
More Places to Camp Near Eugene: Cabins and Glamping Options
20. Little Log Cabin in the Woods
Stay in this beautiful and rustic log cabin in a private setting surrounded by forest. Relax in the clawfoot tub or by the fire pit in the evenings. There are kayaks for use on the private pond and there is a waterfall a short walk away.
21. Siuslaw River Cottage
This cute cottage sits right on the Siuslaw River, which is known for its trout fishing, and has amazing views. The cottage has one bedroom with a queen bed, as well as a full bathroom and kitchen, and a large living area.
22. Romantic Farm Cabin
Stay in this cozy farm cabin near Eugene that was lovingly built by the owners and local craftsmen. Enjoy the valley views from the porch, and the warmth of the woodstove on cold evenings.
---
RELATED: 14 Outdoorsy Things To Do in Eugene, Oregon
---
Oregon Coast Camping
23. Harris Beach State Park
Make use of this Oregon State Parks camping experience for its stunning, changing scenery and whale watching possibilities.
Harris Beach State Park is home to the largest island off the coast of Oregon, a wildlife sanctuary teeming with rare species. On dry land, you'll find beautiful beaches, rocky outcropping, and all sorts of tide pools and hiking trails to explore.
Price: Tent $20, full hookup $32, yurt $45

More info: Website

If you don't have your own accommodation, there are a few yurts available to book.
---
READ MORE: Your Guide to Harris Beach State Park
---
24. Humbug Mountain State Park
Great for having some of the warmest weather on the Oregon coast, as the mountains offer protection from the winds.
There are both tent and electrical sites available at this large Oregon state park campgrounds, which is centered around the mighty Humbug Mountain. If you are up for a bit of an uphill hike, the views from the top of Humbug Mountain are incredible, or if hiking is not for you, there are all sorts of other recreational activities to enjoy, such as windsurfing and scuba diving.
Price: RV $24, Tent $17

More info: Website

Firewood is available for sale at the camp, so smores at the ready.
---
READ MORE: Your Guide to Humbug Mountain State Park
---
25. Seaside KOA
Great for the significant number of activities and facilities available on-site.
Any KOA is a great, family-friendly place to stay, and Seaside is no exception. There are themed weekends throughout the year, providing a range of entertainment options, as well as organized crafts and activities.
When you are ready to leave the camp, you can spend the time beachcombing, relaxing on the sands, whale watching or hiking and biking the nearby network of trails. You could also combine your camping in Oregon trip with a visit to the historic Fort Stevens and Fort Clatsop.
Price: Around $55

More info: Website

There is both an indoor and outdoor pool at these campgrounds, so make sure you pack your swimsuit.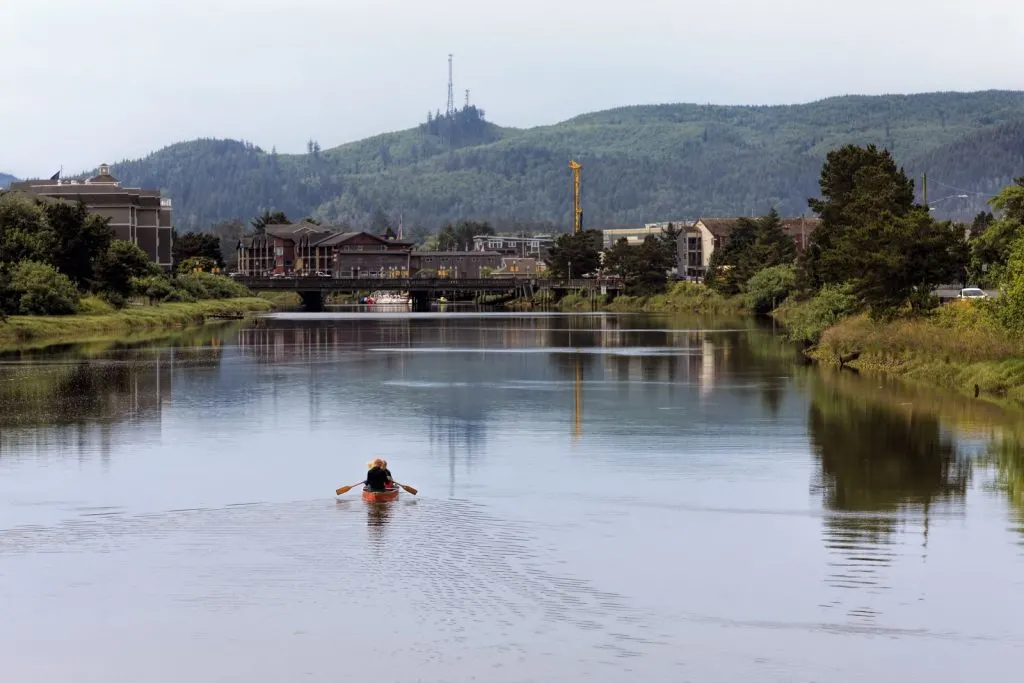 26. Nehalem Bay State Park
Great because it offers a lot and the location.
Stay somewhere unique when camping in Oregon in Nehalem Bay State Park. Oregon state park camping here is set on a four-mile sand split that separates the bay from the ocean, and with 260 electrical sites available, there is room for everyone.
One of the best ways to see the beauty of the area is to explore the rolling dunes and stunning beaches.
Price: $31, Yurts $47-57

More info: Website

There are also yurts available if you are looking for a little luxury.
---
READ MORE: Your Guide to Nehalem Bay State Park
---
27. Fort Stevens State Park
Known for its size, amenities, and range of things to do nearby.
Fort Stevens State Park has to be one of the largest Oregon state park camping spaces in the state, with almost 500 camping sites available. It is located way up in northwest Oregon, with the campsites set out in two huge loops.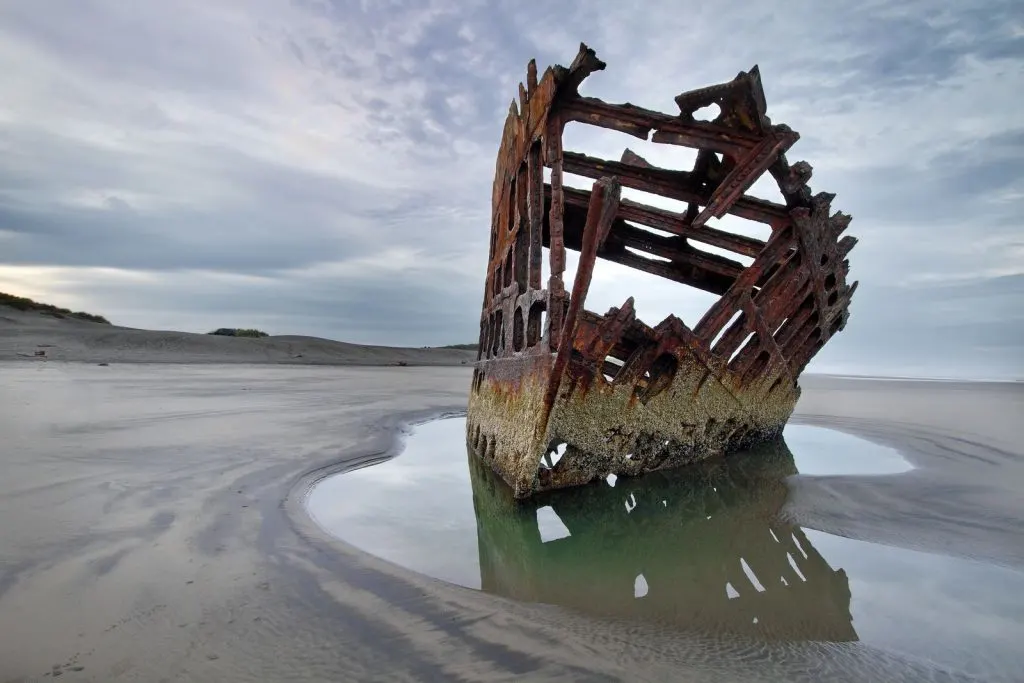 There is plenty to see and do in the immediate vicinity such as visiting the incredible remains of the Peter Iredale shipwreck that sits on the beach.
Price: Tent $22, RV $32, Yurt $48-$58, Cabin $93-$103

More info: Website

Fort Stevens is a converted military space, and you can find out more about this in the Military Museum.
28. Sunset Bay State Park
Best for its astonishing ocean vistas and location very close to the beach.
The whole area of Sunset Bay is made up of incredible towering cliffs and beautiful sandy beaches, so it is no wonder this is such a popular Oregon state parks campground. There are many different camping options available such as a stay in a yurt, RV, or tent, with the yurt giving you a slightly more luxurious experience.
There is a beautiful trail that runs right by the Oregon state campgrounds that offer stunning views of the coast, including points of interest such as the Cape Arago Lighthouse and Gregory Point.
Price: Full hookup $31, tent site $19, yurt $43

More info: Website

You can hire kayaks and SUPs on-site every day, which is a great way to explore the bay.
---
RELATED: 21 Amazing Yurts on the Oregon Coast
---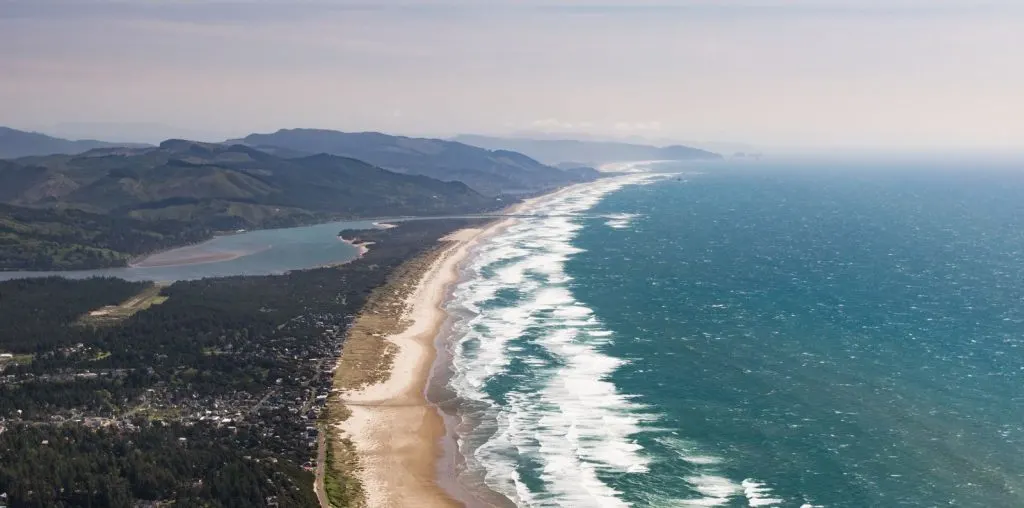 29. Loon Lake Lodge and RV Resort
Great for the range of amenities available at a reasonable price.
If miles of stunning, open water is what you are after, then look no further than Loon Lake. These Oregon state campgrounds offer a range of sites, all set on comfortable grassy knolls.
The park offers a huge range of amenities, including boat rentals and a convenience store so that you can stock up on all the camping necessities. The Oregon Dunes National Recreation Area is very close, which is a fantastic place to explore.
Price: $18-$70 dependant on location and hookups

More info: Website

Wifi runs throughout the camp, so you'll never be without a connection.
---
More options for camping on Oregon's coast
---
More Places to Camp Near The Oregon Coast: Cabins and Glamping Options
30. Adorable Seaside Cottage
This dog-friendly cottage is close to the beach and town in beautiful Cannon Beach. It offers amenities like a gas fireplace and a flat-screen cable TV.
31. Happy Camp Beachfront Cabin
Located right on the beach at pretty Netarts, the Happy Camp Cabin has epic ocean views from the patio, a spacious light-filled interior, two bedrooms, and a full kitchen.
32. Whale Watch
This gorgeous seaside cottage in Lincon City has amazing ocean views from the patio, an outdoor grill, and a wood-burning fireplace.
33. Huckleberry Cottage
This cozy cottage in Florence is surrounded by trees and is close to Heceta Beach. It has a full kitchen, an outdoor deck with a grill, and a quiet backyard with a fire pit.
34. Captain's Quarters
Located on the southern Oregon Coast in Brookings, Captain's Quarters is a cute cottage with a hot tub. It is conveniently located close to the beach and downtown.
---
RELATED: 21 Cool Yurts in Oregon for a Memorable Stay
---
More Places to Camp in Oregon
34. Beaver Campground
Great if you want to feel as though you are in the middle of nowhere and surrounded by wilderness.
The stunning Beaver Lake campground is entirely surrounded by towering maple and sycamore trees with the Wind River flowing nearby. This campground is just over the river and in Washington. It's quaint, which helps to add to the peace and tranquility of the area.
Not to mention, this is one of the best places to explore around Mount St. Helens National Volcanic Monument, which is pretty impressive, plus the Gifford Pinchot National Forest is a natural wonderland. This is an excellent choice if you're coming in or out of Oregon
Price: Between $20- $100

More info: Website

Picnic tables and firepits are available for alfresco dining.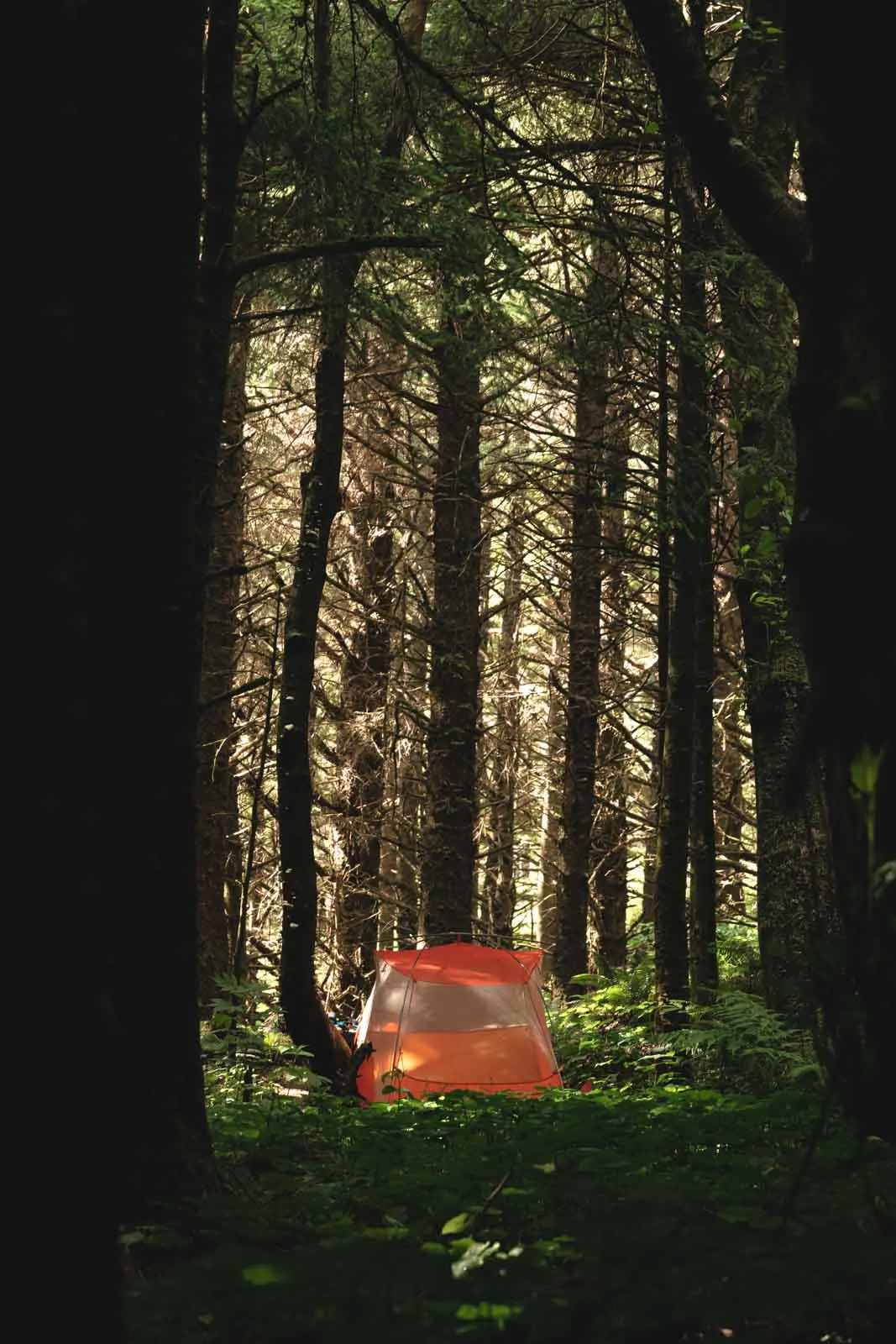 35. Crystal Crane Hot Springs
Stay here for a glamping experience and some hot springs.
Crystal Crane Hot Springs is a glamping experience for those who choose to stay in one of their cute cabins or awesome tipis. Towels, real beds, and all! Their hot springs are magnificent and quite large so it can accommodate everyone at the property without feeling crowded.
If you're exploring eastern Oregon, this is a spot you should head to for refuge for the night.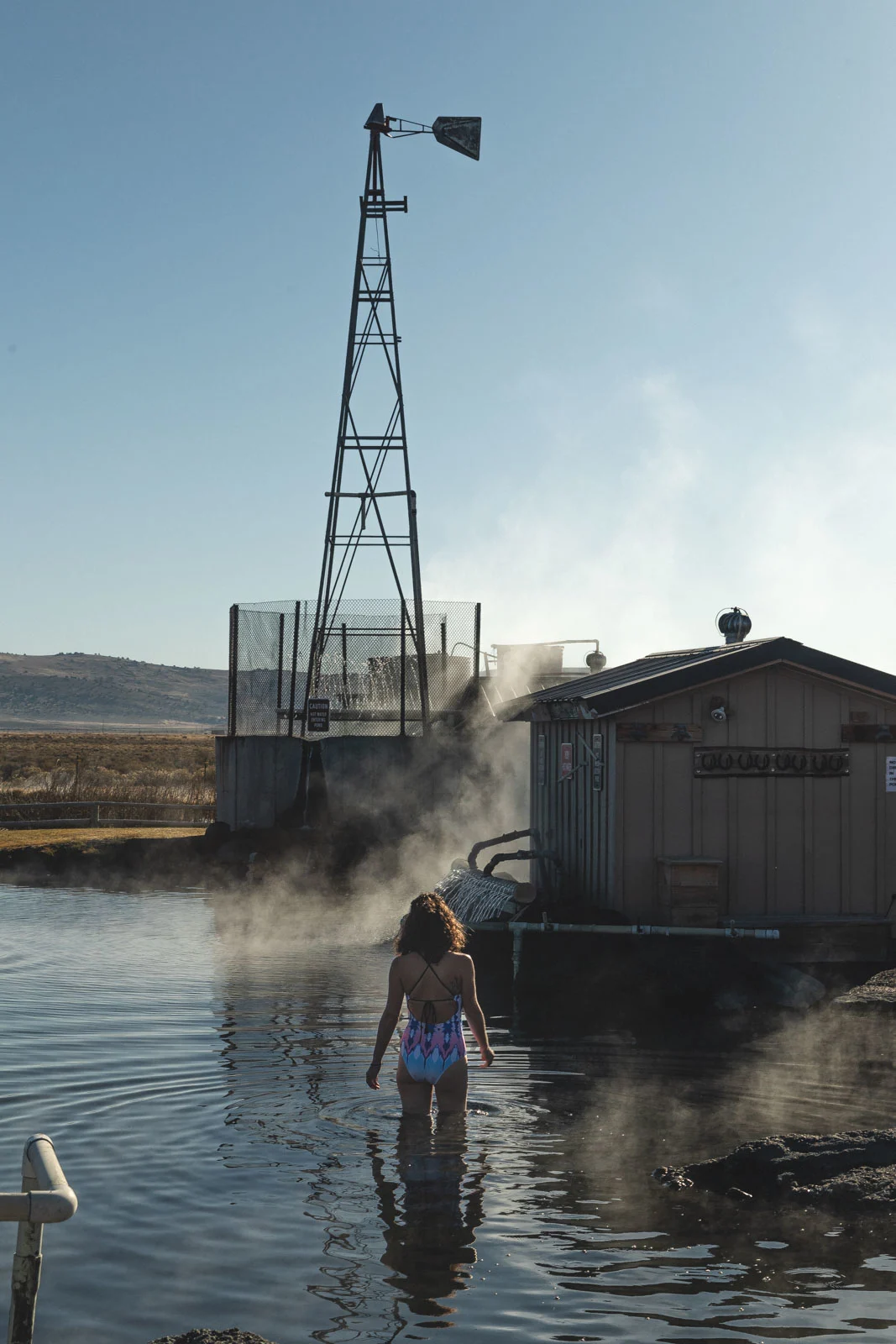 Price: Anywhere from $30 for a text site to $120 for a tipi

More Info: Website

One of the tipis has a hot tub INSIDE!
36. Alvord Desert
Perfect for a free spot and a novel experience.
Yep, that's right you can camp out on the desert for free. Did I mention there's a hot spring nearby too? This is hands down one of the coolest spots to go camping in Oregon. Read our guide on camping on Alvord Desert.
Tips For Camping In Oregon
Many of the campgrounds that are fun by the U.S Forest Service are pretty rustic, meaning the restrooms are likely to be pretty minimal, and the frills are few and far between. The incredible surrounds make up for this, though!
If you are on a tight budget, there are places in Oregon where you will be able to park up for free if you don't mind giving up some luxuries. Most of these spots are dotted across public land and are often run on a first-come, first-served basis.
If you spend a lot of time in the national and state parks of the area, then it may be worth investing in n annual pass, as those daily fees certainly add up. An Interagency Annual Pass allows you into Oregon, Washington, and US sites operated by the National Park Service, US Forest Service, Bureau of Land Management, Bureau of Reclamation, and US Fish and Wildlife Service. Another option to look into is the Oregon Pacific Coast Passport.
Some of the most unique camping options, such as tipis, yurts, and cabins are reserved up to 9 months before most summer weekends, so if this is what you're after, book well in advance! And aside from Booking.com, you can find them on Airbnb too!
If you are flexible enough to get out the door early, there are plenty of campgrounds that don't require a reservation, and you'll have a high chance of snatching a first-come, first-served site. Especially if you are camping on a non-weekend and if you grab it and set up in the morning when everyone is leaving.
We hope this camping in Oregon post helped you plan your trip. Here are more posts on epic adventures around Oregon to check out.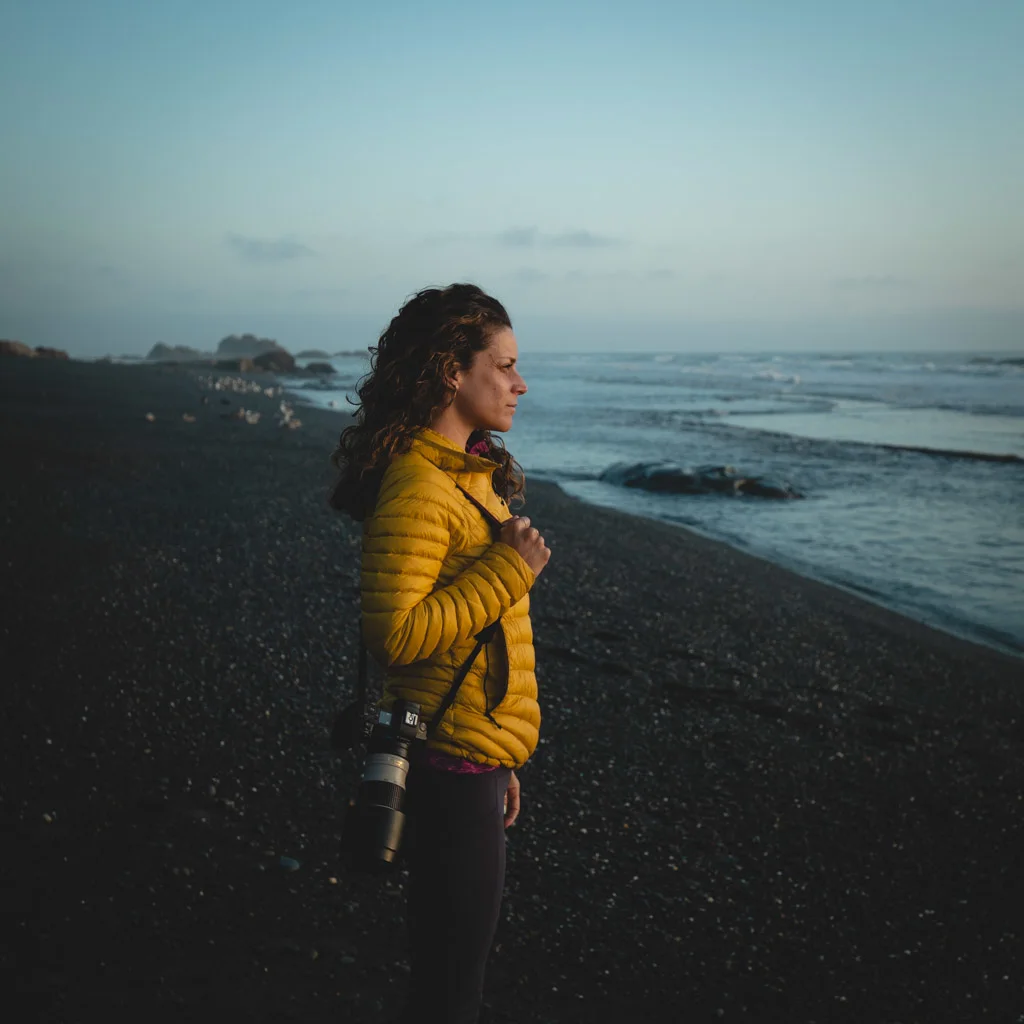 I've been perpetually traveling and living around the world for years but it's hard to beat Oregon and the PNW. After years of road-tripping the area, I guess you can say I know it pretty well! When I'm not writing guides for you, you can catch me somewhere petting a dog, attempting to surf, hiking a volcano, or stuffing my face with bread and cheese.