The small but impressive Cape Arago State Park has successfully commandeered some of the best views of the Oregon Coast. The headland that the state park sits on juts dramatically out into the Pacific Ocean, smothered in dripping coastal rainforest. The final effect is a small park with a lot to offer, with incredible views, forested hikes, tide pooling, and wildlife viewing.
Cape Arago State Park sits about 15 miles southwest of Coos Bay, so it is easily accessible as a day trip from the town, or as part of a larger Oregon Coast road trip. It forms part of the Oregon Islands National Wildlife Refuge, with the islands sitting just off the shore home to hundred of noisy marine mammals all clamoring for a spot on the rocks.
Cape Arago State Park
---
There are trails, beaches, and tons more things to do around Cape Arago State Park. Here's everything we recommend for your visit.
Trails in Cape Arago State Park
Simpson Reef Loop Trail
Distance: 3.3 miles
Type of Trail: Loop
Difficulty: Moderate
Elevation Gain: 616.8 feet
The Simpson Reef Loop Trail offers a lot of variety for a relatively short hike. You will enjoy ridge tops, ocean views, and paths thick with ferns. You will start off heading inland towards the center of Cape Arago State Park and slowly up the mountainside. Depending on the time of year, you may be able to enjoy glimpses of color as wildflowers show their faces surrounding the path.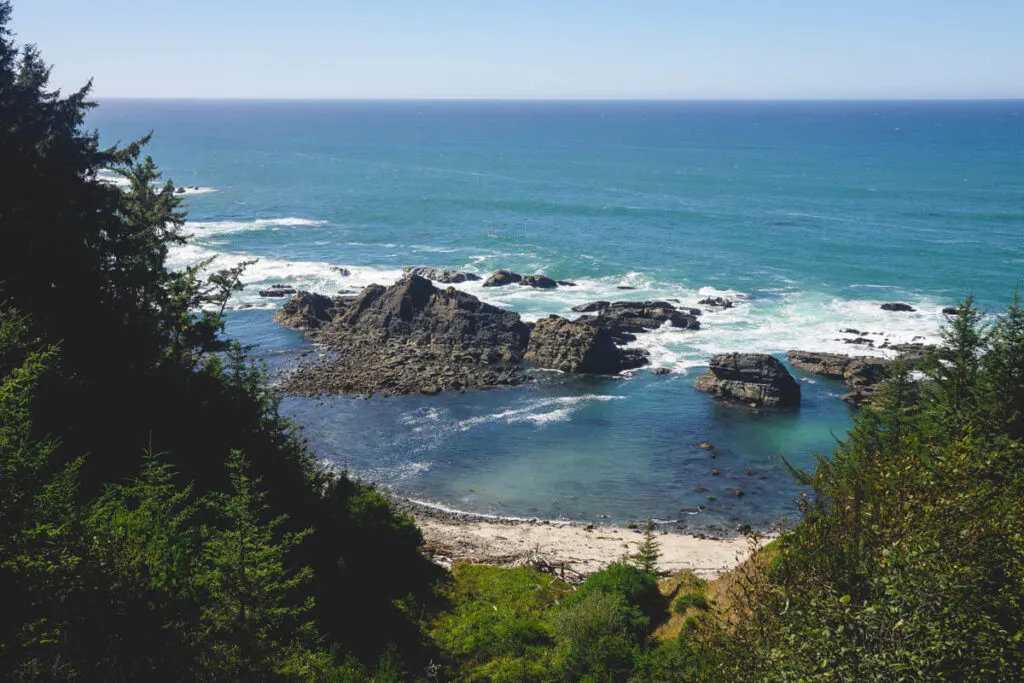 As you begin to come back down the mountainside, you will once again be able to smell the sea air. Cross the 540 road, and before long, you will be hiking the clifftop.
As a loop trail, you are able to do this hike in both directions, but if you head counterclockwise, you can enjoy the best views last as you descend to the ocean.
Cape Arago North Cove Trail
Distance: 0.2 miles
Type of Trail: Out & Back
Difficulty: Easy
Elevation Gain: 59.1 feet
The Cape Arago North Cove Trail is the definition of short and sweet. You will walk the short distance from the trailhead to the viewpoint, accompanied by the ocean and salty sea air, and then back again.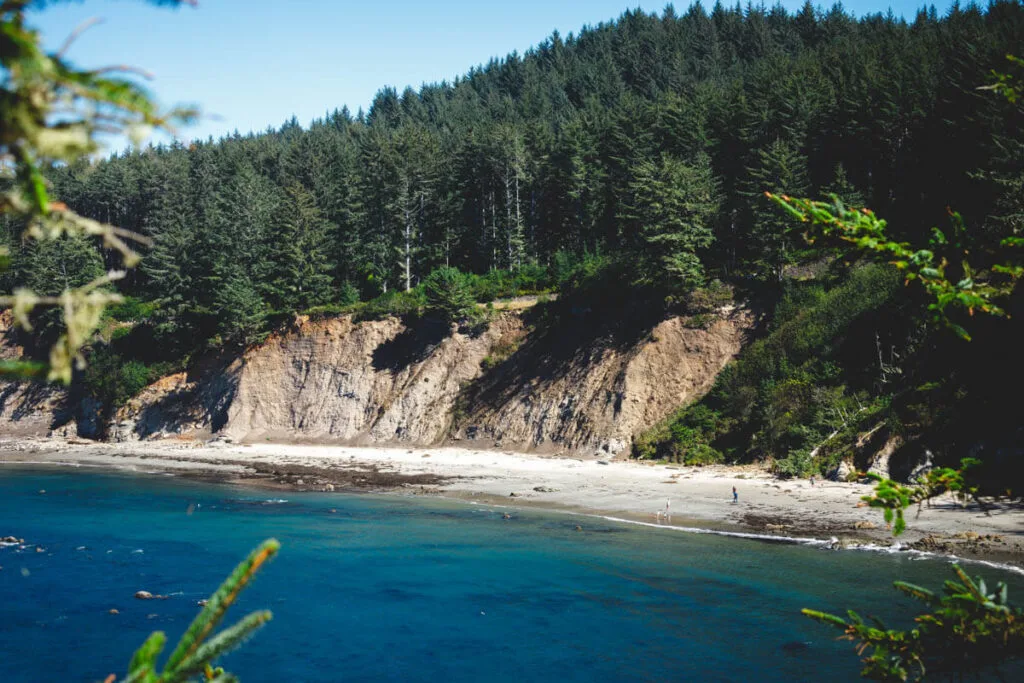 There are some strategically placed benches along the route to sit and enjoy the waves crashing below you. At the end of the way, you can enjoy prime viewing of the seals and sea lions below you.
The North Cove Trail is closed between March and June to protect the seal pups, so plan accordingly!
Cape Arago South Cove Trail
Distance: 0.3 miles
Type of Trail: Out & Back
Difficulty: Easy
Elevation Gain: 85.3 feet
The South Cove Trail is another short stroll, taking you down to a small sandy beach, where the tide pools are some of the best you will find in Oregon.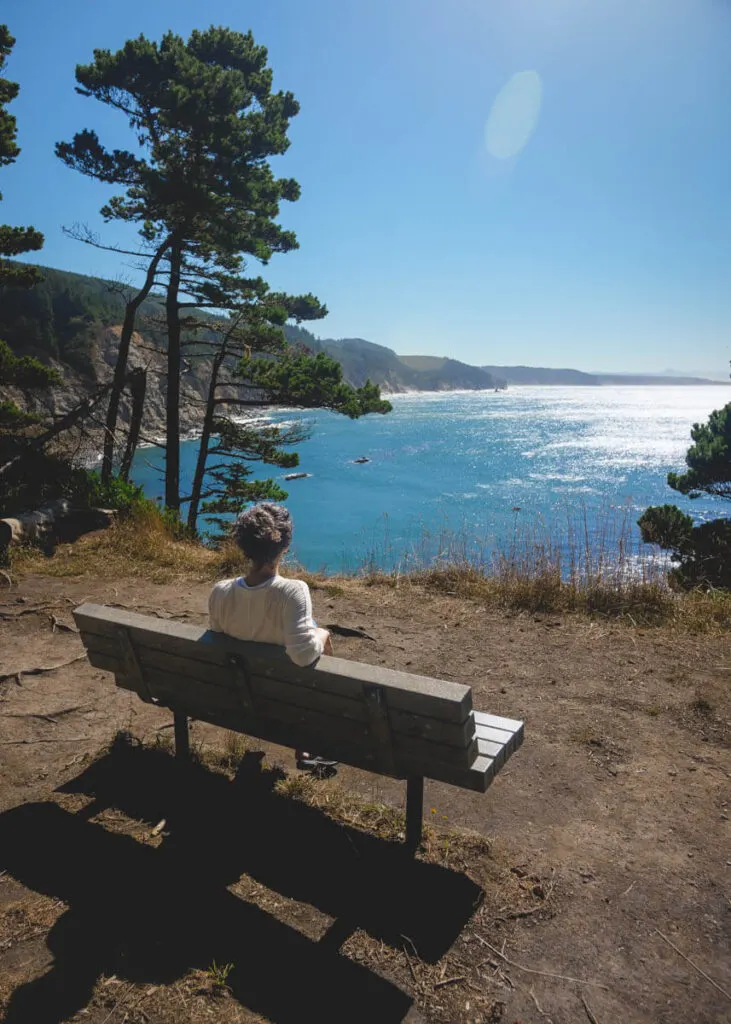 Unlike North Cove, you won't get the views of the seals and sea lions here, but the beach is beautiful, and you may be more likely to have the sand to yourself.
Cape Arago Pack Trail
Distance: 3 miles
Type of Trail: Out & Back
Difficulty: Moderate
Elevation Gain: 830 feet
The Cape Arago Pack Trail should take about an hour to complete, and unlike the other trails that take you down to the shore, the pack trail instead showcases the diverse coastal forest. As you walk, you will be surrounded by lush greenery and moss-covered boulders.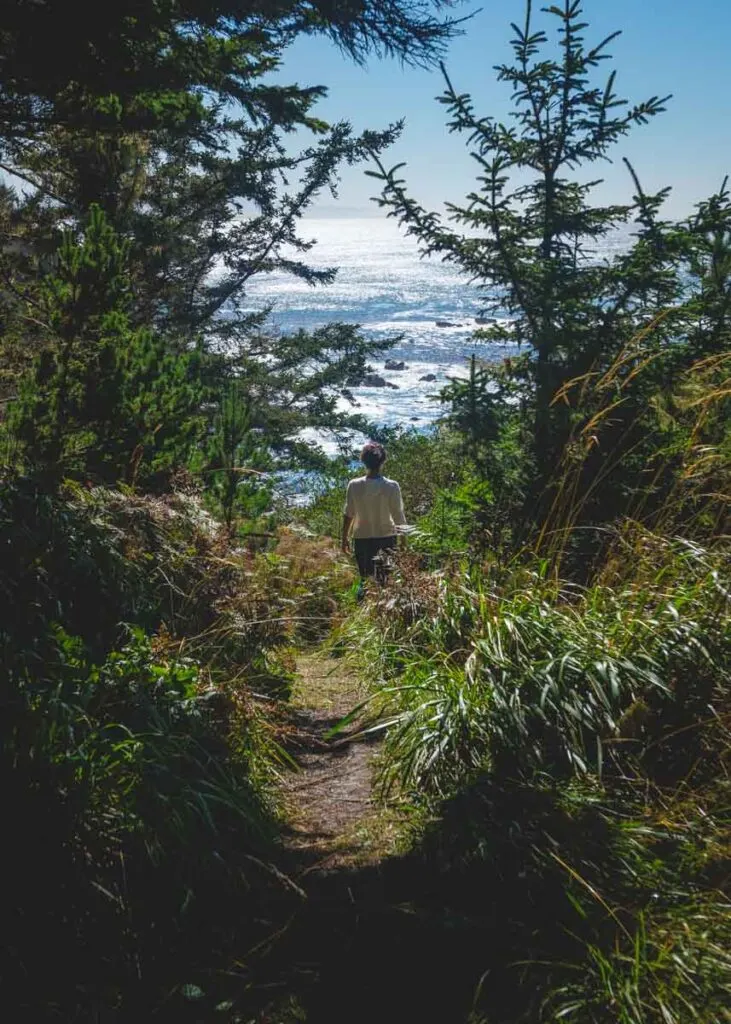 Don't let the fact that you will be heading inland rather than admiring coastal views put you off. As you hike, the towering canopy of Sitka Spruce above you is simply magical. It is a gradual climb to a ridge crest before heading down via switchbacks, up and down again, so plenty of elevation change is fun to keep things interesting!
Simpson Reef Overlook
Just one glance at Simpson Reef Overlook will have you wondering why you have waited so long to visit this viewpoint. Although visually spectacular, this hidden gem is easy to miss as you move between Cape Arago State Park and Shore Acres State Park, so make sure you don't move on too quickly.
You might even be able to HEAR the Overlook before you see it. Yes—Hear it!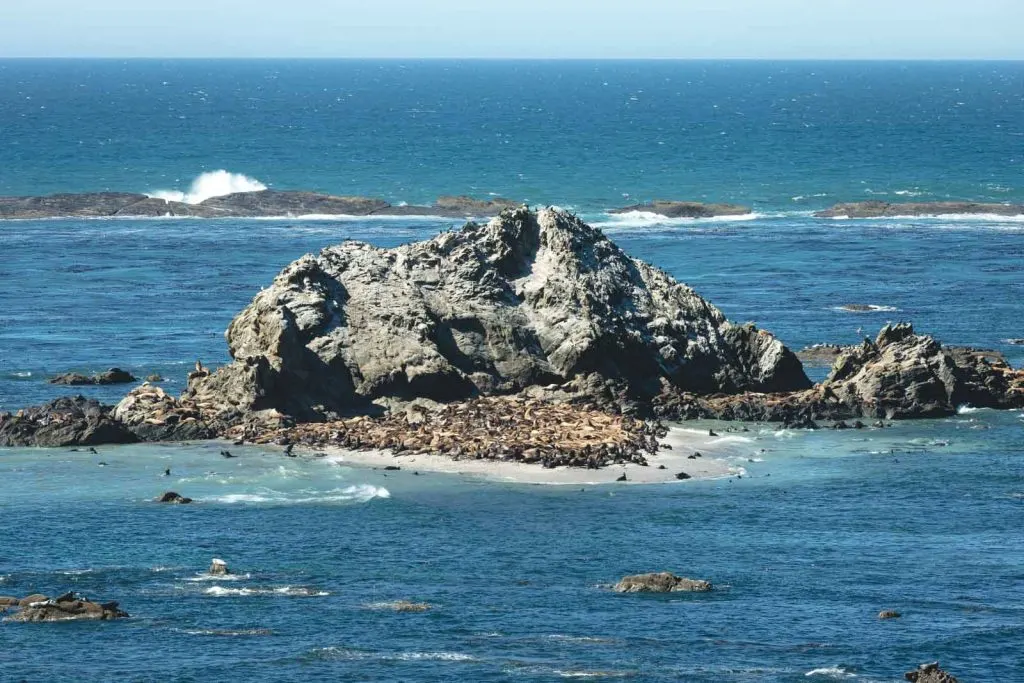 As you approach the expansive Pacific views, the air will likely be filled with the barking cries of sea mammals and birds, all of which have decided to make nearby Shell Island and Simpson Reef their base. Look out for puffins and cormorants, seals and sea lions, and even whales further out to sea.
The Overlook is one of the best places to witness this wildlife wonderland about a quarter of a mile from the shore, so ensure you bring binoculars for a better look.
See all Three State Parks!
Tack on Shore Acres and Sunset Bay to your trip! As these two nearby state parks are also small and located very close, many people choose to head to them all in one busy but memorable day trip.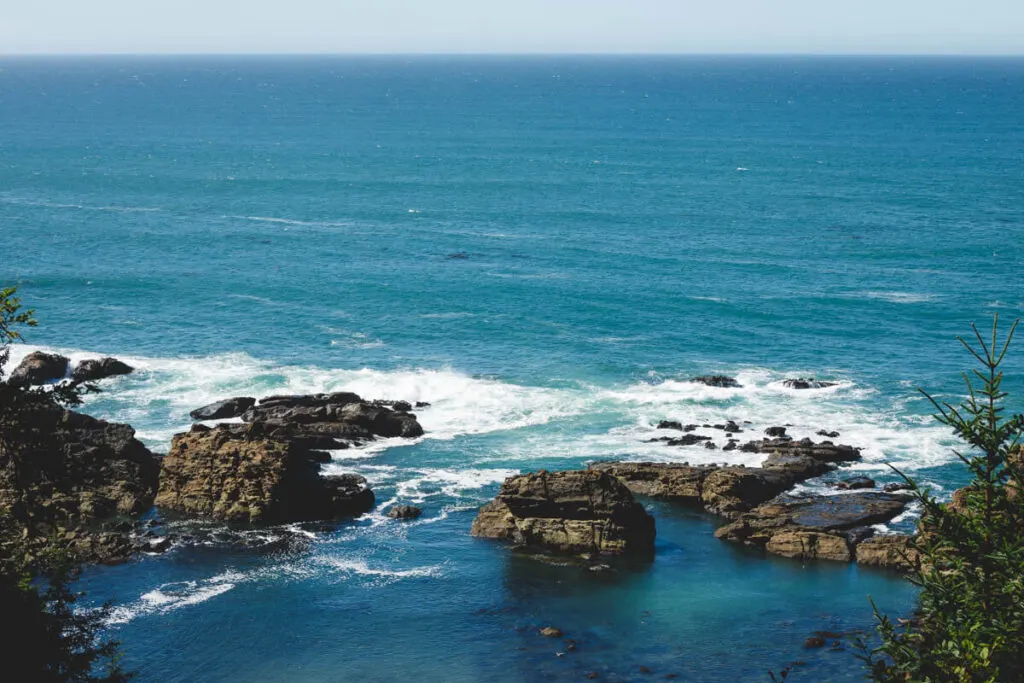 The Cape Arago Beach Loop is one of the best ways to do this, as you can take in all three parks and plenty of other coastal gems. The fact that you can drive to all the sites makes exploring this part of the shore very convenient while on a Southern Oregon Coast road trip.
Not only will you be able to enjoy the three parks, but on this loop, you can also witness tons of loud seals and sea lions, some great beaches, and picture-perfect vantage points of the cliffs and oceans.
Shore Acres State Park
Shore Acres is another small but perfect Oregon Coast State Park worth investigating. This park rests high above the crashing waves, sitting on some of the sandstone cliffs the area is known for.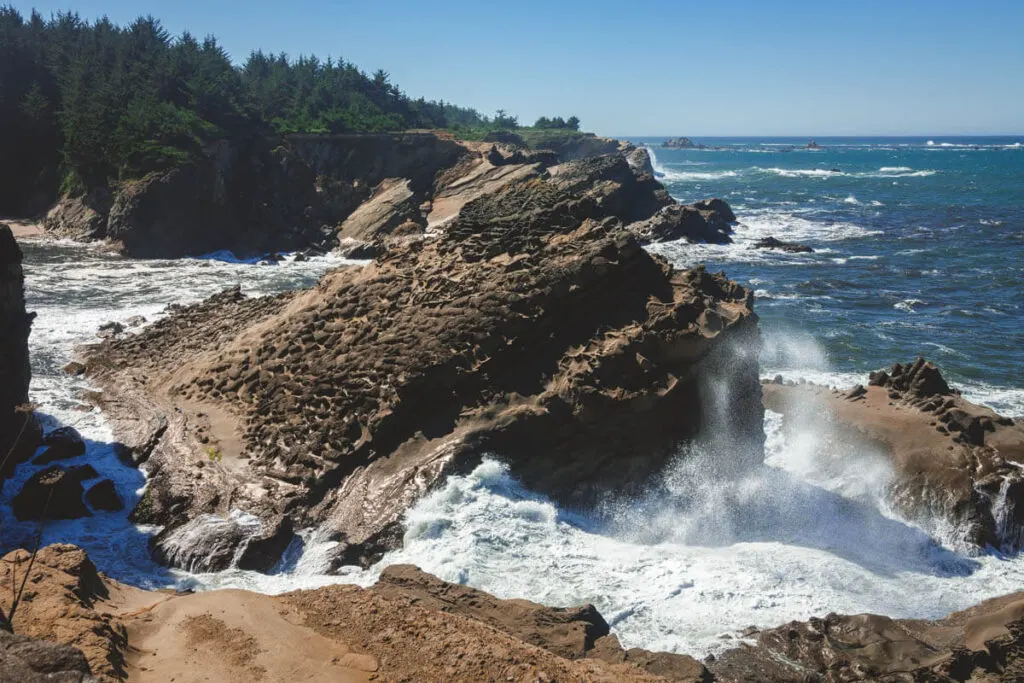 The park is mainly attractive thanks to its human element of it. It was once the estate of Louis Simpson, meaning rather than the wild, rugged greenery that usually dominates the coast, you will find lush and carefully planned gardens that bloom with life no matter what time of year you visit.
Sunset Bay State Park
Just the name of Sunset Bay State Park sounds appealing but you'll also get impressive sea cliffs back to large stretches of sandy beaches!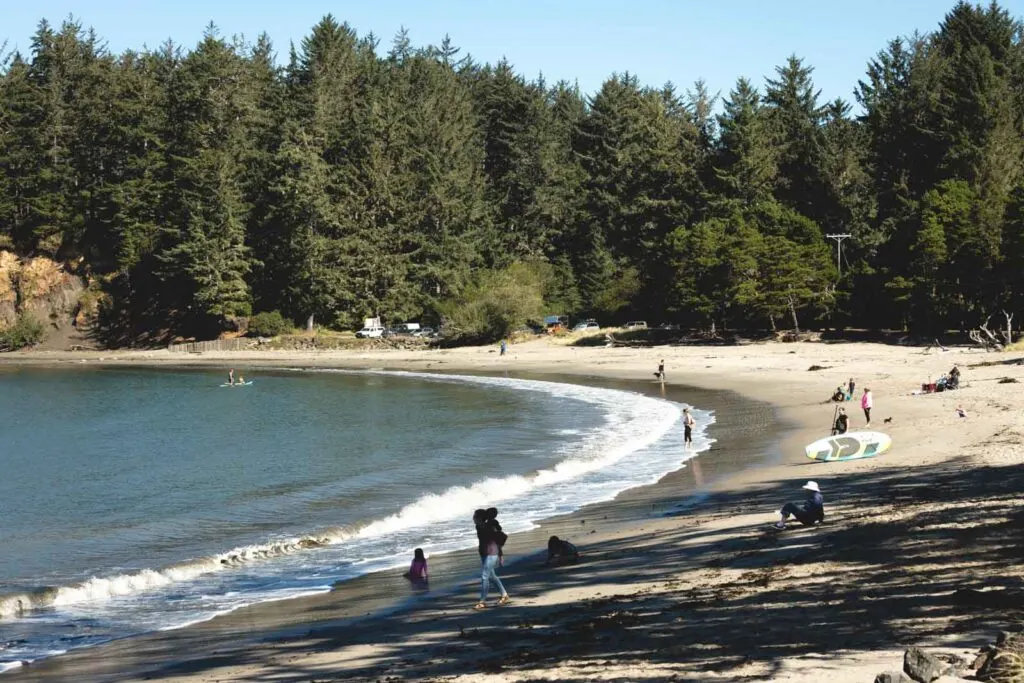 While you could see the park in an hour or two, we wouldn't blame you if you spent the whole day here using the picnic facilities, checking out the colorful rock pools, bird watching, and beach combing. The camping facilities allow you to spend the night and extend your stay.
What's Nearby Cape Arago State Park?
Coos Bay
The coastal area and the city of Coos Bay make for beautiful day trips if you are road-tripping along the Oregon coast or as a good base to visit Cape Arago State Park and the surrounding area.
The thriving town is the perfect place to base yourself to access the natural playground beyond. While in town, you could check out the Coos Bay History Museum to learn more about the area and then walk along the iconic Coos Bay Boardwalk.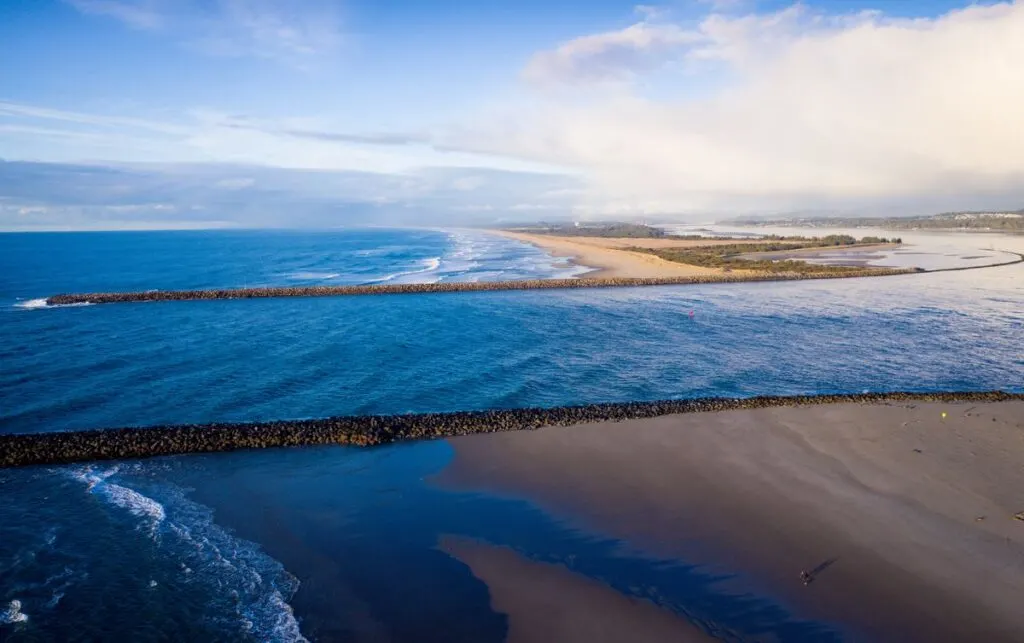 If you have a sweet tooth, you are in luck, as the town is known for its candy production. As well as buying the good stuff, you can check out how it is made.
As we mentioned, once you have finished in town, it is the perfect base for further exploring. We are talking sand dunes, beaches, ocean, and cliffs, right on your doorstep. Why not spend a day at the Oregon Dunes Natural Recreation Area or Bastendorff Beach?
Bandon Beach
No Oregon Coast road trip would be complete without stopping at the famous Bandon Beach; luckily, it's nearby. The beach is most well known for the incredible rock formations that just dramatically out from the sea.
It's hard to understand how these mighty rocks got into these crazy shapes. It is also one of the best spots in Oregon if you are hunting for a breathtaking sunset. They don't happen daily, but if you are lucky, you are in for a treat.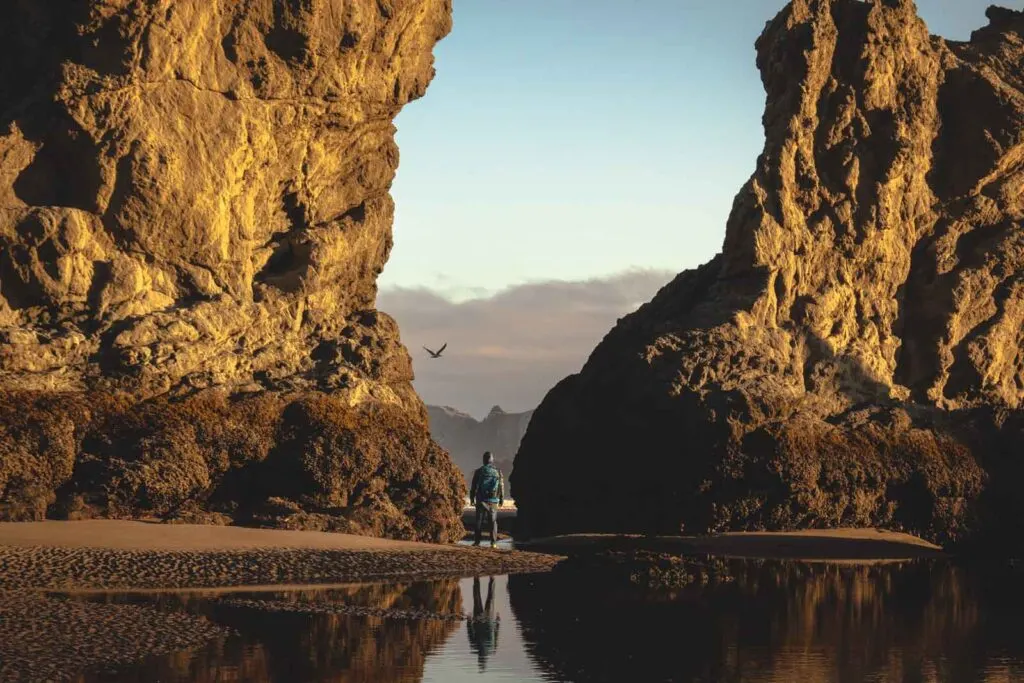 The beach is wide and beautiful, and you rarely find it crowded. Low tide allows you to walk amongst the monolithic rock formations and see if you can spot the sea stars and colorful sea creatures that inhabit the rock pools. The beach is visually stunning, and you can have so many adventures there and in the surrounding area.
---
READ MORE: 9 Cool Adventures Around Bandon Beach, Oregon
---
We hope this helped you plan your trip to Cape Arago State Park!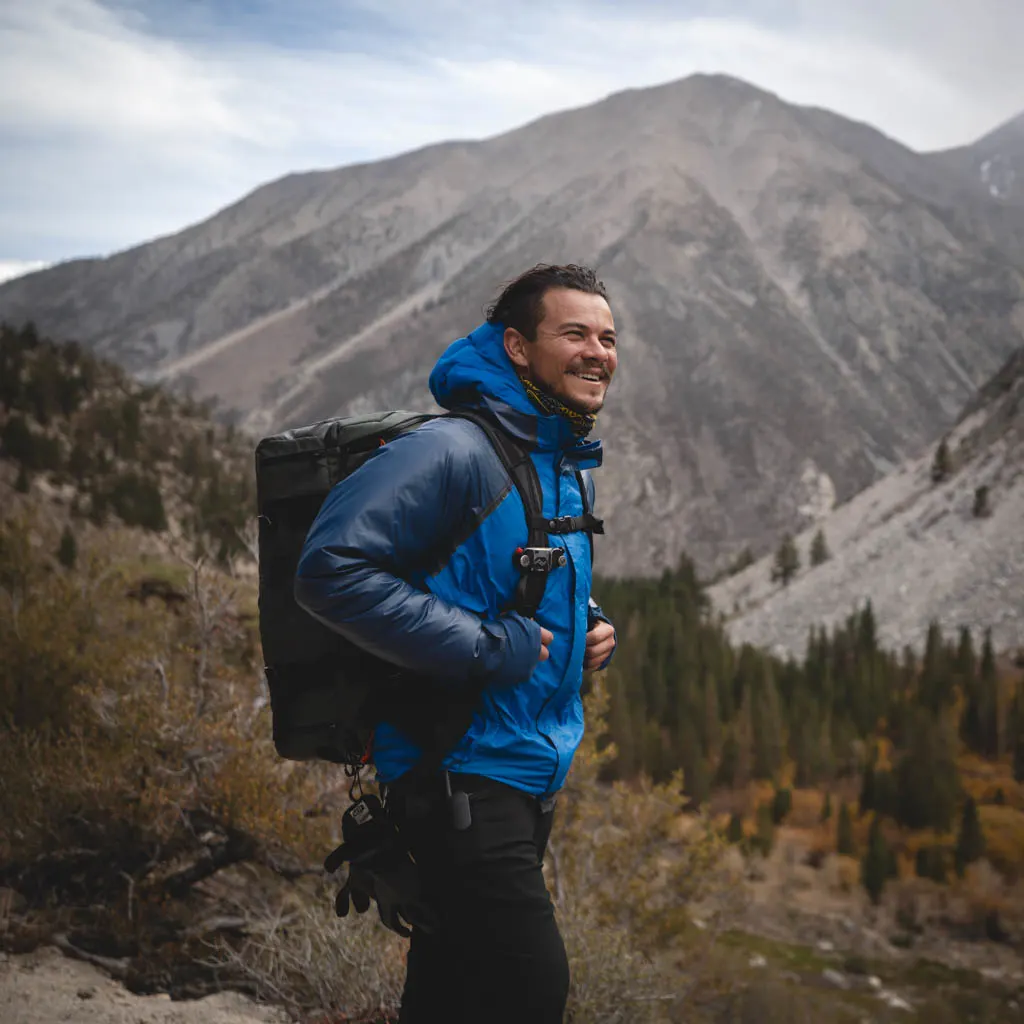 Oregon native and explorer at heart. Loves tackling expeditions around the world and drinking a good beer at the end of the day. PNW obsessed, VW nerd, and surf or snow riding fanatic.