In a state known for gorgeous stretches of coastline and impressive parks, it is hard to stand out in the state park game, but Sunset Bay State Park doesn't mess around. The white sand beach is protected by the towering cliffs behind it, creating a much calmer oasis compared to the rest of the coast, perfect for kayaking, swimming, and general beach bumming.
One of the most popular reasons people visit Sunset Bay State Park is its large campground. The campground is pretty sizable for a small park, making a picturesque base to enjoy the park for more than a day and venture further afield (more on this in a sec!).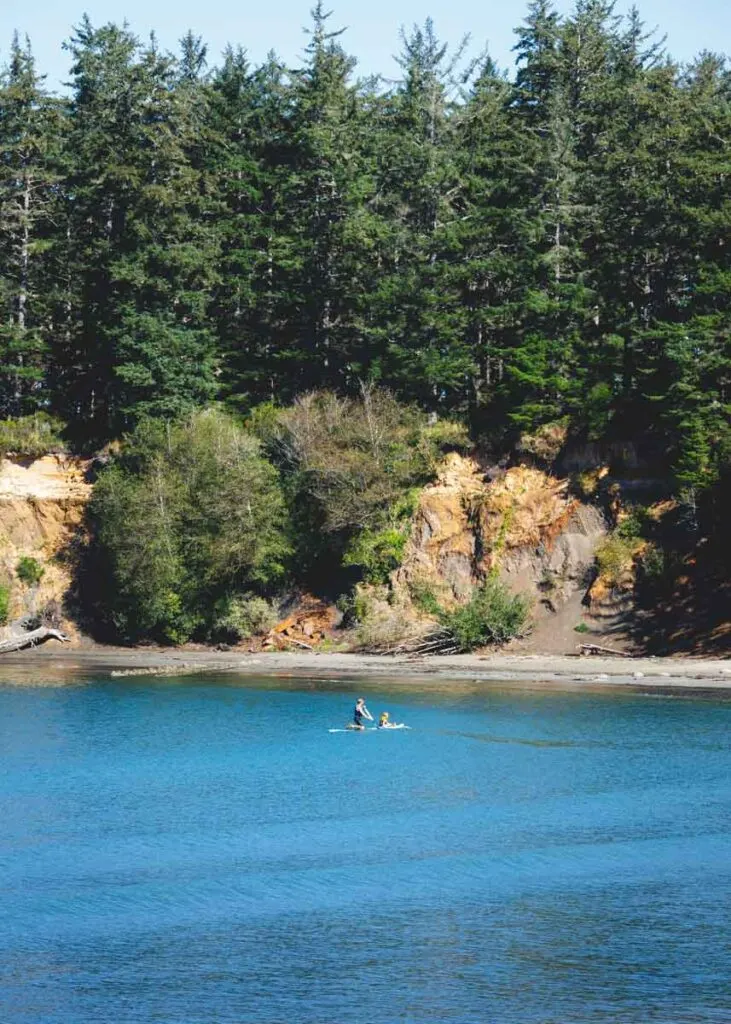 It's not just looks that Sunset Bay State Park has going for it, it is also a treasure trove of recreational activities. There are some stunning hiking trails, jaw-dropping vistas, and a public golf course. You may even see some of the wildlife sharing the park with you, such as sea lions or the many birds that take to the skies here.
Sunset Bay State Park
---
This small park packs a lot of punch! Here are the best trails, beaches, and other things to do in Sunset Bay State Park!
Trails in Sunset Bay State Park
Sunset Bay
Distance: 0.9 miles
Type of Trail: Out & Back
Difficulty: Easy
Elevation Gain: 62.3 feet
This short and sweet hike shares the same trailhead as the Sunset Bay to Cape Arago Trail. From the parking lot, follow the trail through the undergrowth, following the sound of the waves. When the trees part, you will find yourself at a spectacular viewpoint overlooking the beach.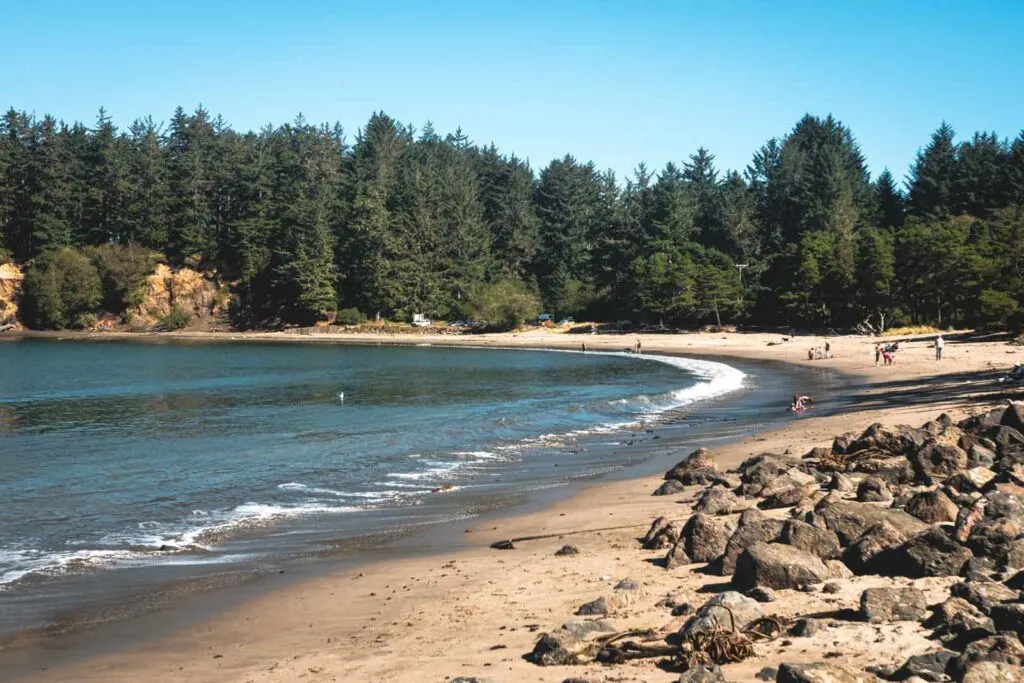 Take it all in, breathe the salty air, and turn around and head back the way you came when you are ready. At less than a mile there and back, it is the perfect hike to stretch your legs and get a glimpse of what Sunset Bay has to offer.
Bastendorff Bog Trail
Distance: 3 miles
Type of Trail: Out & Back
Difficulty: Easy
Elevation Gain: 282.2 feet
The Bastendorff Bog Trail runs from Sunset Bay Campground to Cape Arago Highway and is the sort of trail that only a few people stumble on by chance. The trail crosses a large bog via a slimy footbridge not too far from the trailhead.
Look out for the huge Skunk Cabbage that dominates the bog before heading uphill via the rich coastal forest that this coastline is known for.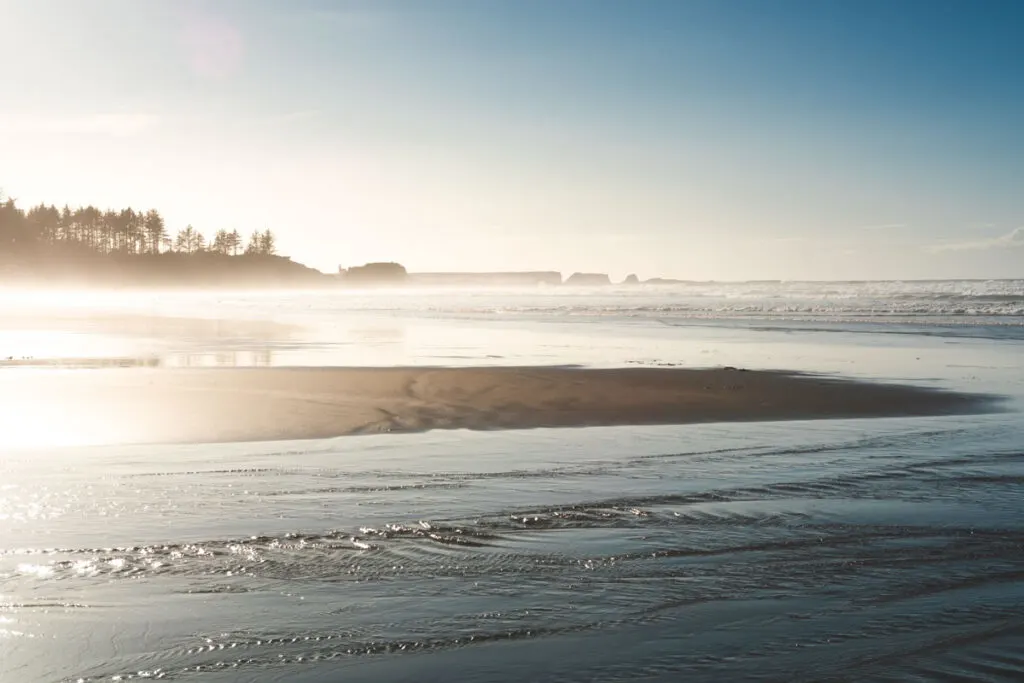 After half a mile or so of pushing leafy fronds out of your path, Bastendorff Bog decides to appear. Depending on the time of year you visit, there may or may not be a lot going on in the mud. If you visit in spring, you could see the endangered western bog lily.
Sunset Bay to Cape Arago
Distance: 8.5 miles
Type of Trail: Out & Back
Difficulty: Moderate
Elevation Gain: 702.1 feet
Although this is one of the longer hikes in the park, the Sunset Bay to Cape Arago Trail is arguably the most popular. Start at the day-use area, and head along the coast through the scenic Shore Acres State Park. This is a great spot to rest before you plow on, with epic vistas to watch the waves crashing against the cliffs below.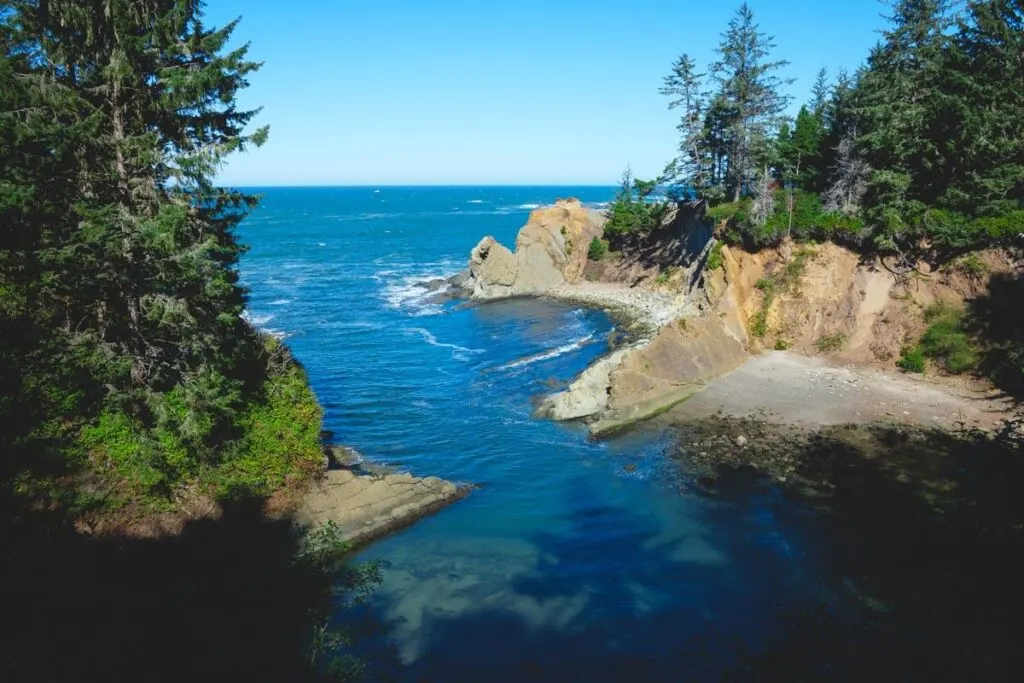 When fully rested, fed, and watered, head to the Simpson Reef Overlook for even more stunning views.
It is a beautiful trail that hugs the coastline almost the whole way, with multiple vantage points to peek into rock pools, sit on the shore, and check out the marine life.
Sunset Beach at Sunset Bay State Park
Sunset Beach is the main beach in Sunset Bay State Park, stretching along the coast, surrounded by high sandstone cliffs and reefs, keeping it nice and protected. Although the beach is relatively small, you can do so much here. Whether you want to picnic, beach comb, boat, surf, kayak, dive, swim, or fish, there are options for all.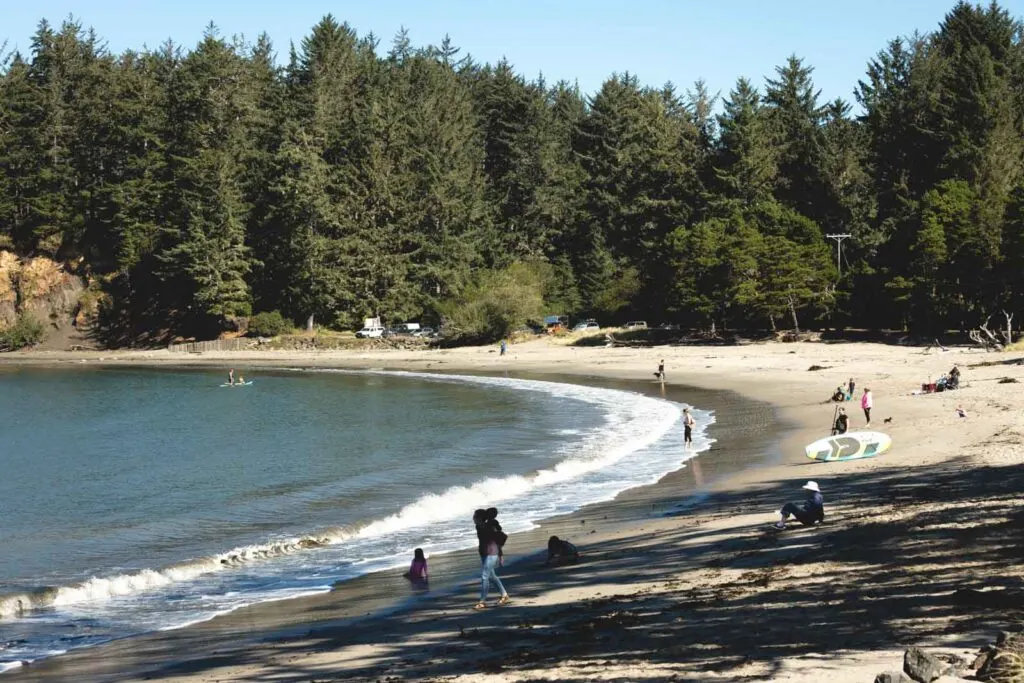 When the tide goes out, there are some good tidepools to explore, which are usually teeming with colorful marine life. There are restrooms and picnic tables available to visitors, so you can easily spend the whole day enjoying the beach, and if you stay long enough, the sunset is out of this world.
Cape Arago Lighthouse Viewpoint
The Cape Arago Lighthouse is not the easiest to observe, mainly because it is located on an island and is not accessible to the public. However, all is not lost. Lighthouse lovers can get a great view of this Oregon lighthouse from the Lighthouse Viewpoint, located just off the Cape Arago Highway.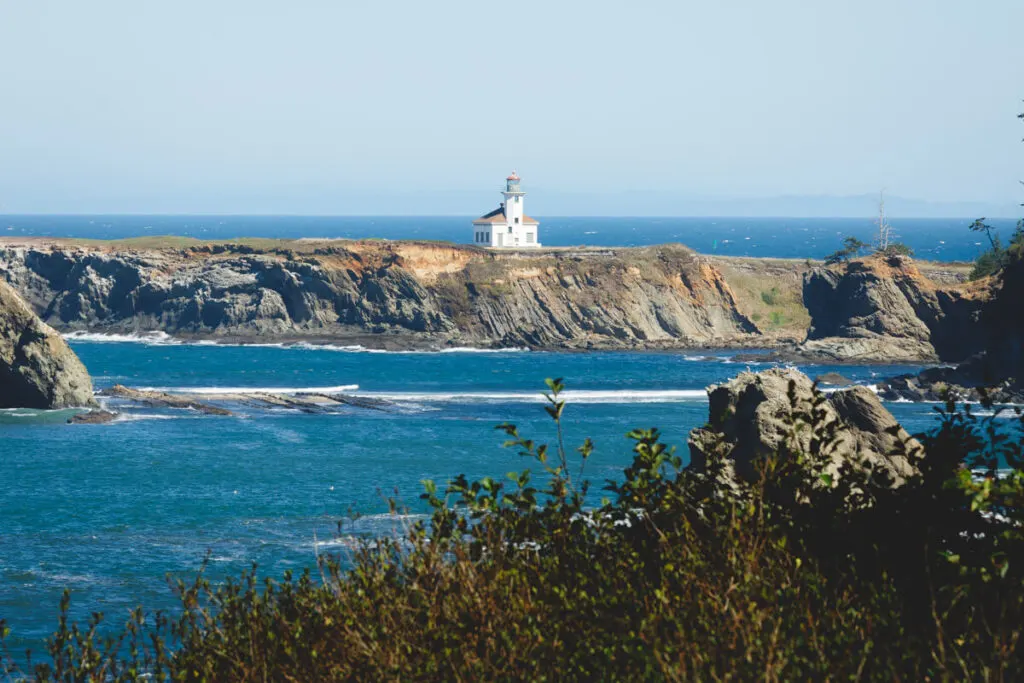 There is a small pull-out area, big enough for a few cars, and then a short trail down to the viewpoint. You will have a clear view of this small lighthouse, perched on its island, out to sea. First illuminated in 1934, it is a beautiful example of Oregon Coast history and well worth a stop if you are passing by.
Camping at Sunset Bay State Park
Sunset Bay State Park is home to a year-round campsite where you can book up to 6 months in advance. There are camping options for everyone, with 30 full-hookup sites, 35 electrical sites with water, 65 sites for tents, and eight yurts. There is also a hiker/biker camp. Plenty of amenities include flush toilets, hot showers, fish cleaning stations, garbage, and firewood for sale.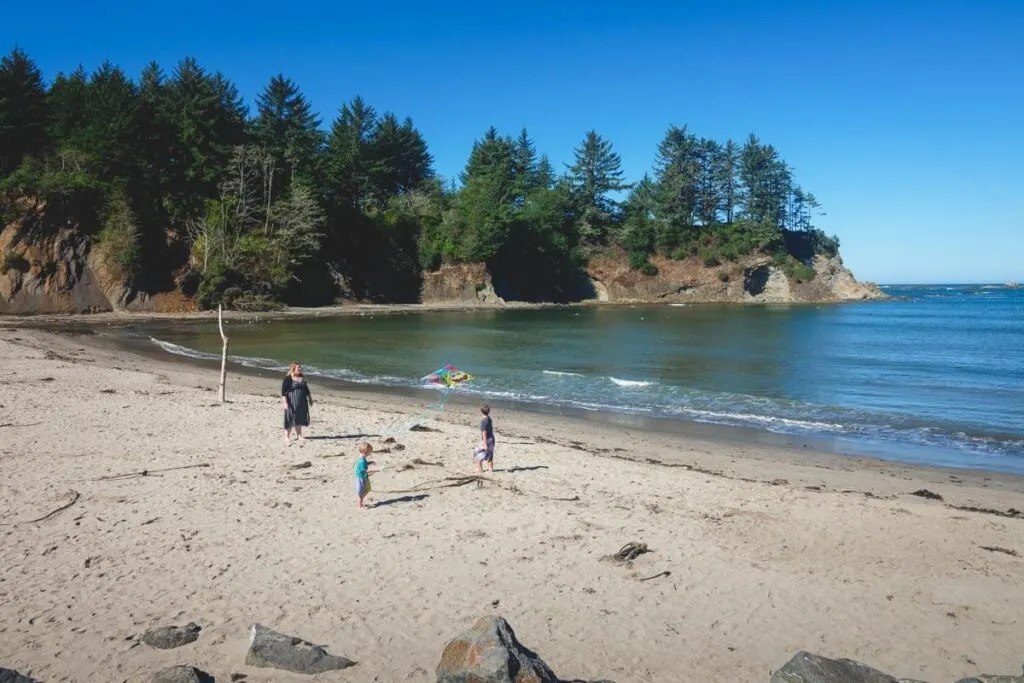 Camping at Sunset Bay allows you to have the park to yourself for a bit when the day trippers have all left, and there is nothing quite like walking up and to the smell of sea air.
See all Three State Parks!
Although Sunset Bay is a standalone park, many visitors tend to combine their trip to Sunset Bay with visiting the neighboring state parks of Cape Arago and Shore Acres. Each park is very close and can be reached by the series of hiking trails that link the park or by driving.
Shore Acres
Shore Acres State Park is very interesting, as it is half left wild and free and half made up of a manicured garden. An impressive mansion used to lie in the park before the state bought the park, but the remarkable gardens have been kept looking polished all year round.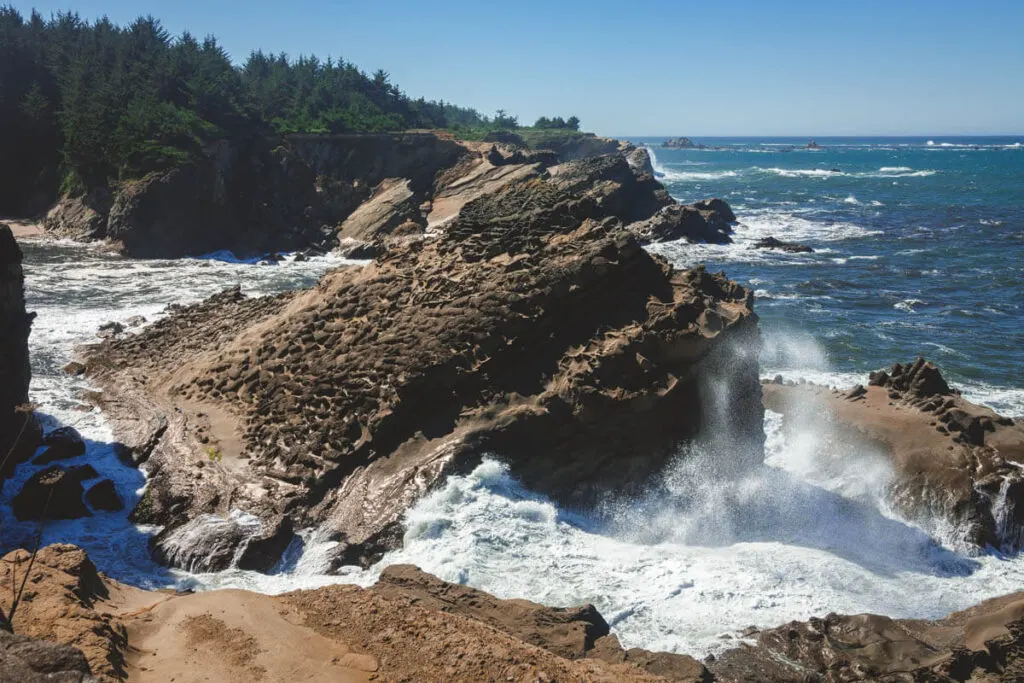 You should expect to see plants here from all over the globe. As well as incredible plant life, the wild part of the park has some great hikes along the coast.
Cape Arago
Cape Arago State Park is a nature watcher's haven. Of course, it has its fair share of bird life, but it is also home to many sea mammals. In fact, you will hear the seals and sea lions before you see them, and if you are lucky, you may even spot whales out to sea.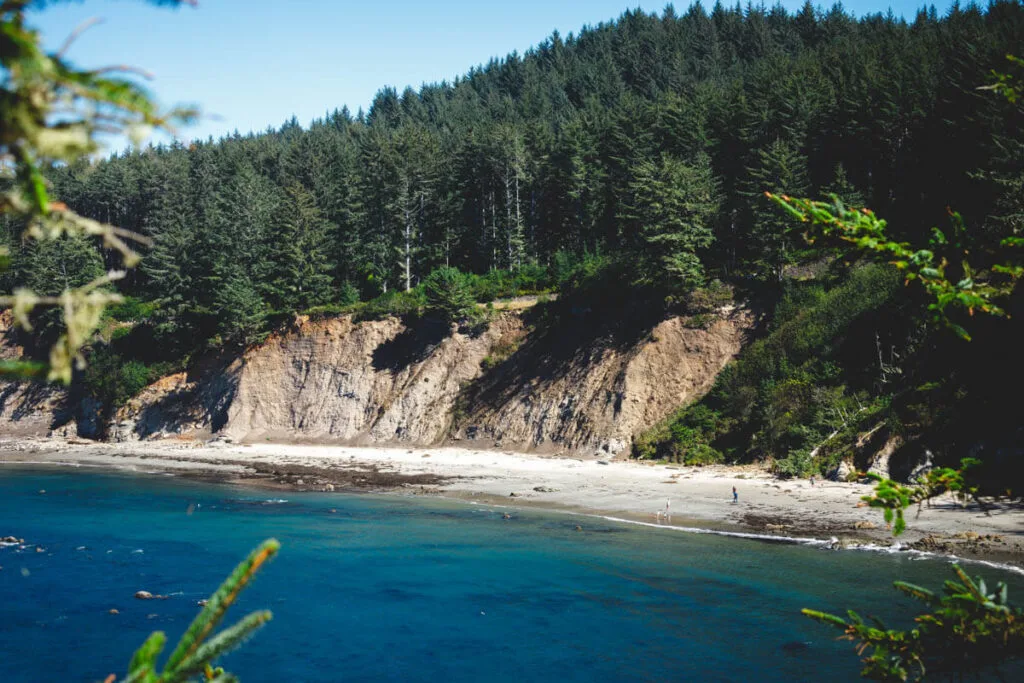 Cape Arago is literally at the end of the road. You know you will be somewhere special when a destination has a dedicated road. There are several epic hikes like the North Beach Trail, or if hiking is not for you, it is a popular place to beach comb and enjoy nature at its finest.
What's Near Sunset Bay State Park?
Bandon Beach
There are so many reasons we would advise you to go to Bandon Beach; it is just such an epic place! Some people come for the sea views, while others visit to capture the perfect photograph of the impressive rock formations put to sea.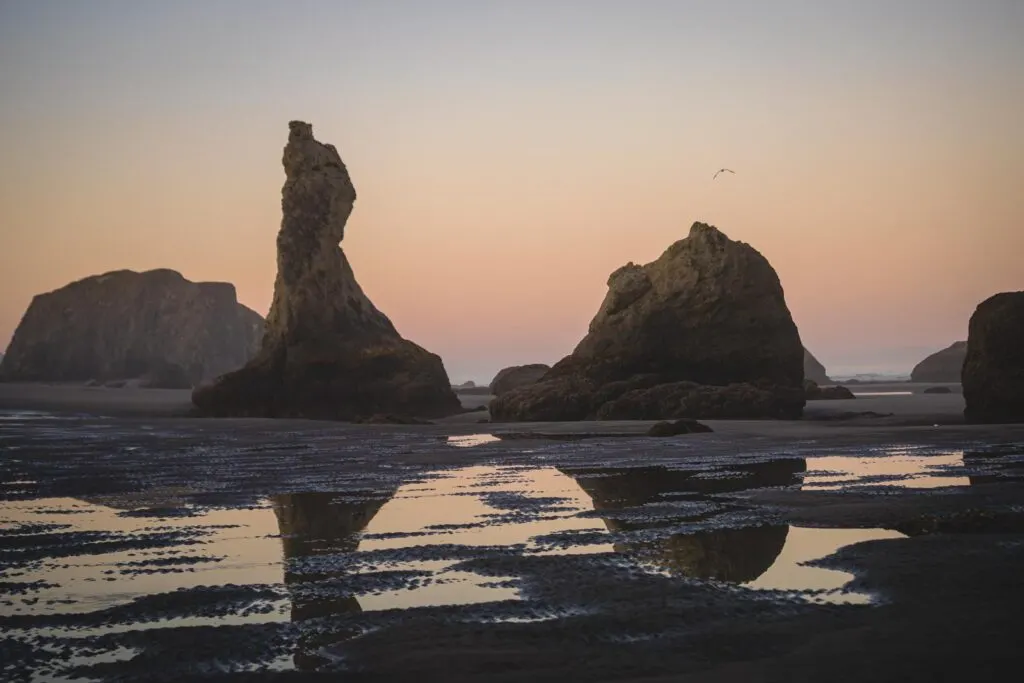 Others visit the Bandon Old Town and taste the freshest seafood you can imagine or stroll along the beach or the Bandon Boardwalk Trail.
---
READ MORE: 9 Cool Adventures Around Bandon Beach, Oregon
---
Coos Bay
With the impressive Pacific Ocean just a few miles away, plenty of shopping opportunities, and some delicious places to grab a bite to eat, Coos Bay is an exciting place to visit on an Oregon road trip.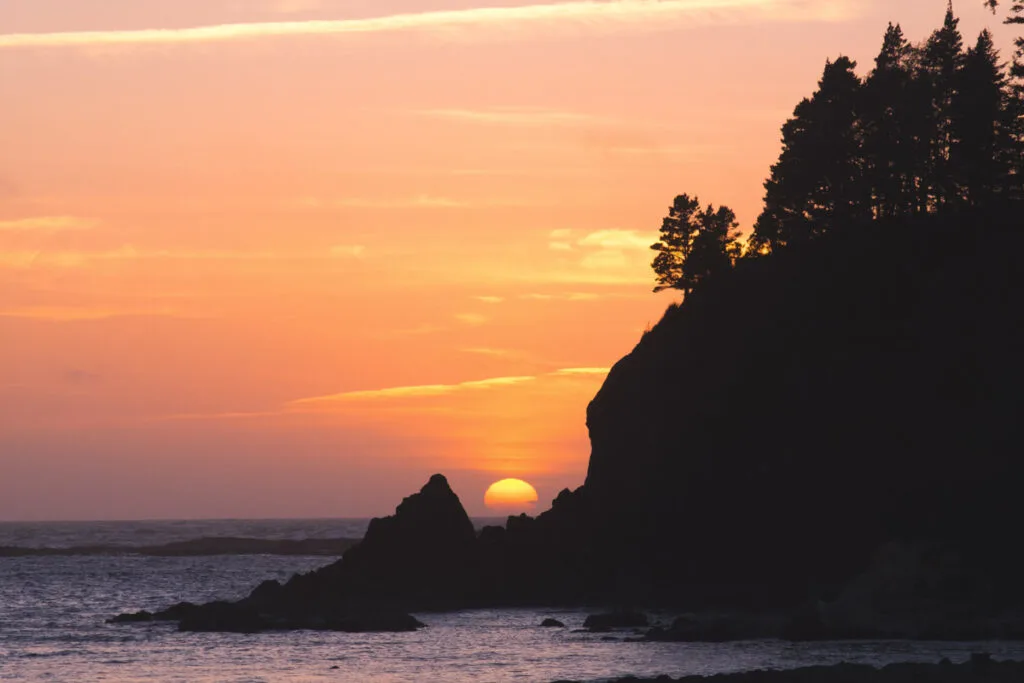 Many people make this their base to explore this part of the coast, spending their time while not out and about, visiting the Coos Art Museum, the Downtown Farmers Market, and the music festivals that run through the summer months. The beach is wild and beautiful, and depending on the time you visit, it is also often home to some of the best rock pools in the state.
---
READ MORE: Southern Oregon Coast: 13 Epic Stops—Bandon to Brookings!
---
We hope this helped you plan your trip to Sunset Bay State Park!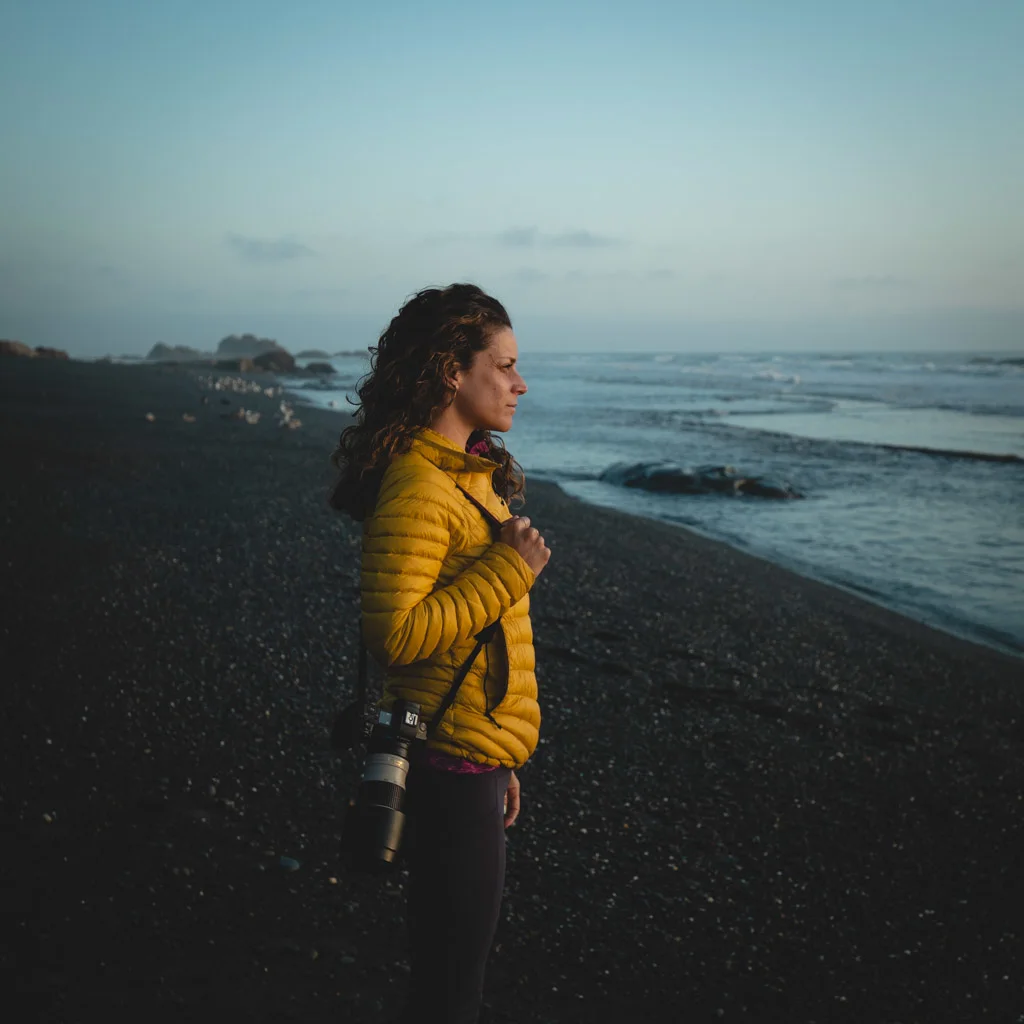 I've been perpetually traveling and living around the world for years but it's hard to beat Oregon and the PNW. After years of road-tripping the area, I guess you can say I know it pretty well! When I'm not writing guides for you, you can catch me somewhere petting a dog, attempting to surf, hiking a volcano, or stuffing my face with bread and cheese.