There are plenty of things to do in Florence, Oregon for all of you adventurous souls out there.
Tackle some beautiful coastal hikes, take on the incredible Oregon dunes via sandboarding or dune buggies, and you can even chase some waterfalls!
Florence is ideally located along the coast because it's almost right in the middle, meaning you can access tons of other awesome coastal locations from here. Florence is just over an hour away from Eugene as well making it super easy to get to from inland Oregon.
Here are all the exciting adventures you can have while visiting Florence, Oregon!
Things To Do in Florence, Oregon
---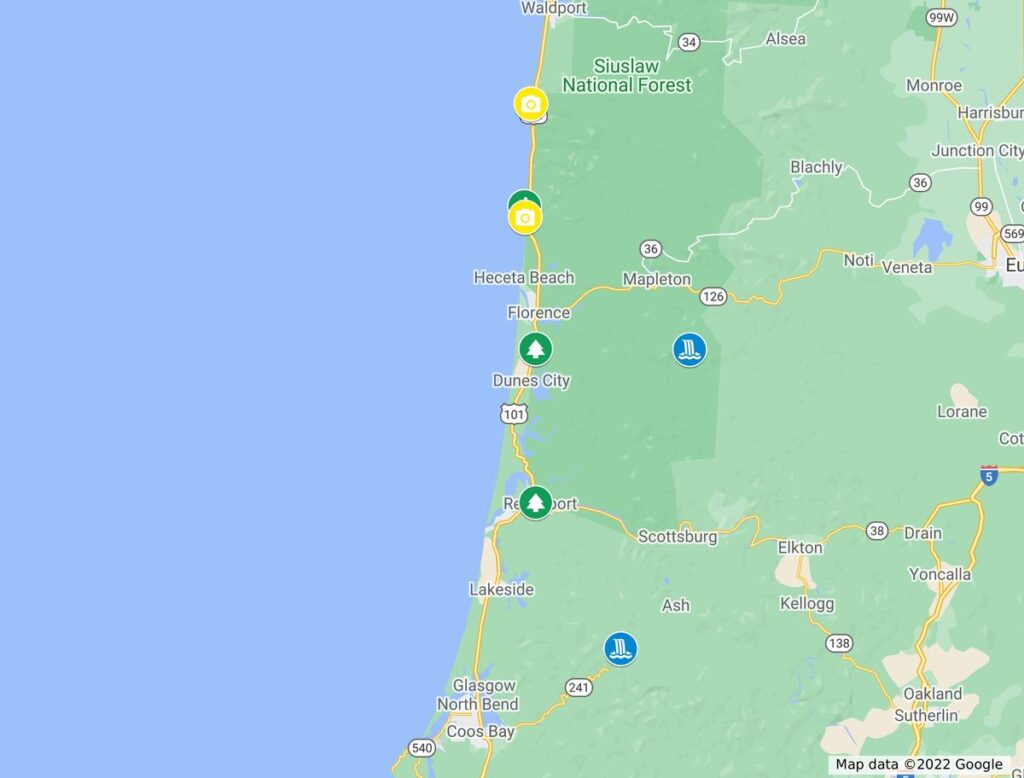 1. Sea Lion Caves
The Sea Lion Caves in Oregon are pretty wild. We are talking huge, raging sea caves that often feel the force of the battering ocean. These caves are actually the largest sea caves in America, so that is a pretty cool claim to fame, and surely enough to make you want to add it to your list of things to do in Florence.
As the name suggests, the caves are the perfect spot to see some blubbery friends splashing about in the water and on the surrounding rocks.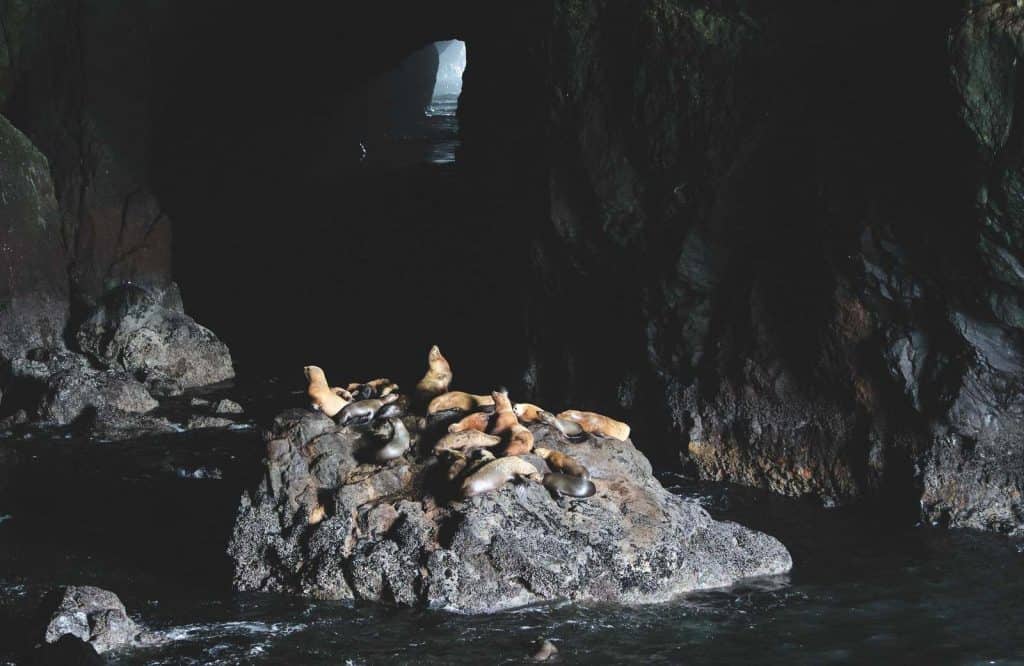 The Steller sea lions are here all year round, so you have a good chance of seeing some no matter the time of year you visit, although the winter months are probably best if you want to see the spectacle of literally hundreds of creatures inside the cave.
You'll have to pay for a ticket if you want to visit, but it is well worth it as the experience is truly unique. You'll descend down, down, down inside the cave via an elevator to the viewing area. Your entrance fee also includes a number of nice coastal walking paths so you can easily spend half a day here.
This is a natural spectacle, not a zoo so you can feel confident supporting this attraction.
2. Heceta Head and Hobbit Trail
It may sound like you are off to Mordor, but the Hobbit Trail is actually a cute little hike by Heceta Head near Florence. You'll be hiking from Hobbit Beach all the way up to Heceta Head, where we can't be held responsible if the views take your breath away.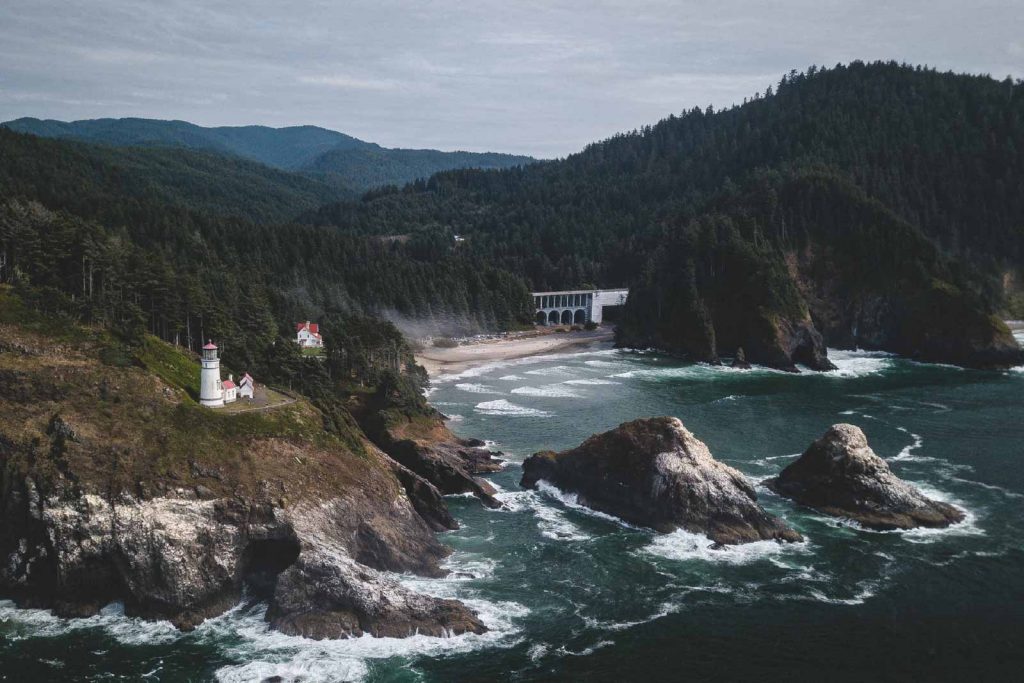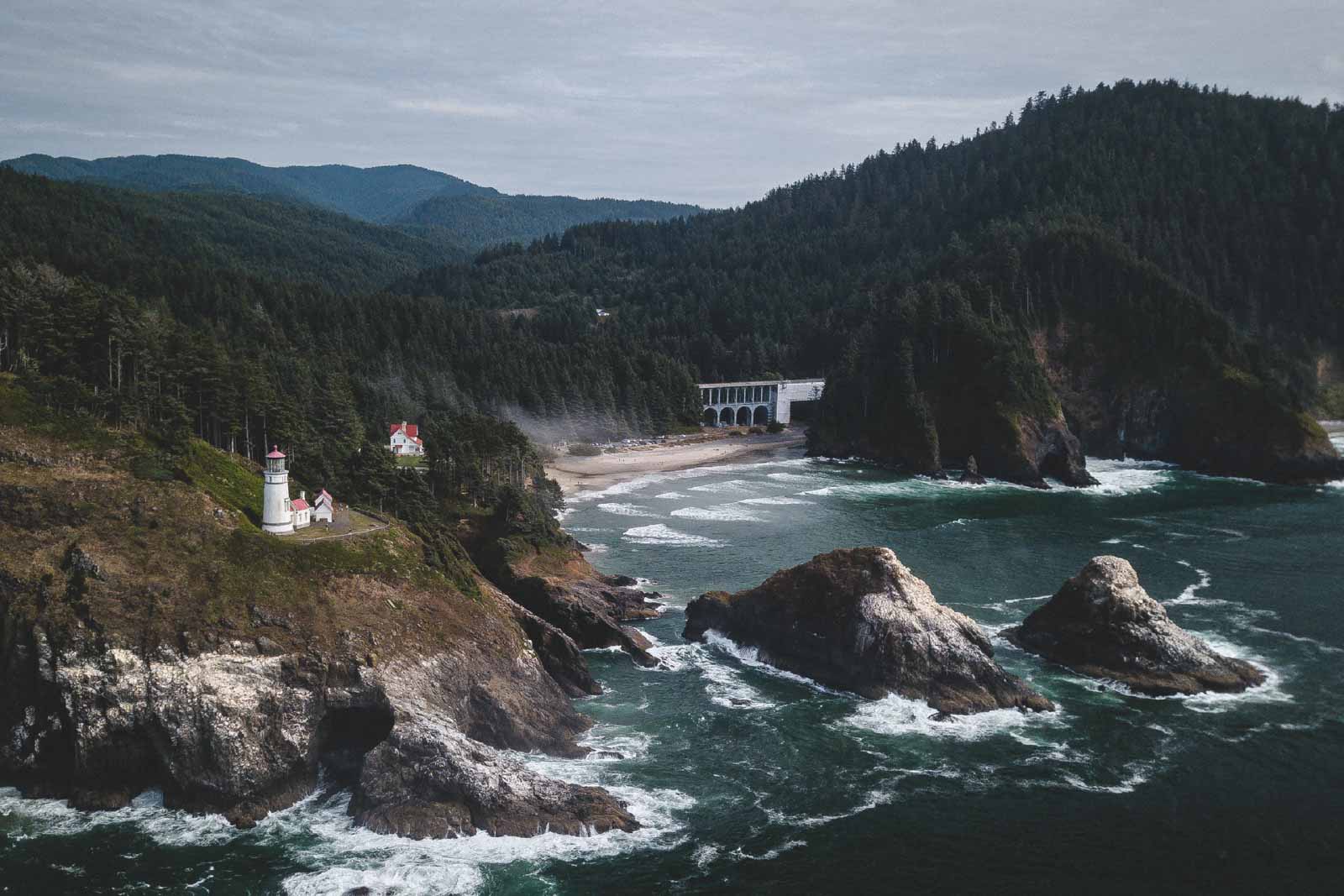 The trail is beautiful and covered in thick moss, creating an atmosphere that actually could be compared to some of the scenes from Lord of the Rings!
Hobbit Beach is pretty stunning, with a variety of marine life and driftwood, and some cool faces that have been carved into the hard-packed sand along the cliff face.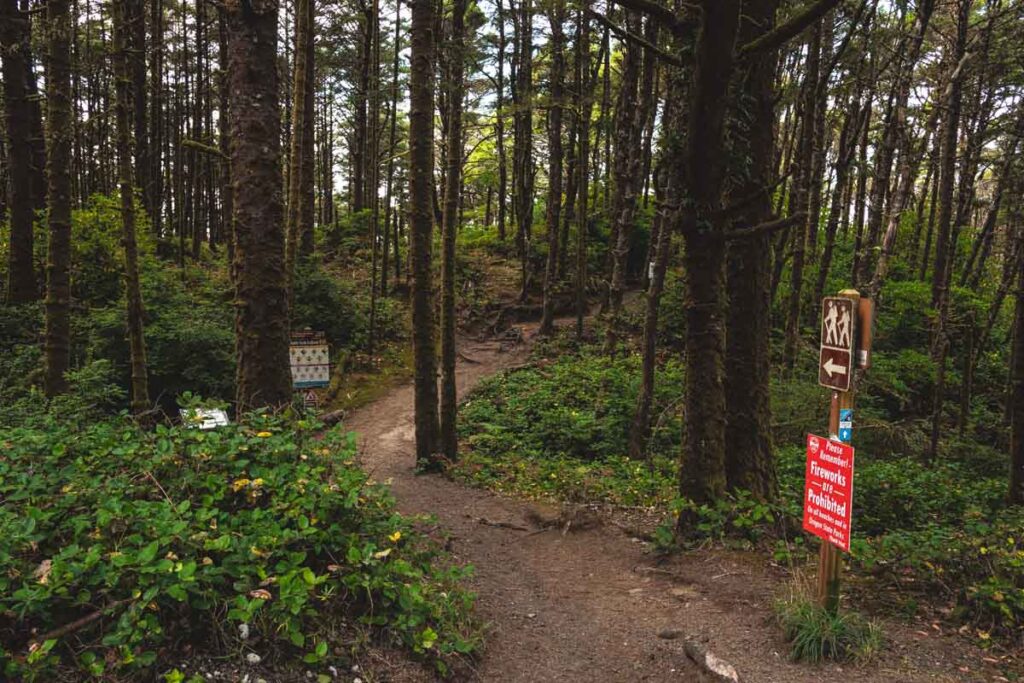 Once you've had your fill of the beautiful beach, head back the trail and follow it back to the original trailhead and up to Heceta Head. You'll be heading uphill for the majority of the hike, but remember, that just means you will be going downhill on the way back, so don't give up!
Be sure to make time to explore Heceta Head lighthouse on the hike, as you can take a short tour inside and have a look around. From Florence, it is just around 12 miles north, so you won't have to travel far at all.
---
READ MORE: Exploring Heceta Head Lighthouse, Beach, and Trail!
---
3. Jessie M. Honeyman Memorial State Park
If you're looking for a beautiful state park not too far from Florence, you're pretty much covered with Jessie M. Honeyman.
With sand dunes, hiking trails, two huge lakes, and plenty of opportunities for nature sighting and so much more, it has much everything you want from a park, and that's before even mentioning that on one side it is bordered by the rugged Pacific Ocean.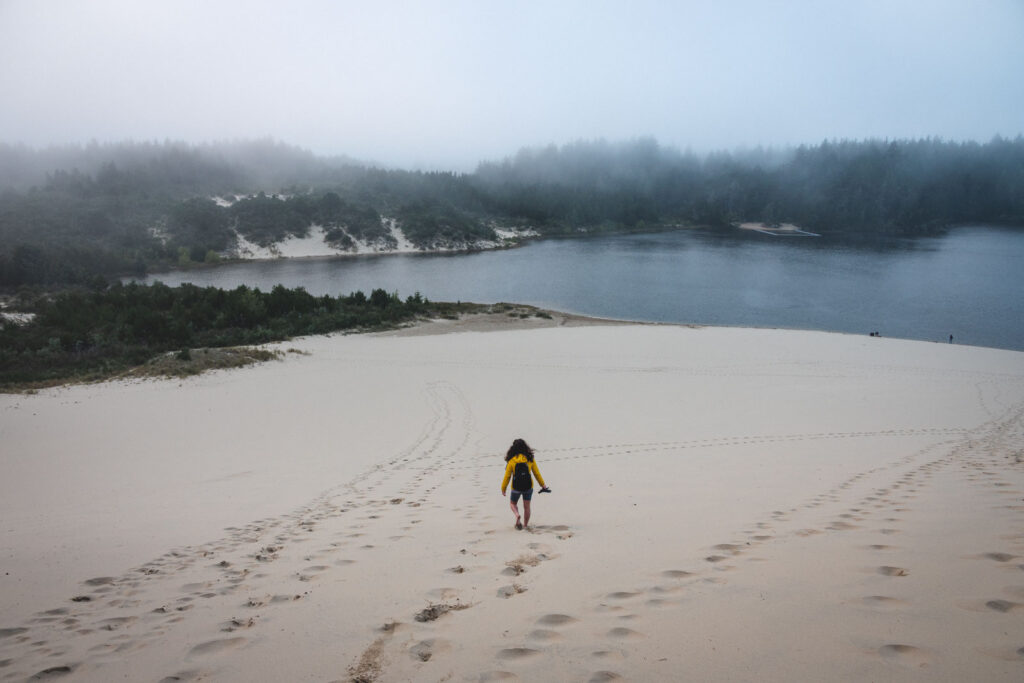 Although the ocean is pretty impressive, the lakes are the real highlight here, with one making a prime swimming spot, and the other with a boat ramp. Hop in your kayak and go explore. Lake Woahink is quite an interesting shape, so why not spend the morning exploring every corner?
If you want to spend the night, it is the ideal place to pitch a tent, as it is home to the second-largest state park campground in Oregon. There are over 350 places to stay the night.
4. Whale Watching Tour
One of the most magical things to do in Florence is actually one of the most magical things to do in the whole of Oregon! Take a whale watching tour for a chance of seeing some of these majestic beasts in the wild.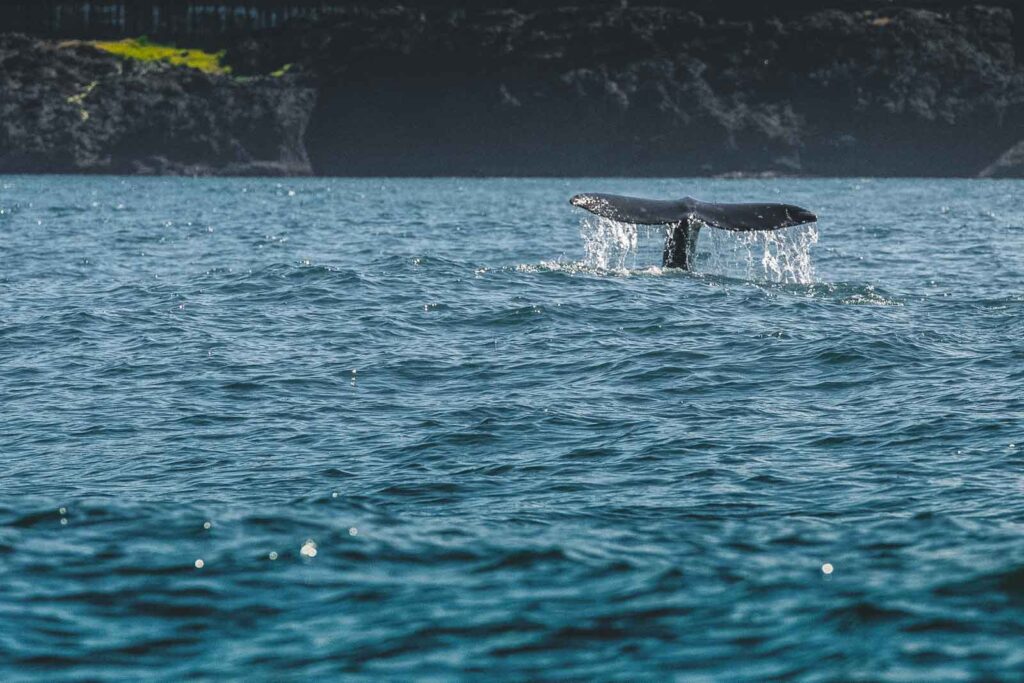 Trust us, if you see one of these 60,000-pound whales, it will be one of the most incredible things you have ever witnessed. The whales migrate right through the area on an epic 12,000-mile journey, and with 18,000 whales making the trip every year, you have a good chance of spotting some.
There are a few places near Florence where you may be able to spot whales from the shore, such as Heceta Head and Cape Perpetua. However, for the best experience, we really recommend a tour since it gets you out there in the deep blue sea for a closer look.
The prime months to see whales are March to June, and then December to January, as this is when they migrate and you have the best chance of having a sighting.
5. Cape Perpetua
Cape Perpetua is one of the most stunning destinations on the Oregon Coast, a definitely deserves a place on this list of things to do in Florence. You could spend an age just standing on the cape and taking in the view, where the rock formations seem to stretch for miles.
There are around 26 miles of trails to explore if you are feeling up to it, or if not, no worries! Most of the 'attractions' can be driven to, so you can still take in most of what the cape has to offer.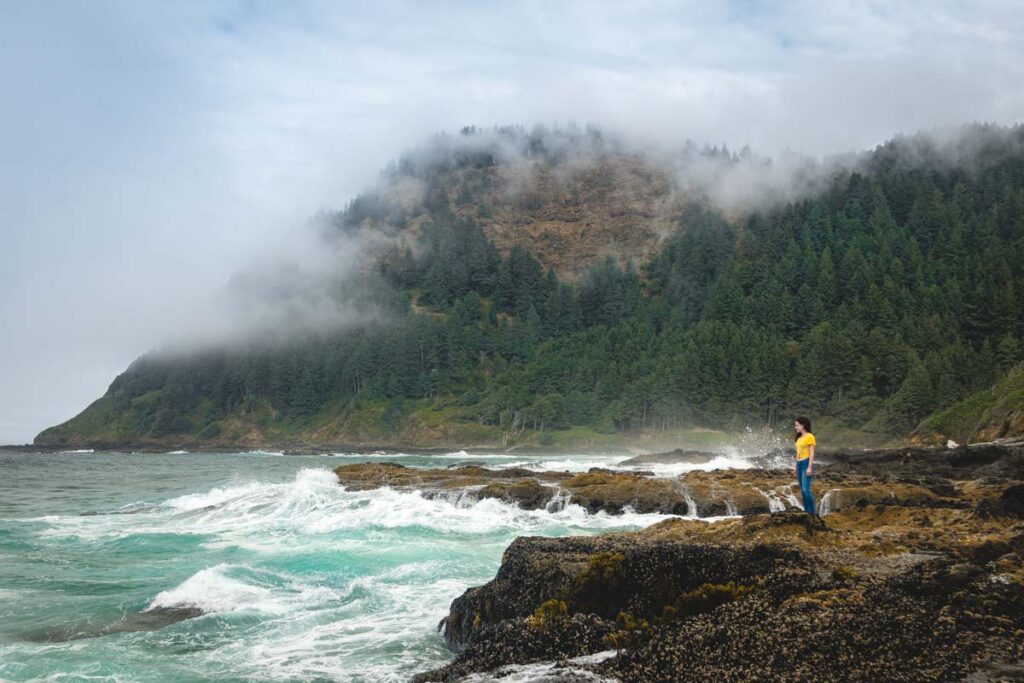 If there is one thing to see while you are there, make it Thors Well. This natural wonder never fails to amaze, no matter how many times you see the waves bursting up through the 200-foot hole in the rock. The best way to see it is via the Captain Cook Trail.
Make Sprouting Horn, Cook's Chasm, and Captain Cook Point the next points of interest on your Cape Perpetua bucket list, and the great thing is, they can also be found on the Captain Cook Trail.
If you have the time, you should also make a quick stop at Devil's Churn, or alternatively, take a walk on the beautiful Giant Spruce Trail. There is just so much to do!
---
READ MORE: 9 Things to Do in Cape Perpetua, Oregon
---
6. Dune Buggy Tour
One of the best ways to see the Oregon dunes is via a dune buggy tour. They are so much fun, and allow you to cover a lot of ground in a much shorter amount of time than walking would!
There are a couple of different tours you can take, but if you don't mind sharing with a few others, the Giant Dune Buggy is a good one, as it covers around 8 miles of dune and 2 miles of beach.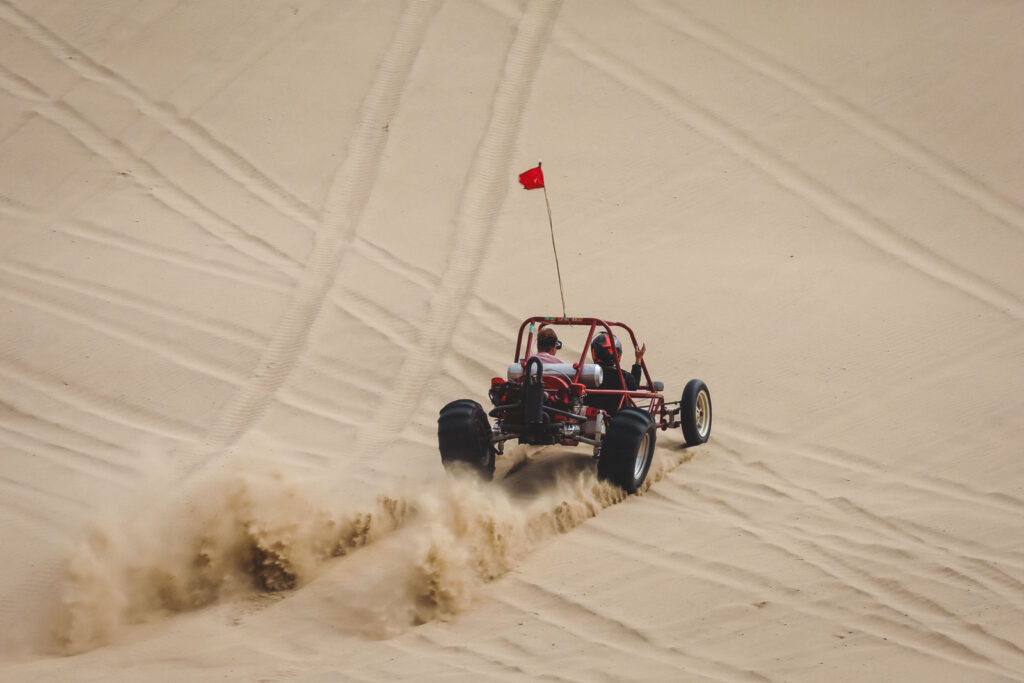 You'll ride up and down the dunes, like you are at sea, with someone else doing all the tricky driving for you. You can sit back and enjoy the undulating landscapes, and try and fail to take the perfect selfie with the wind whipping your hair up into a frenzy
If you want a buggy to yourself, there are options for this as well via a sand rail tour, made for excitement seekers. You'll be driven around by a skilled driver, and the ride is catered towards your preferences and where you want to go. Usually, around 12-14 miles will be covered.
7. Oregon Dunes
If you're staying around Florence, then you'll easily be able to squeeze a visit to the Oregon Dunes into your trip, or at least a part of it. The dunes stretch for an incredible 40 miles, with some of the towering piles of sand reaching around 500 feet.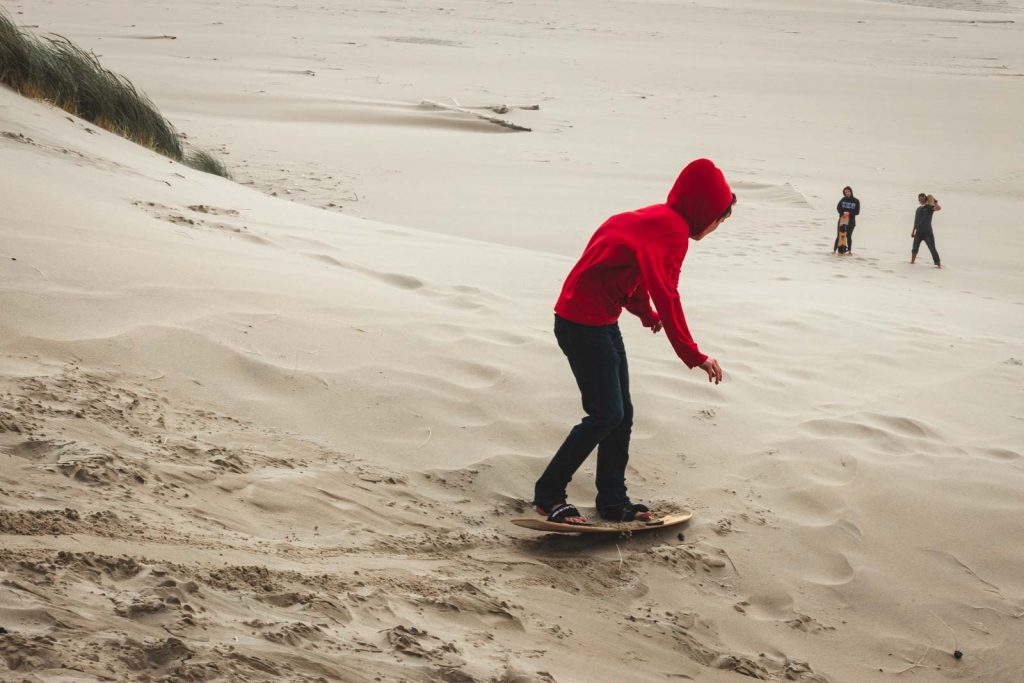 No matter how you choose to explore the dunes, you won't be disappointed, with an ever-changing landscape there is always something new to take in.
If you're feeling a little bit daring, why not give sandboarding a go? Essentially, you'll be sliding down the dunes on a board, which is great fun! With hills of varying levels, this is an activity that can be enjoyed by everyone.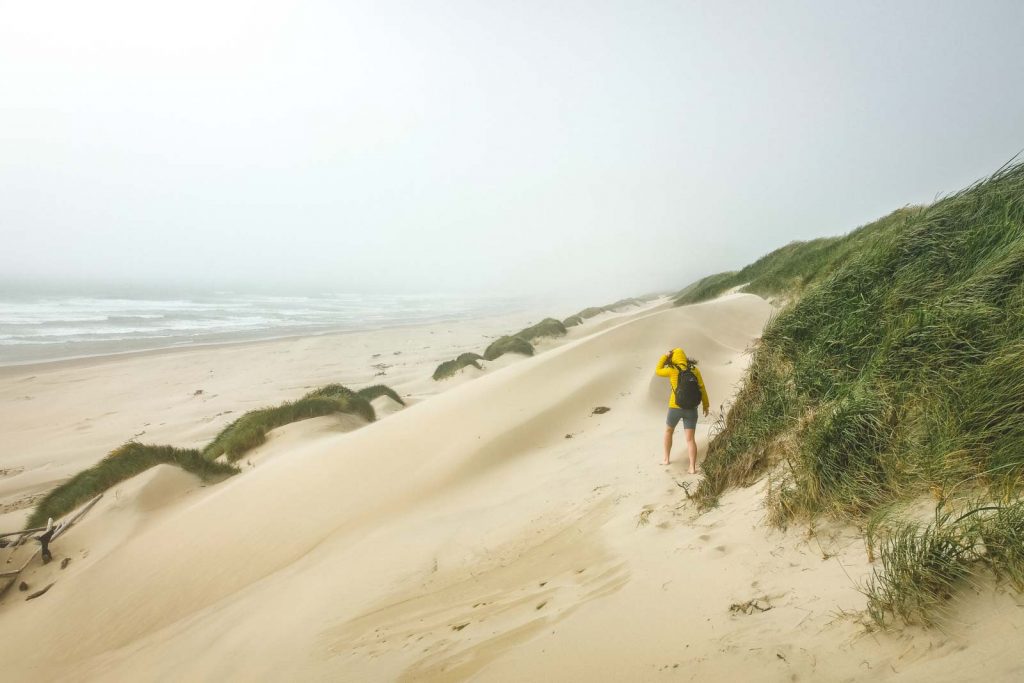 If you would prefer to stay safely on two feet, then there are also a number of trails through the sand that gives you some unique dune viewing vantage points.
No matter what way you look at them, from the bottom of the top, they will never fail to be impressive. A good hike is the John Dellenback Trail, as this way you'll not only be able to navigate the dunes, but also the beach area.
---
READ MORE: Your Adventure Guide to The Oregon Dunes
---
8. Golden and Silver Falls State Natural Area
Don those hiking boots and get ready for a day on the trails at Golden and Silver Falls State Natural Area. You won't have to go far to see the waterfalls.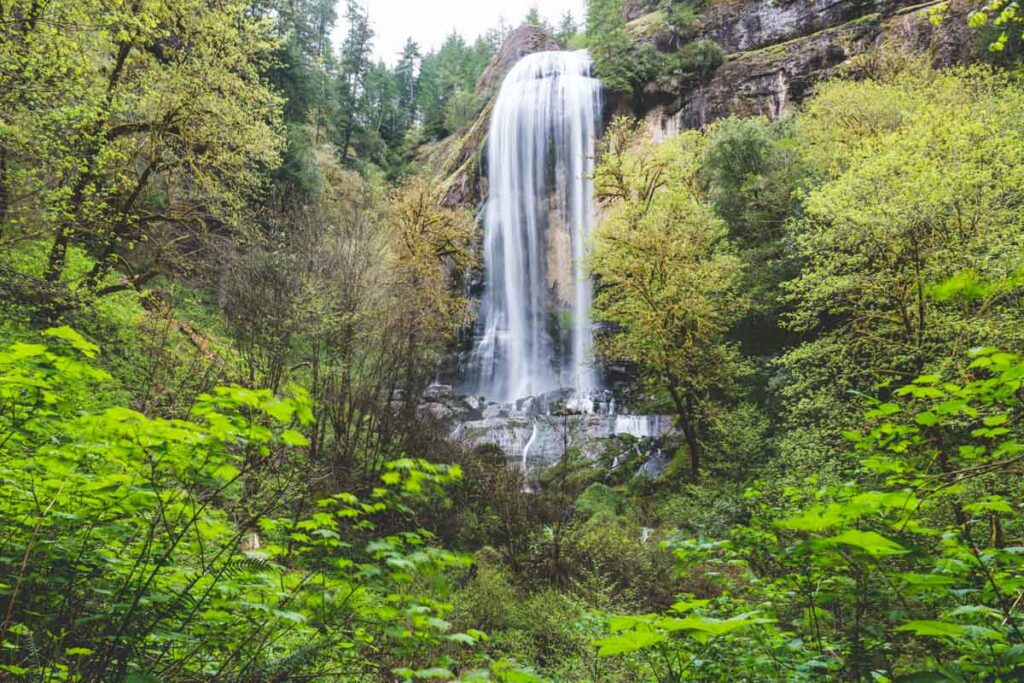 It does tend to take a while to reach this natural area, as you'll have to take the windy forest roads to reach it, but with harder to reach destinations comes fewer crowds, and that's always a good thing.
Silver Falls is particularly impressive at 160 feet, but both are enough to fulfill your waterfall wanderlust. There are a few different hiking trails that wind their ways around the area, as well as a nice little picnic area, so you can really make a day of it and escape city life, at least for a while.
---
RELATED: Your Guide to Silver Falls State Park—The Trail of 10 Falls & More
---
9. Kentucky Falls
Everyone loves a waterfall, so the fact that there are a few really impressive ones around Florence just adds to the many reasons you should pay it a visit. Kentucky Falls is spectacular and is one of the best things to do near Florence.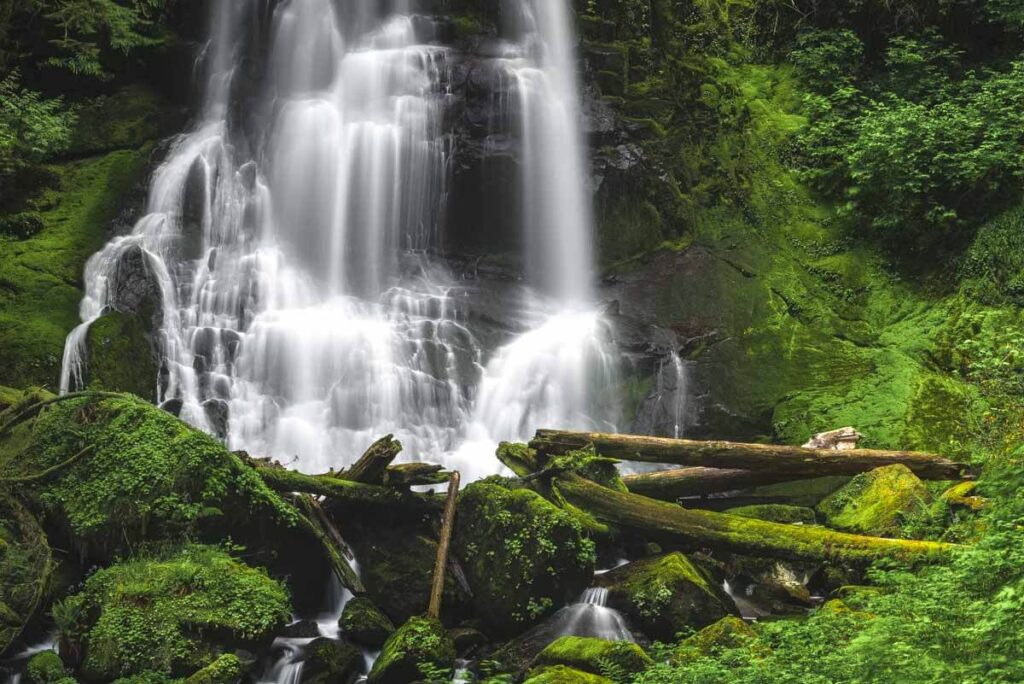 The falls can be reached by the Kentucky Falls Trail. It is a 3.7-mile out and back hike and can be a little tricky at times. If you are new to hiking, take care on this trail. There are three waterfalls, Upper Kentucky Falls, Lower Kentucky Falls, and North Fork Falls, and all are stunning, with huge cascades of water tumbling over the moss-covered cliffs.
It's not just the waterfalls that are spectacular on this trail, the hike is wonderful regardless. You'll be heading through old-growth Douglas fir forests, which is part of a 4,000-acre area. It is one of the largest intact forest areas in the Coast Range, so make the most of it.
We hope this post helped you better explore Florence, Oregon! Check out more posts on the Oregon Coast and even more adventures around the state.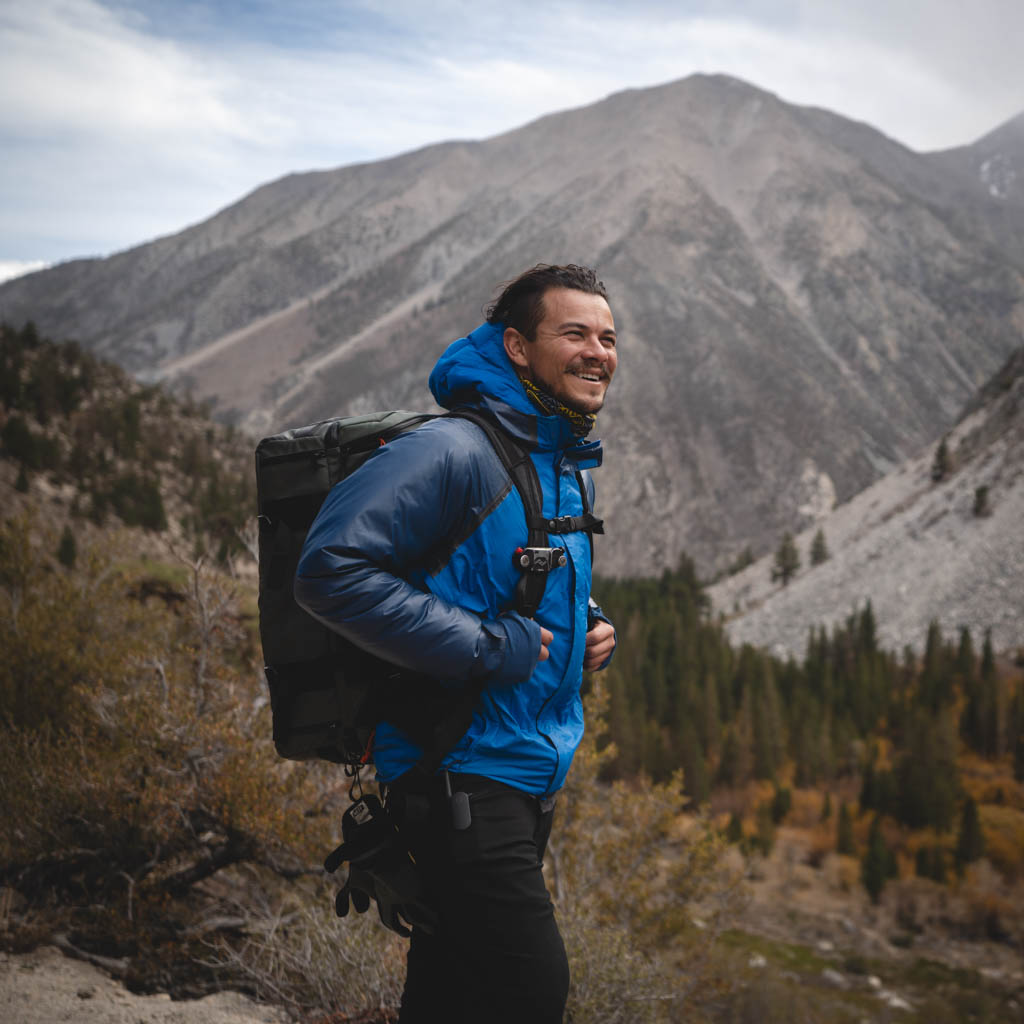 Oregon native and explorer at heart. Loves tackling expeditions around the world and drinking a good beer at the end of the day. PNW obsessed, VW nerd, and surf or snow riding fanatic.