After surfing, hiking, or snowboarding all day, there's no better way to relax than in your cozy cabin with a cup of hot chocolate, or perhaps an ice-cold craft beer!
Luckily, there are tons of amazing cabins in Oregon that are perfectly located at the doorstep of adventure and fun. While you have TONS of choices, the cabins below are some of the most unique, best located, and coolest cabins in Oregon!
Coolest Cabins in Oregon
---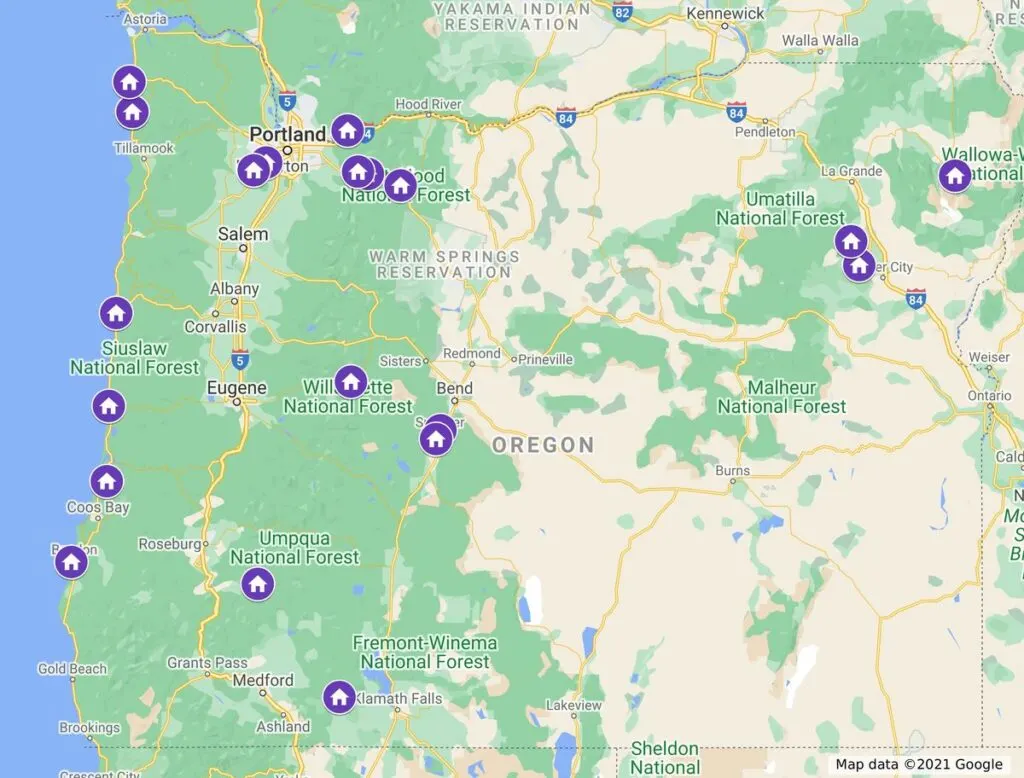 Cabins Near Portland
1. Cooper Mountain Tiny Cabin
For a proper, rustic, cabin in the woods feel, the Cooper Mountain Tiny Cabin is a good option. It is located on 2.3 forested acres, with two floors, the upper of which can be reached via a ladder.
The upstairs loft contains a queen bed with a skylight, and on the ground floor, you can find a futon for an extra place to sleep if you're traveling as a group.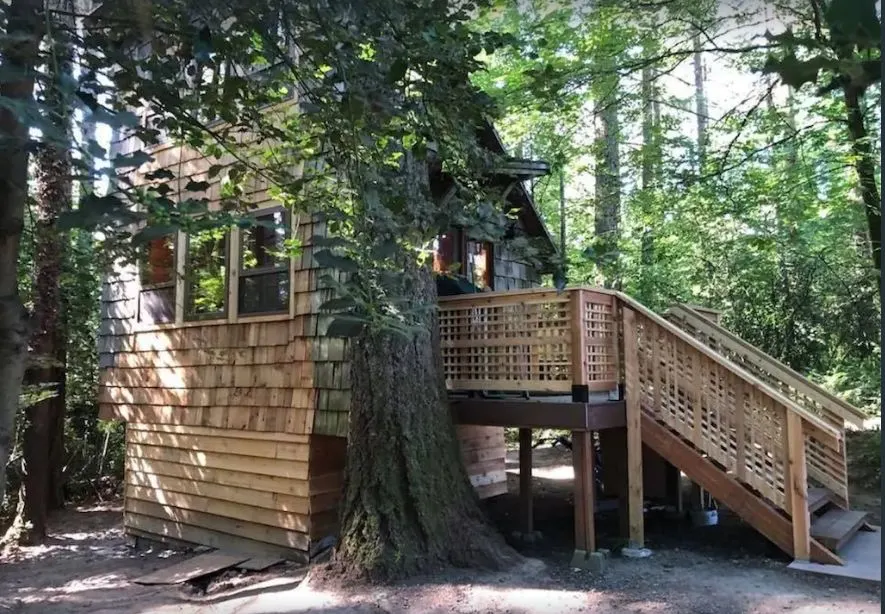 There is a small kitchenette so you can cook from your accommodation. There is also the option of cooking outside on the deck using the propane grill. Although the owner also lives on the property, the cabin is far enough away to provide ultimate privacy, plus you have your own space around the cabin and your own parking spot.
This cabin in Oregon is in Portland's South Cooper Mountain area, which is nearby to some great hikes. Why not try the Marquam Trail, which winds its way around Marquam Park, just south of downtown Portland?
The trail leads you into a forest and up about 650 in elevation. There is also the Hoyt Arboretum, one of the most educational hikes near Portland. There are over 2300 species of trees within this stunning park.
Being on the west side of Portland means you are much closer to the Oregon Coast, which could make a great day trip. Check out places like Cannon Beach and Tillamook Head for views that will take your breath away.
---
RELATED: 19+ Awesome Hikes Near Portland to Escape the Bustle
---
2. Waterfront Cabin
Water lovers should consider this beautiful cabin in Oregon set on its own wooded acre with private access to the Washougal River. It has everything that you could need for a comfortable stay, including a well-equipped kitchenette, a lovely lounge complete with a wood stove for those chilly evenings, and even a flat-screen TV.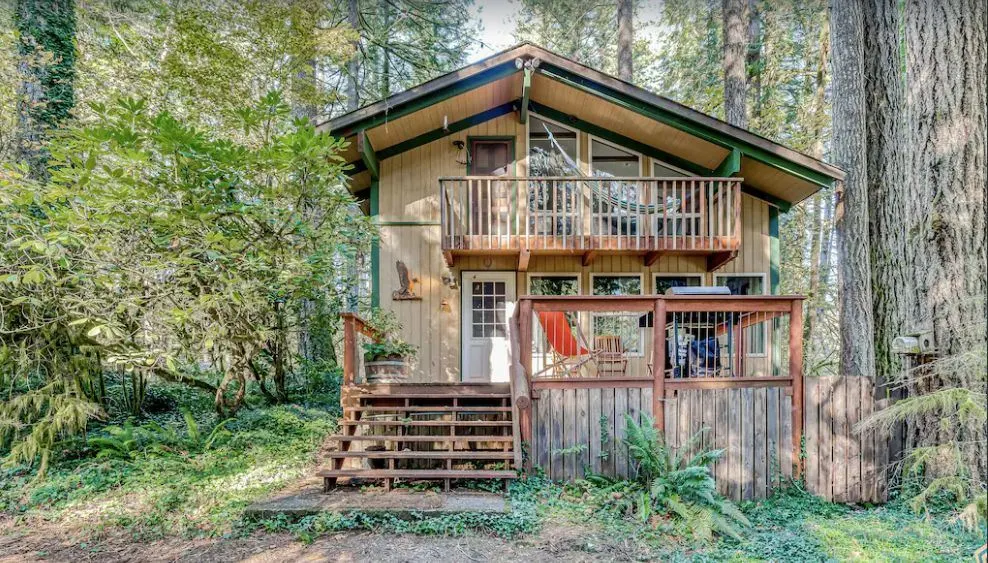 The deck outside is a wonderful spot to look out over the old-growth fir forest, or for an even better view, try the hammock on the upstairs balcony or the private hot tub. There are two bedrooms, but the cabin can comfortably sleep six guests.
Located only 40 miles northeast of Portland, there is plenty to do in the surrounding area. There is so much wildlife in the immediate area, plus easy access to hiking routes, boating, fishing, and skiing.
One of the nearest hikes to this accommodation is the Powell Butte Hike. This 6.2-mile hike will take you up this incline via a well-signposted trail, climbing almost 1000 cumulative feet from the parking lot. The summit offers great views of the surrounding city and mountains.
3. Tiny House Cabin on a Lavender Farm
You can't get much better than a tiny cabin overlooking a lavender farm. This 198 square foot tiny cabin has 360-degree views of the property with a wrap-around deck to enjoy them from.
The tiny house is situated in Oregon's wine country, and it is perfect for anyone looking to relax or take in the stunning surroundings via hikes and exploration.
Inside there is a sleeping loft and an extra comfy futon for sleeping, a basic kitchen that includes a small fridge, electric burners, and a microwave, and a full bathroom. Climate control will keep you comfortable throughout the year, and there is internet although it can be spotty at times.
On the property, there are acres of land to explore, a lavender gift shop, and lots of animals including alpacas, goats, chickens, and super friendly dogs.
You could also easily take a day trip to the Columbia River Gorge or even the Oregon Coast.
---
RELATED: 25 Columbia River Gorge Hikes and Other Adventures
---
4. Cozy Alder Creek Log Cabin
Stay in this charming log cabin in a peaceful spot surrounded by fir trees by the Sandy River. This classic log cabin has two decks and is surrounded by beautiful gardens.
There are two bedrooms, a full kitchen, a cozy living area with fireplace, and a bathroom with a deep clawfoot tub. Use the fresh herbs from the garden to compliment any meals you make.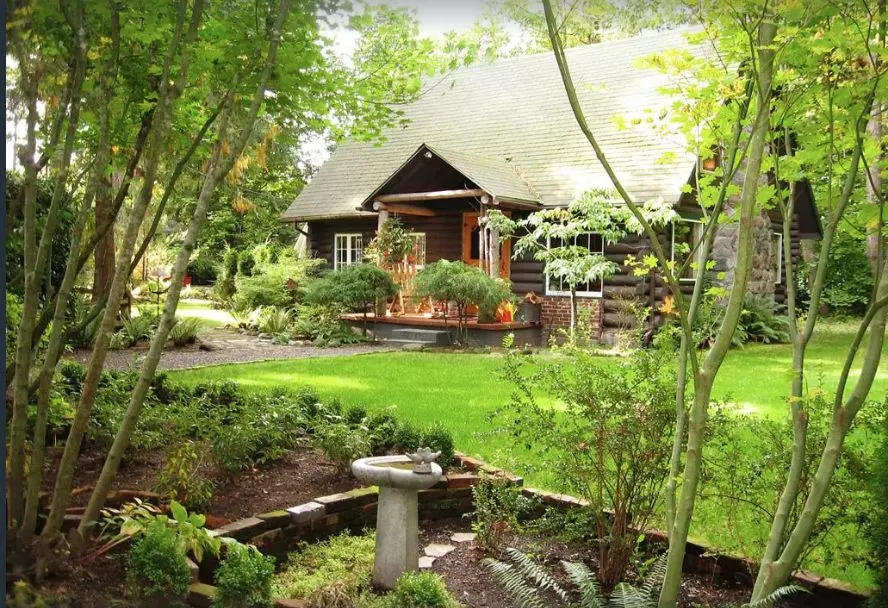 Wander the gardens or by the river to reflect and reset. Relax after a day of hiking or skiing in the hot tub or in the sauna. Roast marshmallows by the fire pit in the evenings and feed the rainbow trout in the trout pond on the property.
This property is perfectly placed if you're into skiing, being only a ten minute drive from Mount Hood. There are also some great hikes in the Mt. Hood area, such as the Lost Lake Trail, the Trillium Lake Loop, Umbrella Falls, and Sahale Falls Trail, and the Tom, Dick, and Harry Trail, to name just a few.
---
READ MORE: 7 Awesome Mount Hood Hikes (Including Waterfall Hikes)
---
5. Government Camp Cabin
This cabin in Oregon is great if you want to be close to a huge range of outdoor adventures. The cabin is equipped to cater to four guests with two bedrooms and 1.5 bathrooms. It has been beautifully decorated with a cedar wood interior and a cozy rock fireplace, a fully equipped kitchen, and a spacious living and dining area.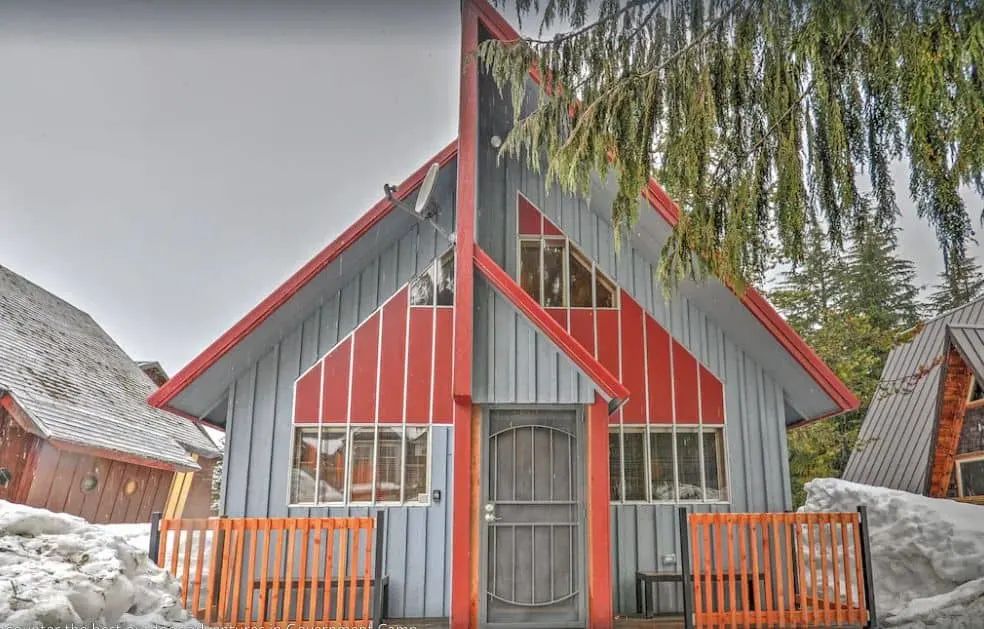 In the summertime, there is a large deck to use, with stunning views of Mt. Hood. Fire up the grill and even cook your meals outside.
There is easy access to all sorts of recreational activities from this cabin, with ski resorts, Trillium Lake, Mt. Hood, and more just a short drive away. The Trillium Lake Loop is 1.9 miles long, and there are many mini beaches dotted along the shore where you can watch the reflection of Mt.Hood in the lake's surface.
The slopes of Mt.Hood seem to have been made for skiing, and there are a few different resorts to choose from depending on what kind of skiing you are looking for.
---
RELATED: 13 Ski Areas and Ski Resorts in Oregon for Winter Fun
---
6. Historic Cedarwood Cabin
Ideal as a romantic getaway or as an adventurous retreat near Portland and Mt. Hood, this cute little vintage cabin is perfect when it comes to both location and amenities. The accommodation offers an authentic cabin experience; It was built back in 1922 and it has been lovingly restored.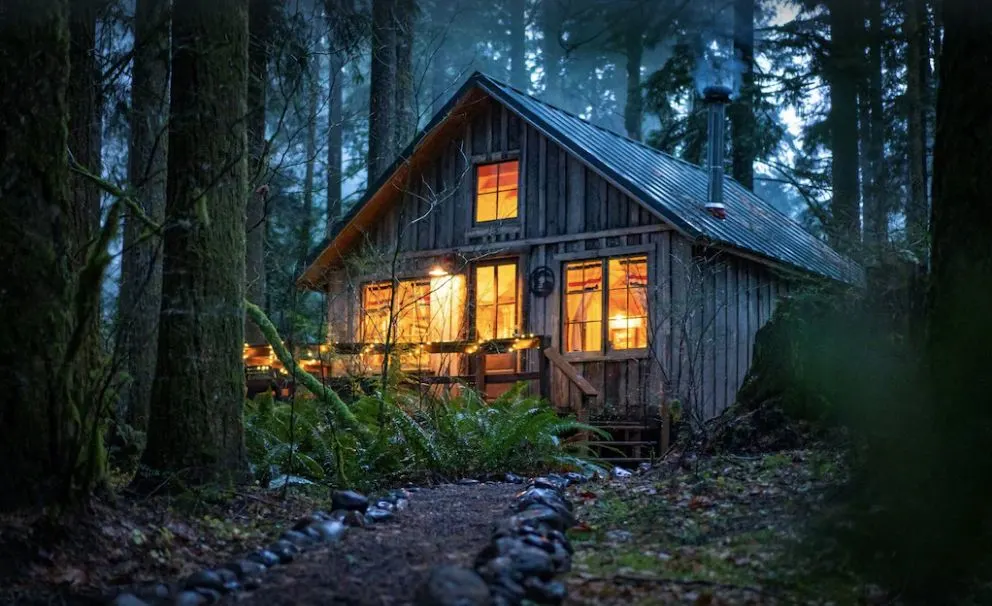 The queen-sized bed comfortably sleeps two people, plus there is a futon couch which can sleep more people if traveling in a bigger group or as a family. The kitchen has everything needed for self-catering, and there are several restaurants nearby. The bathroom is located in a separate building and has been completely remodeled.
In the winter months, it is the perfect base for hitting the many ski resorts that are located around Mt. Hood, such as Mt. Hood Meadows, Mt.Hood Skibowl, and Timberline Lodge and Ski Area. You can then return to your own cozy little retreat, stocking up the woodstove and curling up with a book next to the fire.
The resort is located between 5-10 miles from some of the best trailheads in the region, and it is only about 15-30 miles to the ski areas.
---
READ MORE: What to do at Mount Hood in Winter
---
Cabins in Central Oregon
7. Meadows Edge Cabin
The Meadows Edge Cabin is a beautiful little space tucked away on the edge of a beautiful meadow, the ideal base for exploring all the McKenzie River and the surrounding area has to offer. Although close to the highway for easy access, it is also far enough away for you to be able to hear the gentle rush of water from the river.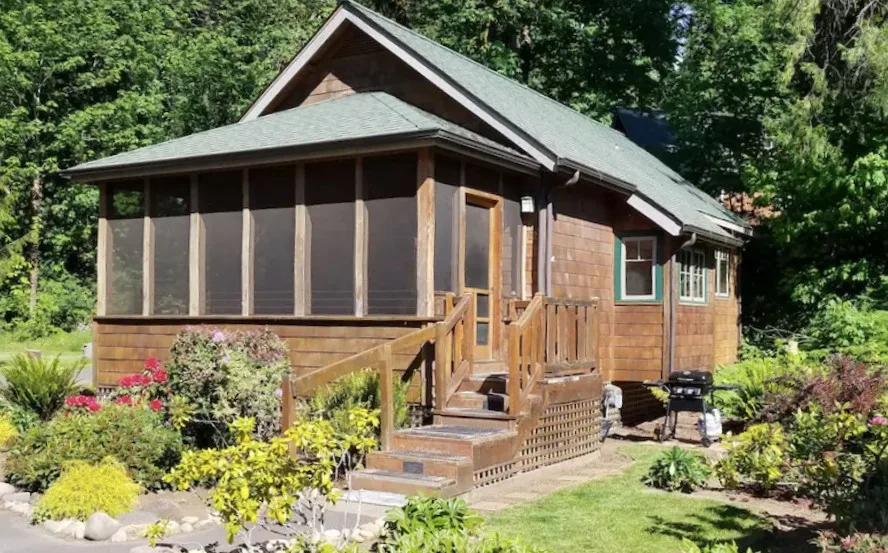 The cabin comfortably sleeps up to six guests, with a screened-in front porch facing the river. Inside is warm and cozy, with a great room with a gas fireplace, two bathrooms, a small kitchen, with a separate, comfortable bedroom.
When staying in this cabin in Oregon, tackling the McKenzie River Trail is a must. There are so many cool things to see along this trail, like the Blue Pool and the waterfall this cabin is named after—Koosah and Sahalie Falls.
If you're looking for a smaller hike, there are plenty of trails through the 10-acre property that the cabin sits on, one of which leads into National Forest Land along Horse Creek.
There is also a mountain bike pump track for those that prefer to be on two wheels and whitewater rafting nearby. As an outfitter, the rental company can also help with bike rental, shuttles, and many more.
---
READ MORE: Your Guide to Hiking the McKenzie River Trail
---
8. Enchantin Sunriver Cabin
This charming cabin in Oregon is found right in the middle of Sunriver. The single-level rustic retreat is set up for four people, with two generous bedrooms each featuring a queen-size bed.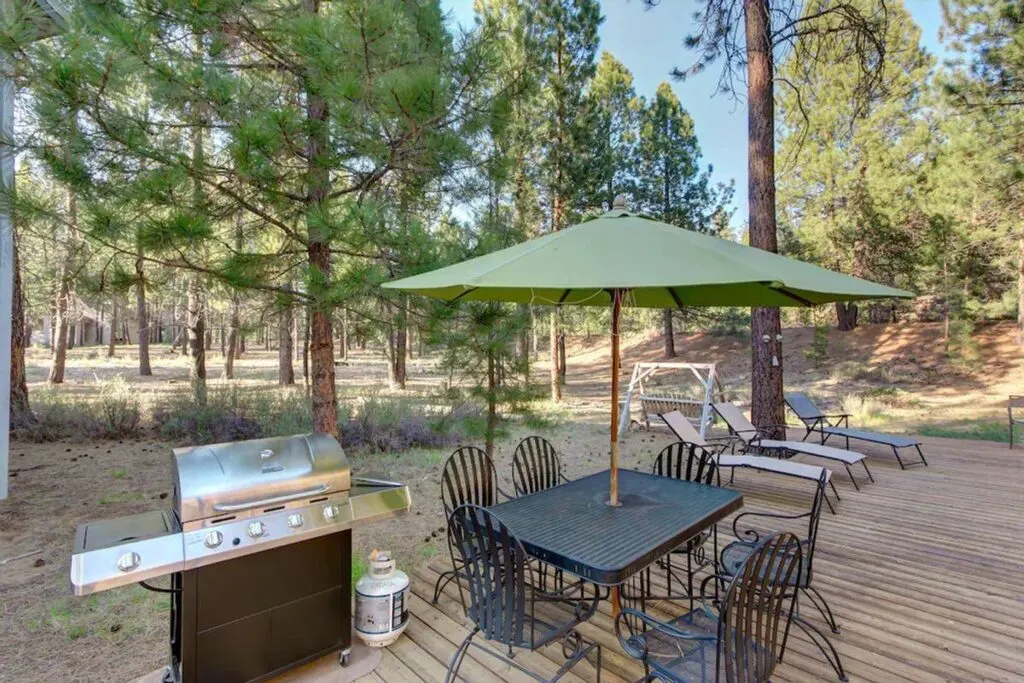 Enjoy the rock river fireplace, WiFi, full kitchen, TV and entertainment system, and two bathrooms in the house. Outside there is a deck with a gas grill, and the home comes with SHARC passes for everyone, so you can spend your days swimming, soaking in the hot tubs, and just relaxing!
You will also have access to Sunriver's amenities like miles of hiking and biking trails, swimming pools, golf courses, hot tubs, and more.
From your accommodation, you are within easy reach of natural attractions like Mt. Bachelor, Paulina Peak, and South Sister, all of which are waiting to be explored.
9. Riverfront Cabin Retreat
This riverfront cabin offers a really rustic escape, think glamping with maybe a few more comforts. It is located in the heart of the Umpqua National Forest, overlooking a beautiful river.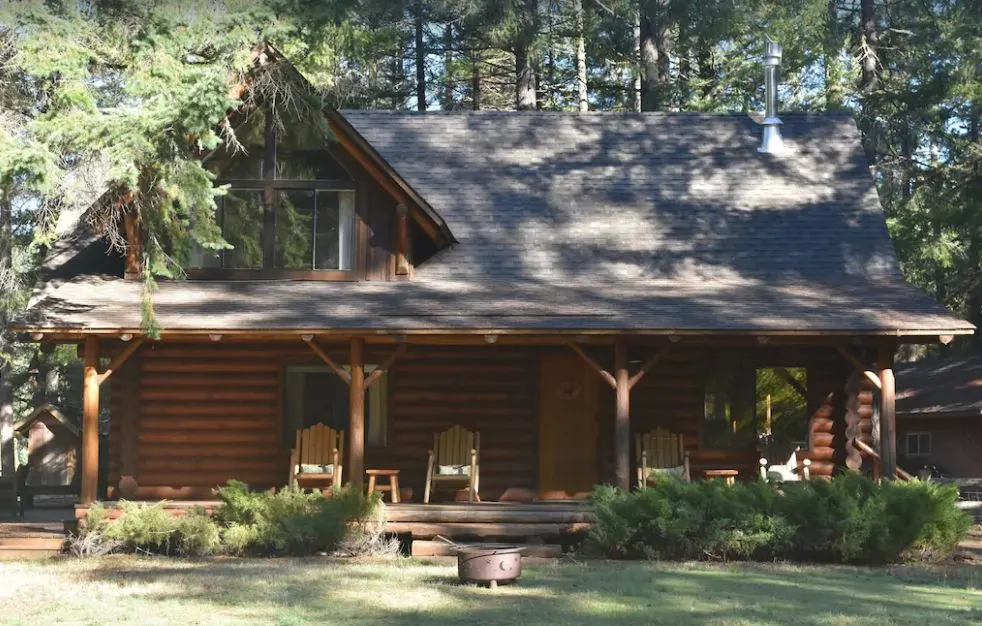 Inside, there are two bedrooms that can sleep six in total, a cozy living room with wood burning stove, a full kitchen, and 1.5 bathrooms.
The cabin is a great place to recharge, read a book in a hammock overlooking the river, soak in the private hot tub, or ensconce yourself in nature on the deck with a coffee or wine.
---
RELATED: Guide to Umpqua National Forest: Waterfall Hikes & Hot Springs
---
This area of Oregon is often referred to as 'Oregon's Emerald-Jewel Gateway' to Crater Lake National Park. There is no end to the things to enjoy at Crater Lake, with views, hikes, boat tours, and so much more.
The cabin is also centrally located to the North Umpqua Trail and near to many other trailheads. The hikes in this area cater to all levels and offer some stunning viewpoints along the way.
Also nearby are waterfalls and the Umpqua Hot Springs. Access to the river's edge is an easy walk, and there is a shaded swimming hole with a waterfall accessed through a short forest path.
---
READ MORE: 11 Tips for Visiting Umpqua Hot Springs in Oregon
---
10. Pet-Friendly Luxury Log Cabin
This luxury cabin is in a prime location for exploring what the Mt. Bachelor area of central Oregon offers. It is set on a forested half-acre section in a peaceful neighborhood close to Sunriver.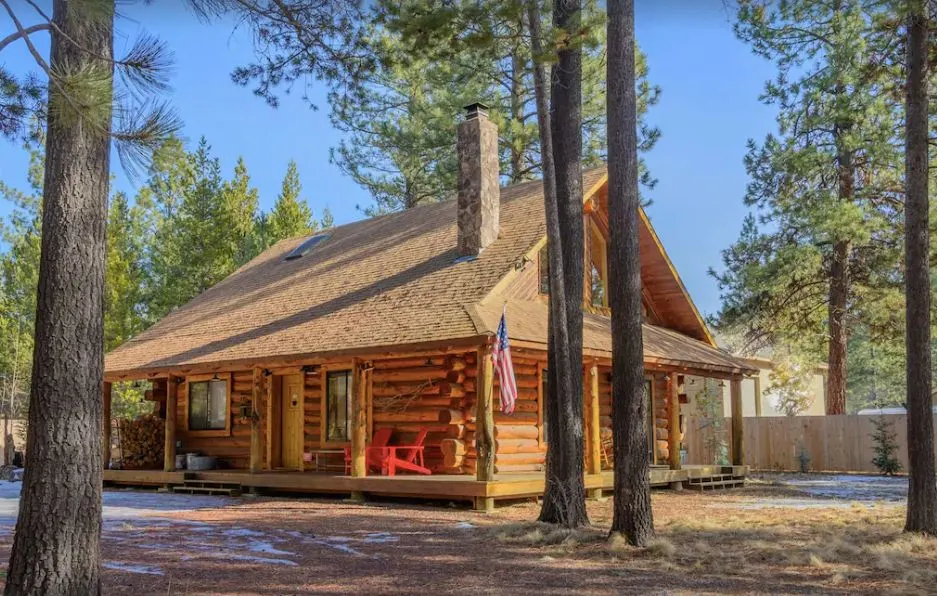 There are two bedrooms with memory foam mattresses and TVs, a well-appointed kitchen, a living area with a wood-burning stove, and 1.5 bathrooms. Outside, enjoy the fire pit and hot tub, where you can do some stargazing at night.
It is just a 20-minute drive to Mt. Bachelor and the Cascade Lakes. There is so much to do at Mt. Bachelor all year round, but especially in the winter months.
The ski resort has a huge variety of ski and snowboard runs, miles of nordic trails, guided dog sled rides, and tubing lanes. It enjoys the longest seasons of any ski resort in the northwest, from November to May, so there is plenty of time to enjoy it.
---
READ MORE: What to do at Mount Bachelor in Winter
---
11. Cabin by Lake of the Woods
The Cabin by Lake of the Woods was built to sleep five people, with the main bedroom in the loft and a full-sized pull-out couch and cot downstairs.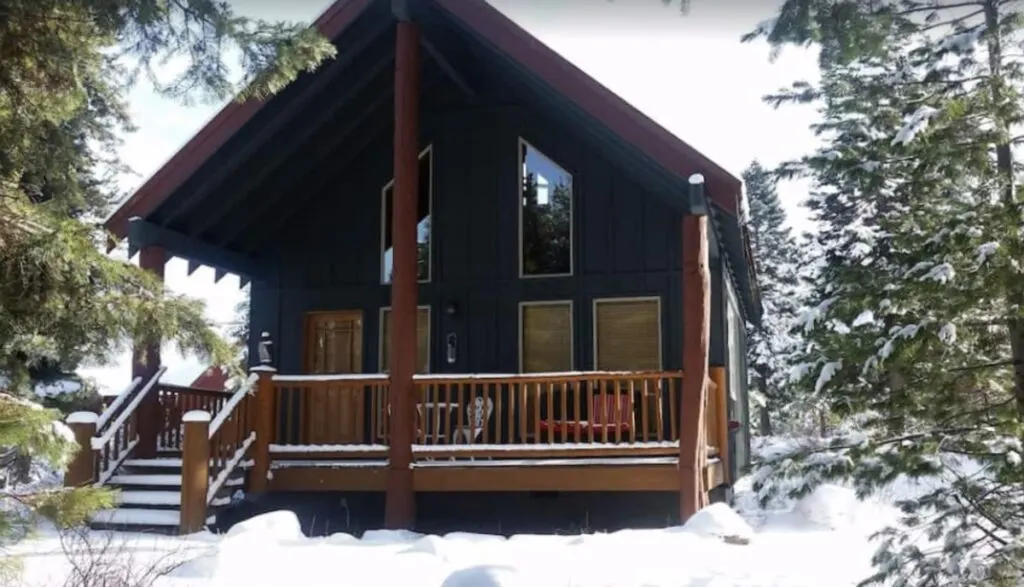 There is an open plan living, dining, and kitchen area, with large windows making it spacious and bright. The covered deck and seating area at the front of the property is perfect for those warmer summer months.
Activities in the surrounding area, such as at Lake of the Woods Resort, include boating, fishing, kayaking, mountain biking, water-skiing, cross country skiing, and sailing, to name just a few.
Pick this cabin in Oregon if you are a lake lover, as it is close to not only Lake of the Woods but is also just a few miles from Howard Prairie Lake, Fish Lake, and Klamath Lake.
It is a good base for those wanting to stay near Crater Lake National Park and the surrounding Lakes. The famous Pacific Crest Trail is just west of the property, which is a great hike to satisfy even the biggest hiking enthusiast.
---
RELATED: Things to do at Crater Lake National Park: Hikes, Camping & When to Visit
---
Cabins on the Oregon Coast
12. Sea Squirrel Cottage
Sea Squirrel Cottage is a lovely, cozy home nestled among the beach pines giving it a secluded feeling while only being a short walk to downtown Manzanita and the beach.
The wooden interior will make you feel like you are in a cabin in the woods but you'll be able to hear the sounds of the ocean. The cottage has a fully equipped kitchen, an inviting living room with wood stove, and a full bathroom.
Upstairs is a loft bedroom with a private deck amongst the trees – the perfect spot to enjoy a morning coffee or evening drink.
The property is located in downtown Manzanita, just a short walk from the beach. There are two stunning state parks nearby, Nehalem Bay and Oswald West, both beauty and adventure hubs.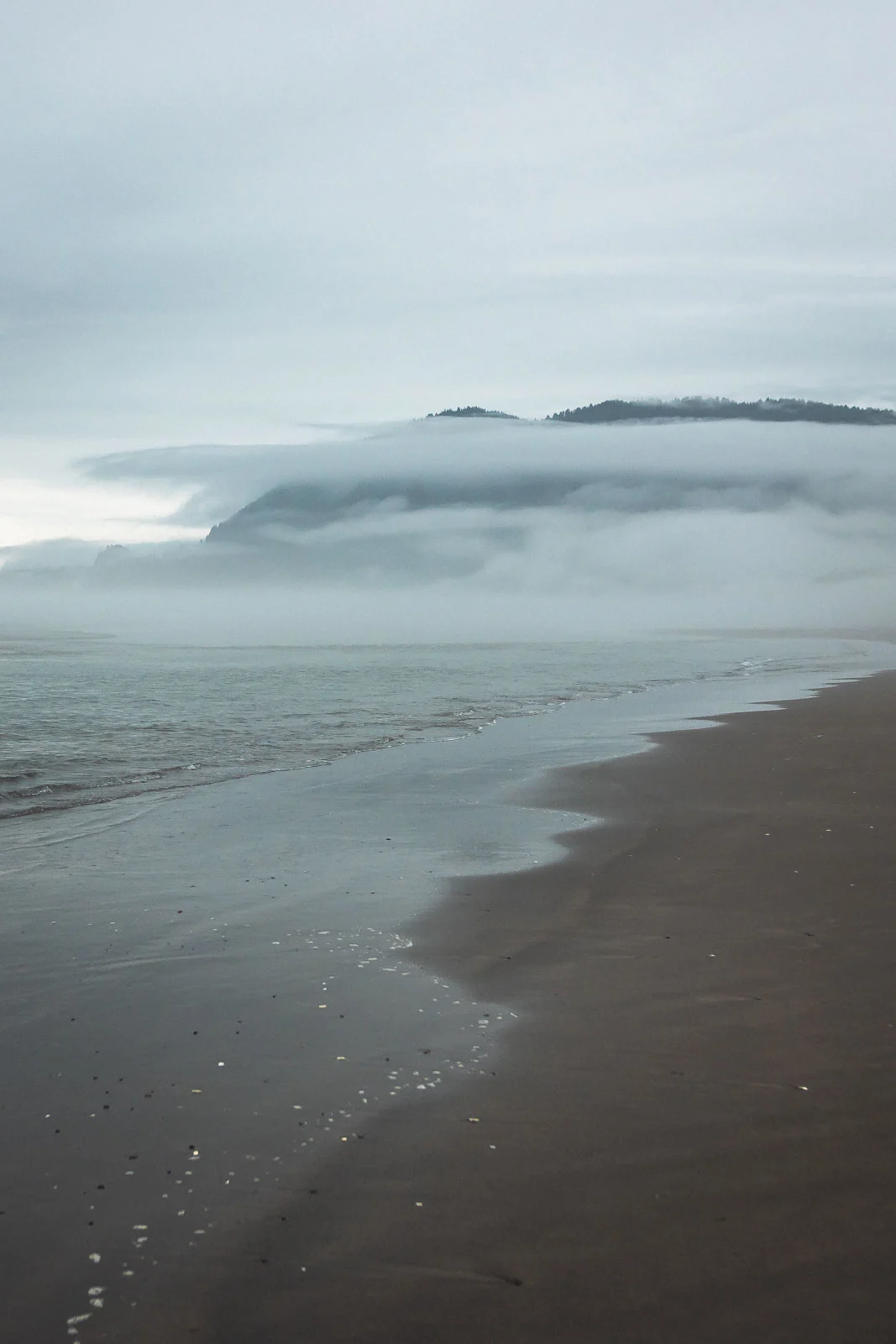 Nehalem Bay State Park is a great spot for kayaking as the water in the bay is not very rough, and in the park, there are plenty of trails to hike. A popular hike is a hike to Cape Falcon, with a waterfall halfway along and through a thick forest with a view at the end.
---
READ MORE: Your Guide to Nehalem Bay State Park
---
13. McDragonfly Cabin
This beautiful A-frame cabin is surrounded by trees and is right on North Tenmile Lake, and features a private dock, and a large deck.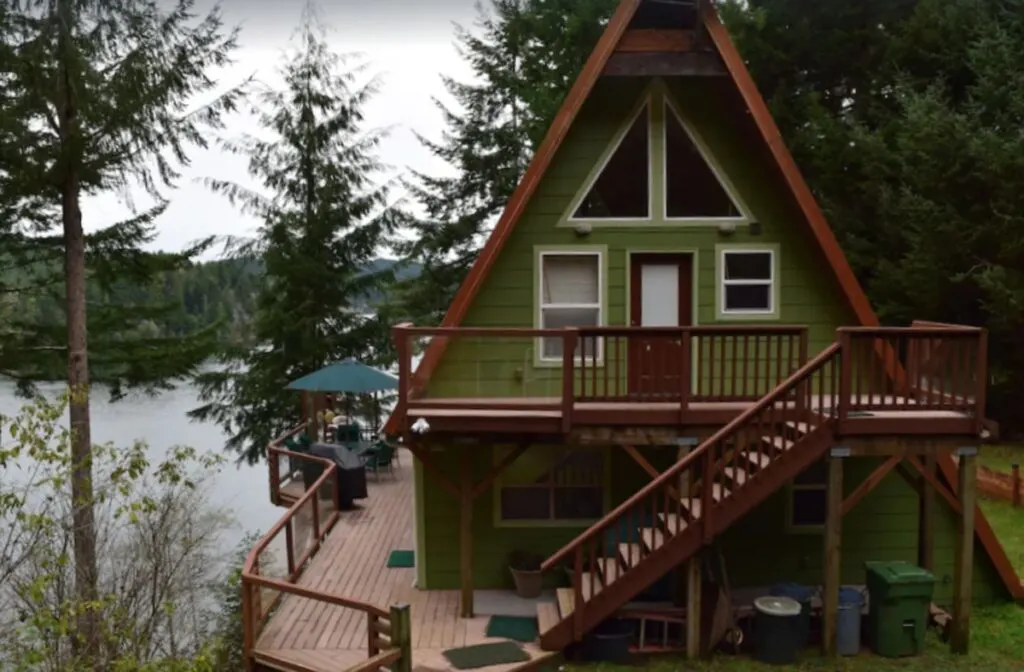 Inside the cabin is a fully equipped kitchen, a comfortable living area, a game room where you can play pool, foosball and ping-pong, three full bathrooms, and two bedrooms with enough beds to sleep up to 12 people.
Outside, is a 3,000 square foot deck where you can enjoy epic views over the lake and surrounding nature. There is a gas grill and firepit to enjoy on relaxed evenings, as well as two kayaks, a paddleboat, and a rowboat to get you out on the lake. Best of all – there is a jacuzzi with views out over the lake.
The lakes offer many recreational opportunities and are especially popular for water sports and great year-round fishing. Although situated on a lake, the coast is very nearby, with highlights such as the Umpqua Lighthouse State Park and Oregon Dunes National Recreation Area very close by.
Both offer plenty of hiking, adventure, and sightseeing opportunities. OHV enthusiasts will have a great time heading out onto the sand.
---
READ MORE: Your Adventure Guide to the Oregon Dunes
---
14. Old Rustic Beach Cabin
Sit on the private deck overlooking the ocean at this rustic beach cabin. The cabin was built in 1934, and apart from some choice modern amenities, it still feels like it did all those years ago.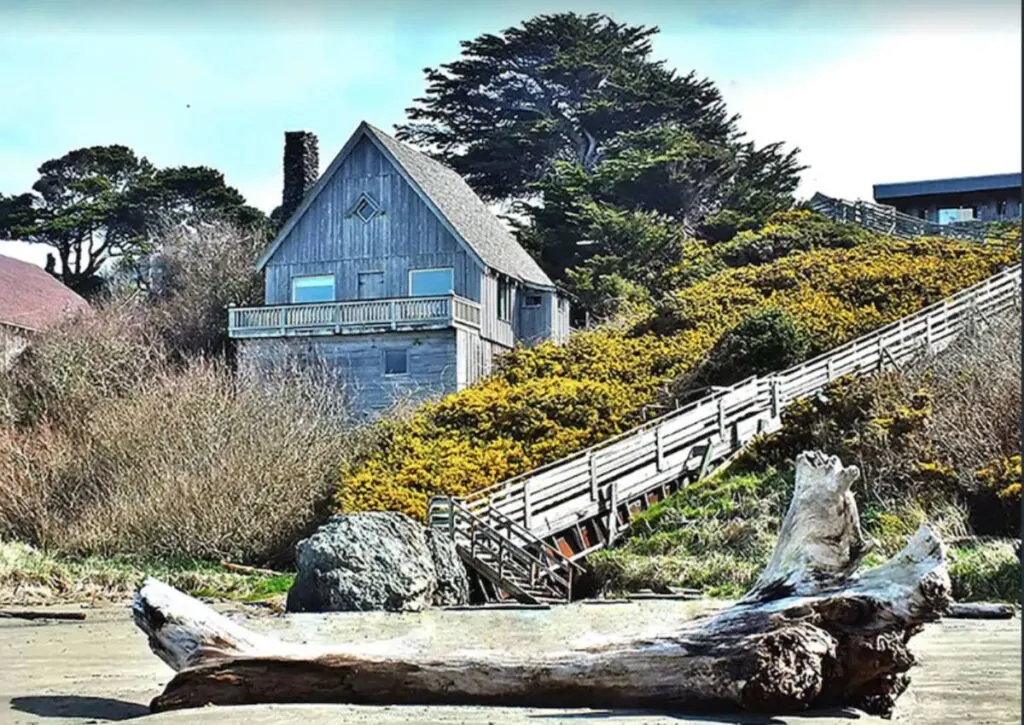 Picture wooden beams, wooden paneling, and a stone fireplace, along with comfy couches, a kitchen area, and a dining area with some of the best views in the area. Upstairs, you'll find two cozy loft bedrooms.
The cabin is located in the town of Bandon, a beautiful spot along the coast. There are several natural attractions in the immediate area, such as Face Rock State Scenic Viewpoint, the Coquille River Lighthouse, and the Bandon State Natural Area.
There are plenty of Oregon Coast hikes that will allow you to appreciate the stunning views and rocks that lie just offshore. One of the most popular activities is to rent a bike and ride along the hard-packed sand along the edge of the surf, or take the Bandon Oregon Coast Walk to take in the outstanding scenery.
---
RELATED: 17 Breathtaking Oregon Coast Hikes
---
15. Whales Nest Cabin
Located just in Manzanita on the Oregon Coast, you'll find the beautiful Whales Nest Cabin in a quiet wooded neighborhood. Spend your mornings and evenings relaxing on the sunny deck, listening to the sounds of the ocean.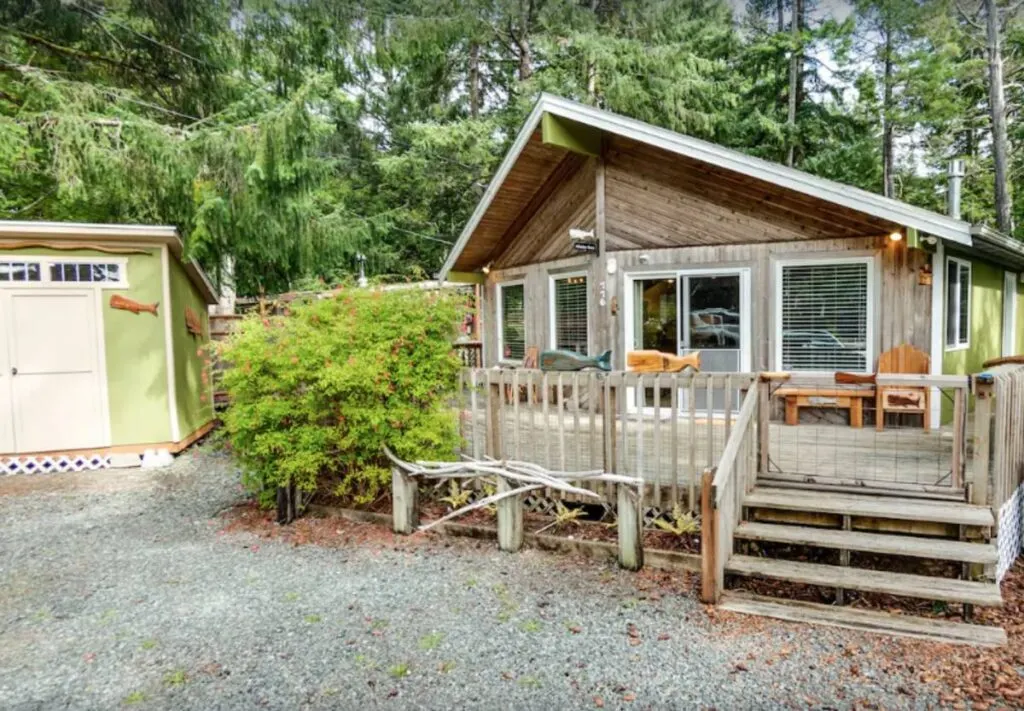 The cabin has warm wood accents and a beautiful vaulted ceiling in the living room, as well as a gas fireplace to stay cozy on cooler evenings. There is also a fully-equipped kitchen, a full bathroom, two bedrooms with queen-sized beds and a game room in the loft. There is even a laundry room which is great if you are staying a while.
It's only a short stroll to downtown Manzanita or the beach and the excellent restaurants and bars there. Manzanita is situated between Seaside and Tillamook, therefore it is a little off the radar than these other major coastal sites so you'll likely have the beach near enough to yourself.
If you are up for some hiking and exploration, both neighboring locations offer many adventures, including some great hikes. The Tillamook Head National Recreation Trail offers some incredible views of the surrounding coastline, or head to the town of Seaside and watch the seals and sea lions dotting the shore.
---
RELATED: 13 Adventurous Things To Do in Seaside, Oregon
---
16. Cozy Coastal Cottage
This peaceful beach cabin in Oregon is super cute, and very cozy inside. It is the perfect place to base yourself for exploring the Oregon Coast, tucked away in the Heceta Beach neighborhood.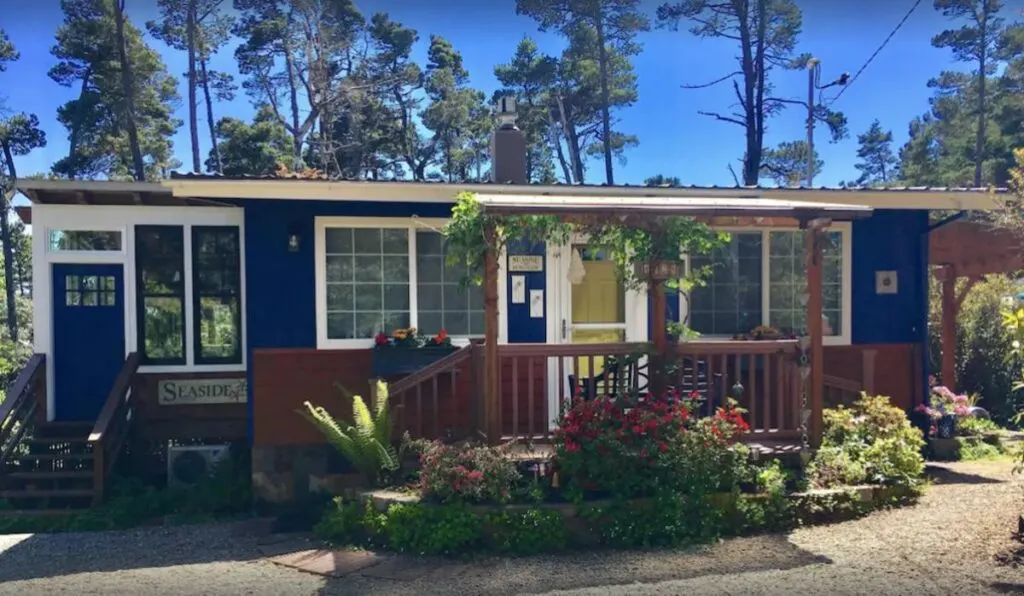 There is one bedroom that opens to a sunroom and has a queen-size bed, as well as a sleeper sofa in the living room so the cottage can comfortably sleep up to four people. If you feel like cooking, there is a fully-equipped kitchen, as well as a dining room, laundry room, and a full bathroom.
The property has beautiful gardens, and it is only a 5-10 minute walk to the ocean. Enjoy the fire pit and gaze at the stars in the evening.
Head north to find the incredible Sea Lion Caves, a cave home to around 200 sea lions, and while in the area, be sure to take the hike up to Heceta Head Lighthouse, and enjoy the incredible views of the shoreline stretching out before you.
---
RELATED: 11 Oregon Lighthouses & The Adventures Nearby
---
17. Cozy Dog-Friendly Cottage
This charming cottage in South Beach has incredible ocean views and beach access, making it the perfect seaside vacation home.
Sit on the back deck where you can see and hear the ocean, or cozy up by the wood-burning stove in the living room. There is a TV with cable and a DVD player as well as a shelf-full of books.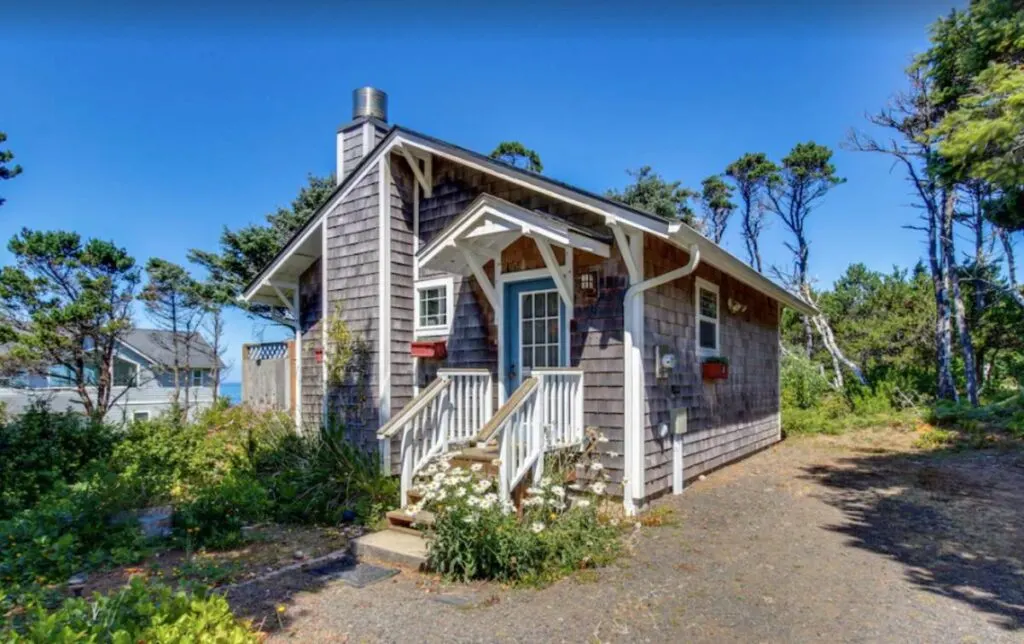 The cottage has one bedroom so it is mostly suited for two people, although a third person could sleep on the sofa in the living room. There is a small but fully-equipped kitchen, a laundry area, and a full bathroom with an old-fashioned bathtub and shower.
Newport's historic bayfront is just a short drive north, and South Beach State Park is also very nearby. Activities at the park include hiking, fishing, crabbing, beachcombing, and boating. You could also do the hike to the Yaquina Bay Lighthouse.
---
RELATED: 20 Epic Places to Go Glamping in Oregon
---
18. Captains Cove Beach Cottage
This cozy cabin in Oregon is only a block from the beach and an easy walk to the shops and galleries in downtown Cannon Beach.
The space is small but you will find everything you need for a comfortable stay including a bedroom with a queen bed, a fully-equipped kitchen, a full bathroom, and a living room with fold-out sofa bed.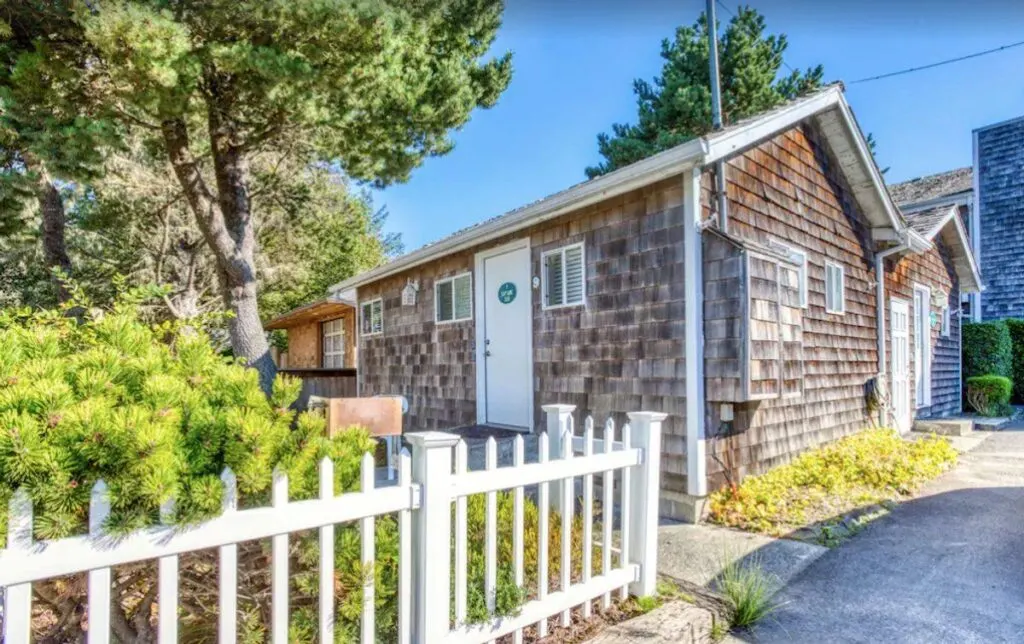 Out front there is a peaceful patio with a charcoal grill, and the property is dog-friendly with a small additional fee for your furry friend.
The breathtaking Cannon Beach is just a short drive away, made famous by the incredible Haystack Rock that juts out of the ocean just offshore. Other than walking and taking in the scenery, Cannon Beach and the surrounding area is a mecca for recreational activities.
You could take a hike in Ecola State Park, explore Hug Point, enjoy a picnic, and so much more.
East Oregon Cabins
19. Enchanting A-frame
Located around 20 minutes from the historic town of Baker City, this rustic A-Frame cabin offers everything you need for a comfortable stay. Although comfortable, the cabin really is rustic, which means that there is no running water within the cabin, so you can totally feel like you are off-grid and living in the wild, plus there is no internet or TV service.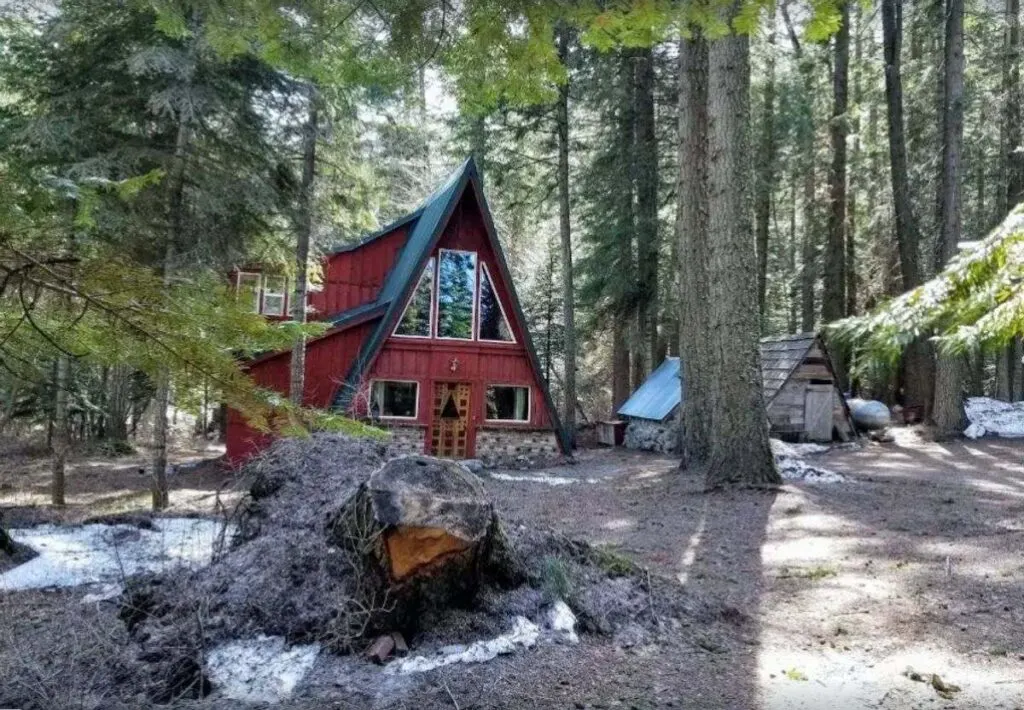 Think camping experience, but warm and dry, and with a few extra amenities. This cabin in Oregon sleeps four people with one bed and one futon and is kept warm via the stone fireplace. The kitchen is stocked with all the basics, and there is a small bathroom. There is a cabin next door, and both share a driveway.
As it is nestled in the foothills of the Elkhorn Mountains, there are plenty of opportunities to get out and explore the great outdoors. If you don't fancy walking but still want to see the sights, try the Elkhorn Drive Scenic Driveway that climbs towards Blue Springs Summit.
The Umatilla National Forest is on your doorsteps and offers the opportunity for numerous hikes. In the winter, make use of Anthony Lakes Ski Resort, which is 30 minutes from the property.
20. Cow Camp Tiny Cottage
Located in Joseph, this camp-themed tiny cottage has breathtaking views of the Wallowa Mountains, and the Wallowa River runs right through the property.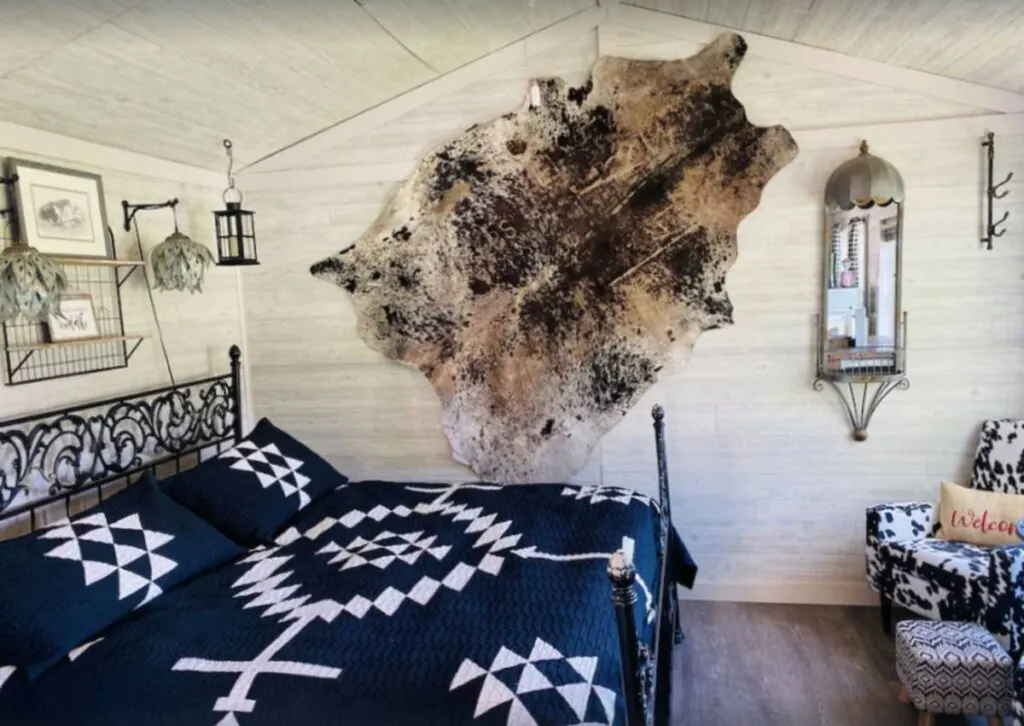 Cow Camp has a compact but fully-equipped kitchen unit, a private bathroom, small sitting area, a dining table and chairs, and a comfortable king sized bed. You will love this tiny house cottage as it is really cozy and welcoming.
Enjoy the grill on the community deck overlooking a pond, or relax in camp chairs down by the river. Stunning Wallowa Lake is a great place to base yourself in Eastern Oregon.
The state park has a large day-use area that features a beach, fishing, picnic tables, and watercraft to rent. Besides boating and hiking around the lake, you could take a whitewater rafting trip on the Snake River and through Hells Canyon, or enjoy backcountry skiing during the colder months.
---
READ MORE: A Comprehensive Guide to Visiting Wallowa Lake State Park – Adventures and Camping
---
21. Antone Creek Lodge Cabin
Stay in this beautiful two-bedroom log cabin at Antone Creek Lodge, a unique campground featuring park models and tiny homes.
Pristine Antone Creek runs right by the cabin and you will hear the calming sounds of the creek outside your cabin window. The cabin has everything you need for a great getaway including a downstairs bedroom with a queen sized bed, a full bathroom, a cozy living room, a fully-equipped kitchen, and a loft with a full and a twin bed.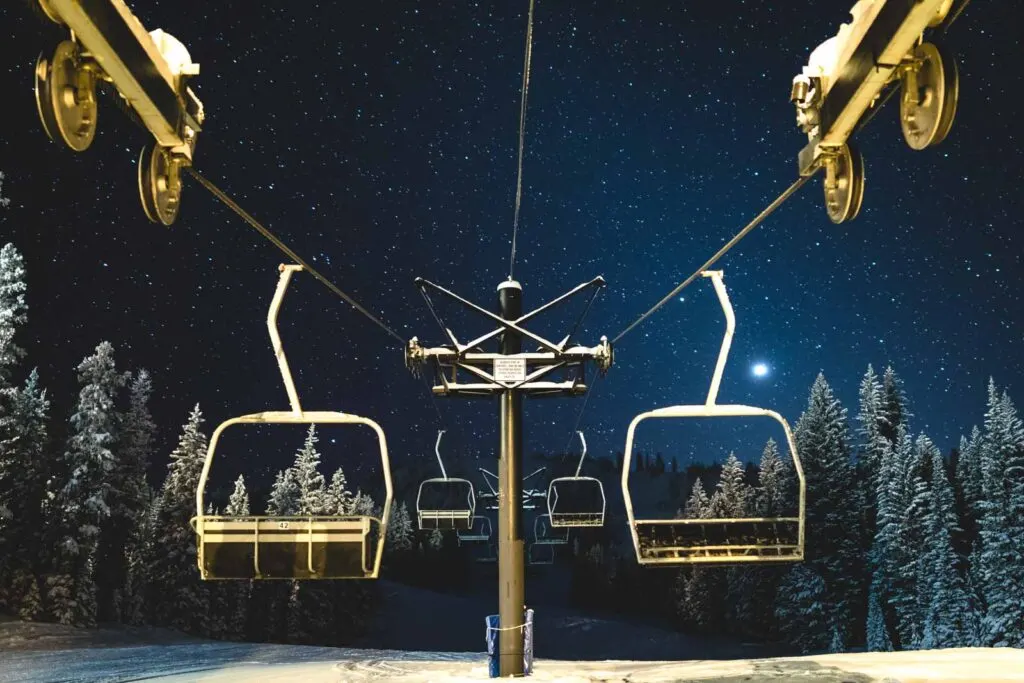 The property borders national forest land and is the starting point for lots of great outdoor adventures in the Elkhorn Mountains. It is just 10 miles from Anthony Lakes and is the closest accommodations Anthony Lakes Mountain Resort, so it's a great location for a winter ski vacation or to escape the heat in summer.
We hope this Cabins in Oregon post has helped you plan your trip. Here are more posts on epic adventures around Oregon to check out, and the best camping in Oregon.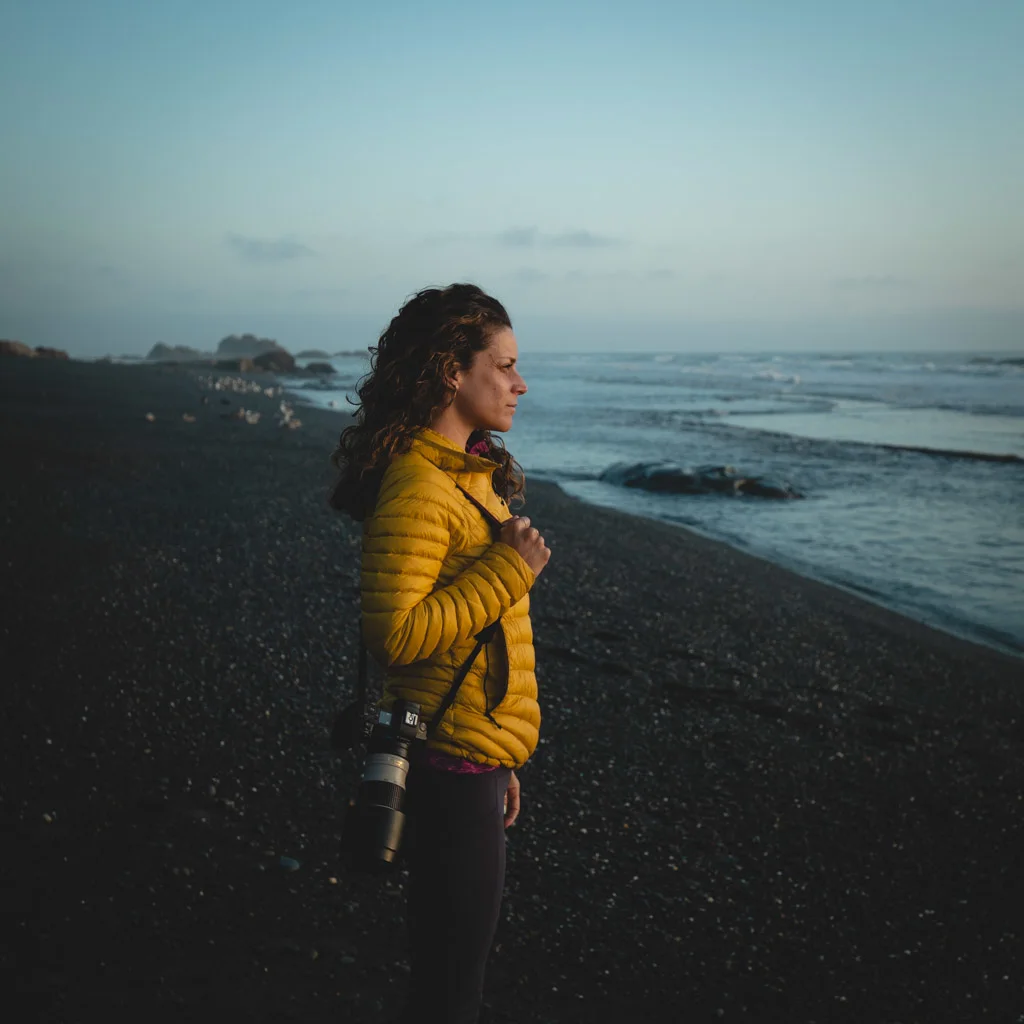 I've been perpetually traveling and living around the world for years but it's hard to beat Oregon and the PNW. After years of road-tripping the area, I guess you can say I know it pretty well! When I'm not writing guides for you, you can catch me somewhere petting a dog, attempting to surf, hiking a volcano, or stuffing my face with bread and cheese.