Whether you're looking to ski up to your chalet while sipping champagne, admire Timberline Lodge that set the stage for the iconic American film "The Shining", or get wild with some backcountry cat skiing, Oregon's got you covered.
One thing you will find about Oregon is that we've been blessed with the Cascade Mountain Range where, every year, our snow prayers don't go unheard.
Along with abundant white fluffy stuff we also beat out the rest of the country with the longest rideable season in North America, allowing anyone to ride 11 months out of the year!
So what are you waiting for? Start scrolling down to see which Oregon ski resorts and areas you can carve your way to!
13 Oregon Ski Resorts & Ski Areas
---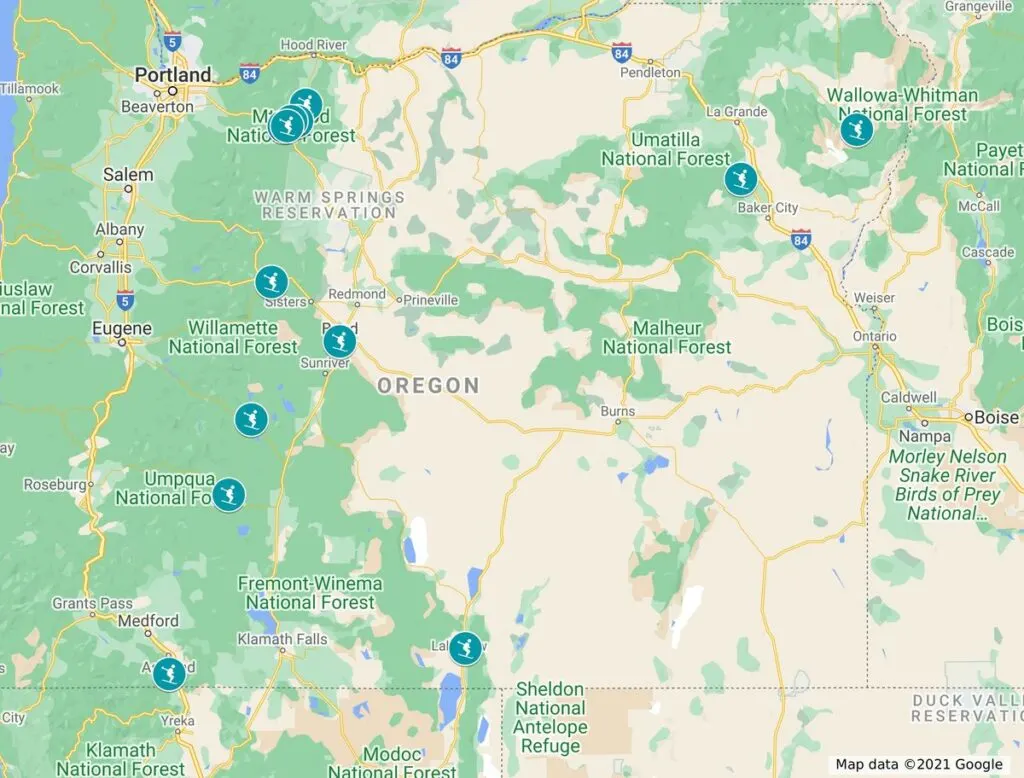 1. Anthony Lakes Mountain Resort
Escape from the lines and crowds that many of the big ski areas suffer from during peak season, and visit one of Oregon's best-kept winter escapes. Anthony Lakes has some of the best and most scenic Nordic trails in the state, with 30 km of groomed and track set trails.
Although skiing is the main draw, the venue does not just stop at skiing, it also offers some of the most breathtaking ski cat trips out there.
The lake where the resort gets its name lies high in the mountains. In the winter, the dry powdery snow here makes it perfect for downhill skiing.
The area has a base elevation of 7,000 feet, which is the highest in Oregon, and offers cross country and snowshoe trails. At that elevation, you know it's only the fluffy stuff. If you're a person that says no to soggy snow then this will be your jam.
Where to Stay Nearby
RECOMMENDED GEAR:
2. Cooper Spur Mountain Resort
Located in Mt. Hood National Forest, Cooper Spur Mountain Resort offers the slopes' perfect, rustic retreat. Cooper Spur is relatively small compared to other ski areas but still offers plenty of fun snow activities.
There is a mix of beginner to intermediate terrain to choose from, with ten runs for skiing and snowboarding, covering an area of 50 acres. If you are new to the game, this is a great place to learn, especially as the resort's smaller size may make the whole experience a little less daunting.
The Nordic Center provides 6.5km of trails for skating, snowshoeing, and traditional skiing for a stunning way to take in this winter wonderland. Trails here range from beginner to advanced, so you are sure to have a great time no matter your ability. If you don't have your own gear, then you can rent it directly from the Nordic Center.
One more feature of the resort is a cool little tubing area, which although it may be tailored more towards kids, it can still be a lot of fun. The tubing runs are lift-serviced as well, so you don't have to worry about climbing back up a slippery hill after every run.
Sometimes you need more than one day on the slopes, and luckily enough there are several lodging options to choose from. There are six lodge-style hotel rooms, five deluxe log cabins, three lodge condos, a private log home, and a homestead cabin, all offering warmth and comfort on a cold winter night in the mountains.
The log homes accommodate up to 12 people, meaning there is plenty of room for the whole family.
Where to Stay Nearby
3. Cat Ski Mt Bailey
Cat Ski Mt. Bailey Resort is nestled deep within the Cascade Mountains, just five miles from Crater Lake National Park. It offers some of the lightest and the driest snow on the west coast, often getting around 600 inches.
---
READ MORE: Things to do at Crater Lake National Park: Hikes, Camping & When to Visit
---
The resort is pretty huge, one of the things that makes it so popular, covering 6000 acres of varied terrain that will have something for everyone.
There are never any more than 12 riders or skiers on the mountain each day, ideal if you want the slopes almost to yourself and little to no fresh tracks in sight; it is what the resort is known for.
When it comes to lodging, a stay at Diamond Lake Resort will not disappoint. There are 38 motel-style rooms available, studios, guest cabins, and family cabins.
There are vintage cabins and the Retreat cabin that are a little bit more comfortable, so there is plenty of choice for finding a place to stay.
Where to Stay Nearby
4. Hoodoo Ski Area
Hoodoo Ski Area is Oregon's most centrally located ski resort, making it easily accessible no matter where in Oregon you're traveling from. If you're new to the skiing game, there is a well-regarded skiing school on site.
The ski area offers over 800 acres of snowy terrain to enjoy, with 34 runs, five ski lifts, and one of the West's largest tubing parks. The ski slopes themselves sit on a large, rounded butte, meaning there is lots of open terrain, with more challenging powder at the back and carefully groomed trails at the front.
The Autobahn tubing park is great fun. There is both a smaller run and a much larger one, which will give you an adrenaline rush.
There are eight Nordic ski trails to choose from, each of which varies in length and difficulty. The longest is 1.8k, although others are longer if you head out and back or combine it with another route.
A unique point about the resort is that it offers night skiing – it is the only area in central Oregon that offers this venture. There are 23 night runs to enjoy that have lights to provide optimum conditions in the mountain.
Stay while you play at Hoodoo Ski Area, with several different lodging options available. Black Butte Ranch is Hoodoo's premier lodging partner, so you'll be close to the slopes from the moment you wake up in the morning.
For those that enjoy skiing and snowboarding freestyle, the terrain park off blue valley run is made up of runs, jumps, and tabletops, so you can practice your skills.
It has a number of different lodges to stay in if you're looking for a little bit of luxury, or alternatively, there is an Inn and Suites style hotel if you're looking for a place to rest your head before the adventure can start again.
Where to Stay Nearby
5. Mt. Ashland Ski Area
Mt. Ashland offers a real thrill for those that enjoy an adrenaline rush when hitting the slopes. The mountain has a towering 7533-foot summit, where skiers can drop off 1150 vertical feet. The four chairlifts offer easy access to the 23 miles of trail and well as open bowl skiing.
Overall there are 200 acres of skiing available, suitable for a range of difficulty levels, including some challenging runs that should only be attempted by the more experienced skier. Overall, this resort tends to cater more towards intermediate to advanced level riders.
It is located in southern Oregon in the stunning Siskiyou Mountain Range and has incredible weather all year round. It averages 300 days of sunshine every year, along with more than 250 inches of natural snowfall.
Freelance skiers will love the Rouge terrain parks, which has something for everyone. Throughout the year, the team at the resort sculpts several different parks and jump lines for an exciting yet challenging experience.
Where to Stay Nearby
6. Mt. Bachelor Ski Resort
With 4300 acres of terrain to enjoy, Mt. Bachelor is an incredible place to ski in Oregon, offering incredible downhill skiing and snowboarding.
The resort is served by 11 large lifts, eight of which are high-speed quads. A number of terrain parks are scattered over the mountain's slopes, meaning there is room for all interests and abilities.
In addition to skiing, Mt. Bachelor offers a range of other snow-based activities, which can be a lot of fun and a nice little add-on to the day's adventures. Snow blast tubing is central Oregon's biggest snow tubing experience, complete with an 800-foot ride full of rollers, plus six lanes of action.
You can sit on your tube all the way back up the mountain thanks to the specially designed set of tubes. The US Forest Service Naturalists offer free 90 minute tours in the winter months on snowshoes, offering a unique way to learn a little more about the area.
Animal lovers will enjoy the chance to take a dog sled ride by a real dog sled team on exciting tree lines trails around the slopes of the mountain.
---
READ MORE: What to do at Mount Bachelor in Winter
---
Mt. Bachelor is extremely easy to get to, as it is only 25 minutes from both Bend and Sunriver. The mountain is a towering 9065-foot volcano cone and offers some of the best skiing in the state.
The resort is most well known for its deep powder, and therefore very often hosts important skiing competitions. Experts in the field use the resort, but it is also great for those looking to learn the sport.
Where to Stay Nearby
7. Mt. Hood Skibowl
With 960 acres of snowy wonderland to play on, Mt. Hood Skibowl is a popular spot in Oregon. The winter sports opportunities here are seemingly endless.
There is, of course, plenty of skiing and boarding action to be had, but the resort also offers night skiing, terrain parks, tubing, and more.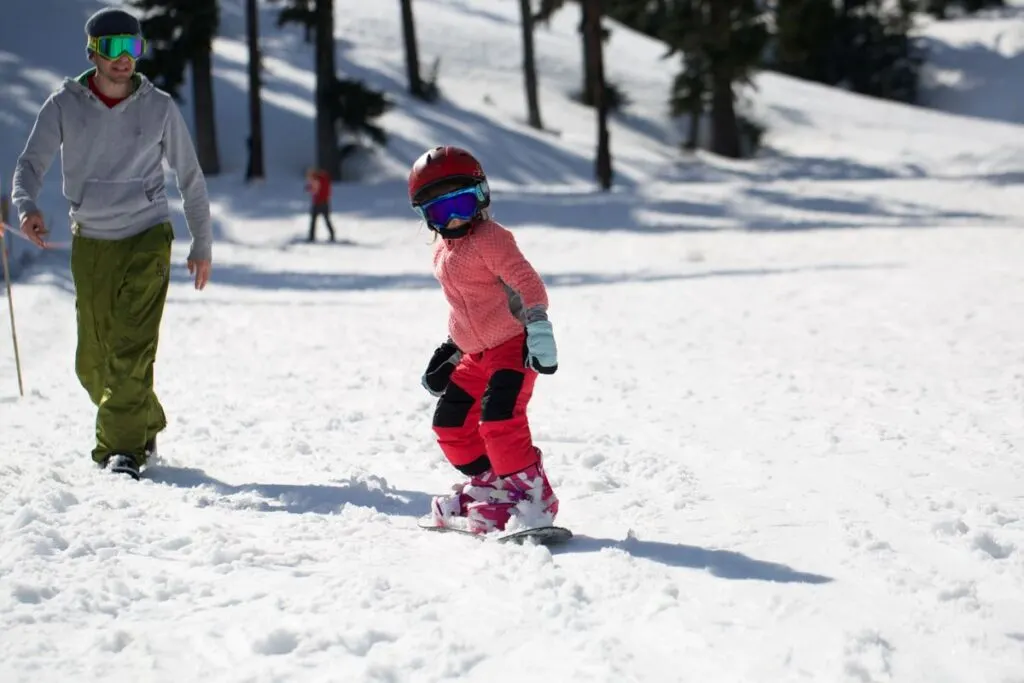 The resort offers 34 fully lit runs, making it America's largest night ski area. There are 65 runs in total and a verticle drop of 1500 feet. Although the park caters to all skill levels, it also boasts the most Black Diamond runs of any resort in the state.
The tubing here is particularly notable, thanks to the cool cosmic element. Cosmic tubing is often described as the best party on a mountain, where you can enjoy flying down the mountain surrounded by over 600,000 colored LED lights, as well as laser shows and music. It is a pretty unique experience.
There are some lodging options here so that you can be close to all the action. Collins Lake Resort is one of the closest accommodation options, which has a number of different vacation rentals to cater to different needs and budgets.
Alternatively, you can stay at Great Lodges Mount Hood where you really can live the life of luxury on a mountain.
---
READ MORE: What to do at Mount Hood in Winter
---
8. Mt Hood Meadows Ski Area
Mt. Hood Meadows is one of Oregon's largest ski resorts and the largest located on Mt. Hood. It is located just 90 minutes from Portland, so you don't have to go far from city life to be immersed in a snowy wonderland, sprawling across the mountains southeast flank, and the views are incredible.
The varied terrain is well known for catering to both beginner and more experienced skiers. There are more than 2150 acres to enjoy and the ski area offers a lift service all the way up to 7300 feet. You'll feel like you really are on top of the mountain as you cruise down the flanks.
Heather Canyon is one of the most popular areas for skiing and is almost like it's very own ski area. There are plenty of steep drops down into the canyon that offers some pretty exciting riding experiences.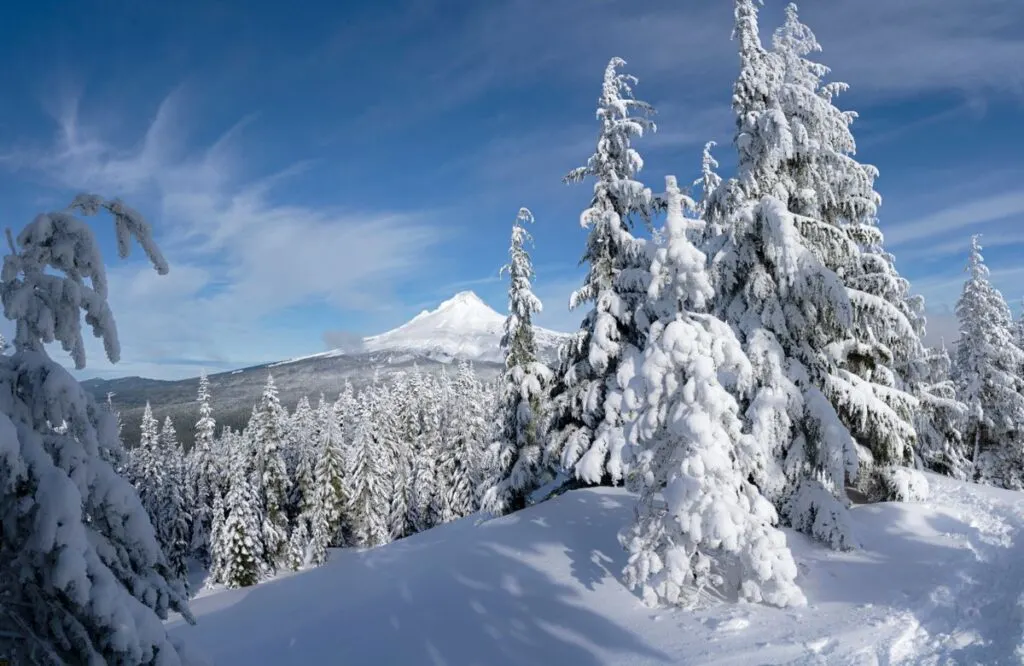 Some of the most challenging runs can be found at S & R Cliffs, providing some pulse-pounding glades trails with some cliff outcroppings for an added thrill. Elk and Yoda offer some more open bowls for those that prefer a more relaxed style of skiing.
There are 11 lifts available, six of which are high-speed quads, meaning that Mt. Hood Meadows is a pretty big mountain experience. You may have to come back several times to enjoy all that the mountain has to offer fully.
---
RELATED: 9 Things To Do at Mount Hood For Adventurers!
---
9. Timberline Lodge and Ski Area
Timberline Lodge has the huge benefit of having a ski area that is open the full 12 months of the year, the longest ski season in North America. It is located at the top of Mt. Hood and therefore offers plenty of snow to enjoy a range of winter sporting activities.
The area has 3690 verticle feet to boast about, bringing in visitors at all times of the year, which is hardly surprising seeing as it is set on the top of the tallest mountain in Oregon. By using the high-speed quads lift, eager skiers can enjoy the slopes later than any other resort.
In addition to the traditional ski runs, Timberline Lodge also maintains multiple terrain parks complete with all sorts of pipes, jibs, and jumps to keep you entertained. The school hard park is the beginner park, ideal for if you're starting and looking for a little fun, while Thunder, Blossom, and Conway's lean towards the more experienced rider, packed with plenty of rails and jumps.
Both lessons and rentals are available directly at the ski area, with lessons for complete newbies and for those that want to hone their skills further.
But that's not all Timberline offers, there are plenty of other fun winter activities such as riding the Palmer Snocat and walking in a winter wonderland via the snowshoe trail.
The historic Timberline Lodge offers a great place to spend the night after a long day of hitting the slopes. During the winter months, the ground floor of the lodge is completely covered in snow, therefore access is only via snow tunnel or directly onto the second floor.
A night or two spent in this 1937 lodge is like stepping back in time, yet with all the modern conveniences you could ever want.
---
RELATED: Winter in Oregon: Your Guide on Where to go and What to do
---
10. Summit Ski Area
Summit Ski Area is the second oldest continuously operating ski area in the United States, having been established in 1927. This alone should be a reason for visiting.
With only three runs and 306 feet of vertical lift, it is not the largest of ski areas, but for those just looking for a little skiing fun away from the crazy crowds of some of the bigger resorts, this is perfect. It is also considerably cheaper than some of the neighboring resorts on the mountain's slopes.
Summit is well known for its 2300 foot chairlift, which is used to access the 3.5 miles of beginner and intermediate trails, as well as a fun tubing run.
The tubing run is often described as Summit's main draw, as the powdery, tree-filled hill makes for some of the best tubings on the mountain, complete with old fashioned tire tubes, very fitting for the retro style Summit is leaning towards.
The 4000-foot elevation ski area is like a giant bunny hill, perfect for inexperienced skiers who need a little extra room to tumble now and again.
Where to Stay Near Mt. Hood Ski Bowl, and Mt. Hood, Timberline and Summit Ski Areas
These four resorts all in the same area, so anywhere you stay nearby will give you easy access.
11. Warner Canyon Ski Area
The Warner Canyon Ski Area is well known for being one of Oregon's oldest, opening back in 1938. It is not the biggest resort, but certainly is a lot of fun, especially if you're looking for somewhere a little bit more family-friendly. It is more widely used for beginner to intermediate skiers and snowboarders.
Still to this day, the resort maintains much of the spirit of the old west, when the resort used to be run solely by volunteers. The ski area is tucked deep within the Warner Mountains in Lake County, just 17 minutes from downtown Lakeview.
Don't let its size hold you back, what it lacks in size and luxury amenities, it more than makes up for with its nostalgic atmosphere, beautiful views, and friendly people.
22 runs spread out from the summit of the mountain, and although quite a few are easy to intermediate, there are also a few black diamond runs that are not for the faint of heart. At 6400 feet, the views out over the Warner Valley are pretty spectacular.
Be aware that as volunteers run the resort, it is usually only open on weekends, so make sure you find out if it is open when planning your trip. Despite this, it is hardly ever crowded, and lift lines are near enough non-existent.
There are a few rustic style ski lodges for a real authentic experience. When it comes to lodging options, All are equipped with what you'll need for a comfortable stay, with cozy couches and picnic tables. The huge windows flood the lodges with light, offering views out over the ski hill.
Where to Stay Nearby
12. Willamette Pass Resort
With 29 adrenaline-inducing runs, there is plenty to keep keen skiers entertained at Willamette Pass Resort. The resort has a vertical drop of 1563 feet and five lifts to help you reach the top of the slopes, one of which is a high-speed six-pack.
There are plenty of different terrain options to cater to different interests such as steep and deep tree skiing to more mellow slopes. The lower mountain offers some great beginner runs, or for those that want to ride a really challenging run there is RTS, originally built as a speed skiing course, it is now used for skiing steep terrain.
Once you've had enough of skiing, you can take in the views from the top of Eagle Peak of some of the most stunning areas of the Cascade Mountain Range.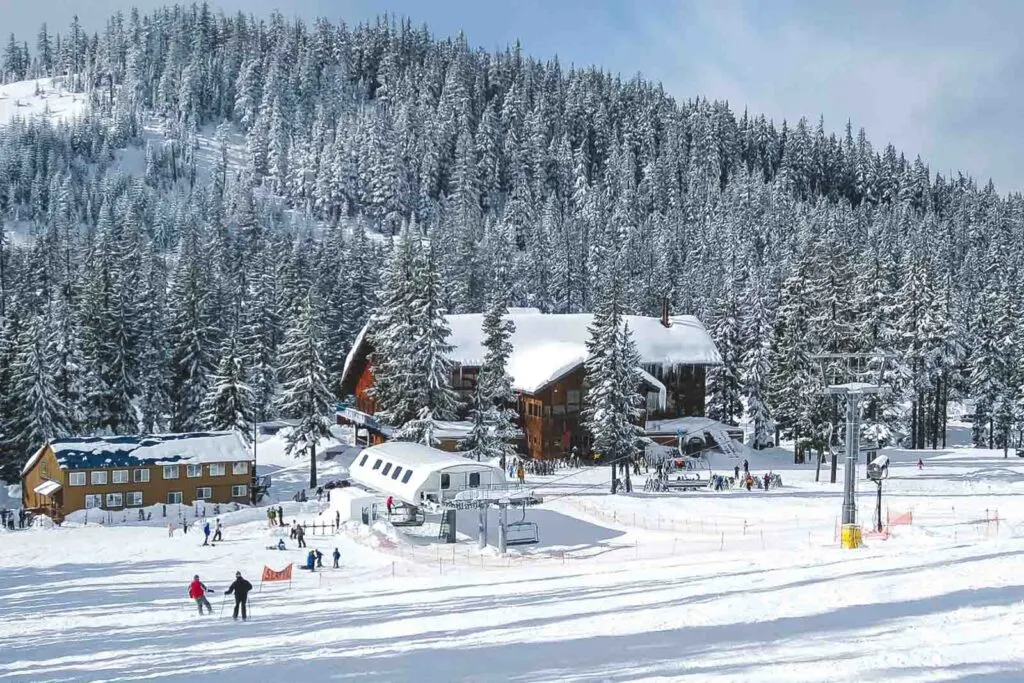 Willamette Pass Resort is also home to a fun terrain park, the ideal place to head if you're looking for a laugh or want to hone your skills a little. It offers a variety of features, including boxes, rails, and booters. There are ski and snowboard rentals on-site, as well as a ski and snowboard school.
There are 20 km of groomed trails for Nordic skiing, a great way to explore the winter wonderland if you don't fancy downhill skiing. Overall there are 555 acres of skiable terrain, with an average of 430 feet of snowfall per season.
Although small, it definitely packs some punch while also avoiding big crowds even at the height of the season.
Where to Stay Nearby
13. Ferguson Ridge Ski Area
Ferguson Ridge is often described as one of Oregon's most scenic skiing destinations. It is a pretty small ski resort, serviced by just one t-bar and rope tow that services the eight main trails. New trails are forged each season, so you'll always be getting something new.
The vertical elevation gain is around 640 feet, but as well as downhill skiing, Nordic skiing is also available, as well as snowshoeing, offering alternative ways to explore the mountain.
Fergi is where people come if they are looking for a no-frills skiing experience, located just outside of Joseph in the Wallowas of Eastern Oregon. There are no fancy chairlifts or craft beers here, just three small shacks for rentals and the T-bar operating stand, but for many, this is what makes it so charming.
---
RELATED: A Comprehensive Guide to Visiting Wallowa Lake State Park – Adventures and Camping
---
It is totally off-grid, powered only by a generator, and chances are you will get no cell service or wi-fi, ideal if you are looking for a little winter escape.
The snow here is dry and powdery and is regularly groomed into a smooth carpet, plus blue sky days are common, adding to the scenic experience. It has the added benefit of being very reasonably priced, meaning the whole family can ski here for the price of just one person at Mt Hood.
Where to Stay Nearby
More Things To Do During Winter in Oregon
We hope this post helped you plan your winter in Oregon ski vacation! Check out more great winter activities and other fun adventures in Oregon.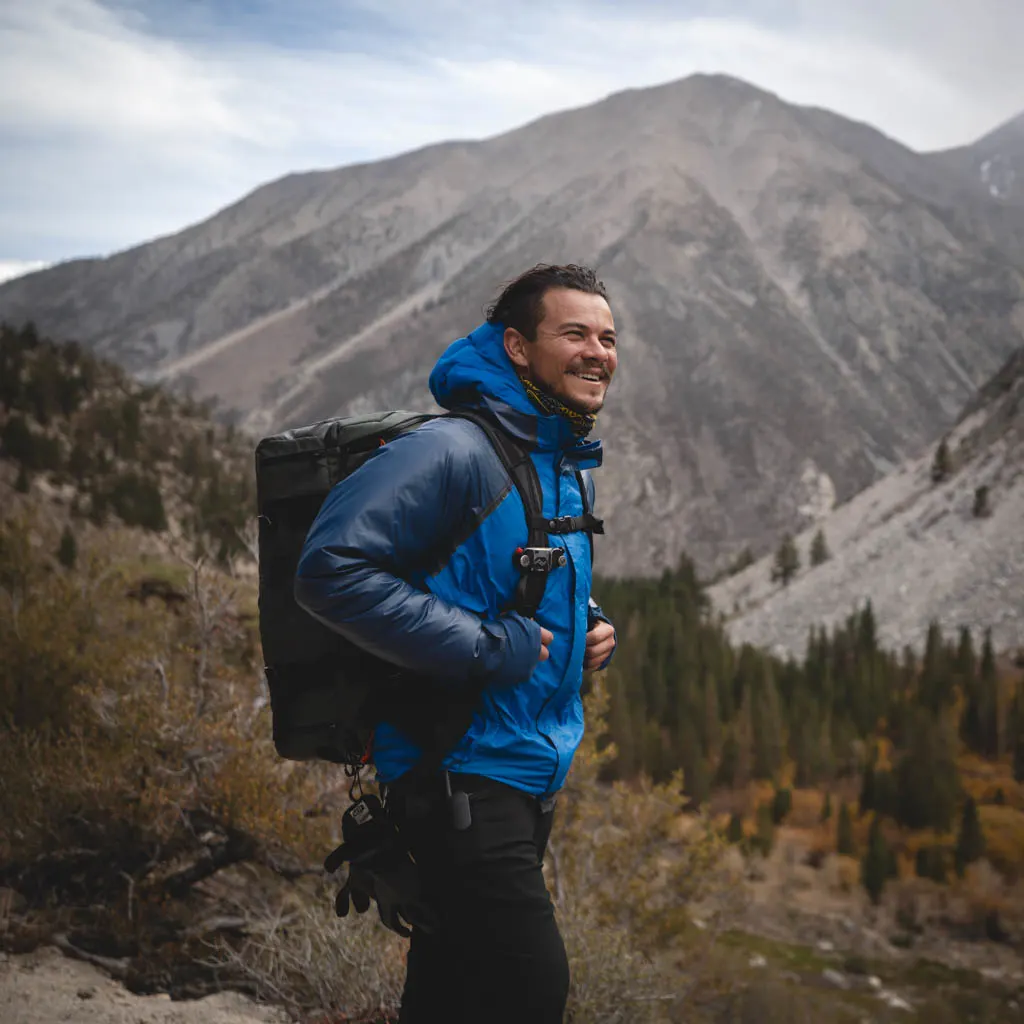 Oregon native and explorer at heart. Loves tackling expeditions around the world and drinking a good beer at the end of the day. PNW obsessed, VW nerd, and surf or snow riding fanatic.