Steens Mountain may seem like a world away from many of Oregon's other natural attractions, but as soon as you set eyes on this backcountry wilderness, it is a pretty sure bet you will make the journey again and again.
With vast gorges, alpine lakes, seasonal waterfalls, natural hot springs, and some of the best hikes in the state, it is a wonder that more people don't choose to make the journey.
It is about a 7-hour drive from Portland, and about 4 hours from Bend, meaning you can truly escape city life and experience some of the wild sides of Oregon. The mountain may be stark and bare for those used to the dense woods of the coast, but you will grow to love the arid landscape that the mountain dominates and see the beauty in this harsh terrain.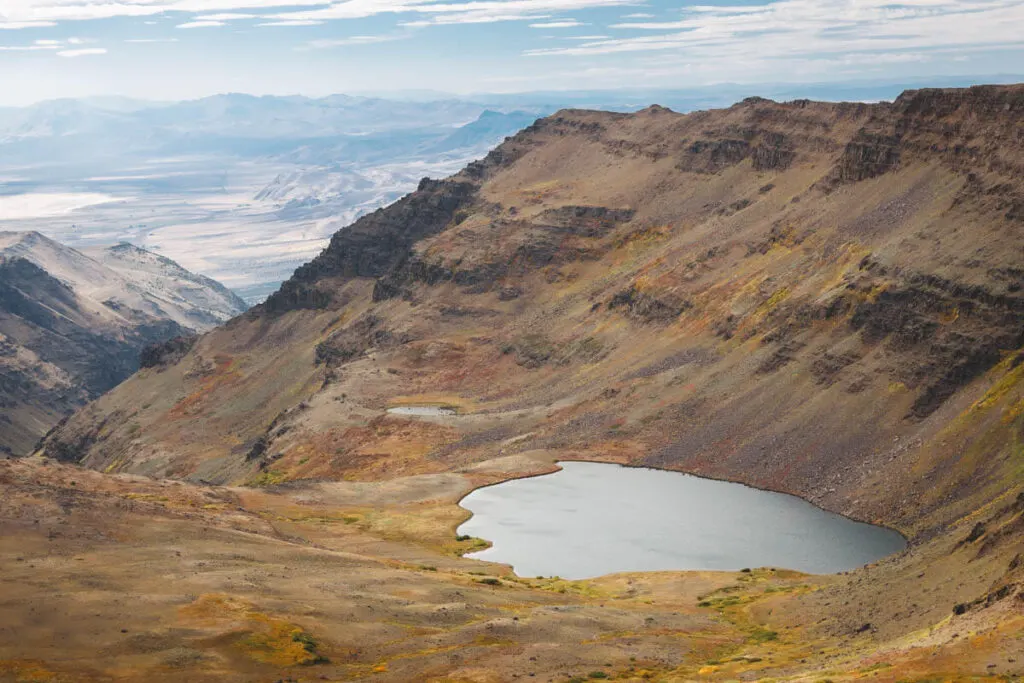 The mighty mountain itself rises to 9733 feet, making it the highest point in southeastern Oregon. If you can find the time to take in this panorama of stunning wilderness, we assure you it is well worth the trip!
Steens Mountain
---
Here's everything you need to know about Steens Mountain, which by the way, is just one mountain. Many people call this place the Steen Mountains, but this is not correct as it's just one big one, so don't get confused!
This is one of the best spots in this corner of the state, but be sure to check out our other guides if you're in the area, like our Southern Oregon guide or Eastern Oregon guide.
Trails at Steens Mountain
Lace-up those hiking boots! Hiking around Steens Mountain is one of the best things to do. Here are the main trails to hit up…
Kiger Gorge Overlook
Distance: 0.2 miles
Type of Trail: Loop
Difficulty: Easy
Elevation Gain: 16 feet
The geological wonder of Kiger Gorge has to be seen to be believed. This vast, U-shaped gorge was formed due to pressure from huge glaciers during the ice age. It now stands half a mile wide and is extremely impressive… Yet relatively few people have even heard of it.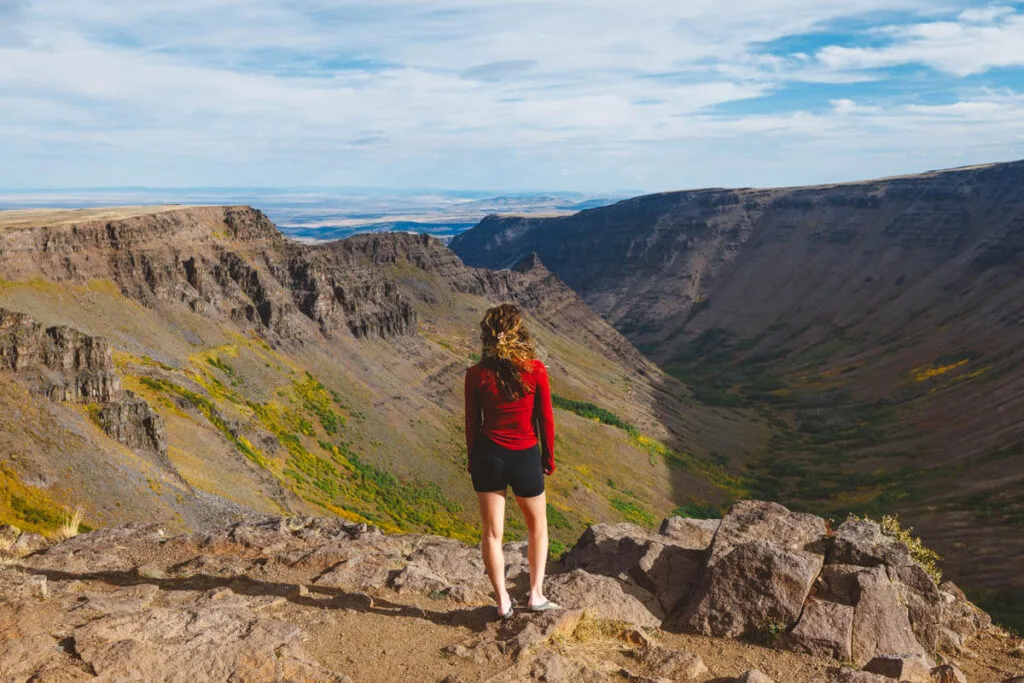 The unique landscape of the gorge has provided a rare habitat for plants and wildlife. For example, the Steens Mountain paintbrush is found nowhere else in the world! Bighorn sheep, mule deer, pronghorn antelope, and Rocky Mountain Elk all also call the area their home, and if you are very lucky or unlucky, some might say you may even see the elusive mountain lion.
The Kiger Gorge Overlook Trail is a nice and easy hike (OK fine, a short wander, really!) that will take you from the parking area to a breathtaking vista of the gorge. There are no guard rails, and the winds can be strong, so keep your distance from the edge. If you can, visit during different seasons to see the dramatic changes in color and scenery.
Wildhorse Lake Trail
Distance: 2.5 miles
Type of Trail: Out & Back
Difficulty: Moderate
Elevation Gain: 1059.7 feet
Wildhorse Lake is arguably the most impressive lake in this park of Oregon, but we will let you be the judge of that. It is not so much the lake that is the great part, but more its surroundings. It is surrounded on three sides by towering steep rocky walls, down which tiny streams flow.
The final side is open, allowing a breathtaking view of the desert landscape. Uplifted lava flows created the dramatic landscape, moved over time by ice that covered the area.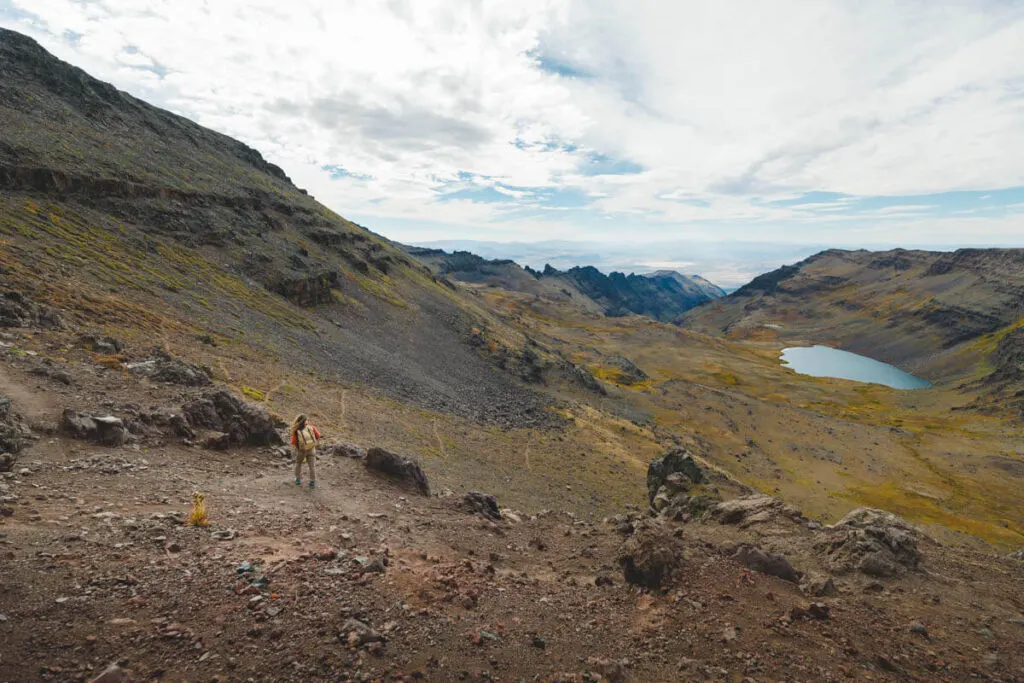 Start the hike from the Steens Mountain Summit parking lot. At first, you will be heading down, down, down, through fields of lava rock, and it does seem to get steeper the further along the trail you go. You will be able to witness the area's stunning geology with every step you make as you descend around 1,200 feet.
If you visit in spring or summer, you might be lucky to see bright blooms of wildflowers scattering the rocky landscape, such as lupine and buckwheat. They almost seem like they don't belong in such a barren landscape. Here you will see a very different side of Oregon that few people choose to venture out to.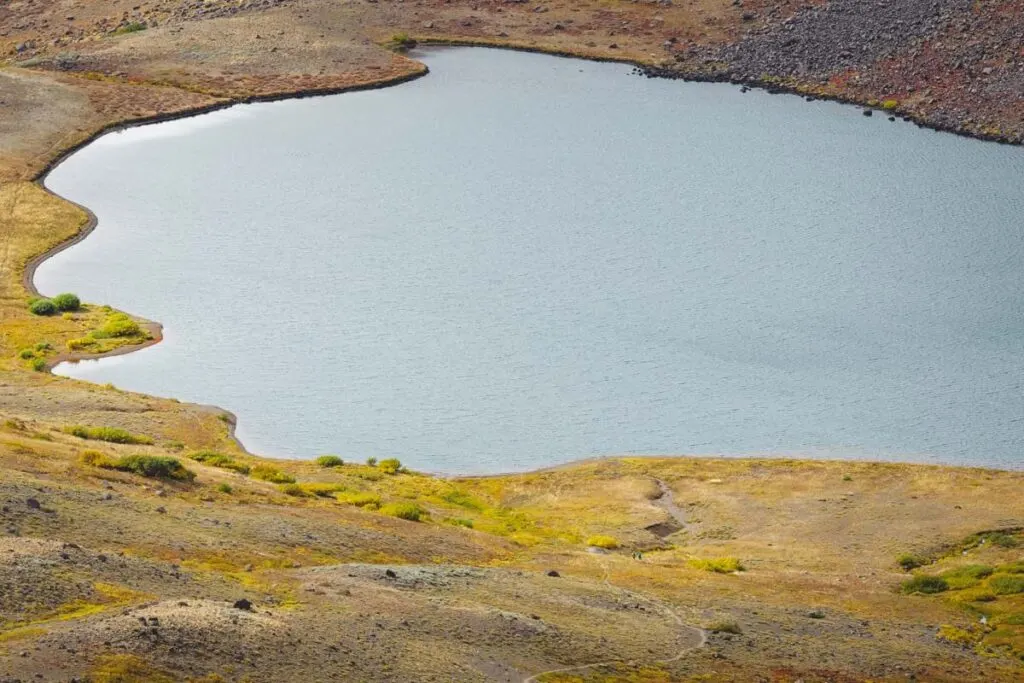 Once you reach the lake, it is a beautiful place to go for a chilly swim to cool off before tackling the steep climb back up to your car. As all hikers will know, what must go down, must also go back up!
Steens Mountain Summit
Distance: 0.9 miles
Type of Trail: Out & Back
Difficulty: Easy
Elevation Gain: 206.7 m
Some people see a mountain and immediately want to climb it, while others prefer to admire it from afar. Steens Mountain is just one of those mountains that, when you look at it, you want to reach the peak. The best thing about it for non-hikers is you can drive almost up to the peak!
Be prepared for a pretty hairy ride, with tight turns and limited railing; your heart will be pumping before you have even started walking.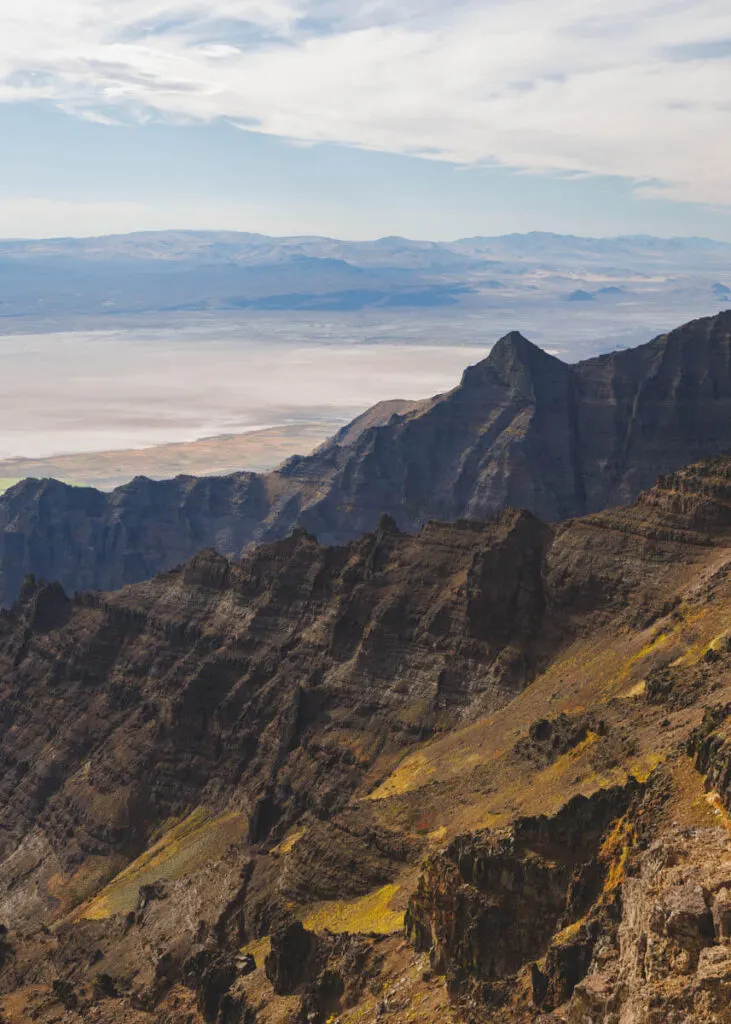 Once you have sufficiently recovered from the drive up, start the hike from the trailhead, which begins at the parking lot, heading upwards along the rocky road. You will reach the summit after just a short distance of less than half a mile, which may seem longer due to the steep gradient.
Please take a minute to take it all in and regain your breath. Not every day can you say you are standing on top of the largest fault block mountain in North America.
Big Indian Gorge Trail to Little Blitzen Loop
Distance: 25.2 miles
Type of Hike: Loop
Difficulty: Hard
Elevation Gain: 4603 feet
Be prepared for an epic but long hike if you attempt this trail. It is certainly a challenge, as you start in Big Indian Gorge before hiking up to the summit of the mountain and then back down the Little Blitzen Gorge. It is an incredible way to summit the mountain while also taking in two of the most impressive glacially carved gorges that make up the slopes of the mountain.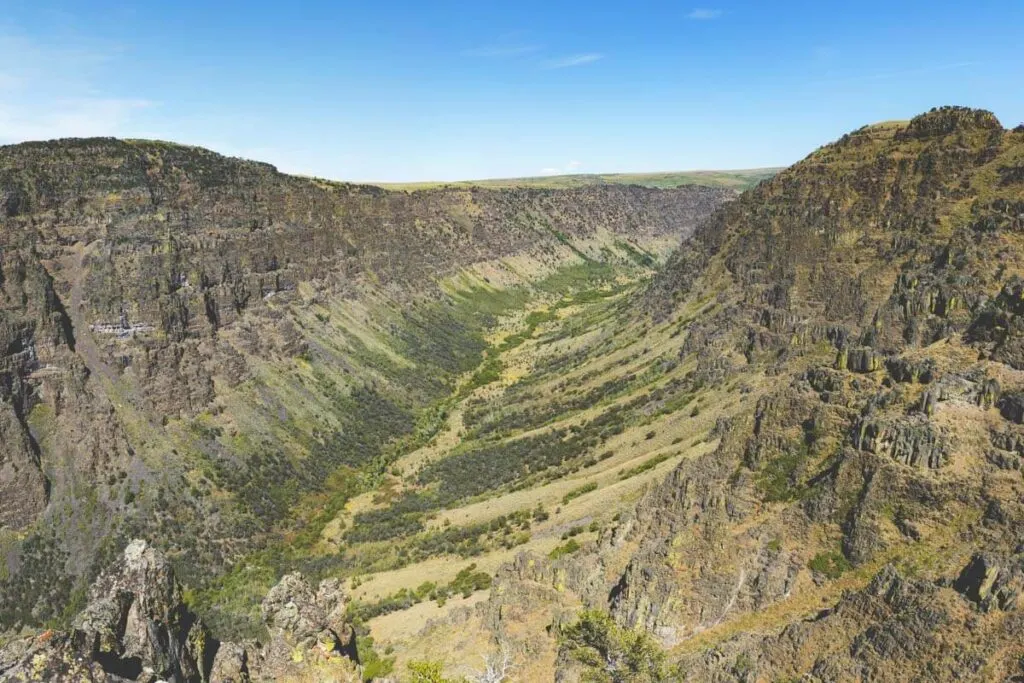 Alternatively, you can split this mammoth hike in Steens Mountain Wilderness into two shorter hikes and save one for another day.
Little Blitzen Gorge
The Little Blizen Gorge is one of the glacial gorges that make up the slopes of the mountain. The gorge is huge, stretching for 10 miles, and the hike takes you along the Little Blitzen River. The hike itself is beautiful, and if you time it right, you will be surrounded by brightly colored wildflowers and trickling waterfalls.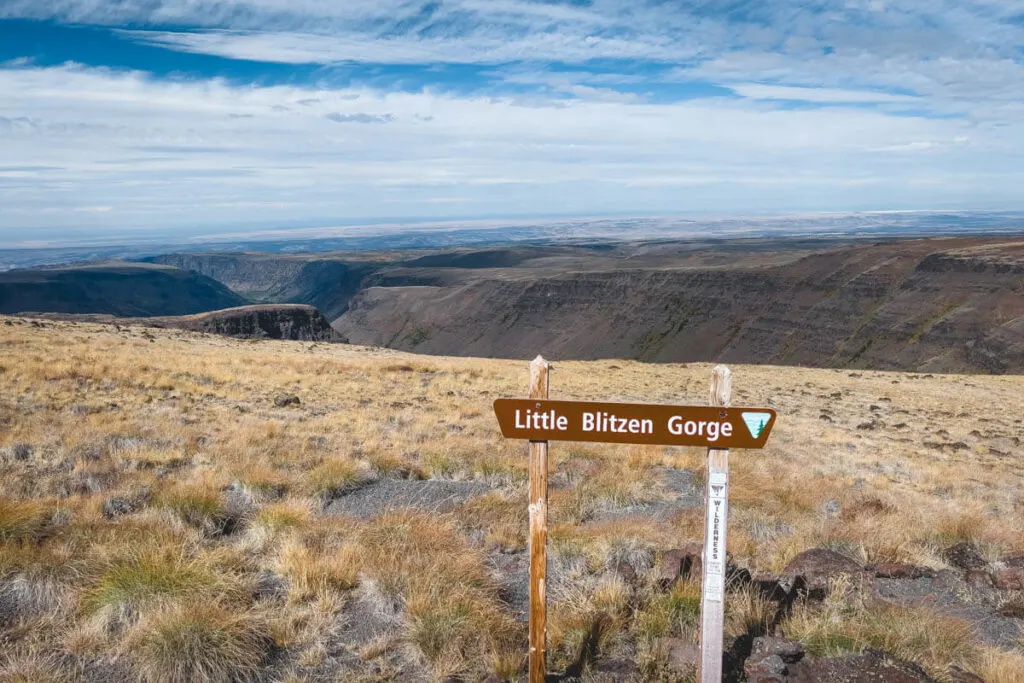 The trailhead has easy parking, and once you have parked, walk the short 1/4 mile up Loop Road to the brown sign that marks the start of the trail. Be prepared; although this is only one part of the full trail, it is still 19 miles long.
Big Mountain Gorge
The area surrounding Steens Mountain has a number of glacially carved gorges curving down its sides, and this hike follows one of them. This is a seriously long hike, which is why there is a campground along the creek, so you can break up your journey. Although long, for many, it is the most accessible of the gorges that surround Steens Mountain, making it a popular hike.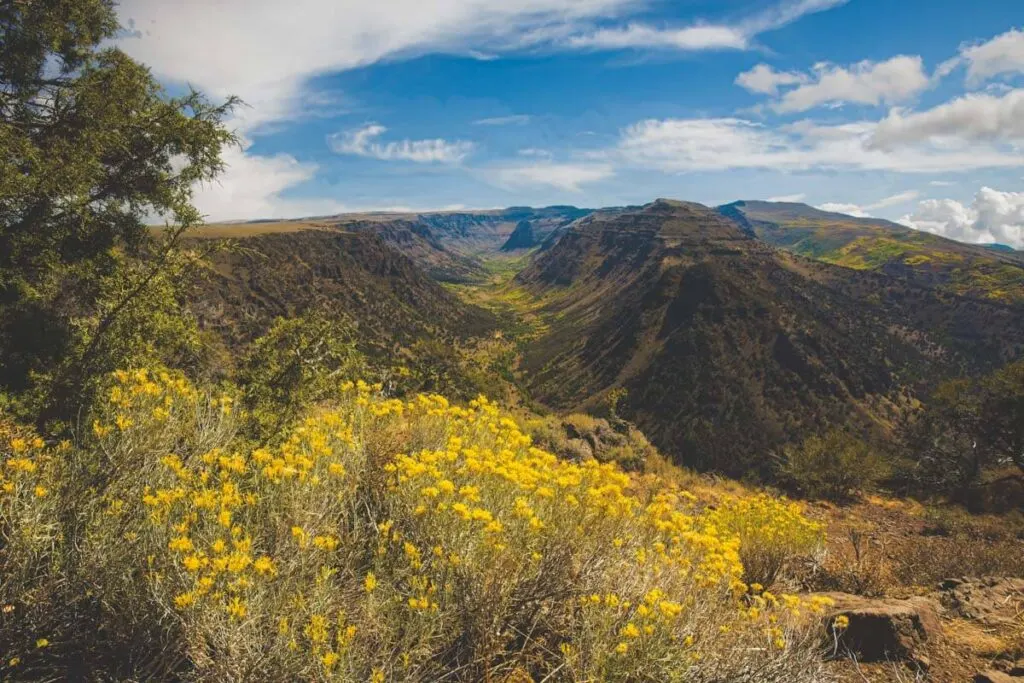 For most of the hike, you will follow an old jeep road. It is a long trip, but try to get as far as the Indian Cottonwoods Camp, as the spectacular sight of the gorge headwall will greet you. If this wasn't spectacular enough, the headwall is covered with multiple waterfalls during the springtime. A couple of creek crossings are along the way, so you should be prepared to get your feet wet.
Steens Mountain Loop—Best Way to Visit
You might be wondering HOW to visit Steens Mountain and the best way to tackle everything. Well, the good news is, it's super easy to experience this place!
There's the Steens Moutain Loop. A loop (surprise!) that you can drive around to see everything, reach all the trailheads and pop back out on the other side of the main highway.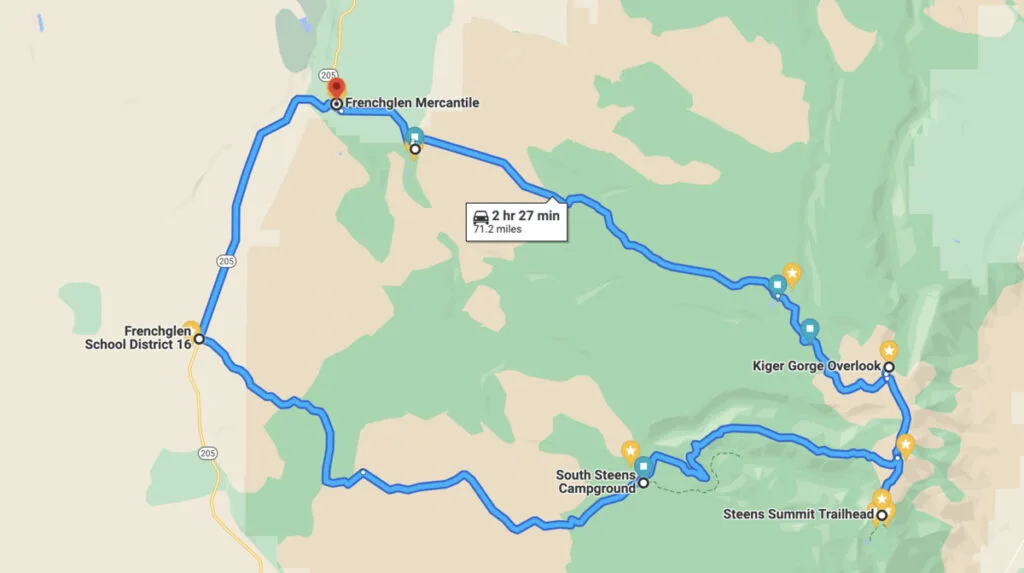 We recommend you head straight to Frenchglen to start the loop. This way, you can stock up on snacks and gas first, then start the Steens Moutain Loop. This part of the loop is where three out of the four campsites are too, so this way you can nab a first come, first served spot and explore!
If you're not hiking much, we still recommend doing the Steens Mountain Loop, it's a scenic drive with plenty of vistas just a few steps out of your car.
In just under three hours you can drive the whole thing, but add on a bit more time to get out of the car and explore. This drive can easily be done in a full day including a short hike or two if you're not camping.
Camping at Steens Mountain
You'll likely need at least one night out here to take it all in and head back to civilization. Here are the campsites in the area:
Page Springs Recreation Site
When visiting Page Springs Recreation Site, you will know you have reached Steens Mountain Wilderness. One more night's sleep stands between you and the ultimate day of mountain climbing, desert exploring, hot spring relaxing, and mountain lake swimming. The campsite lies just outside of Frenchglen, is open year-round, and has 36 campsites available to visitors.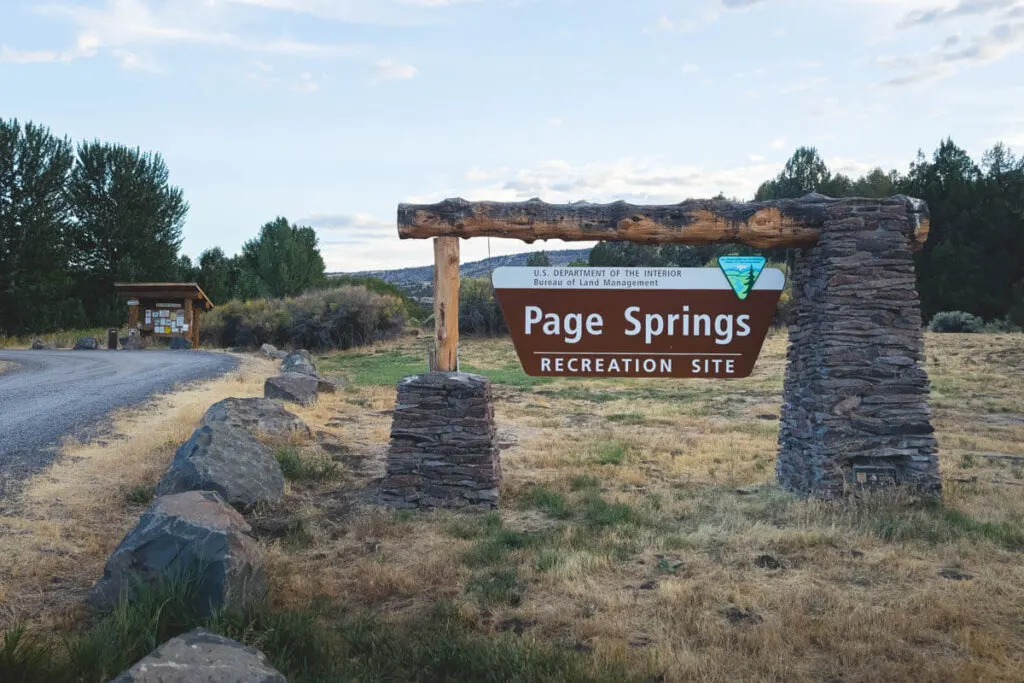 No hookups are available, yet despite this, the campsite remains hugely popular, and you may struggle to get a spot in the summer months. It runs on a first-come, first-served basis, so you must cross your fingers that a space is available.
The Donner and Blitzen River runs nearby, and the campsite marks the starting point for a few short hikes, one of which takes you lazily along the banks of the river. Drinking water is available; there are many vault restrooms and a large picnic site.
Fish Lake Recreation Site
You will feel like camping in the sky at Fish Lake Recreation Site, which sits at 7,400 feet. This part of Oregon is known for its vast expanses of land and sky, and never can you feel it more than at a campsite halfway up a mountain.
This campground then has the additional beauty of being positioned right next to the dazzling Fish Lake, offering days of adventure combined with days of swimming, fishing, and lazing about the shores of this sparkling mountain lake.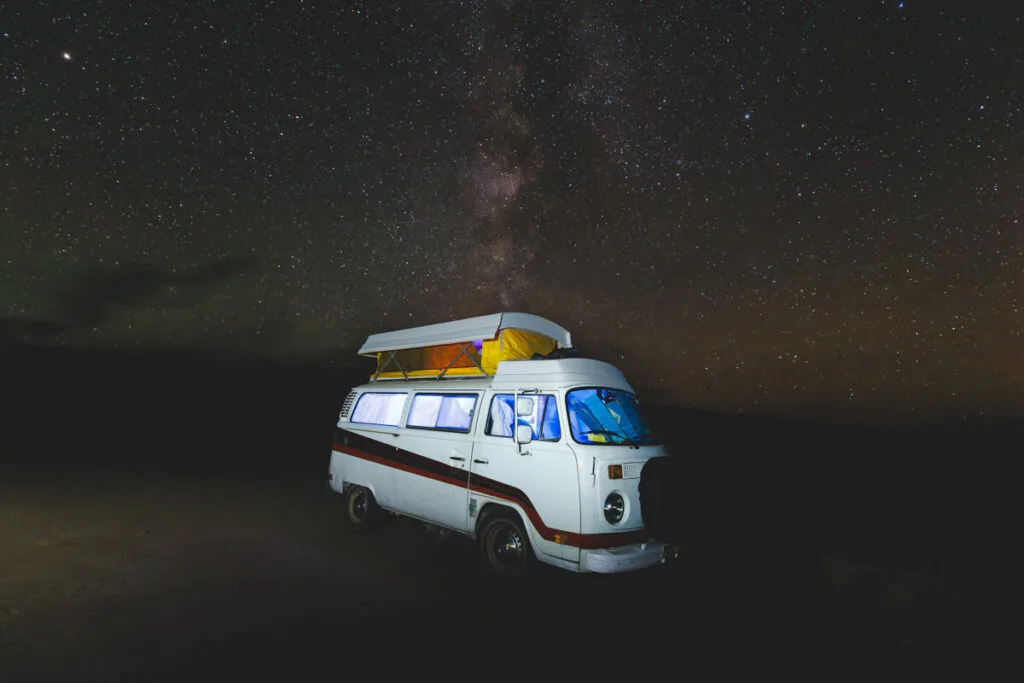 There are 23 campsites available on a first-come, first-served basis, and due to its position next to the lake, it is one of Steen Mountain's most popular camping spots—Luckily we got a spot even though we got in later in the day!
Jackman Park Campground
With only six campsites, Jackman Park Campground is small but epic. It sits at a lofty 7,800 feet along the Steens Mountain Loop Road. There are limited amenities available, although you wouldn't expect there to be halfway up a mountain.
Potable water and a vault toilet are available for campers to use. Due to its elevation, the campground is seasonal, only opening from July to October, and is first-come-first-served. It is a great spot to camp for the night if you plan to head to the mountain's summit.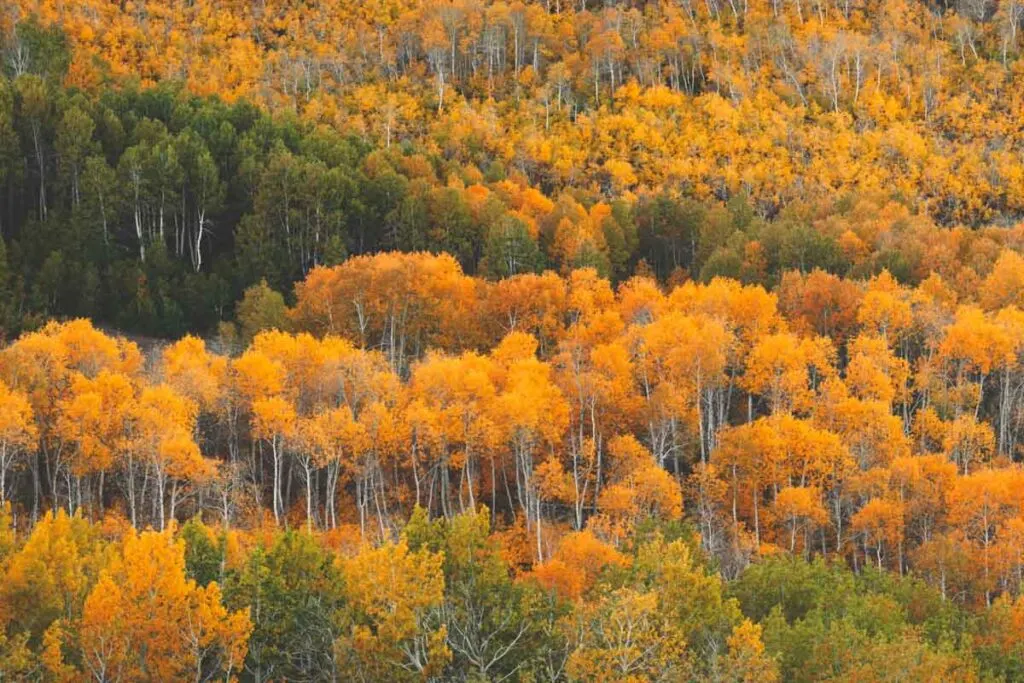 If you visit the campground during the fall, you will be treated to a vivid display of rich yellows and gold from the mature aspen trees surrounding the campgrounds.
South Steens Campground
South Steens Campground is your spot if you fancy camping right at the heart of Steens Mountain Wilderness. There are 36 campsites available here, nestled amongst the juniper and sage bushes. All have picnic tables and grills to cook and eat dinner outside the wilderness.
No hookups are available, but the sites are plenty big enough for an RV, and some sites are shaded more than others with trees. All are first come, first served, although you shouldn't have too much trouble getting a spot.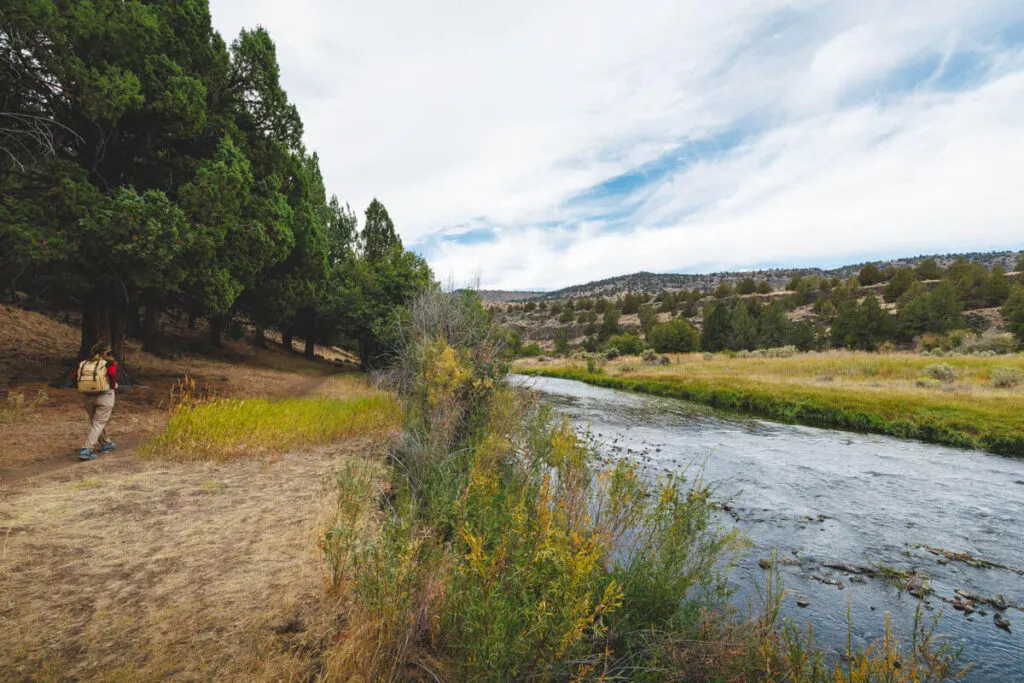 There is also an additional 15 equestrian-friendly campsites that come with tie posts and corrals.
The popular trails of Little Blitzen Gorge and Big Indian Gorge are just a short walk away, so you won't have to return to your vehicle to start an adventure.
Nearest Towns to Steens Mountain
As we said, Steens Mountain is kind of in the middle of nowhere, but there are a few towns nearby where you can head to stock up or if you are missing civilization.
Frenchglen
You can't come to this half of the state and not pop into Frenchglen. It is a tiny little town, consisting of not much more than the Frenchglen Hotel and the Frechglen Mercantile, where you can stock up on snacks, gas, and information about the local area.
The Mercantile is the only store in the town and also has a small collection of historic ranch items, which are fascinating to browse. Be aware that it is only open in the summer.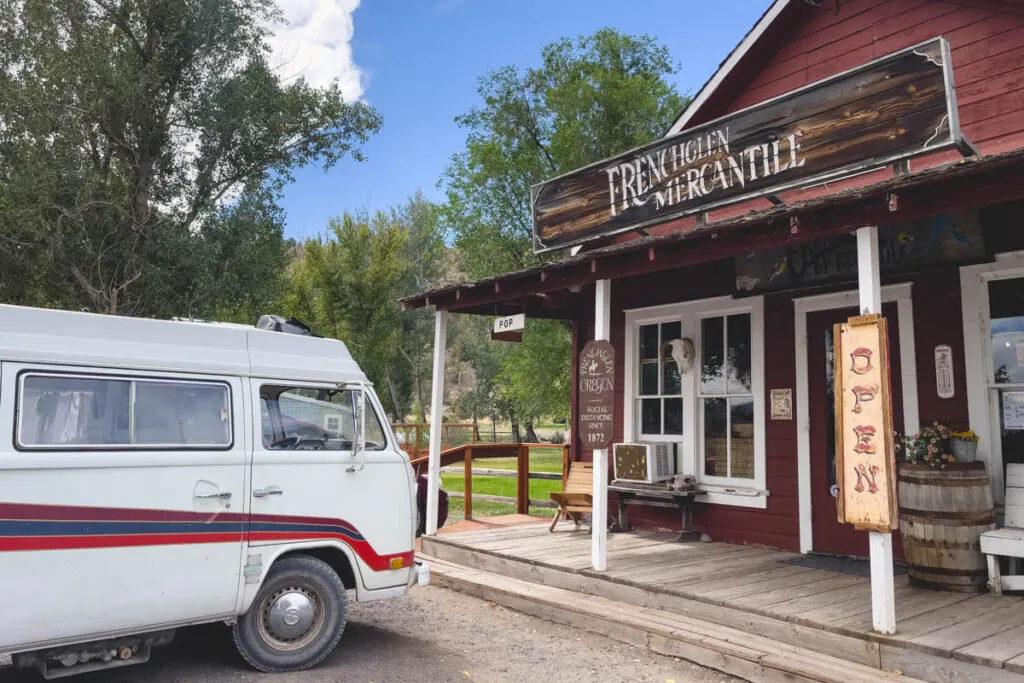 The rest of the town comprises just a few other buildings, but it is pretty much the nearest you will get to civilization, near Steens Mountain.
Fields
Fields is slightly further than Frenchglen but is a cute little town to visit. The town is made up of a ranching community, and some of the ranches have been in the same family for generations, so there is a lot of history here.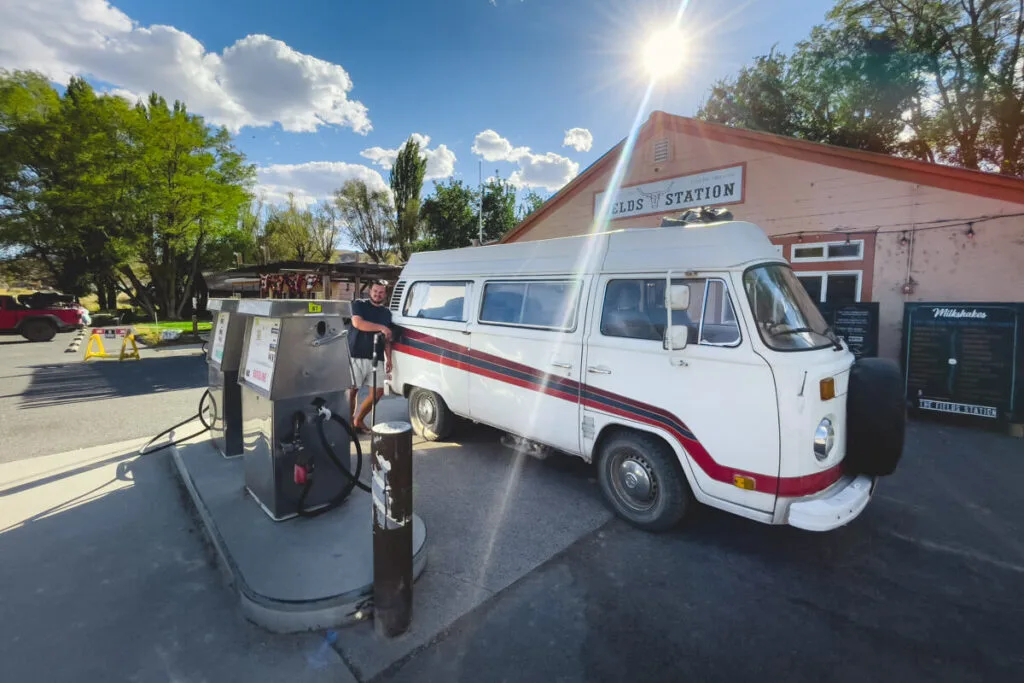 Don't expect a busy town; it is essentially made up of a store, post office, hotel, cafe, gas station, and the houses where people live. Despite its size, it is a great place to have something to eat or grab a milkshake to help you cool off in this desert landscape.
What to Do Near Steens Mountain
Steens Mountain is just one of the many things to do on an Eastern Oregon road trip. This part of the state has so much to do and see, with epic landscapes and relaxing hot springs.
---
READ MORE: 29 Awesome Things To Do on an Eastern Oregon Road Trip
---
​Diamond Craters
There is something distinctly exciting about the term Diamond Craters, so we wouldn't blame you if the name alone made you fancy a visit. You may not realize that the Diamond Craters are part of a volcanic landscape. Even if you feel you have ticked off many of Oregon's volcanic attractions, chances are you haven't been somewhere like here before.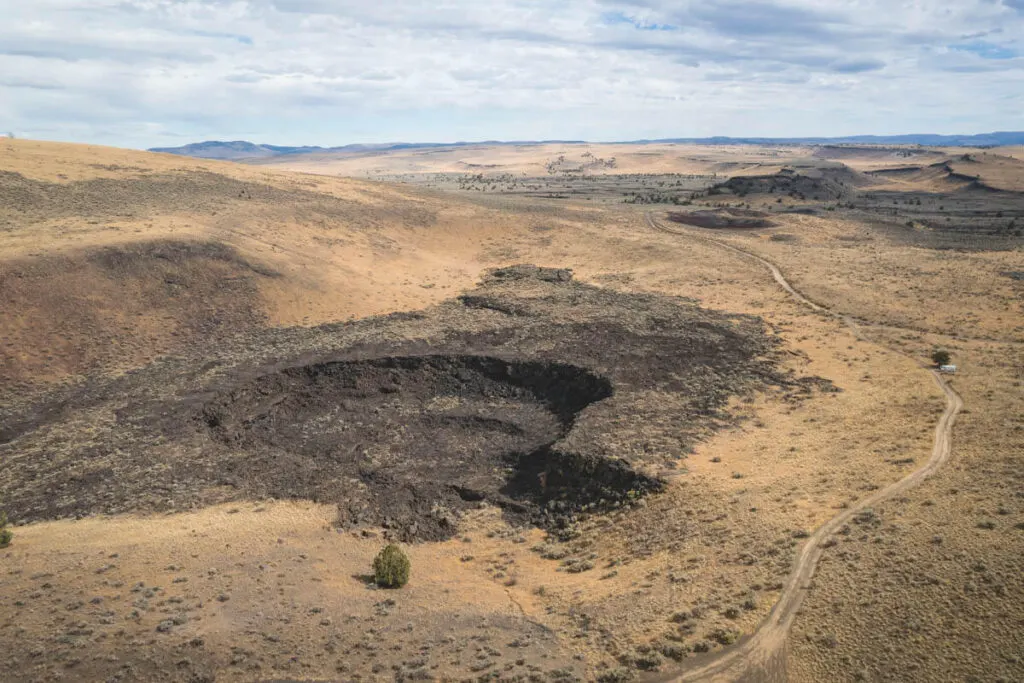 The Diamond Craters area is scattered with all sorts of volcanic features. It is best to have a car to explore the maze of dirt roads unhindered. The biggest draw is the craters themselves, which were formed around 25000 years ago, caused by molten basalt flooding a lake bed.
The lava reacted with its surroundings in several ways, such as the driblet spires, formed when the basalt was thrown into the air, or the Red Bomb crater, which was created due to a combination of lava and water.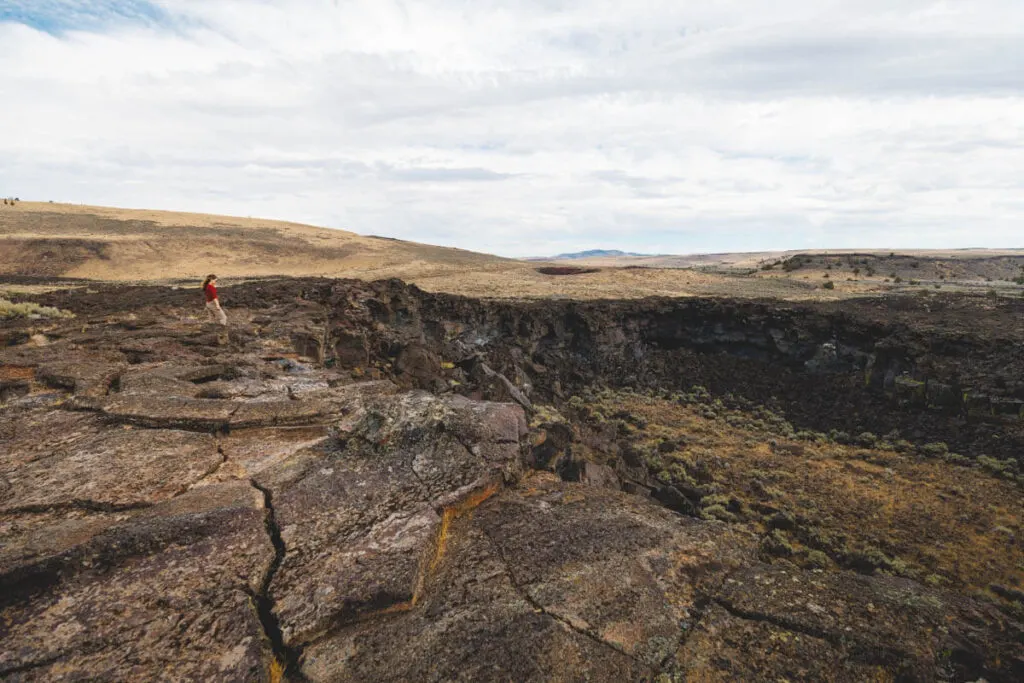 Despite being such a fascinating place, there is little information once you reach to tell you what you are seeking and the best way to navigate the area, so it is worth researching before you visit to get the most out of the trip. There are around 13 stops, so it is also worth setting aside time to see it all.
​Alvord Desert and Hot Springs
The rugged Alvord Desert stretches onto the horizon just southeast of Steen's Mountain. The desert landscape is in stark contrast to the mountains to the west, meaning it is entirely flat, so flat you can see for miles. It makes for an exciting camping spot!
Tens of thousands of years ago, a vast lake covered this region, and now it covers a landscape that's a long 5 miles by 10 miles.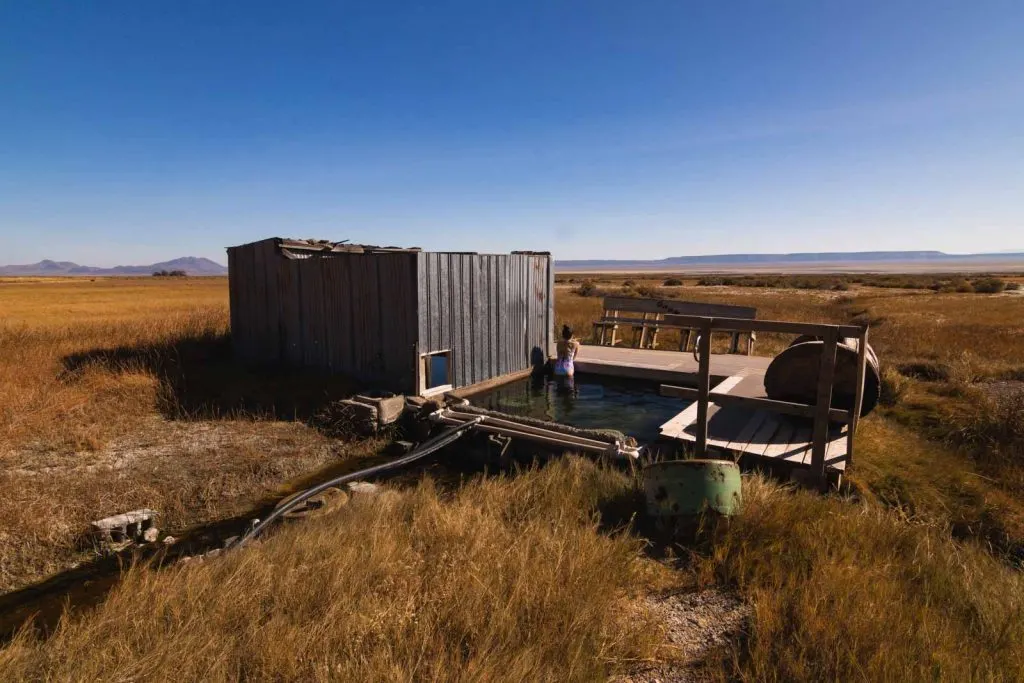 This unique landscape is the home of a hot spring, sitting on the eastern base of Steens Mountain. It would be hard to find a more relaxing place to soak.
The water here comes to the surface at about 184 degrees, but by the time it gets to the concrete pools, it is more around the 100 to 110 degrees mark, which is much more comfortable for bathing! You can also camp here for a small fee or camp right on the desert for free with Steens Mountain as your backdrop!
---
RELATED: Your Guide to Camping At Alvord Desert, Oregon & Alvord Hot Springs
---
​Hart Mountain
Nestled into the high desert, the Hart Mountain Hot Springs may not have the glitz and glamour of some hot springs, but it does what you need if you want a good soak to ease those aching muscles.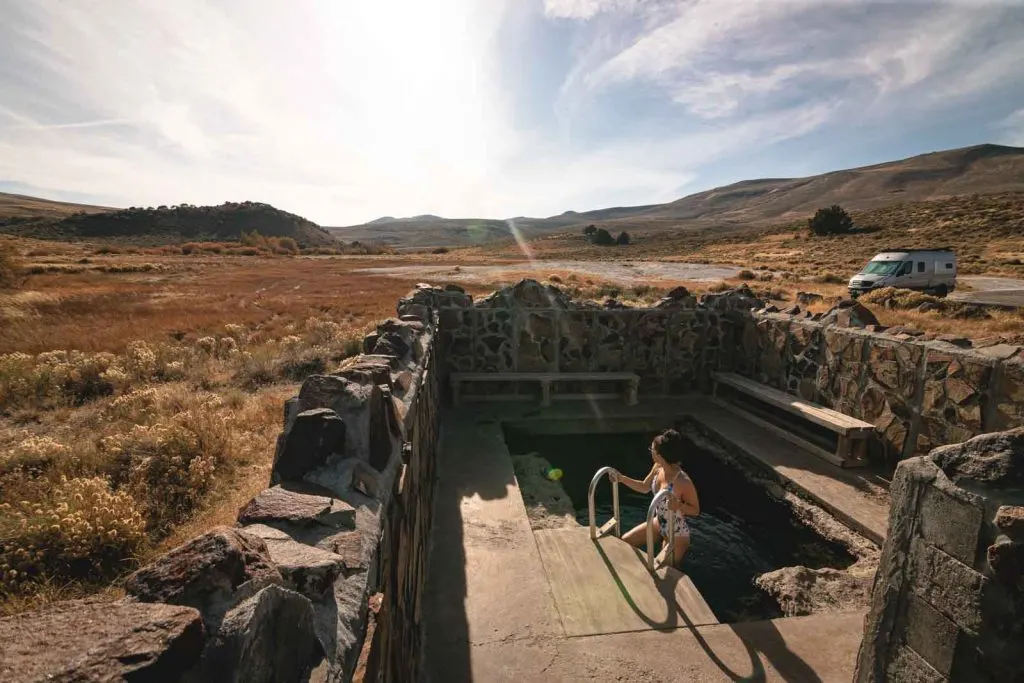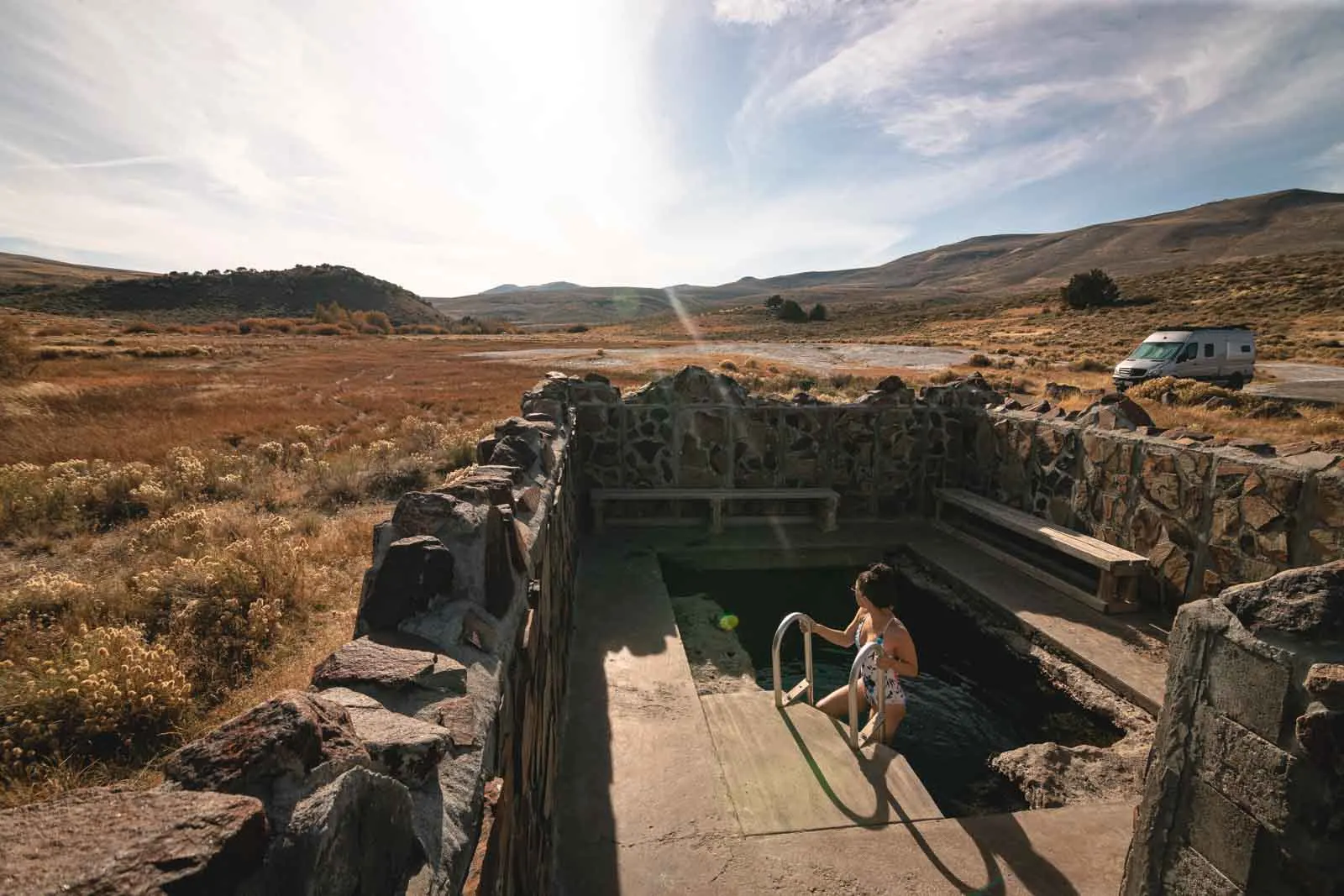 The landscape around the hot springs is just incredible. It is located in the Hart Mountain National Antelope Refuge, so expect to see massive cliffs, canyons, and wildlife.
The springs themselves are enclosed by rock, surrounded by a concrete deck. Although this area is developed, the springs are natural, with an uneven and slightly slimy floor.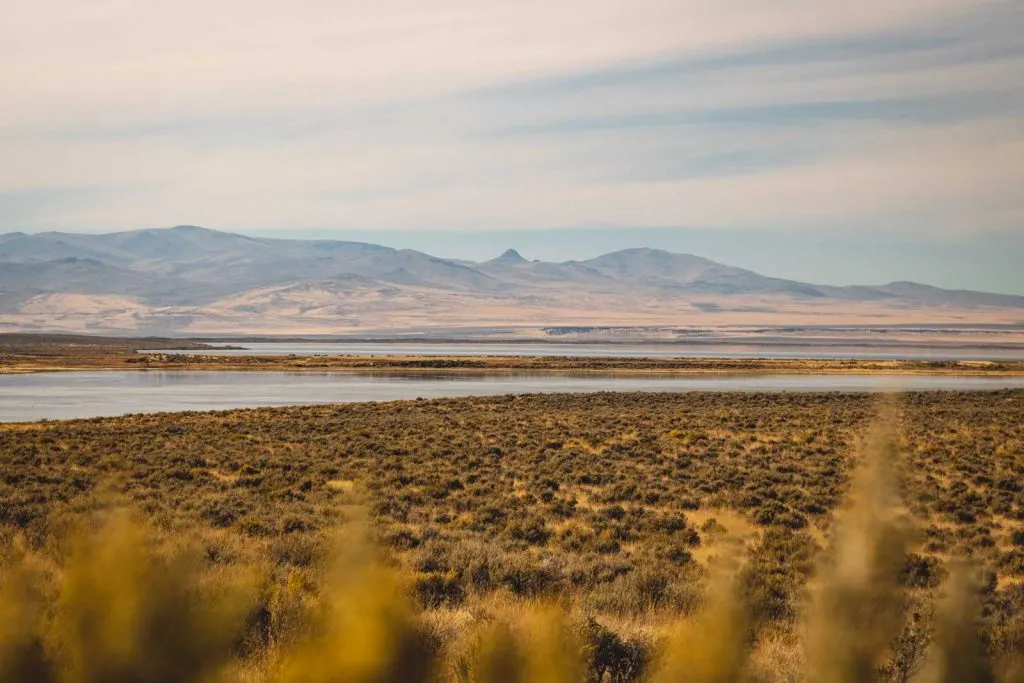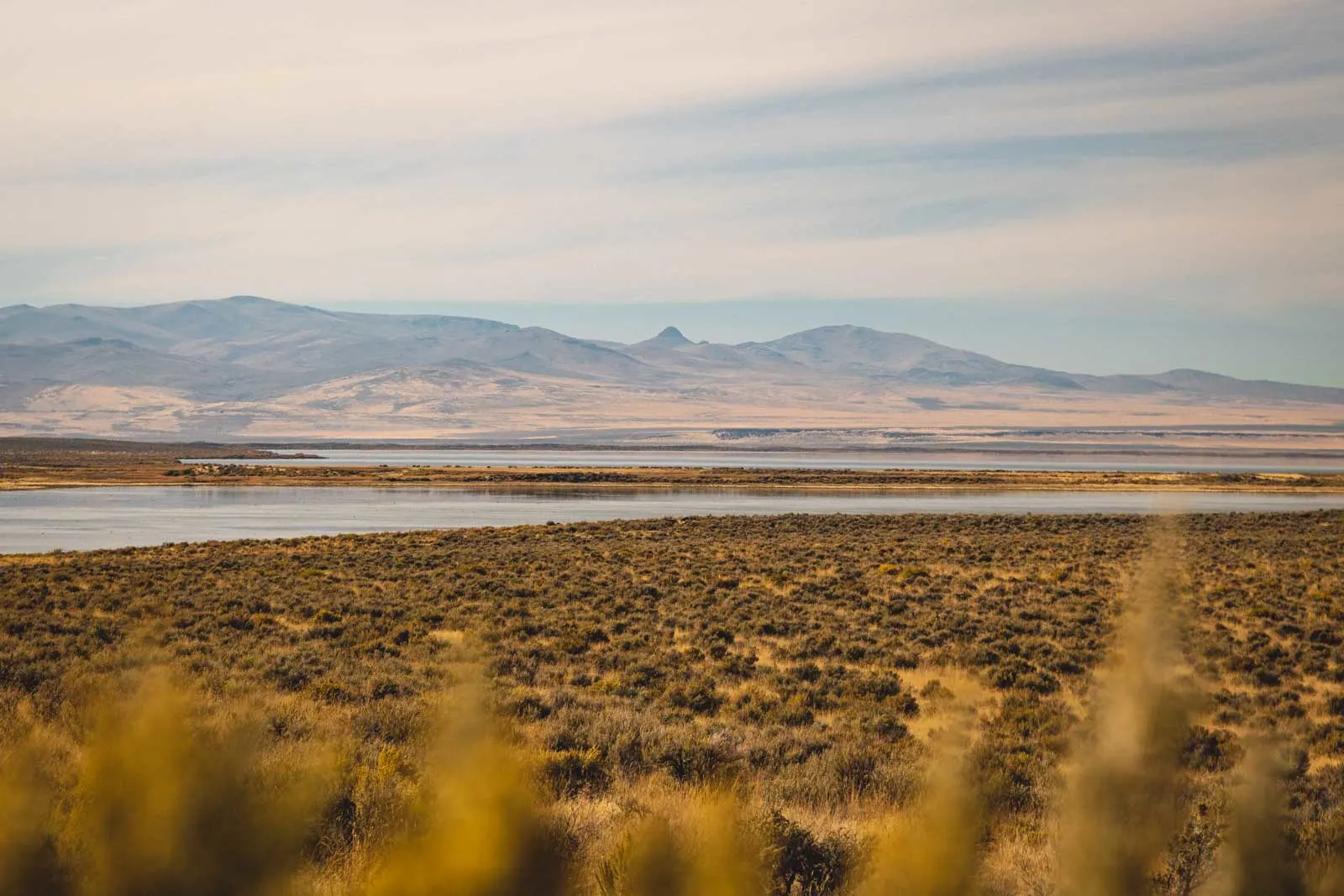 Although this pool is quite rustic, another one is even more rustic, meaning there are no artificial elements. It is a little warmer than the main pool and shallower, so many people chill around the sides. However you spend your time here, you will leave feeling nice and relaxed.
---
READ MORE: A Guide to Hart Mountain Hot Springs & What to Do in the Area
---
​Willow Creek Hot Springs
Willow Creek Hot Springs may seem like it is in the middle of nowhere (because it is), but this is just part of its charm. There is a single soaking pool available, which is almost always at a comfortable temperature, and is a real hidden gem if you are looking to escape the crowd.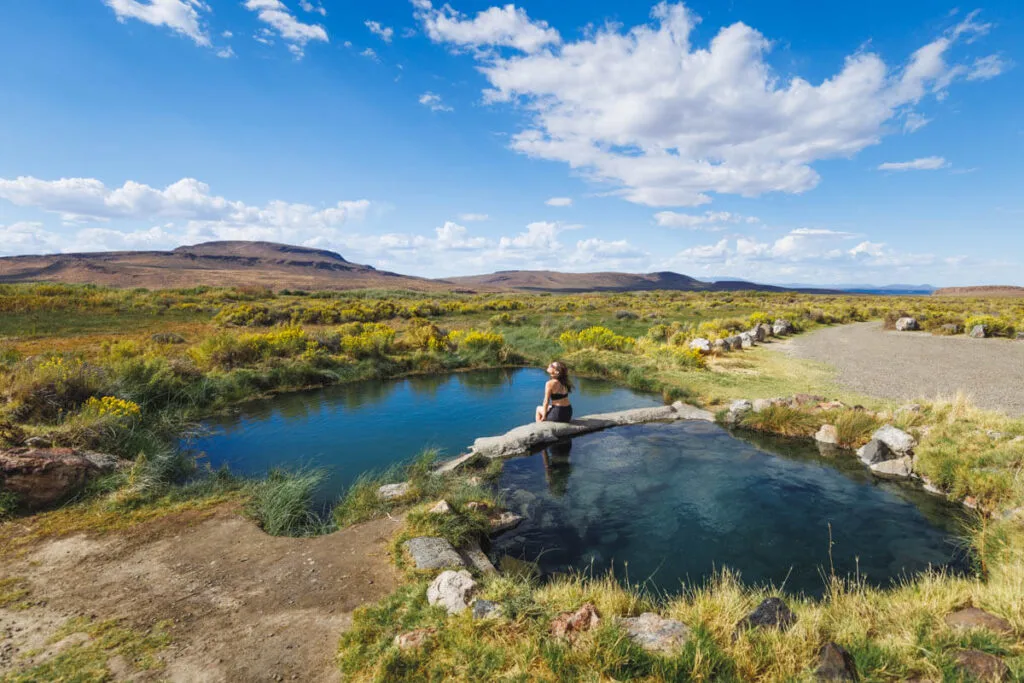 The natural pool is split into two by an artificial concrete wall, one side hotter at around 102 degrees and the other slightly cooler at 90. Both sides are about waist high, with a sandy bottom and strategically placed boulders if you want to perch for a while.
It is small and only accessible by a dirt road, but there is something special about this place that you can't put your finger on.
​Crystal Crane Hot Springs
After a few days hiking in the desert or exploring volcanic landscapes, we can all agree that a soak in a hot spring is the perfect way to spend a day. The Crystal Crane Hot Springs boasts seven private hot tubs and a vast, natural hot spring lagoon. The lagoon has plenty of room for everyone, with 9728 square feet of water, around 101 degrees.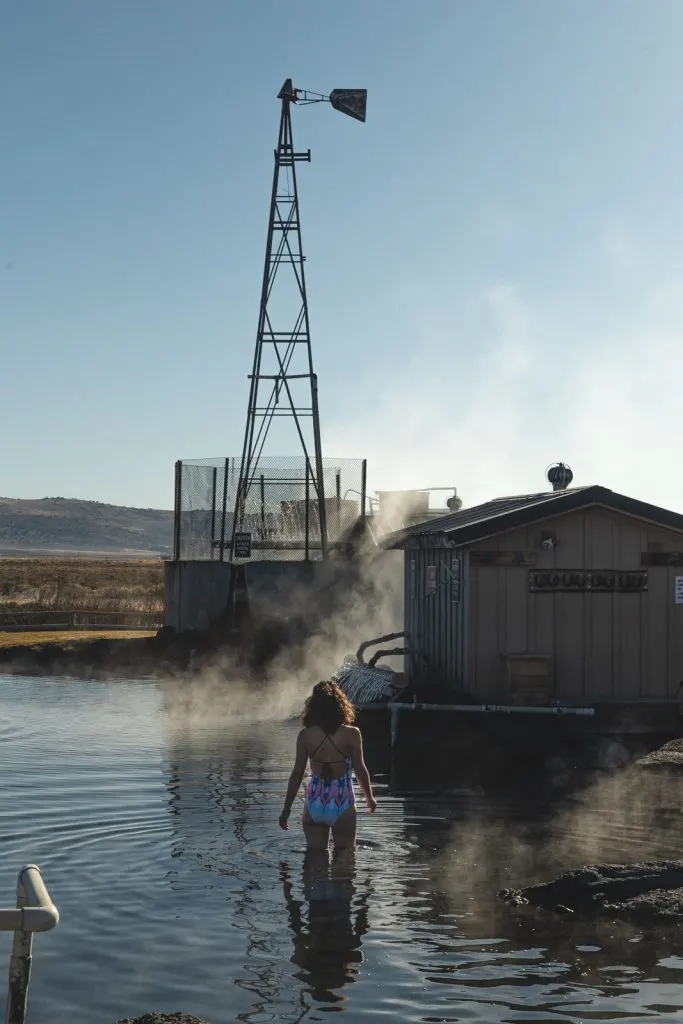 It is also a lovely place to spend the night if you fancy setting up camp here for a while. There are a few different accommodation options (including tipis with private hot tubs!) and other soaking options so you can tailor your trip to your needs. Dips in the main pool are available over a whole 24-hour period, so you can dip between naps if you feel like it.
We hope this helped you plan your trip to Steens Mountain!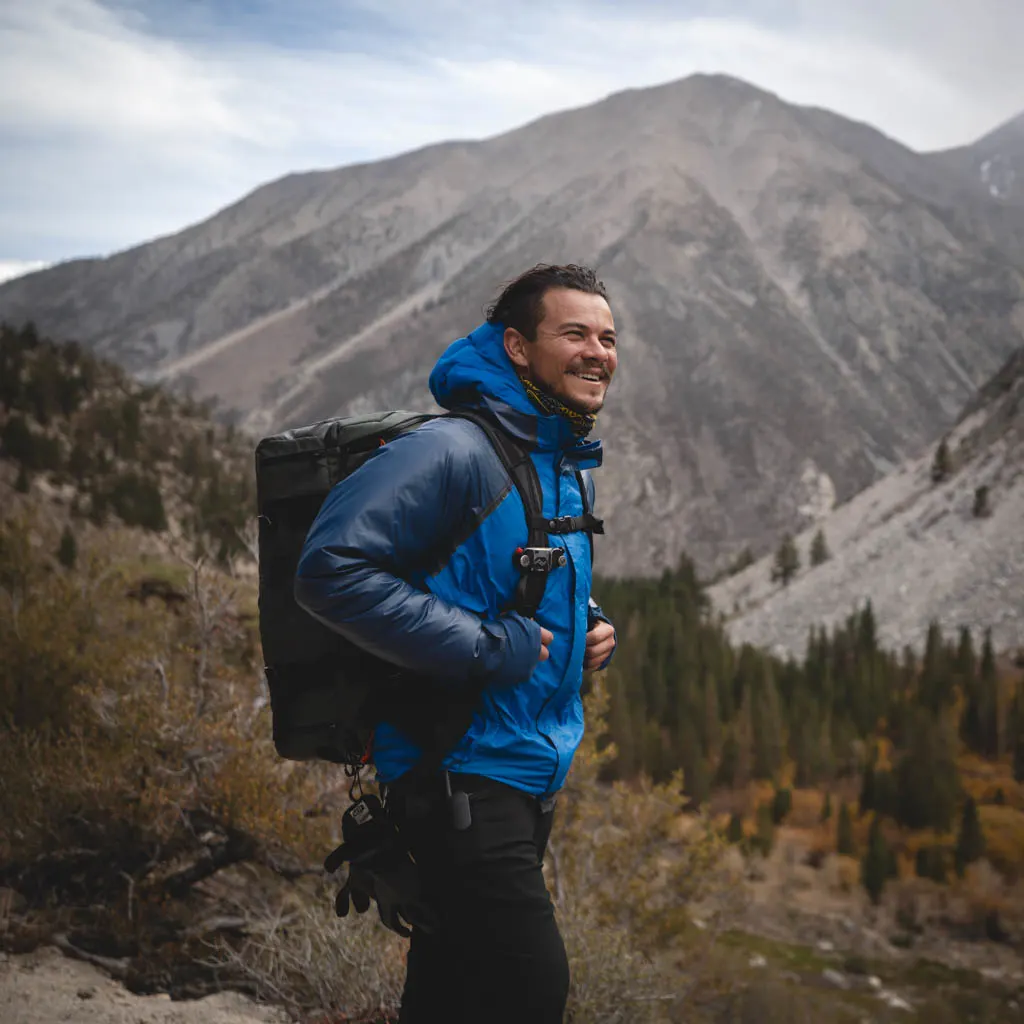 Oregon native and explorer at heart. Loves tackling expeditions around the world and drinking a good beer at the end of the day. PNW obsessed, VW nerd, and surf or snow riding fanatic.