I'm sure you've been here, our adventure-loving friend—Hiking for hours and hours to finally make it to the epic location that you knew was waiting for you. You breathe a sigh of relief, take a gulp of water, and bust out your snacks. You're happy you made it but man, did you have to WORK for it!
The hikes at Smith Rock State Park are NOT like that.
When you roll up to your parking spot, you'll immediately be reward with the majestic rust-colored cliffs and the serene Crooked River winding around the base below. All you have to do is step a few feet into the park and the magic is before your eyes. Not too many places show off its beauty so quickly, which makes Smith Rock a truly extraordinary place.
Of course, we're all about going beyond the parking lot so we're going to share with you all of our favorite hikes at Smith Rock, including info on the legendary Misery Ridge Trail. We'll also tell you about some of the wicked rock climbing opportunities that await you, and share a few more activities you can do at this enchanting and adventurous state park.
Smith Rock State Park Hiking, Rock Climbing & More
Soaring rock spires, majestic canyons, and a rock climber's paradise! That's what awaits when you step foot in this adventurous land in the high desert of Oregon.
Climbers from around the world flock to Smith Rock to summit the imposing rock faces. In total, there are more than 2,000 climbing routes for all difficulty levels. Bolted routes, sport climbing, and bouldering are all available and the jagged pinnacles make you feel on top of the world.
If you'd prefer to stay on the ground, there are plenty of hikes in Smith Rock and biking trails to choose from.
With roughly 650 acres of terrain to explore, the trails in Smith Rock provide sensational views of meandering rivers, geologic wonders and an abundance of wildlife. Trek along the river, admire the rock cathedrals dotting the landscape and be prepared to work for some heart-racing vistas.
If you're a serious trekker up for a challenge, the Misery Ridge trail is a must. Conquer this beast and you'll understand why Smith Rock was named one of the 7 Wonders of Oregon and why this is a favorite hike in Bend!
Misery Ridge Trail
If you had to choose just one hike in Smith Rock, this is definitely the winner! The Misery Ridge Trail may not be a lengthy expedition, but its steep climb is a doozy. It only spans 2.2 miles in length but the journey to the 3,360-foot summit will make your muscles scream.
Hikers will be happy to know that the Misery Ridge Trail is tailored to them. Mountain bikers and horses are not allowed here to give hikers plenty of room on the trail.
As you climb the ridge, you'll have a scenic vantage of rock climbers summiting the nearby rock faces. Watching the climbers conquer the pinnacles provides an inspirational rest point when hiking the trail.
The primary trail is the most popular Smith Rock hike, but Misery Ridge has tons of deviations to explore.
Misery Ridge Trail (Main)
Distance: 2.2 miles
Type of Trail: Out & Back
Difficulty: Hard
Short, rugged and awe-inspiring views are the perfect way to sum up the main Misery Ridge trail. With over 1,100-feet in elevation gain, you certainly need to be in at least a moderate hiking shape.
The rocky trail is aided by steps, but trekking poles are recommended for anyone with weak knees. As you get closer to the summit, the panoramic views of the craggy pinnacles and winding river just keep getting better.
Scramble along the ridge to get the perfect angle of climbers ascending Monkey Face, one of the most adventurous rock faces in Smith Rock. From the summit, you'll also see the Crooked River snaking through the canyon.
Take a deep breath in and your nose will be filled with the scent of juniper.
---
RELATED: 17+ Badass Bend Hikes to Conquer During Your Visit
---
Misery Ridge and Summit Trail Loop
Distance: 5.5 miles
Type of Trail: Loop
Difficulty: Hard
The easiest way to continue your adventure on the Misery Ridge trail is by adding the Summit Trail loop. This will add a few more miles to your hike but the vistas of rocky spires, canyon walls and rising peaks on the horizon keep you distracted from the climb.
The loop meanders around the backside of Monkey Face and you make your descent along several switchbacks. You'll hike alongside the river part of the way before returning to the bridge at the Misery Ridge Trail.
Misery Ridge and River Trail
Distance: 4.0 miles
Type of Trail: Loop
Difficulty: Moderate
Complete the uphill climb of the Misery Ridge Trail before enjoying the scenic stroll to the Crooked River. Once you complete your summit, you'll stand above stony pinnacles while forests, grasslands, and mountains dot the surrounding landscapes.
Follow a series of switchbacks on your descent and eventually, you'll stand behind Monkey Face. Use caution on your way down as parts of the trail tends to be slippery. Eventually, the path flattens out along the river for a smooth journey to the rest of the loop.
Misery Ridge and Mesa Verde Trail
Distance: 2.1 miles
Type of Trail: Loop
Difficulty: Moderate
This Smith Rock hike is simply a must if you want to get the best vantage of Monkey Face. The loop takes you right beside the iconic monolith and the vistas are off the charts. Watch rock-climbers attempt to maneuver their way into the monkey's mouth as you gaze at the soaring canyons that rise above the Crooked River.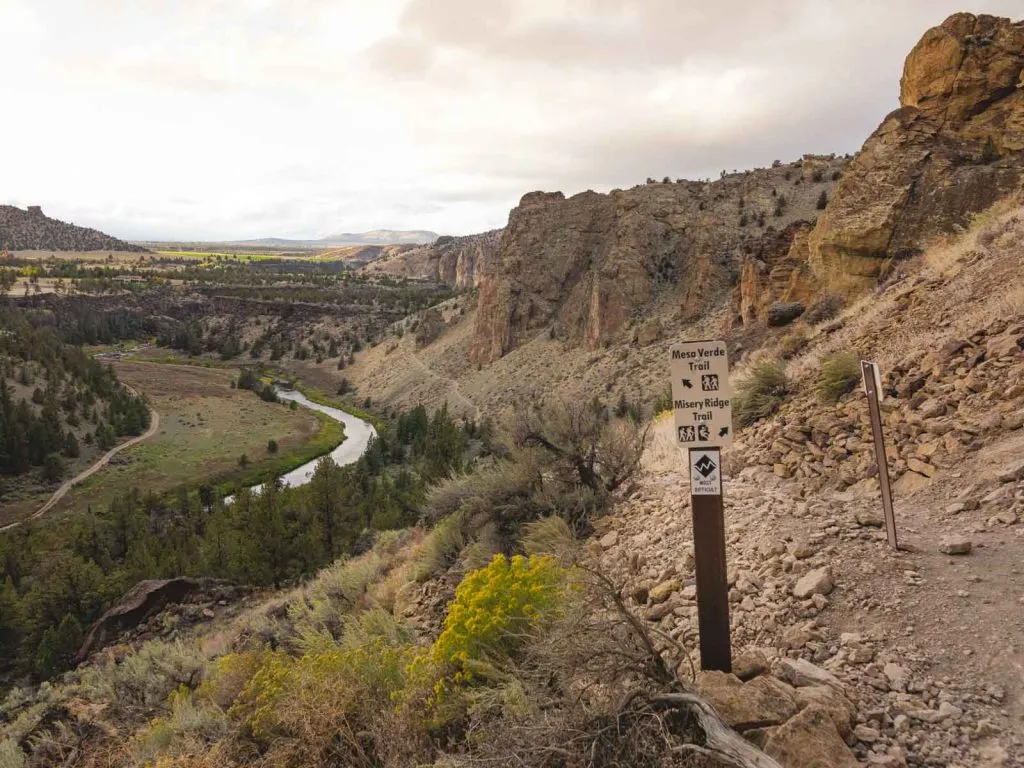 There are lots of steep switchbacks and sturdy hiking shoes are imperative to avoid a nasty fall. The last thing you want is to slide on gravel or loose rocks standing in awe of Smith Rock's geologic beauty.
Other Smith Rock Hikes
Don't let the fun end after you're done exploring the Misery Ridge Trail! There are tons of other Smith Rock hikes nearby that offer a whirlwind of majestic high desert scenery.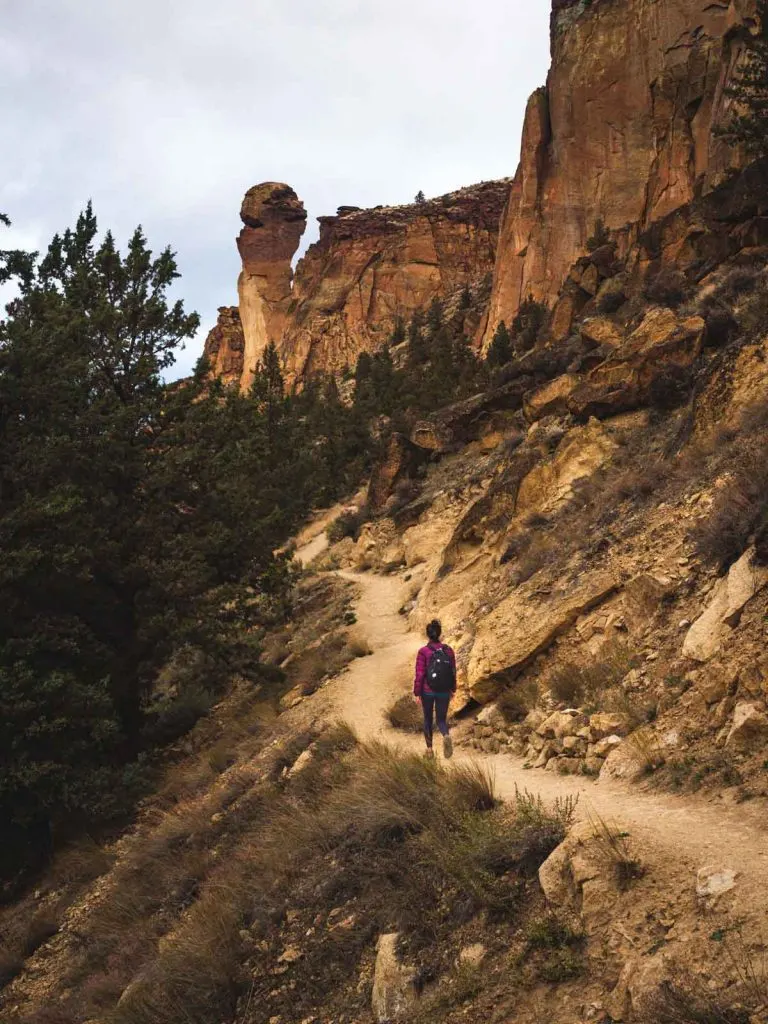 Rim Rock Trail
Distance: 1.0 miles
Type of Trail: Out & Back
Difficulty: Easy
This short and sweet hike is a breath of fresh air compared to the steep climb of the Misery Ridge Trail. Hikers of all skill levels can unwind on the flat terrain and capture the breathtaking vistas.
Watch the Crooked River snake across the landscape as colossal spires soar to the sky on both sides. Scan the horizon and see the snow-capped peaks of the Cascades.
Just make sure to bring a hat and sunscreen as there is limited shade on the trail.
---
RELATED: An Adventurer's Guide to Things to Do in Bend, Oregon
---
Smith Rock State Park Canyon Trail
Distance: 3.3 miles
Type of Trail: Out & Back
Difficulty: Moderate
Trek alongside the Crooked River and spot rock-climbers summiting craggy spires on this Smith Rock trail. This is a must-see hike to get a close glimpse of the converging grasslands and canyon walls right along the banks of the river. The path is also teeming with wildlife, so don't be surprised to come across snakes or eagles soaring above you.
Elevation gain is moderate but should not pose an issue for more experienced hikers. Crowds may be a deterrent though, especially during peak season. Try to hit the trail early in the morning or during the weekday for a more peaceful experience.
Crooked River Trail
Distance: 3.9 miles
Type of Trail: Out & Back
Difficulty: Easy
Get an intimate view of the Crooked River on this enchanting Smith Rock hike. Start your day early to beat the blazing heat and witness a colorful sunrise brighten the landscapes. The trail follows the winding path of the river and rewards you with impeccable views of Smith Rock's unique geologic features, including the famous Monkey Face.
Wander through all sorts of landscapes such as pine forests, sagebrush, rugged canyons, and radiant wildflowers. The path is well-maintained but proper boots are advised since parts of the inclined sections have lots of gravel. Trekking poles would be a good idea if you have any sort of knee issues.
This is among the best Smith Rock hikes to spot wildlife and you'll likely see otters, beavers, mule deer, geese, bald and golden eagles, rattlesnakes and much more!
Rock Climbing
No other rock-climbing site in the country holds the same prestige as Smith Rock State Park. The thousands of climbing routes located here led to the creation of sport climbing in the United States. Many of the most talented climbers in the world migrate here but there are tons of routes suitable for beginners.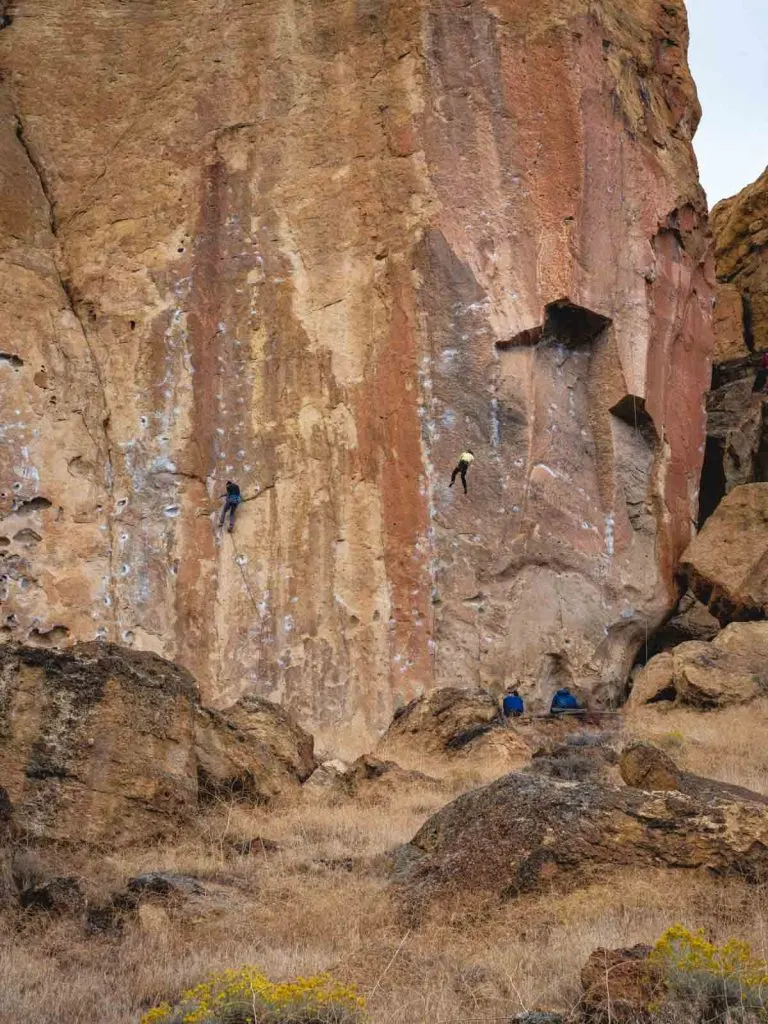 The volcanic tuff, basalt cliffs, and imposing monoliths provide the ideal terrain for many exciting climbs. Smith Rock is more renowned for its sport climbing, but traditional rock climbers have plenty of world-class routes to conquer.
Check out a few of the best climbing routes in Smith Rock for ideas on where to begin!
→ If you are interested in rock climbing, you could take this excellent rock climbing tour in Smith Rock State Park – they provide all the gear.
Monkey Face
Easily recognizable from its peculiar shape, this intimidating 350-foot spire is the most iconic climbing area in Smith Rock. Other than its monkey resemblance, the pillar has gained worldwide recognition as being the ultimate test for avid rock-climbers.
The Just Do It 5.14c route is often regarded as the most challenging climb anywhere in the world. Its narrow crevices and terrifying ledges would keep even the savviest of climbers on edge.
Altogether, there are roughly two dozen routes of varying degrees of difficulty. For many climbers, one of the ultimate thrills in Smith Rock is to climb the rising pinnacle and crawl inside the monkey's mouth.
Monument Area
Jagged spires dot the landscape here and the rocky monuments soar hundreds of feet into the air. The 600-foot Monument is the most notable landmark with a bevy of adventurous routes to choose from.
With nearly 100 climbs, most of them sport climbing, you'll never run out of terrain to explore. Surprisingly, this area of the park draws fewer visitors compared to other sections and it's even closed to climbers from February to June.
Little Three Fingered Jack, Liberty Bell, Juniper Spire, London Tower, Big Ben, and Cajun Cliff are other imposing towers providing lots of exciting climbs.
Red Wall Area
This immense 300-foot rock wall sits just around the corner from the Misery Ridge Trail, and its piercing dark red color is a stark contrast from the typical volcanic tuff seen in Smith Rock.
Its short approach to many thrilling multi-pitch routes makes this another popular area in Smith Rock. The three-pitch Super Slab route is perfectly positioned for a quick descent or to link up with the Misery Ridge Trail.
Make sure to check out Red Ryder Buttress and Easy's Playhouse for some daring 5.11 and 5.12 climbs.
The Gorge Area
Descend deep into the gorge to climb in one of the most serene areas of Smith Rock. The Crooked River flows through the gorge and towering basalt columns surround you on both sides. Both the east and west columns have superb cracks, and enormous boulders act as stepping stones to cross the river.
With over 160 climbs, you'll find many world-class routes and without the larger crowds as other areas. The columns of the Upper Gorge are for serious climbers only as they are among the most challenging climbs in the park. You'll find excellent rock quality and the perfect range of 5.10 to 5.12 routes in the scenic Lower Gorge.
Other Things to Do at Smith Rock
Hiking and rock climbing are the two primary attractions at Smith Rock but there are other exhilarating ways to enjoy the canyons and rocky pinnacles.
More awe-inspiring views of towering rock faces highlight this adventurous playground—And it's not hard to see why Smith Rock is a favorite thing to do near Bend.
Mountain Biking
Racing through the biking trails of Smith Rock will certainly keep your adrenaline pumping. Rocky terrain, steep climbs, and sharp drop-offs will keep you on the edge of your seat and reward you with stellar views of the canyon walls.
Bike the Summit Loop for an intense 7+ mile ride along the ridges, flowing river and the most iconic rock faces of Smith Rock.
Kayak the Crooked River
Paddling the Crooked River can be a tricky endeavor as there is often not enough water to accommodate kayakers. The river is dam-controlled, and its rare releases make it a challenge to prepare for kayaking excursions.
But when the river is on, it is one of the most electrifying adventures in Smith Rock. On those occasions, you'll be fighting tooth and nail with other paddlers to jump in.
A series of class III-IV rapids highlight the scenic voyage and you'll have the perfect seat to admire jagged cliffs, rocky spires, and screes in all directions.
Smith Rock Camping
After hiking all the trails in Smith Rock, a good night's sleep will be calling your name. Whether you just want to pitch a tent or rest in your RV, you have numerous options to rest your aching legs.
It's important to note that Smith Rock State Park only supports walk-in camping and overnight vehicles are not allowed. Not to worry though, there is additional camping space within an easy drive of the park entrance.
Smith Rock Bivouac Area
Nicknamed "The Bivy," the Bivouac Area Campground lets you spend the night inside the park. Arrive early as space is limited and the campsite does not take reservations.
For $8 per night (per person), you'll receive a parking permit for the following day and access to the showers. You can also take a shower for a $2 fee if you're not camping but just need to refresh after an exhausting day on the Smith Rock hikes.
The Bivy doesn't allow charcoal or wood fires, but you can use a propane or gas stove in the parking lot. And be prepared to pitch your tent since RVs are not allowed in the campground.
---
RELATED: 13 Prime Spots to Go Camping Near Bend Oregon
---
Skull Hollow Campground
If you're cruising around Oregon in an RV, the Skull Hollow Campground will better suit your needs. The campground is only eight miles from the park entrance and accommodates large vehicles. Another bonus is being able to start a campfire to roast marshmallows, hot dogs or whatever you like.
Keep in mind the facilities at Skull Hollow will be more rugged compared to The Bivy. There is no water at the campground, and pit toilets are used for the restroom.
Individual sites cost $10 per night and double sites cost $20 per night. Groups will save big since six people and one vehicle are allowed per site. Just make sure to arrive in plenty of time with only 28 total campsites available.
Glamping & Cabins Around Smith Rock State Park
Mountain View Cabin Oasis: This rustic log cabin sits on five acres and is perched on top of a butte, giving it sweeping views over the Cascade Mountain Range.
Cozy Cottage in The Hub: Located in Redmond, this charming 1942 cottage has everything you need for a comfortable stay near Smith Rock State Park.
Luxurious Log Home: This newly-renovated luxury log home overlooks a golf course, and has access to amenities including a pool in summer, and year-round tennis and golf.
More Things to do in Central Oregon
We hope this helped you choose some awesome hikes at Smith Rock State Park and Misery Ridge Trail! Be sure to check out our other posts on Bend and adventures in Oregon.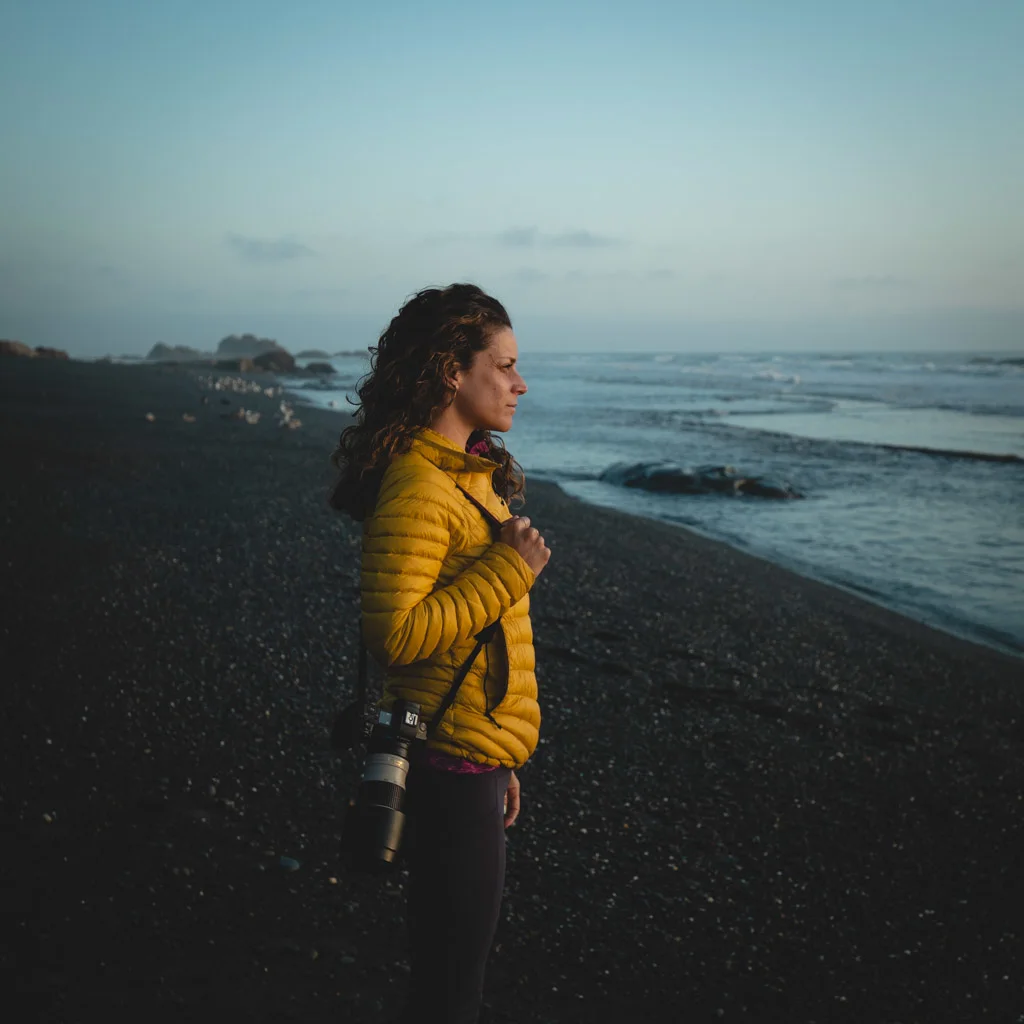 I've been perpetually traveling and living around the world for years but it's hard to beat Oregon and the PNW. After years of road-tripping the area, I guess you can say I know it pretty well! When I'm not writing guides for you, you can catch me somewhere petting a dog, attempting to surf, hiking a volcano, or stuffing my face with bread and cheese.