If you're looking for an easy to moderate out-and-back hike near the Siuslaw National Forest and not too far from the coast, Alsea Falls is waiting for you!
The trail is only 2.4 miles long and is easy in most places, with a few more challenging points with loose dirt and steep inclines. However, it's a good trail for most people, and dogs on leashes are welcome too.
Exploring Alsea Falls & Green Peak Falls
---
Alsea Falls is a waterfall near the small community of Alsea which is close to Corvallis. To reach Alsea from Corvallis, head west down highway 20, and turn at Philomath, down OR-34 W. At Alsea, turn left down South Fork Road and you will reach the falls.
If you're heading to Alsea and Greek Peak Falls from Eugene just head north on 99 and then west after Monroe. It will make a great day trip if you're looking to get out of the city!
Hiking The Alsea and Green Peak Falls Trail
Distance: 2.4 miles
Type of trail: Out and back
Difficulty: Easy
Alsea Falls is a popular area with toilets and a picnic area, and there is a range of hikes to enjoy in the vicinity. This hike connects Alsea Falls with Green Peak Falls and is ideal if you want to enjoy the amenities at Alsea Falls but also get out into blissful solitude for a bit!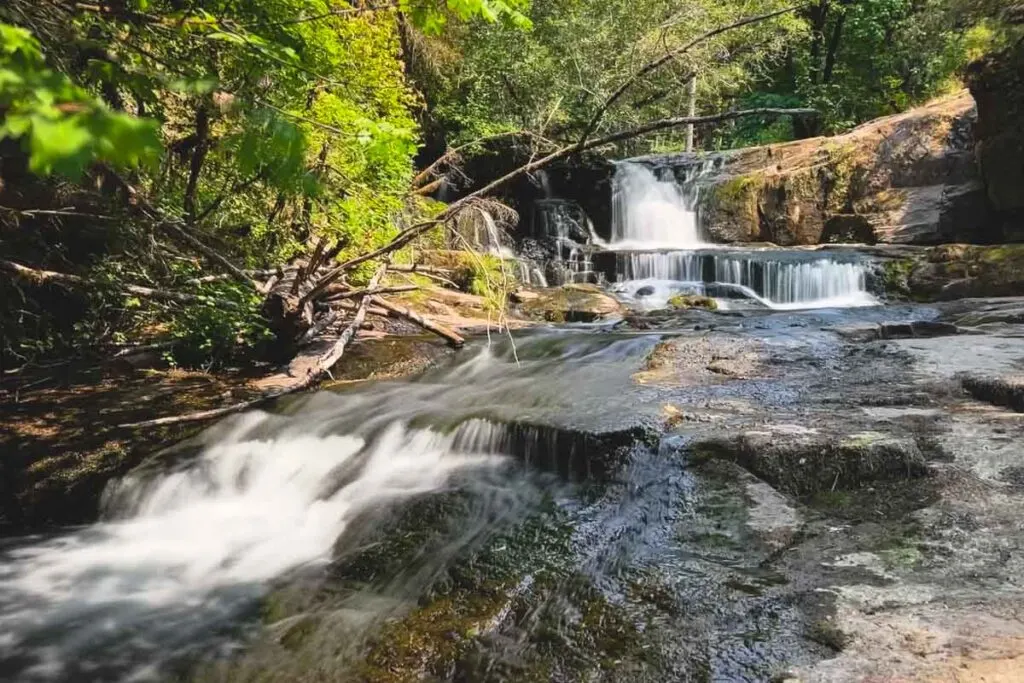 Once you've spent some time at the beautiful multi-layered Alsea Falls, you can reach Green Peak Falls by crossing the bridge that links to the trailhead.
Walk for around 0.6 miles before encountering a fork in the path. After that, you can either venture uphill or down a gravel road (the trails connect up eventually). If you go uphill, you'll apparently see a treehouse that was built 100 feet above in a tree – but climbing is supposed to be dangerous.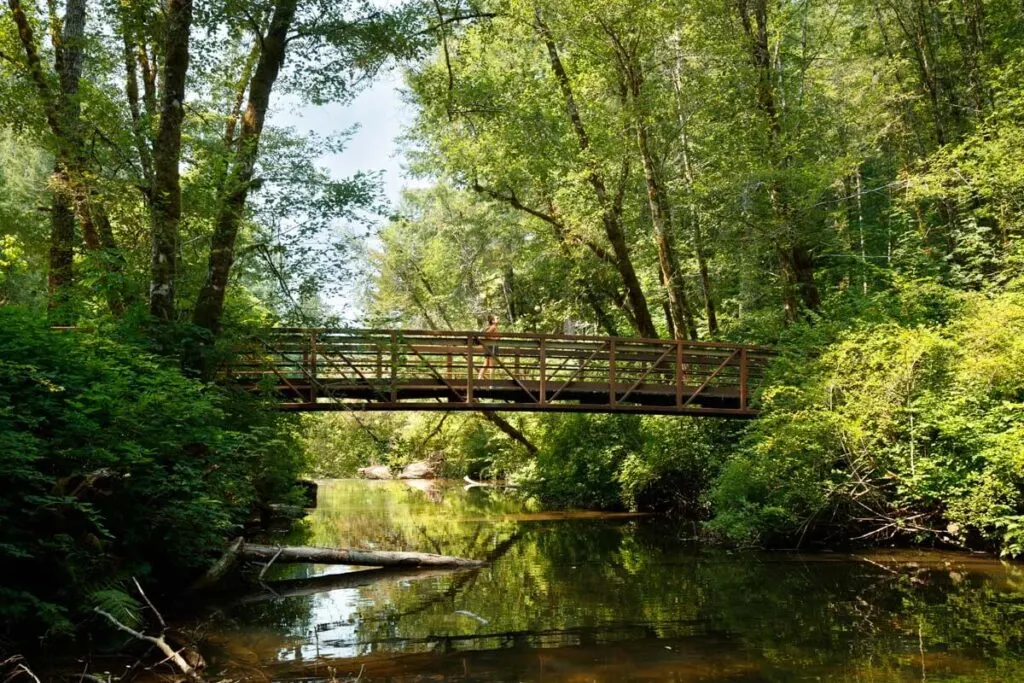 But we honestly couldn't find it when we did this hike! We did find a fun branch swing that swoops over the river though and a nice shelter to chill at. There are also a few campsites scattered around here.
---
RELATED: 9 Amazing Waterfalls Near Eugene, Oregon
---
Getting to Green Peak Falls
Continue walking along the trail, following the main path. Don't try to go down any of the steep paths along the side – you might get lost, and they aren't all that well maintained!
Eventually, you'll reach McBee Park – follow the signs for Green Peak Falls, which will take you directly to the waterfall.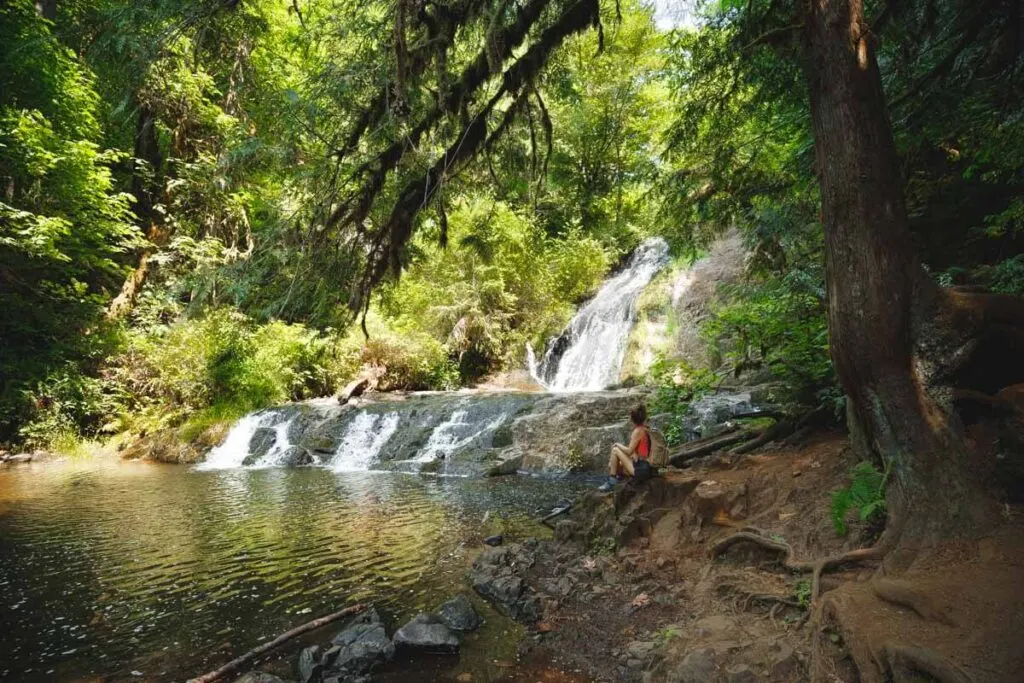 At a whopping 45 feet tall, this waterfall is quite a sight to behold. Plus, because of its relative isolation, you'll find it is much quieter than Alsea Falls – the perfect place to stop for a picnic lunch! Most don't make the effort to come back to these falls but we'd say that this stop is hardly worth it unless you get BOTH falls in!
Follow the same path back to return to Alsea Falls.
---
RELATED: 29 Stunning Oregon Waterfall Hikes
---
When to Hike Alsea Falls
Another great thing about this hike is that it is accessible year-round. Even if there's a bit of drizzle, you'll be under a forest canopy most of the way!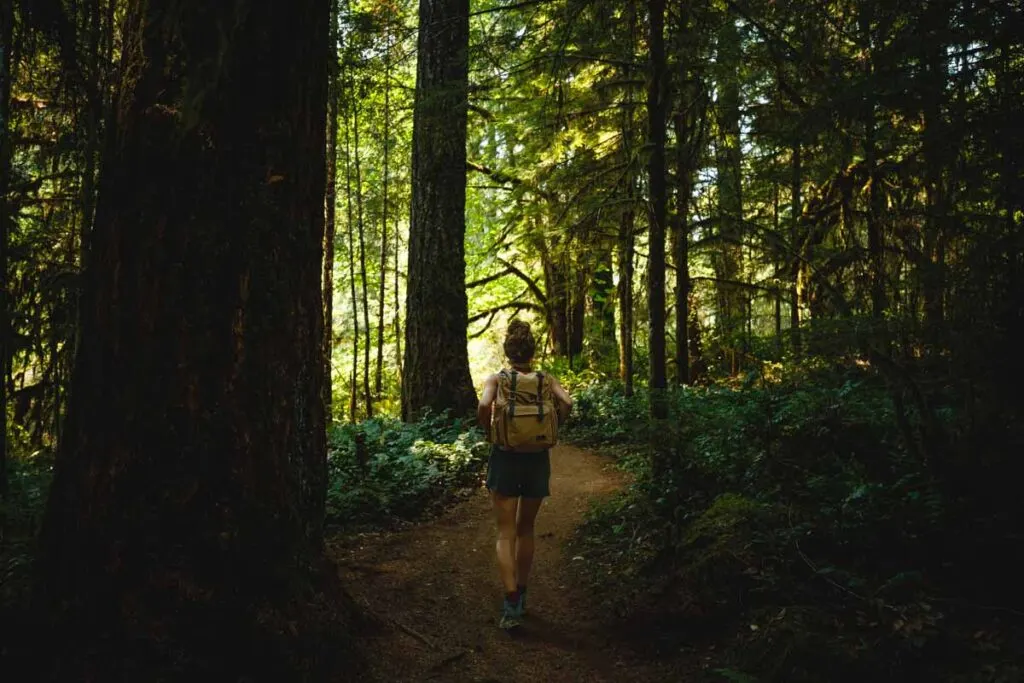 It does snow here in winter, but not as much as elsewhere in the state, so the trail usually remains open. If you visit in spring, you'll be graced with the most dramatic water displays as it is just after the rainy season. These photos were taken in August and the falls still looked pretty great even after a dry summer.
It's open year-round! So whether you want to hike in fall when the leaves change colors, on a crisp winter, spring morning while the water is gushing, or in the heat of the summer, Alsea Falls is a beautiful Oregon hike!
---
RELATED: 11 Worth It Hikes in Eugene, Oregon
---
Tips and Safety for The Alsea Falls and Green Peak Falls Hike
Be careful if it has been raining, as the ground can get slippery, especially around Green Peak Falls.
In fact, if you're clambering around the falls you're bound to be walking on very slippery rocks too, so make sure you're wearing proper shoes and avoid stepping on the slippery algea areas of the rocks.
There's minimal cell phone signal here, so try downloading a map before you reach the falls.
---
RELATED: 37 of The Best Oregon Hikes You've Got to Check Out
---
Camping at Alsea Falls
If you want to stay and enjoy this beautiful part of the state for longer, why not camp near Alsea Falls?
The Alsea Falls campground is located about 0.5 miles from Alsea Falls. It is open from the first weekend in May until the end of September every year.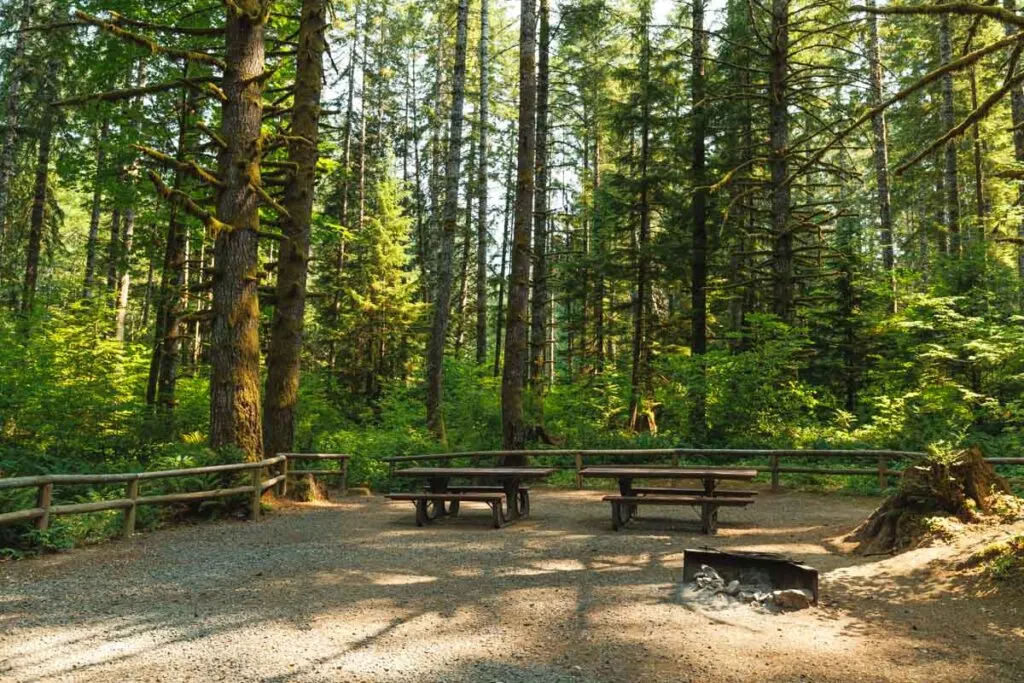 All pitches have no power and cost $12 to book per night. You can book these online, although you can also camp with no booking if they haven't all been booked. We recommend booking in advance during weekends and holidays.
There is drinking water and vault toilets available at the campsite.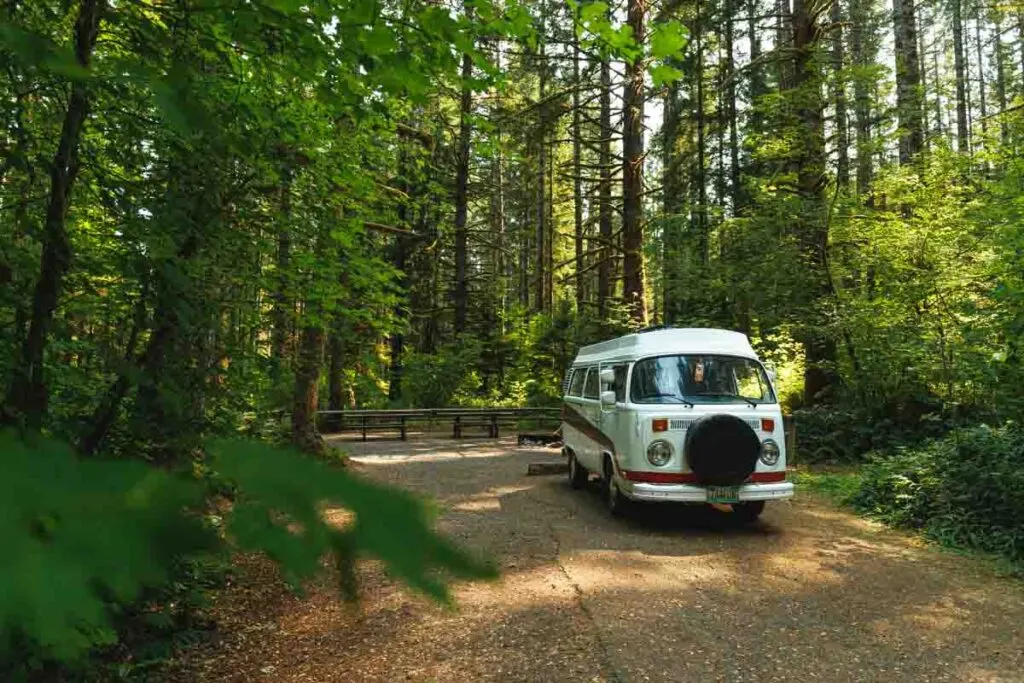 This could be a great way to see some more of Alsea Falls and extend your weekend adventure in the beautiful wildlife of western Oregon! There is no phone service at the campsite – it's a place to relax, unwind, and get lost in nature.
Alsea Falls is a lovely Oregon gem, with excellent hiking, photograph opportunities, and wild camping. If you're in the Corvallis or Eugene area, this waterfall is a must-do!
---
RELATED: 16 Great Options For Camping Near Eugene Oregon
---
We hope this helped you plan your trip to Alsea Falls and Green Peak Falls! Be sure to check out our other posts on hiking in Oregon.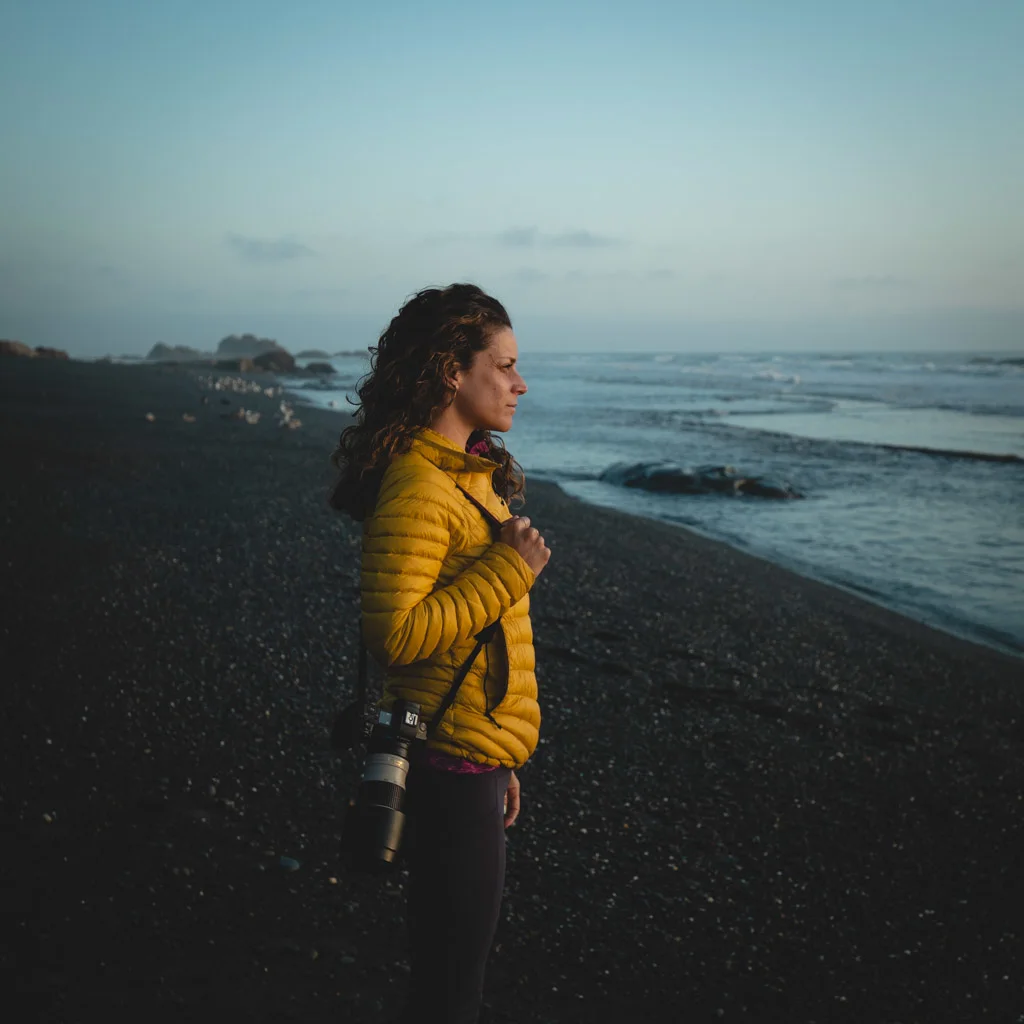 I've been perpetually traveling and living around the world for years but it's hard to beat Oregon and the PNW. After years of road-tripping the area, I guess you can say I know it pretty well! When I'm not writing guides for you, you can catch me somewhere petting a dog, attempting to surf, hiking a volcano, or stuffing my face with bread and cheese.