Set in southwest Oregon, Floras Lake State Park is a lesser-visited part of the state. If you're into beautiful walks and epic scenery, there's nowhere better!
This is possible one of the most wildly underrated areas of Oregon, but if you're into nature and adventure, you'll find visiting incredibly rewarding.
The main reason to visit Floras Lake State Park is for hiking, lake activities, and really stunning views that look great in pictures! There are a few wonderful trails that you can enjoy, which we've detailed in this post, a long beach backed with rusty-colored cliffs, and a lake made for adventurers!
We have to admit, this place is a bit of a best-kept secret, so let's keep this spot between us, cool?
Exploring Floras Lake State Park
---
Blacklock Point Trail
Distance: 4.2 miles
Type: Out and back
Difficulty: Moderate
This is an easy out and back trail to Blacklock Point, with impressive sweeping views on the way.
The hike begins at Cape Blanco State Airport, and you follow one route out to the point. From here, there are fantastic views out to the coastline. You can also climb down to the beach!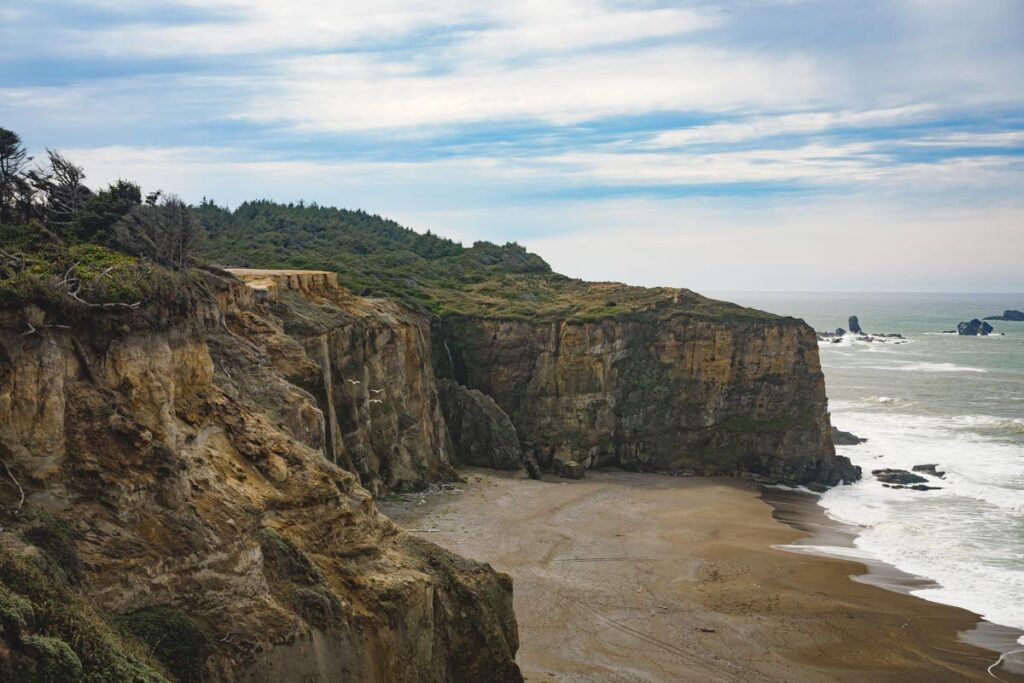 There are beautiful wildflowers here during the wildflower season, which runs from March to July or August. It's a dog-friendly trail.
If you're low on time, this is the hike to do. After hiking through the forest, the trail will bring you out to an overlook of the waterfall and ocean—you'll certainly get some impressive views from up here.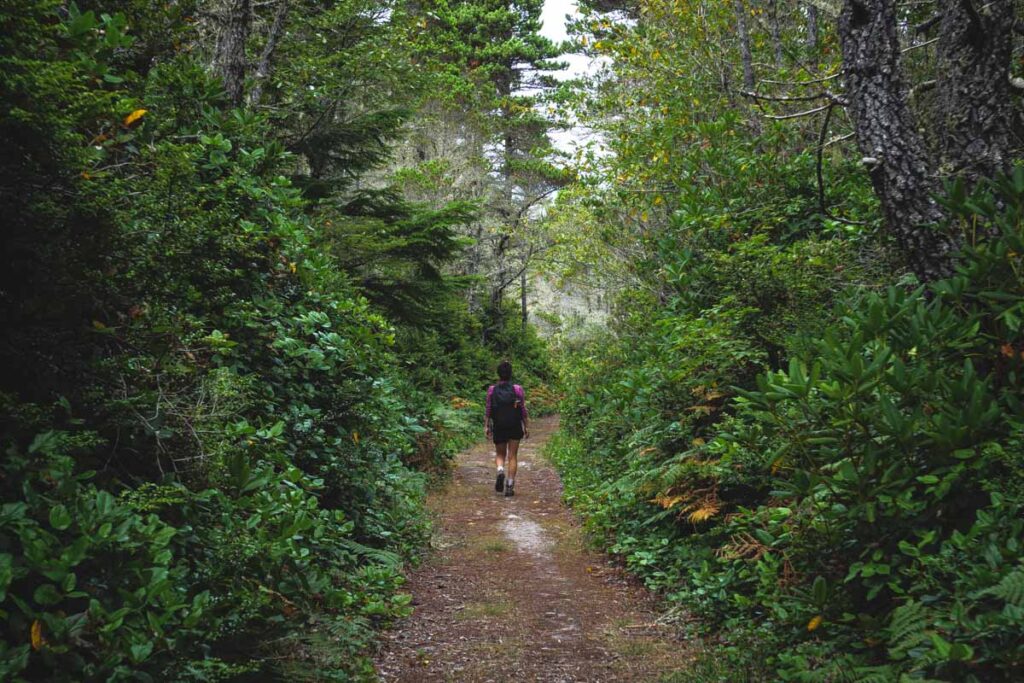 This trail does not bring you to Floras Lake nor does it start there though, so you could hike this and then drive to Floras Lake for further exploring to save you some time.
Floras Lake Waterfall Trail
Distance: 5.2 miles
Type: Out and back
Difficulty: Moderate
Floras Lake Waterfall Trail is a beach walk from Floras Lake along the coastline.
The trail is very sandy, meaning it can be a little tough underfoot! However, the impressive views of Floras Lake make up for it.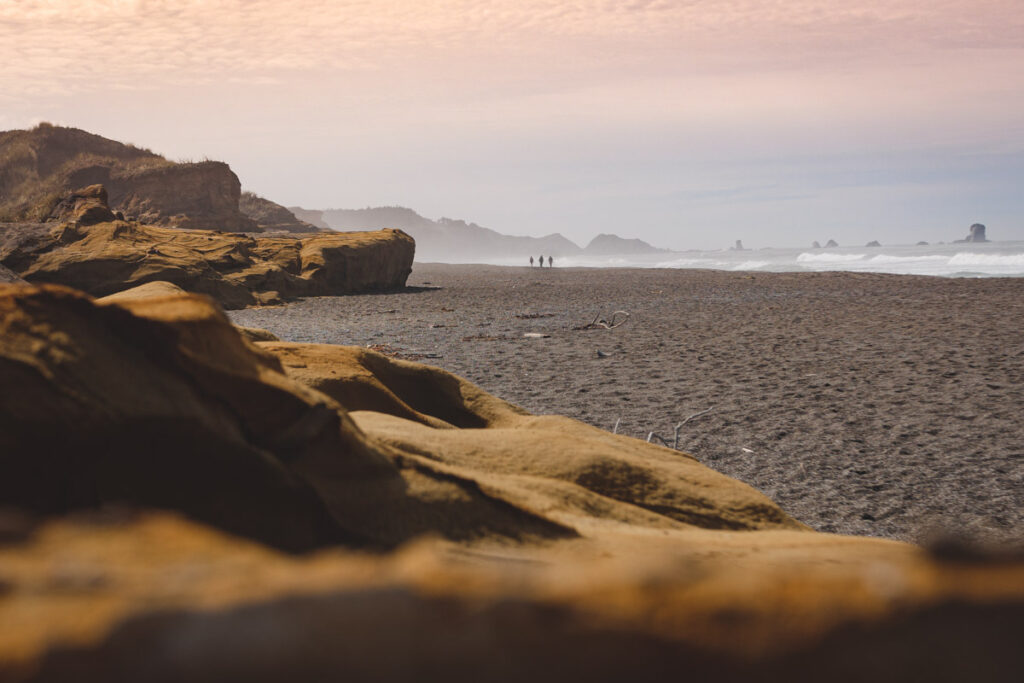 As you keep following the trail, you'll reach the beach. Walk along the beach for a while, taking in Oregon's spectacular coastline, and eventually, you'll get to the waterfall.
If we're being honest, this is less of a hike and more of a long beach walk. There is a sandy trail that's sightly more trail than sand but many people just walk along the beach. It would depend on the tides and how much of a calf workout you're wanting!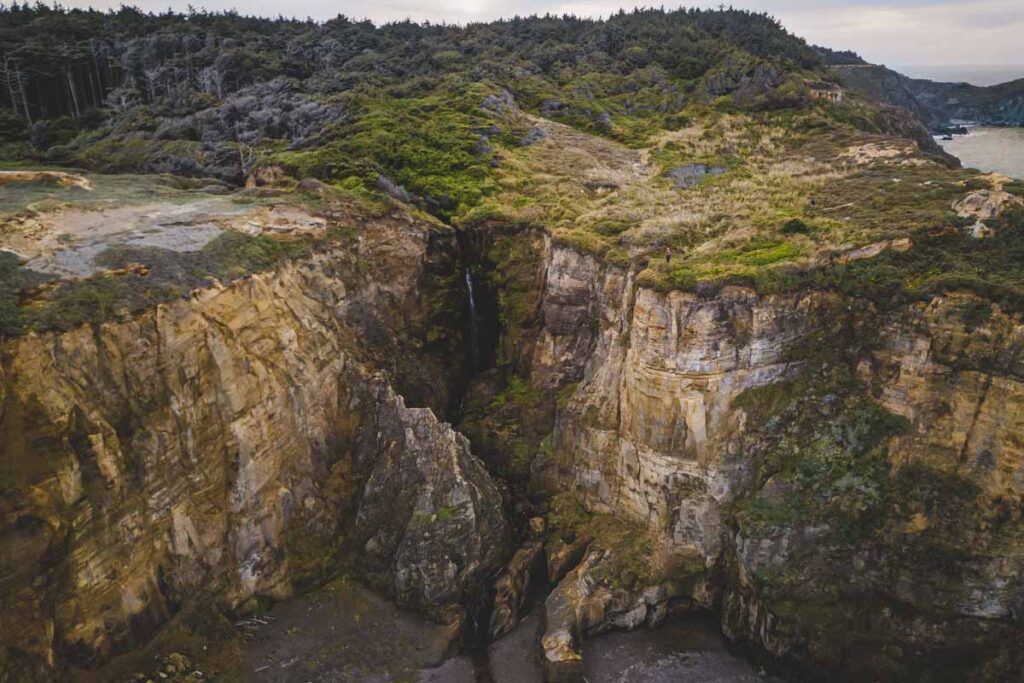 When you reach Floras Lake Waterfall at the end of the beach, spend some time taking in the natural phenomenon before turning around and hiking back the same route to return to the lake. You COULD walk further inland and use the Floras Loop Trail if you want to walk through the first on the way back…
---
RELATED: 29 Stunning Oregon Waterfall Hikes
---
Floras Lake Loop Trail
Distance: 7.2 miles
Type: Loop
Difficulty: Moderate
This trail travels from Blacklock to Floras Lake and loops around in a circle. It is a beautiful place to see wildlife and has all the epic views and spots you'd want to see in this state park.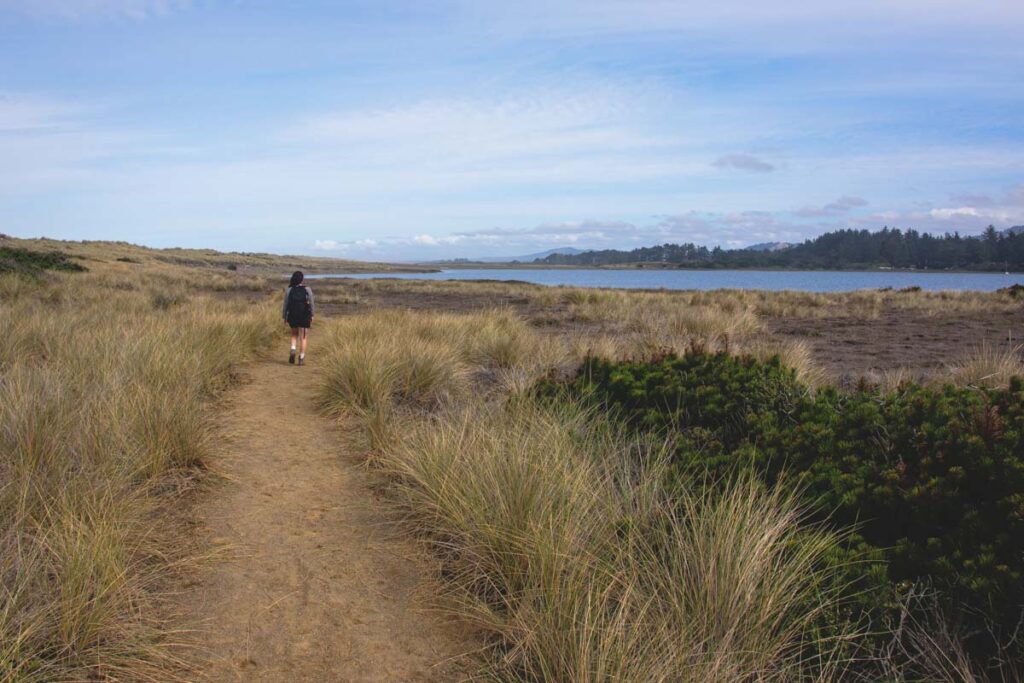 Most of the trail is shaded, but there are quite a few switchbacks, and the trail can be very narrow in places. It can also be very muddy if it has rained in the forested bit!
Definitely take some time mid-trail to pause at Floras Lake and enjoy the state park's namesake. You'll need to walk almost a half-mile more to reach the lake before returning back so this might end up being closer to 8 miles long.
This loop trail will include everything the two trails mentioned above have. The waterfall, Floras Lake, stunning beach views in every direction, the awesome views from Blacklock Point, walks along the beach and through the forest too.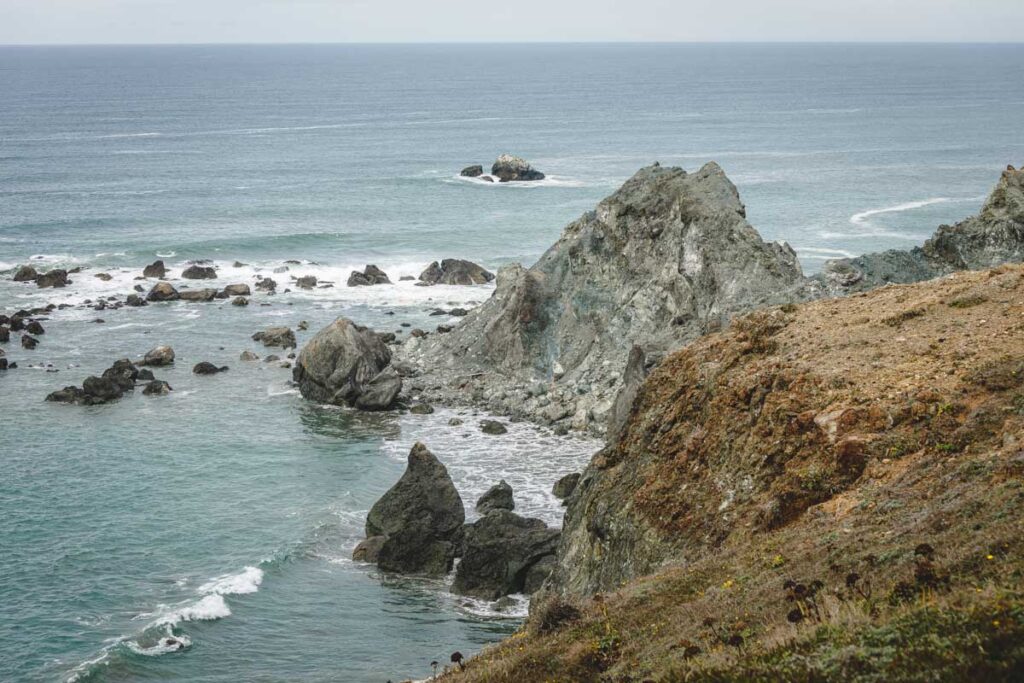 Along the routes on the beach keep an eye out for incredible rock formations and arches! However, make sure to be highly aware of the tides and use the upper trail when necessary to avoid an encounter with a sneaky wave.
---
RELATED: 17 Breathtaking Oregon Coast Hikes
---
Floras Lake Watersports
Floras Lake is an ideal place for watersports with beautiful views over the steely blue waters. This is thanks to the northwest winds that are, on average, 15 to 25 knots each day.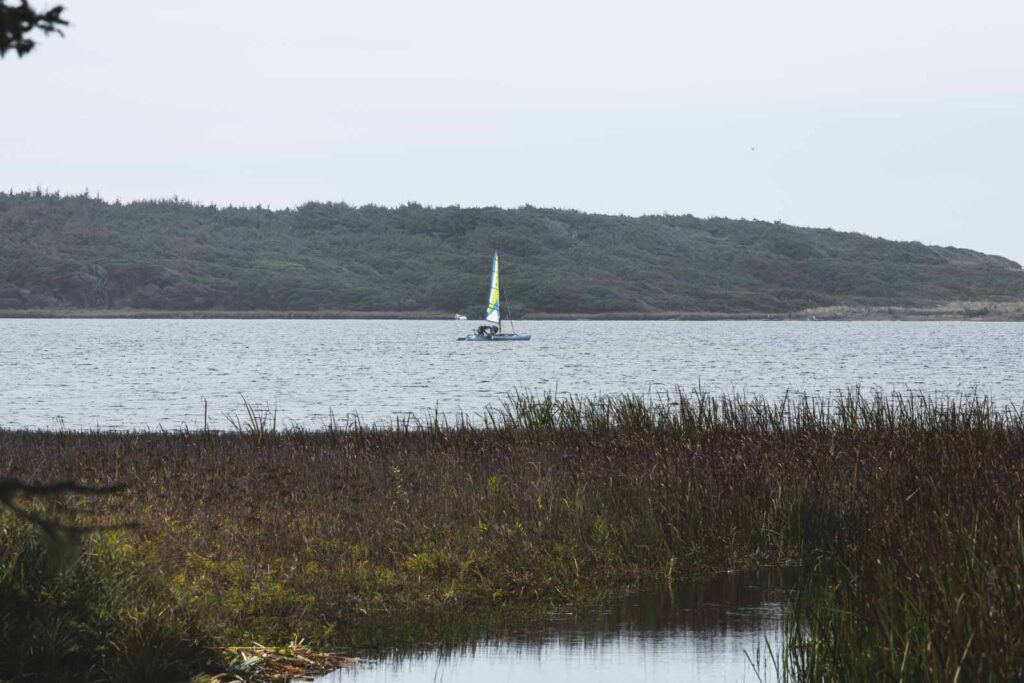 Floras Lake is ideal for windsurfing, but on calmer days, paddleboarding is also an option.
You can rent out equipment from Floras Lake kiting. They are open from April to mid-September, seven days per week from 10:00 am to 5:00 pm. You can also take your kit if you have it!
Camping at Boice Cope Park
If you want to extend your trip, there is camping available at Boice Cope Park. It is a huge grassy area with electric hookups, clean bathrooms, and showers.
It is also in a prime location near the rest of the state park. Rates are between $20 – $30 depending on what time of year you stay and whether it is peak season.
Places to Visit Near Floras Lake State Park
Cape Blanco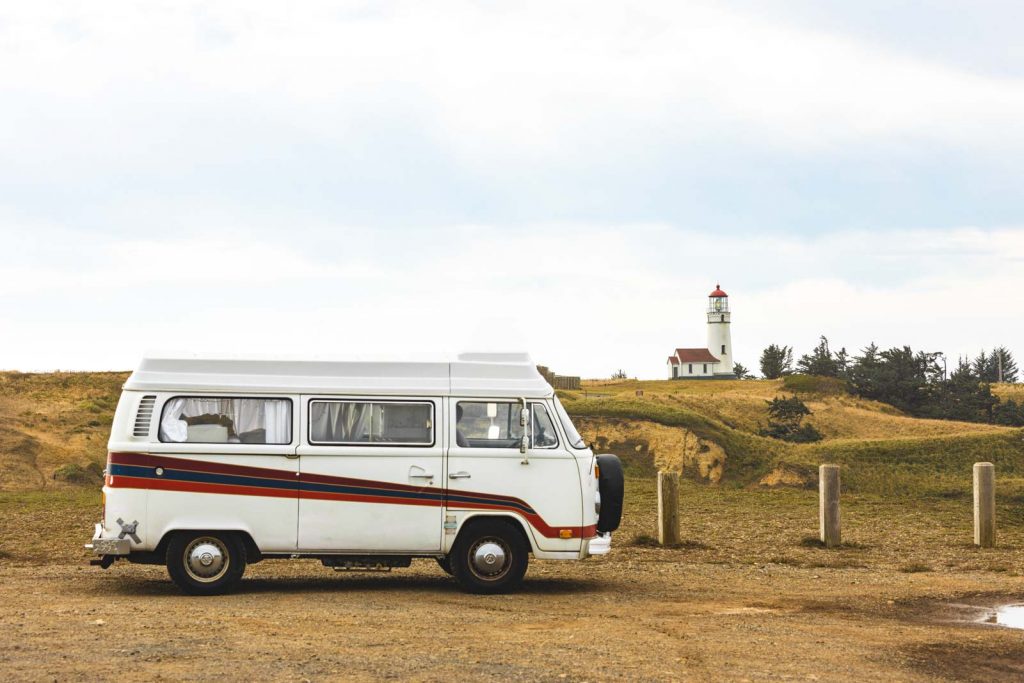 Head to Oregon's most western point for more remote adventures and hikes with epic coastal scenery. Visit to enjoy the historic Cape Blanco Lighthouse (the oldest continuously operating lighthouse in the state), hiking, biking, and wild camping.
---
READ MORE: Your Guide to Cape Blanco State Park
---
Port Orford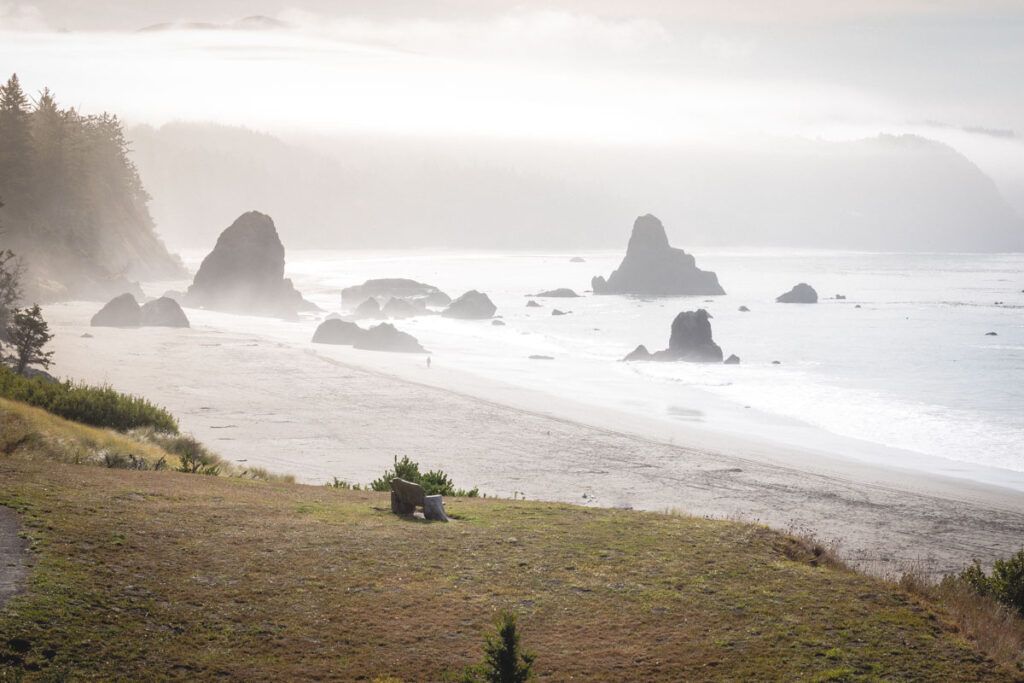 If you're interested in a mix of history and nature, head to Port Orford! This is the oldest town on the coastline and still has an active harbor. There are also 61 miles of coastline that you can enjoy on foot or by bike.
---
READ MORE: 7 Adventurous Things to Do Around Port Orford, Oregon
---
Humbug Mountain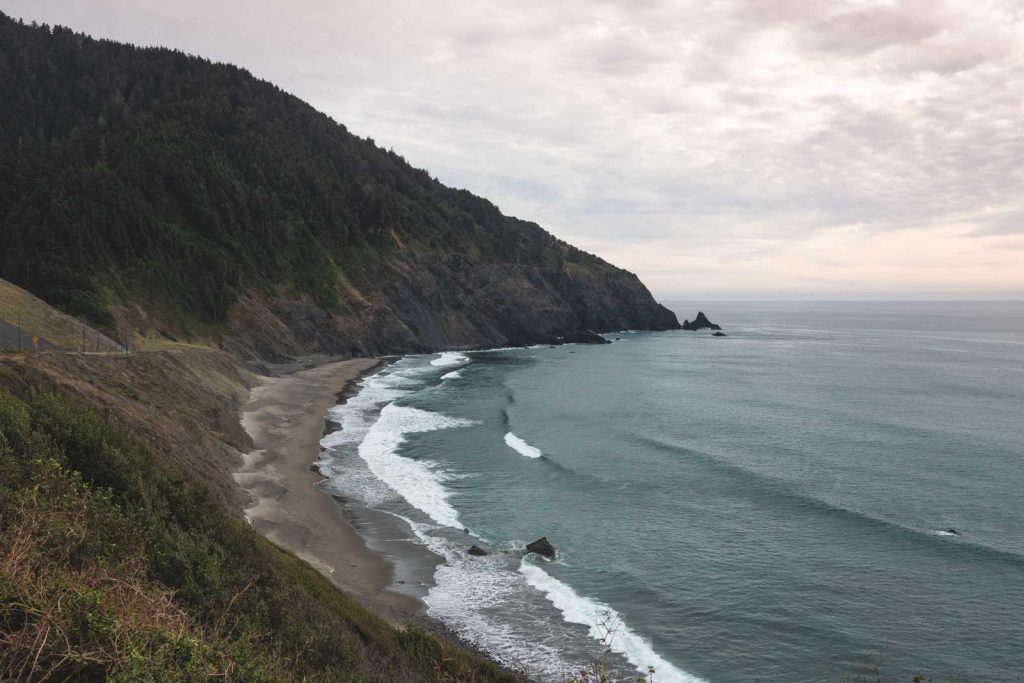 Humbug Mountain State Park has one of the highest headlands on the coastline. If you're into climbing, you can do a 5.5-mile climb to the summit of the mountain. There are impressive views from the top of this mountain and year-round camping available on site.
---
READ MORE: Your Guide to Humbug Mountain State Park
---
Bandon Beach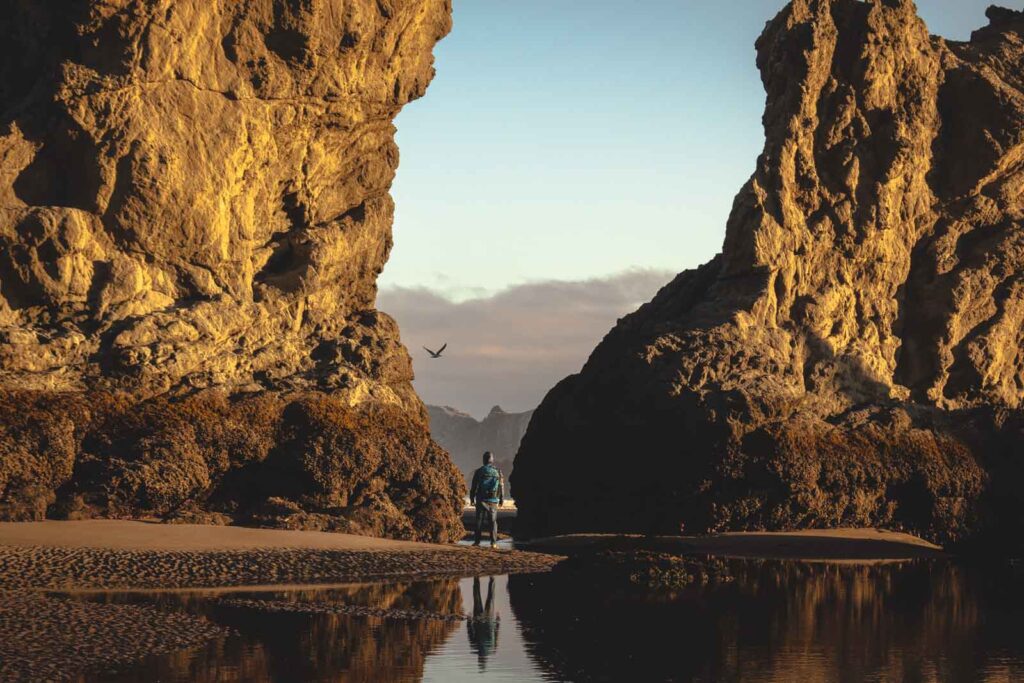 Bandon Beach is renowned for its epic rock formations and boulders, as well as its picture-perfect sunsets. There are opportunities for walking or fat tire biking along the beach, and you can also hike to Coquille Lighthouse and Cape Blanco Lighthouse.
---
READ MORE: 9 Cool Adventures Around Bandon Beach, Oregon
---
Floras Lake is a reasonably quiet state park on the Oregon coast – if you want an adventure but also somewhere to chill out and relax, spend a weekend here!
More Oregon Coast State Parks
We hope this post helped you plan your time in Floras Lake State Park! Check out more posts on the Oregon Coast and even more adventures around the state.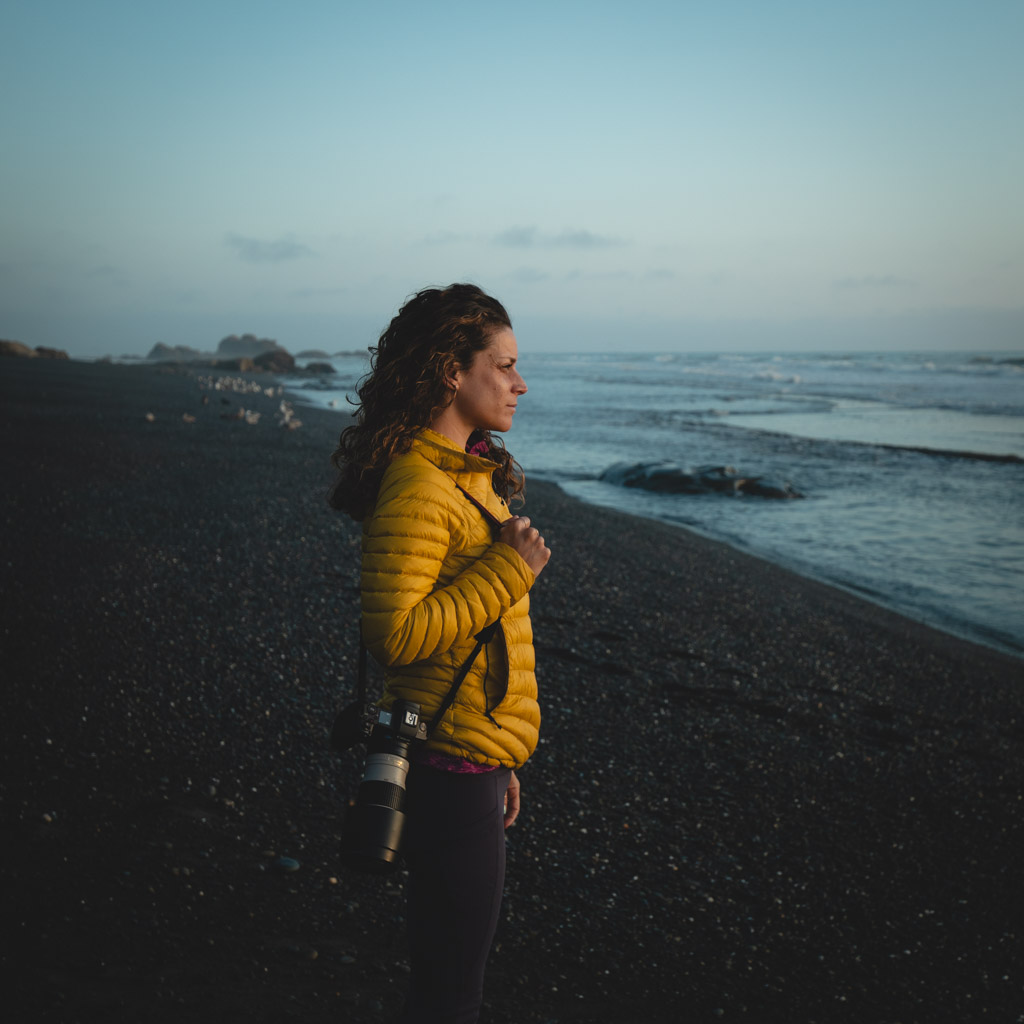 I've been perpetually traveling and living around the world for years but it's hard to beat Oregon and the PNW. After years of road-tripping the area, I guess you can say I know it pretty well! When I'm not writing guides for you, you can catch me somewhere petting a dog, attempting to surf, hiking a volcano, or stuffing my face with bread and cheese.