Step back in time and experience the quintessential town of Port Orford, a coastal gem that will, without a doubt, be your new favorite. It is surrounded by some incredible natural features including impressive rock formations and stretches of gorgeous beaches, while there is enough in town to keep you entertained for a good few days as well.
The key attraction of the town is the harbor, a bustling little place where a fleet of 30 boats is lowered into the water every morning before setting off to complete their mission to bring back as much fish as possible.
There are plenty of adventurous things to do around Port Orford, and afterward, you can shop until you drop in the many little stores that dot the streets, browse art in the local galleries or dine in one of the cute local eateries.
Here are our favorite things to do around Port Orford, an underrated town on the Oregon Coast.
Adventurous Things to Do Around Port Orford
---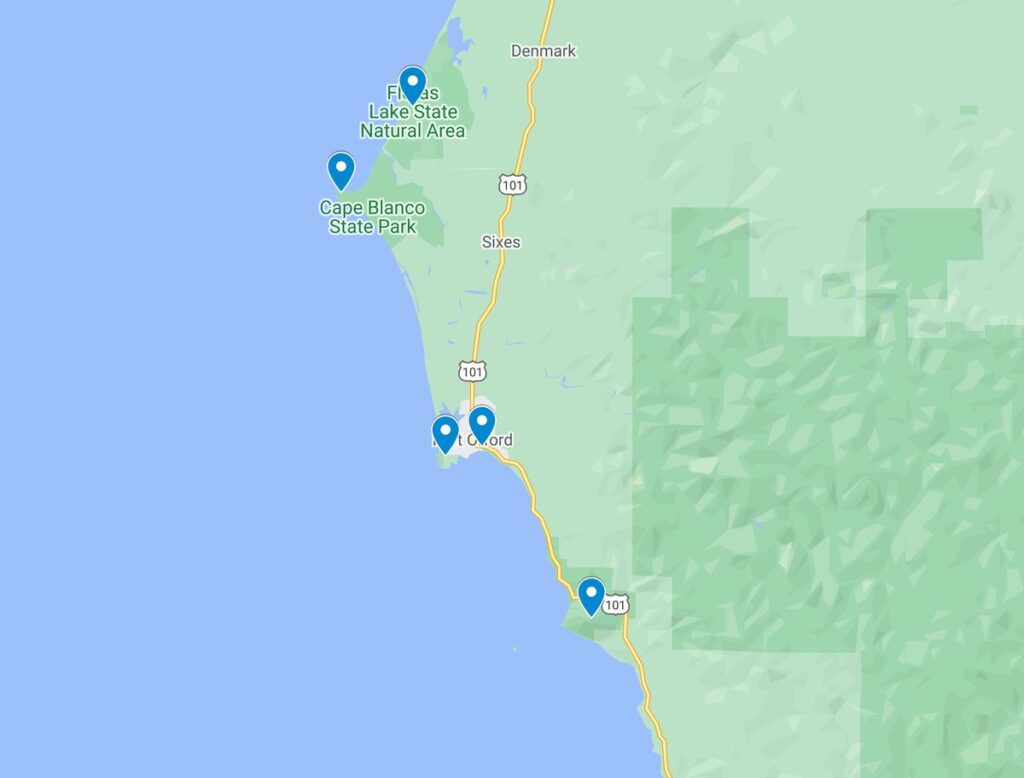 1. Battle Rock Wayside Park in Port Orford
Take a stroll along the beach of Battle Rock Wayside Park and feel totally at peace with the world. Battle Rock Wayfinding Point Beach trail is a 2-mile hike, although it is hard to call it a hike when really it is just a walk along the beach. With that said, it is absolutely beautiful, with lots to see along the way.
Dogs run freely along the sand, and interesting rock formations twist, jut, and curve around you. There are even a few rock arches to spot, with Humbug Mountain pushing itself out of the water to the south.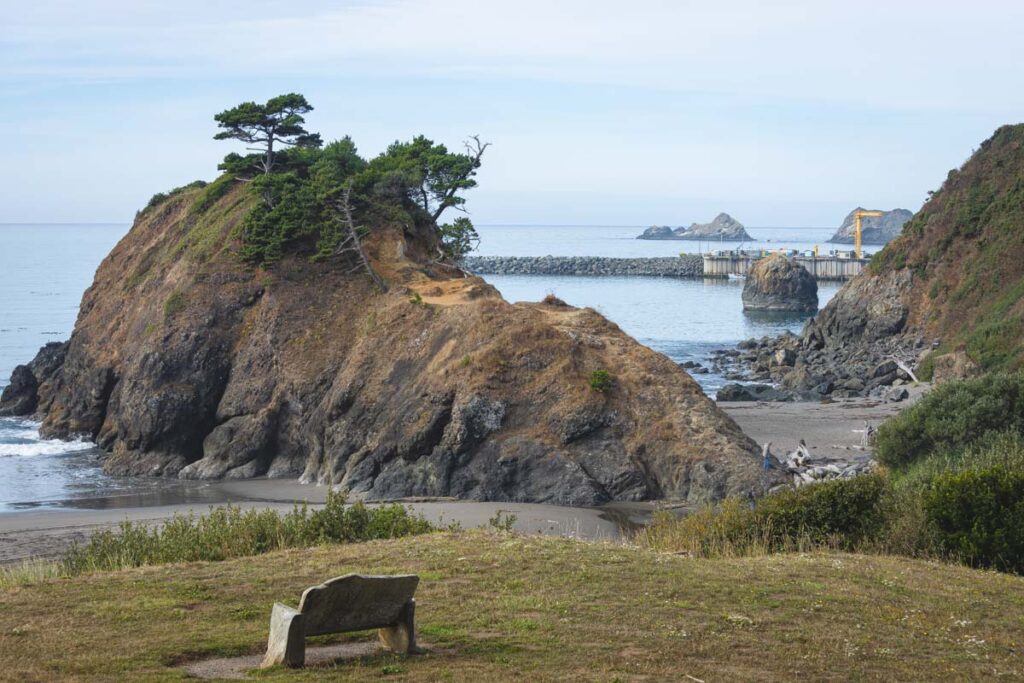 Interestingly, the area is named after the historical, bloody battle that took place here in 1851, but today is a hot spot for beach walkers and whale watchers. Whales can often be seen directly from the park, with one of the most common sighting locations being near Mills Rocks, which is a rock formation that stretches out to sea.
If you are looking for what to do around Port Orford, this is definitely the spot!
2. Port Orford Heads Trail
Take a stunning walk around Port Orford Head on this scenic trail. There are viewpoints all the way along, so you won't have to walk very far before coming across the next one, and at 300 feet high, you have quite a lofty viewpoint.
Keep your eyes (and ears) open for sightings of seals on the shore below you, and there are plenty of benches along the way if you fancy just sitting and taking it all in, or having a spot of lunch.
The hike is just a mile long, so is the perfect add-on to any kind of adventurous day, when you haven't quite got your fill of some of the incredible ocean views around Port Orford.
---
RELATED: 17 Breathtaking Oregon Coast Hikes
---
3. Humbug Mountain State Park
Humbug Mountain dominates this part of the coast, bulging dramatically offshore.
The mountain is a hiker's heaven, with the option to hike up to the peak, around the edge, or in the rolling forested hills that cover much of the state park that it sits in. If you feel as though your calves can take it, you should try and tackle the tough climb up to the peak.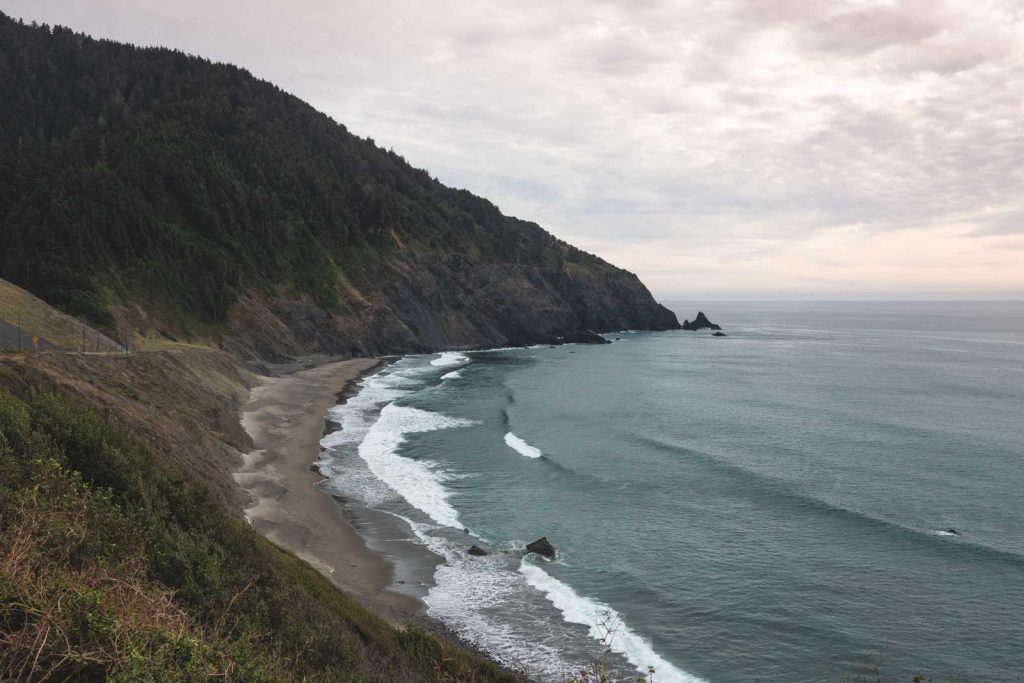 The 5.1-mile Humbug Mountain Loop is a bit of a leg burner, so pull up your hiking socks and ensure you've got enough water and climb, with the views from the top making the muscle ache worth it in the end.
There is a great campsite at Humbug Mountain State Park, with spaces available for both RVs and tents. A cute little trail will take you directly from the campsite, under Highway 101, and onto the beach and crashing waves. You'll struggle to find a better view to wake up to in the morning!
---
READ MORE: Your Guide to Humbug Mountain State Park
---
4. Floras Lake Natural Area
There is so much incredible scenery along the Oregon coast, but Floras Lake has something the others may not… there is just as much fun inland as there is on the shore.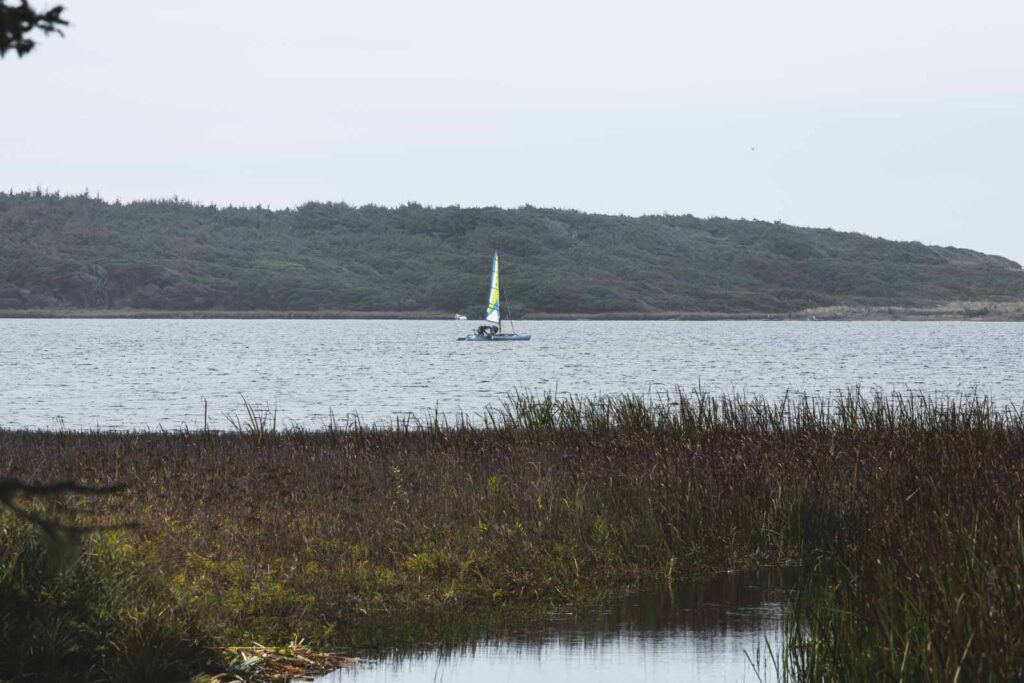 The state park's namesake lake lies a few hundred feet from the ocean, separated only by some pretty impressive sand dunes. The lake is known as a kiteboarding and windsurfing hotspot thanks to the strong winds that often hit the lake.
That's not to say there isn't plenty to do on the coast as well! The beach is fat biking bliss for any outdoor enthusiast. Actually, it is great for any kind of biking, with a network of trails also twisting their way around the forest.
With so much to do and see, it is really hard to work out why it is still one of the least visited parks not just near Port Orford, but on the whole of the Oregon coast. Yes, compared to other parks it is not the most developed, but in terms of natural beauty and adventure rating, it is way up there!
(Shh, this place is our secret spot!)
---
READ MORE: Your Guide to Exploring Floras Lake State Park
---
5. Cape Blanco
Perched precariously at Oregon's most westerly point sits Cape Blanco, one of the most remote, yet scenic, spots on the coast. Adventuring opportunities are of abundance here, so lace up those hiking boots, don some shorts, and hit the trails. (Maybe a rain jacket too, this is the Oregon Coast after all!)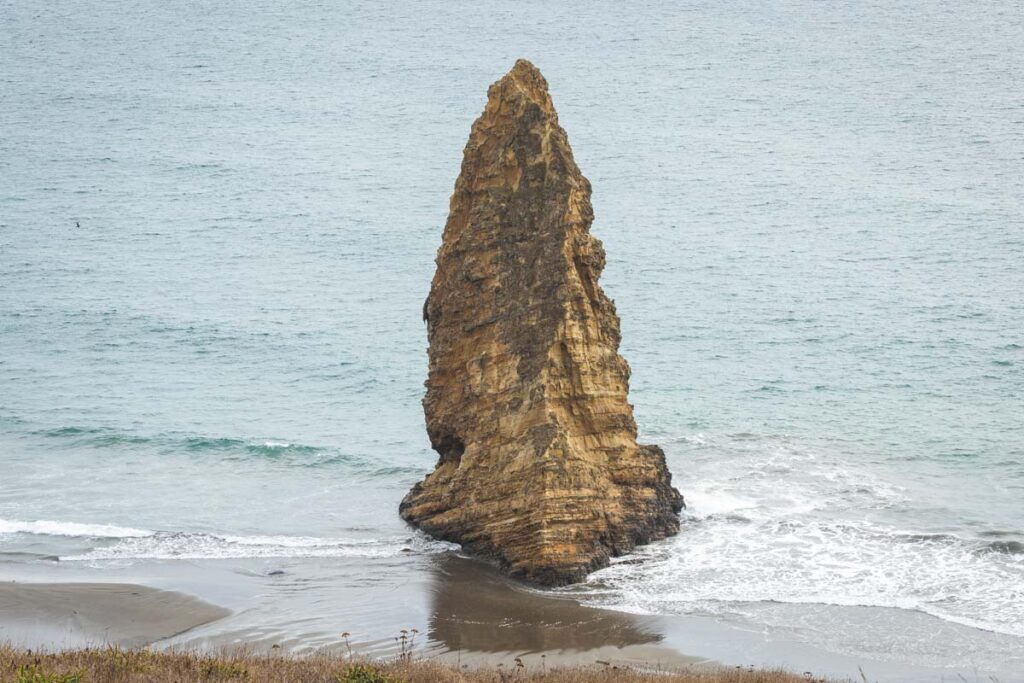 Pacific View Trail is a firm favorite, at just 1 mile long, it can be walked pretty quickly, but you get a lot of bang for your buck with incredible views along the way. Other short and sweet hikes include the Cape Blanco North Shore Trail which takes you down to the beach, and the Coastal Trail, another one with some good coastal views.
Don't forget to investigate Cape Blanco Lighthouse that juts a mile out into the Pacific Ocean, standing proudly having saved countless ships from the merciless rocks below.
It's a pretty special spot with some claims to its name, such as being the oldest continuously operating lighthouse, the most southern lighthouse in Oregon, and in the most western part of the state. You can even take a tour and learn a little more about its intriguing history.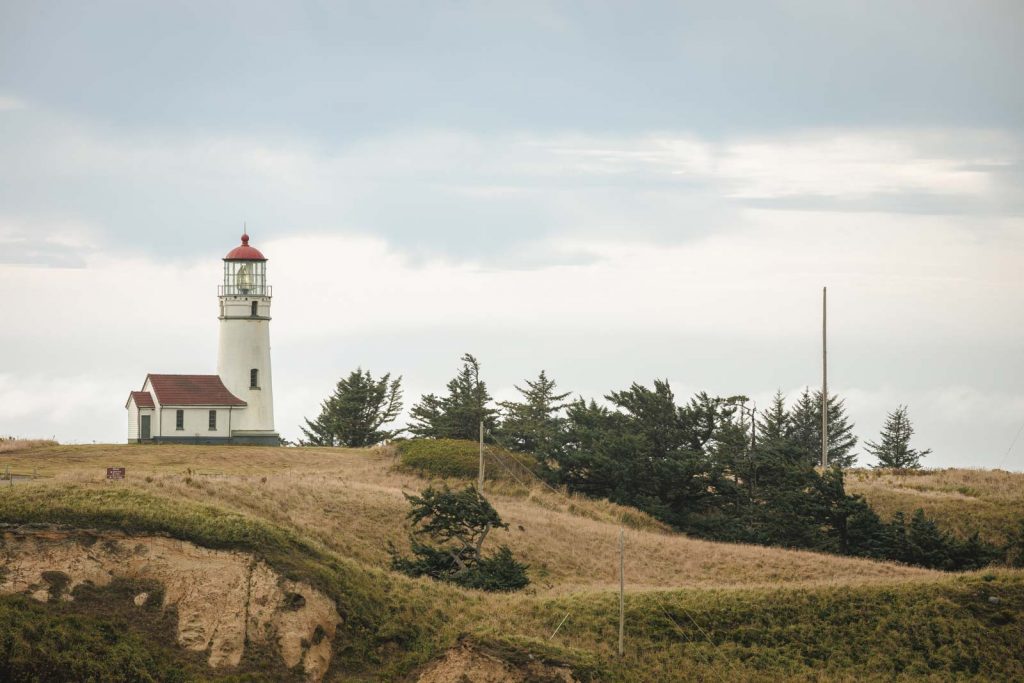 With so much to do, you might want more than one day to see all that the cape has to offer, so it is a good job that the state park has a campsite, ready and waiting to go!
---
READ MORE: Your Guide to Cape Blanco State Park
---
6. Gold Beach
Gold Beach is pretty much as idyllic as the name suggests, a pristine stretch of shoreline that is in stark contrast to some of the more dramatic and desolate sections of the Oregon coast.
Gold Beach is alive no matter the time of year you visit. Whether you fancy trying your hand at one of the well-known beach treasure hunts, heading up the Rogue River, or packing your binoculars and hoping for a sighting of a majestic whale or two.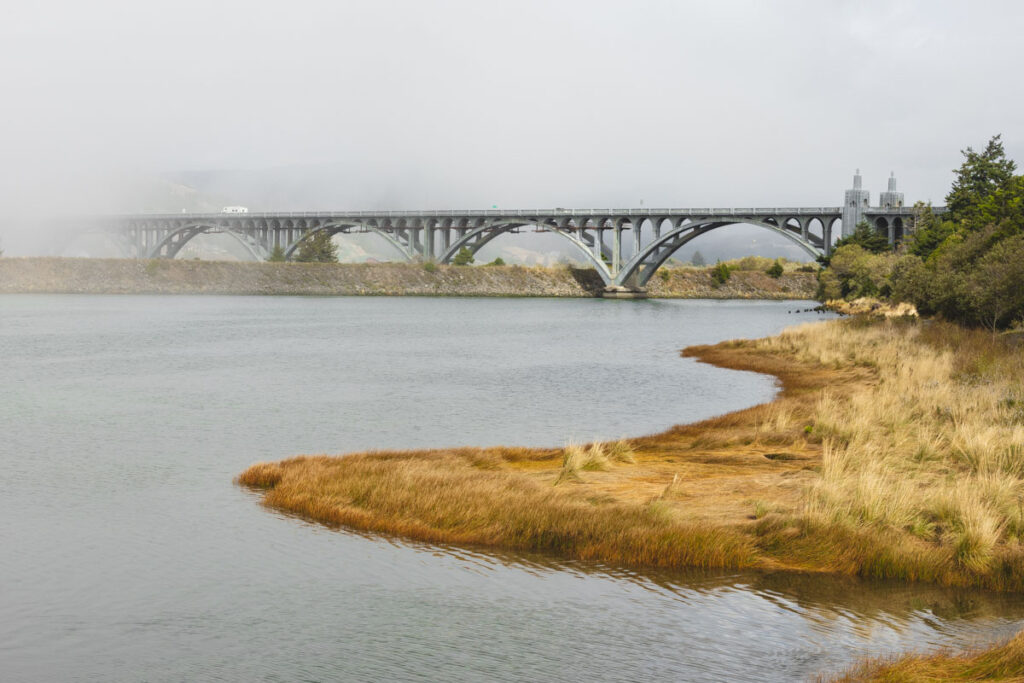 Treasure hunt? Yes, you read correctly, Gold Beach is known for its treasure hunts where visitors are welcome to eagerly hunt for picturesque glass floats all along the 2.5 miles of beach, with a few also hidden within the many shops in the town.
Not only does Gold Beach boast an incredible sandy beach, but you can also spend some time along the fast-flowing Rogue River. You could even try your luck at catching your dinner, with spring chinook, summer steelhead, and coho salon all common catches.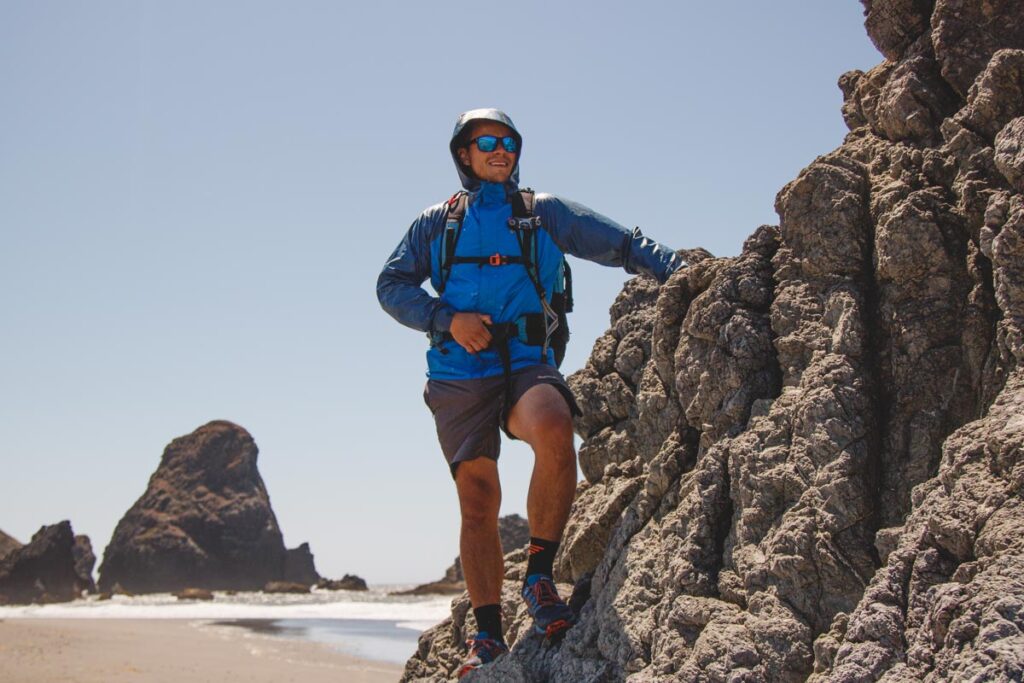 Not a fisherman? Not to worry, the town is packed with great places to grab a tasty meal before doing it all again the next day.
There is honestly no end to the adventures to be had a Gold Beach, but some of the most popular include a jet boat tour with Jerry's Rogue Jets, paddleboarding or kayaking with South Coast Tours, taking one of the nearby trails such as the Otter Point trail, or simply just enjoy some time on the sand.
---
READ MORE: 15 Adventurous Things to Do Around Gold Beach, Oregon
---
7. Sisters Rock State Park
One of the newest gems in the Oregon State Park system, Sisters Rock is a cool spot to visit! You would think there isn't any room for any more dramatic rock formations around this stretch of coast, but Sisters Rock is just as deserving of a place as any, with three towering mounds of rock marking their place in the waves.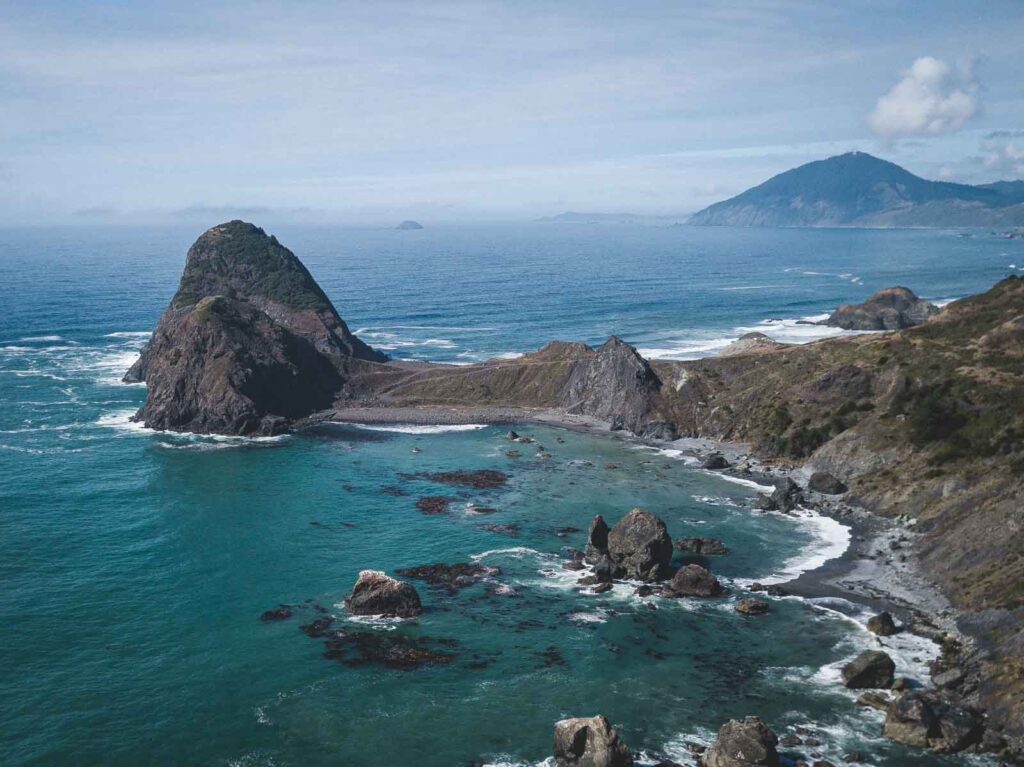 Adding to the raw beauty of the area, Sisters Rock is totally undeveloped, so whether you're planning on trying to escape your office job for a while or just want a bit of me-time, Sisters Rock has you covered. There is no sign on the highway, but it is about 13 miles south of Port Orford, so keep your eyes peeled for a small side road off the highway.
Don't miss the hidden sea cave, incredible sunsets, and incredible rock formations, in addition to the three main 'sisters'. There are even more areas to explore by walking in both directions from the rocks, such as narrow sandy inlets and infinite photo spots.
There's a trail that's about a half-mile onto the rocks that lead you out onto the Pacific!
Where to Stay Around Port Orford
The small size of Port Orford means that anywhere you stay will be within close reach of the town's attractions and surrounding adventures.
Battle Rock House
As the name suggests, this 2-bedroom house offers amazing views of nearby Battle Rock from the living room and spacious deck. You'll be centrally located, but with complete privacy on a 13-acre property.
AquaVista
Get into the coastal vibe with this adorable nautical-themed home. You can enjoy stunning views of the ocean and port from the upstairs balcony, or relax in the private hot tub.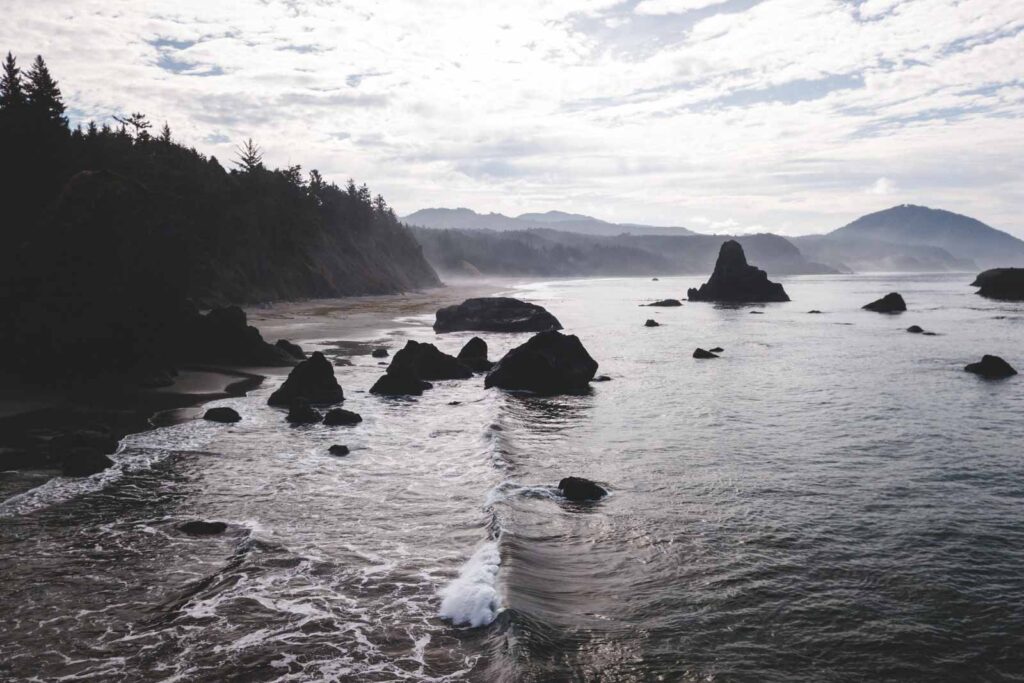 Little House at Paradise Point
Just a mile outside Port Orford you'll find this cozy country home. Built in the 1900s, it's been recently remodeled to provide you with a comfortable stay. There are views of Lake Garrison from the patio, and the beach is a short walk away.
Whimsy by the Sea
This charming house is ideal if you're traveling with a group and with pets. The dog-friendly home sleeps six and has a large living space with views out over the surrounding countryside and nearby ocean.
We hope this post helped you better explore Port Orford! Check out more posts on the Oregon Coast and even more adventures around the state.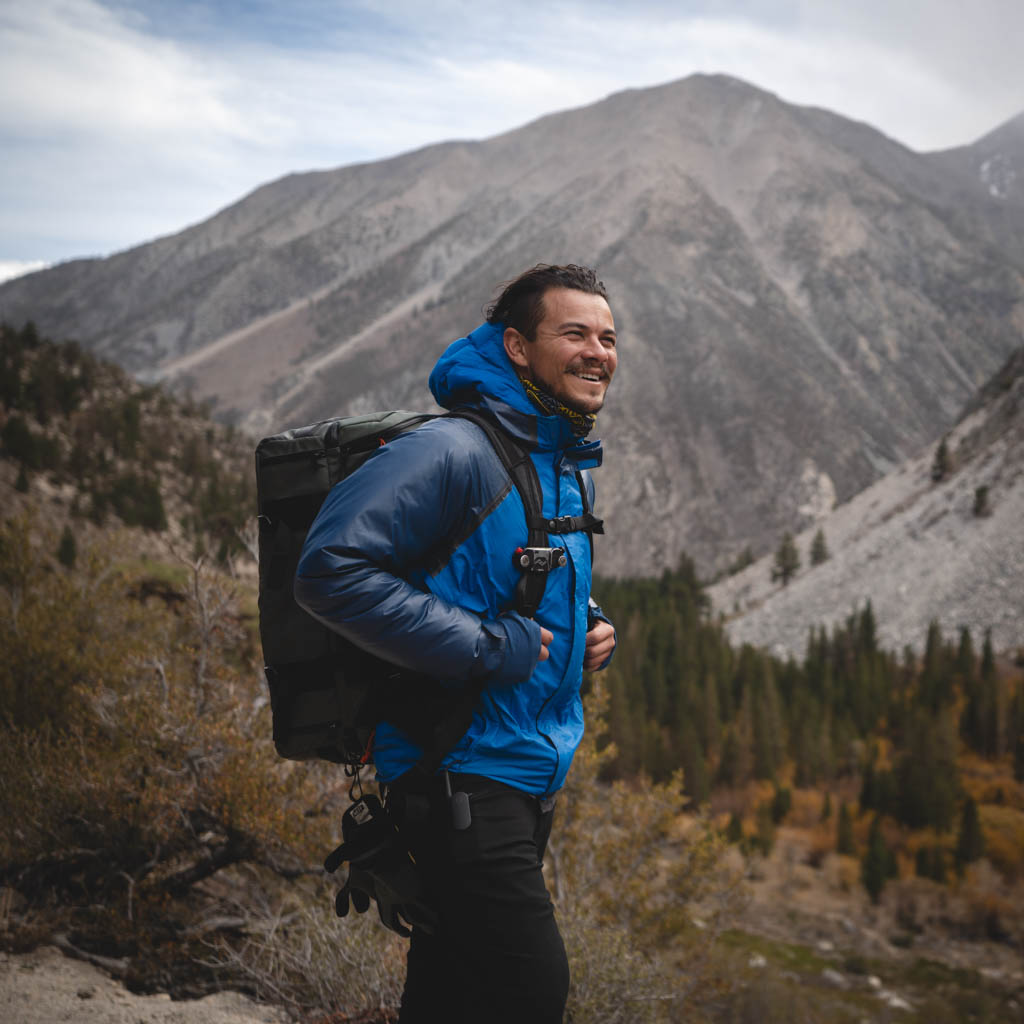 Oregon native and explorer at heart. Loves tackling expeditions around the world and drinking a good beer at the end of the day. PNW obsessed, VW nerd, and surf or snow riding fanatic.