Our neighbor to the north is sometimes seen as a rival, but we just love the outdoors, and there's no question at all that Washington delivers! So just like we love our sister to the south, California, we're down with you too, Washington.
There are many adventurous things to do in Washington, and while our list here is pretty damn long, I'm sure we will have more to add soon.
You're in the USA, so a Washington road trip would be most appropriate; otherwise, you'll have some difficulty visiting many of these locations.
What are you waiting for? Grab your gear and head north!
Things to Do on a Washington Road Trip
---
As per usual, we made you guys an awesome map to help you get on with your trip. As you'll notice, most of the adventures in Washington are located on the west of the state.
This makes road-tripping everything a bit easier. Your only "outlier" is going to be the Olympic Peninsula, which as you'll see below, you probably don't want to miss.
To truly see everything on this list and have time to drive and breathe, you'd need around 20 days or so, at the least. You don't want to rush as you'd just be driving most of the time if you pack in too much. If you have less time than that, it would be best for you to choose your favorites from the list and spend some quality time there.
Don't forget; everything is further than you think! The US is like that; you'll be driving more than you think you will, so keep that in mind.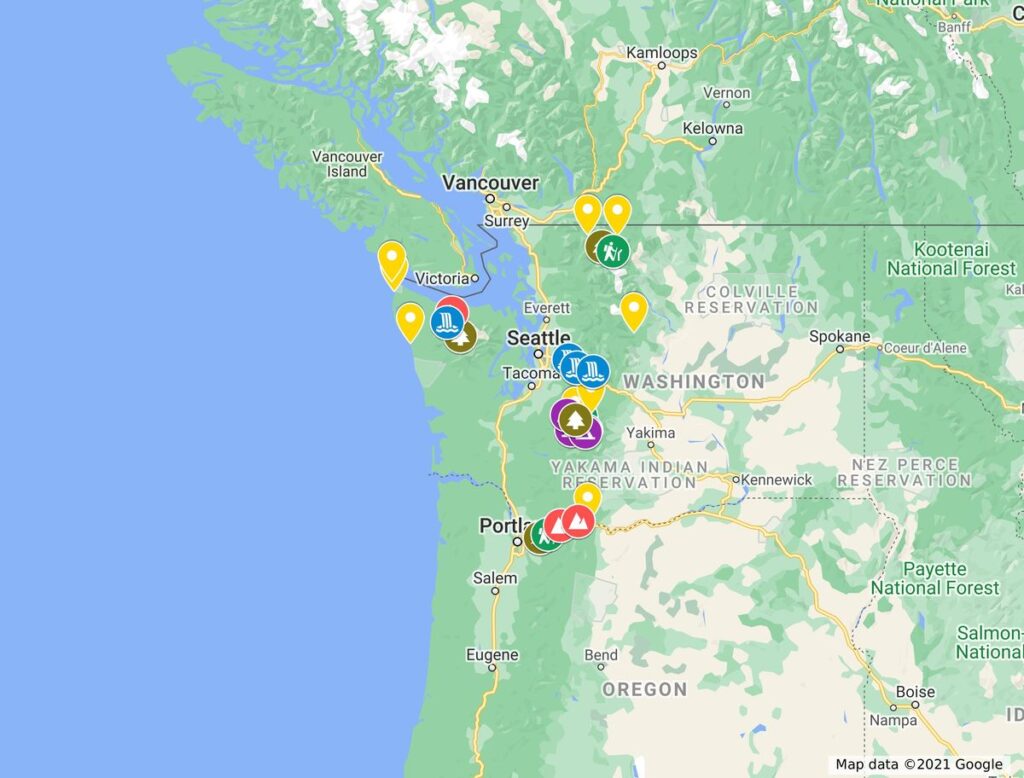 1. Hiking North Cascades National Park
Recommended by Scott and Megan from Bobo and ChiChi
One of the best things to do in Washington is hiking in the stunning North Cascades National Park bordering British Columbia, Canada. From the gorgeous mountain peaks, vibrant turquoise waters, and native species like grizzly bears, mountain goats, and gray wolves, there is a lot North Cascades National Park has to offer, as in any national park. Still, hiking is the best way to experience the beauty of this place up close and personal.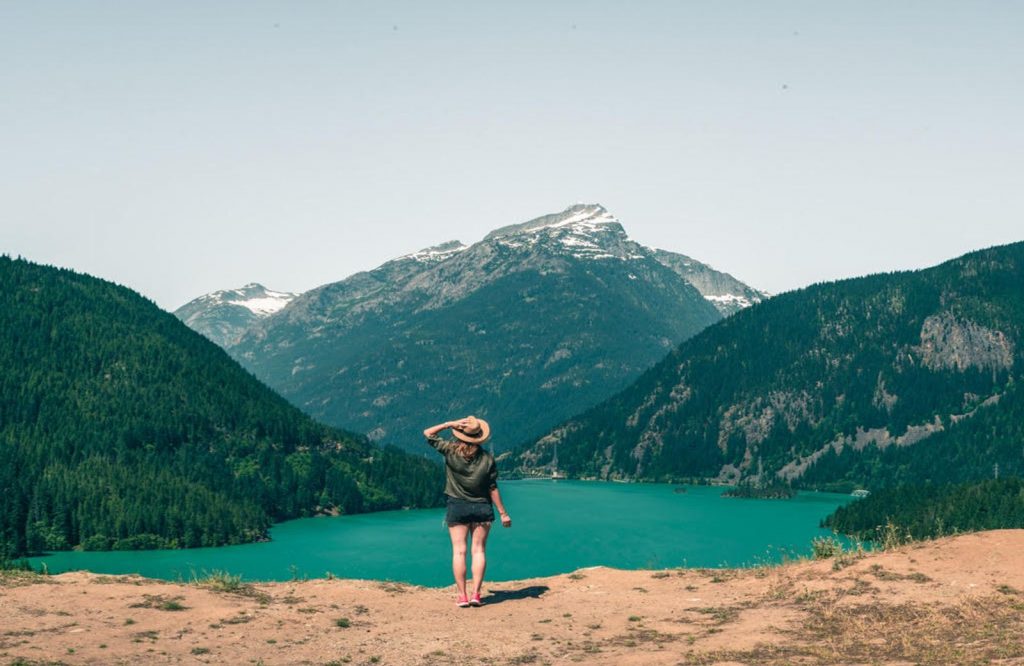 What's even better is that there are hikes tailored to just about any adventurer level. Whether you're a beginner looking for a short half-day hike or an expert hiker looking to enjoy a long backpacking route like the multi-day trek from Hannegan Pass to Ross Lake trek.
There are enough different trails in North Cascades National Park to fill a lifetime, passing the incredible lakes and peaks of the park. While it's possible to visit for a day, you'll undoubtedly want more time.
If we were going to pick one not to miss, it would be the Diablo Lake Trail. You can do a two-way trek on this trail hiking in and out to the stunning turquoise jewel tone water in the lake surrounded by the vast mountain range.
Or if you're short on time or aren't into longer adventures, you can do the one-way option where you hike above Diablo Lake hiking in and taking the Seattle City Light ferry enjoying a scenic ride back out.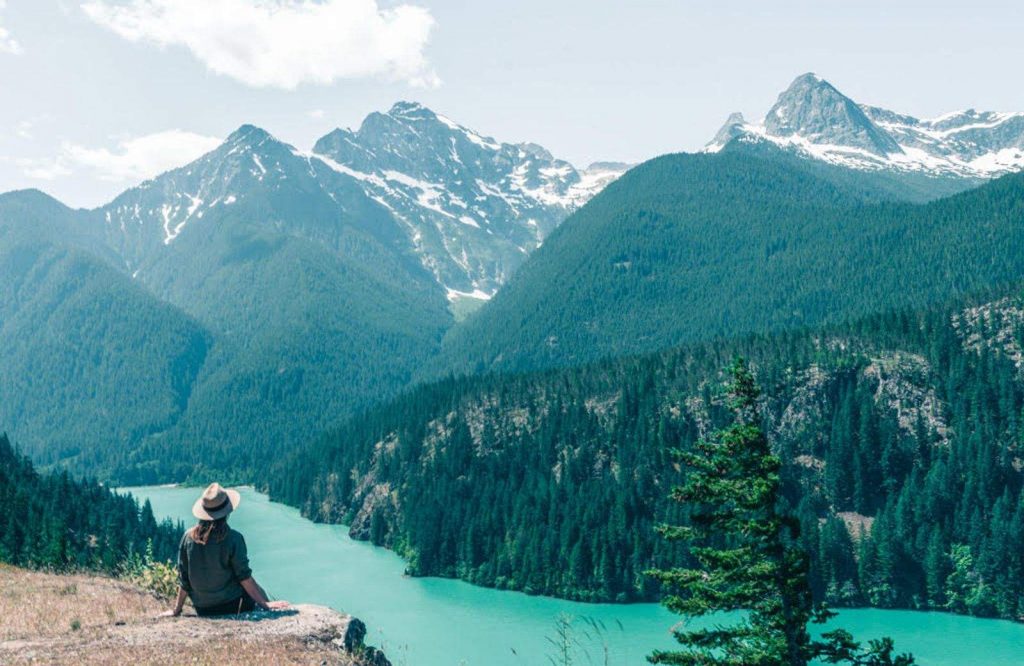 Note that this ferry option is only available in the months from June to October, though!
If you're wondering what Diablo Lake is and how it gets its color, it's a water reservoir in the Cascade mountains. The lake itself is actually human-made, sorry for that spoiler! It was created by the Diablo hydroelectric dam into the Skagit River, and the water gets its bright turquoise color from the glacial silt.
RECOMMENDED GEAR:
Things to Do Around The Olympic Peninsula
That "arm" at the northwestern tip of Washington is where the Olympic Peninsula is located, and it's the westernmost point in the contiguous United States.
In other words, this is the most PNW you can get, and we're here for it!
The peninsula can be road tripped in a loop, although you'll want to take some detours to get to all the spots. You'd need at least five days to explore the peninsula, but a couple of days are better than none!
Here are some of the top things to do in Washington's Olympic Peninsula.
2. Cape Flattery
Recommended by Berty and Emily from The Mandagies
If you're looking for a fantastic adventure in the neighboring state of Washington, a trip to Cape Flattery is extraordinary! Cape Flattery is located in the most northwest corner of the lower 48 states, which means you can't get more "Pacific Northwest" than here!
Cape Flattery is located on indigenous land belonging to the Makah Tribe. To visit, you must purchase a Makah Recreation Pass, which gives you access for an entire year to Cape Flattery, among other nearby trails and beaches.
Once you arrive at the trailhead, you'll take a 10-minute walk towards the Pacific Ocean on a series of boardwalks nestled under a canopy of green, temperate rainforest trees. The most famous viewpoint is one of the first you'll encounter on the trail – towering sea stacks tucked away in a small cove off the Pacific Ocean.
Walking farther along the trail, you'll have access to views to the north (Hi Canada!) and northwest to see the Tatoosh Island lighthouse in the distance. You can easily spend an afternoon exploring the various viewpoints, trails, and photo opportunities that are abundant in this part of Washington.
If you're looking for an incredible (and easy!) adventure that includes rainforest trails, boardwalks, and scenic ocean views, Cape Flattery must be on your list of things to do in Washington.
3. Explore Olympic National Park
Recommended by Katie and Ben from Two Wandering Soles
Situated just outside Seattle, Olympic National Park is the stuff dreams are made of. From snowcapped mountain peaks to temperate rainforests to wild beaches, the Olympic Peninsula truly has it all. Whether you're just craving a quick escape from city life or you're looking for a serious adventure, pack up your car and head to the OP for one hell of a good time!
This national park is extensive, and one could spend months exploring its every nook. Here are some of the top adventures for your trip to the Olympic Peninsula:
Go camping on Shi Shi Beach: Perhaps one of the most memorable experiences you can have in the OP is to spend a night camping on the sand as waves roll in. There are many beaches on the peninsula to choose from, but if it's an adventure you're seeking, Shi Shi Beach is where you'll find it. Dotted with driftwood and sea stacks, Shi Shi Beach requires a bit more effort to get to than some of the other beaches in the OP, but you'll be rewarded with fewer crowds and a wide-open beach to set up camp for the night. Pack food and lots of water, and prepare yourself for an unforgettable sunset. Just cross your fingers that you get a clear night so you can gawk at a sky full of stars!
Hike Mount Storm King: There are many hikes to choose from in Olympic National Park, but one of the most epic is the trek to Mount Storm King. Rated as difficult, your efforts will be rewarded with sweeping views over Lake Crescent.
Photograph Sol Duc Falls: One of the most iconic places in all of the OP, Sol Duc Falls is a sight to behold. Meander past mossy rocks and centuries-old trees before reaching the main falls.
→ If you don't have a lot of time, do this Hoh Rainforest and Rialto Beach tour in Olympic National Park from Seattle.
4. Ruby Beach
Recommended by Chris from Called To Wander
Ruby Beach, along the Washington coast, is a special place to visit in the Pacific Northwest. Located on the western fringe of Olympic National Park approximately 4 hours from Seattle, the beach is one of the more popular places to experience a tidal pool among the dramatic Washington coastline.
Before planning a trip to Ruby Beach, be sure to check on the local tides, as the beach is best experienced during low tides. The tidal pools will be particularly pronounced during the more extreme tidal periods surround the new or full phases of the moon.
As a popular place to visit, it is likely you will find yourself wedged in a parking spot or pulled off on the side of the road. A short hike through a tall, lush forest will bring you to the edge of the beach. From here, you'll walk through massive piles of driftwood and step on pebbles of all sizes that line the shore. Continue heading toward the ocean where large rocks house the incredibly vibrant tidal pools for which Ruby Beach is known.
As you likely won't be alone, pick your favorite tidal pool and begin searching for the colorful creatures that inhabit the water. You'll see brilliantly colored starfish, anemones and nudibranchs, and, if you are fortunate, other marine life including the elusive octopus and many sea cucumbers.
But even if you don't see all of this variety in the tidal pools, reaching Ruby Beach from Seattle is worth the drive itself. You can take either of two routes that circumnavigate Olympic National Park from either the north or the south.
If traveling along the northern route along Hwy 101, there are several small towns idyllic of this part of the country. Sequim is one such place to stop an tour the Purple Haze Lavender Farm, where you can pick a bundle of lavender for yourself or enjoy lavender ice cream or lemonade.
Things to Do in Washington Near Seattle
Escape the city and run away into the forests to find stunning lakes to play in and waterfalls to discover. Seattle's location is perfect for quick day trips if you can't do a full-on Washington road trip. The three waterfall hikes listed below are an easy day trip from the city.
5. Camp and Play at Lake Wenatchee
Recommended by Gina from Evergreen and Salt
Lake Wenatchee is a spectacular lake located in central Washington, about two and a half hours east of Seattle. It's often overlooked for its fun and kitschy neighbor of Leavenworth (a Bavarian-inspired town framed by the Cascades mountain range), but Lake Wenatchee is worth the getaway, especially if you like to camp.
The lake has a campground on site that is run by Washington State Parks and is accessible for both tents and RVs. Enjoy being among the trees and by secluded hiking trails before making your way to the beach, a mix of sand and tiny rocks with driftwood strewn around providing ample seating to take in the view. And what a view it is! On a bright, calm day, you'd be hard-pressed to find a more beautiful lake than Lake Wenatchee in the PNW.
The lake is nestled in a valley among the Cascades, making it an often calm, mirror-like water surface. Camping means you'll be there late at night or early in the morning when the day-trippers are gone, and it's just you and the sparkling water. The beach part of Lake Wenatchee has a swimming area and is a popular swimming spot in the summer. This is a glacier-fed lake, so be prepared for a bit of a chill when you get in, but it's refreshing in the hot summer months.
In addition to swimming, there are many other water recreations sports to do on Lake Wenatchee, including boating, stand up paddleboarding, kite surfing, and kayaking. If you don't mind the cold and camp at Lake Wenatchee in the winter when there's snow on the ground, you can try your hand at cross country skiing or snowshoeing on the trails near the lake.
---
RELATED: 11 Adventurous Things To Do in Leavenworth
---
6. Snoqualmie Falls Trail
Distance: 1.3 miles
Type of Trail: Out & Back
Difficulty: Easy
This leisurely stroll takes you to one of the most impressive waterfalls in Washington. At nearly 270-feet tall, Snoqualmie Falls plunges over a craggy cliffside surrounded by a Douglas fir forest. The roar from the gushing waterfall is particularly impressive on a rainy day and is one of the state's greatest spectacles.
Start from the upper falls viewpoint and learn about the native flora and wildlife that can easily be spotted from the trail. The path has lots of signage, and its steep section makes this a great first hike for beginners. Once you reach the base of the falls, feel the cooling mist and incredible power of this iconic landmark that draws over one million yearly visitors.
---
RELATED: 7 Awesome Waterfalls Near Seattle, Washington
---
7. Franklin Falls Trail
Distance: 2.0
Type of Trail: Out & Back
Difficulty: Easy
The hike to reach the majestic Franklin Falls is straightforward and one of the best things to do in Washington for trekkers of any level. Walk through the verdant forest and be on the prowl for places to climb into the adjacent gorge. You'll find a few waterfalls trickling into the crystal-clear waters of the river in the depths of the rocky passageway.
Franklin Falls itself plunges over a rocky wall, and standing next to its immense size makes you feel like a grain of sand. It's even possible to trudge to the falls during the winter via snowshoe but be prepared for a longer hike to reach the trailhead.
8. Twin Falls Trail
Distance: 3.6 miles
Type of Trail: Out & Back
Difficulty: Moderate
Walk alongside the Snoqualmie River to reach one of the most enchanting waterfalls you'll see on this Washington road trip. There are several places to reach the river but trek through the old-growth forest to reach the falls.
Climb steep hills and a series of switchbacks to get your first glimpses of the cascading waterfall. Eventually, the trail leads you to descend steps that reach the sensational Lower Falls viewing point. Reach the viewing area at Big Bridge for the perfect angle of the tumbling cascades and lush forest.
The trail is known to get wet and muddy, so bring hiking shoes you don't mind getting filthy.
Things to Do in Mount Rainier National Park
Don't even think about a Washington road trip without visiting the highest peak in the Cascades. Standing at 14,410-feet, Mount Rainier is one of the state's greatest natural treasures that has captivated adventurous souls for generations. This active volcano stands as this epicenter of the park, and exploring the park's unspoiled natural scenery is one of the most exhilarating things to do in Washington.
Mount Rainier National Park is a year-round favorite for nature enthusiasts from Washington and beyond looking for a peaceful escape into the outdoors. Gushing waterfalls and colorful wildflowers take center stage during the short summer, but the park is still accessible during the brutal winter chill. Skiers and snowboarders congregate in the park throughout the winter for some of the best runs in the state.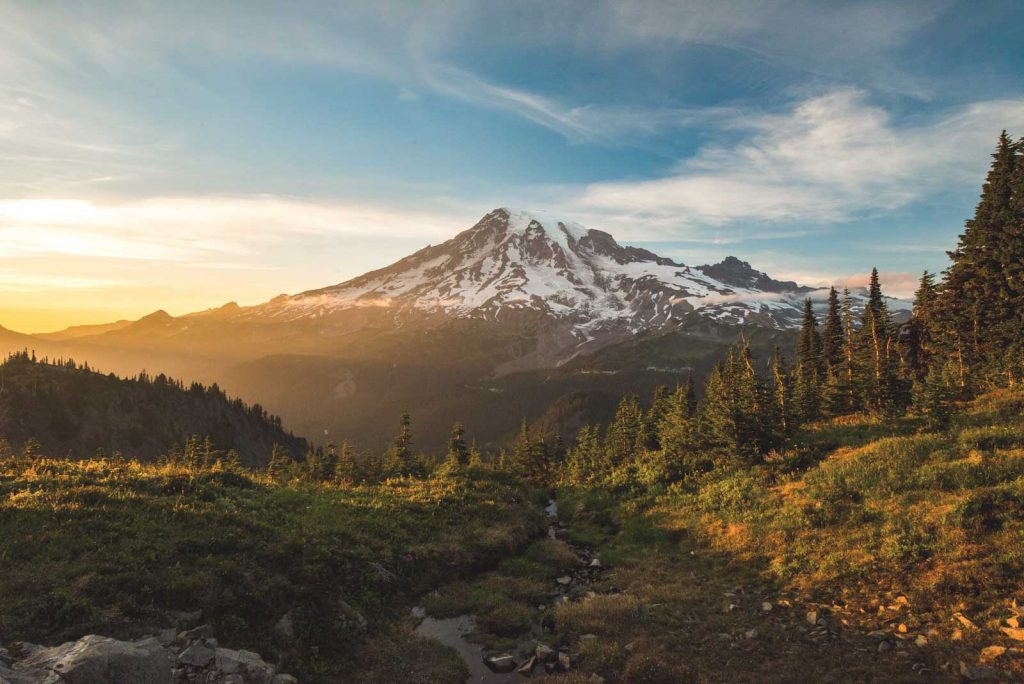 If you need a break from driving the car on your Washington road trip, ride the Mt. Rainier Railroad or the Mt. Rainier Gondola for sensational views of the park.
Elsewhere in the park, there is 260-miles worth of hiking trails to explore old-growth forests, massive glaciers, sparkling lakes, and tumbling waterfalls. Some trails are for experienced hikers only, and it's imperative to ask park rangers about the path you wish to conquer. Also, it's recommended to pack your lunch during your visit with limited places to eat in the park.
This will be some of the best and closest hiking near Seattle if you're in the city and wanting a sweet escape.
→ If you don't have a lot of time, do this full day Mount Rainer National Park tour from Seattle that covers all the highlights of the park.
9. Road to Paradise
There are several scenic drives around this iconic mountain, and each one offers spectacular vistas of verdant forests, snow-capped peaks, and serene waterfalls. But the Road to Paradise might take the cake as the drive with the most dramatic sightseeing around Mount Rainier. This epic journey can be planned as an unforgettable detour on your Washington road trip and is one route you should prioritize on your itinerary.
The Road to Paradise is 83-miles of pure alpine ecstasy and one of the top things to do in Washington for nature lovers. This epic drive will take you to many of the most exciting day hikes near Mount Rainier and scenic viewpoints worthy of being called paradise.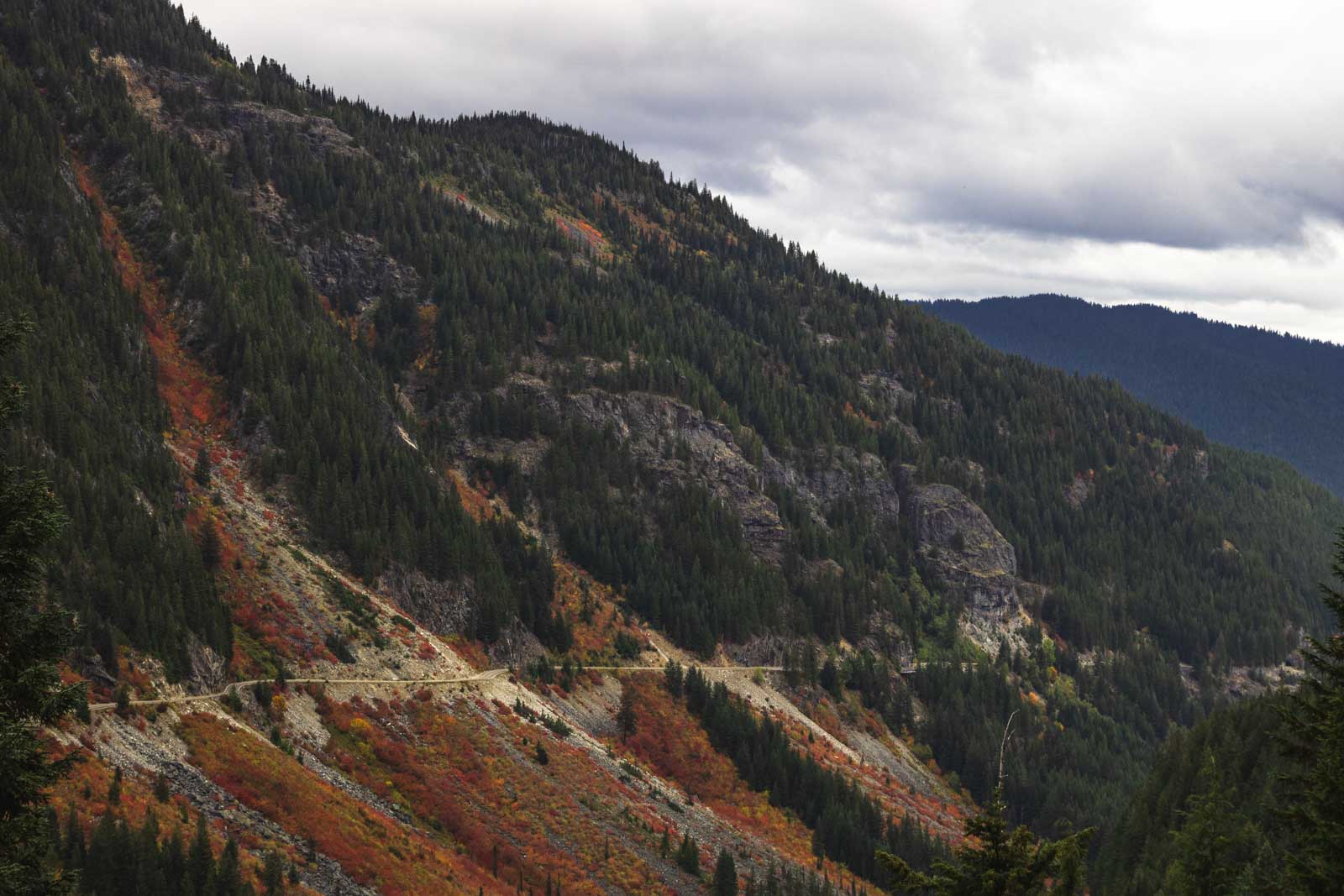 On the way to Paradise, countless stops will put your time management skills to the test. Kautz Creek Trail traverses through evergreen forests and alpine meadows with jaw-dropping vistas of snowy peaks. The Glacier Vista Viewpoint brings you face to face with enormous glaciers, and the Nisqually Vista Trail meanders through radiant flower fields.
Situated at 5,400-feet, Paradise will make you feel like you have soared into heaven on your Washington road trip. Paradise is a wintry retreat for skiing and snowshoeing during colder months but blossoms into a picturesque alpine meadow filled with blooming wildflowers, evergreen forests, cascading streams and dramatic peaks at the onset of summer.
You'll find Paradise 12-miles east of Longmire, and the road between the two is plowed during the winter to ensure snow doesn't disrupt your Washington road trip.
Mount Rainier Day Hikes
It should come as no surprise that hiking is pretty much the best thing to do in the area! Here are a few of coolest and most scenic trails, including even more waterfalls.
10. Mt. Fremont Lookout Trail
Recommended by Jarrod from Ramble Around the World
Distance: 5.6 miles
Type of Trail: Out & Back
Difficulty: Moderate
Mt. Fremont Lookout Trail offers one of the most splendid and beautiful hikes in Mount Rainier National Park. Beginning at the Sunrise Visitor Center with instantaneous views and continuing 2.6 miles each way to the Fremont Point Cabin, an old two-story watchmen post that was built in 1934 as a forest fire lookout.
The trail begins up a semi-steep path of man-laid steps before eliminating more than half the hikers who refuse to put in the full effort it takes to see one of the most diverse views in the entire national park. It takes visitors past green prairies with hazy mountains leading to Oregon, to the banks of Frozen Lake, a glacial lake that provides the area with most of its clean drinking water.
The trail provides some of the most amazing views of snow-capped Mount Rainier and the Cascade Mountain Range. Without hiking multiple days to summit the 14,411-foot volcano, it's most assuredly the best view in the entire park.
Cloud coverage in Mount Rainier National Park can become a significant problem nearly every day in the summer afternoon, so you'll want to get an early start to beat the clouds and the minimal crowds that trek on through to the fire lookout.
It's genuinely astonishing that very few people make the trek past the initial viewpoint of Mount Rainier. They all miss the pristine green pastures surrounded by hazy mountains on the right-hand side of the fire lookout, and the mighty Mount Rainier covered in snow to the left. It's a postcard view that's definitely worth the work of a 5.6-mile hike.
---
READ MORE: 37 of the Best Oregon Hikes You've Got to Check Out
---
11. Comet and Christine Falls Trail
Distance: 4.3 miles
Type of Trail: Out & Back
Difficulty: Moderate
This adventurous trek ascends over 2,000 feet and presents two of Washington's best waterfalls. Be prepared for several steep climbs, and lots of rocks strewn across the path. The trail can become icy and packed with snow, so spikes or snowshoes may be required.
Christine Falls is situated beside a gorgeous stone bridge, while the dramatic Comet Falls plunges 462-feet in a series of drops into a steep ravine.
The descent can be challenging, and trekking poles will come in handy if you have bad knees.
12. Narada Falls Trail
Distance: 2.4 miles
Type of Trail: Out & Back
Difficulty: Moderate
Narada Falls is another must-see waterfall with its cascading spindles that often create a colorful rainbow through its mist. The 2.4-mile trail is located near the Paradise Inn, and proper shoes are needed due to slippery terrain.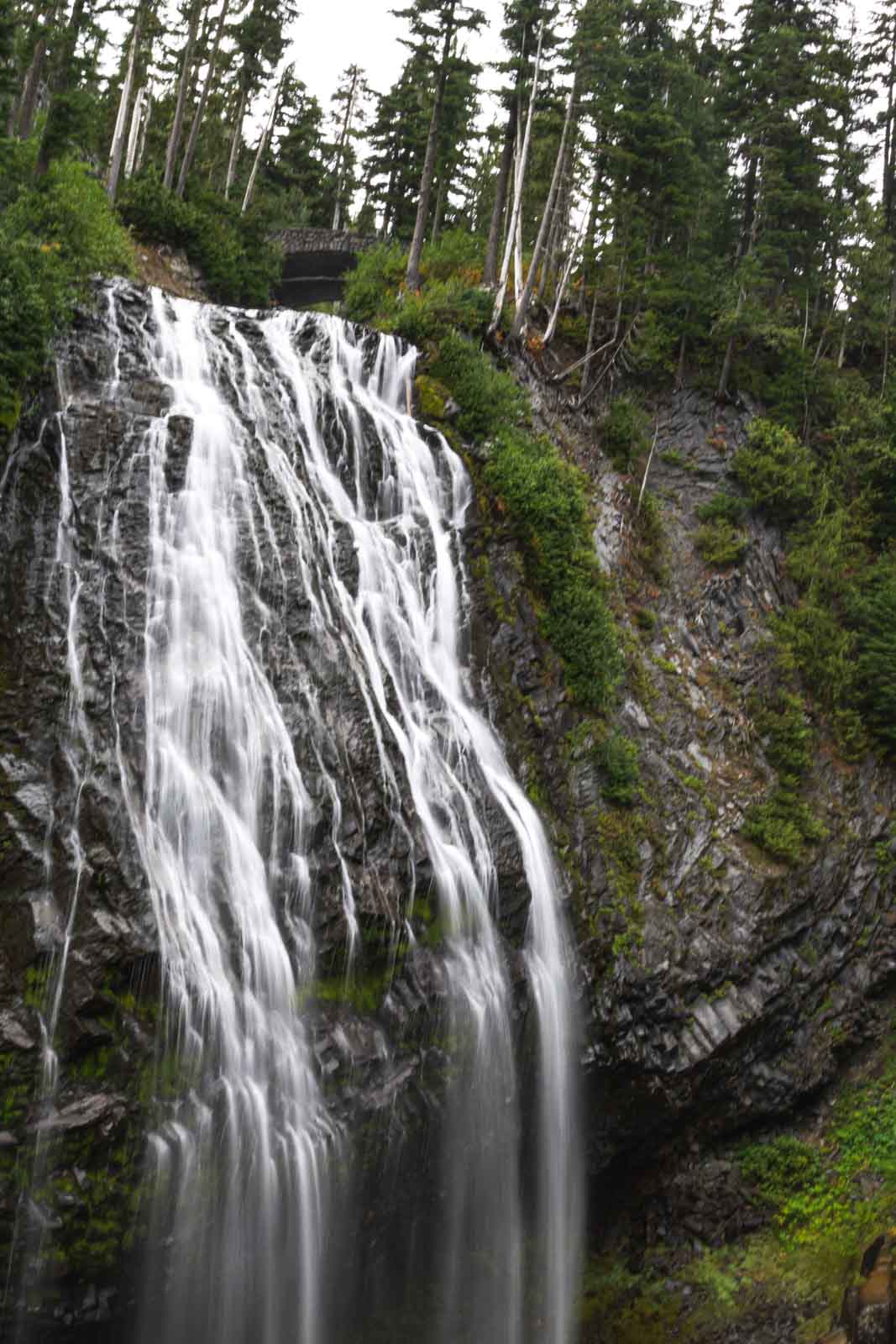 There could potentially be snow packed on the trail, and it doesn't hurt to bring snowshoes along with hiking boots. The trail descends closer to the base of the falls, and you can make it a longer trek by pushing forward to Reflection Lake.
---
RELATED: 21 Epic Waterfalls in Washington
---
13. Grove of the Patriarchs Nature Trail
Distance: 1.2 miles
Type of Trail: Out & Back
Difficulty: Easy
Go for the humbling views of ancient Douglas firs and western red cedars on this easy hike. The majestic trees are located on an island in the Ohanapecosh River, and this has allowed them to flourish for centuries.
Many of the trees have a circumference of 25-30 feet and make you realize how small humans really are. If you can beat the crowds, it's one of the most peaceful things to do in Washington.
14. Winter Activities in Mount Rainier
Mount Rainier National Park receives plenty of snowfall, and its bone-chilling winters are the perfect environment for winter fun.
The blankets of snow welcome backcountry skiers and snowboarders looking for the most daring runs. Many of the groomed routes in the park are fantastic for cross-country skiing, snowshoeing, and even dog sledding. Crystal Mountain Resort is one of the most renowned ski resorts in the United States and the ideal starting point for your winter vacation.
If you'd rather be off your feet, wildlife spotting tours and one of the park's rejuvenating spas are an enjoyable way to spend the day.
15. Camping in Mount Rainier
If you're not in the mood to go back and forth to a hotel outside the park or if you're in a campervan (even better!), set up camp and live IN Mount Rainier. Close to the hikes, the fun, and the adventure. Here are some top campsites in Mount Rainier.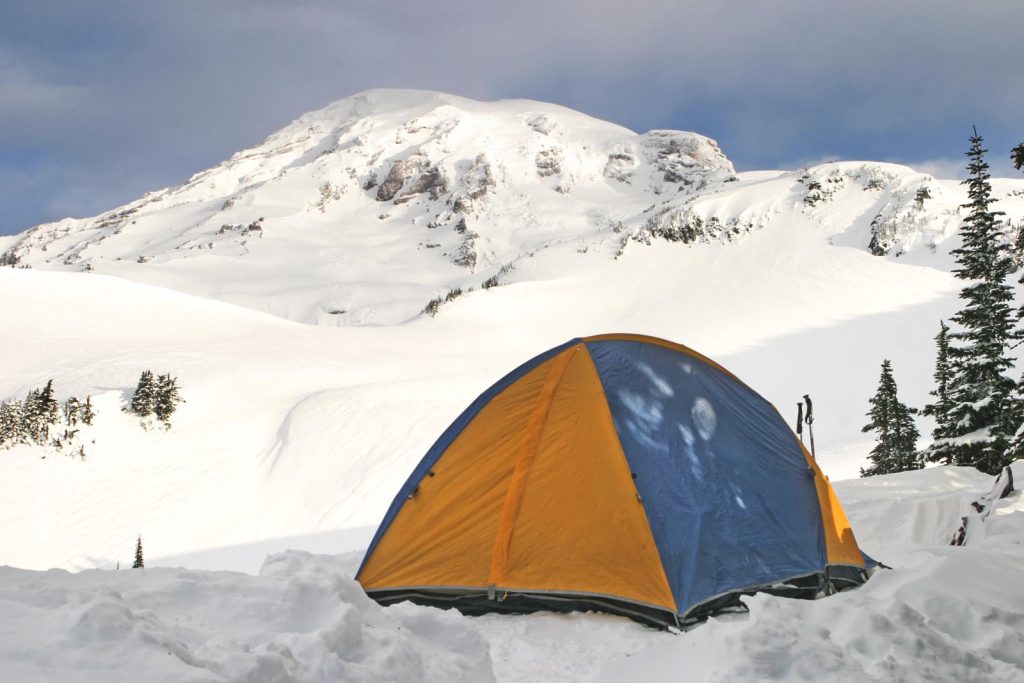 Cougar Rock Campground
Cougar Rock is overwhelmingly the most popular campsite in Mount Rainier National Park due to its convenient location to Paradise. Located less than 10-miles from the scenic area, you'll be camping in a prime location for many of the most exciting hikes in the park.
Even though there are 173 campsites, it is advised to make reservations here. There is plenty of space, potable water, flush toilets, and picnic tables at the campground.
Ohanapecosh Campground
With 188 campsites, Ohanapecosh is the largest campground in the park, and you'll even find an amphitheater that hosts ranger programs. The campground features running water, space for RVs and tents, flushing toilets, but no electric hookups.
The old-growth forest surrounding the campground is located beside the Grove of the Patriarchs trail, and you'll be a stone's throw away from the ancient trees.
Mowich Lake Campground
For a secluded retreat with awe-inspiring vistas, camping at Mowich Lake is one of the best things to do in Washington to escape the crowds. There are only ten campsites on a first-come, first-served basis, but the scenery at this glistening lake is worth the rugged drive.
You have to drive down the unpaved State Highway 165 to reach the campground, and each site comes with a picnic table and tent platform. The crystalline waters of Mowich Lake and the uninterrupted views of Mount Rainier on nearby hikes make this a heavenly place to spend the night.
Things to Do in The Columbia River Gorge, The Washington Side!
The Columbia River Gorge is packed with outdoor activities and an absolute dream for nature lovers. Hiking trails galore, dreamy waterfalls, rocky cliffs, and diverse wildlife make this one of the Pacific Northwest's treasured gems.
After you're done chasing waterfalls on the hiking trails, head to the mighty Columbia River for endless aquatic activities. Windsurfing, kayaking, fishing, and paddleboarding are all possible in extensive day-use areas.
Camping is also available throughout the Gorge to let you experience more exciting things to do in Washington. With so much adventure packed into one region, staying here one day is not an option.
We LOVE The Gorge, and the Oregon side and the Washington side are equally amazing. Here are our fav spots on the Washington side.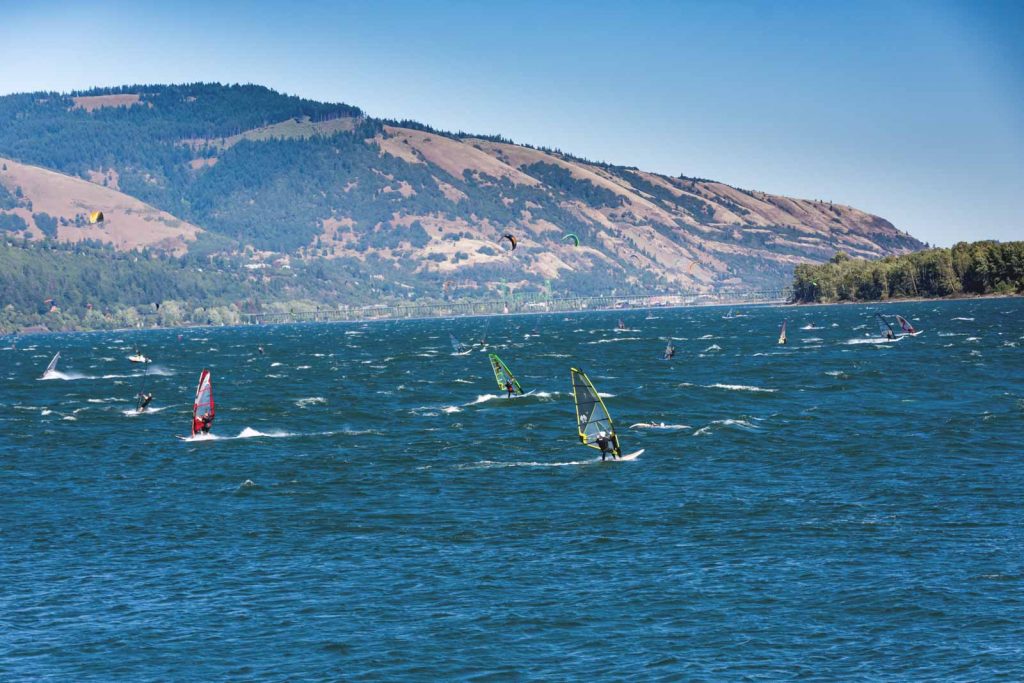 16. Columbia River Gorge Aquatic Activities
Don't leave the Gorge without taking a crack at windsurfing. The Hood River sits adjacent to the Columbia River and is the windsurfing capital of the world. There are plenty of lessons if you're a beginner and all the needed equipment is provided.
If you're looking for something a little tamer than windsurfing, Hood River has ample places for kayaking and paddleboarding. When you're in Washougal, you can take your kayak or paddle to Reed Island State Park, which is located in the Columbia River. The park can only be accessed by water, and slowly cruising on the river is an enchanting experience.
For more excitement, the Gorge is an excellent place for kiteboarding or a whitewater rafting excursion in its wild river canyons.
17. Cape Horn Loop Trail
Distance: 7.5 miles
Type of Trail: Loop
Difficulty: Moderate
This hike puts the Columbia River Gorge in the spotlight and reveals the versatility of its landscapes. Scenic views of the Columbia River, lava rocks, basalt cliffs, and radiant foliage are all on full display. The path also passes trickling streams and an enchanting waterfall.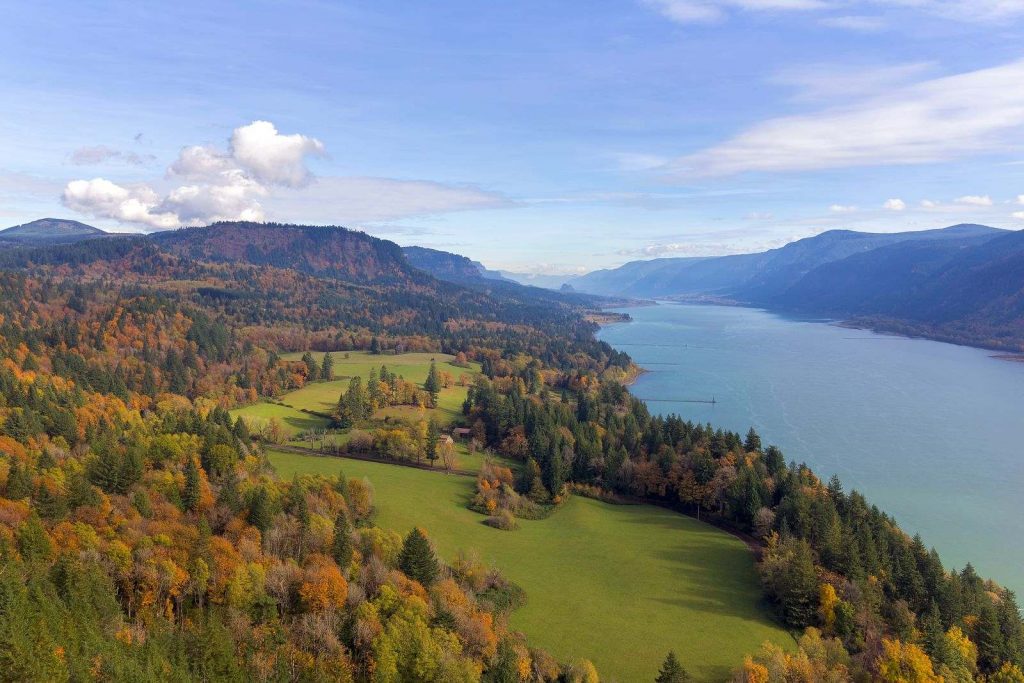 Proper footwear is a must since there are numerous unprotected cliffside viewpoints, and the trail tends to get muddy. You'll encounter several steep climbs that will get your blood flowing and reach a total elevation gain of 1,587 feet.
Also, keep in mind that it's impossible to complete the loop between February 1st and July 15th due to the protection of the peregrine falcons at Cape Horn.
18. Augspurger Mountain Trail
Distance: 11.5 miles
Type of Trail: Out & Back
Difficulty: Hard
With 4,409 feet of elevation gain, this will certainly be one of the most challenging hikes on your Washington road trip. You have the option of veering onto the Dog Mountain Trail, but you'll have to fight more crowds, though.
Long sleeves and pants are advised since much of the path contains lots of overgrowths. Inexperienced hikers may feel uneasy with the bushwhacking and fallen tree limbs you'll encounter.
Don't let the challenge discourage you as there will be breathtaking views of snowy mountaintops, verdant forests, and blooming wildflowers.
---
RELATED: A Guide to the Columbia River Gorge – 25 Hikes + Camping, Windsurfing, and More
---
19. Table Mountain Trail via Pacific Crest Trail
Distance: 16.4 miles
Type of Trail: Out & Back
Difficulty: Hard
Get your climbing muscles ready for this trek. To access Table Mountain, you'll start at the Bonneville Trailhead and complete over 4,300 feet of elevation gain.
After trudging through the thick forest, the trail opens for stellar views of the surrounding wilderness. You have the option of Heartbreak Ridge or the easier, slightly longer Westway scrambles to reach the summit.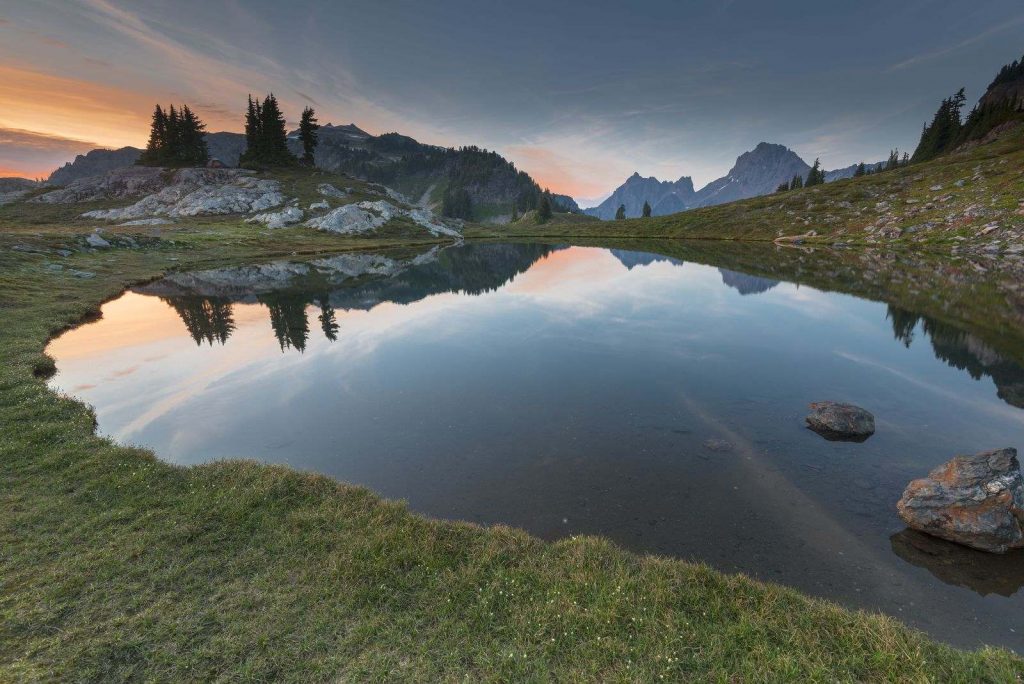 Heartbreak Ridge is precisely as the name implies and will put your skills to the test. Make sure to bring plenty of water for the steep, treacherous boulder scramble, but you'll be rewarded with a sensational panorama of the Gorge.
RECOMMENDED GEAR:
Tips for Road Tripping Washington
If you want some assistance on finding the cheapest gas near you, download Gas Buddy App. Filling up at the larger towns will help keep costs down as the smaller ones charge more and sometimes charge card transaction fees.
Remember, particularly our non-USA friends, our country is MASSIVE. It will take longer than you think to road trip Washington so always add time to Google Maps and your plans.
If you plan on visiting the National Parks (and you probably are), get an annual park pass as it may turn out to be cheaper depending on your timing, routes, and what parks you're going to.
Bring food! It's a waste of time to try and find food on the road. There are far too many things to do in Washington to care about food, particularly for breakfast and lunch. Make something quick and have snacks in the car. Keep eating out for dinner time when the adventures are finished. If you're camping and stay in the parks, you'll likely need to bring all three meals.
For car rentals, we always check here first.
We hope you enjoyed visiting our neighbor! Check out all of our other adventures in Oregon.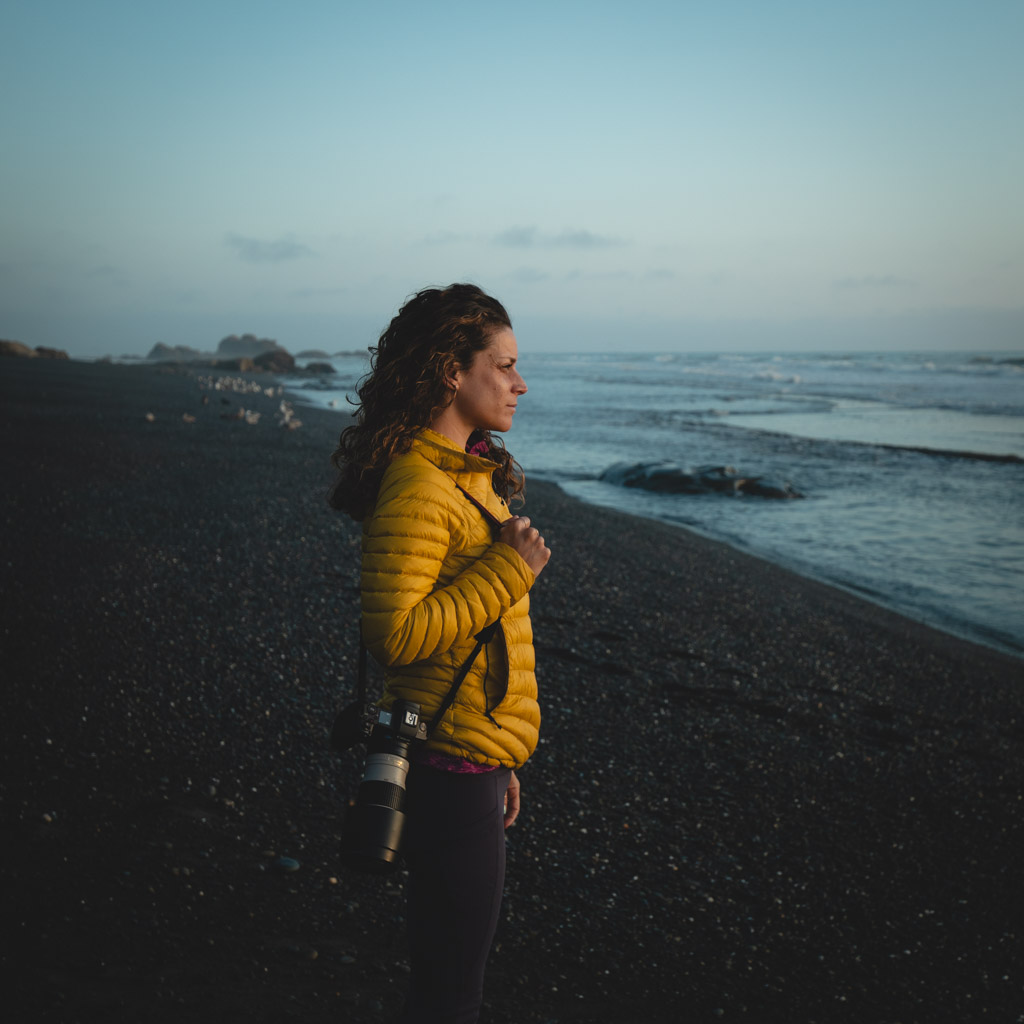 I've been perpetually traveling and living around the world for years but it's hard to beat Oregon and the PNW. After years of road-tripping the area, I guess you can say I know it pretty well! When I'm not writing guides for you, you can catch me somewhere petting a dog, attempting to surf, hiking a volcano, or stuffing my face with bread and cheese.