There are few things as iconic as a West Coast road trip in the USA.
Highway 101 is one of the most famous roads to cruise down, and the PNW is known to enchant its visitors. That moody fog, those rugged cliffs, the sense of adventure just around the bend…
While we are obviously #TeamOregon over here, we can't help but dip into our neighboring states. Hey, they have some pretty cool stuff on offer too, and we're lucky enough to be able to hop over that imaginary border and continue our exploration.
So if you're wrapping up an epic Oregon Coast road trip, heading south of Bend, or are slowly meandering beyond Eastern Oregon, your trip isn't done yet! We collected some of the coolest and most adventurous things to do in Northern California right here for you.
You'll find tons of hikes, discover more National Parks and go on backpacking trips—All doable on a California road trip too!
Adventurous Things to Do on a Northern California Road Trip
---
If you're doing a road trip, and I hope you are because a car is necessary (welcome to the US!), it will take you quite a while to hit up all of these spots.
Brookings, Oregon to San Jose, California straight, without stops, is around eight hours alone.
California is MASSIVE, and while you think you understand how big it is, you really don't until you're driving it. To attack this road trip, it would probably be best for you to choose the inland route or the coastal route. Otherwise, you'll be ping-ponging across the state which can waste a lot of time (and expensive gas!)
There's a long thread of things to do in Northern California on both sides and neither will disappoint, you'll just need to choose which side! Of course, if you have some time, doing a circle would be ideal so you can hit up all of the places on this list.
We hope our list of cool adventures and things to do in Northern California below along with this map will help you plan your road trip. Pick and choose your favorites, fill up your gas, and get adventuring!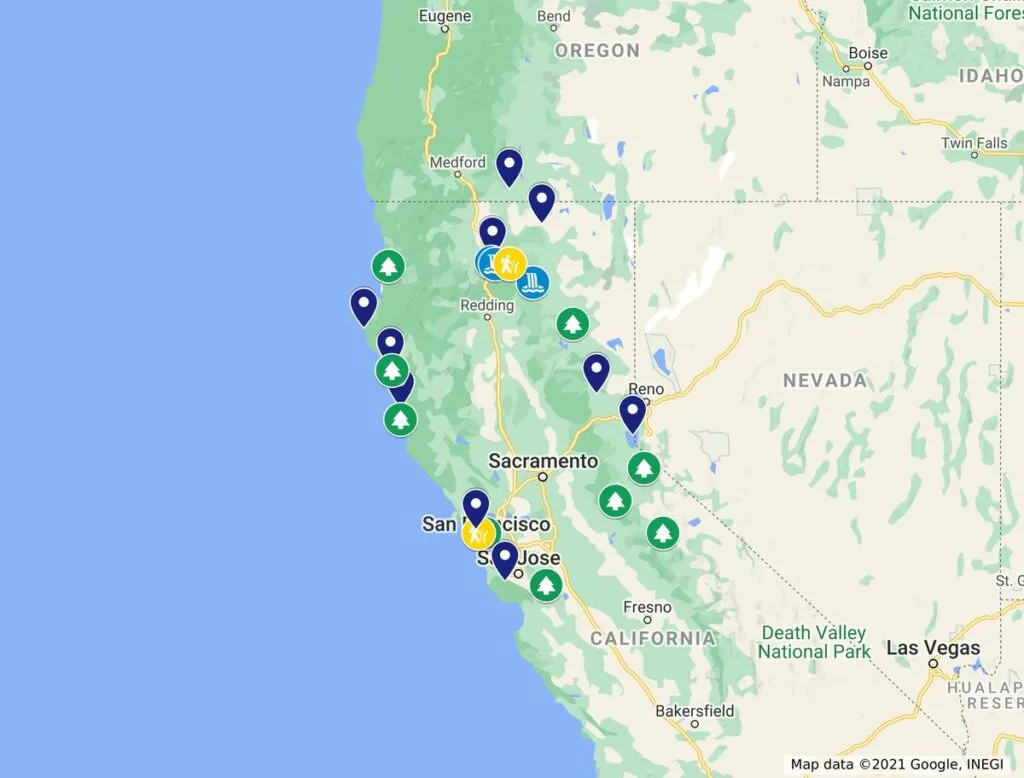 1. Klamath River Rafting into California
Brace yourself for one of the most heart-racing things to do in northern California. Although this adventure begins in Oregon at the Boyle Reservoir, you'll race across the border into California.
The Klamath River is one of the largest in California and the premier whitewater rafting spot on this northern California road trip. You'll navigate class III to IV+ rapids and plunge into the pulsating "Hell's Corner Canyon." This non-stop roller coaster ride will keep you on the edge of your seat and push your adrenaline to the max.
Further downstream, the Lower Klamath takes you through the coastal Siskiyou Mountains. This portion of the river offers lots of wildlife sightings, picturesque beaches, and verdant forests.
RECOMMENDED GEAR:
---
---
RELATED: 7 Awesome Things To Do in Klamath Falls, Oregon
---
2. Lava Beds National Monument
Violent volcanic eruptions have transformed this mysterious landscape both above and below the ground. The Medicine Lake Shield Volcano is the largest in the Cascades, and its lava flows have left behind a surreal world of cones, craters, and caves.
Make sure your flashlight is charged for this adventure as the lava flows have left behind hundreds of caves. Scramble along the rocks, study the volcanic features, and search for fascinating creatures living in the caves.
Stop by the visitor center before entering any of the caves to be adequately prepared by the staff. The caves are rated on various ranges of difficulty, and you'll need the correct equipment. Also, you'll be examined for white-nose syndrome, a dangerous fungal bat disease that causes the caves to close periodically.
Start the fun at Mushpot Cave by roaming the only illuminated cave, which is located just a short walk from the visitor center.
Head to the Big Painted Cave to gaze at beautiful rock paintings from the Modoc tribe. Learn more about the Native American history here by walking Captain Jack's Stronghold. Pick up a booklet to read the captivating stories of how the Modoc people fought the invading U.S. Army.
Visit the Merrill Ice Cave to see the ice that has been preserved for upwards of 10,000 years. Unfortunately, much of the ice has melted, and park officials have gone to great lengths to protect the remaining ice. You'll find icicles in Skull Cave, but this particular cave is noted for its eerie skeletal remains found inside.
For advanced cavers, the Catacombs Cave is one of the greatest thrills on this northern California road trip. The cave stretches nearly 7,000-feet, and you'll be forced to crawl a portion of the journey!
3. Mount Shasta
Recommended by Tatiana from Family Road Trip Guru
Mount Shasta is one of the most iconic places in Northern California. This is a potentially active volcano that rises over 14,000 feet above sea level. It dominates the landscape for miles – on a clear day, it can be seen from nearly 140 miles away!
It is unique in the sense that it stands completely alone and not as part of a mountain range. It seems to be rising from nowhere in this beautiful snow-capped cone.
There are more than a dozen trails on the mountain itself and over 50 trails in close vicinity that cover different terrain, forests, alpine lakes, and meadows. Clear Creek, Castle Craggs, and Castle Lake are a few popular day hikes.
In winter, most trails on the mountain are not accessible for hiking because of snow, but late spring brings snowmelt and lots of beautiful wildflowers.
Hiking on Mount Shasta itself is a fantastic experience because of the scenic views from the mountain down to the valleys around it. It's also a spiritual experience because this mountain is considered to be sacred to Native Americans. The air seems fresher, and the streams seem cleaner on the mountain than anywhere else.
It is in the Mount Shasta area that the Sacramento River takes its origin. And though there are taller peaks in the Sierra Nevada mountains, I think Mount Shasta is the most beautiful one in California.
4. Redwoods National and State Park (Iconic For a Northern California Road Trip)
The diversity of the coastal redwood ecosystem is world-renowned, and you'll be awestruck with the number of species coexisting in this idyllic forest. With more than 200 trails traversing through the park's landscapes, this world of towering skyscrapers is your oyster to explore.
The redwoods may steal the spotlight, but you'll walk through old-growth forests, prairies, and jagged coastlines. There are hikes suitable for all levels, and you'll never run out of places to wander.
One moment you'll be standing in deafening silence surrounded by ferns and moss, and the next, you'll admire a coastal overlook for spotting gray whales and sea lions.
If you wish to cover more ground, there are lots of scenic routes perfect for a liberating drive or bike ride. Cruising through the majestic forests, wild coastline and tranquil woodlands are one of the most unforgettable things to do in northern California.
There's a string of areas in Northern California with redwoods and we'll mention a few more in this post, because yes, they are that spectacular!
5. Ney Springs & Faery Falls
Distance: 1.3 miles
Type of Trail: Out & Back
Difficulty: Easy
One look at Faery Falls, and it will feel like you've stepped foot into a real-life fairy tale. Hikers of all levels can enjoy this magical setting as this brisk walk is easily manageable for almost everyone.
Finding the trailhead can be a bit tricky and might be more of a challenge. The slightly inclined trail treks through the dense forest and passes the remains of a former resort. Vegetation has swarmed the 19th-century facility that was once popular for its revitalizing springs.
Faery Falls plunges 50-feet down a moss-covered canyon, and the jagged rocks split the cascade into two curtains. After a heavy rainstorm, the waterfall intensifies, and the base widens as it flows into the creek.
I loved this spot when I did my northern California road trip. I had the entire place to myself; not too many people make the journey out here. Perhaps because they can't find the trailhead which is a bit tricky. You can follow this map.
6. Hedge Creek Falls
Distance: 0.5 miles
Type of Trail: Out & Back
Difficulty: Moderate
Don't miss out on this unique waterfall giving you one of the most enchanting experiences in northern California. The hike doesn't even reach one mile in length but provides a serene setting at the falls.
The falls elegantly tumble about 30-feet from a basalt column wall onto the rocks below. A rare feature of this waterfall is the ability to walk entirely behind the plunging water. This gives you a special treat of watching the falls from beneath the basalt column cliff.
It can become extremely crowded here, and you'll want to avoid peak visiting hours. Also, be alert of the poison oak that is common in this area. During fall and winter, the falls become a trickle, so visit in season; otherwise, it can be a bit disappointing.
7. McCloud Falls
Distance: 3.5 miles
Type of Trail: Out & Back
Difficulty: Moderate
Up for a refreshing swim to beat the California heat? All it takes is an easy 1.5-mile trek on a well-developed trail for one of the most breathtaking photos one this northern California road trip.
Hike through the dense forest just a few miles outside of McCloud to reach the enchanting emerald pools beneath the falls. McCloud Falls is divided into three tiers tumbling amongst the rocky riverbed, and the frigid temperatures are a rejuvenating break from scorching temperatures.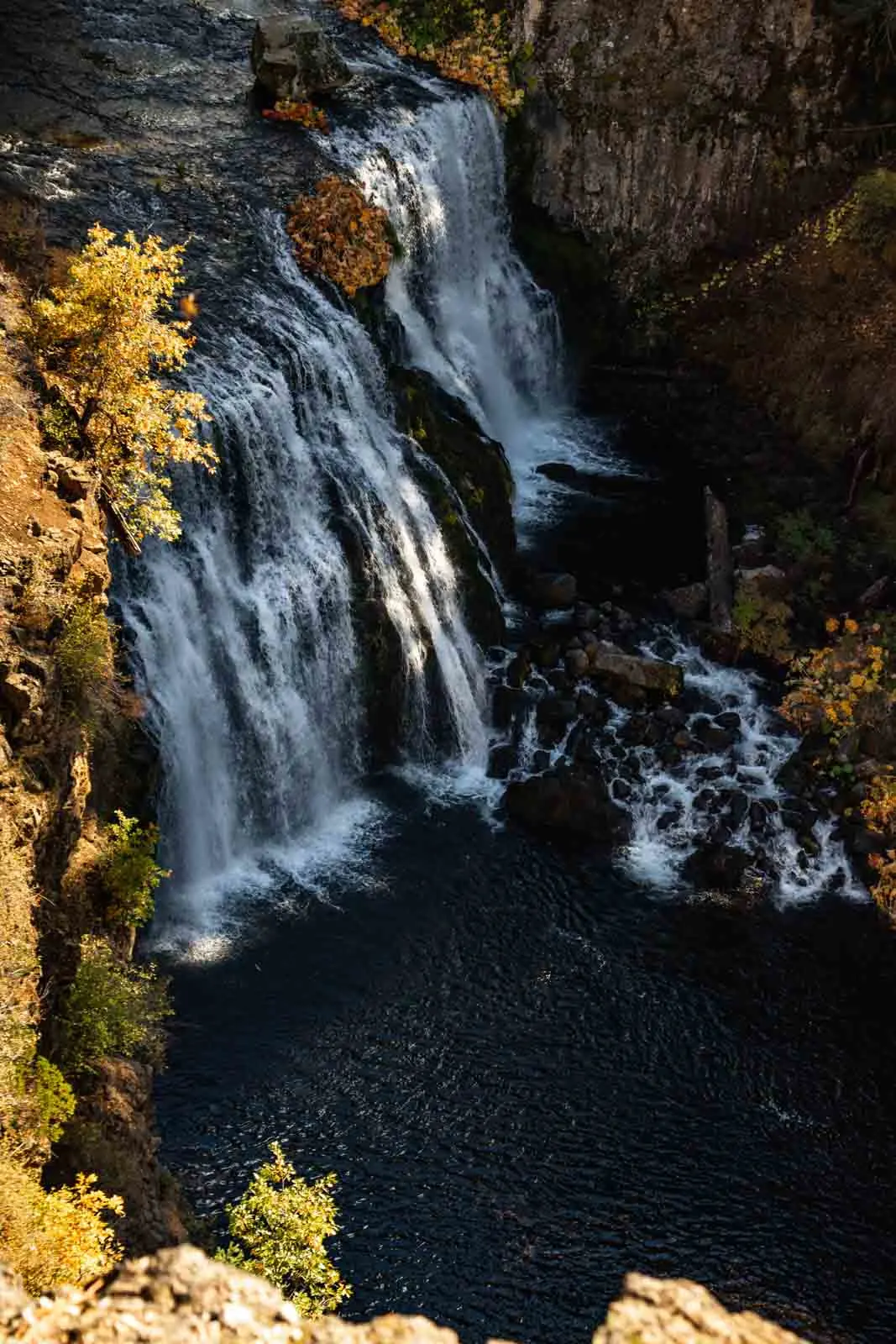 The middle section hosts the best fun being the most popular swimming hole, the most impressive falls, and the perfect spot for a picnic. Admire the Middle McCloud Falls from above by standing atop the rugged cliffs beside the cascading water streams.
8. Burney Falls
Distance: 1 mile
Type of Trail: Loop
Difficulty: Moderate
The 129-foot Burney Falls might be the most spectacular waterfall you'll see on this northern California road trip. Its pristine beauty and immense power have inspired onlookers for decades and was even nicknamed "the eighth wonder of the world."
Located in McArthur-Burney Falls Memorial State Park, the scenic overlook of the startling cascade is the star attraction. Pay close attention, and you'll notice water tumbling over the mossy cliffside and underground streams spewing out of the rock face. The misty falls crash into a crystalline pool with incredible force, and the roar overtakes your voice.
Explore more of the surrounding forest by taking the roughly one-mile path from the base of the falls. Photographers, be aware, it gets very misty down here!
RECOMMENDED GEAR:
9. Mendocino
Mendocino County is a beautiful village-type community in Northern California known for its picturesque and rugged coastlines and trails. It's a few hours north of San Francisco and lies on the Pacific Coast Highway.
If you're into good vibes, even better scenery, and some pretty dang good wine after an adventurous day, you're going to love it here. Here are a few favorite things to do in Mendocino…
Kayaking and Biking
Recommended by Margie from DQ Family Travel
On our San Francisco to Seattle drive, we stopped in Mendocino for a couple of days to check out some of the things to do in Northern California.
A unique adventure we did was kayaking through sea caves on the coast. On our guided tour, we saw seals, sea birds, and learned to navigate a kayak in some tight spaces. Be sure to wear waterproof sneakers and gear as you will get a bit wet as you experience the spectacular views from sea level.
Another strenuous, yet worthwhile activity in Mendocino is biking along the Big River. There are a few places to rent bikes locally and provide suggestions for easy or more challenging trails.
We took two canteens (one filled with water and the other with wine) and would stop periodically to enjoy the peaceful surroundings. After turning in our bikes, we walked across the river and followed it along Big River Beach, where it met the Pacific Ocean.
Our time in Mendocino was filled with outdoor activities and unparalleled sea views. I highly recommend a stop in Mendocino if you have an adventurous spirit!
Hiking
Recommended by Noel from This Hawaii Life
A fantastic way to experience Mendocino City is to experience the gorgeous coastal views and trails, which is an easy walk from the city. Mendocino's "Lost Coast" was named for the area's stunning and rugged coastlines with steep terrain, beautiful cliffs, and jagged rocks jutting out from the ocean.
The trails around the city coastal areas are mostly footpaths that skirt around the small cliffs hugging the sea. Still, you can also hike longer distances to stunning viewpoints and landmarks like the Sinkyone Lost Coast, Needle Rock, the Peter Douglass trail, and a variety of hikes that lead you through some spectacular coastal walks in the Northern California coastline.
Along the way, you'll find some hidden beaches, solitary caves, and even trails that have access to some quiet beaches below, which are fun to explore and find some hidden treasures.
You can hike to what your comfort level is from just taking a short excursion to the cliff areas next to the city to more challenging and longer overnight night stays.
Exploring nature and the gorgeous coastlines of Mendocino and the outlying areas just outside of the city is a lovely way to see this rugged and untouched area of Northern California.
If you're up for a more challenging hike on your Northern California road trip, you could do the Lost Coast Trail…
Backpacking the Lost Coast Trail
Recommended by Katie from Trees and Tents
On the Lost Coast, the pine trees meet the sea, and the nearest paved road is miles away. Backpackers flock to this pristine and isolated stretch of coastline in Humboldt County for its epic sunsets, black sand beaches, and bountiful tidepools.
Highway 1 has yet to conquer these hills, so the only way to discover the Lost Coast is on foot, making this a hiker's paradise.
The Lost Coast Trail stretches 53-miles through the King Range Wilderness, but most hikers prefer the northern 24.6 miles of flat beach between Mattole and Black Sands Beach.
Depending on the season, hikers will pass Elephant seals hauled up on the beach and walk next to fresh Black bear tracks in the sand.
The majority of the trail follows the beach, and hikers must time their trek with the tide since parts of the beach become impassable during high tide.
If you want to backpack the Lost Coast, you can reserve trail permits through Recreation.gov up to a year in advance. To learn more information about the trail, permits, transportation, and what to expect along the way, check out this guide for backpacking the Lost Coast.
10. Lassen National Forest
Worlds collide in Lassen, and you'll find contrasting landscapes in every direction of this scenic forest. Granite rock of the Sierra Nevada meshes with the volcanic tuffs of the Modoc Plateau as the snow-capped Cascades dominate the horizon.
This interesting blend of ecosystems creates a cornucopia of wildlife activity throughout the forest. Find pronghorn antelope, black bears, coyotes, bobcats, weasels, and many other species.
The remarkable diversity creates a whirlwind of exhilarating hikes, and the trails take you to all sorts of terrain. Sparkling lakes, lava tubes, meandering creeks, and blooming wildflowers only scratch the surface of the beauty on display.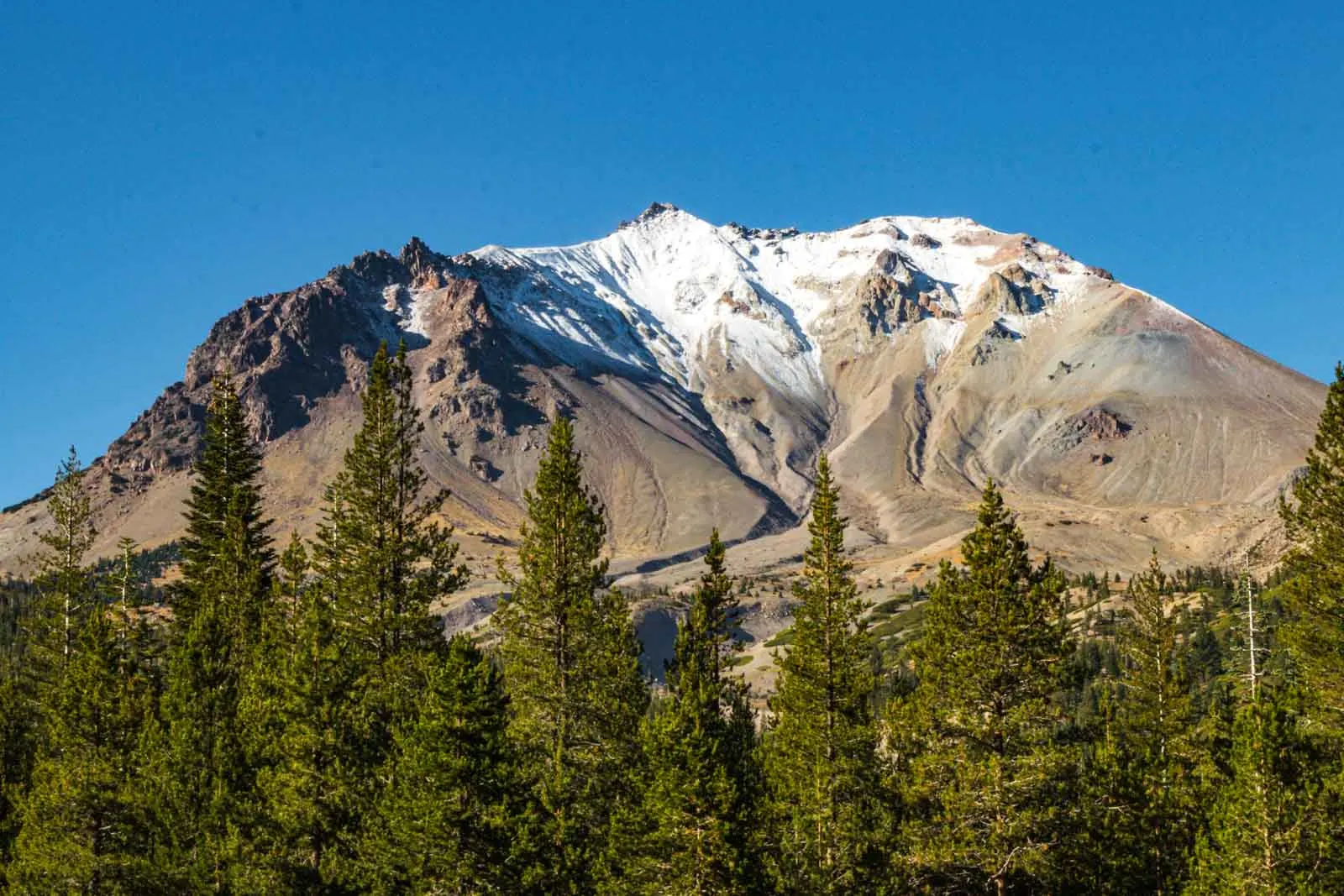 The Kings Creek Falls Trail is a short climb (2.7 miles) but offers some of the best vistas of the forest. Coursing along a river, you'll have breathtaking views of peaceful streams, meadows, and mountain tops.
There are often bears spotted catching their breakfast along the river, but I didn't get lucky when I was here. Try to get up early to have a better chance of catching them (and bring your bear spray too). At the end of your hike, you'll be rewarded with a beautiful waterfall.
If you're more of a daredevil, summiting Lassen Peak (5 miles) will be more your style. This intense trek gains nearly 2,000-feet of elevation, has a series of switchbacks and rocky terrain surrounds the serrated peak.
The sweeping panoramas of sapphire lakes, lava beds, and rugged mountains are some of the best on this northern California road trip, so if you can, make it up here!
11. Sardine Lakes
Distance: 1.8 miles
Type of Trail: Loop
Difficulty: Easy
This scenic looped trail gives you miraculous vistas of the Sierra Buttes towering above two glistening lakes. It's possible to drive the route, but a 4×4 vehicle is needed due to the rocky terrain (seriously, don't even try without one).
Other than some loose rocks and a couple of steep switchbacks, the trail provides no strenuous challenges.
Once you reach the lakes, take in the magnificent scenery of lush forests, rolling hills, and sharp crags. The lakes host an abundance of outdoor activities like fishing, boating, kayaking, and camping.
Swimming is discouraged in Lower Sardine Lake, but Upper Sardine's freezing temperatures are a rejuvenating shock to the body.
12. Lake Tahoe (A Classic on a Northern California Road Trip!)
Recommended by Erin from Curiously Erin
If you are looking for the best adventures in Northern California, then you can't pass up Lake Tahoe. The entire Tahoe basin is full of activities for thrill-seekers.
There are mild ones like tubing down the Truckee River with a beer in hand, paddleboarding on the lake, and taking an easy scenic hike out to Eagle Falls (1.8 miles).
You have the mid-range adventures for people who will enjoy a skiing vacation in Tahoe during the winter months, a day wakeboarding on the crystal clear waters, or summiting Mount Tallac for the best views of the lake.
If you're after great views but would instead find them on your bike, make sure to hit the Flume Trail (13 miles).
For the extreme, there's no shortage of multiday hikes and backcountry skiing to keep you occupied. A great multi-day trek is the Tahoe Rim Trail (170 miles), which takes ten days to circumnavigate the lake. Or follow in Cheryl Strayed's footsteps and section hike the Pacific Crest Trail.
There is no wrong option for an outdoorsy trip to Tahoe. The hardest part is maximizing how many activities you can squeeze in. If you're after summer activities, the best time to go is between June and August.
As best you can, try and avoid holiday weekends to avoid the crowds. Skiing is quietest in January but likely to have the best coverage in February.
The lake is divided by North and South Lake Tahoe. Stay in South Lake Tahoe for more lively nightlife with casinos, concerts and large events.
Stay in North Lake Tahoe for a small-town vibe with fewer chain restaurants and a quieter vacation feel. Each of the ski resorts put on events throughout the year, so be sure to check their event pages to see what is happening.
→ To experience Lake Tahoe from a different perspective, take this helicopter tour over beautiful Emerald Bay in South Lake Tahoe.
13. Grover Hot Springs State Park (A Relaxing Thing to do in Northern California)
Give those achy muscles a break and unwind in these mineral salt-fed hot springs. Grover Hot Springs is situated just east of the Sierras and is the ideal resting area for your trip.
Soak in the soothing pools, enjoy a scenic picnic, and spend the night in the park's campground.
With its location deep in the valley, you'll enjoy sensational views of dense forests, pristine meadows, and soaring mountains. A bevy of wildlife roam the park, and you're bound to see some furry creatures.
The park is open throughout the year, and you can enjoy the hot springs during all sorts of weather.
Bonus—If you're campervanning like I was, and were a dirty little hippy for the past two days, coming here to relax in the springs and shower will feel REALLY good!
And after your visit, your legs will feel good as new, and you'll be ready to take on your next adventure in Northern California.
14. Calaveras Big Trees State Park
All you need to do is look up at the giant sequoias, and you'll realize just how small we are. The park was created in 1931 to protect the gargantuan trees, and the miles of hiking trails take you right beside these ancient skyscrapers.
Trek the 1.5-mile loop in the North Grove to see this awe-inspiring collection of giant sequoias soar into the heavens. Walk right through the tunnel of the Pioneer Cabin Tree and stand in disbelief of the tree's width.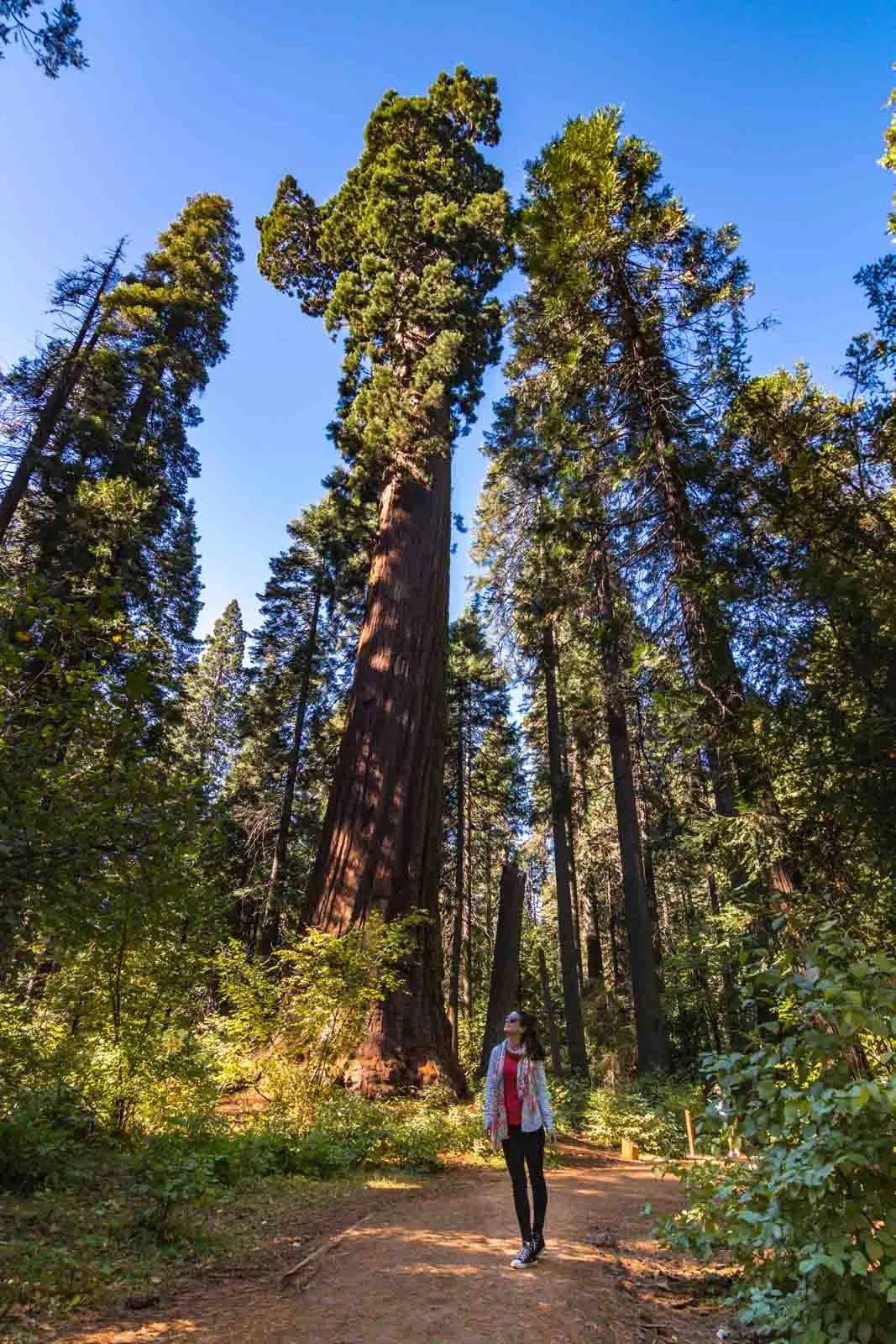 If you want to feel tiny, take a seat on Discovery Stump to see the remains of a tree that was once 300-feet tall.
South Grove is a more secluded area, but you'll find another impressive group of giant sequoias. The park offers over 120 campsites, riverside hiking trails, relaxing picnic areas, and radiant flora decorating the landscape around the towering sequoias.
15. Muir Woods National Monument
There are so many things to do in San Francisco, but the peaceful silence of this redwood forest seems worlds apart from the bustling city and is located on one of the most scenic northern California drives!
Hiking alongside the enormous redwoods feels like a spiritual retreat that connects you with Mother Nature, unlike anything ever before. Trails meander to the intimidating presence of Bohemian Grove and Cathedral Grove for indescribable views of the redwoods towering above you.
When you realize these giants are pushing upwards of 1,000 years of age, it puts their majestic beauty into perspective. Just imagine the history these ancient trees could tell.
Smell the crisp air of the Pacific Ocean by tackling the challenging Dipsea Trail (10 miles). This hike is one of the more challenging things to do in northern California for its strenuous climbs, bulging tree roots, and varied terrain.
But the sweeping views of the ocean and redwood forest are among the most inspiring vistas on this northern California road trip.
Tips for Visiting Muir Woods:
Parking is BAD, even in the shoulder season, when I went. It gets pretty confusing and crowded. Try to get a parking permit ahead of time.
Wander passed the initial boardwalk trails. These are the most crowded sections of the park, and it can get a bit annoying. This place is no secret, but for some reason, the majority of people stay on the boardwalks and don't wander further up the trails. Go up there, and you'll hardly see anyone.
Go during the shoulder season. This was when I went, and it was manageable, but I couldn't imagine being here during the peak summer season.
If you want a fun challenge without the crowds, you can combine Muir Woods with the next adventure on this list, the Tennessee Valley Trail, for an 8-mile loop.
If you don't want to deal with the hassle of traffic and parking, take a day tour to Muir Woods from San Francisco – it includes beautiful Sausalito too.
TIP: Did you know Oregon has Redwoods too!?
16. Tennessee Valley Trail
Distance: 3.4 miles
Type of Trail: Out & Back
Difficulty: Easy
This is a fantastic hike to end an adventurous day since the relaxing trail takes you straight to the rugged Pacific coast. Time your hike right, and you'll witness one of the most spectacular sunsets on this northern California road trip.
The trail won't pose a challenge, but there's no need to rush to the sea. Birds, deer, rabbits, and other wildlife can be seen frolicking around the trail. Plus, you'll have incredible views of the valley and fields of blooming wildflowers.
The scenic overlook gives you a superb vista of the rugged cliffs above the shoreline and jagged rocks rising from the sea. A stroll along the dark sands of Tennessee Cove Beach is the perfect way to finish the hike.
17. Angel Island
Recommended by Constance from The Adventures of Panda Bear
Angel Island, also known as "Ellis Island of the West," is an off the beaten path hiking and camping spot located smack dab in the middle of the San Francisco Bay.
There are three main trails on Angel Island, but the best hike is the Sunset Trail (4.6 miles). This path takes you up Mt. Livermore, whose peak lies at 788 feet. Going to the top of the island offers impressive 360-degree views of the entire Bay Area.
On a clear day, you can see San Francisco, Oakland, Berkeley, Sausalito, and more. The views are so worth the climb!
For the best experience, camping on Angel Island allows you to have the island to yourselves (along with eight other campsites). Keep in mind that the island can only be reached by boat, so if you're camping, you will have to trek your gear in for a mile or two.
Camping on Angel Island is a great way to do a short backpacking trip and get away from the hustle and bustle of the city.
If you're tight on time, you can always visit Angel Island for a day trip. It is the perfect place to spend a day when on a California road trip.
18. Goat Rock
Recommended by Millette from The Next Somewhere Blog
Distance: 3.7 miles
Type of Trail: Loop
Difficulty: Moderate
Forty-five minutes south of San Jose, nestled in the mountains that border the coastlines of Santa Cruz, is Castle Rock State Park. This state park is home to the Saratoga Gap and Ridge Trail Loop, offering unobstructed views of the Pacific Coast ranges that are nothing short of epic.
You can either park for the day at the official parking lot for $10 or snag a free parking spot a few feet outside the park entrance but fair warning: this is a heavily trafficked trail, and some weekends, parking is hard to come by — the trail clocks in at 1,213 feet.
The hike is easy to moderate, and very well shaded, with some rock scrambles and steep inclines to watch out for.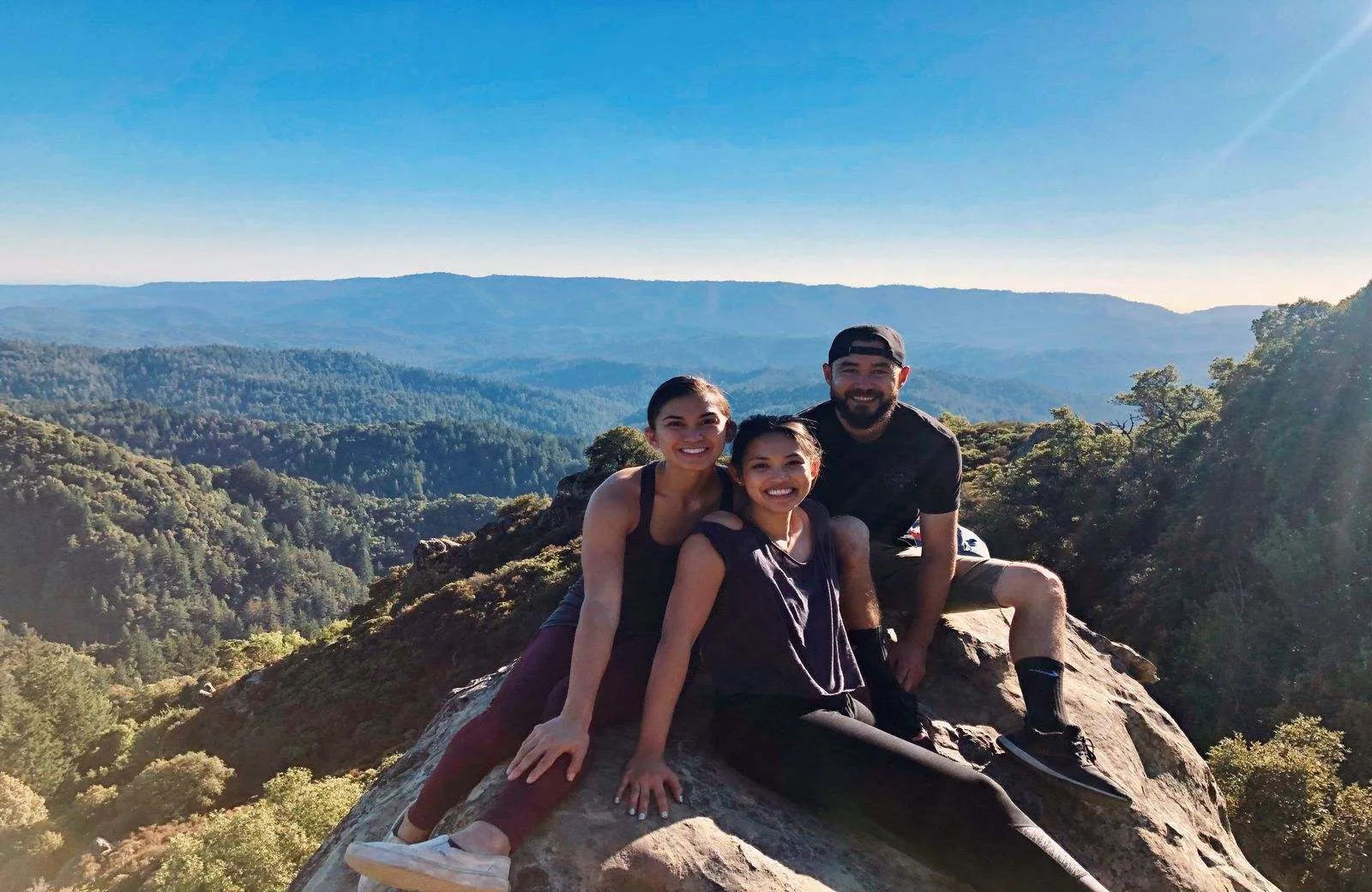 This is a very popular spot for outdoor rock climbing and bouldering. It can be completed in 2 to 4 hours, pending your pace. During the rainy season, you can check out Castle Rock Falls, which trickles down to a quiet creek come drought season.
Do not miss out on Goat Rock, a giant limestone boulder and scenic vista point. Brownie points if you muster up the courage to snap a picture on the precarious lookout.
Double brownie points if you find the secret entrance to the hidden cave, which requires you to slide down the right side of the rock face. Your foot will find a ledge, before plunging downwards, marking the entrance into the psychedelic tagged cave.
Bring plenty of water as there are no pumps at the trailhead and bug spray as the hike gets reasonably buggy. This trail is the end of the extensive 33-mile Skyline-to-the-Sea Trail that connects South Bay to North Bay, starting at Big Basin Redwoods State Parks.
Also, make sure to download the map offline as paper maps tend to run out due to the heavy visitation.
19. Yosemite National Park (A Popular Thing to Do in Northern California)
Recommended by Julie from Ruhls of the Road
Hiking Yosemite National Park is an epic spot for adventure seekers. In Yosemite, you'll be in the center of one of the most beautiful and iconic National Park in the United States, and there are so many ways to explore. You'll have the opportunity to walk, bike, hike, climb, and more!
Hiking Yosemite is the number one activity and the best way to see the stunning landscape. The Mist Trail (8.8 miles) is a fabulous hike that offers the chance to see the mighty Vernal Falls and Nevada Falls. From the top, you'll see Yosemite Valley!
In Yosemite Valley, you must make a stop at Lower Yosemite Falls (1 mile), a short trail, in addition to El Capitan Meadow. El Capitan is the enormous 3,000-foot wall of granite that acts as your entrance to Yosemite Valley; you can't miss it.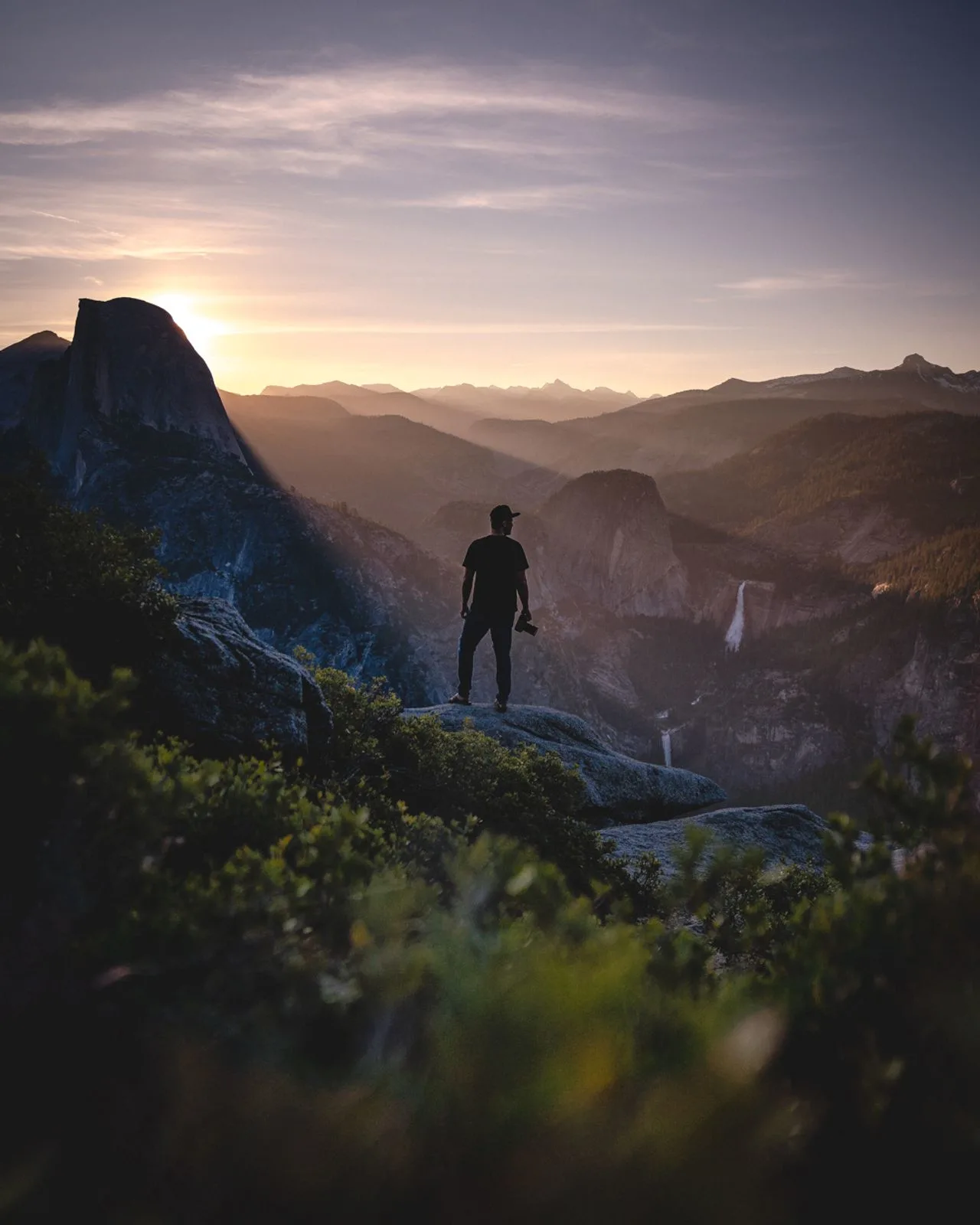 The South Rim is a sublime place to get a bird's eye view of the park, and Glacier Point is an easy walk from the parking lot.
You'll see Half Dome from here in all her glory, and WOW she is fantastic. Half Dome inexplicably stands out above all the surrounding landscape with its vast granite facade. Also on the South Rim are Sentinel Dome and Taft Point, two incredible sites in their own right.
Yosemite National Park is a beautiful place full of fun adventures and is one of the best things to do in Northern California.
→ If you don't have a lot of time, do this day tour to Yosemite National Park from Fresno – it covers all the big highlights in the park.
20. Henry W. Coe State Park
Recommended by Jyoti from Story at Every Corner
Californians are blessed with gorgeous weather and seemingly infinite options to enjoy our great outdoors. One of the staples for us are hikes during the weekend. There's a hike for every season within an hour of any city in the San Francisco Bay Area and many within a few miles of home.
One of our favorite places to hike in spring is Henry Coe State Park because of the many wildflowers that bloom.
It's great for photography and to enjoy the vibrant colors of nature. There are many hikes with various levels of challenge, so you can pick the one that best suits your style.
One can do a short hike of 2-5 miles or long treks for a week into the vast park.
Either way, the pristine beauty of the park is a well-kept secret and only popular among the locals that know when the weather is best, and the wildflowers are in full bloom.
Sunsets in Henry Coe State Park are gorgeous, but be sure to carry flashlights or sufficient battery to get back in the dark. The meadows and streams are lovely to walk along. The gentle slopes are good exercise and fresh air.
If you're road tripping in Northern California, I would highly recommend a day hike here.
21. Rail Bikes
Recommended by Laura from The Travelling Stomach
Exploring the rugged coastlines and landscapes of Northern California is typically done with a car or by foot, especially if you want to take in the magnificent redwoods which coat the forests throughout this part of the state.
So, while you may have thought about hitting a hiking trail or taking a scenic drive down the Avenue of the Giants, I can be pretty sure that you haven't thought about doing it by railbike!
What's a railbike? Well, cutting through the forests that you explore are several historic (and typically now abandoned) railway lines, used for transporting people and goods across this mega area.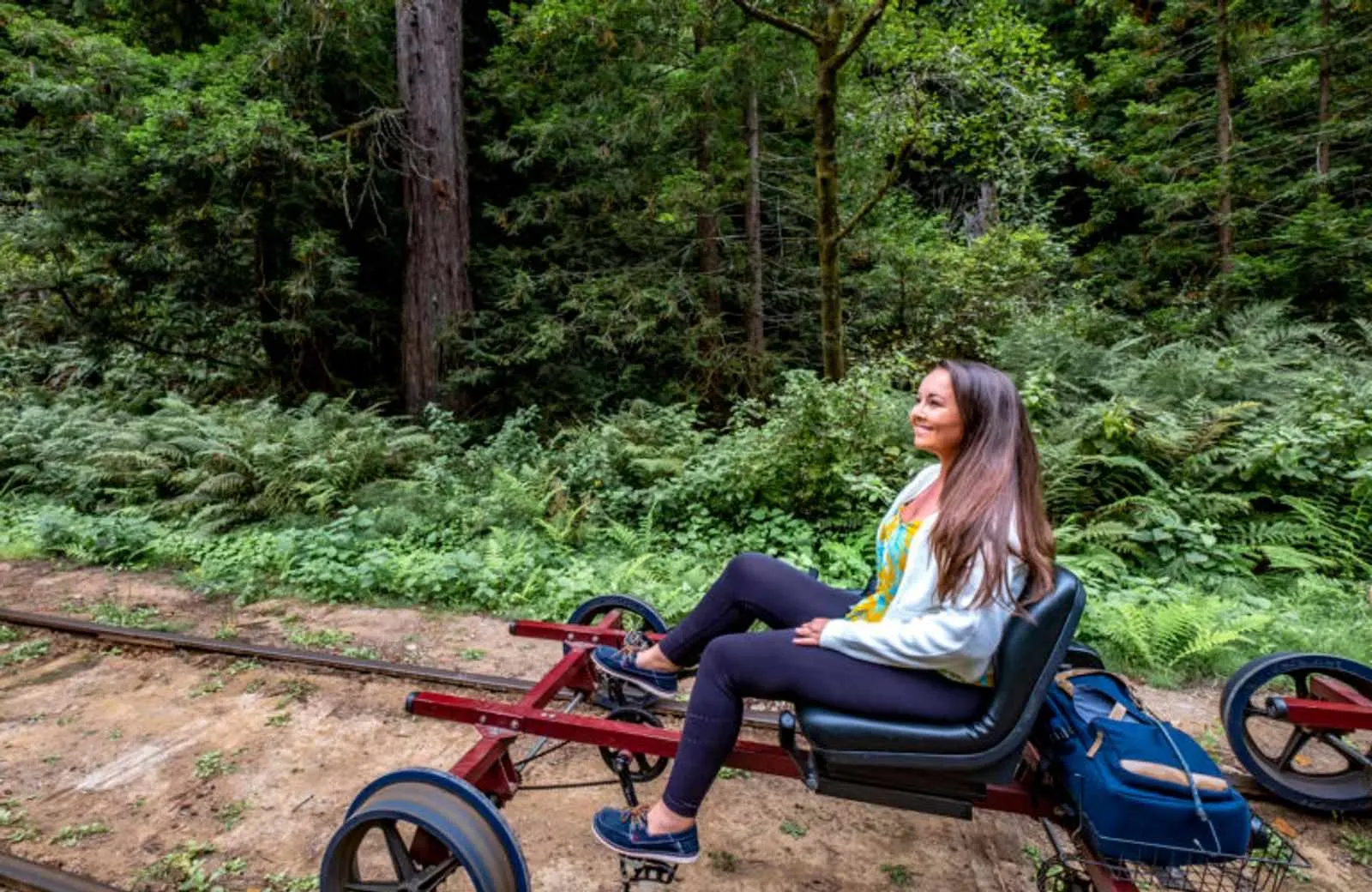 One example of this is the Skunk Train, which starts in the town of Fort Bragg. This historic route took people from this coastal spot, through the forests and hills and along what is known as Pudding Creek Estuary.
While there is also an actual train that runs the route as well, you can ride the rails on a specially designed contraption, which basically is a go-kart type "bike" on top of a set of small train wheels.
Costing around $79 per bike (with two people to a bike) you can expect to take a trip out along the line (not at the same time as the train of course!), and explore the beautiful area with a super knowledgeable guide to explain all about its history.
Not your usual adventure and certainly one of the unique ways to explore the redwoods!
Tips For Your Northern California Road Trip
Download Gas Buddy App to help you find the cheapest gas near you. As a rule of thumb, always fill up at the bigger town when you can. The smaller towns will cost more, and if you're paying by card, you may have a transaction fee on top of it.
I'll say it once more just in case, California is HUGE. It will take you longer than you think to get places.
The drivers get crazier the closer you get to the bigger cities, this may be for many places, but seriously, California drivers scare me (and I'm from Florida, where we're all crazy.)
If you plan on visiting many of the National Parks (and you should!), get an annual park pass instead of specific park passes, which will end up being more expensive.
Bring food! Having to find food, particularly for breakfast and lunch, will eat up a considerable chunk of your day. Don't waste hours on eating, have snacks, sandwiches, and other quick things to munch on throughout the day and then save eating out for dinner.
For car rentals, we always check here first.
We hope you enjoyed visiting our neighbor! Check out all of our other adventures in Oregon.