Skylight Cave is hands down one of the coolest caves in Oregon! It has a unique skylight feature and is a bit of an adventure to find and explore.
Here's everything you need to know before going.
Skylight Cave in Oregon
---
Skylight Cave is actually a lava tube, a hollow tube that was formed by lava flowing through a cooled fissure on the outside. The lava flowed out, leaving the outer shell.
Skylight Cave is the result of that outer shell collapsing inwards creating a sky-lit cavern to explore. You'll have to climb down into the cave either by a tree trunk or a ladder if it's there.
Once you're inside, you can head left or right.
If you go right, you can explore the cave for around 900 feet until it dead ends.
If you go left, you'll walk about 300 feet towards a small light. As you get closer, you'll look up and see three holes in the top of the cave.
If you're here at the right time of day (more info on this below!), you'll be rewarded with an extraordinary display of sunshine blasting through the "skylights" of the cave ceiling!
The humidity in the cave and the dust in the air will make these bright beams stretch from their skylights to the ground. Should you get lucky, you'll clearly see all three rays of light—just like we did!
It's doubtful you'll find another cave like it! Skylight Cave is very cool, but if you want to make the most of your visit here, you'll need to know a few things.
Where is Skylight Cave
Skylight Cave is about an hour Northwest of Bend, Oregon.
You'll take the road north out of Bend, ride through Sisters and head west on McKenzie Highway until you need to turn off on to a dirt road. Take the dirt road for a few miles until it gets a bit rough, it should be pretty obvious where to park once you're there. You'll be close enough to walk the rest of the way.
The Google marking is of the actual cave (not parking) and is correct, but once you're walking towards the cave, you'll really need to use your eyes. Eventually, you'll spot the sign on the right telling you a bit about the cave. The entrance to Skylight Cave is just behind the sign.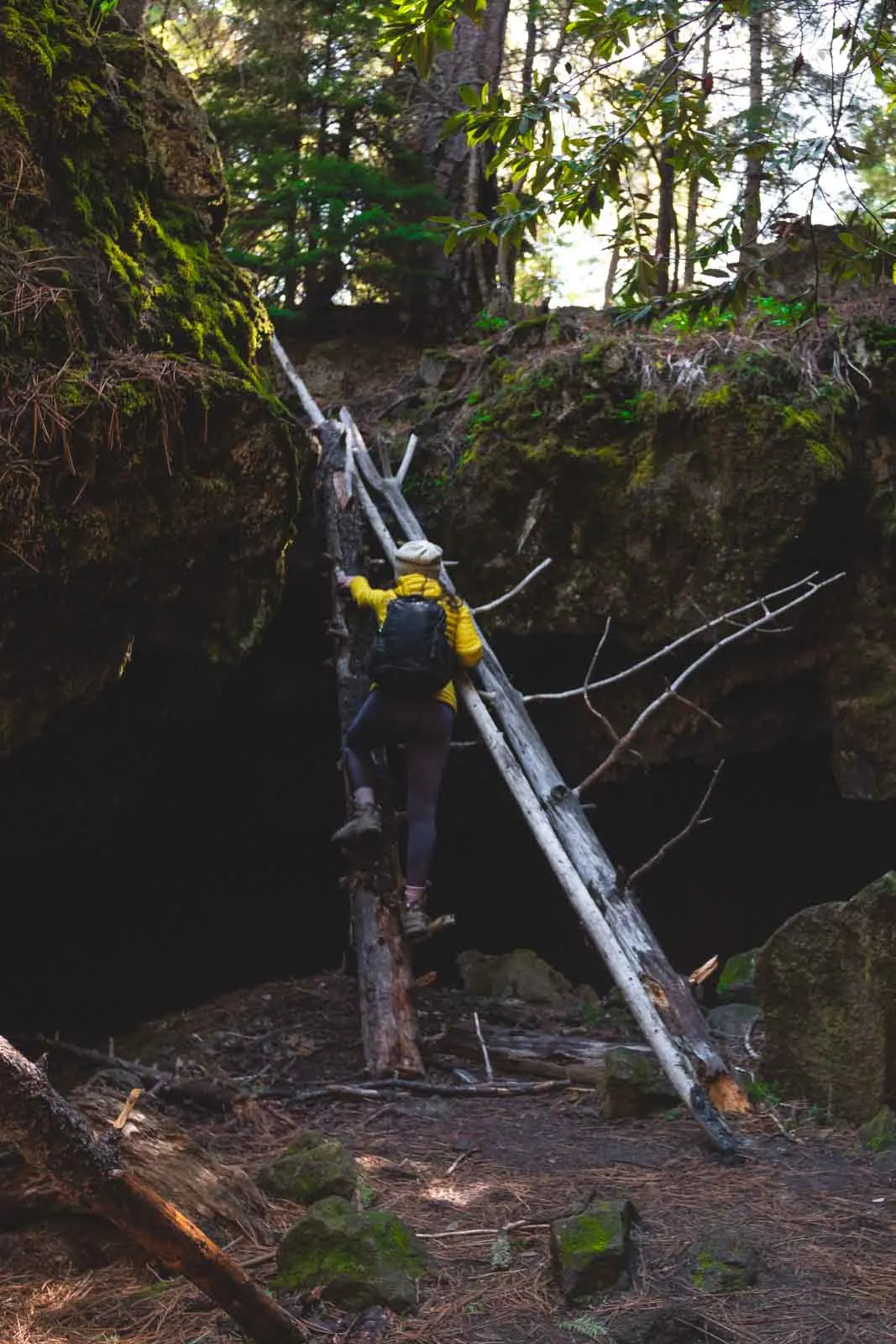 You'll potentially need to climb down some chopped down tree trunks that make a makeshift ladder down into the cave. It looks like there's sometimes a metal ladder that is placed there, but it wasn't here when we visited in May.
---
RELATED: 12 Awesome Things To Do in Sisters, Oregon
---
When to Visit Skylight Cave
Those beams aren't a permanent display, so you'll need to time your visit to Skylight Cave to get the stunning effect.
We went in May at 9:15 am and left around 11 am. We were photographing and having too much fun, plus waiting for the right conditions. We were scared we missed our window because the light wasn't the greatest at first, but it got better around 10 am and we were able to capture the beams.
You'll also need to go on a clear day with little to no clouds. Depending on what time of year you come, the times can change, but mornings will be best.
---
READ MORE: 37 Adventurous Things to Do in Oregon
---
Tips for Skylight Cave
You'll need at least one light source. The left turn you make once you're in takes you through part of the cave, which is obviously completely black. You'll have a light at the end of the tunnel where the skylights are, but the ground is very uneven, so take care.
If you're a photographer, you probably know that you'll need your tripod! Don't forget lens cloths too; it's a bit dusty.
Wear runners or hiking shoes, there are plenty of rocks to stumble on in here.
Bring layers—It's a cool 40 degrees here during the summer months.
Skylight Cave is closed for hibernating bats from September 20th to May 1st.
Make sure you really dust off those shoes if you're going to other caves on the same day! White-nose syndrome kills off bats; it's a fungus that's potentially spread by humans bringing it in from other caves.
---
READ MORE: The Coolest Lave Tubes and Caves in Oregon
---
We hope this helped you explore Skylight Cave! Check out more things to do around Bend and the other adventures in Oregon.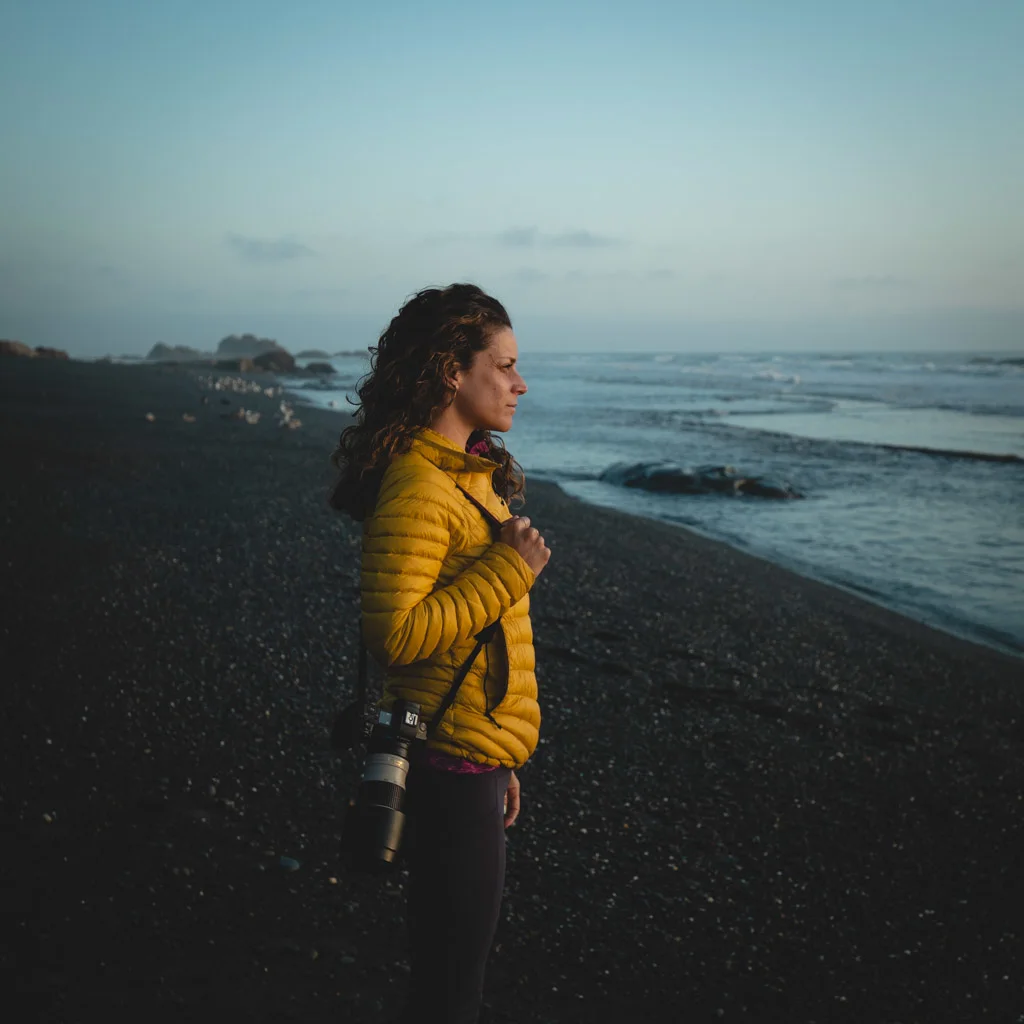 I've been perpetually traveling and living around the world for years but it's hard to beat Oregon and the PNW. After years of road-tripping the area, I guess you can say I know it pretty well! When I'm not writing guides for you, you can catch me somewhere petting a dog, attempting to surf, hiking a volcano, or stuffing my face with bread and cheese.