Looking for a way to spend a few hours getting to know the local terrain on your visit to Bend, Oregon? If so, you may want to consider the Oregon Badlands Wilderness Area.
Located approximately 16 miles east of Bend's city limits, this barren high desert playground's endless pathways wind their way through thousand-year-old juniper trees and volcanic lava systems, making for the perfect place to meander aimlessly around, while getting to know the unique high desert terrain and overall vibe of Central Oregon's extra-terrestrial like landscapes.
Hiking in The Oregon Badlands Wilderness Area
To get to the main trailhead area, take the turn off Highway 20, 16 miles from the eastern edge of Bend to the left toward Flatiron Rock Trailhead. There is ample parking at the site entrance, and since this is the Bureau of Land Management property, there are no fees for parking or hiking the trails.
Several yards from the parking area, the trailhead will be marked by a large map of the trails, which you will want to walk over to and study carefully before embarking on your adventure because there are several trails that lead to different sights.
Beginning Your Adventure in Oregon's Badlands
To the right of the map there are signs indicating the start of two trails. The path just right of the map is the start of the Flatiron Rock Trail, and to the left of the map is the beginning of the Ancient Juniper Trail.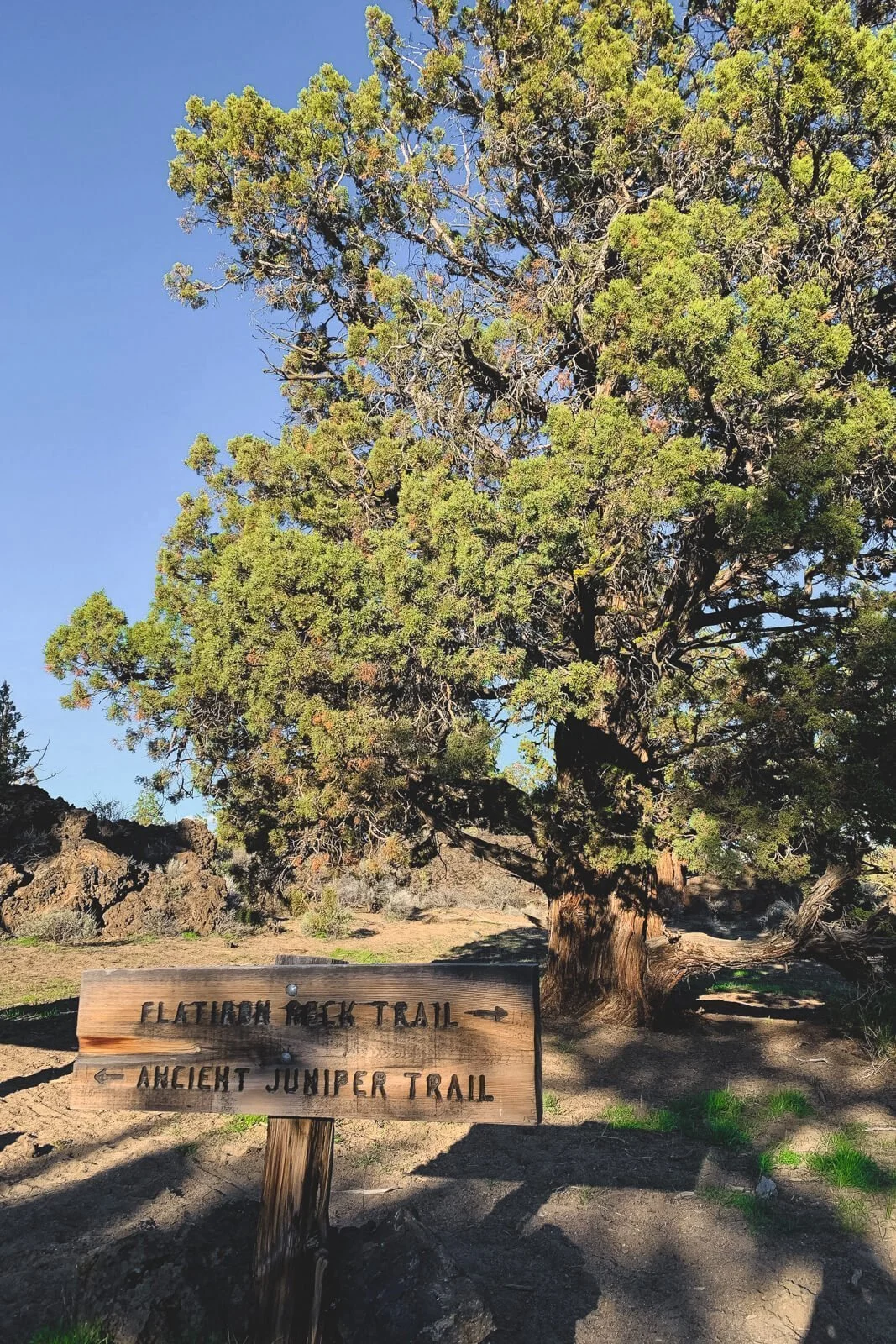 The two trails link back together about midway to Flatiron Rock, so you can never go wrong by trying one on the way there, and a different one on the way back. The Ancient Juniper trail is considerably windier and less flat than the Flatiron Rock Trail, but they are both highly recommended to check out. Either way you choose, you will get a good, hard look at some striking examples of Oregon's arid and harsh high desert terrain and wildlife.
Badlands Oregon Hike
When you get to the part of the hike where the Ancient Juniper Trail meets back up with the Flatiron Rock Trail, you will notice a third trail that intersects with the original two. This one is called the Homestead Trail. If you are trying to go to Flatiron Rock, you do not want to take this trail. Instead, opt to continue north on the Flatiron Rock trail. (More about this later).
Now I know what you're thinking, but it sounds more confusing than it actually is. Each trail is clearly marked with easy to read signs, so as long as you do a quick study of the map before the hike, and don't stray too far off the trail, it will be next to impossible to get lost.
As you continue getting deeper into the desert, some notable things to keep your eyes peeled for are the native plants and animals that call these badlands home.
On a lucky day, you could spot a colorful combination of various types of sagebrush, grasses, and wildflowers such as Big Sagebrush, Oregon Sunshine, Rabbitbrush, Dwarf Monkeyflower, Indian Paintbrush, Mariposa Lily, and countless other types of low-growing plants and shrubs.
If live action is more your thing, keep a keen eye for a chance at spotting a cotton-tail or jackrabbit, elk, mule deer, lizard, bat, pronghorn, prairie falcon, sage grouse, yellow-bellied marmot, bobcat, antelope, or even a Golden Eagle! Oh, and watch out for coyotes too!
The badlands are also situated within a volcanic lava system and include access to dry river canyons and an 80,000-year-old rootless shield. As you inch closer to Flatiron Rock, you will begin to notice sporadically located deposits of hardened lava. Here you can explore volcanic pressure ridges, also known as tumuli.
One of the oldest juniper trees known to humans also hails from this land. It's over 1,600 years old!
Reaching Flatiron Rock
Once you have reached Flatiron Rock, make sure to take one of the various pathways up to the top where you can take in the unique scenery and enjoy winding your way through the rocks and boulders while peeking 360-degree views of the neighboring mountains and volcanoes that surround the city of Bend.
If you arrive shortly before sunset, you will be handsomely rewarded with some of the most stunning views this desert has to offer.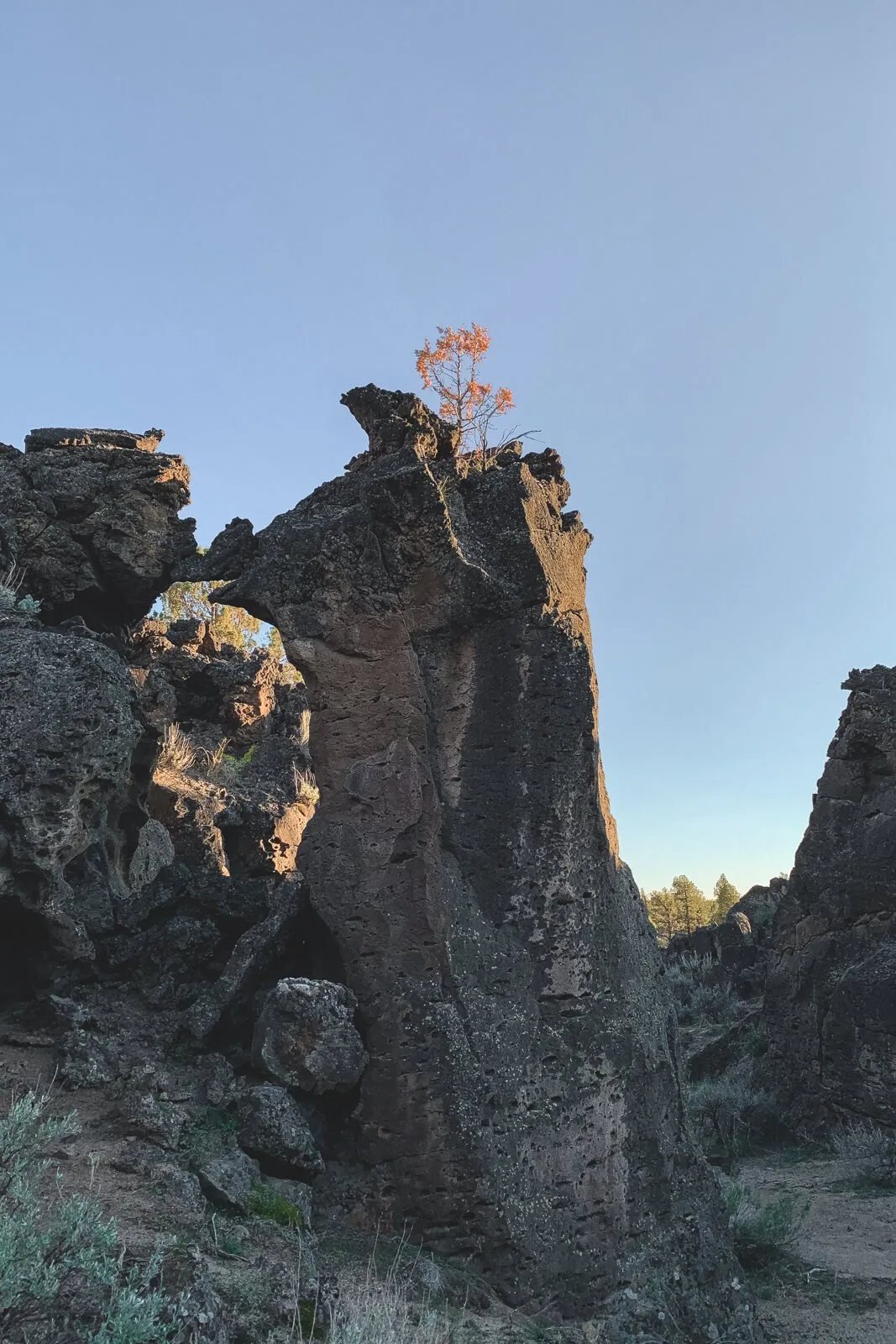 When you've satisfied your curiosities surrounding this special area, you now have a decision to make. You can either head the three miles straight back on the same path to the original trailhead, or you can take another side journey to Badlands Rock via the Castle Trail, which bridges the two rock formations together.
Venturing Further on The Badlands Trails
If you've had enough for the day, and are eager to return to the original trailhead and parking area, simply do a "180" and head back on the same trail toward the freeway. If you prefer to go deeper into the abyss toward a taller and more rugged set of mini-peaks, head east onto the Castle Trail. If you have the time and energy, it is a fantastic way to kill a couple more hours while affording you a 360-degree eagle-eye view of Bend's surrounding mountains and stark volcanoes.
Sandwiched between you and them is an endless sea of bright green Junipers for as far as the eye can see. From the top of Badlands Rock you really get a sense of just how far this vast and peaceful land stretches.
When you're finished taking in the magnificent view, carefully scale down the natural staircases of lava rock and wind your way back to the dirt trail.
Heading Back
To get back to the main trailhead and parking area from here, you can head back the way you came toward Flatiron Rock for one last glimpse, or you can walk south on the Badlands Rock Trail which will lead you to our old friend the Homestead Trail.
This, in turn, leads back to the intersection of the Ancient Juniper Trail and the Flatiron Rock Trail. From here, take whichever way you didn't already try, and pat yourself on the back for completing one of Bend's hidden hiking gems!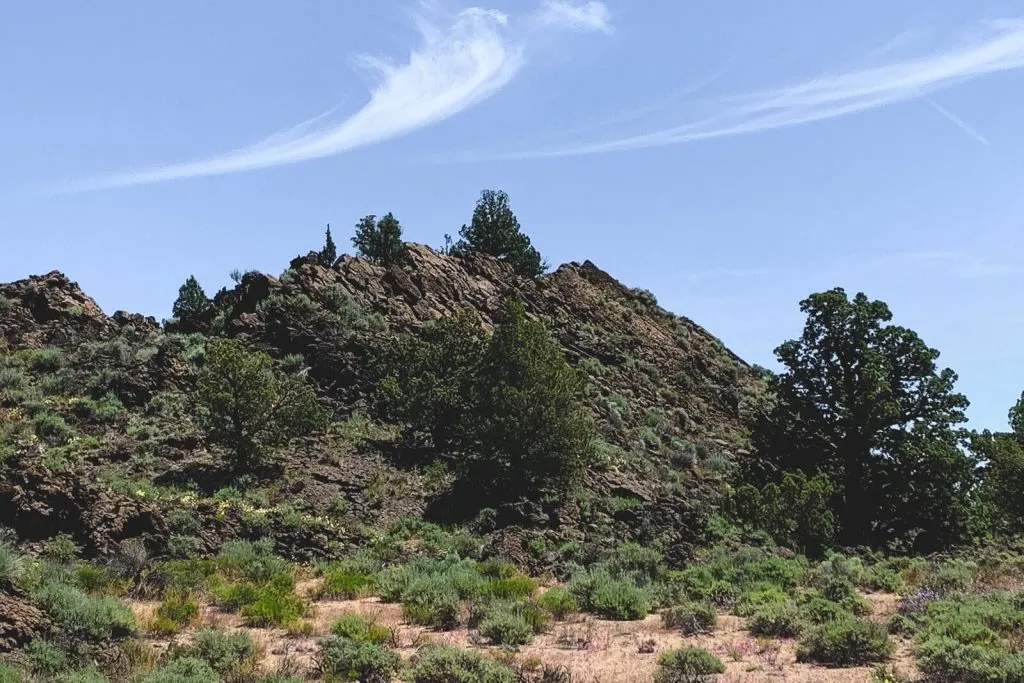 If you complete the day hike and find yourself feeling a bit blue now that the journey is over, don't worry, all is not lost. The Oregon Badlands Wilderness area consists of over 29,000 acres and 50 miles of explorable trails, so even if you complete the two main loops, there are still plenty of other options available for hiking or horseback riding through these beautiful high desert landscapes.
Camping in Oregon's Badlands
If waking up to the high desert sunrise is part of your agenda, feel free to set up camp for the night. This is BLM land, so camping is permitted, though there are no specified campsites, so you will just have to pick a place that strikes your fancy, and set up shop.
Just make sure to leave no traces of garbage or litter behind when you leave, and always bury human waste at least six to eight inches underground, so as not to disturb the natural habitat. Hey, you wouldn't want wild animals coming to your house and not cleaning up after themselves! Please return the favor to them and other hikers.
Other Accommodation Near Oregon's Badlands
With the town of Bend just down the highway, you have plenty of accommodation options if you don't want to stay on site.
For a fun place to spend the night, check out the Honest Dog Ranch. From the outside, this three-bedroom cottage is decked out to look like a Wild West saloon, but on the inside, you have all the mod cons you need for a comfortable stay. And as you might have guessed from the name, dogs are welcome too!
What to Pack For Your Badlands Day Hike
If you choose to hike to Flatiron Rock and back, prepare yourself for a six-mile hoof.
Lots of water, you're in the desert!
A hat, this hike is exposed
Sunscreen, no lobsters allowed on this hike.
Trail runners were fine for me but you can choose to wear hiking boots for some extra support.
Want another type of adventure in the Oregon Badlands? Why not head out on an ATV?!
So who's tackling this hike in Oregon's Badlands? Here are more epic hikes in Oregon to take on.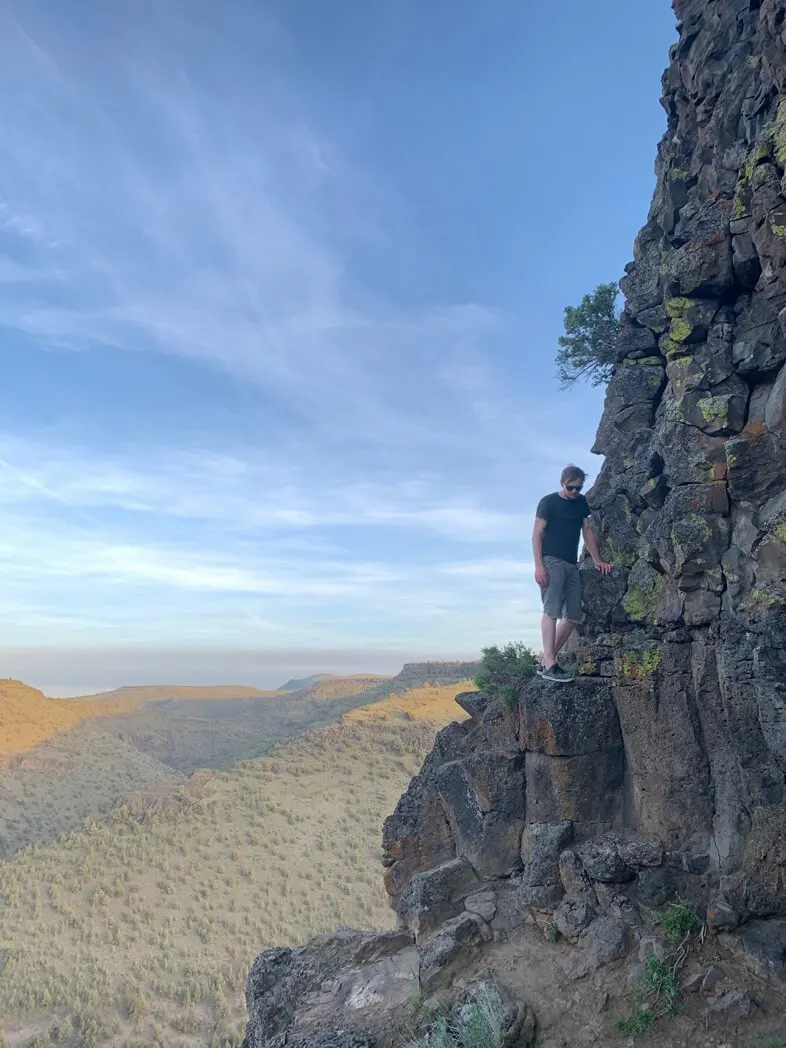 Eli is an explorer of all things West Coast, has called the Pacific Northwest home for the past 10 years while touring with his rock band, is an avid hiker, and is currently working on setting foot in all 50 of the United States.