There aren't too many places that can brag about being one of the state's best surf spots and beaches, while also offering some of the coolest hikes with jaw-dropping views! But Oswald West State Park manages to squeeze all of that into a few miles on a gorgeous section of the Oregon Coast.
Here's everything you need to know to explore the area.
Oswald West State Park
---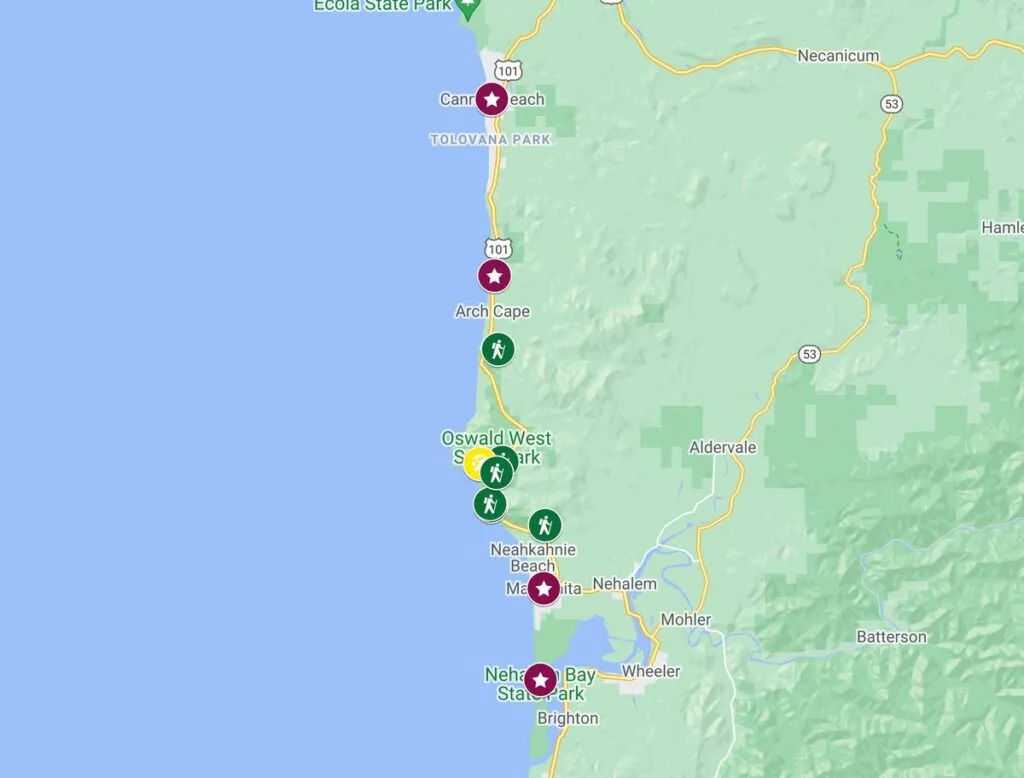 Trails in Oswald West State Park
Here are some of the best and most worth it hikes in Oswald West State Park. You can even combine all of these hikes in one by hiking part of the OCT! More on that below.
Cape Falcon Trail
Distance: 4.6 miles
Type of Trail: Out and back
Difficulty: Moderate
The Cape Falcon trail is certainly one of the coolest trails to do in Oswald West State Park. The parking is just off of Highway 101 and meanders through a gorgeous old-growth forest. Before you know it, you're at Short Sand Beach (more on this below).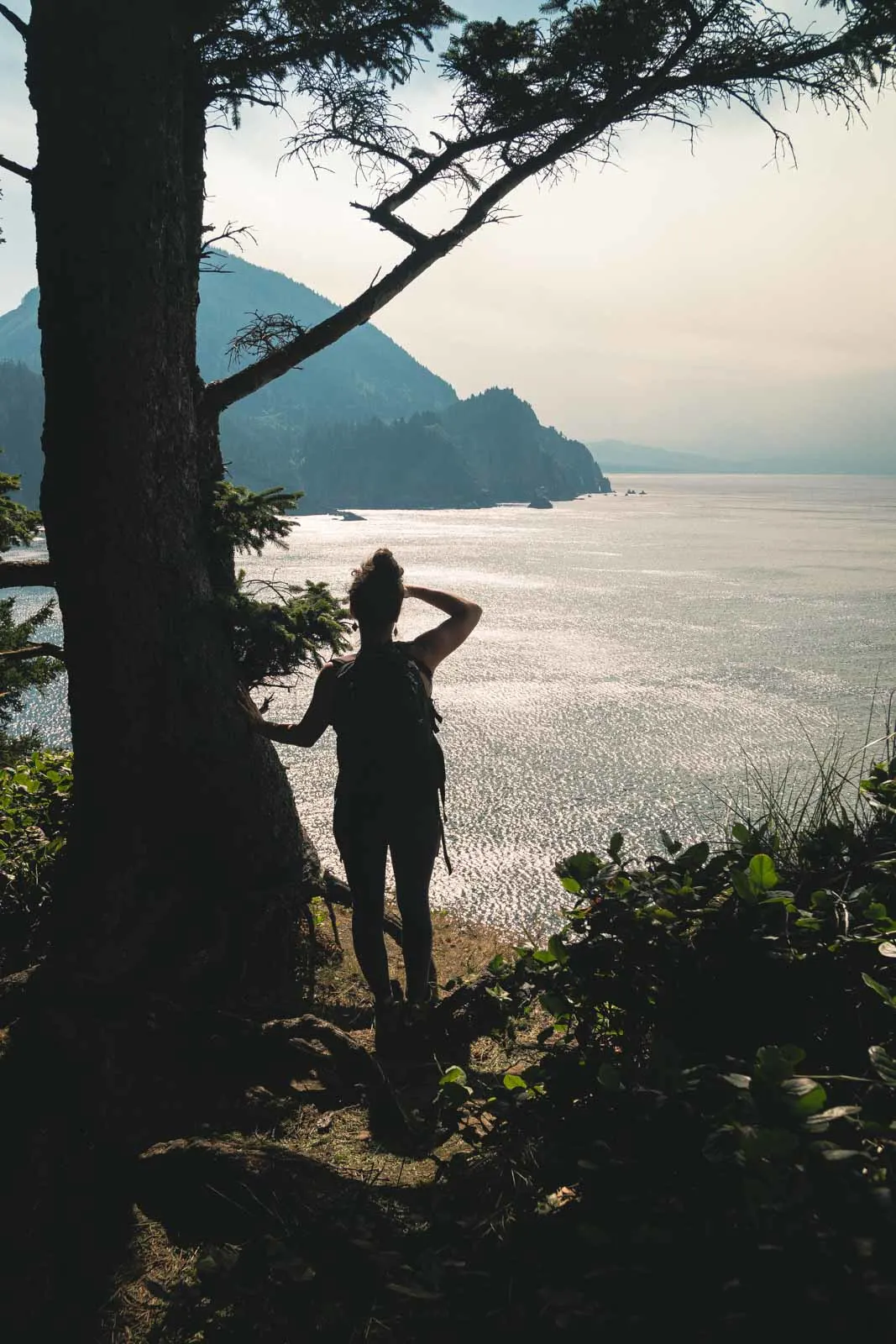 Take a gander at the surfers and then keep on heading up through the Sitka spruce trees and up to the right of Smugglers Cove. Eventually, you'll make it up to the top of the jagged cliffs, and you'll have views all the way over to Neahkahnie Mountain in the distance and over the incredible boulders jutting out of the Pacific below!
---
READ MORE: Hiking the Cape Falcon Trail on the Oregon Coast
---
Neahkahnie Mountain
Distance: 2.7 miles
Type of Trail: Out and back
Difficulty: Moderate
If you saw Neahkahnie Mountain in the distance from the Cape Falcon hike and wondered what the views looked like from the other side, here's your chance!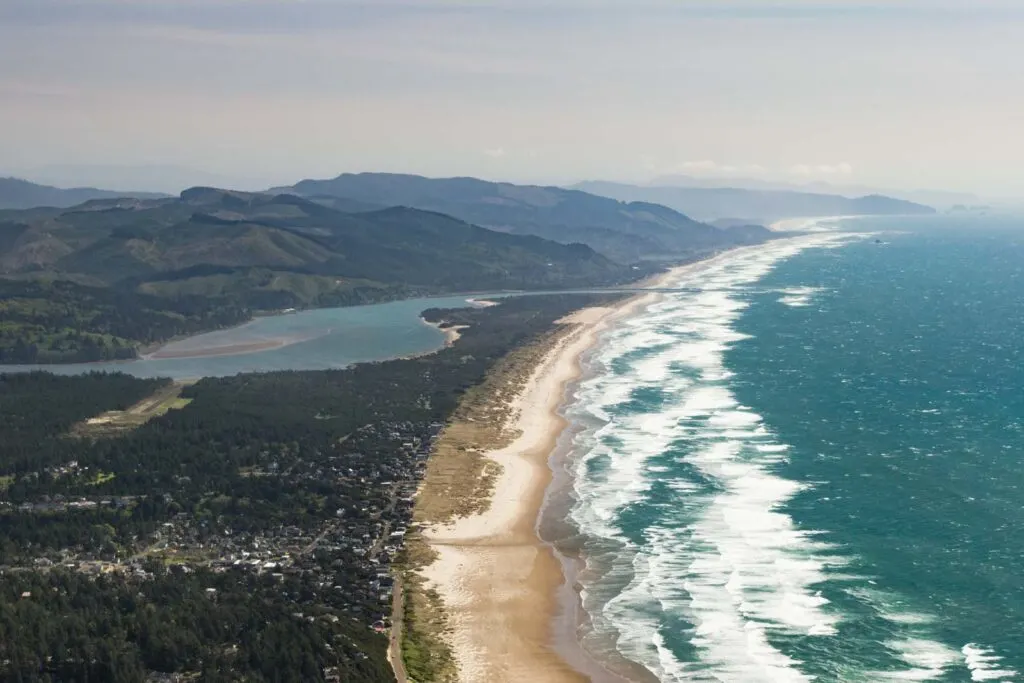 There are a few different ways to hike up this prominent mountain in Oswald West State, a few hard routes and a moderate route are on offer depending on what kind of workout you want up to the top.
Either way, once you get up, you'll have views over a good chunk of Oswald West State Park. Peep Smugglers Cove and Cape Falcon to the north and then the extremely long beach spit of Nehalem Bay to the south.
---
RELATED: 11 Stunning Things To Do on the North Oregon Coast
---
Devils Cauldron via Elk Flats Trail
Distance: 2.9 miles
Type of Trail: Out and back
Difficulty: Moderate
Just down the road from the north end trailhead of Neahkahnie Mountain is the Elk Flats Trail. This trail will lead you to a few secret little coves with beautiful views and all the way up to Short Sand Beach.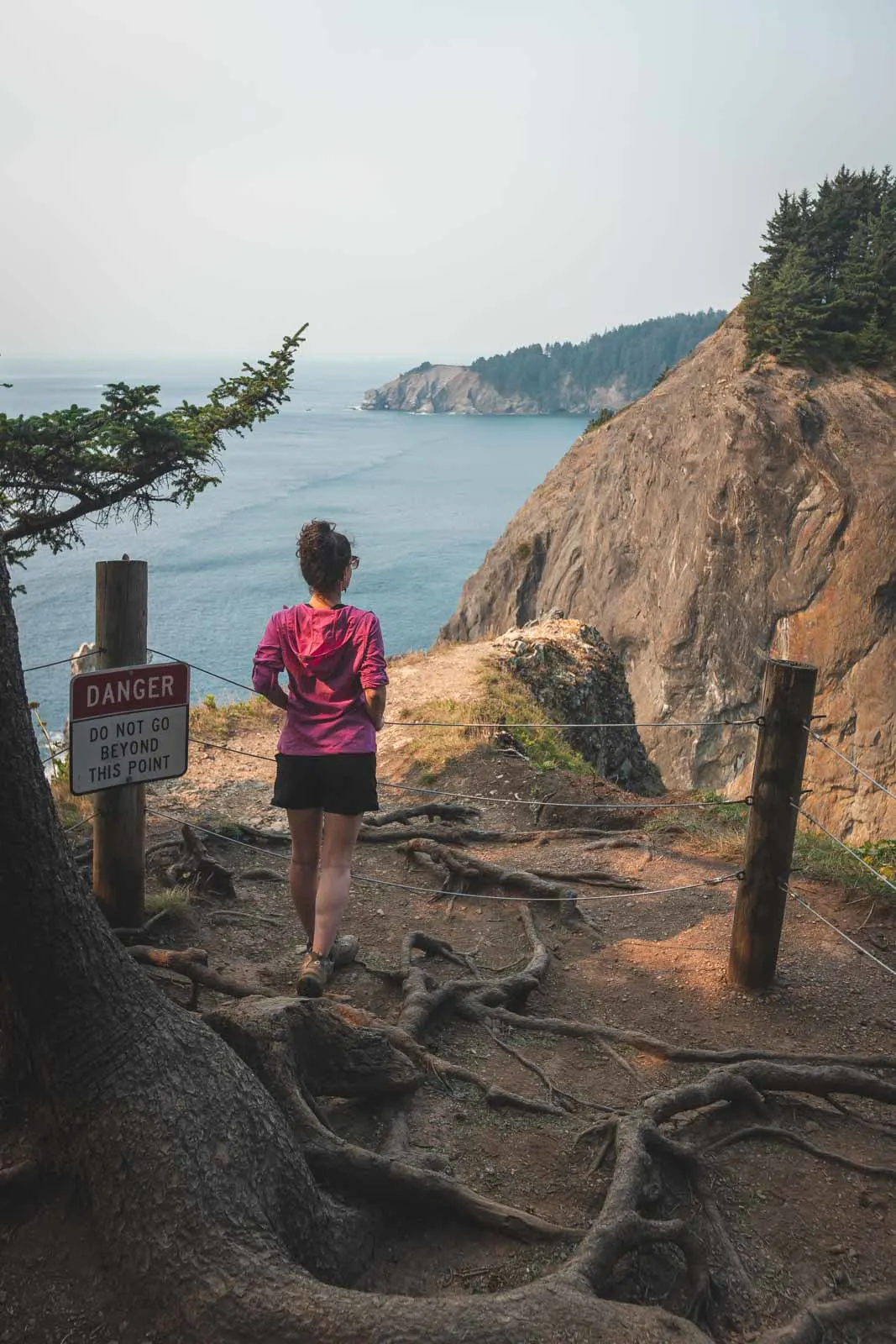 However, from the Elk Flats parking area, you can also dip down to the Devil's Cauldron on a quick half-mile jaunt. The Devil's Cauldron is a cool sight because it truly shows you the power of the ocean.
The cove holds a churning and frothing ocean in its rocky surroundings creating quite the spectacle! If you peer over the edge of the cliff, you'll see it first hand.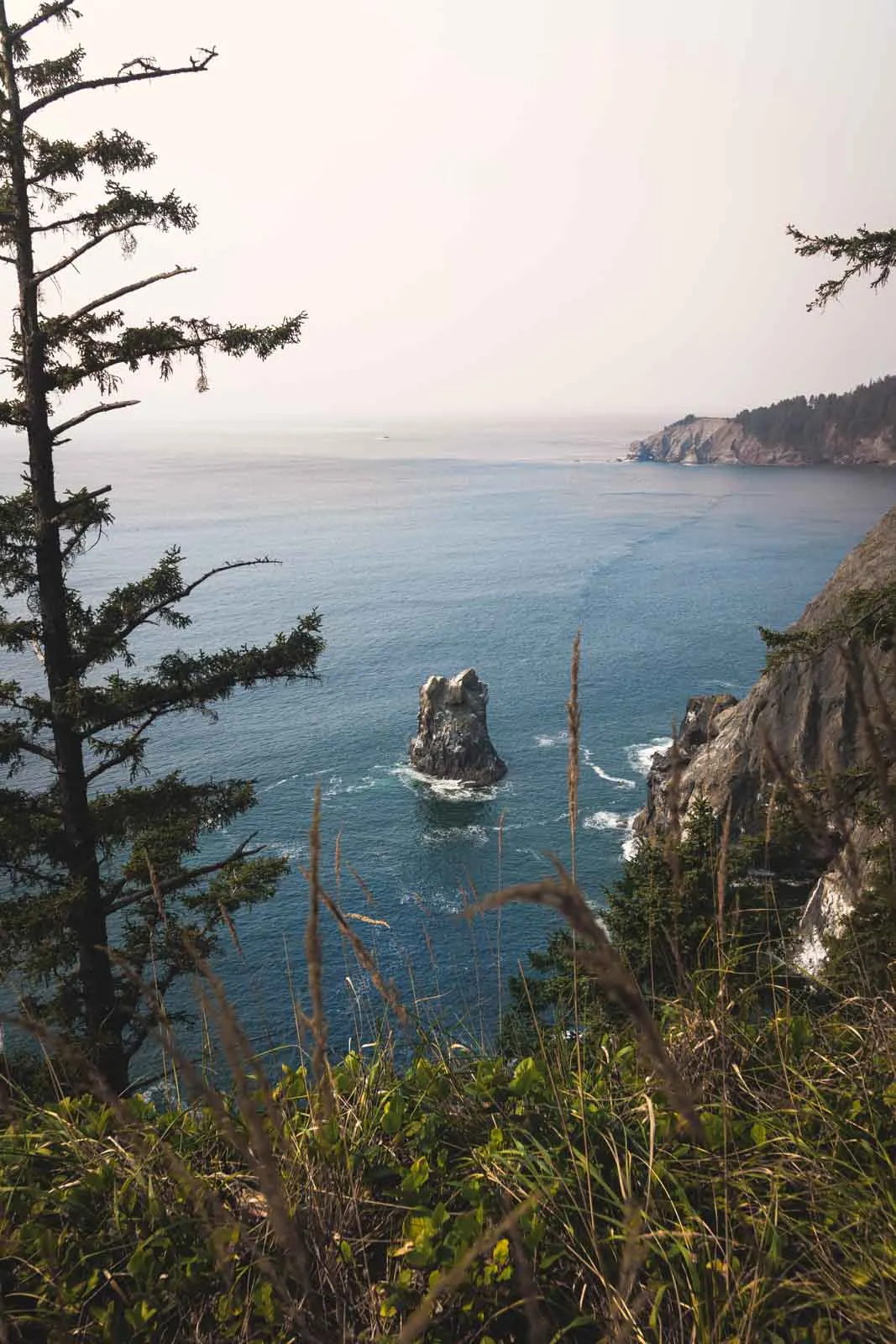 Stand on your tippy-toes to see over the railing and explore around it to get the best angle. Then head up the "tree root staircase" from the cauldron, where you'll get more beautiful vistas of the coast!
---
RELATED: 17 Breathtaking Oregon Coast Hikes
---
Oregon Coast Trail
Distance: 8.5 miles
Type of Trail: Point to point
Difficulty: Moderate
Some of the Oregon Coast Trail runs right through the gorgeous coastline of Oswald West State Park! Seriously, all of the trails above are on the OCT but Neahkahnie Mountain, but you could walk across the street and add this one to your great adventure.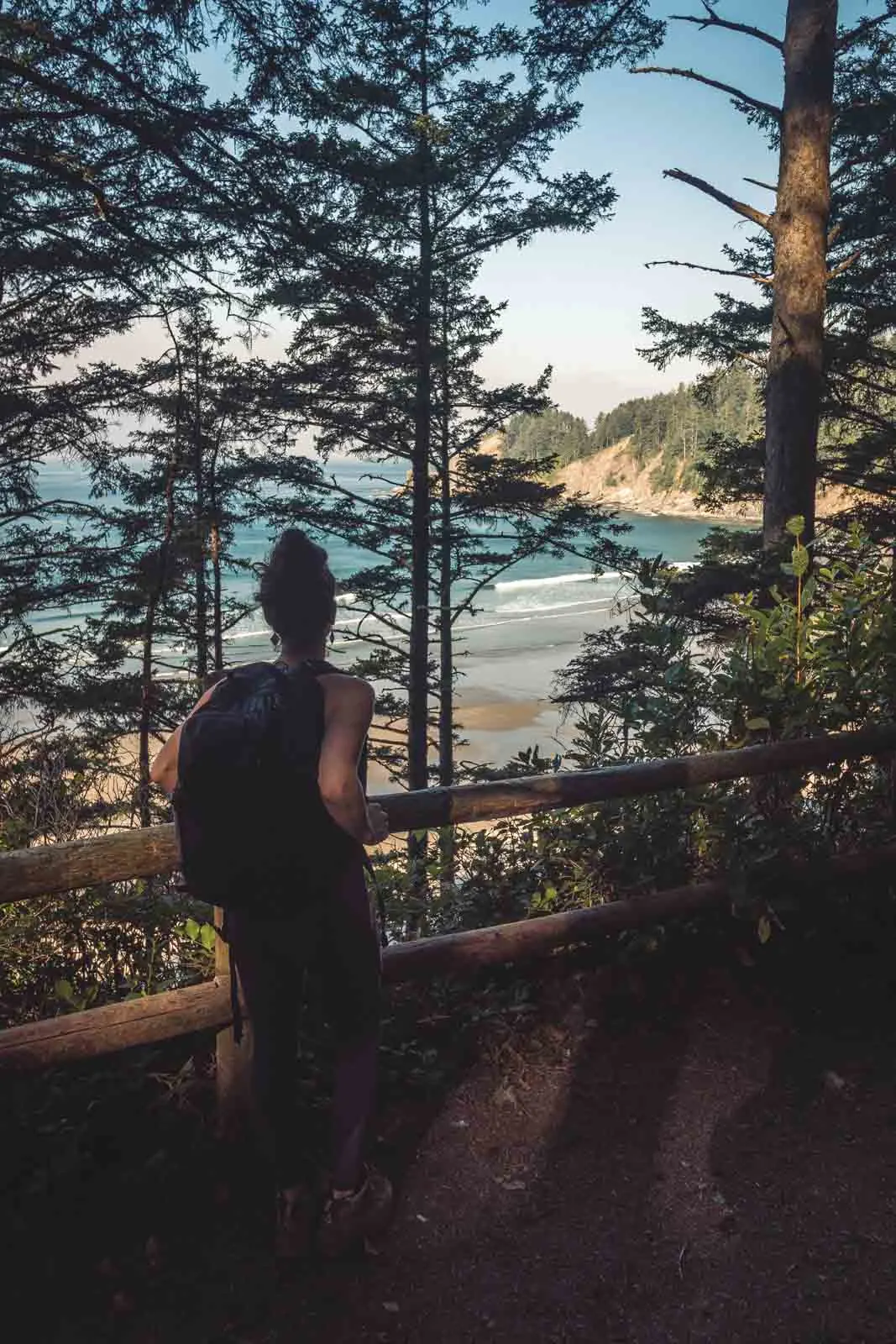 Starting in Arch Cape, you can traverse the hills over to Cape Falcon, down to Short Sand Beach, and over to the Devil's Cauldron.
---
RELATED: How To Do an Oregon Coast Day Trip From Portland
---
Short Sand Beach—Your Surf Spot in Oswald West!
Snuggled into Smugglers Cove, Short Sand Beach is a surf haven surrounded by jagged cliffs that protect it from getting battered by hard winds and storms. Grab your surfboard or paddleboard and take to the waves!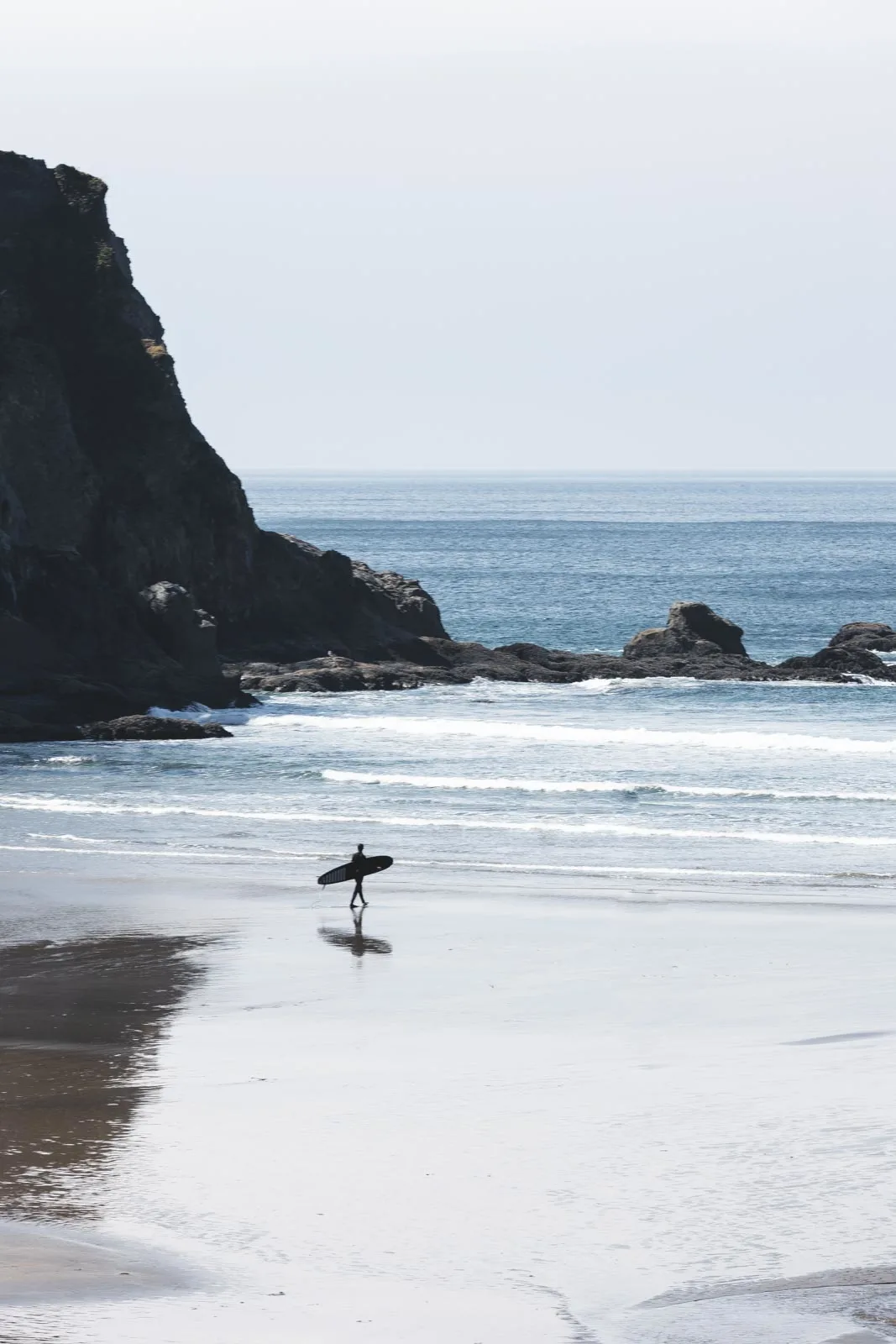 If catching some rollers isn't in the cards for you, you can bring a picnic and chill on the sand, and observe.
Short Sand Beach is located half a mile through a forest filled with spruce trees and old-growth trees. The parking lot is just off of Highway 101 but don't get here too late because the parking areas tend to fill up, particularly because the lots are shared with the other activities in the area like the Cape Falcon trail mentioned above.
---
READ MORE: Short Sand Beach on the Oregon Coast: – Hike, Surf, Chill!
---
Near Oswald West State Park
Hug Point – Another nearby gorgeous beach to walk along. You'll have to "hug" the point to get around, and if you're lucky, there will be a seasonal waterfall flowing here.
Manzanita – Your nearest town for whatever you may need in terms of places to eat, shop, or just to stroll along another beautiful beach.
Cannon Beach – Oregon's most famous beach is just a few minutes north! It's impossible to miss this beach when you're so close, and there are some great places to shop and eat here too.
Nehalem Bay State Park – The long sand spit you can see from Neahkahnie Mountain is Nehalem Bay, and this is yet another beautiful beach to check out and one of the better state park campsites to stay at when you're exploring Oswald West State Park.
More Oregon Coast State Parks
We hope this post helped you better explore Oswald West State Park! Check out more posts on the Oregon Coast and even more adventures around the state.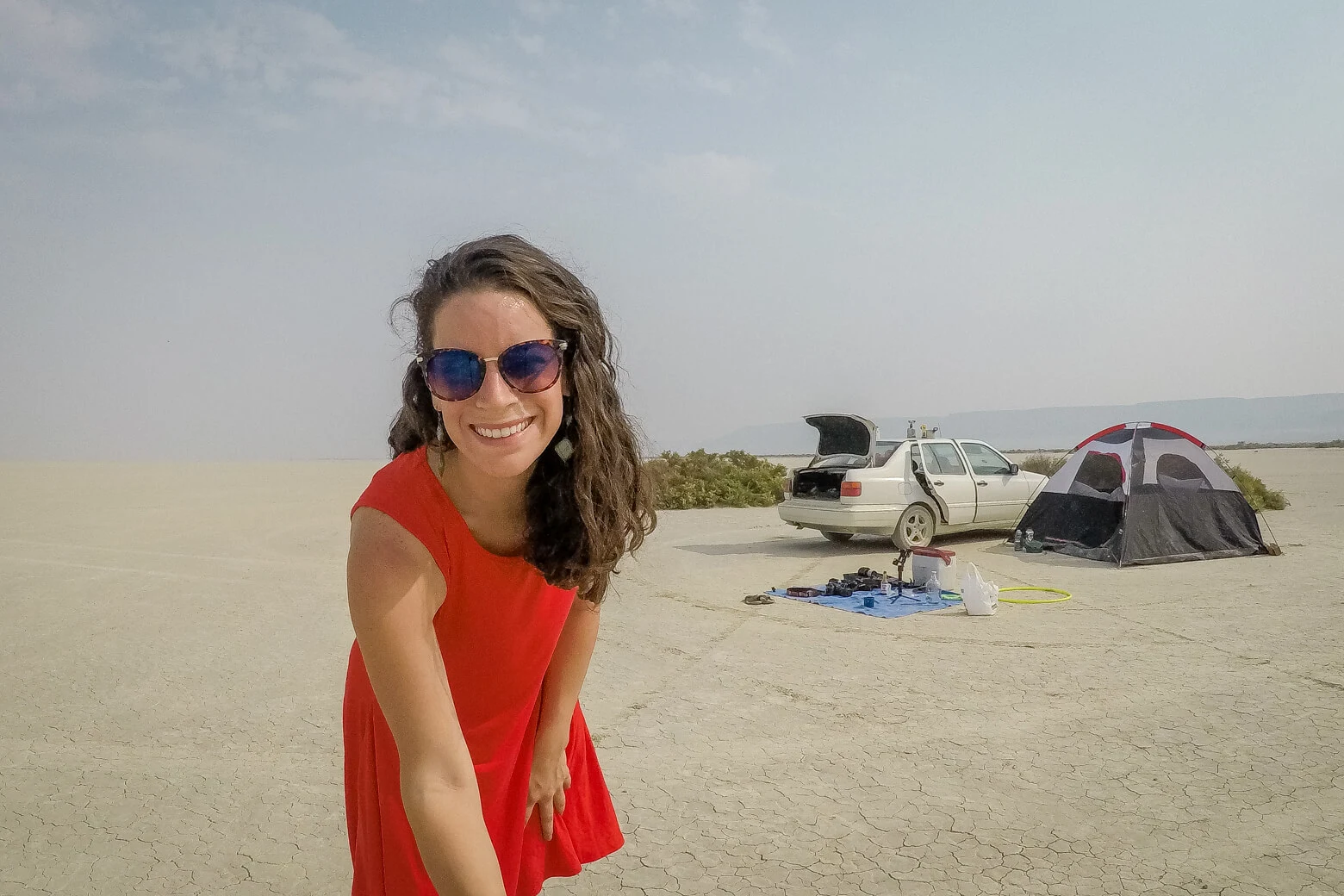 For the last 7+ years, I've been traveling around Oregon and the PNW. I'm an adventure seeker, travel blogger, lover of bread, cheese, and wine, dog person, master of the messy bun, and geography nerd.