Who would have known there's an awesome island just a few minutes from Portland?! Beaches, a lighthouse, hikes, and fresh local fruit markets are what you'll find here. It makes a great getaway from the bustling city for a weekend, or you can just come up for a full day of exploring!
Things To Do on Sauvie Island
---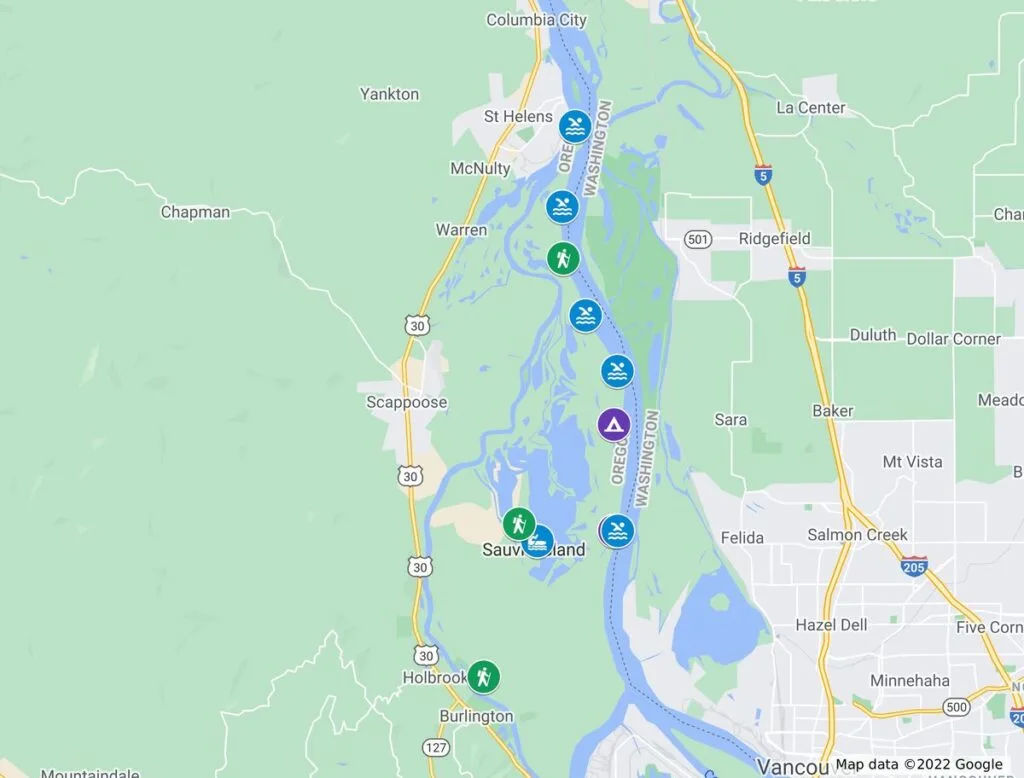 1. Wapato Loop Hike
Distance: 2.3 miles
Type of Trail: Loop
Difficulty: Easy
Take the stress out of your day by taking the Wapato Loop Hike, a gentle stroll that will through peaceful woods made up of Douglas firs and colorful maples. Lovely! The hike is beautiful at any time of year, but when the leaves turn a rich amber in the fall, the sight is breathtaking.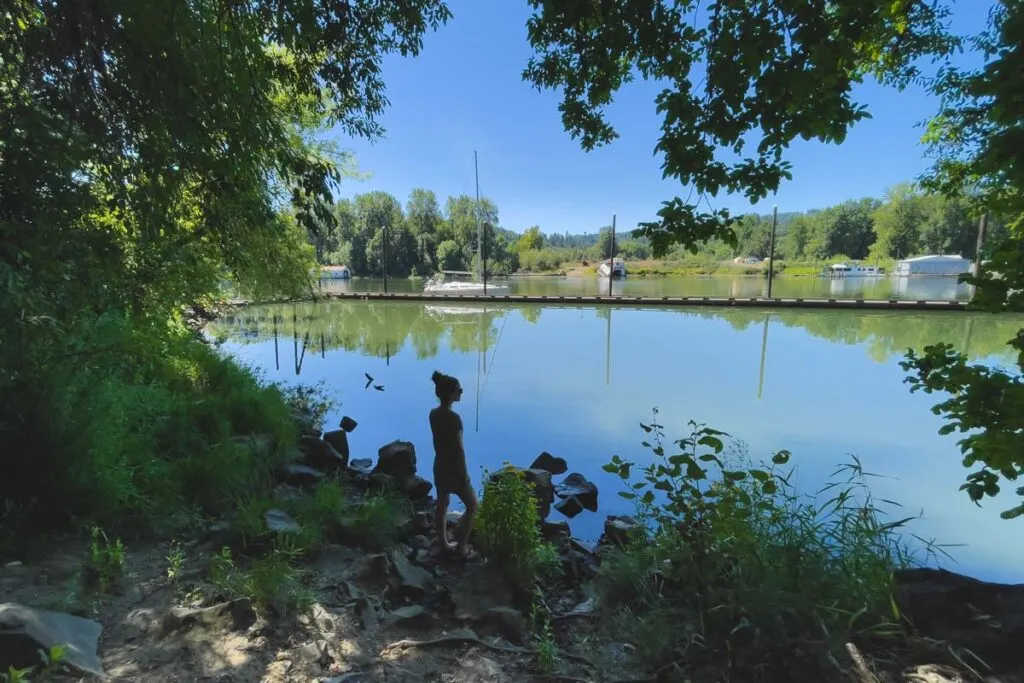 As soon as you hit Hadley's Landing, look around; you have reached the perfect picnic spot. You'll have to follow a short spur trail to get to this point, but it is worth the slight detour, with a fishing dock if you want to try your luck with a rod.
Once back on the main path, it won't be long before you reach the gorgeous spread of the Sauvie wetlands, where you have a good chance of spotting some of the local wildlife. Keep your eyes on the beaver dams if you see any, as you never know, you may see a furry nose popping out of the water!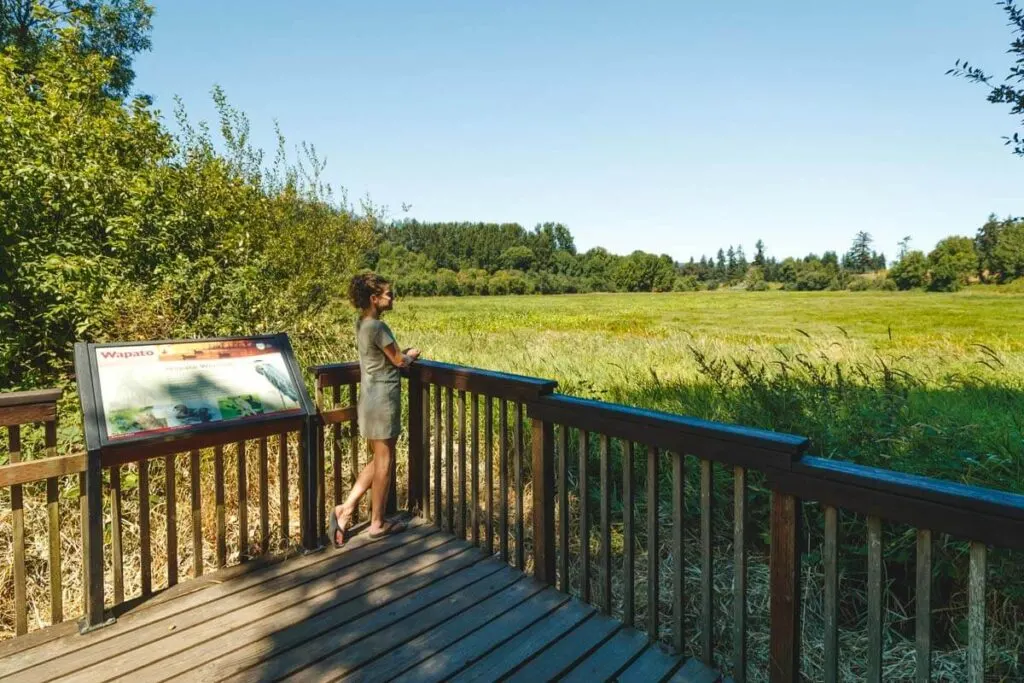 It's a relatively flat hike, making it one of the many family-friendly things to do on Sauvie Island. Blackberry bushes line much of the path, so if they are in season, you'll be able to grab a great crop ready to take home for a post-hike treat.
2. Oak Island Nature Trail
Distance: 2.7 miles
Type of Trail: Loop
Difficulty: Easy
Hemmed in on three sides by water, Oak Island is not, in fact, an island – it's actually a peninsula! But that doesn't make the hike any less beautiful. The trail is the perfect length if you fancy stretching your legs for an hour and escaping the city.
Along the way, there are some incredible views of Mount St Helens, Mount Hood, Mount Adams, and the surrounding lake shores.
No matter the time of year you visit, there will be something new. Whether that's the frost-tipped branches in the winter, wildflowers in spring, the active wildlife that summer brings, or the golden leaves and blackberries of fall.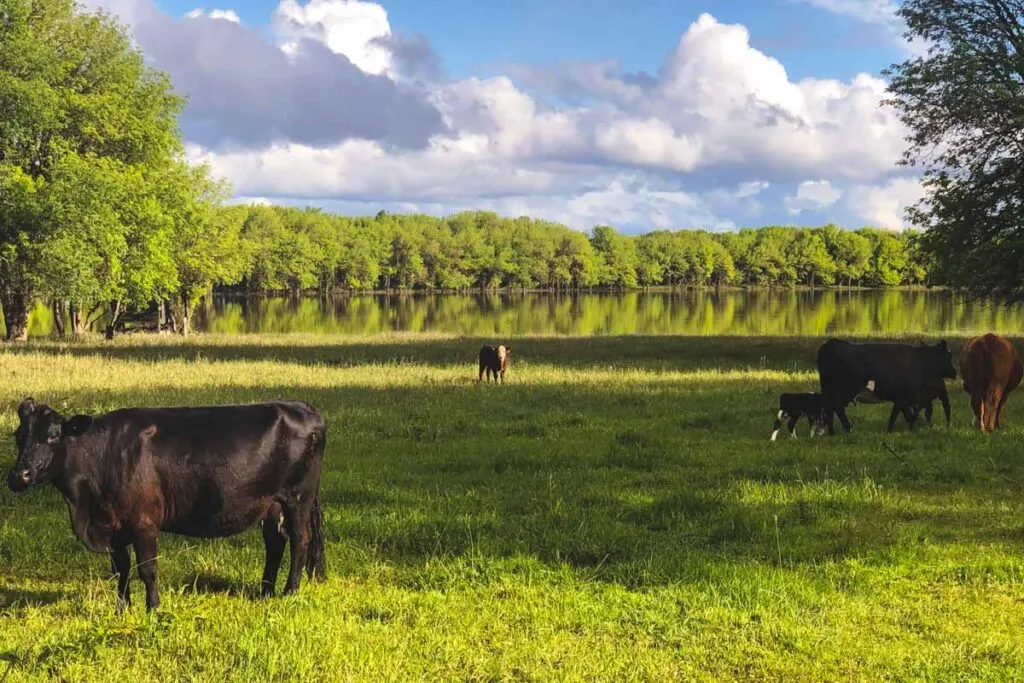 Don't be surprised if you bump into an unexpected visitor on the trails with you, as for some of the route, you'll be passing an active cattle farm, so watch where you tread!
The trailhead can be found on Northwest Oak Island Road, pretty close to the center of Sauvie Island. It will be easy to follow the well-trodden path through grass fields. Be aware, this hike is only accessible seasonally (April-September).
---
RELATED: 19+ Awesome Hikes Near Portland to Escape The Bustle
---
3. Warrior Rock Lighthouse Trail
Distance: 6.5 miles
Type of Trail: Out & Back
Difficulty: Easy
The trail to Warrior Rock Lighthouse is 6.5 miles long, with plenty of shade and relatively little elevation gain, so it is nice and easy. As you walk, you'll be able to grab glimpses of the water, and as you emerge from the end, the whole waterfront opens up before you. Although the hike is pleasant enough all the way along, this is the real highlight.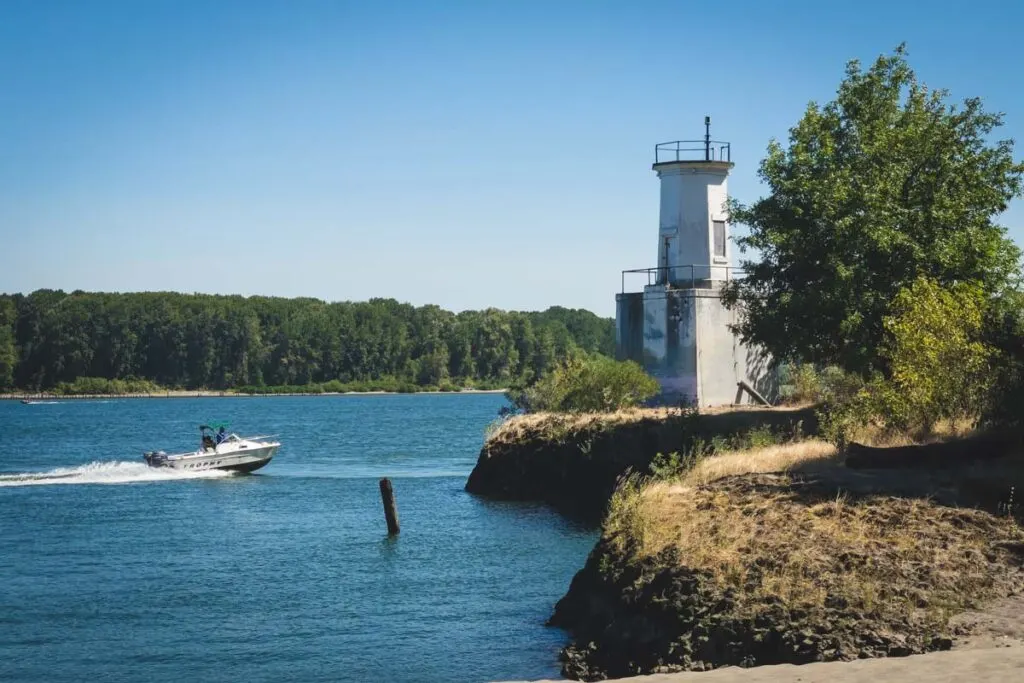 Once you have reached Warrior Rock Lighthouse, you'll be able to witness in person its claim to fame. It is actually Oregon's smallest lighthouse! It is still working to this day, guiding the boats along the Columbia River.
---
RELATED: 11 Oregon Lighthouses & The Adventures Nearby
---
4. Sauvie Island U-Pick Farms
Covering over 80 acres, you'll find enough berries at Sauvie Island U-Pick Farms to fill your smoothies, pies, and porridge for months! There are over 15 different types of berries to be found here, so you could easily spend the day wandering up and down the rows of plants and vines, taking in the scenery, and picking until your heart's content.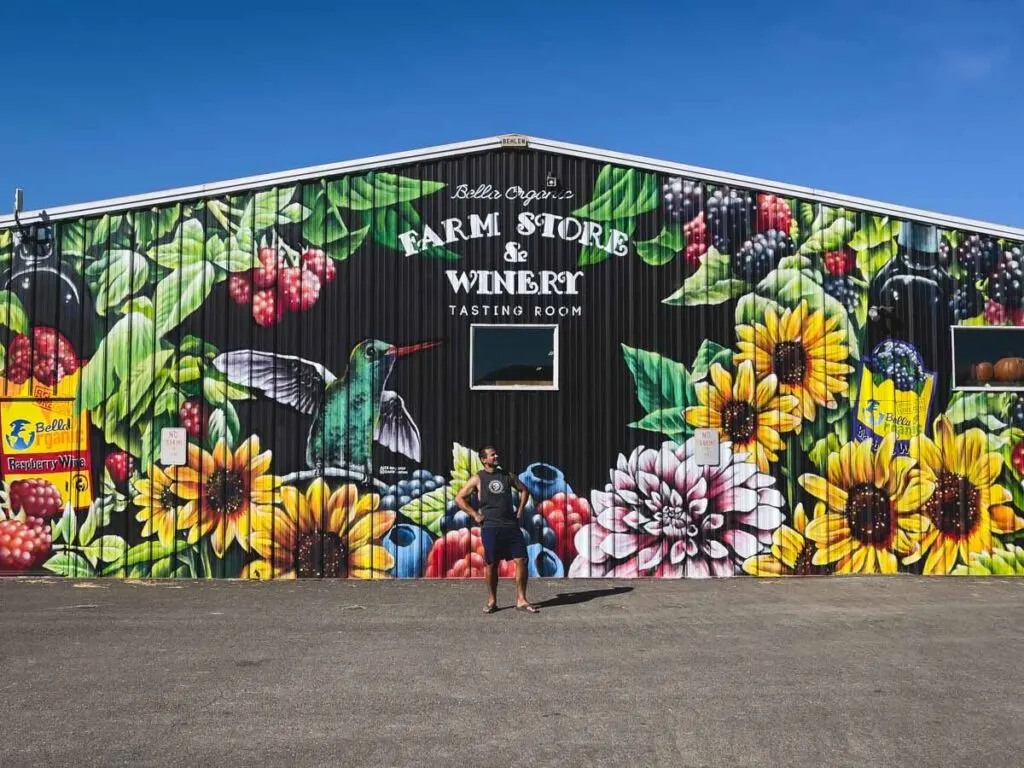 Whether you like the look of the juicy strawberries or boysenberries or want to decorate your home with the range of mini pumpkins and gourds on offer, the choice is yours. You can find out what is currently available and fresh for the picking on the farm's website.
It is a classic thing to do on Sauvie Island throughout the year, with many people coming from the city to enjoy the abundance of crops. Our personal favorite is anything with marionberry!
There are a few different pick-your-own farms on the island, offering various products throughout the year. Some even allow you to pick your own Christmas trees or fresh flowers.
---
RELATED: 43 Best Things To Do in Portland, Oregon For Adventurers
---
5. Sturgeon Lake
Sturgeon Lake is the largest lake on the island, although don't visit expecting to see any actual sturgeon here. The lake is full of wildlife, though. Instead, you'll see all sorts of different species of bird, including golden eagles and great blue heron, with 200 species spotted so far. When it comes to fish, catfish and largemouth bass are in abundance.
With Sturgeon Lake, one word comes to mind: CHILL. One of the nicest things to do on Sauvie Island is to take a gentle kayak across the waters, and if you are a nature lover, you really will be in your element.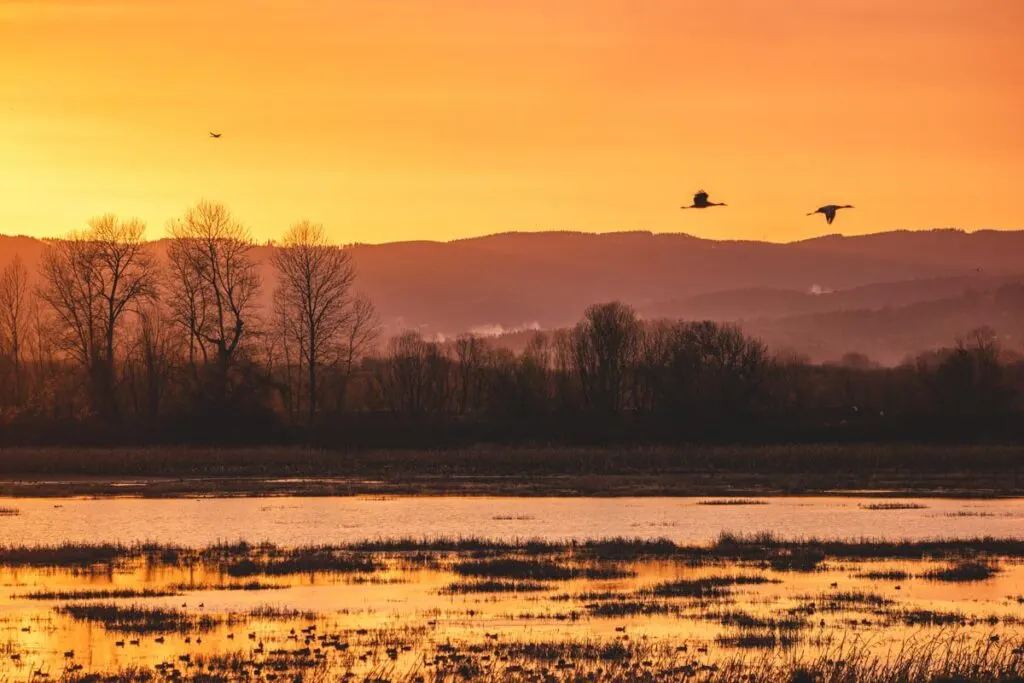 There is one dock, and the lake is never full of boats, making it more peaceful. You are able to take a motorboat onto the water, but with a speed limit of 5-10 mph, it sees very little motor activity.
If you don't want to head into the waters, relax on the beaches that surround the lake. As you chill, you'll be able to take in the views of Mt.Hood, Mt Adams, and Mt. St. Helens. It can also make a good swimming spot, as there isn't too much of a current.
---
RELATED: 25 Day Trips from Portland, Oregon + Road Trip Ideas
---
6. Beaches of Sauvie Island
Sauvie Island has plenty of beaches, saving you a long trip to the coast next time you fancy feeling the sand between your toes.
As the island is small, you could easily visit all of the beaches in one go, and then you can decide for yourself which one you like the best, although, all of the beaches are gorgeous! We are talking long stretches of golden sands, and tiny waves lapping gently at the shore.
Here are the main Sauvie Island beaches:
1. Walton Beach – This is probably the most popular beach on Sauvie. Maybe because it is the first beach over the bridge, and after seeing the beautiful sand, people can't bear to go any further. The waters here are shallow for splashing about in, so it is often full of families during the summer. It provides the perfect escape from city life, while still being very easy to access.
2. Reeder Beach – This is a beautiful beach, although it is private. You'll be able to access this stretch of sand if you are staying at the Reeder Beach RV Park.
3. Collins Beach – Let's just say that clothing is optional on Collins Beach, so if you fancy feeling the wind on more than your hair, this is the place to head. If you want to keep your clothes on though, that is no worry either. This beach tends to be a lot quieter than Walton, with shady trees making the perfect picnic spots.
4. North Unit – This beach is quite a bit further along the road, so it is understandably a lot quieter than the earlier beaches. It stretches for 3 miles and is full of natural beauty.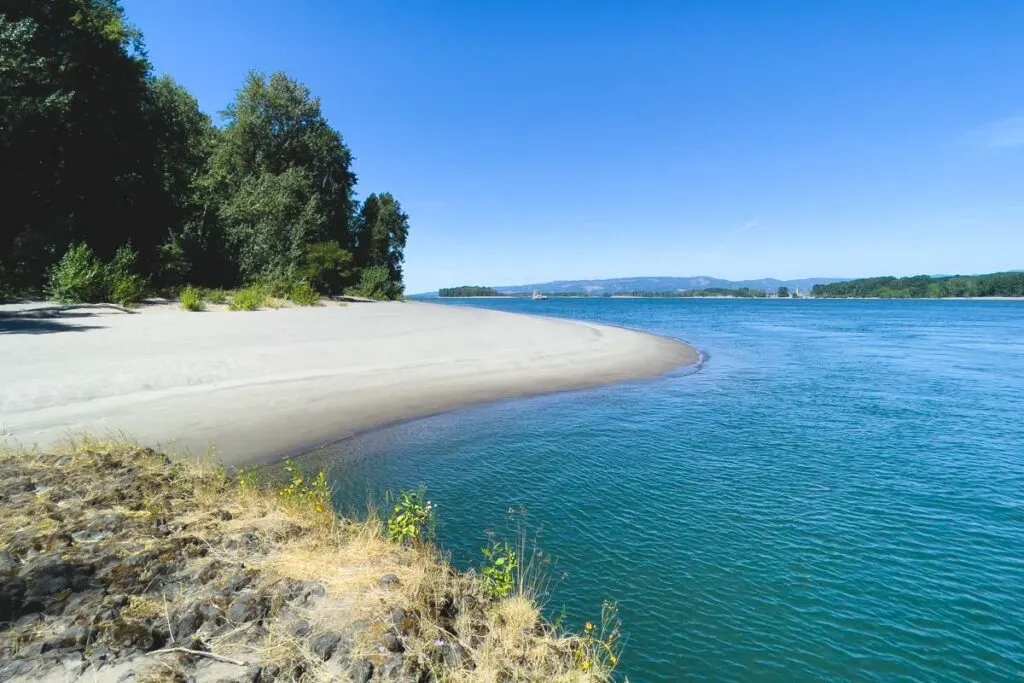 5. Warrior Point – You can't actually reach Warrior Point Beach by road, so if you're on the hunt for the picturesque solitude that this beach offers, you'll have to take the 3.5-mile hike to reach it. Another option is to take a boat around the shore, so the journey here is quite an adventure in itself. There's a lighthouse waiting for you here as well!
---
RELATED: 17 Best Beaches in Portland, Oregon!
---
7. Where to Camp on Sauvie Island
Although the beaches may look inviting, camping is not allowed on any of them, so be sure to stick to the designated RV parks.
Island Cove RV Park is pretty popular, providing happy campers with 6 acres of land to pitch up for the night. There are some stunning views to wake up to in the morning, and as a wildlife refuge borders it, you won't have to stray far to make the most of the surroundings.
You are pretty covered on all bases in terms of amenities, with clean laundry and restrooms, horseshoe pits, propane service, and a seasonal convenience store. There are full hookups on all sites, with 20/30/50 amp electrical service.
---
RELATED: 23 of The Best Places for Camping Near Portland
---
Reeder Beach RV Park is another option. All sites here offer full hookups with water, sewer, and 30 amp electrical service, some of which are shaded while others offer beautiful views of the river.
There are clean restrooms, an onsite store, a deli, a dump station, picnic tables, and firewood. What helps Reeder Beach RV Park stand out is the private beach access, which is a wonderful place for a morning stroll!
More Things to Do Near Portland
We hope this post helped you plan your trip to Sauvie Island! Before you go, don't forget to check out other things to do around Portland and more adventures in Oregon.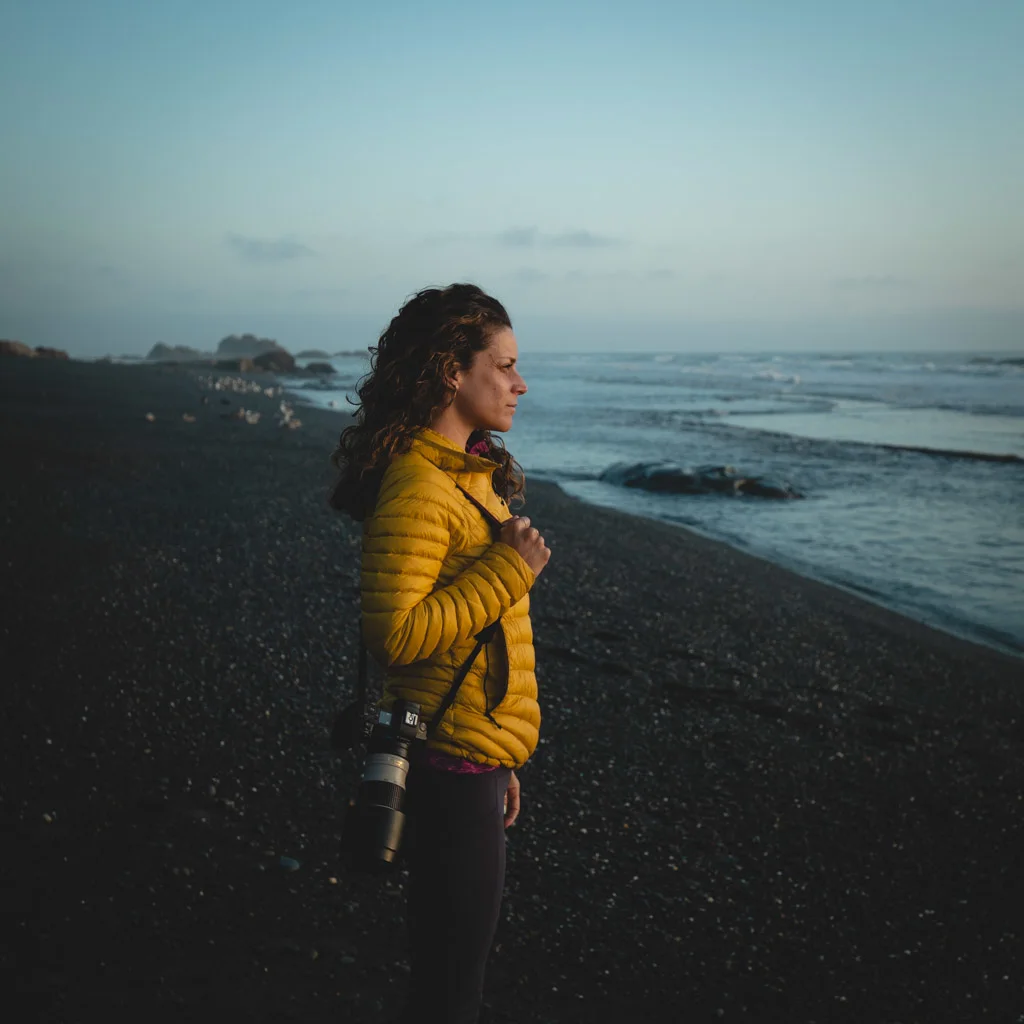 I've been perpetually traveling and living around the world for years but it's hard to beat Oregon and the PNW. After years of road-tripping the area, I guess you can say I know it pretty well! When I'm not writing guides for you, you can catch me somewhere petting a dog, attempting to surf, hiking a volcano, or stuffing my face with bread and cheese.