Located in the less traveled reaches of Eastern Oregon lies Leslie Gulch, an incredible geological formation shaped by millions of years of weather, and wow, what a landscape it has created!
The area is a stark contrast to what you would usually expect when you think of Oregon. Instead of coastal landscapes and towering volcanoes, you have twisted rock formations, strange towering hoodoos, and colorful desert vistas.
This spot HAS to be on your eastern Oregon road trip list.
Exploring Leslie Gulch in The Owyhee Canyonlands
---
To create such an incredible landscape, we have to look back millions of years ago when volcanic activity rocked Oregon. Massive lava flows covered this part of the state, creating the dramatic and otherworldly landscape you can see today. Over time, the lava rock has been battered and shaped by winds and water, creating the cliffs and unique canyons that have put Leslie Gulch on the map.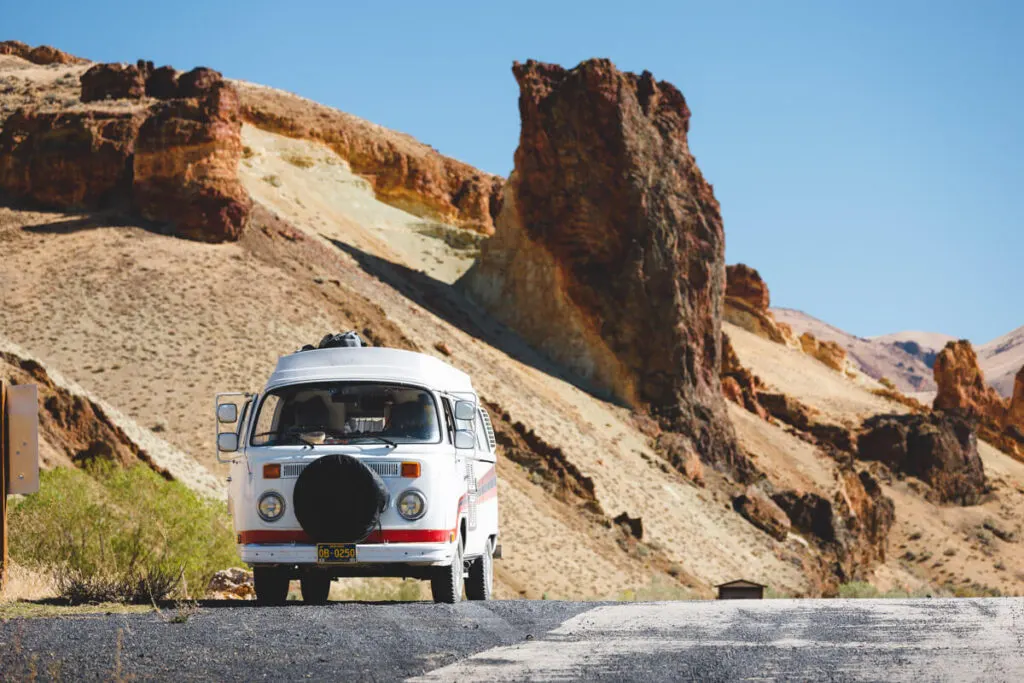 The fertile soil from the lava flows drew settlers in the 19th century. These indigenous people made the Leslie Gulch area their home and developed it into a hub for farming and ranching over time. In fact, when you visit, look out for the old homesteads and ranches that can still be found throughout the landscape.
At first glance, Leslie Gulch does not look like a place that would hold much wildlife, but you will be surprised at what makes its home in the rocky alcoves of the cliffs and canyons. Look up, and you may be able to spot golden eagles soaring high in the sky above you or raptors, red-tailed hawks, or prairie falcons, all on the hunt for the smaller creatures on the canyon floor.
If you are lucky, you could spot some mammals, such as coyotes, bobcats, deer, and even mountain lions (although we are not sure you would want to find one out on the trails). Lizards and rattlesnakes are a little more common, so watch your step.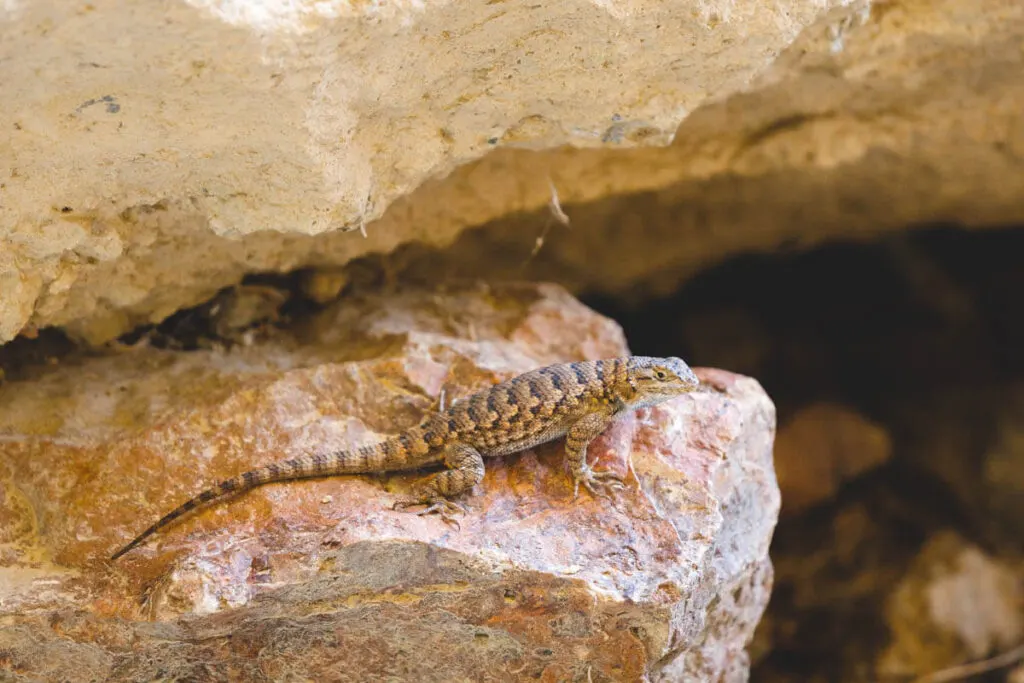 Despite the arid environment and limited rainfall, several plant life still seems to thrive here, such as bright and colorful wildflowers and juniper trees.
Leslie Gulch Trails
There are four main trails in the area, all relatively easy and short too! Each provides you with its own version of the insane landscape of this area. If you're short on time, you should just do as much of the Upper Leslie Gultch trail as you can.
1. Upper Leslie Gulch
Distance: 4.3 miles
Difficulty: Easy
Type of hike: Out and back
Elevation Gain: 757 feet
The Upper Leslie Gulch Trail starts at Leslie Gulch Road and goes through the canyon. For around half the time, you will be following a dry creek bed, but the views of the surrounding mountains along the way are fantastic especially the hoodoo formations.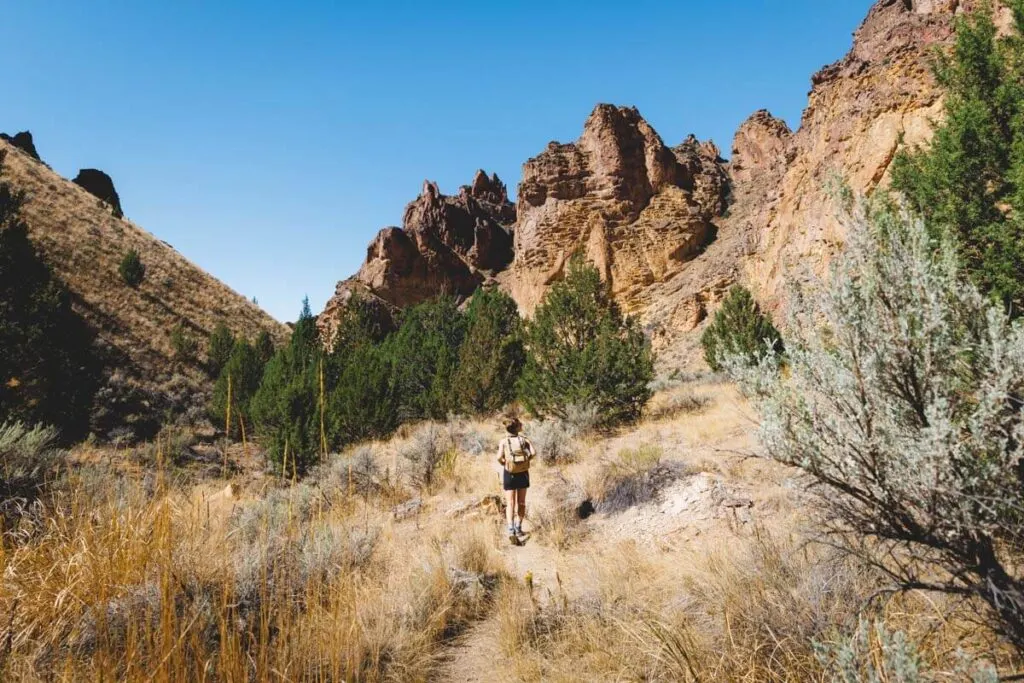 You will know you have come to the end of the trail when you start to climb into a canyon that is impassable due to overgrown brush. There are also a few spots for climbing and bouldering.
2. Dago Gulch
Distance: 2.1 miles
Difficulty: Easy
Type of hike: Out and back
Elevation gain: 285 feet
Find the trailhead for Dago Gulch along Leslie Gulch Road, and for those that want a relatively easy trail, this is the one to take in the Leslie Gulch area. For the most part, you will be following a jeep road, but it still offers some great vantage points of the hoodoos that dot the area. It is a great, accessible option for those wanting insight into Leslie Gulch, but without much elevation, gain, or rock scrambling.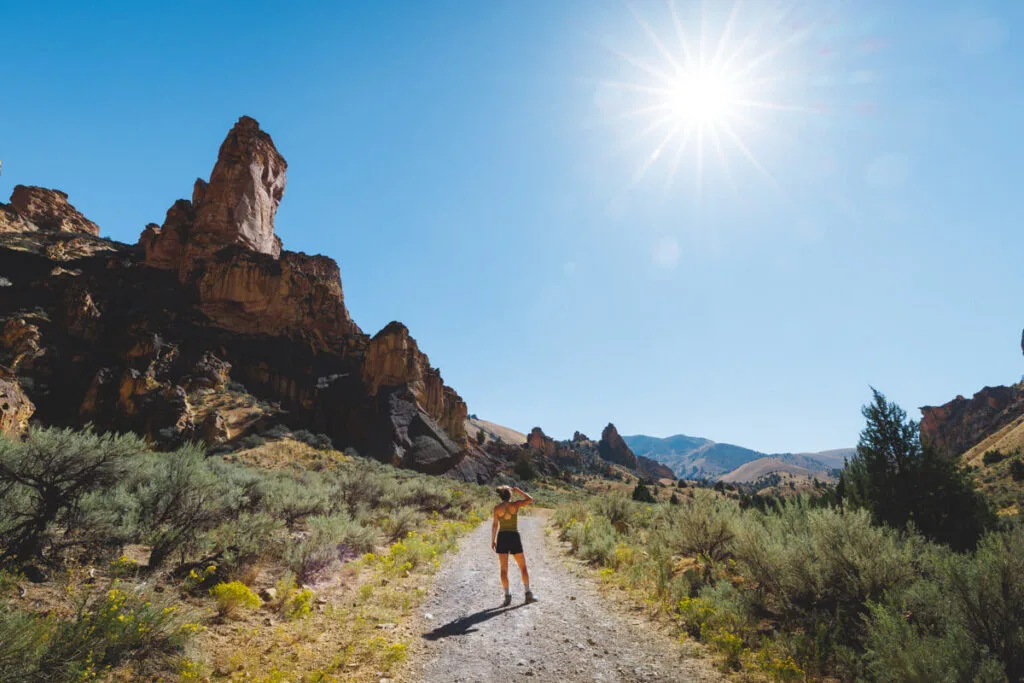 You will know when the trail ends as you will hit a dead end clearly marked as private property, so all you have to do is turn around and head back the way you came.
3. Timber Gulch
Length: 1.3 miles
Difficulty: Hard
Type of hike: Out and back
Elevation Gain: 583 feet
You will be forgiven for thinking you have been transported to Utah when hiking the Timber Gulch Trail rather than the state of Oregon. This beautiful hike has some incredible views and rock formations that will leave you puzzled about how on earth they formed.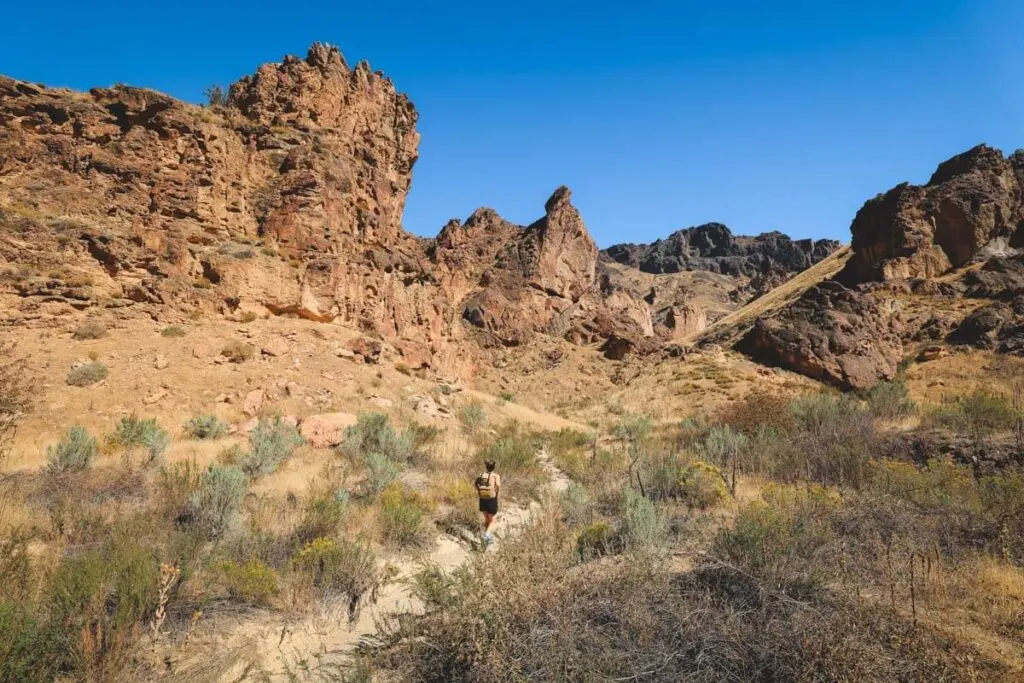 The short walk leads you into a natural, rocky amphitheater, and with only a 500-foot elevation gain, it is relatively easy. Start the trail by following a wide sandy wash. You might have to scramble to make your way past some rocks that seem to block your path. This sounds difficult, but it really isn't.
After you have headed uphill for a while, the sight that greets you is incredible. You will be standing in front of a large arena, so allow plenty of time to admire and take some snaps. The area is prone to flash floods, so stay away if it rains.
4. Juniper Gulch
Length: 3.3 miles
Difficulty: Moderate
Type of Trail: Out and back
Elevation Gain: 1046 feet
From the parking lot of Juniper Gulch Trailhead, you only have to look for a small gap in the brush. This is the start of the Juniper Gulch Trail, and from here on out, seeing as you will be following the canyon, you can't go far wrong (although there are a few forks to look out for).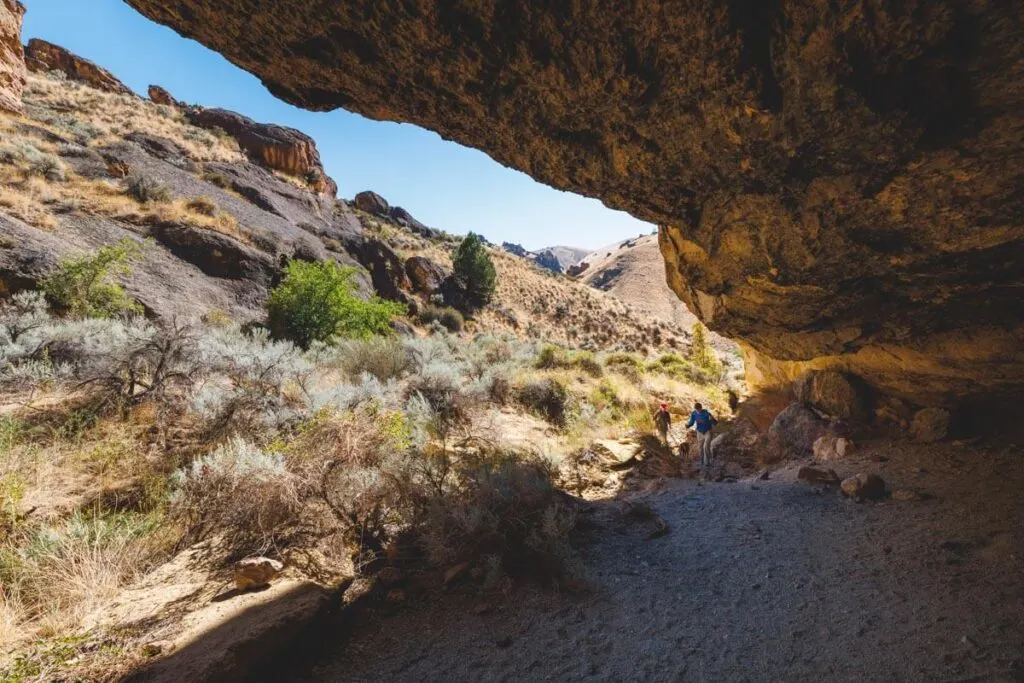 Enjoy the shade while you can during this first part of the trail. Underbrush and rocks make the first 30 minutes of hiking quite interesting, and that's before the climbing begins.
We recommend taking the left fork when you get to the first split. You can take a right but be prepared for a much more windy, up-and-down route. The actual climb begins around halfway through the hike as you ascend up from the canyon floor. Yes, it is steep, but it won't last very long, and before you know it, you will be able to enjoy some incredible 360 views of Leslie Gulch.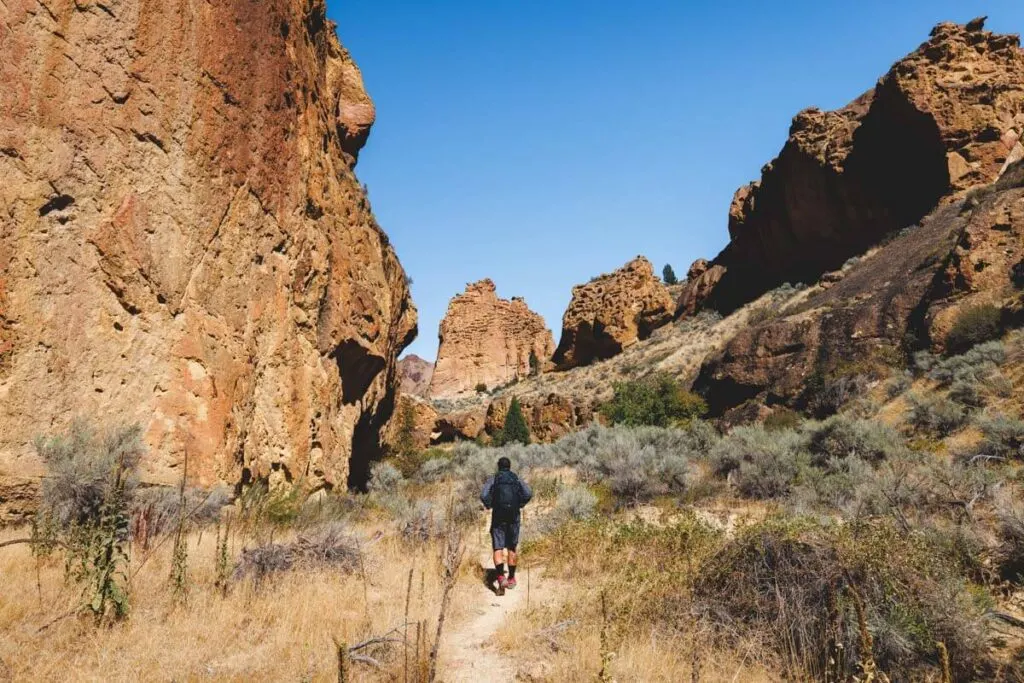 The end of the trail gives you some fantastic examples of the Honeycombs. As the name suggests, these are colossal lava rocks dotted with holes and small caves, giving the appearance of a honeycomb!
Slocum Creek Campground
There is nothing quite like camping beneath the stars, surrounded by towering red rocks and hoodoo wonders. It may be a long drive to reach the campground, but it is well worth the effort, with a playground of alien landscapes to explore on your doorstep.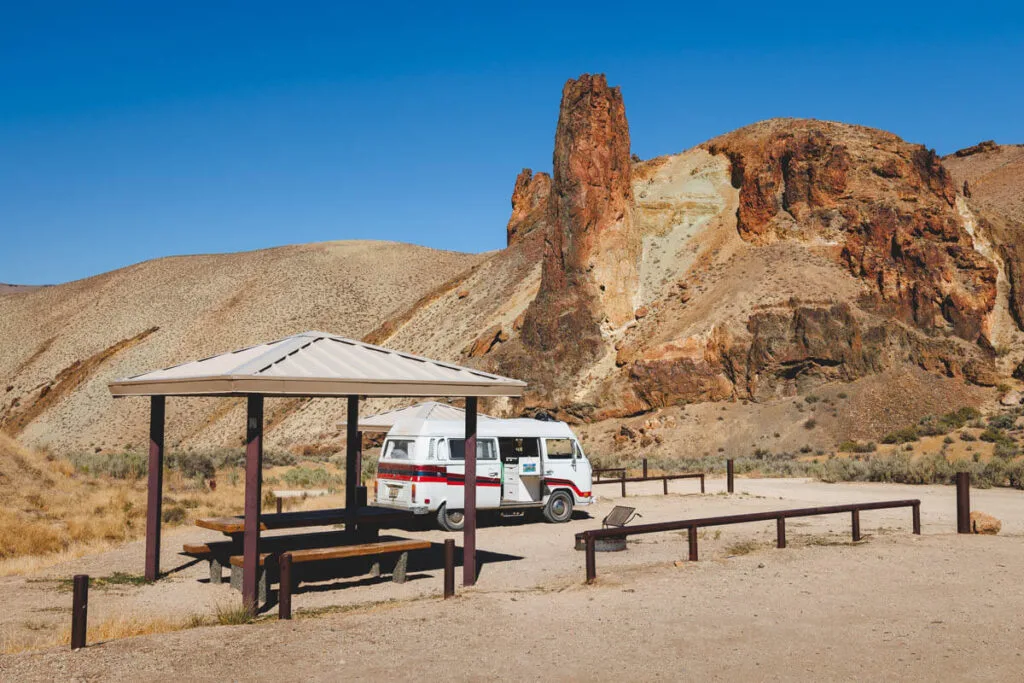 On-site, there are 12 campsites that RVs or tents can use, and they come with picnic tables and shade structures. For toilets, it is a bit of a more wild experience, with just pit toilets available, but that's all part of the fun. No water is available, so be sure to bring plenty with you.
When you wake up in the morning and step out of your RV or tent, the first thing you will see is the rolling hills and rocky spires of Leslie Gulch. You really do have front-row seats. Incredibly, the campground is entirely free, although you can't make reservations, so either get there early or have a backup plan in place.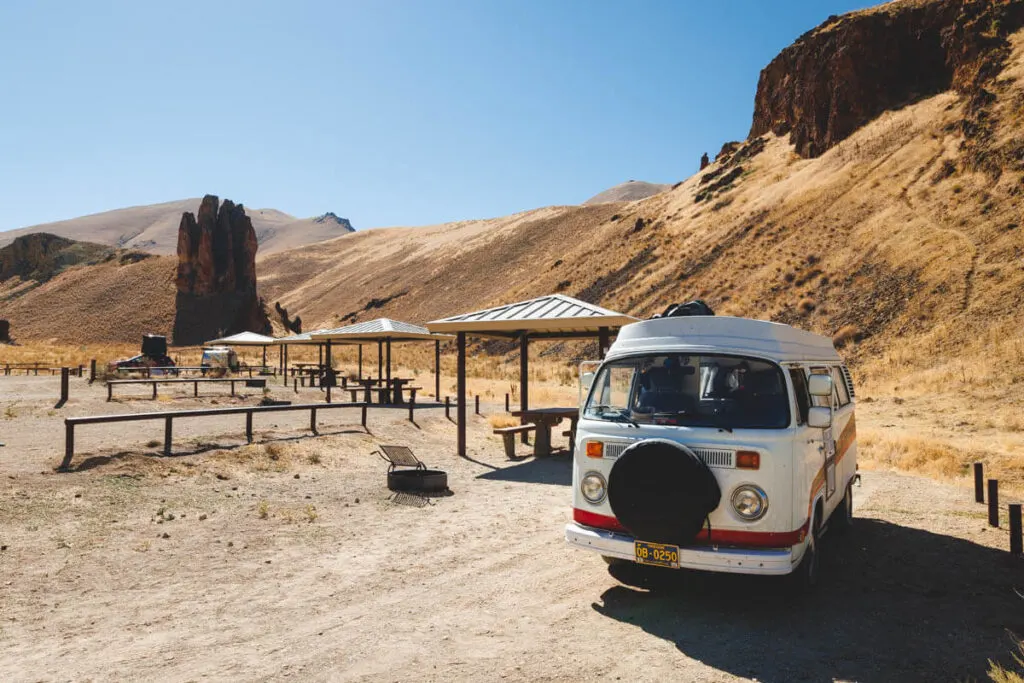 The campground is only about half a mile from a boat ramp that provides easy access to the Owyhee Reservoir. The reservoir is usually very still, which makes it perfect for kayaking and SUP, which can be a lot of fun.
How to Get to Leslie Gulch
Leslie Gulch is located in Owyhee Country and is quite a drive from most places. The Owyhee Wilderness is notoriously one of the most remote spots in Eastern Oregon; you will almost be crossing into Idaho on your visit. To give you an idea of how far away it is from major towns, from Portland, it will take you 8 hours to cover the 457 miles distance. Boise in Idaho is a lot closer at 81 miles!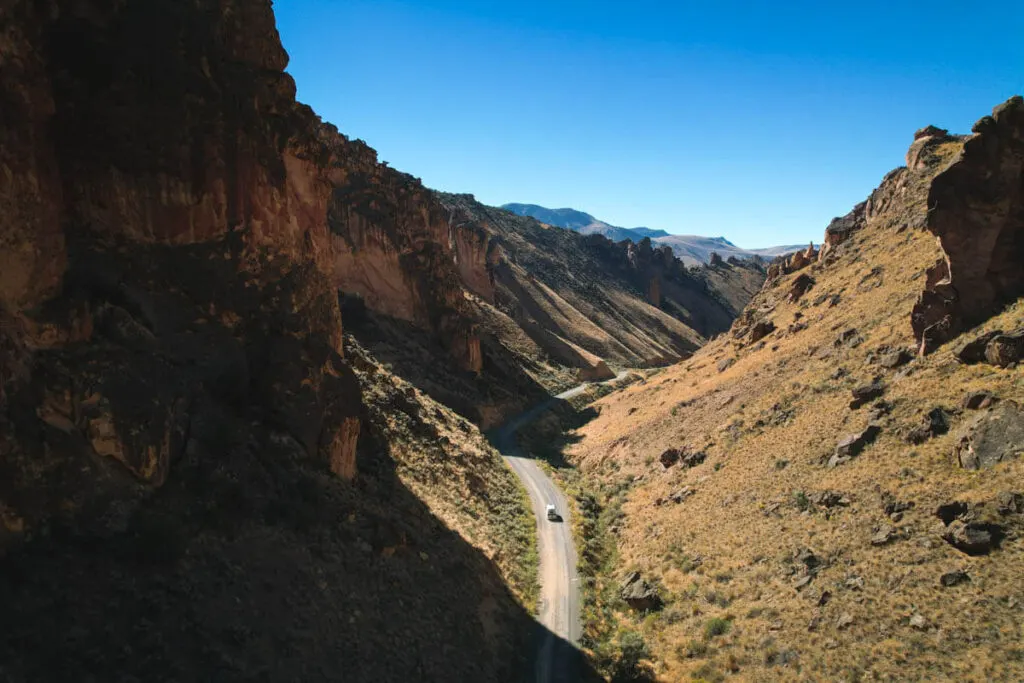 There are several ways to reach the Gulch, but the easiest way would be to take Highway 95 before turning onto Succor Creek Road. Follow this road for 25 miles and keep an eye out for the signs that will point you in the direction of Leslie Gulch. Be aware that the final leg of your journey will be on a gravel road, which means a fairly dusty journey!
The closest small towns are Jordan Valley, OR, and Nampa, ID, which have places to fill up your car with gas, so make use of them.
Tips for Visiting Leslie Gulch
Leslie Gulch is very remote, so you must plan your trip in advance. Ensure you take plenty of supplies with you, such as food, water, and gas, as there are limited services nearby.
Pay attention to the weather forecast. The canyon is notorious for flash flooding, which can be extremely dangerous, so this is something to be aware of before heading out.
In the summer, the area can get very hot, so bring sunscreen and a hat!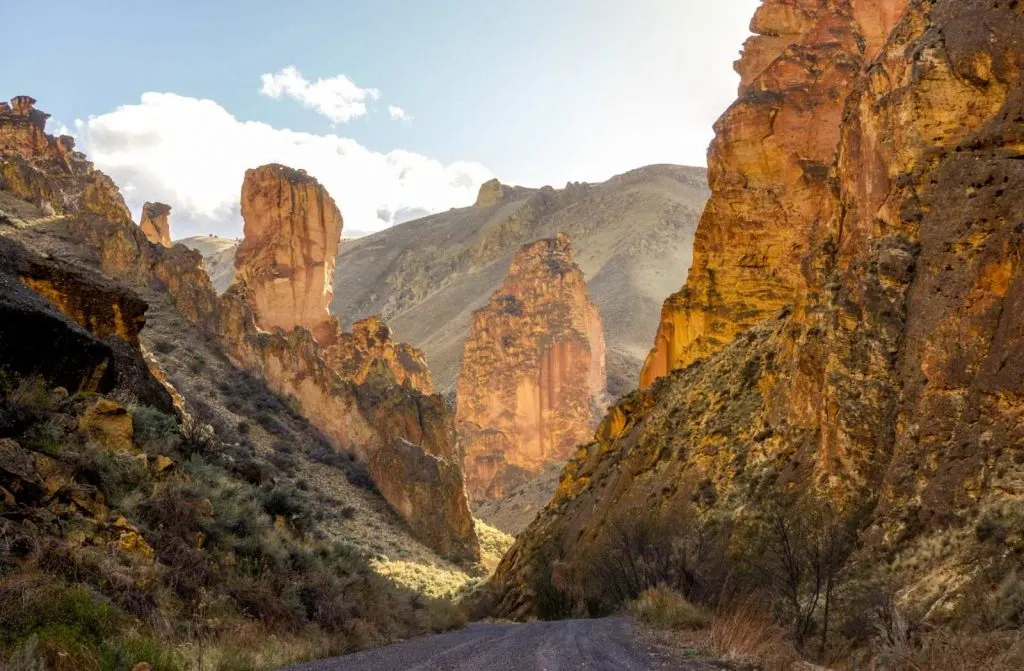 Hiking boots or sturdy shoes with good traction are a must. The terrain in the area is uneven, and no one wants to twist an ankle.
Be sure to stay on the designated paths. Avoid walking on any vegetation as it is a fragile environment, and the last thing you want to do is cause any damage.
Watch out for rattlesnakes. They are seen relatively regularly in the area.
There is no cell service, so download any maps or documents onto your device before you arrive.
Whenever you travel, take all your trash with you and leave no trace.
Be prepared to kick up some dirt on the way, and watch out for cattle that may be on the road.
Baby wipes will come in handy as a "shower" to get all the dirt off of you after a day of hiking.
We hope this helped you plan your trip to Leslie Gultch!
More Things to Do in Eastern Oregon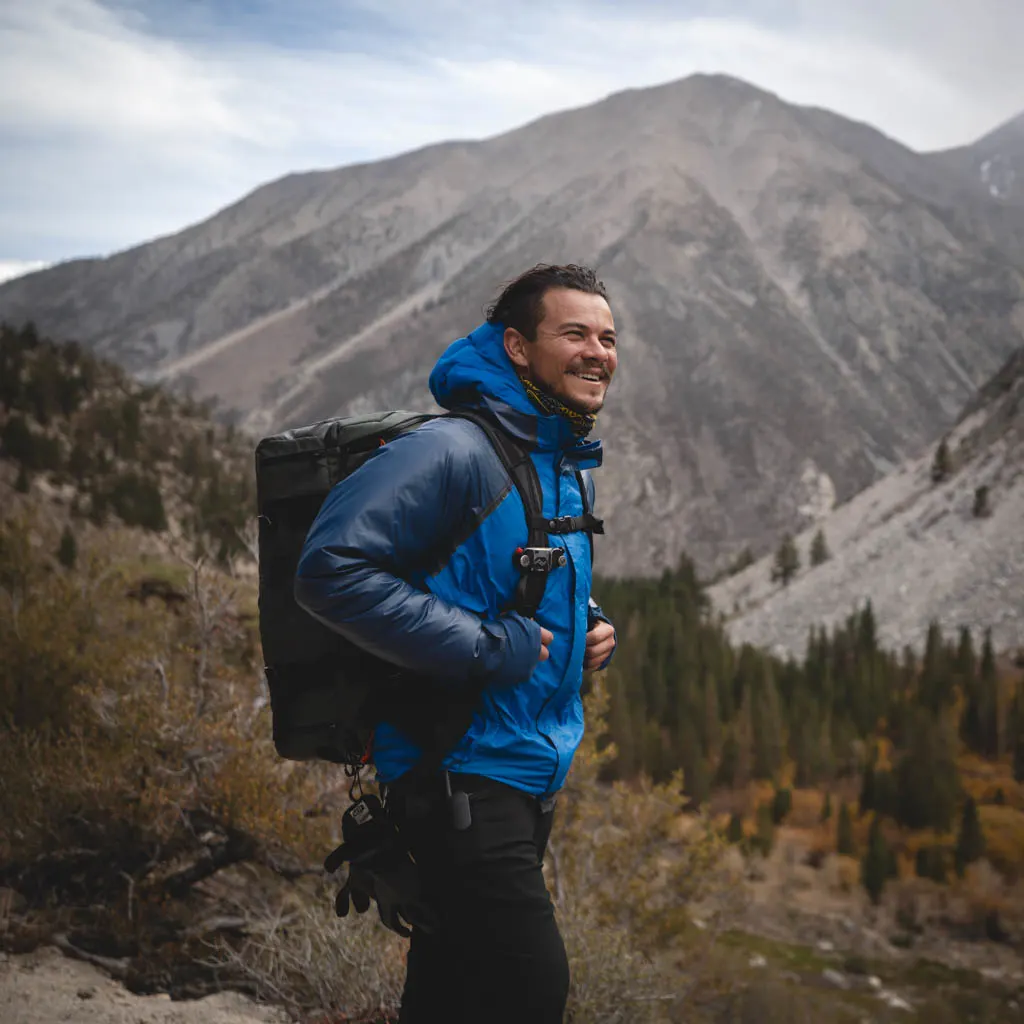 Oregon native and explorer at heart. Loves tackling expeditions around the world and drinking a good beer at the end of the day. PNW obsessed, VW nerd, and surf or snow riding fanatic.