Oregon has some incredibly beautiful coastlines, mountains, and rivers to explore, but I want to shine a light on a little gem just outside of Portland called Tillamook State Forest.
This new and old-growth forest covers 364,000 acres and provides plenty of adventure for those who enjoy being outside in nature and can appreciate some pretty cool trees.
Oregon's forests are some of the most diverse trees in the world—Tillamook Forest included. However, due to the considerable amounts of rainfall in the area, Douglas-fir trees are the most prominent here.
The Tillamook State Forest also has beautiful but chilly rivers and streams that offer great kayaking and swimming adventures. More to the point of this post, there are over 80 miles of trails for hikers, bikers, and trail runners.
We think these are some of the coolest Tillamook Forest hikes, and we think you just might fall in love with them. I know I did.
Once you've got your bag together with your water, food for the weekend, hat, poles, and hiking shoes of choice, start heading Northwest out of Portland.
Make your way past Beaverton and Hillsboro before taking a left on Highway 6. This road cuts through the middle Tillamook State Forest, and you're on to your next Oregon adventure.
7 Tillamook Forest Hikes You Can't Miss
---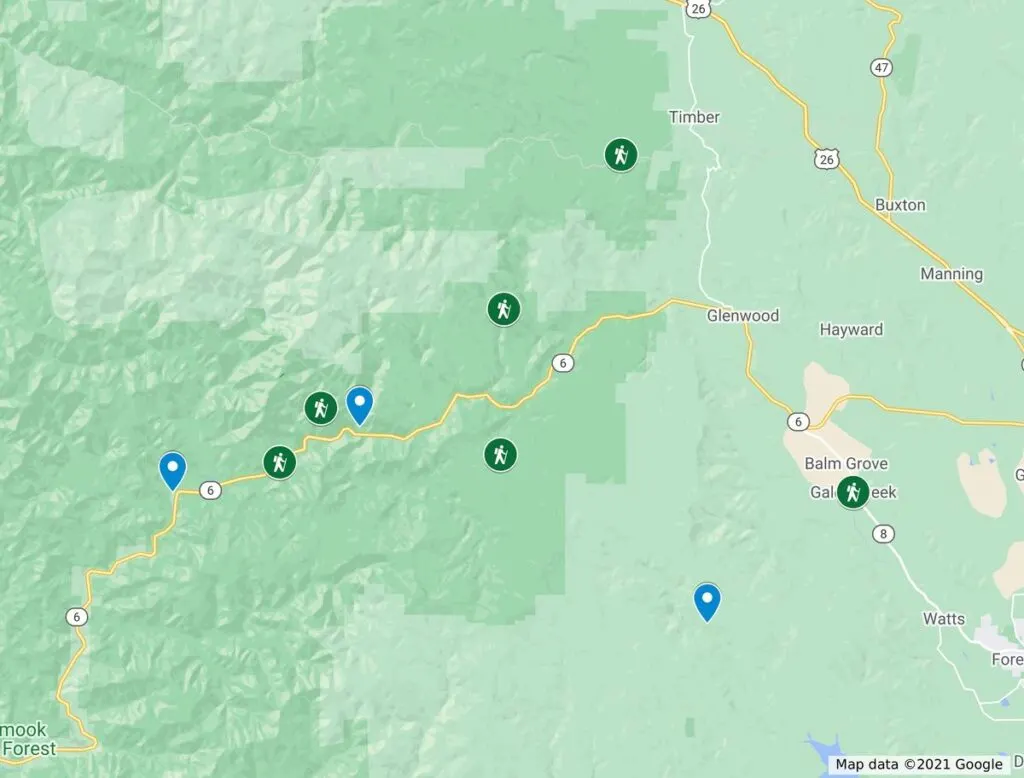 Most of my hiking recommendations can be accessed from Elk Creek Campground – because I am all about convenience and eliminating driving when and where possible. Plus, it's just one more parking spot you don't have to worry about finding.
Nothing starts your Tillamook Forest hike on the wrong foot (literally) than waiting 30 minutes or circling the parking lot 50 times to find a spot. Been there, done that. Not fun or adventurous.
Of course, if camping isn't your thing, then your best bet would be to stay in Tillamook. It's about 20 minutes away and a well-worth-it town to stay in. While you're there, take a Tillamook Cheese tour (yes, really!), ride the 3 Capes Scenic Route, or kayak the Bay!
Trail Notes: If you are physically fit and running short on time (but still want to see as much of Tillamook Forest as you can), I suggest that you run some of these trails. Granted, more of the steeper trails might not actually be runnable, but the more level trails certainly are!
1. & 2. Elk Mountain (2 for 1) & The Most Popular Tillamook Hike
Elk Mountain is not for the faint of heart—whether you choose to hike up to the summit and back or head over to King's Mountain for the 10-mile loop, this trail will challenge you mentally and physically- but is well worth the torment.
This popular Tillmook trail starts near Elk Creek Campground and takes you on a short but sweet flat walk along the Wilson River Trail. Don't be fooled.
You will quickly turn off this trail to start your steep ascent – sprinkled with some flat sections that will play mind tricks on you – of 2,500 feet. Oh yeah, you are climbing this elevation in 2.5 miles.
Elk and King's Mountain Loop
Distance: 10.7 miles
Type of trail: Loop
Difficulty: Difficult
If you like scrambles, rope hiking, more mileage, and great viewpoints, I highly recommend tackling Elk Mountain Trail and continuing on to King's Mountain for a full loop around.
The first 7 miles are pure muscle burners as you make your way around the circuit while the last 3 miles of this loop are relatively flat as you head back down to the campground along Wilson River Trail. The total elevation for this loop track is a whopping 3,756 feet.
Elk Mountain Out and Back
If a 10-mile loop with extensive elevation gain sounds a bit too much, the more popular option is to ascend Elk Mountain, eat your packed lunch at the summit, and enjoy the forest views, and descend the way you came for a still-impressive 5-mile hike.
Just be careful on the downhill. It's still just as steep as you remembered. A rest at the top won't change that.
3. Gravelle Brothers Trail
Distance: 2.3 miles
Type of trail: Out and Back
Difficulty: Moderate
If you want a more densely packed forest trail with a pretty cool waterfall access point, definitely head for a hike on Gravelle Brothers Trail.
This Tillamook Forest hike starts at the University Falls Trailhead just off Hwy 6 and immediately provides you with a steep and technical climb. After a little trek, you should notice a steep downhill towards Elliott Creek.
Follow the signs towards University Falls because you don't want to miss this impressive waterfall. Depending on the time of year, this waterfall can be chucking a lot of water.
If you head to the waterfall and back, this trail is only 0.7 miles. If you wanted to tack on a little more mileage, you could continue on the University Falls Loop hike. However, I recommend saving your miles for some of the other trails on the list and just using this hike to get your waterfall fix.
---
READ MORE: 17 Breathtaking Oregon Coast Hikes
---
4. & 5. Gales Creek (2 for 1)
If forests, small waterfalls, and river views are more your thing, head over to Gales Creek for a lovely (but still challenging) hike that is peaceful no matter which direction (or length) you decide on.
Gales Creek Out and Back
Distance: 11.3 miles
Type of trail: Out and Back
Difficulty: Moderate
Considered one of the best trails in Tillamook State Forest, Gales Creek (out and back or point out point if you coordinate car pickups) is a long, single track that starts at the Gales Creek Trailhead, follows Gales Creek (are you surprised?), and ends at Reehers Camp at the Bell Camp Road Trailhead.
Depending on which other trails you tack on, this trail takes you through a young forest that was part of a colossal reforestation project.
Gales Creek to Storey Burn Trail Loop
Distance: 6.9 miles
Type of trail: Loop
Difficulty: Moderate
Starting from the Gales Creek Trailhead, you only need to hike this trail for about 0.8 miles before you turn off onto Storey Burn Trail Loop.
For this trail, I recommend going counterclockwise on the path for a more gradual uphill hike. If you are anything like me, I prefer steady uphills to steep climbs if I have a say in the matter.
Watch out for trail conditions when you go as this one can get a little muddy. I like this trail because there are quite a few river crossings that call for agility and semi-advanced hopping skills.
Two crossings, in particular, have a high probability of getting your feet wet. And there is something so primal about hiking in wet feet, isn't there?
---
READ MORE: A Legendary Oregon Coast Road Trip—35 Stops & 3 Itineraries
---
6. Wilson River Trail
Distance: 4.9 miles
Type of trail: Out and Back
Difficulty: Moderate
Since I mentioned it above, let's chat about the unassuming (but quite significant) Wilson River Trail. Following the Wilson river – a major river corridor in the Coast Range – this trail actually goes for about 22.6 miles point to point.
That is if you wanted to complete the entire hike in one go. Many don't, opting to tackle it one section at a time.
Whether you want to complete all 22.6 miles or just 2, you can start at the Elk Creek Trailhead – which is convenient if you are camping there.
If you are visiting for a weekend, I recommend settling for 7.6 total miles along Wilson River for an in and out hike that starts at Elk Creek Trailhead and heads toward King's Mountain Trailhead to the west. When you get there, conduct a 180-degree turn and start your hike back.
7. Triple C Trail
Distance: 2.1 miles
Type of trail: Loop
Difficulty: Easy
Now that I've given you a list of moderate to difficult (and high mileage) trail options, I thought I'd end with a lovely 2.2-mile loop trail that takes you through both younger and older growth forests without too much climb but a whole lot of tranquility.
You can catch this trail at the Reehers Camp Trailhead (where you ended your Gales Creek hike). You actually would be hiking 0.4 miles of Gales Creek before it takes a turn on to the Triple C Loop Trail.
It's more of a beginner trail compared to other Tillamook Forest hikes, but it's a great way to warm up the legs before you tackle some of the more challenging trails in the area.
---
READ MORE: 11 Most Scenic Oregon Coast Towns (And What to Do There!)
---
Tillamook Burn
When you visit this incredible place, it's important to know the impactful history this forest has had on the local community.
Tillamook State Forest was established not because the state wanted to preserve what was already there but to restore and preserve what would soon be here from the substantial effort of a hardworking community in response to what we now know as the Tillamook Burns.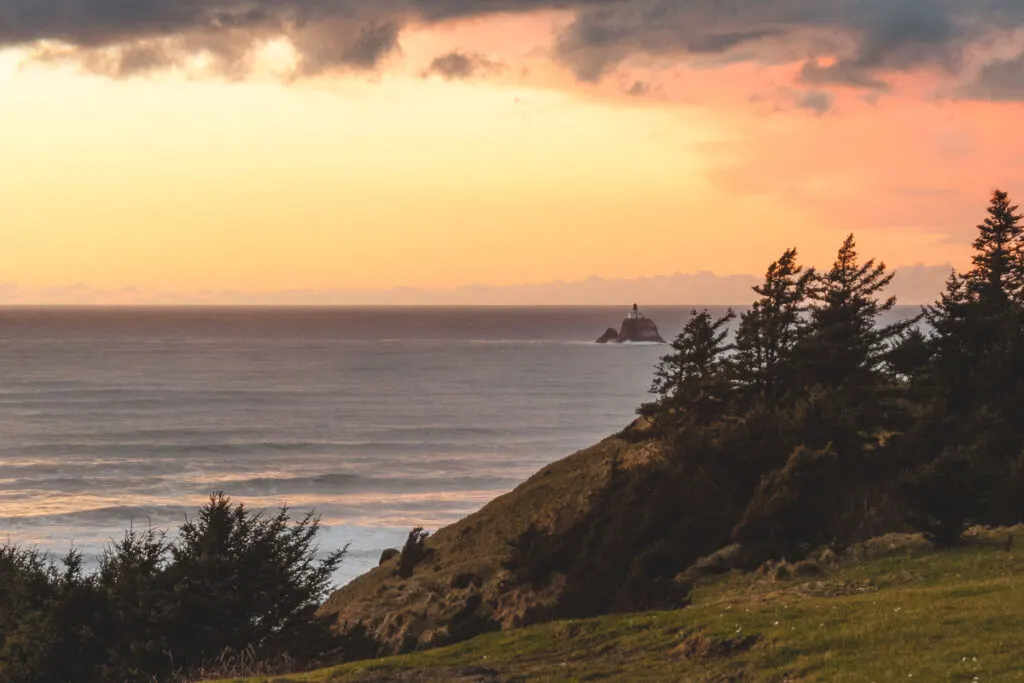 The Tillamook Burns consisted of several catastrophic fires in the 1930s that lasted until 1951. And after a "complete change of land ownership patterns, epic-sized fire protection…reforestation programs were also launched by the Oregon Department of Forestry to prevent future fires and to restore the haunting, blackened landscape to the green forest."
Between 1949 to 1972, over 72 million trees were planted by volunteers and schoolchildren, while over a billion Douglas-fir seeds were dropped from helicopters in order to restore the landscape that future generations could enjoy.
As you meander along your Tillamook Forest hike, you can see with your own eyes the fruit of the community's labor in this environmental endeavor.
---
RELATED: How To Do an Oregon Coast Day Trip From Portland
---
Tillamook State Forest Visitor Center
While this isn't a hike, I recommend heading over to the Tillamook Forest Visitor Center before you leave the forest. They have an excellent interpretive and educational exhibit that explains the forest ecosystem, the Tillamook Burn, and sustainable forest management. There is also an award-winning film, "Legacy of Fire" that plays in the theater every 15 minutes.
"No other place in Oregon or the Northwest provides the forest-based learning opportunities found at the Tillamook Forest Center:" – Tillamook Forest Center.
From the center, you can take a walk on part of the Wilson River Trail (mentioned earlier) and explore the mosses, ferns, and trees that thrive in the area due to an abundant amount of rainfall.
Make sure you walk out of Tillamook State Forest with more knowledge about reforestation, forest management, and preserving the outdoors than you walked in with. It's that important.
---
RELATED: 11 Stunning Things To Do on the North Oregon Coast
---
Tillamook State Forest Campgrounds
I would highly recommend that you pick out a camping spot before you head off adventuring – mainly because this is a popular weekend destination for city dwellers looking for a little nature time.
There are over seven campgrounds to choose from and seven designated campsites, so there are options for all kinds of camping styles. Plus, all campgrounds are pretty affordable.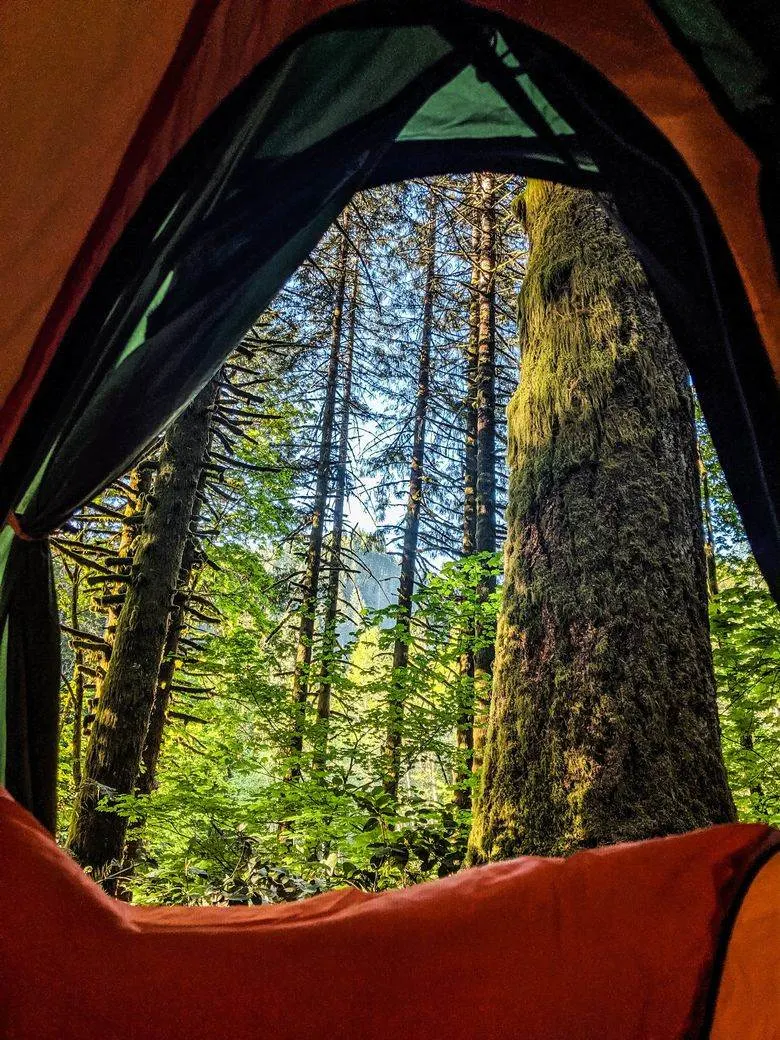 Hands down, I recommend staking a claim at Elk Creek Campground. All campsites here are walk-in only offering plenty of privacy for campers. There is also river access for a (cold) wash after your hike or to relax during a warm day.
This campground is also well situated for hiking trail access to some of the best hikes in the forest. Oh, and the porta-potties aren't the worst either.
Did I mention there are some pretty epic evergreen trees that you can snap pictures of and not have to edit for saturation because they are literally that green? All hail the Pacific Northwest evergreen trees.
---
READ MORE: 17 Cool Oregon Coast Campgrounds to Stay At
---
More Places to Stay Near Tillamook State Forest: Cabins & Glamping
Tillamook Fishermen's Cabin
This cozy pine cabin is the perfect nature getaway. It is located on the North Fork and Wilson Rivers, and is surrounded by numerous hiking trails. Enjoy the jetted tub after a long day of hiking.
Tillamook Forest Cottage Retreat
This charming 100-year-old cottage is right on the river, and has access to a swimming hole for hot summer days. Enjoy beautiful views of mountains and meadows when grilling on the deck, and take advantage of the fire pit and free firewood to make S'mores.
We hope this guide helped you plan some epic Tillamook Forest hikes! Check out more posts on the Oregon Coast and even more adventures around the state.
Ashley is one half of the two bloggers behind Impact Winder, an unconventional lifestyle blog that highlights slow travel, financial independence, and environmental impact. She's been traveling the world with her husband since 2016, with the purpose of impacting and encouraging others to push beyond the boundaries of a 'normal' life. You can find her at the nearest third-wave coffee house, writing away at the computer as a freelance writer, looking up new ways to live more sustainably, or researching their next destination.