If you look at reviews of Klamath Falls waterfalls, you'll find a one-star rating on TripAdvisor and an angry comment stating, "there are no waterfalls in Klamath Falls!".
This is true—the town of Klamath Falls is home to the Link River, and while there are ample places to enjoy the water and its rapids, there are no falls in Klamath Falls.
However, the walk around Klamath Falls is very scenic, and there are still some waterfalls in the area that you can enjoy!
So, here's the best selection of other waterfalls near Klamath Falls!
Waterfalls in Klamath Falls
---
Confusingly, there aren't really falls at Klamath Falls at all!
The name "Klamath" comes from the indigenous tribes in the area, whereas "falls" comes from the phrase "where falling waters rush," referring to the strong current of the river. Over time, this condensed to just "Klamath Falls!"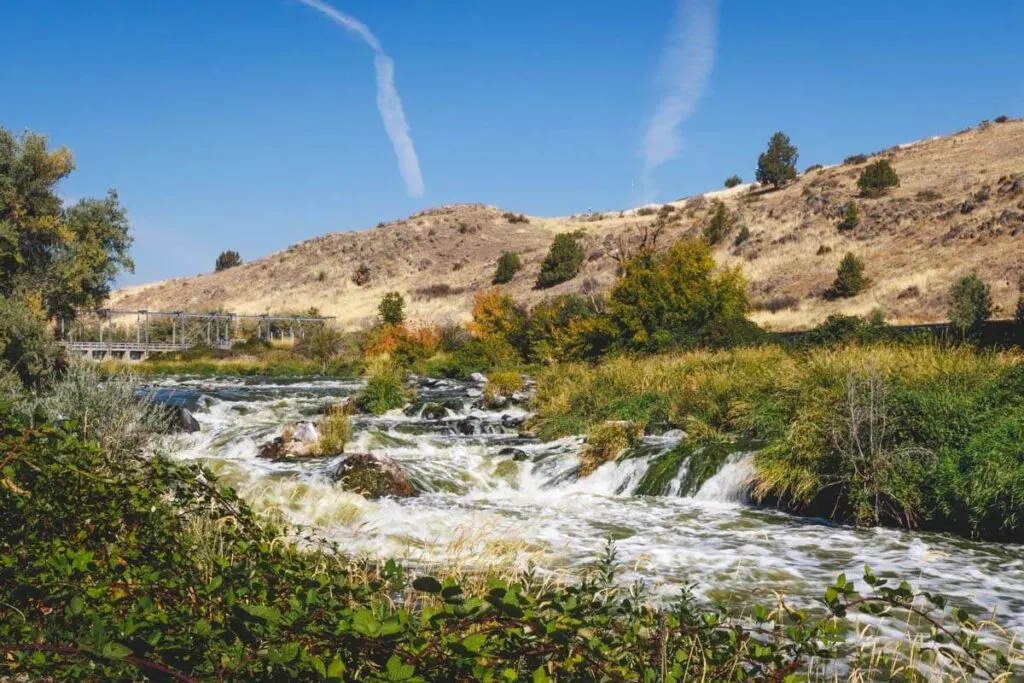 There's a 2.6-mile out-and-back route that you can take along the Link River, which leads from Klamath Falls town to Upper Klamath Lake. This runs along the river (and offers vantage points of the rapids/"falls"!), and it's an easy route teeming with animals like waterfowl and other birds.
While this is where Klamath Falls's "waterfall" should be, you won't find anything beyond a bump in the river. With that said, this is still a nice trail to do while in town (if your expectations are in check), but you'll need to venture out to see any REAL waterfalls near Klamath Falls…
1. Butte Falls
About an hour away from Klamath Falls.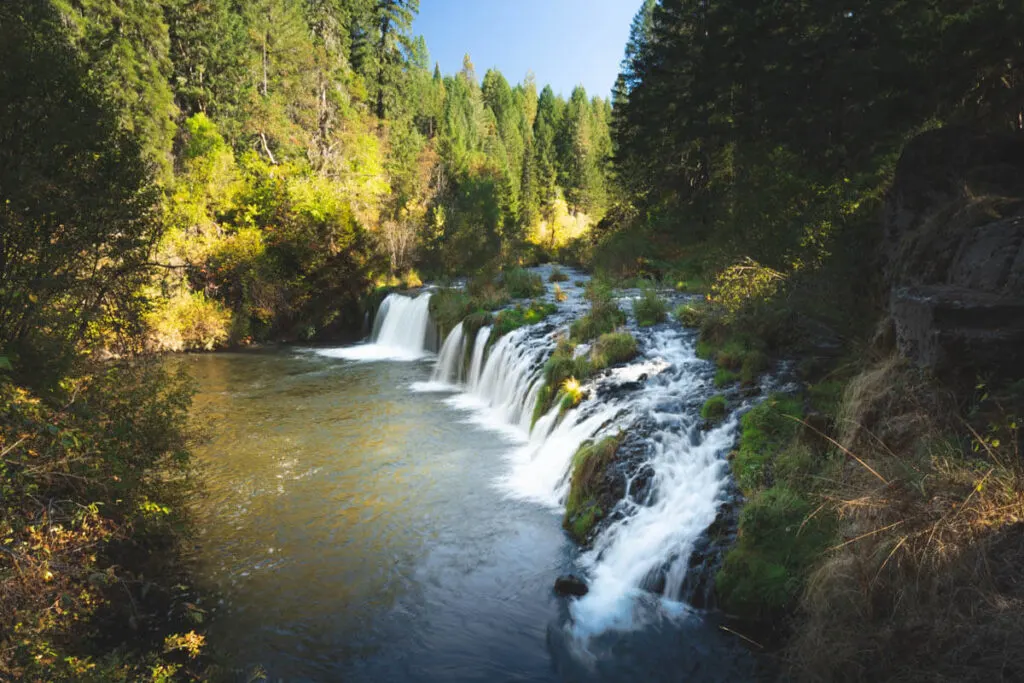 Affectionately known as "the biggest little town in Oregon," Butte Falls is home to around 400 people. Unlike Klamath Falls, the settlement also boasts some impressive waterfalls, with a 1.1-mile loop hike to take them in. There's also a glorious swimming hole in Upper Butte Creek Falls!
Don't mind the back alley dirt road to get here; it's just a minute or two down the way.
2. Vidae Falls
About an hour away from Klamath Falls.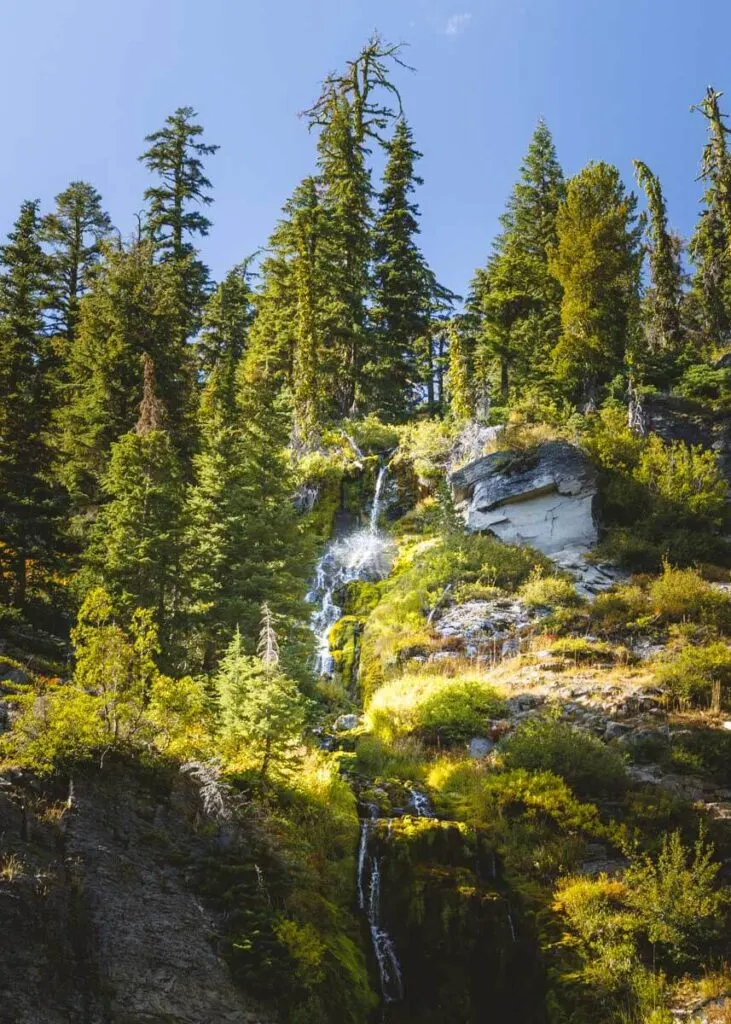 A must-visit if you're making a trip to Crater Lake, Vidae Falls is a 115 feet drop that crashes down and flows under Crater Rim Drive. It's a really easy viewpoint, thanks to its accessibility to the road, and the perfect place to stop if you're driving around this epic Oregon lake!
3. Plaikni Falls
About an hour and 20 minutes away from Klamath Falls
Another Crater Lake waterfall, Plaikni Falls are beautiful twin waterfalls that sit at the end of the easy Plaikni Falls hike. There isn't a swimming hole here, but there's space to sit and enjoy the view!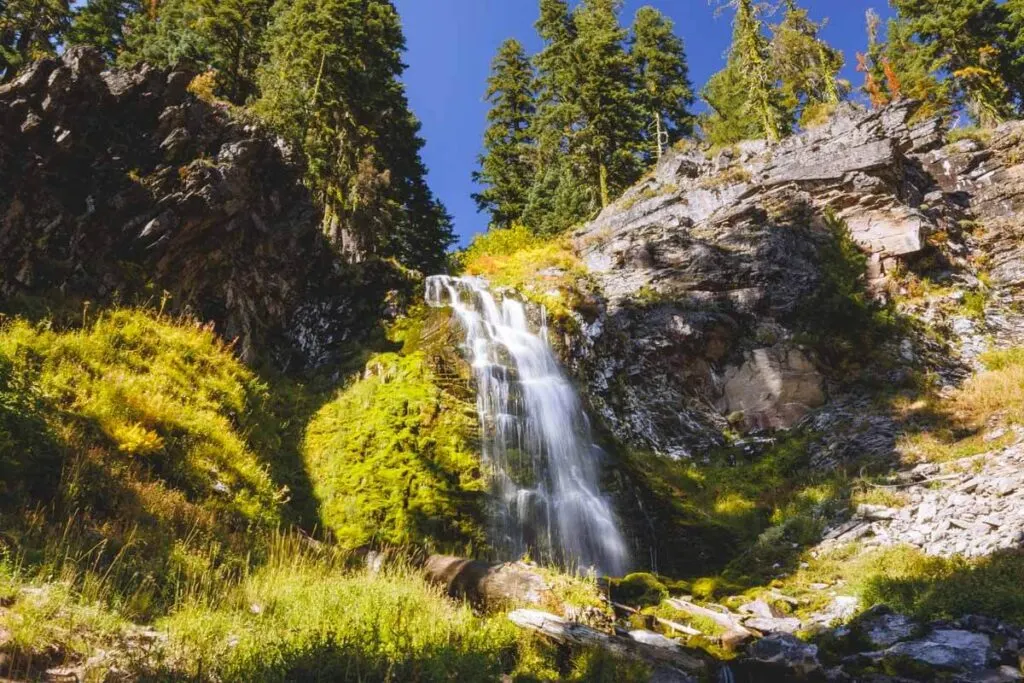 The hike takes around 45 minutes, and it's flat most of the way, apart from a few meters of uphill walking at the end.
---
RELATED: 9 Best Crater Lake Hikes You've Got to Take On!
---
4. Crowfoot Falls
About an hour and a half away from Klamath Falls.
Sitting at 80 feet wide, Crowfoot Falls are small cascades that drop off a cliff into a plunge pool below. These are some of the best waterfalls near Klamath Falls for swimming, although be careful; the water here is freezing, even in the summer months!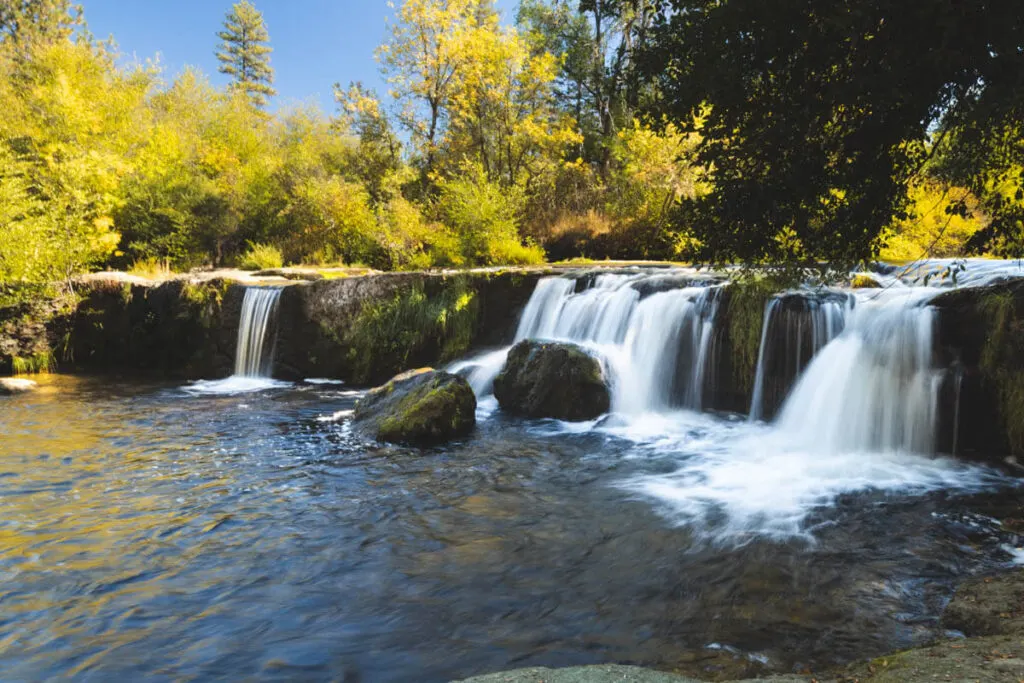 They aren't that well-known, so they're a great hidden gem to visit during peak season! There's limited parking at the trailhead and a very short walk to the falls.
---
RELATED: 29 Stunning Oregon Waterfall Hikes
---
5. Prospect State Scenic Viewpoint and Falls (A Cluster of Waterfalls Near Klamath Falls!)
About an hour and a half away from Klamath Falls.
This small state park is close to Crater Lake, home to the impressive Bar Creek Falls, which plunge 240 feet over a few sections.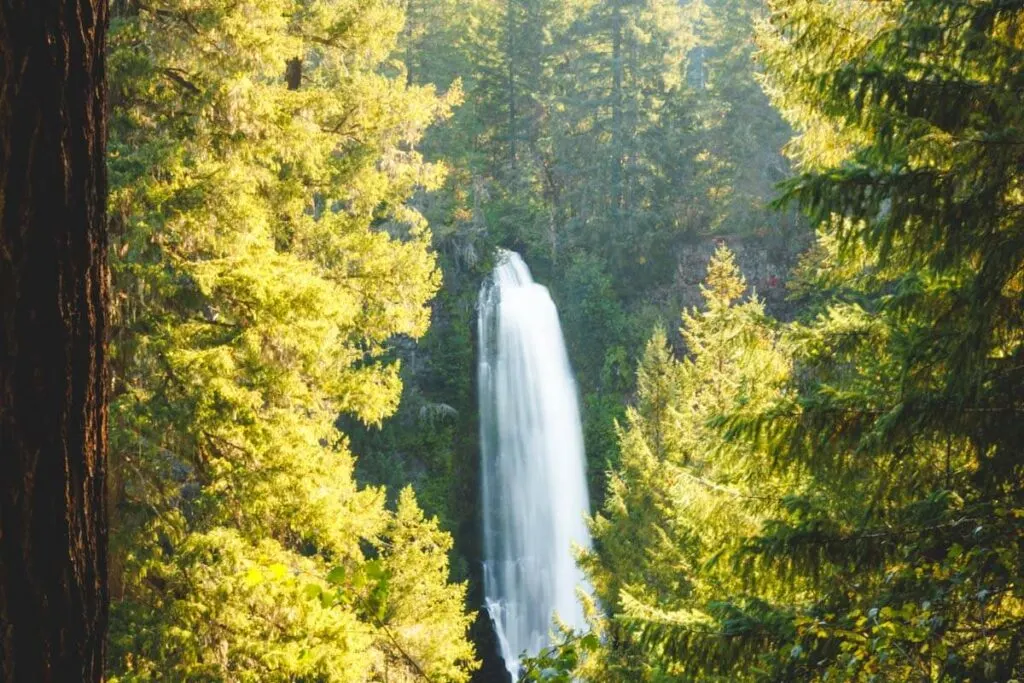 You can take the Mill Creek Falls trail, which is relatively short (less than a mile) and easy for families, where you'll enjoy a spectacular vantage point of the waterfall. Plus, you can take another trail to see the gorgeous Avenue of The Boulders.
6. Clearwater Falls
About an hour and 35 minutes away from Klamath Falls
The spectacular Clearwater Falls crash over moss-strewn boulders and into the Clearwater River. There is a very short walk to get there—it'll only take five minutes (it's 0.2 miles), and it's very easy.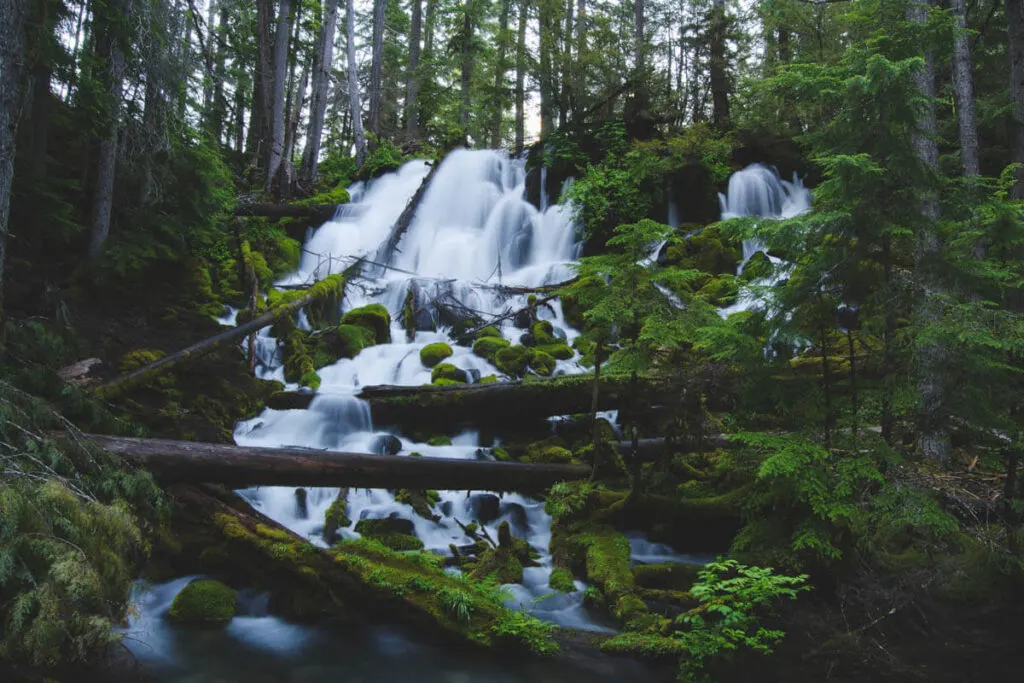 It's more of a rest stop and place to stretch your legs than a hike, but with the added benefit of some incredible falls to experience!
7. Watson Falls
About an hour and 45 minutes away from Klamath Falls
Watson Falls is one of the most impressive waterfalls near Klamath Falls—it's a beautiful 272-foot cascade that drops over basalt lava cliffs.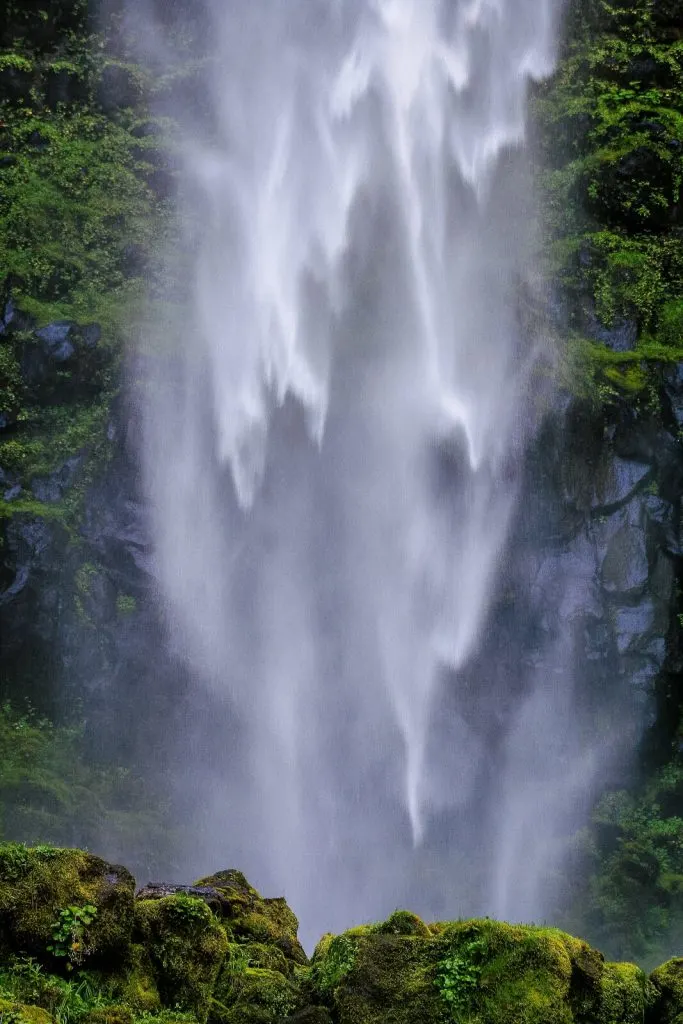 It's at the end of a short but steep hike, which is a great place to get your heart pumping before admiring the spectacle of white water plunging into a pool below! The trail is dog-friendly and very popular with tourists in peak season.
8. National Creek Falls
About an hour and 50 minutes away from Klamath Falls.
The National Creek Falls Trailhead is less than 0.7 miles and is easy (although it does involve some climbing) out-and-back trail to see some of the most spectacular falls in the area.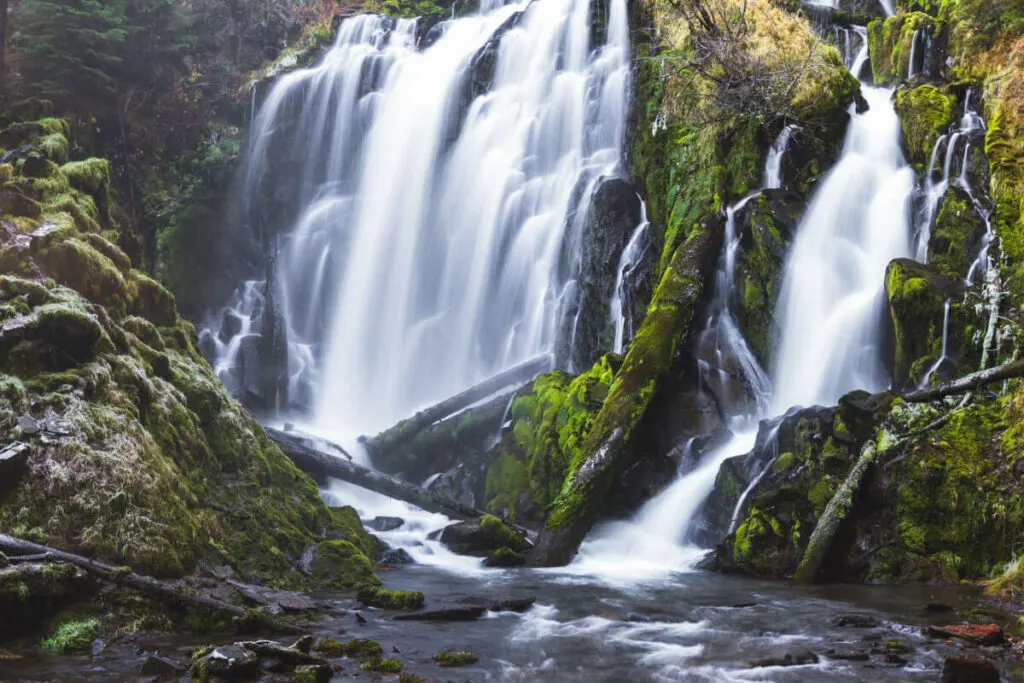 Another hidden gem, not too many tourists know about these spectacular waterfalls! The falls crash over the cliffs at 40 feet, providing hikers with spectacular views and the chance to take fantastic photos.
9. Toketee Falls
About an hour and 50 minutes away from Klamath Falls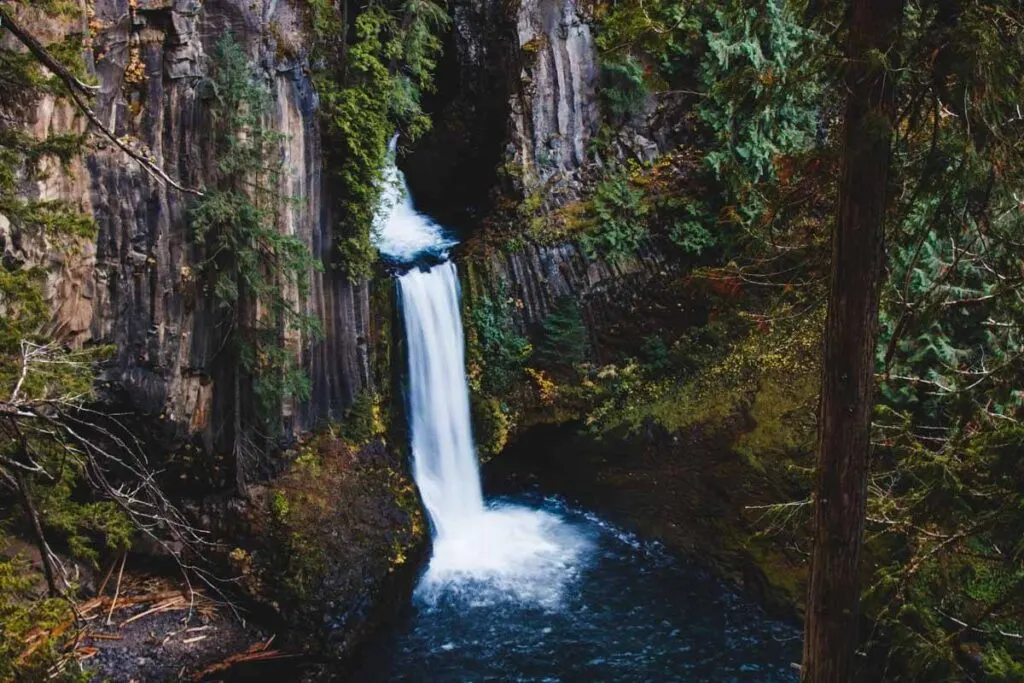 A slice of paradise in Umpqua National Forest, Toketee Falls descend in between two cliffs. It's an easy hike to reach them along a well-maintained path (around 0.4 miles each way). There's a perfectly placed viewing platform to enjoy the vista.
---
RELATED: Guide to Umpqua National Forest: Waterfall Hikes & Hot Springs
---
10. Lemolo Falls (One of The Furthest Waterfalls Near Klamath Falls, But Worth It!)
About an hour and 50 minutes away from Klamath Falls
Amongst the most impressive waterfalls in Oregon, Lemolo Falls can be reached by a one-mile hike along the North Umpqua Trail. You'll catch some views of the upper falls before reaching them and then have the chance to descend into the canyon, where you can see them head-on.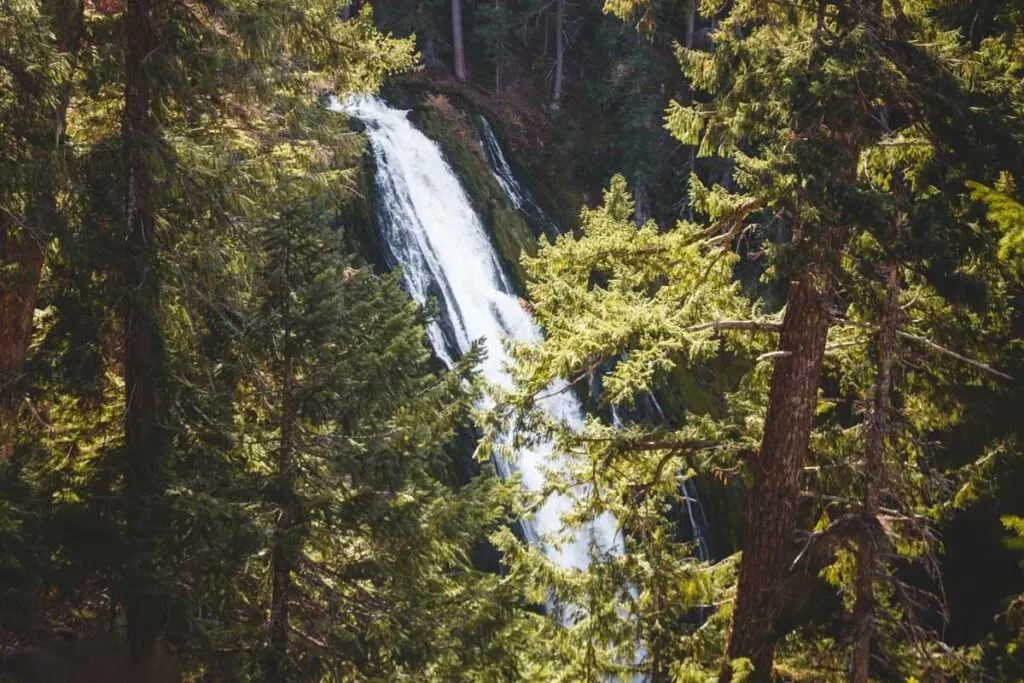 Here, you can take in an impressive vista of the enormous falls plunging into a rocky valley with evergreen trees on either side.
Although there are no waterfalls at Klamath Falls, there are plenty of spectacular waterfalls around the town! Some of these are best visited when seeing other highlights in this part of the state, such as Crater Lake, the Umpqua area, and its many hikes and swimming spots!
---
RELATED: 7 Awesome Things To Do in Klamath Falls, Oregon
---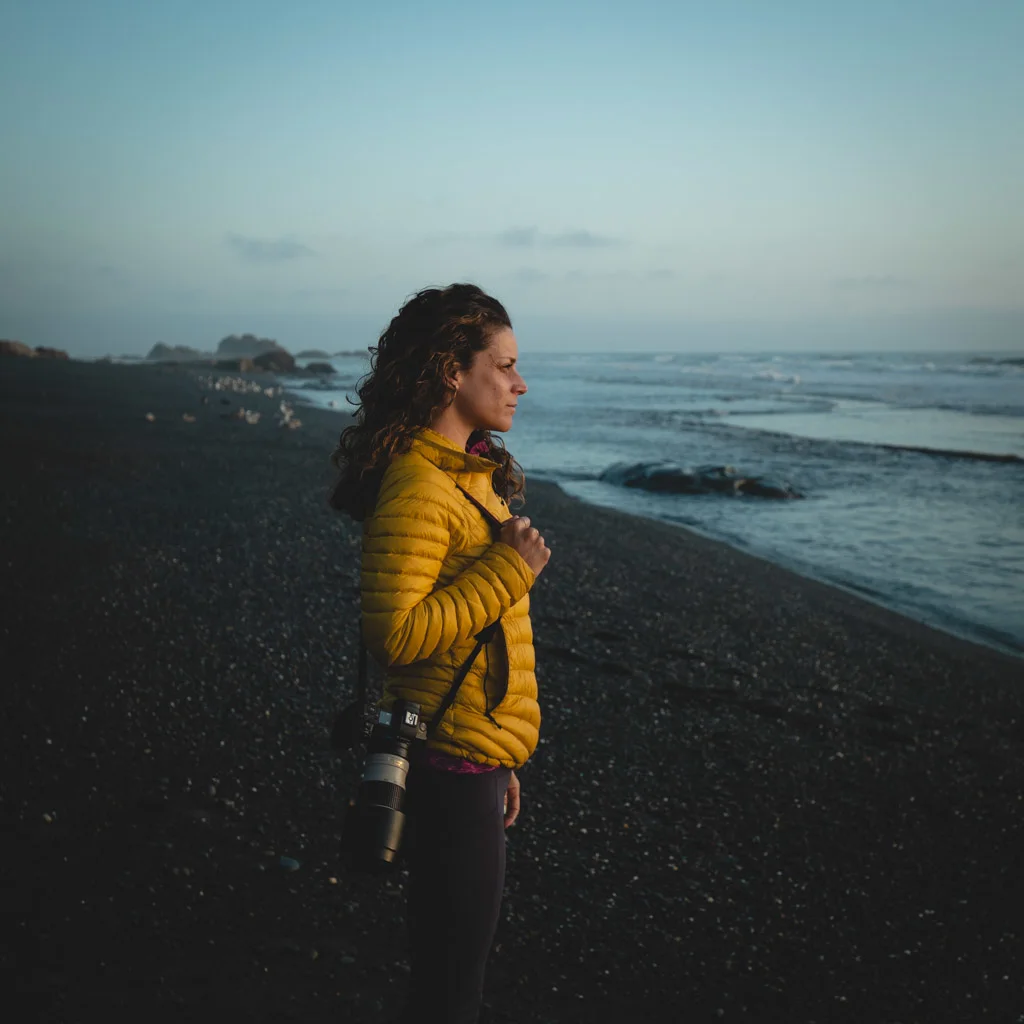 I've been perpetually traveling and living around the world for years but it's hard to beat Oregon and the PNW. After years of road-tripping the area, I guess you can say I know it pretty well! When I'm not writing guides for you, you can catch me somewhere petting a dog, attempting to surf, hiking a volcano, or stuffing my face with bread and cheese.