Welcome to Astoria, a charming coastal haven where history meets beauty. If you're planning a visit, you're in for a treat as we unveil the top hotels in Astoria. From cozy B&Bs to luxurious waterfront escapes, these accommodations aren't just places to rest; they're gateways to the town's culture, history, and natural wonders.
Join us as we dive into a curated selection of Astoria's finest hotels. Whether you're seeking art, cuisine, history, or simply a tranquil retreat, these gems promise an unforgettable stay!
The Best Hotels in Astoria, Oregon
In a hurry? No prob! Here's a quick rundown of some of the best places to stay in Astoria.
About Astoria, Oregon
Nestled alongside the picturesque Columbia River, Astoria, Oregon, beckons with its charming Victorian-era homes and a rich historical tapestry.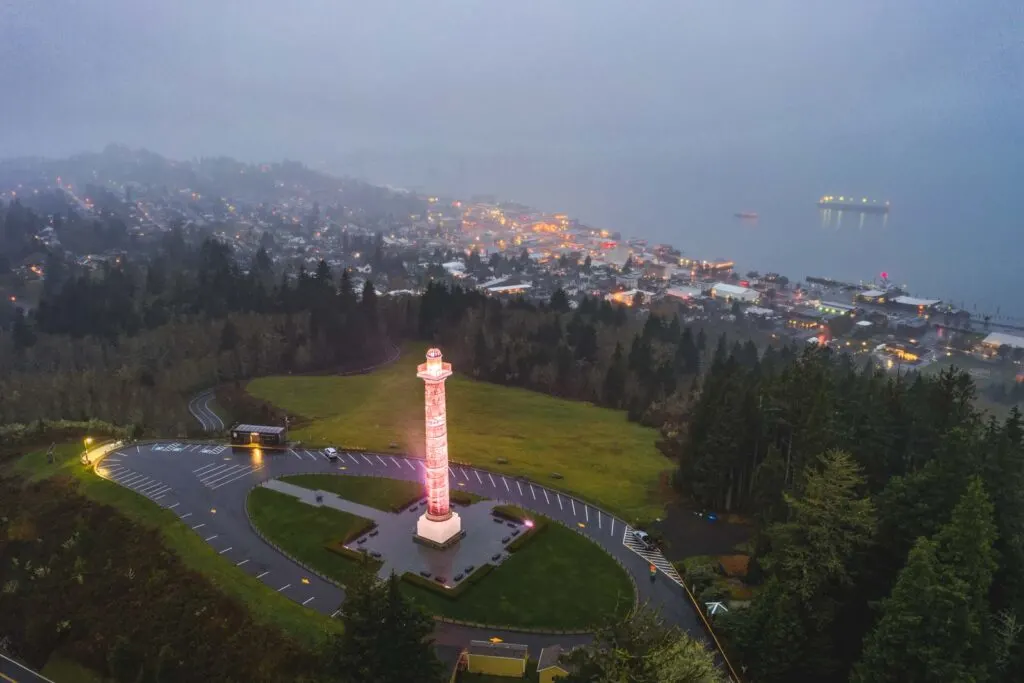 As the oldest city in Oregon (yes, really!), Astoria boasts a vibrant blend of history and culture set against the backdrop of an iconic bridge that spans the river. Whether you're a history buff, nature enthusiast, or seeking thrilling escapades, Astoria has an array of adventures waiting for you.
Things to Do Near Your Hotel in Astoria:
Astoria Riverfront Adventure: Immerse yourself in Astoria's history by riding the Historic Trolley along the waterfront. This vintage gem, the 'Old 300,' offers a captivating journey along the original tracks, passing by restaurants, docks, and piers. Opt for a leisurely ride or hop on and off all day to explore charming shops and eateries along the way.
Cathedral Tree Trail and Astoria Column: Embark on a hike from the Astoria Column parking lot to witness the awe-inspiring Cathedral Tree, a towering Sitka spruce. Extend your journey to Coxcomb Hill for panoramic views and a perfect blend of nature and human-made attractions.
Discover Goonie Trails: Uncover Astoria's hidden treasures through the Goonie Trails, winding pathways that lead you through iconic filming locations of the famous movie "The Goonies." Explore unique and nostalgic spots, including the Oregon Film Museum.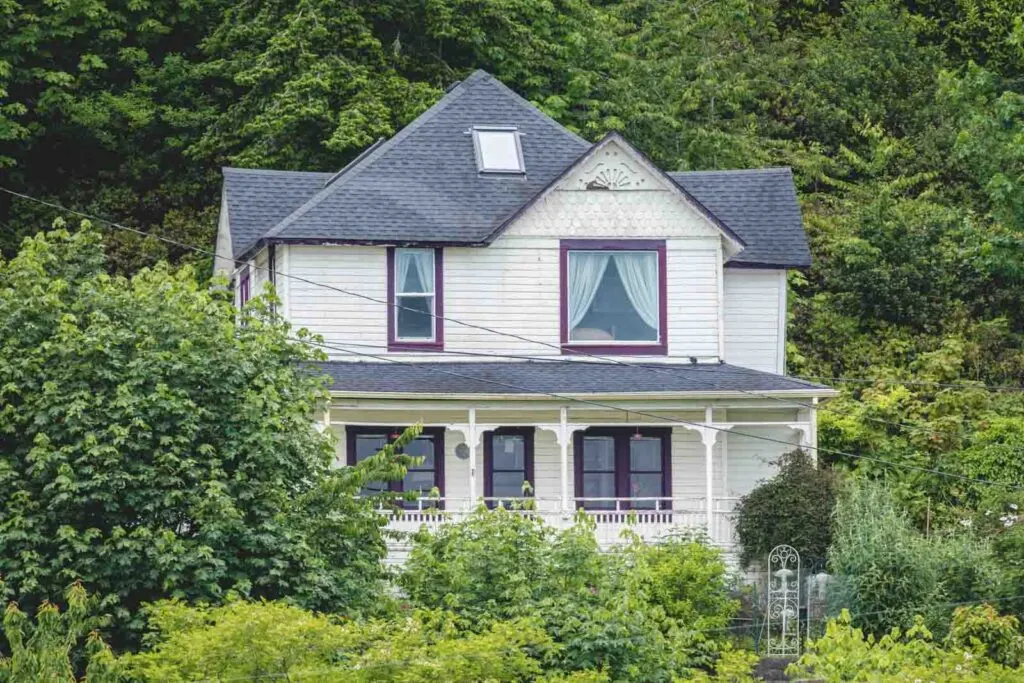 Fort Stevens State Park: Venture to this diverse park, offering lakes, beaches, bike trails, and historical sites. Discover the remnants of Fort Stevens and the iconic Peter Iredale shipwreck while enjoying breathtaking views of the river and ocean.
Wildlife Encounters: Encounter a plethora of wildlife, from playful seals and sea lions to majestic whales and elusive elk. Immerse yourself in the lush wetlands, where thousands of birds flock and migrate, creating a haven for birdwatching enthusiasts.
Young River Falls: Experience the tranquility of Youngs River Falls, a stunning waterfall surrounded by lush forest. Swim in the inviting swimming hole or relax on the rocky beach, all while basking in the natural beauty of the Oregon landscape.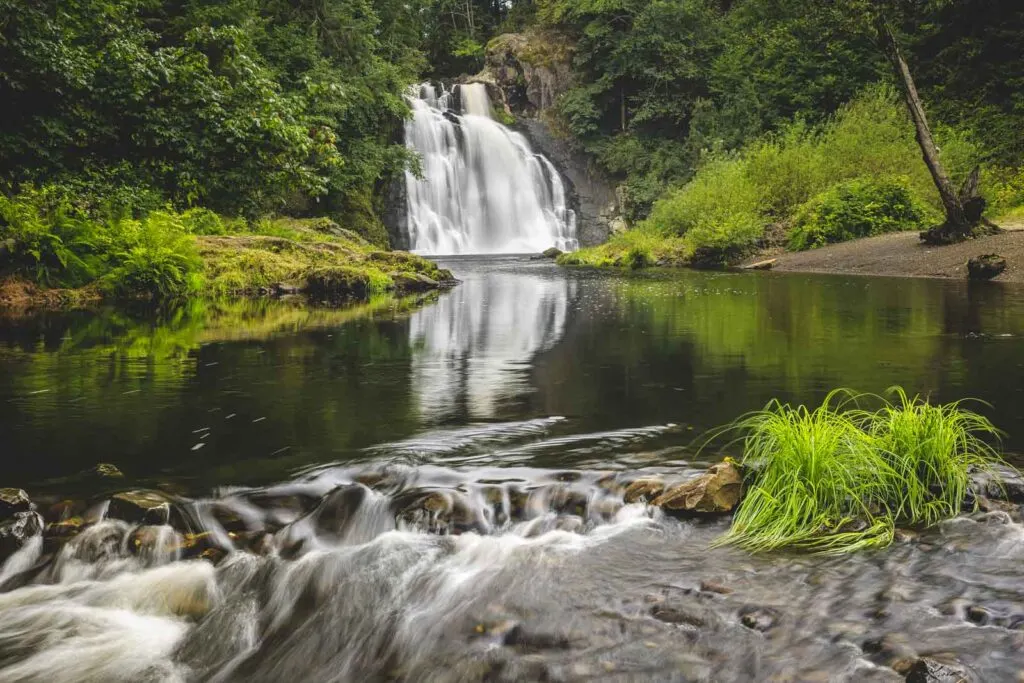 Cannon Beach Excursion: Discover the allure of Cannon Beach, known for its captivating sandy shores and iconic Haystack Rock. Explore tide pools, observe diverse birdlife, and relish the serene coastal ambiance.
Ecola State Park Vista: Don't miss the breathtaking vistas offered by Ecola State Park. Marvel at the coastal beauty, embark on scenic trails, and catch sight of the iconic 'Terrible Tilly' lighthouse perched on a rugged rock.
Seaside Adventures: Unearth the delights of the nearby town of Seaside, where you can stroll along the Promenade Walk, indulge in water activities, and ride the waves at popular surf spots. Round off your day with a relaxing soak in Ashore Hotel's saline pools.
Scenic Drive to Washington: Wrap up your Astoria escapades with a scenic drive to neighboring Washington. Cross the awe-inspiring Astoria Bridge and embark on a journey along the Long Beach Peninsula, indulging in hikes and awe-inspiring viewpoints along the way.
1. Cannery Pier Hotel & Spa
Experience luxury and top-notch service at Cannery Pier Hotel & Spa! Offering a pampering 5-star stay, this hotel in Astoria features elegant rooms with private balconies, ensuring a breathtaking view of the river. The 24-hour front desk caters to your every need, ensuring a seamless stay.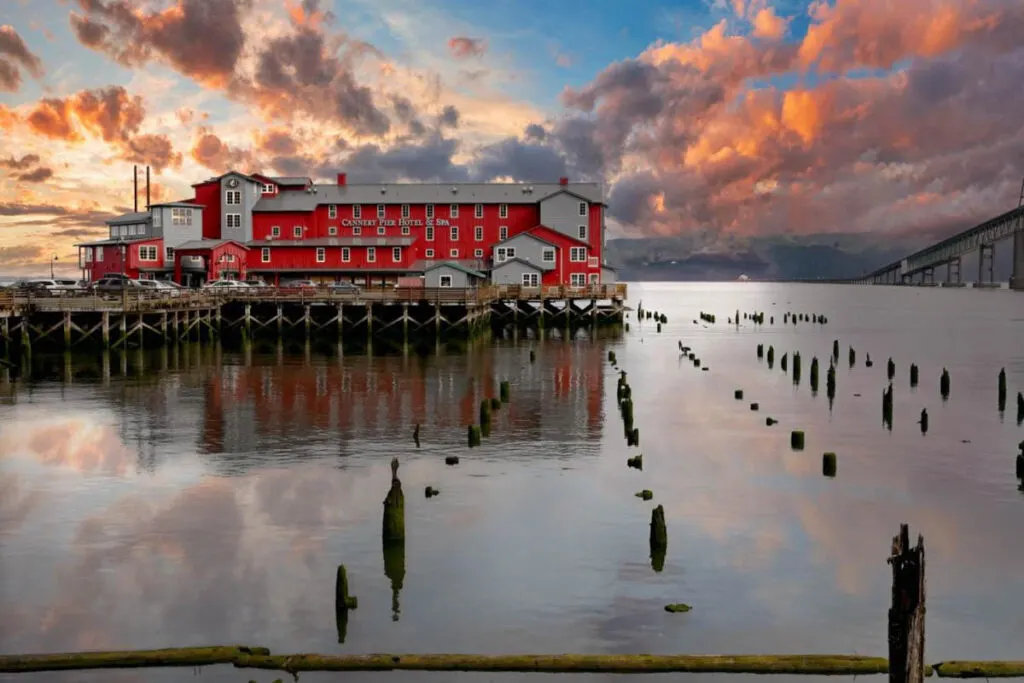 Unwind in air-conditioned guest rooms equipped with modern amenities such as a flat-screen TV with cable channels, a safety deposit box, and a private bathroom stocked with complimentary toiletries and a hairdryer. Your comfort is paramount, as each room boasts plush bed linen and soft towels.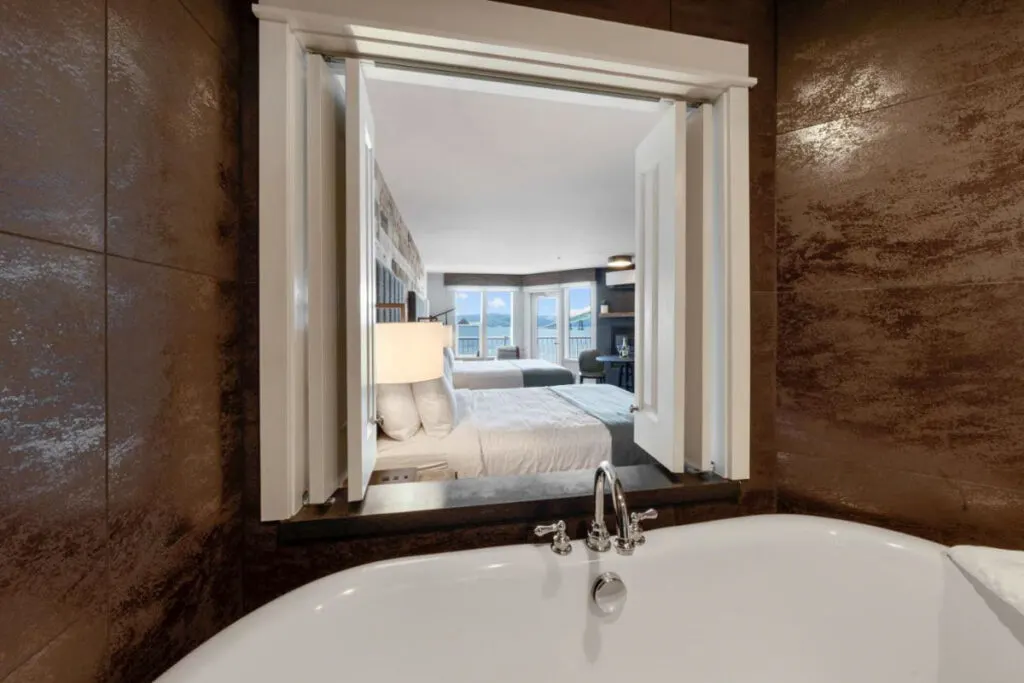 Kickstart your day with a delightful continental breakfast, setting the tone for a memorable stay. Embrace relaxation at the fitness center, sauna, and hot tub, offering rejuvenating experiences throughout your stay. Additionally, couples rave about the prime location, rating it an impressive 9.9 for romantic getaways!
2. Norblad Hotel in Astoria
Discover the charm of Norblad Hotel in Astoria, nestled in the heart of the city center. Situated conveniently near attractions such as the Columbia River Maritime Museum and the Oregon Film Museum, this budget-friendly hotel offers a unique blend of comfort and character. Stay effortlessly connected with complimentary in-room WiFi while enjoying the convenience of amenities like a water dispenser and a music library.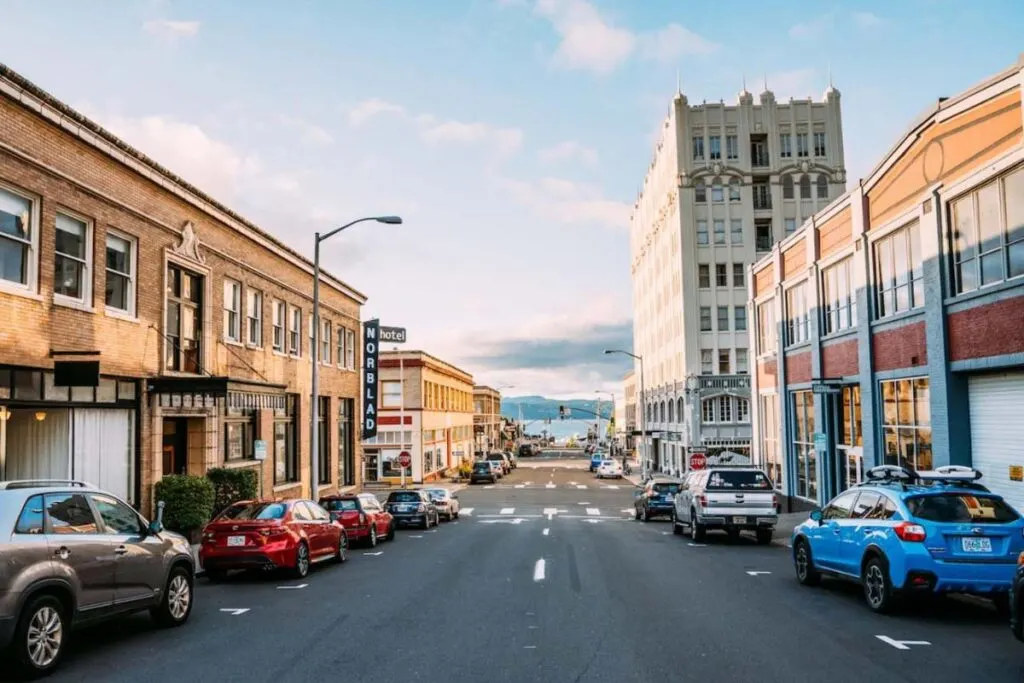 Indulge in the warmth of the fireplace gracing the lobby, then unwind in one of the 18 inviting rooms, each featuring iPads for your convenience. For families, the communal kitchens add a touch of convenience, while daily housekeeping ensures your comfort is a top priority.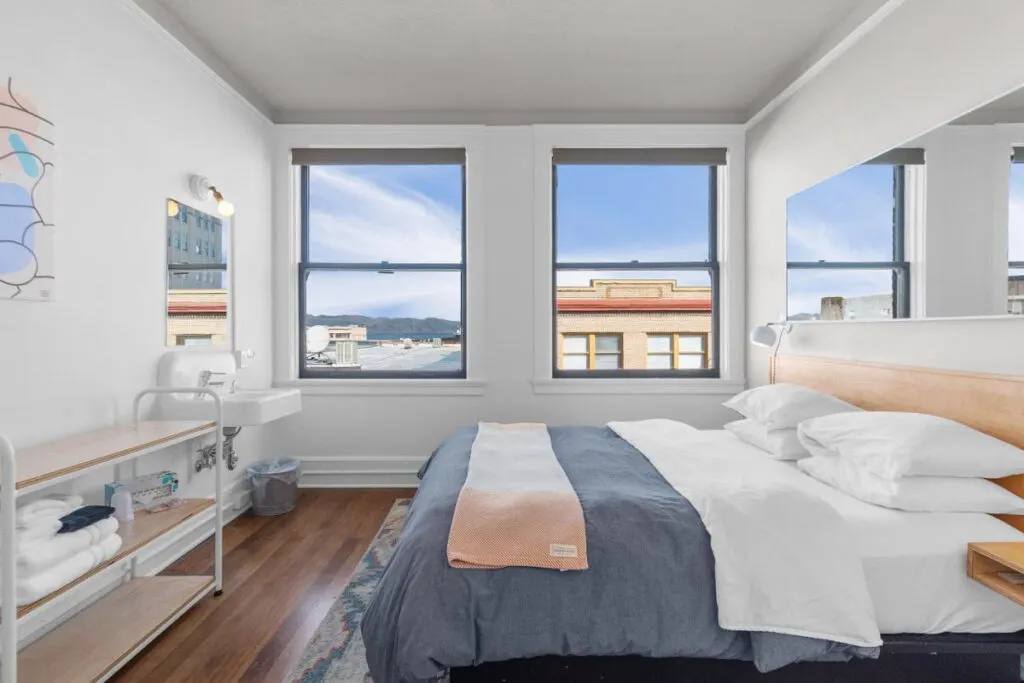 Explore the city with ease, as Norblad Hotel offers complimentary offsite parking. Begin your day with a cup of coffee or tea in the welcoming lobby before heading off for the day!
3. Rose River Inn B&B
Get ready to be charmed at Rose River Inn B&B, nestled in the heart of the historical district. Start your day right with a complimentary full breakfast and take a leisurely stroll through the serene garden. Seamlessly stay connected with complimentary in-room WiFi, ensuring you're always in touch.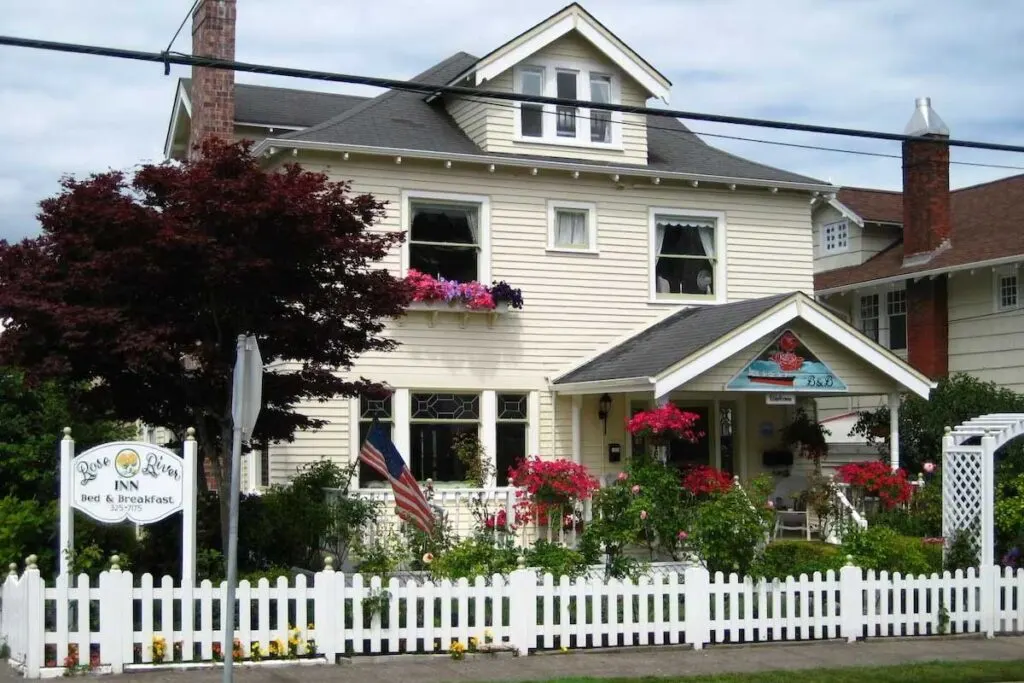 Unwind in a cozy guestroom, each featuring a comforting fireplace for a touch of elegance. Revel in the convenience of amenities like free WiFi and bathrooms equipped with bathtubs and complimentary toiletries.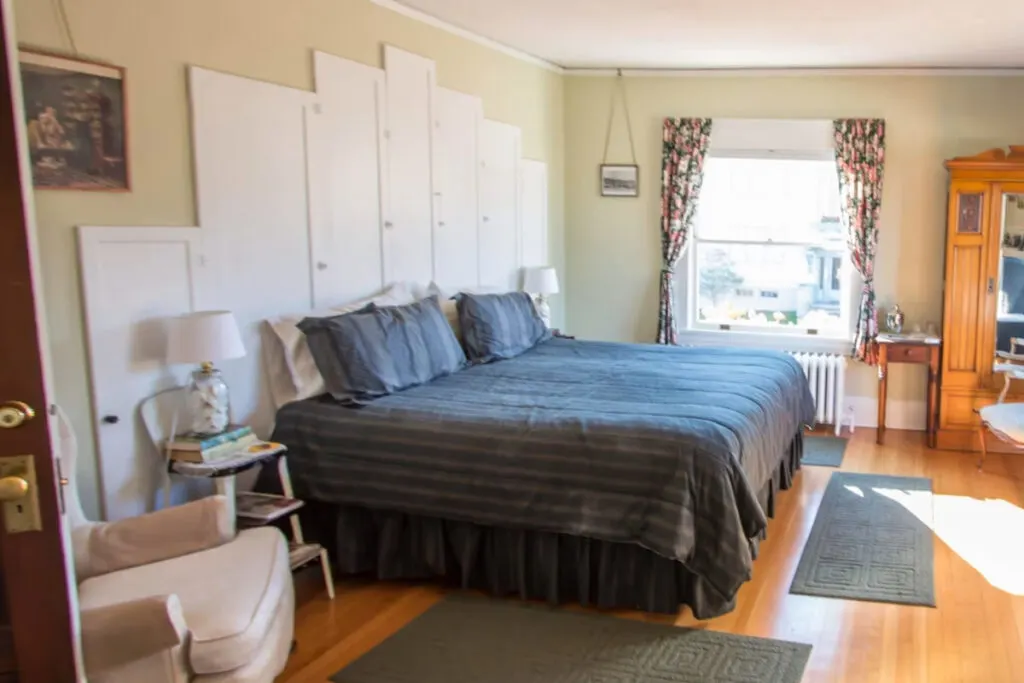 You'll have the convenience of free self-parking and enjoy the offerings of coffee and tea in the inviting lobby. For a truly relaxed experience, this hotel in Astoria offers the perfect retreat. Whether you're exploring the historical sights nearby or seeking a peaceful getaway, Rose River Inn B&B offers a warm and welcoming haven in the heart of it all.
4. Shepherds Cottage Retreat
If you're looking for something a bit more than a hotel in Astoria, why not try Shepherds Cottage Retreat, situated on the historic Lewis and Clark Seed Farm? This idyllic one-bedroom farm cottage comfortably accommodates four guests, offering a peaceful escape with captivating views of Youngs Bay, Saddle Mountain, and the Astoria Column! Embrace relaxation amid lush green sheep fields, creating a paradise for bird watchers and nature enthusiasts.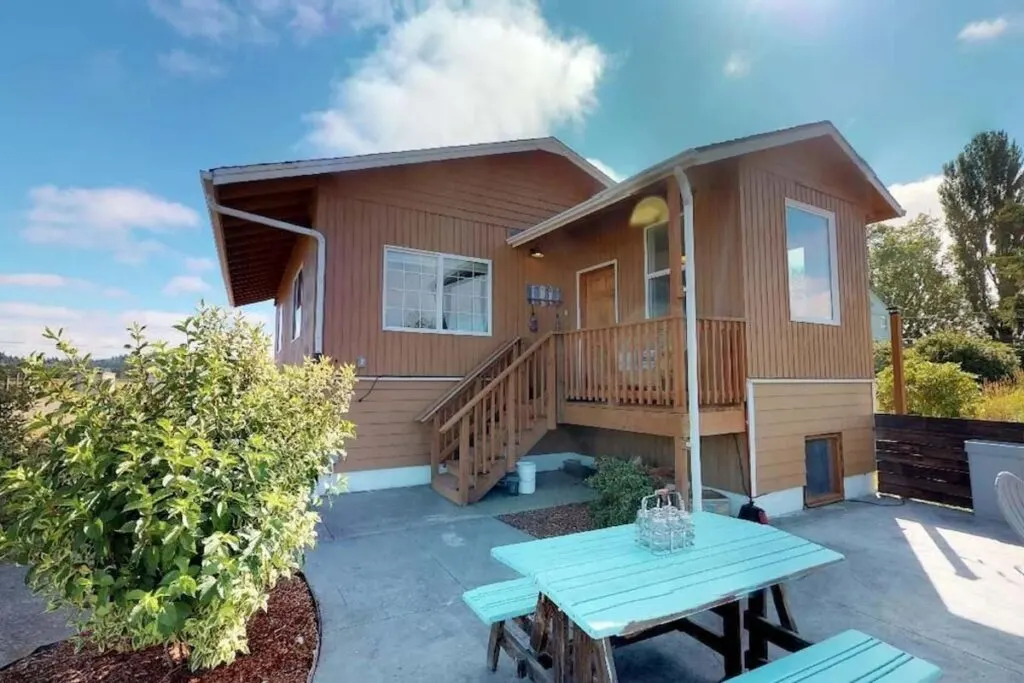 Indulge in a comfortable stay with a full bedroom and a sofa sleeper in the living room, both adorned with dust mite-resistant, hypo-allergenic bedding. A fully stocked kitchen, gas stove, and BBQ Grill provide culinary delights, while the outdoor patio and fire pit invites you to unwind under the open sky.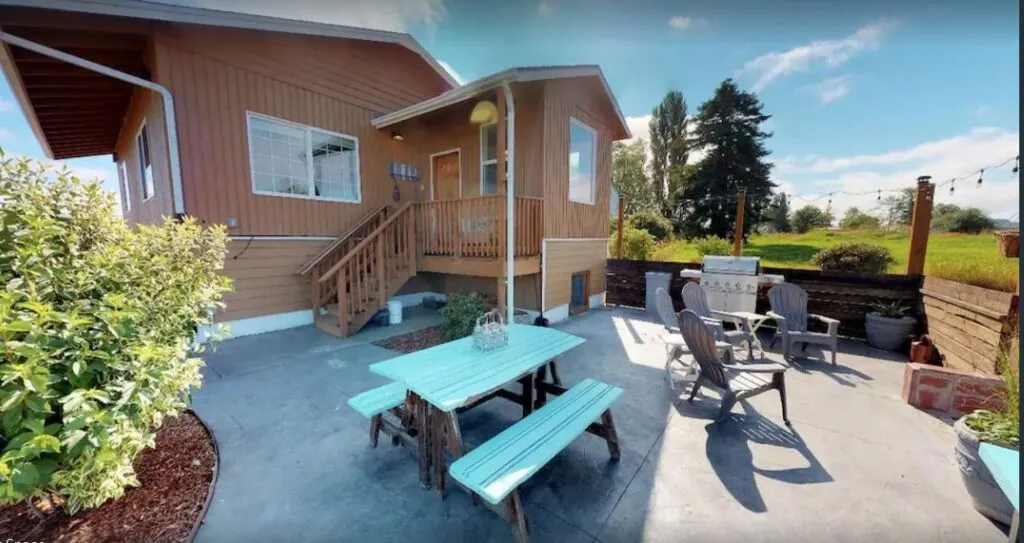 Entertainment abounds with a smart television featuring Netflix and other apps, accompanied by a collection of games, classic movies, and books. Immerse yourself in the rich history of the area, explore the farm, or embark on a Sheep 101 class. Shepherds Cottage Retreat offers the perfect blend of tranquility and accessibility, just minutes away from downtown Astoria, historical sites, and stunning beaches. Make lasting memories surrounded by nature's beauty at this charming getaway.
5. The Wheelhouse on Pier 11
One of the best places to stay in Astoria might just be The Wheelhouse on Pier 11— A unique retreat perched above the water with panoramic views that will leave you spellbound. Settle into this one-of-a-kind property, where 360-degree vistas encompass the majestic Megler Bridge, the iconic Astoria Column, hilltop homes, and the flowing Columbia River. Immerse yourself in the ambiance of a houseboat lulled by foghorns and enchanted by pilot boats drifting past your windows.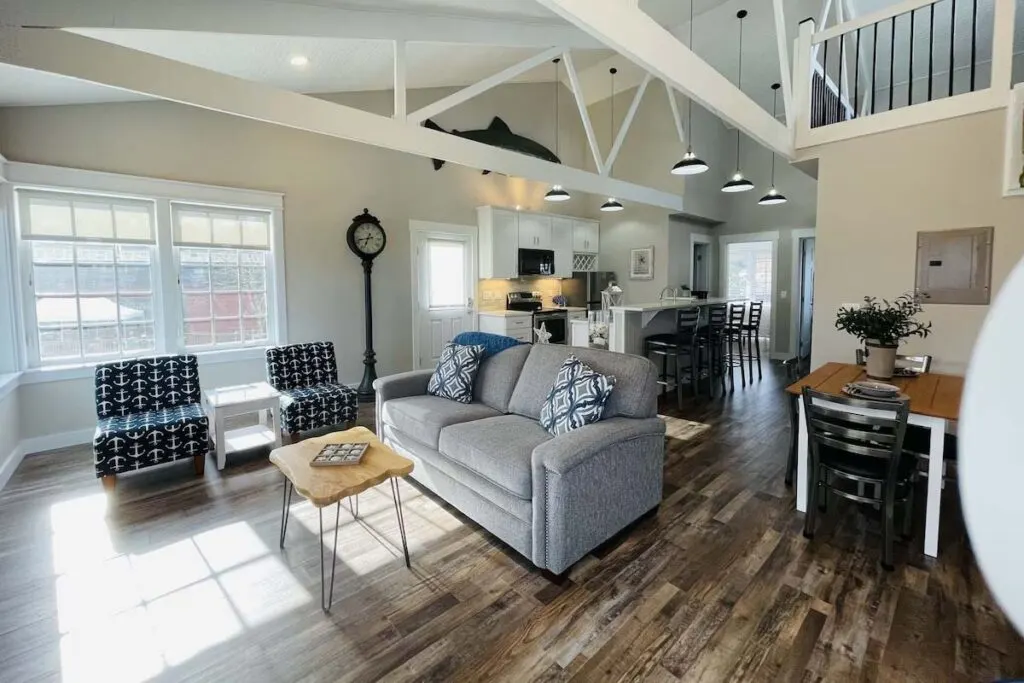 From the comfort of your cozy suite, you'll be treated to the breathtaking sight of countless ships navigating the powerful Columbia River, all while nestled by your fireside. Unwind in style with a living room sofa that transforms into a comfortable double bed, offering a restful night's sleep.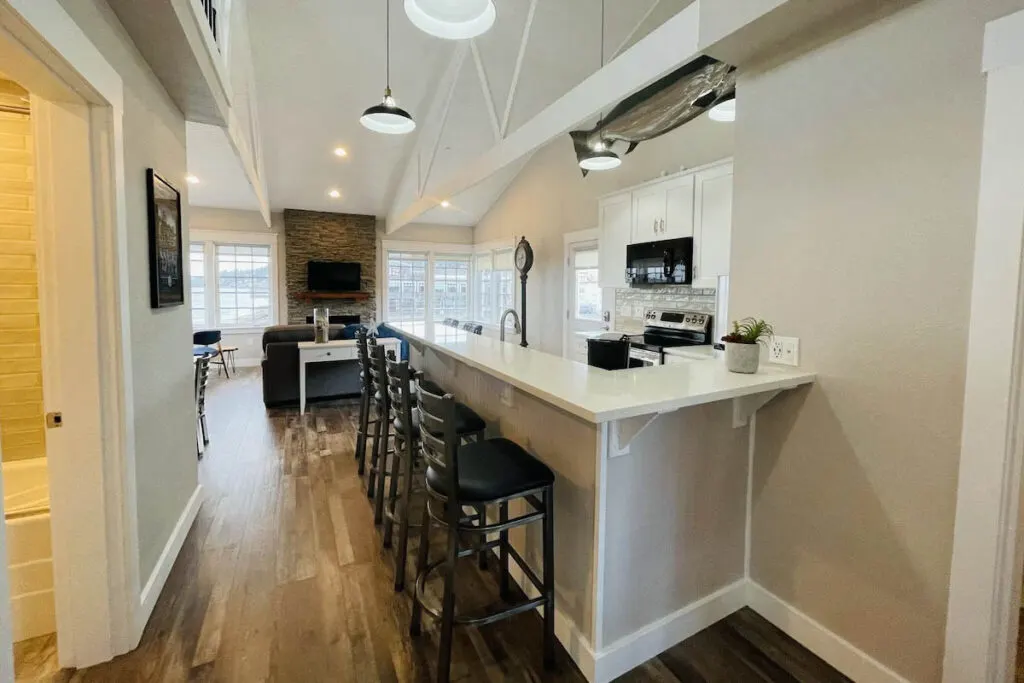 You'll get amenities such as wireless internet, air conditioning, and a well-equipped kitchen with a dishwasher and microwave. The Wheelhouse on Pier 11 invites you to indulge in the magic of Astoria while savoring unparalleled views and comfort in your very own home!
6. Waterfront Condo on The Pier
Step into the heart of Downtown Astoria with the Waterfront Condo on The Pier, a 1-bedroom, 1-bath haven offering an immersive experience in this vibrant city! Located just steps away from the Astoria Riverwalk, indulge in the rich history, local breweries, and breathtaking views.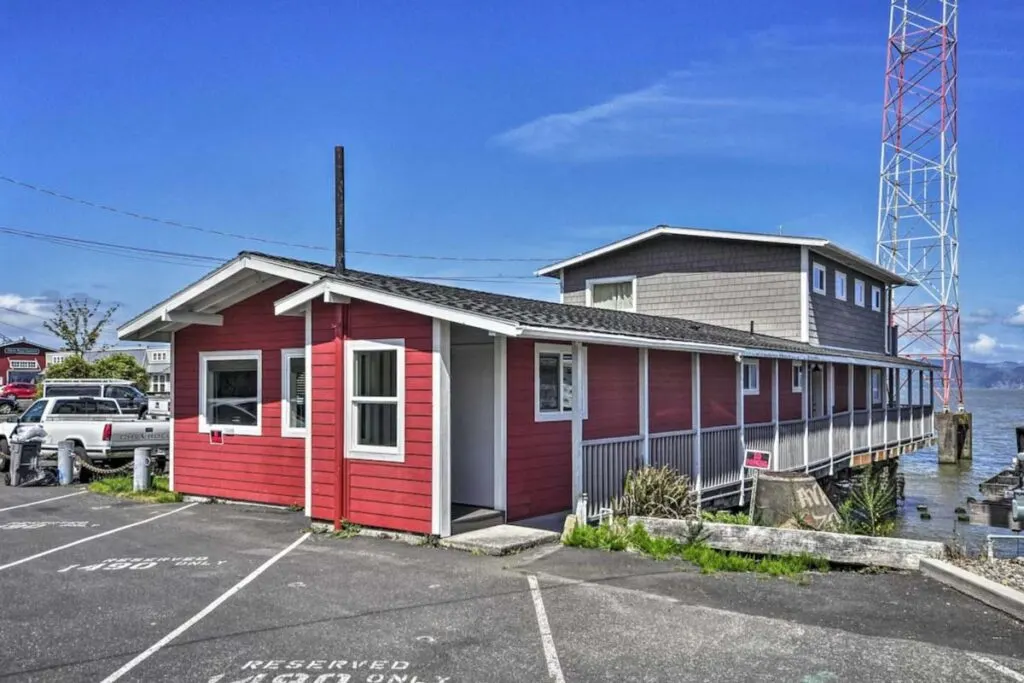 Relish in the comfort of your own private balcony, overlooking the majestic Columbia River and framed by mountain vistas, creating the perfect backdrop for savoring sunsets. Inside is a well-equipped kitchenette, while a high-top dining table invites close-knit gatherings. With two flat-screen Smart TVs, you can unwind and stay entertained after a day of exploration.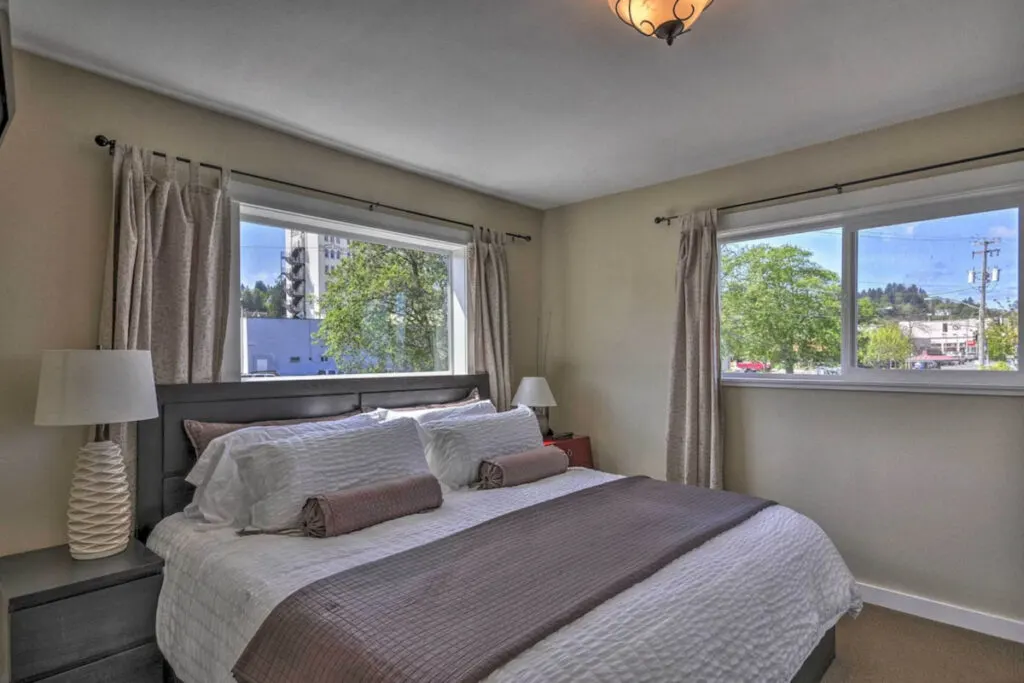 After sipping your morning coffee while looking over the river, you can venture outside to discover the delights of Astoria's downtown, like iconic dining spots, breweries, hiking trails, and even embark on day trips to nearby attractions.
7. Historic Astoria Home
Escape to the enchanting Historic Astoria Home, one of the best places to stay in Astoria and a serene haven to retreat to. Nestled within the beauty of Parker Landing, this two-bedroom gem provides a tranquil getaway with breathtaking water views. Immerse yourself in the captivating sights of jumping fish, gillnet boats, mesmerizing sunsets, and a myriad of bird species, creating an idyllic setting for nature enthusiasts.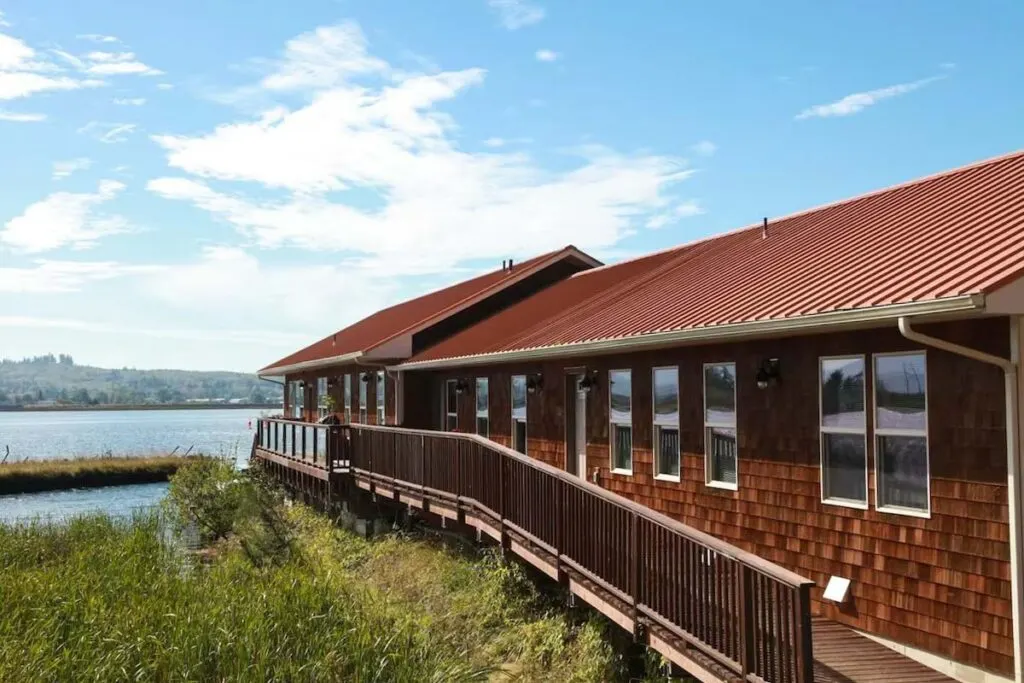 You'll enjoy a spacious unit with a full kitchen, dining area, and living room that frame stunning vistas from every window. Unwind in comfort and convenience, as amenities like wireless internet, well-equipped kitchens, and cozy living spaces cater to your every need. Enjoy the luxury of your own balcony, perfect for relishing in the surroundings.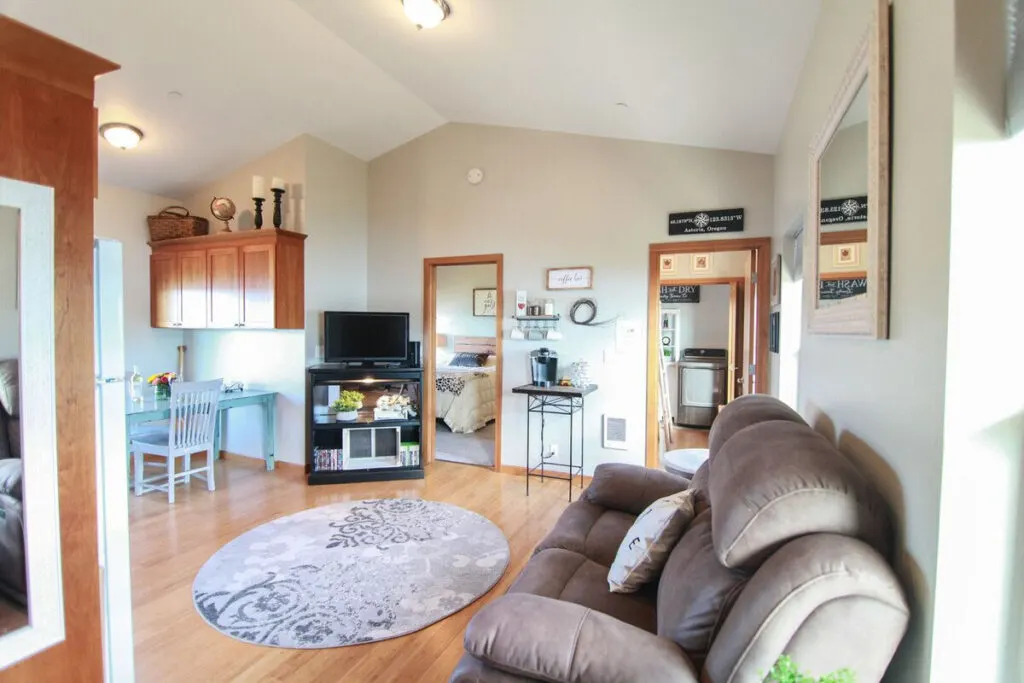 Indulge in a range of nearby activities, from exploring museums and water sports to shopping and whale watching. With its prime waterfront location and proximity to downtown, this home invites you to experience the city's charm while savoring the tranquility of a true hideaway.
8. Clementine's Guest House in Astoria
For a unique and mid-range hotel in Astoria, head to Clementine's Guest House, where a delightful retreat awaits you! Start your day with a complimentary daily breakfast in select room types and stay seamlessly connected with free WiFi access. Just a short 5-minute stroll from the city center, this guest house offers convenience and comfort like no other.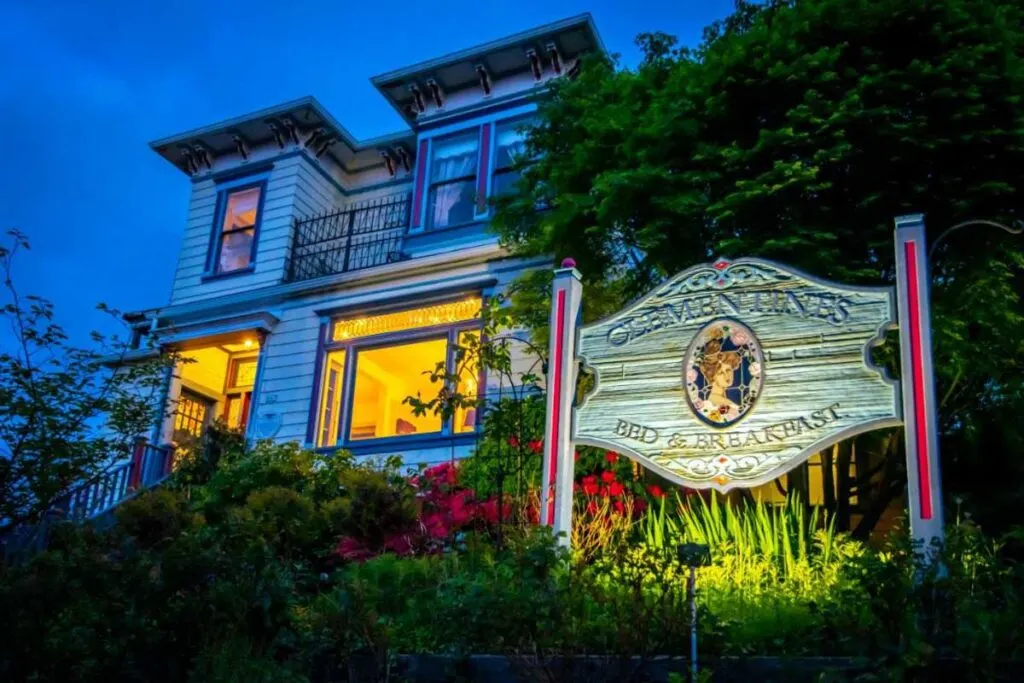 Individually decorated rooms welcome you with a private balcony, ensuring a tranquil escape. Relax in the embrace of plush towels, quality linens, and provided toiletries, making your stay a pampering experience. Unwind amidst the natural beauty of the garden and terrace or gather in the shared lounge area. With free on-site parking at your disposal, exploring the local attractions is a breeze.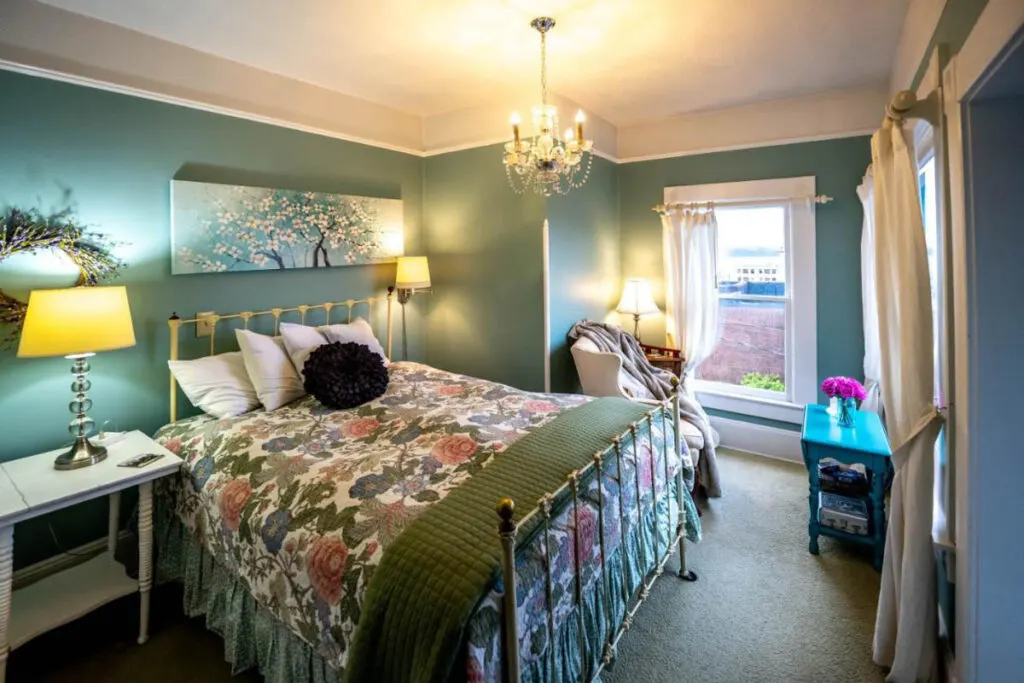 Immerse yourself in the city's culture with the Oregon Film Museum just steps away and the Columbia River Maritime Museum a mere 0.9 miles from your doorstep. When your adventures come to an end, return to Clementine's Guest House, where a comfortable haven and warm hospitality await.
9. Downtown Astoria Tiny House
Not up for a home or a hotel in Astoria? What about a cozy retreat to the Downtown Astoria Tiny House? Tucked away behind a historic 19th-century property, this brand-new, budget-friendly boutique cottage beckons you to experience the heart of Astoria's Uppertown District. Unveil the magic of the Riverwalk with sunset walks along Mill Pond and the captivating waterfront just steps from your door!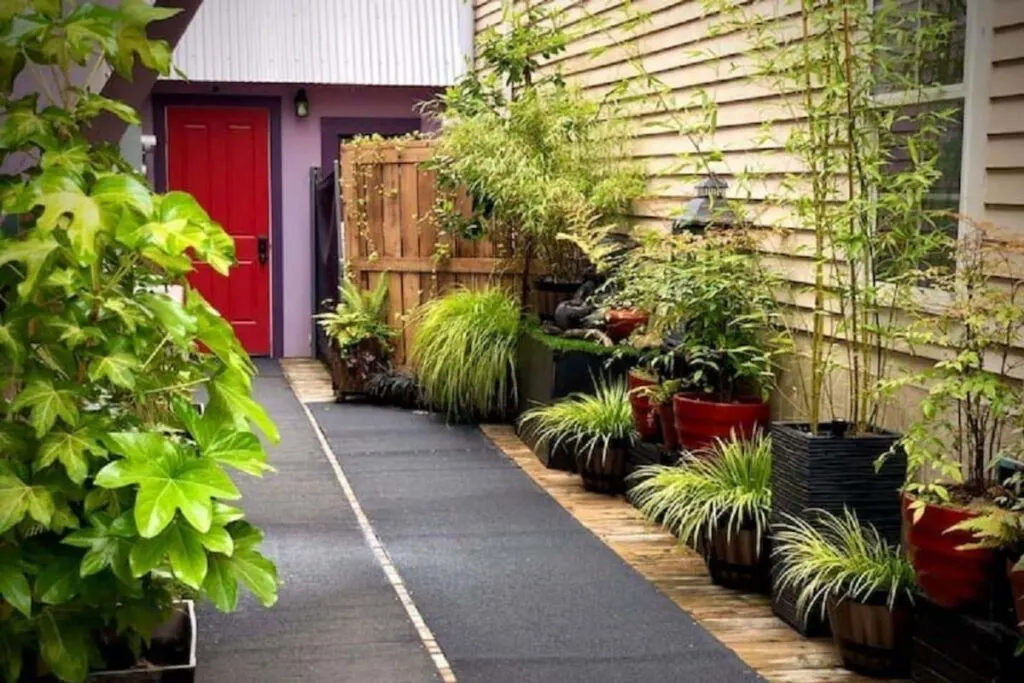 The comfortable studio is thoughtfully adorned with stylish decor and a queen-size daybed. The stocked kitchenette and floating wood countertop invite you to dine, work, or simply unwind. Stay entertained with a smart TV and Wi-Fi, while a new mini-split air conditioner with a heat pump ensures your comfort year-round. The spacious bathroom boasts a brand new large tiled shower adorned with a mural, and it's stocked with luxurious products from the beauty salon on the property.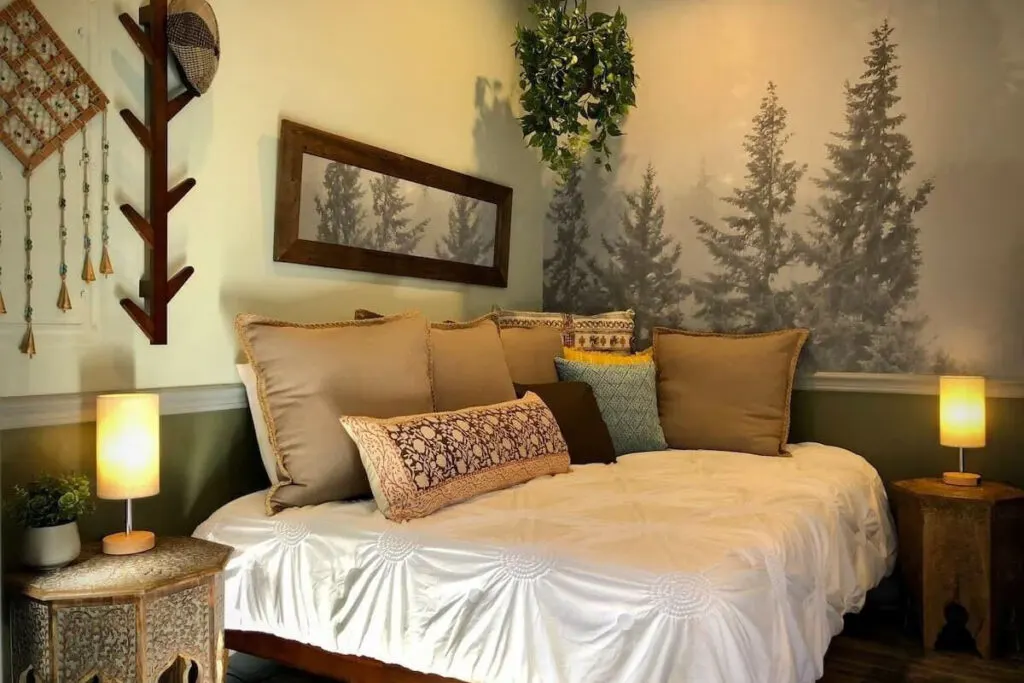 As you enter through a charming garden filled with bamboo and ferns, you'll be drawn to the shared covered deck area with seating and a soothing fountain. Ascend a few steps to your private haven, complete with a café table and chairs for relaxation. Not too shabby for a tiny home!
10. Selina Commodore Astoria
Head to the heart of the city to find Selina Commodore Astoria, a welcoming 3-star hotel nestled in the action. Embrace a blend of comfort and convenience with amenities designed to enhance your stay.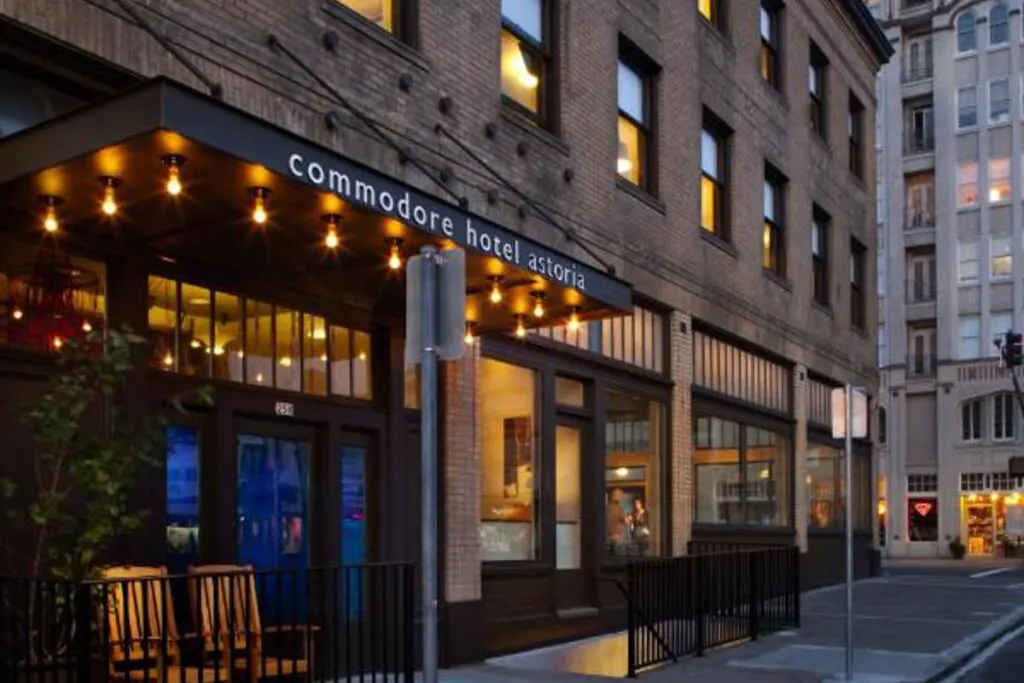 You'll get to take advantage of some additional perks that many hotels in Astoria don't have such as bike rentals and a library. Feel at home in one of the 18 well-appointed rooms, each offering bathrobes and thoughtful touches like free WiFi and complimentary bottled water. Each room is equipt with conveniences, from flat-screen TVs with cable channels and DVD players to tubs or showers and hair dryers.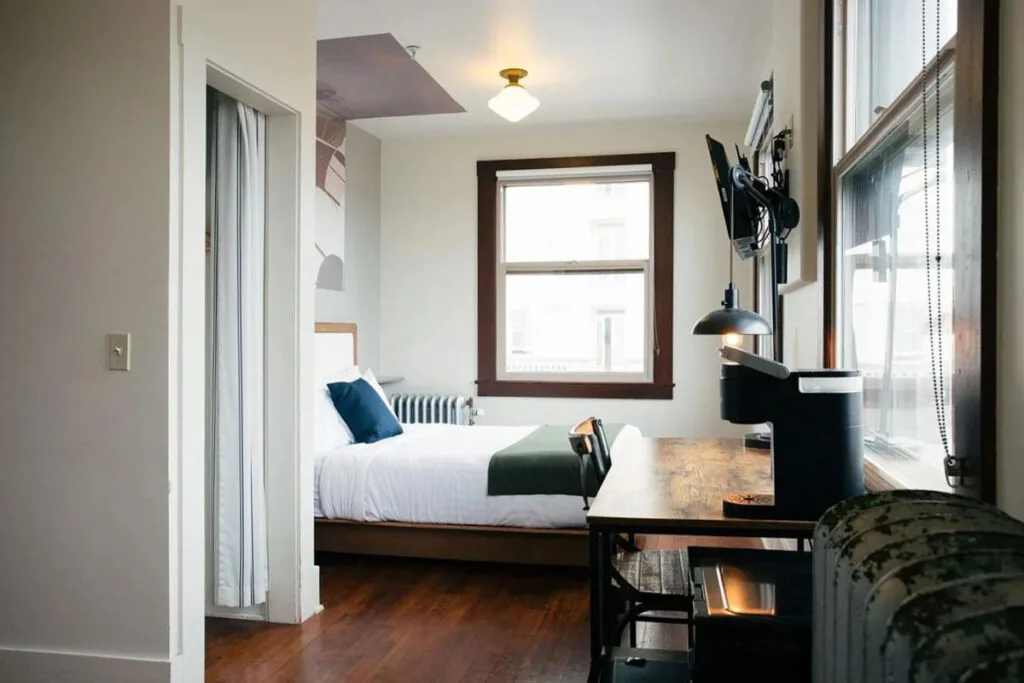 Enjoy the ease of a budget-friendly stay that doesn't compromise on comfort. Family-friendly amenities, including a microwave and grocery/convenience store, making your stay even more accommodating. With pet-friendly options, Selina Commodore Astoria welcomes all members of your party—furry and not!
11. Bowline Hotel in Astoria
Experience coastal comfort and upscale relaxation at the Bowline Hotel in Astoria, a distinguished 3-star haven located near the vibrant boardwalk. Discover a retreat enriched with captivating amenities, including a welcoming fireplace in the lobby, a stylish bar, and a rejuvenating sauna, all designed to elevate your stay.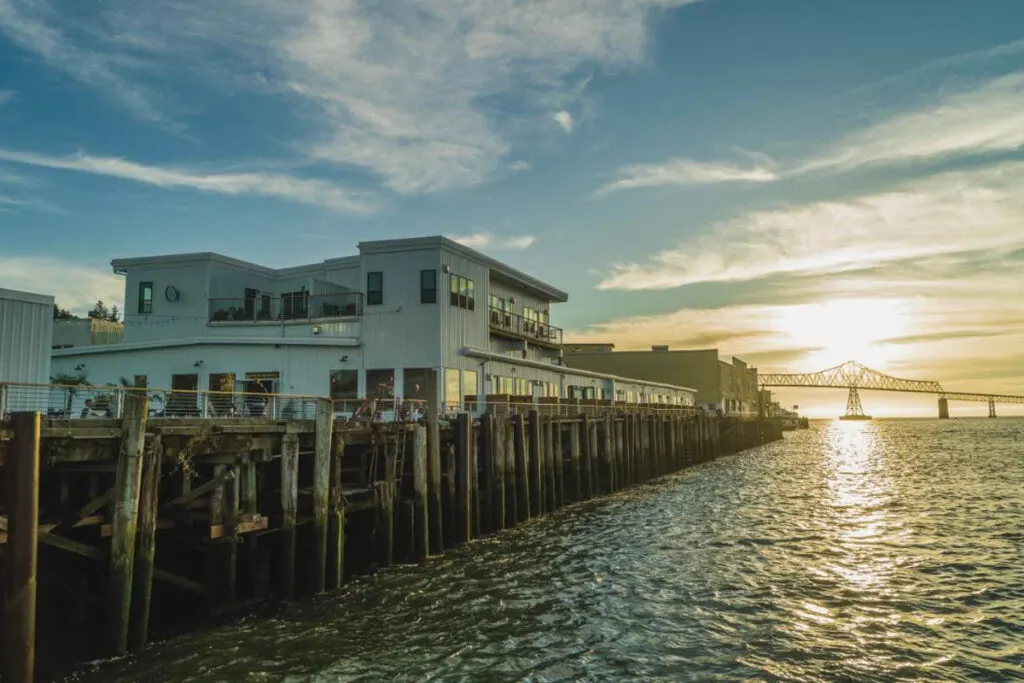 Explore the surroundings on bike rentals and take advantage of valet parking for effortless convenience. Appreciate the thoughtfully curated comforts of 40 exquisite rooms, each boasting fireplaces, premium bedding, and separate sitting areas. Guest reviews praise the property's dining options and prime location, ensuring a memorable stay. As you unwind amidst the coastal charm, enjoy modern conveniences such as flat-screen TVs with cable channels, balconies or patios, and electric kettles.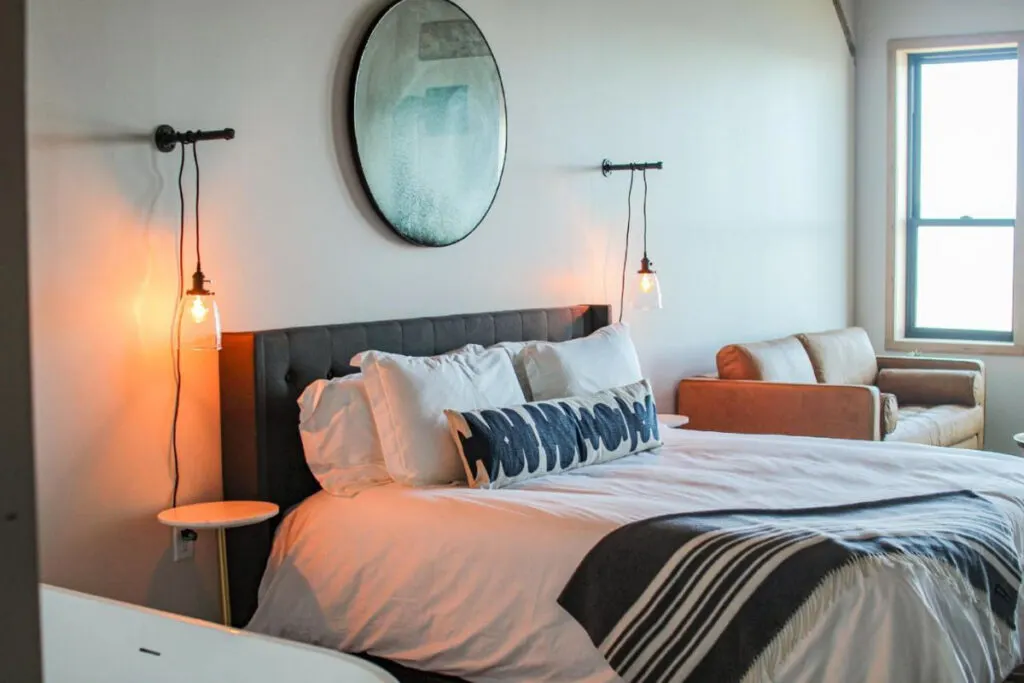 Elevate your experience with the convenience of room service, and savor delicious moments at the on-site bar and restaurants, including The Knot. Whether you're unwinding in the sauna, exploring on bicycle rentals, or engaging in business services, Bowline Hotel caters to every need!
We hope this helped you find the perfect hotel in Astoria for your visit!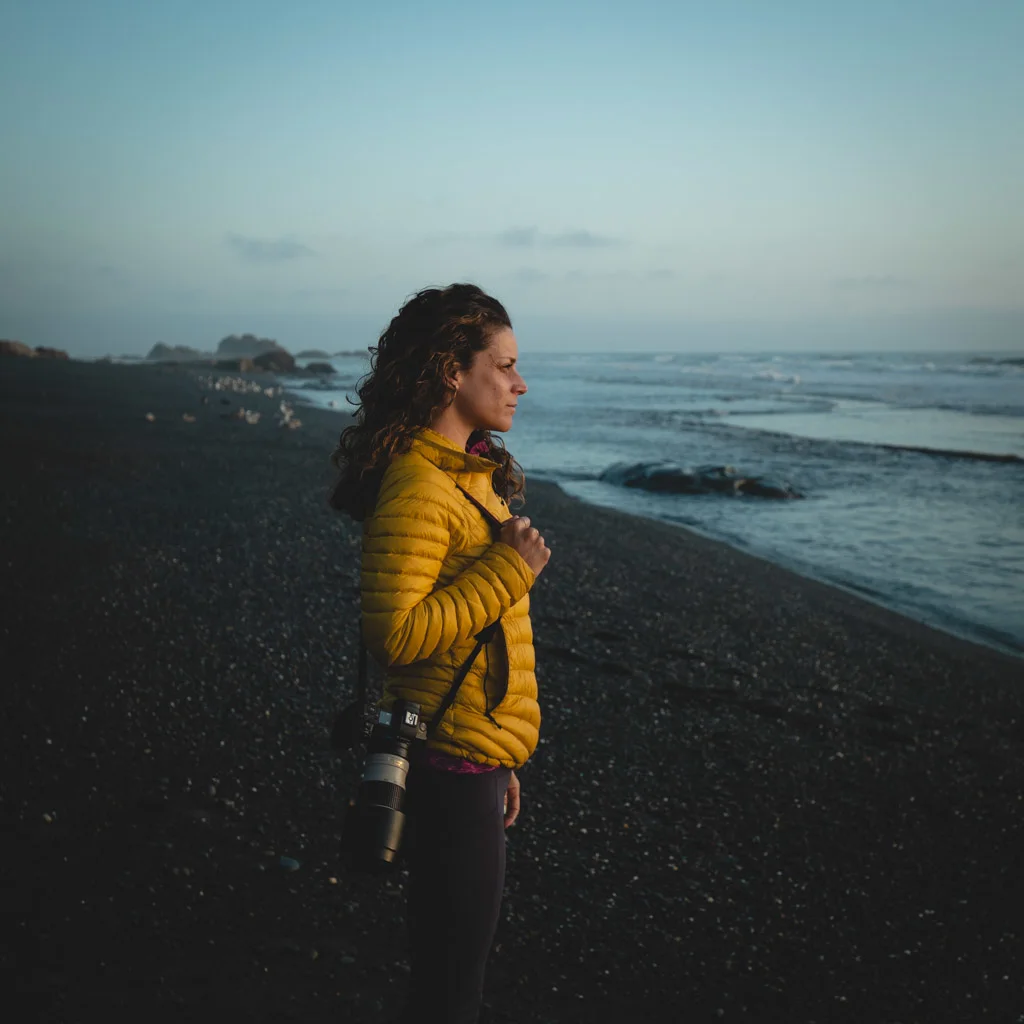 I've been perpetually traveling and living around the world for years but it's hard to beat Oregon and the PNW. After years of road-tripping the area, I guess you can say I know it pretty well! When I'm not writing guides for you, you can catch me somewhere petting a dog, attempting to surf, hiking a volcano, or stuffing my face with bread and cheese.