Discover the allure of Newport, Oregon, with its breathtaking coastal vistas and vibrant atmosphere. As you plan your visit to this charming city, finding the perfect place to stay in Newport will be a key part of your journey! There's an array of hotels in Newport, Oregon ensuring that your accommodations match the beauty of the surroundings.
From beachfront escapes to cozy retreats nestled in the heart of the city, Newport offers a range of options for a memorable and comfortable stay!
The Best Hotels in Newport, Oregon
---
In a hurry? No prob! Here's a quick rundown of some of the best places to stay in Newport, Oregon.
About Newport, Oregon
Nestled along the breathtaking Oregon Coast, Newport beckons with its natural wonders and outdoor adventures that captivate the hearts of visitors. From dramatic landscapes sculpted by the Pacific Ocean to charming lighthouses and vibrant wildlife, this town offers a paradise for nature enthusiasts and explorers. Let's dive into the top attractions and activities that make Newport a must-visit destination.
Things to Do Near Your Hotel in Newport:
Devils Punchbowl: A natural sandstone cauldron sculpted by the Pacific Ocean; offers stunning coastal views and opportunities for whale watching.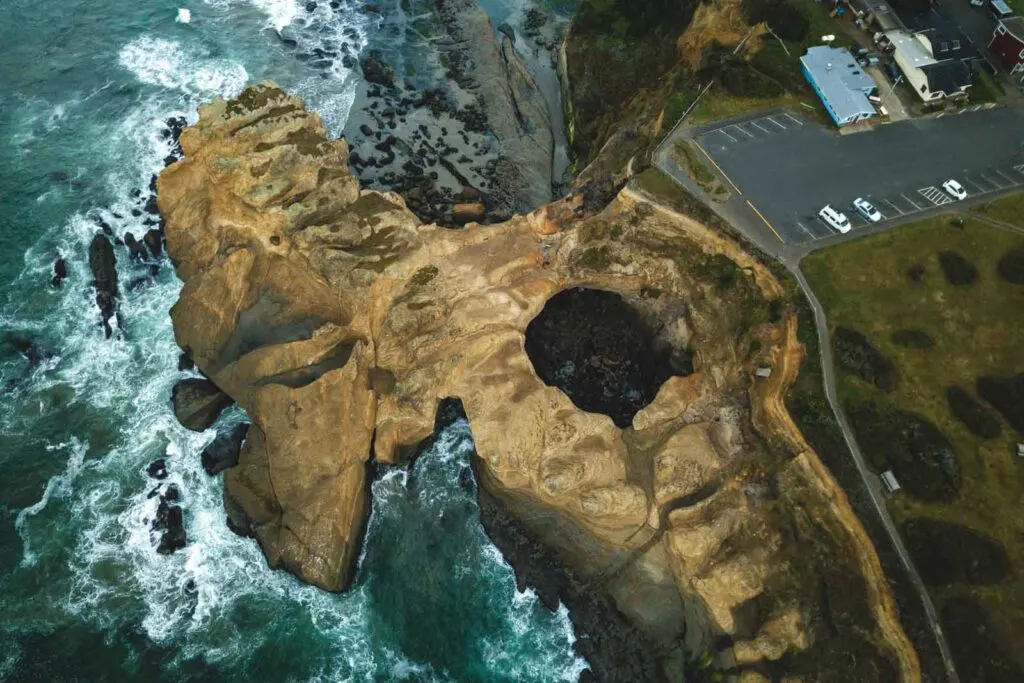 Yaquina Head Lighthouse Hikes: Hiking trails with breathtaking views; explore the impressive headland and Yaquina Head Lighthouse.
South Beach State Park: A 498-acre park with whale watching, surfing, hiking, and biking opportunities; home to diverse wildlife.
Agate Beach Oregon: Surfing destination with consistent waves; also great for long walks and razor clamming.
Fat Biking: Explore Otter Rock beach on fat bikes for a unique coastal perspective; enjoy sandy bluffs and scenic rock formations.
Beverly Beach State Park: Miles of sandy beach, kite-flying, surfing, kayaking, and whale watching; offers diverse outdoor activities.
Seal Rock: Hiking with views of offshore rock formations; spot seals, sea lions, and other marine life.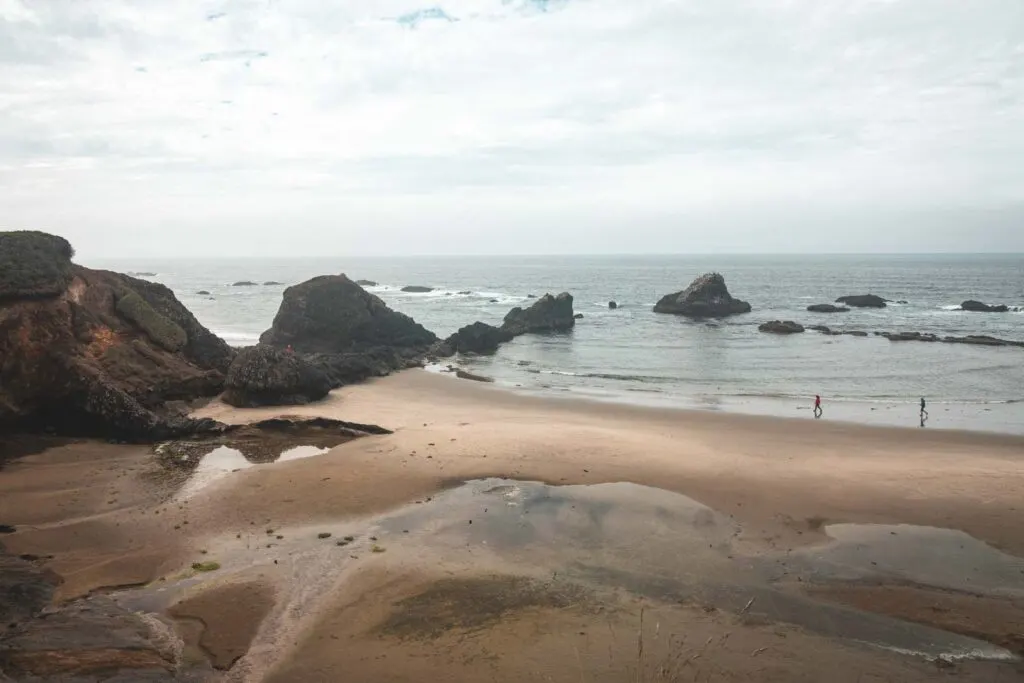 Brian Booth State Park: Explore Beaver Creek and Ona Beach areas with hiking, kayaking, and beachcombing opportunities.
Kayaking Around Newport: Kayak in Yaquina Bay for unique wildlife views; guided tours available, also explore Beaver Creek.
Rogue Brewery & Crabbing Pier: Experience crabbing and enjoy a relaxing break at Rogue Brewery with waterfront views.
Beach Places to Stay in Newport, Oregon
1. Inn at Nye Beach
Nestled by the ocean, the Inn at Nye Beach offers a delightful 3-star experience. Wake up to the charm of a free continental breakfast before setting out to explore. Unwind on the terrace or gather around the fire pit as you enjoy the coastal breeze.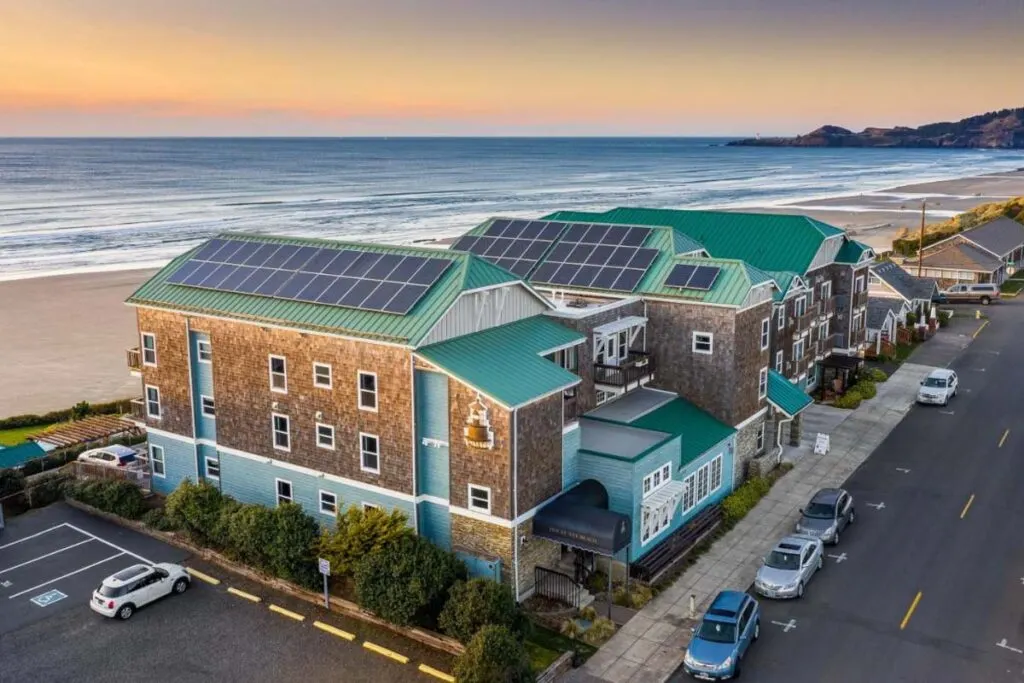 Relaxation continues with massages at the on-site spa. Stay connected with free in-room WiFi, and don't miss the library and outdoor entertainment area. Your stay includes thoughtful perks like free self-parking and a 24-hour front desk for express check-out. Pamper yourself with premium bedding in one of the 38 rooms, each featuring a cozy fireplace.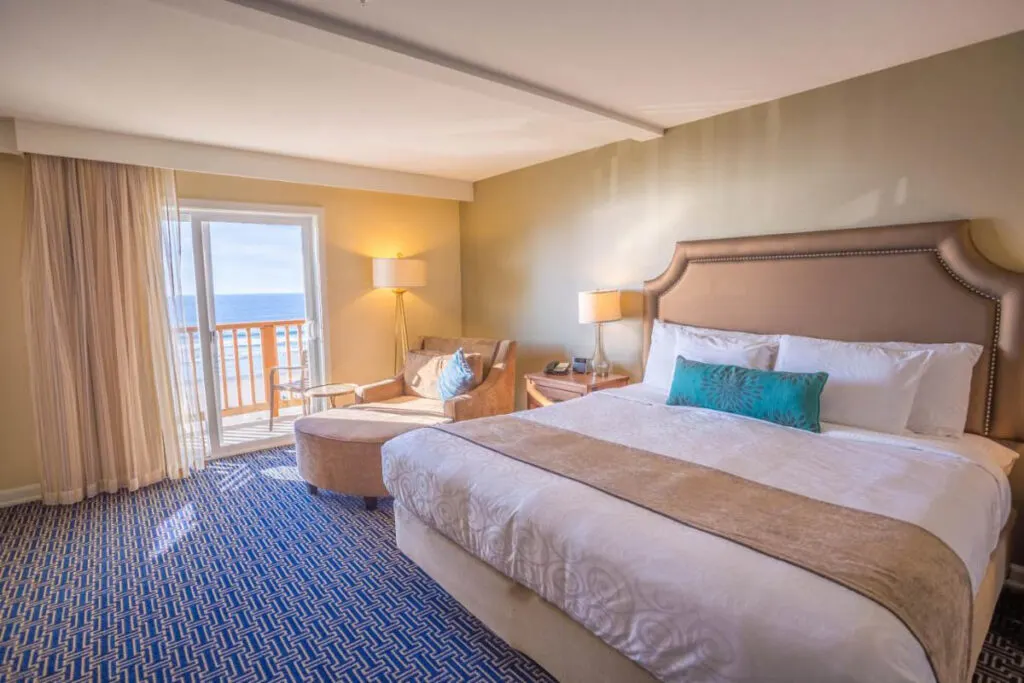 Embrace the coastal ambiance from your balcony or patio, and catch your favorite shows on the flat-screen TV. This budget-friendly hotel in Newport also features the convenience of a microwave and refrigerator on site too.
2. Agate Beach Motel in Newport
Discover the cozy comfort of Agate Beach Motel, nestled in Newport just steps away from the inviting shores of Agate Beach. This charming yet fair-priced getaway offers an array of inviting features, from serene sea-view balconies to fully equipped kitchens. With free WiFi, families and couples alike can enjoy the ease of beachfront living.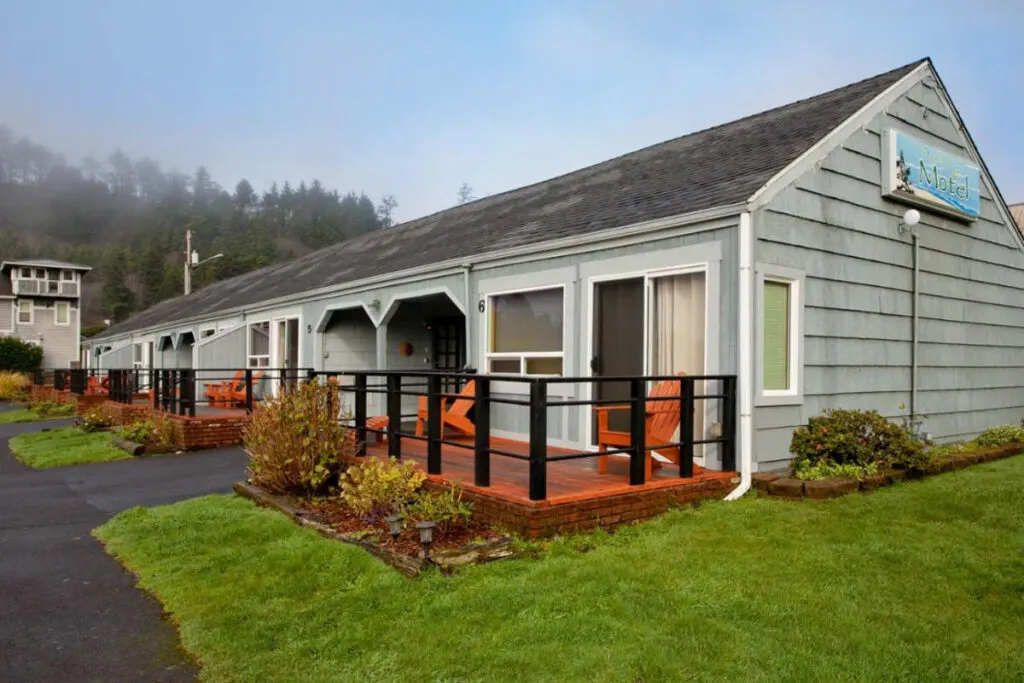 Each room boasts a flat-screen TV, cable channels, and a private bathroom complete with free toiletries and a hairdryer. The motel's garden and terrace provide tranquil spots to unwind, while the BBQ facilities invite you to savor outdoor dining. For those seeking adventure, Cobble Beach and Moolack Beach are just a short distance away.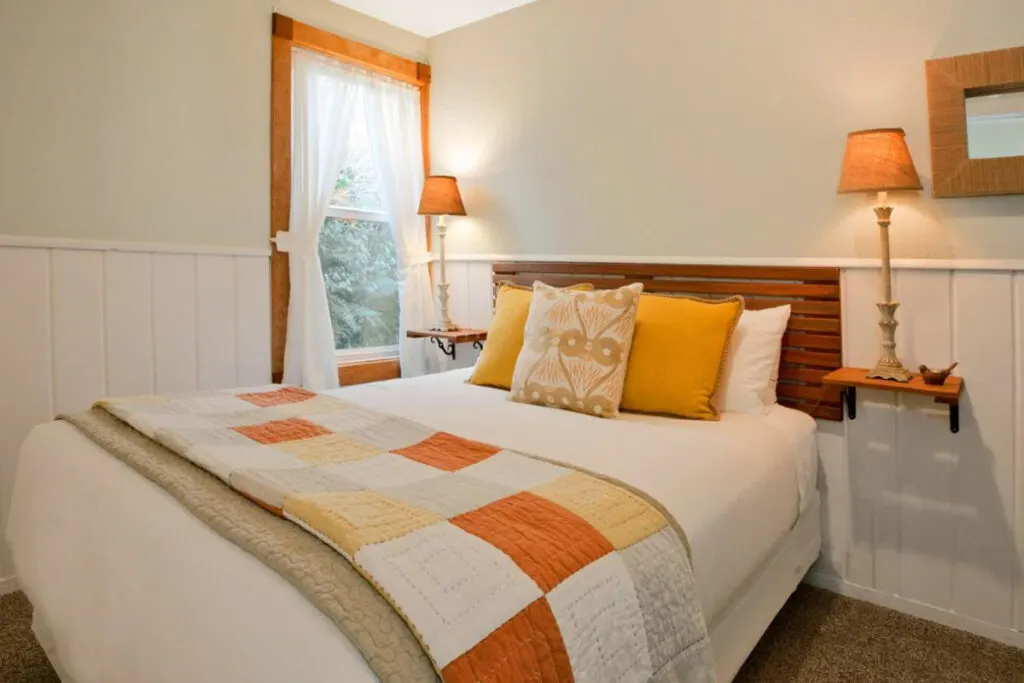 Immerse yourself in the coastal beauty near this hotel in Newport, where comfort meets convenience in a picturesque setting. Whether you're exploring the nearby Yaquina Head Lighthouse or simply sipping coffee on your balcony, this is the perfect coastal escape!
3. Hallmark Resort Hotel in Newport
Experience coastal luxury at Hallmark Resort – Newport, a charming 3.5-star retreat that underwent a stylish refurbishment in 2019. Nestled by the ocean and conveniently close to attractions like Yaquina Bay Lighthouse and Ripley's Believe It or Not, this resort offers an array of modern comforts. Indulge in relaxation at the sauna and steam room, or bask in ocean views while dining at the onsite restaurant, Georgies Beachside Grill.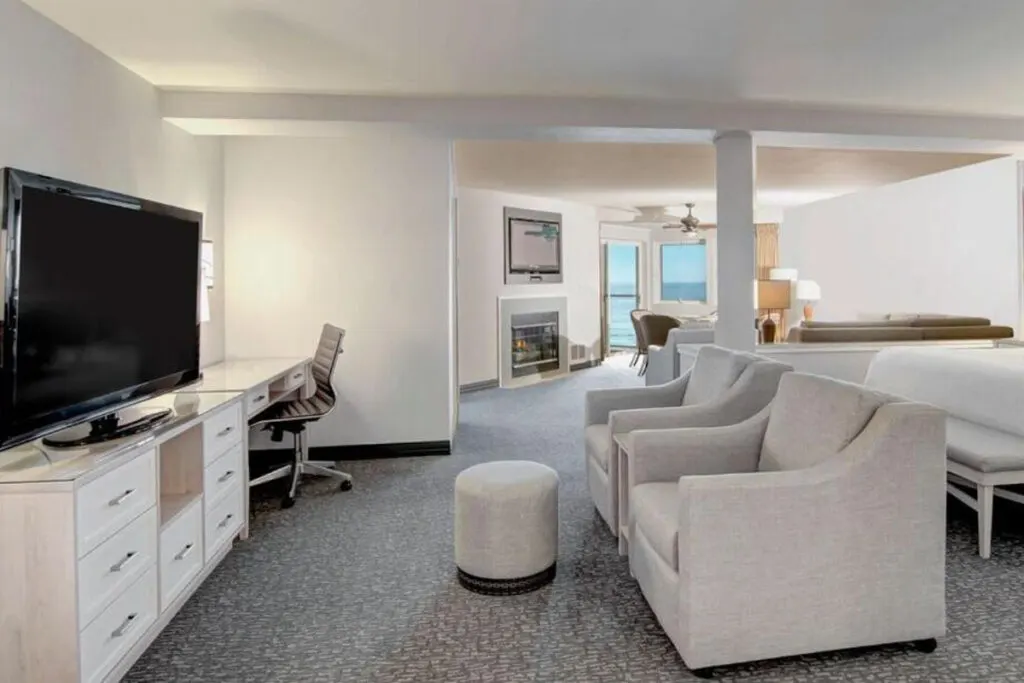 Your stay comes with an indoor pool, where you can take a refreshing dip, and free WiFi keeps you connected. Unwind in one of the 157 rooms, each featuring thoughtful amenities like flat-screen TVs and free toiletries. Families will appreciate the convenience of in-room microwaves and refrigerators.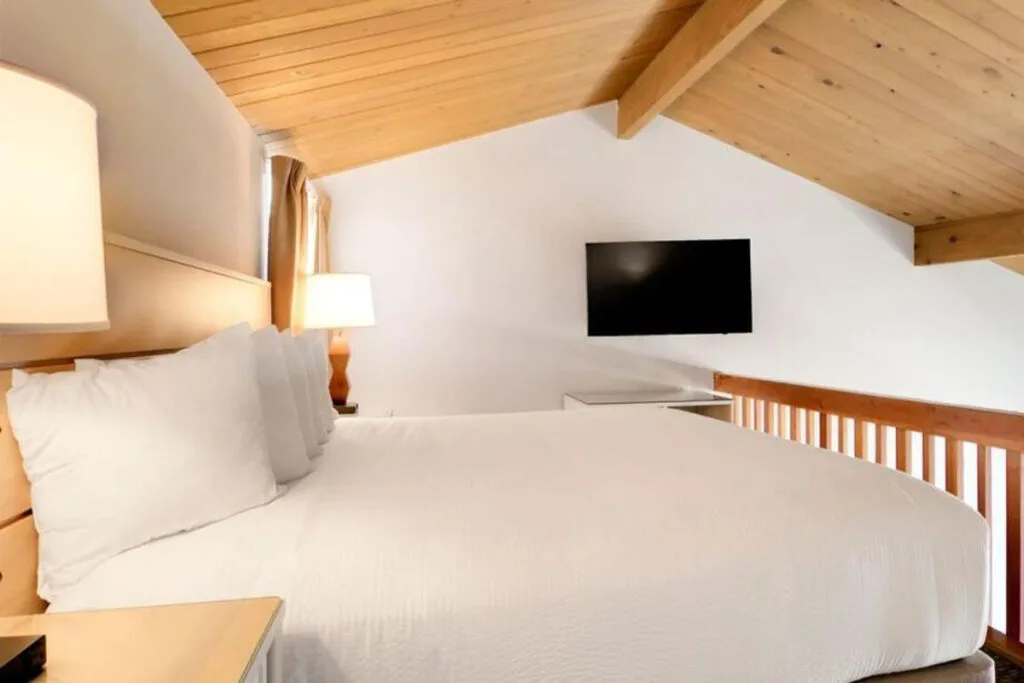 With its inviting indoor pool, playground, and seaside location, Hallmark Resort – Newport welcomes you to enjoy a blend of comfort and coastal beauty at a mid-range price.
4. The Newport Belle Hotel in Newport
Discover the tranquil charm of The Newport Belle, a captivating 3-star bed & breakfast nestled by the ocean. Embrace relaxation with a stay that includes complimentary full breakfasts and a cozy terrace where you can soak in the sea breeze. Stay connected with free in-room WiFi, and make use of conveniences like free self-parking and bicycle storage.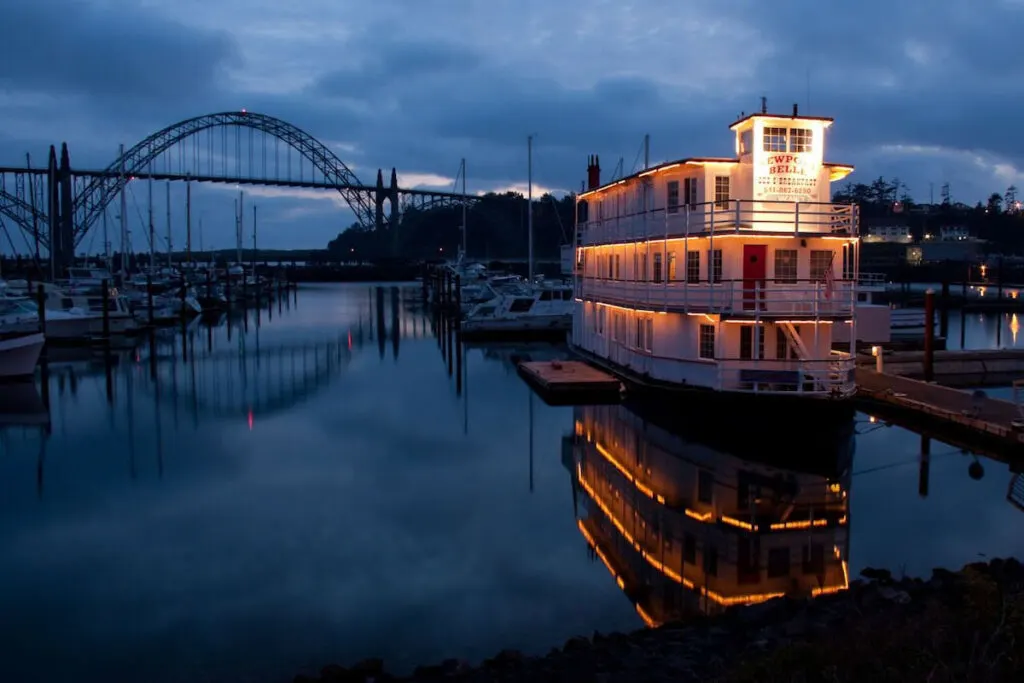 Individually furnished guestrooms offer premium bedding and modern amenities, including free WiFi. Wrapped in Egyptian cotton sheets, indulge in the comfort of memory foam beds. Enjoy serene showers and free toiletries in your private bathroom. Whether you're unwinding with premium TV channels or sipping coffee from your in-room maker, each detail is designed for your comfort.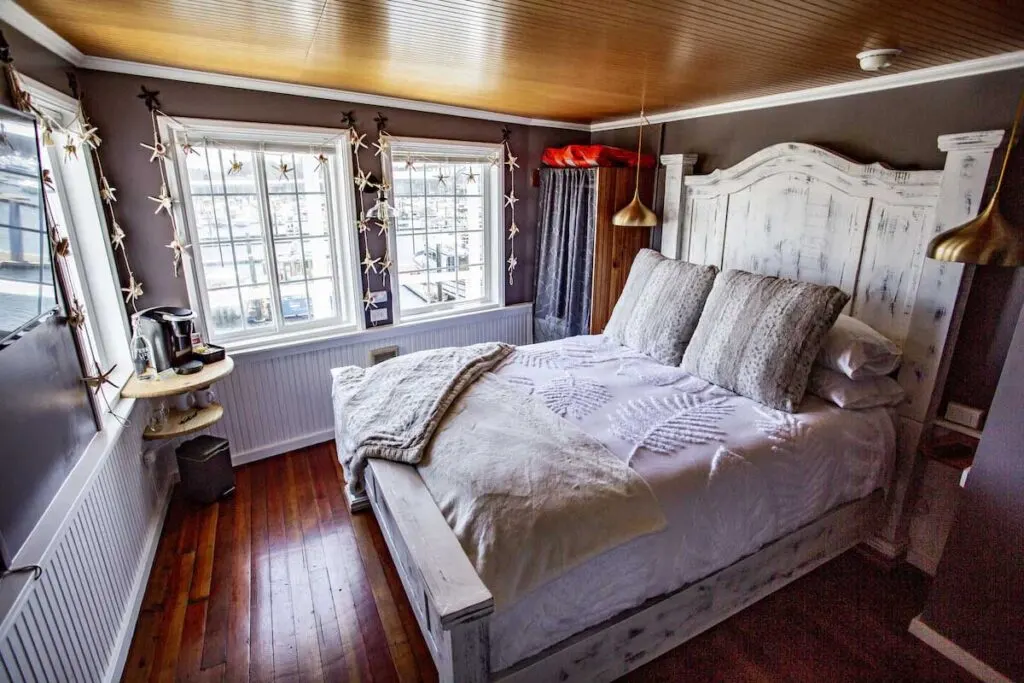 Experience the warmth of The Newport Belle, one of the best places to stay in Newport, where personalized service and seaside tranquility come together!
5. Ocean House
Experience the inviting ambiance of Ocean House, a delightful 3-star hotel in Newport cradled in the scenic beauty of Agate Beach. Embrace a day of exploration with a complimentary full breakfast and the excitement of 9 holes of golf. Relax by the firepit, unwind on the terrace, and enjoy the perks of a free daily manager's reception. Free in-room WiFi ensures you stay connected while savoring the coastal charm.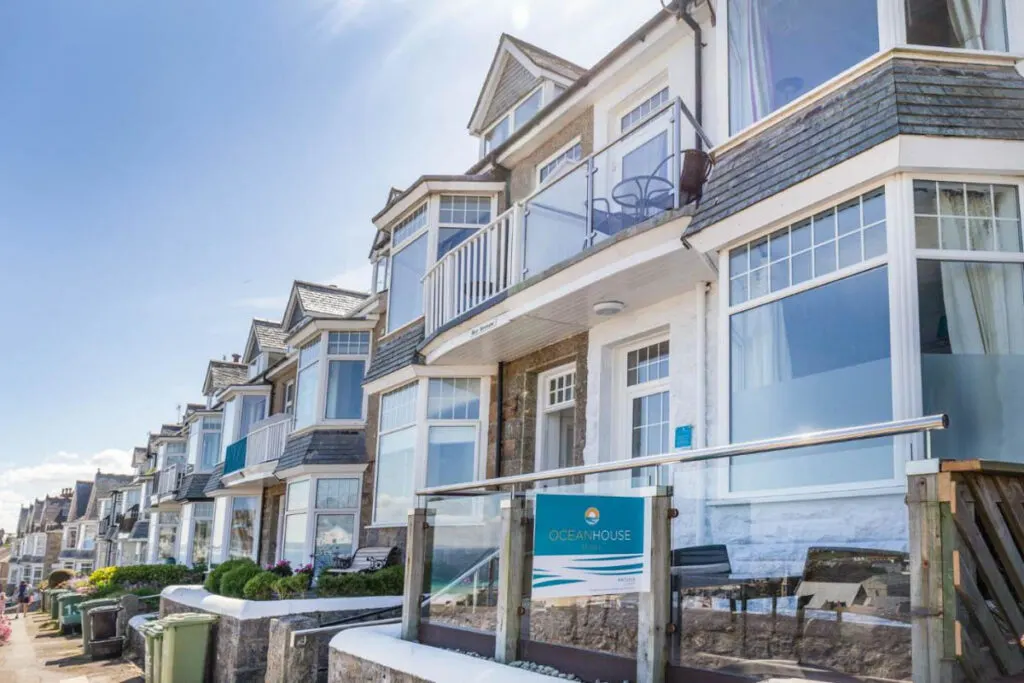 Discover the comfort of individually furnished guestrooms featuring premium bedding and pillow. Luxuriate in Egyptian cotton sheets and hypo-allergenic bedding while enjoying the convenience of bathrobes and designer toiletries. Families will appreciate the touches like microwaves and daily housekeeping.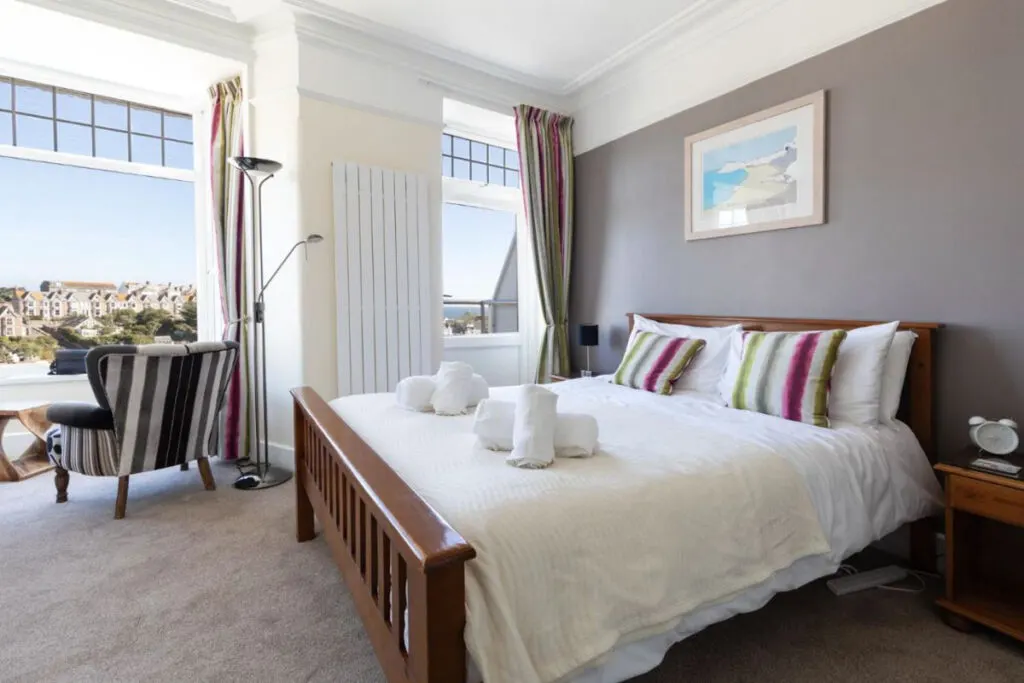 Ocean House invites you to experience coastal relaxation at its finest. With its beachfront location, welcoming terrace, and top-notch amenities, it's the perfect destination and place to stay in Newport for both adventure and rejuvenation!
6. Starfish Point
Escape to the coastal charm of Starfish Point, a haven of relaxation and fun located right on the sandy Agate Beach. This beachfront condo building offers 2-bedroom condos that are perfect for families and couples seeking a coastal getaway. Indulge in the comforts of home with a fully-equipped kitchen, complete with upscale touches like a fireplace and a jetted tub.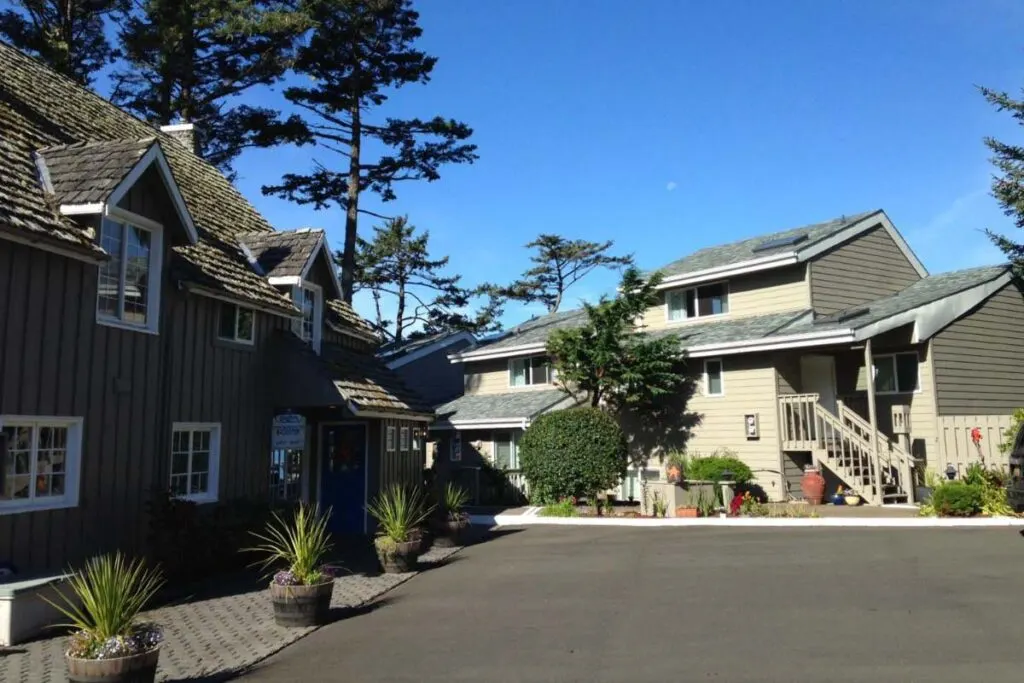 Families will delight in the convenience of a playground and barbecue grills, and your furry friends are welcome, too, making it a true pet-friendly retreat. Unwind on the furnished balcony, gather around the fire pit, or simply take in the ocean breeze from the garden terrace. Stay connected with free WiFi, and rest easy with housekeeping available on request.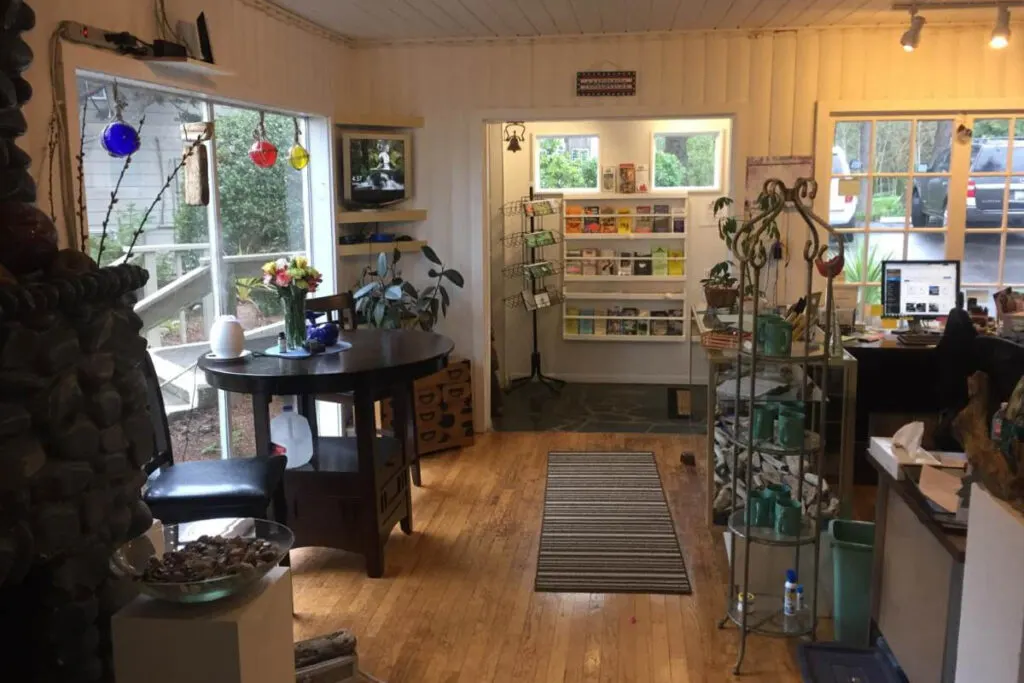 Savor champagne on the furnished balcony and enjoy the beachfront location, Starfish Point offers a high-end coastal escape like no other. With water sports, golf, and a range of nearby activities, you'll find a perfect blend of relaxation and fun!
7. Nye Beach Condo
Embrace the coastal charm of surf and sand at this Nye Beach Condo, a cozy oceanfront condo perfectly situated in Newport's vibrant Nye Beach District. Immerse yourself in the bohemian ambiance of this neighborhood, where restaurants, shops, galleries, and live entertainment are all within easy walking distance. Experience the allure of an ocean view and the enchanting sight of the Yaquina Head lighthouse.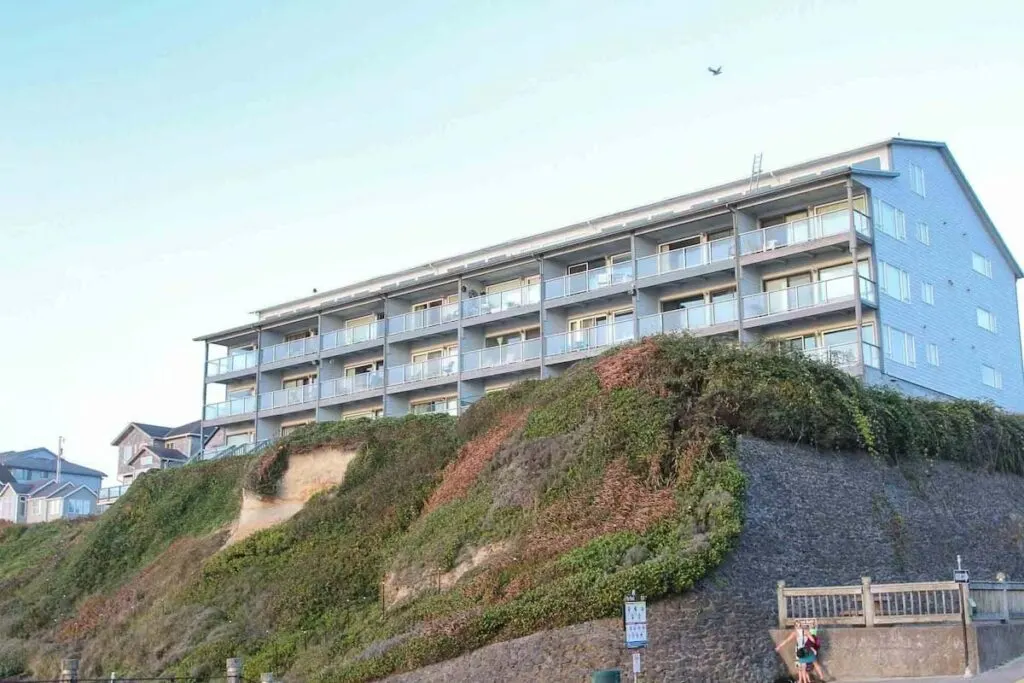 This one-bedroom, two-bath condo offers comfort for up to 4 guests. The bedroom features a lovely queen bed with an ensuite bath, while the living room hosts a versatile Murphy bed and twin bed, along with a full guest bath in the hall. The open-concept living/dining room boasts a fully stocked kitchen complete with a counter and stools, perfect for preparing and savoring delicious meals. A washer/dryer ensures convenience after beach days. Access to the covered deck off the living room allows you to relish the view and unwind.
Whether you're seeking a romantic getaway, a productive work/study retreat, or a base for friends to explore Newport, Surf and Sand provides the ideal setting. With its coastal views, easy beach access, and proximity to local attractions, it's a haven for those seeking one of the best places to stay in Newport.
8. Nye Suite
Elevate your coastal getaway at Nye Suite, a charming oceanfront condo in Newport that offers breathtaking views of Nye Beach. This second-floor retreat provides both convenience and comfort with an on-site elevator for easy access.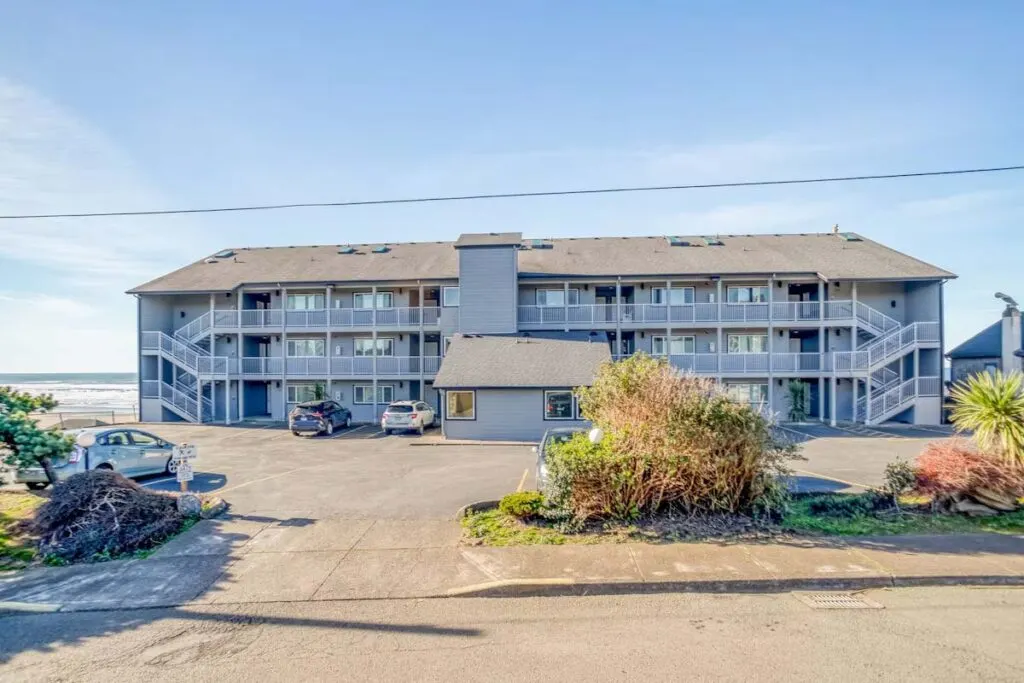 Step onto your private balcony to soak in panoramic ocean views and the captivating Yaquina Head Lighthouse to the north. Inside, you'll find a cozy living room with a large flat-screen TV and an electric fireplace, a dining area, and a fully equipped kitchen for enjoyable meal times.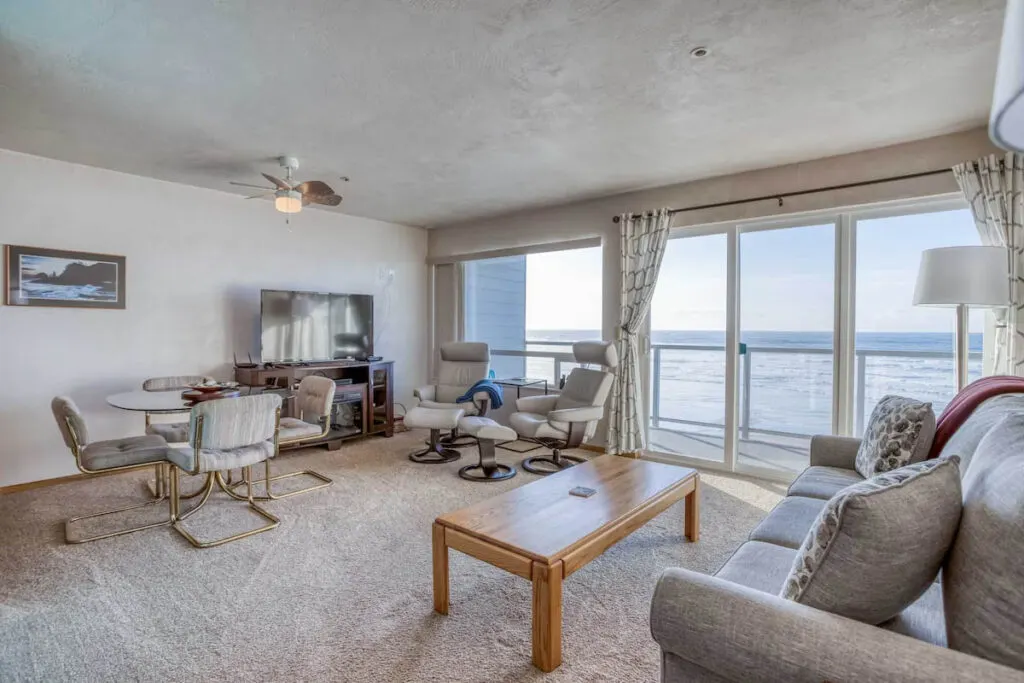 Discover the convenience of stepping out to beach access or strolling down the block to the vibrant Nye Beach District, brimming with unique shops and dining options. Just a short drive away, explore the Oregon Coast Aquarium or indulge in the shopping and dining delights of Newport's Historic Bayfront and Marina. If you want something a bit more special than a hotel in Newport, Oregon, this condo is it!
9. Arden Cottage
Experience the beauty of the Oregon Coast in utmost comfort at Arden Cottage. Offering panoramic bay views and a convenient location just a block from Yaquina Bay, this charming Newport cottage is perfect for up to three fortunate travelers seeking an unforgettable vacation.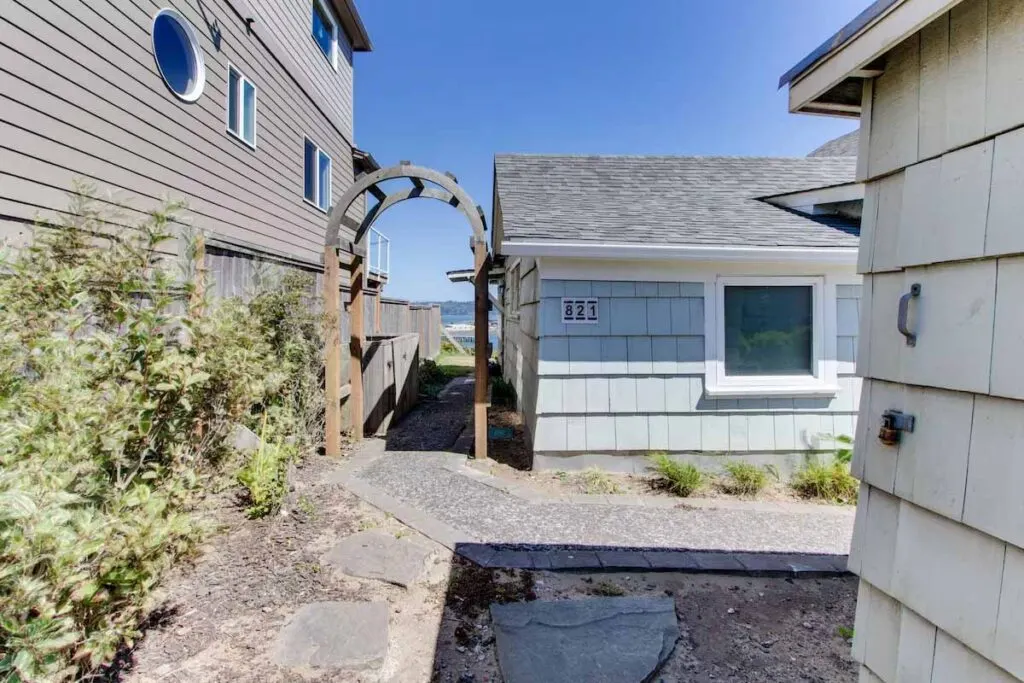 Within easy walking distance, you'll find dining, art galleries, and captivating museums along the boardwalk. The cottage boasts elegance and brightness, with a living area inviting you to relax and savor the stunning bay view. Stay entertained with board games, books, WiFi, and a flat-screen TV with DVD player, while a gas fireplace adds cozy charm to stormy nights.
The fully equipped kitchen includes all the essentials and more, and you can step outside to the patio and indulge in a morning coffee with a view. Accommodating up to three guests, Arden Cottage offers a bedroom with a twin bed and a living room with a queen Murphy bed that folds into the wall. A sofabed provides additional space, and the full bath features a walk-in shower and separate tub.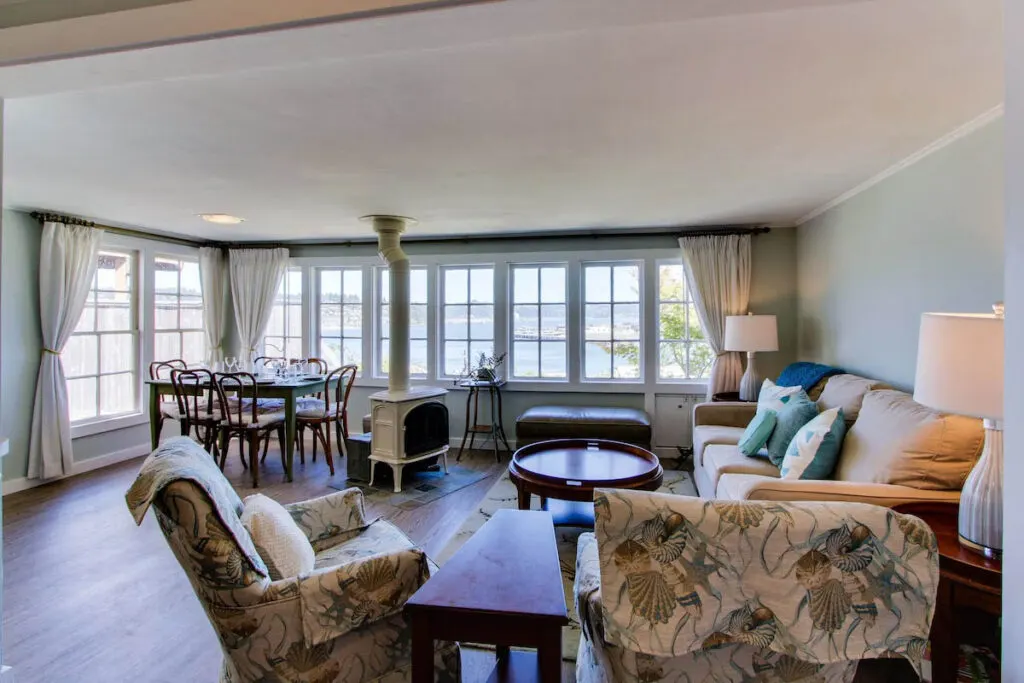 Ideal for a small family or a couple's retreat, this home places you just blocks away from Yaquina Bay State Park for outdoor fun and offers a range of nearby restaurants featuring fresh seafood. Your Newport getaway will be unforgettable when you choose this charming cottage as your home base.
10. Ocean-Front Hot Tub Studio
Unwind in luxury and comfort at the Ocean-Front Hot Tub Studio. This oceanfront studio offers a relaxing hot tub and a spacious king-sized bed, ensuring a quality retreat. Positioned on the first floor, you'll enjoy easy access to the pool and the conveniently located spa (seasonal), making relaxation just steps away. The Historic Nye Beach District, with its array of restaurants, shops, live entertainment, hotels in Newport, and beach access, is within effortless walking distance.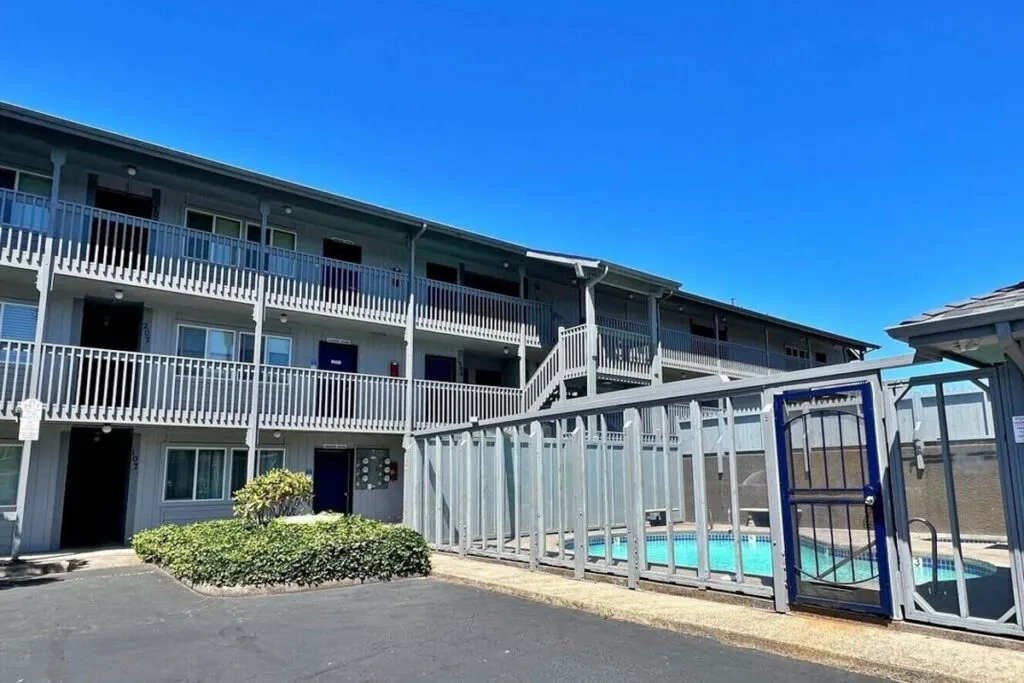 From your ground-level patio, you're a mere breath away from private beach access, where you can revel in stunning views and the soothing sound of waves. The studio boasts a fully stocked kitchen, a patio perfect for sipping coffee while whale-watching, high-speed internet, and cable.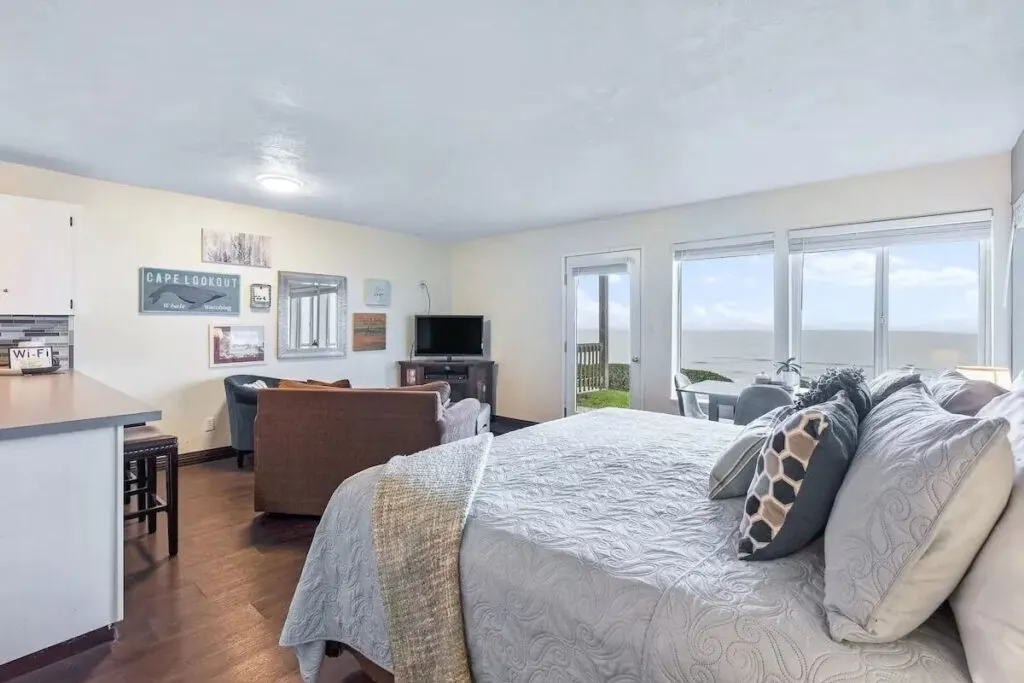 The convenience of a smart lock system grants you access to your unit, while a designated parking space ensures hassle-free parking. You'll have full access to the hot tub and pool, with private beach access just steps away.
11. NYE Beach Haven Studio
Discover a stylish coastal escape at NYE Beach Haven Studio, a modern gem right on the edge of the Pacific. This charming studio is perfect for a romantic getaway or a small family vacation that goes beyond your normal hotel in Newport. Begin your mornings on the private balcony with a cup of coffee and breathtaking ocean views.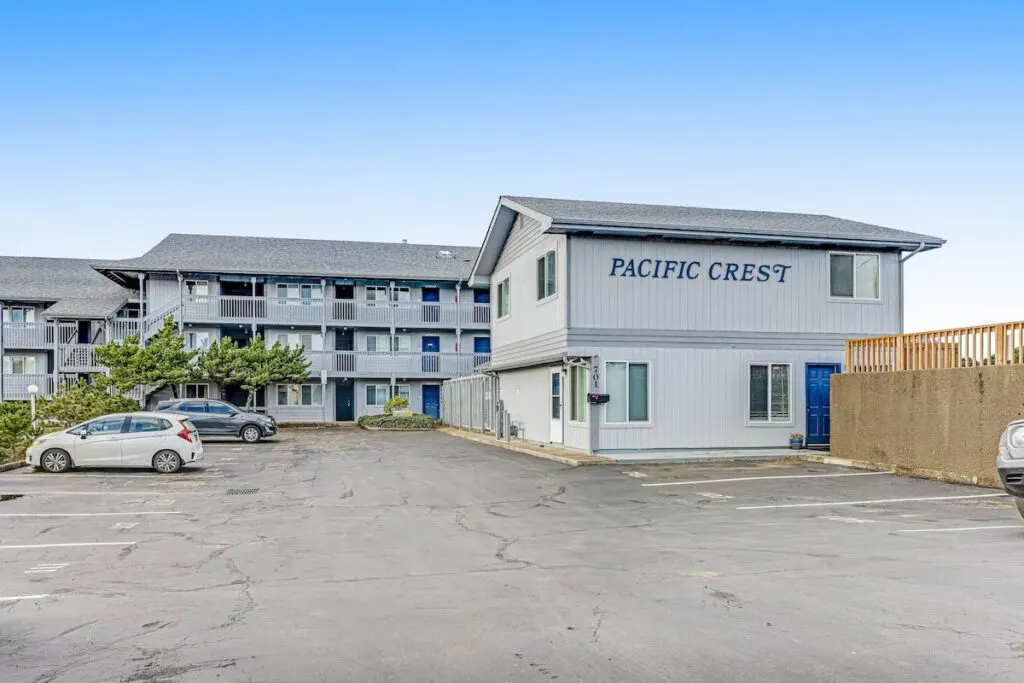 With direct access to Nye Beach, you're steps away from sandy shores and coastal excitement. Explore the quaint shops in town, stroll along the beach, or take a refreshing dip in the shared pool on-site.
Inside, the studio offers a cozy space for relaxation. Stream your favorite movies on the flatscreen TV, and enjoy the smells of a homecooked meal filling the air from the fully equipped kitchen. With major appliances and cookware at your disposal, cooking up your favorite recipes is a breeze.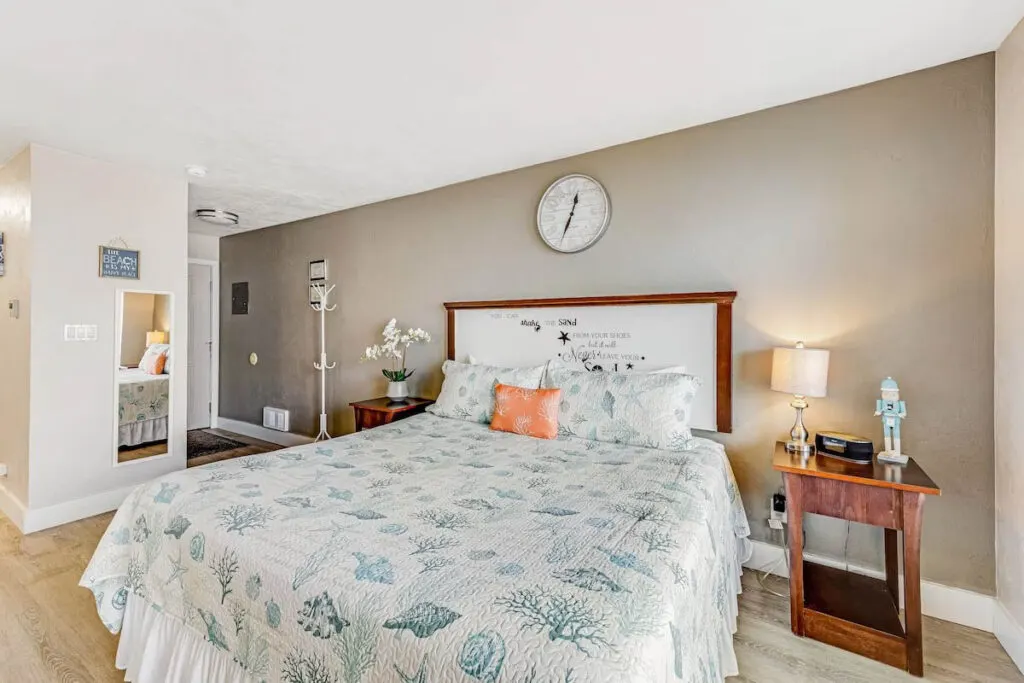 Plus, you'll find thoughtful amenities like free WiFi, foldable patio furniture, a beach umbrella, and more. Don't miss out on this unique opportunity to unwind and enjoy the beauty of the Oregon Coast. Secure your spot at NYE Beach Haven Studio today!
We hope this helped you find a hotel in Newport that suits you!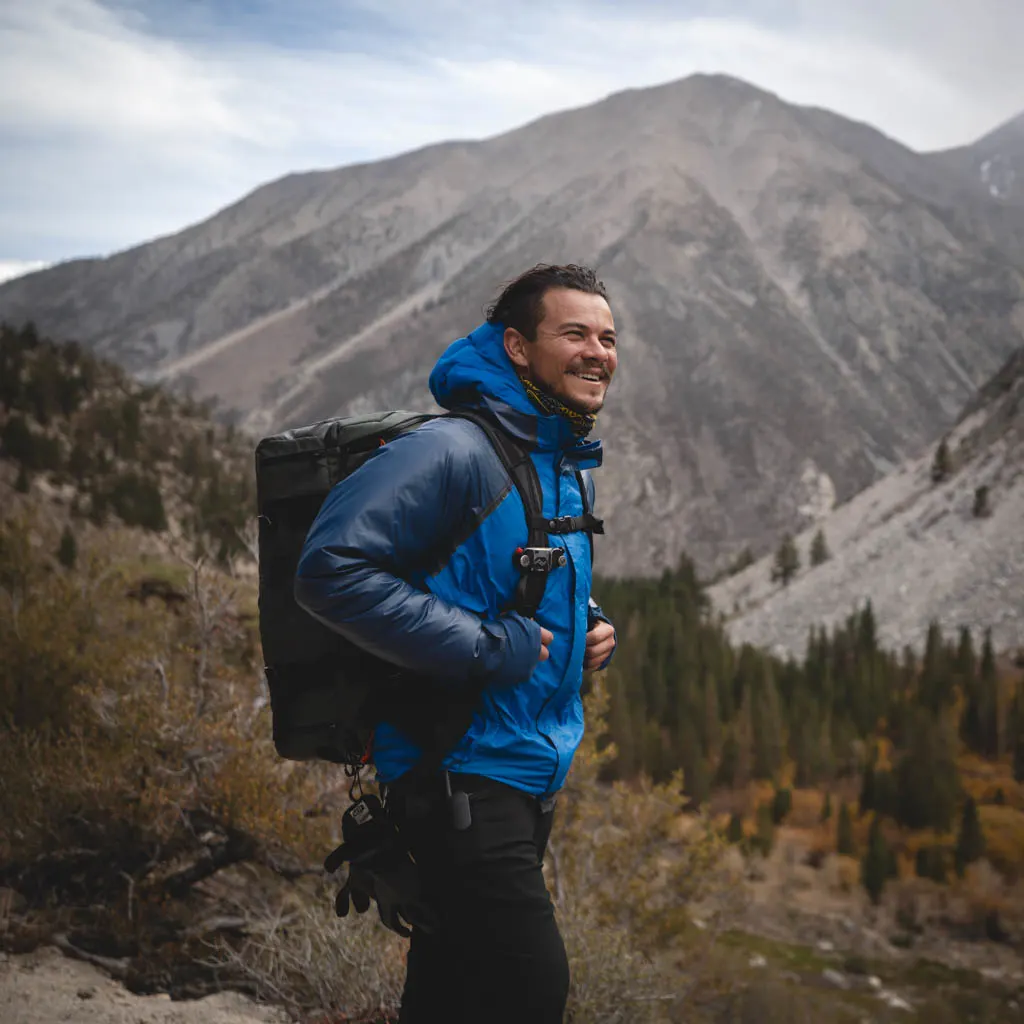 Oregon native and explorer at heart. Loves tackling expeditions around the world and drinking a good beer at the end of the day. PNW obsessed, VW nerd, and surf or snow riding fanatic.