We are all about the adventures over here but we can't help it, we're lovers of photography too!
So if someone is looking for some epic Oregon photography or really, just some stunningly beautiful places in Oregon, this is the guide for you.
Tons of these spots can be accessed with your car or a quick hike but as you get further down the list, you'll have to work damn hard for some of those shots (we all love a good challenge, right?)!
Adventure and photography mix well, my friends, so we hope you enjoy these photo locations in Oregon!
Most Beautiful Places in Oregon for Photography Lovers
---
While we don't let Instagram dictate where we go, we aren't oblivious to the fact that some people do. When people travel now, they want a great shot, and can ya blame them? As photography fanatics, we get it.
Here are some beautiful places in Oregon to get that shot (even if it's just for the 'gram).
Bandon Beach
Incredible sea stacks dotting the ocean, what else do you want? A simple walk down to Bandon Beach at low tide and you're standing amongst these towering boulders with starfish hanging off the bottom and the sea crashing in the distance.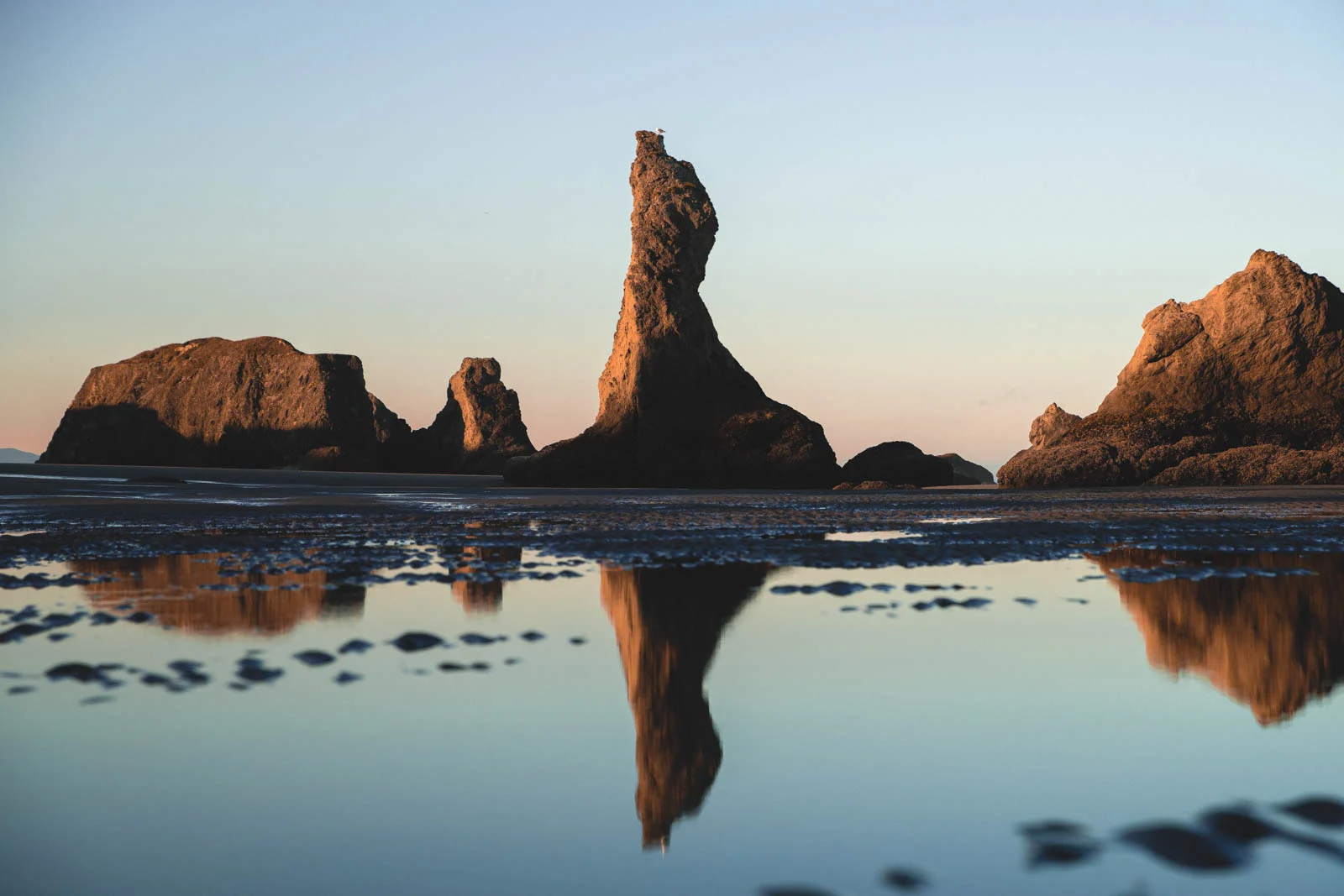 Crater Lake
While there are trails around Crater Lake to roam, if you're looking for capturing an iconic but quick photo in Oregon, Crater Lake is your spot. You can drive around the lake and find tons of angles for your shot.
If you come in winter only partial road access may be open so plan accordingly.
---
RELATED: Things to Do at Crater Lake National Park: Hikes, Camping & When to Visit
---
Lost Lake
Hike or kayak Lost Lost and you'll be watched over by Mount Hood, which turns out to make an epic Instagram shot in Oregon. I think we can all agree Mount Hood is very photogenic which brings me to…
Trillium Lake
You can't mention Mount Hood and a lake without mentioning Trillium Lake. If you're lucky and happen to get a calm morning, you'll be rewarded with a stunning reflection shot of Mount Hood.
If you're up for camping, you can get some sunset and sunrise photos from the Trillium Lake Campgrounds.
---
READ MORE: Checking Out Trillium Lake: Paddling, Hiking, and Camping
---
Painted Hills
This alien landscape has a few trails to choose from, most of which are pretty darn easy. Check out this beautiful place in Oregon if you dream of visiting Mars, it may be as close as you'll get!
---
RELATED: Your Guide to Exploring the Painted Hills—Oregon's Most Alien Landscape
---
Toketee Falls
You'll barely have to walk a mile to get to this popular Instagrammable location in Oregon's Umpqua National Forest, however, if you want to get to the base you'll need to traverse a sketchy rope down some rocks.
Umpqua Hot Springs
In case you're tired of chasing waterfalls, just down the road from Toketee Falls is Umpqua Hot Springs. You could give the camera a rest… or not.
---
RELATED: 11 Things to Know Before Going to Umpqua Hot Springs
---
Cannon Beach
There are trails around Cannon Beach but for those epic shots, you'll probably just want to frolic around the beach. And unlike most of the world, it's almost better when this beach is in a mood. This is certainly one of the most photographed spots in Oregon!
---
READ MORE: 14 Adventurous Things To Do in Cannon Beach
---
The Wallowas
Head to Wallowa Lake and take it all in, or get high up in the mountains… No matter which way you explore the Wallowas, you'll be tapping into some of Oregon's best photography locations because it's still pretty under the radar.
Alvord Desert
Another camping location that seems to be on another planet! Alvord Desert is pretty out there but the location couldn't be more worth it. You can camp on the salt flat and wake up to the Steen Mountains as your backdrop.
Here's everything you need to know about camping in Alvord Desert.
Tumalo Falls
Take the easy route and view this beaut ten steps from the parking lot or take the side trail about 15 minutes towards the falls to get right up to it.
Skylight Caves
Although it's just off a country road, the road to get there takes a while and it's a bit hard to find but once you find it…
---
RELATED: How to Get to Skylight Cave in Oregon
---
Silver Falls State Park
The Trail of 10 Falls is aptly named, do we need to say much more? You'll have some fun with photography in Oregon here and if you want to take your time, there are a few campgrounds in the area.
→ Join this fun day trip from Portland for a hike through Silver Falls State Park followed by a tasting at a local winery.
---
RELATED: Your Guide to Silver Falls State Park—the Trail of 10 Falls & More
---
Samuel H Boardman
There are various points of interest here. Samuel H. Boardman is one of the most Instagrammable spots on Oregon's coast. You can literally spend an entire day exploring and taking photos on this stretch of coastline.
---
RELATED: Hiking the Samuel H. Boardman State Scenic Corridor
---
Smith Rock
Another photogenic spot in Oregon and the best part about it is its ease. You get spectacular views simply by rolling up to the parking lot at Smith Rock! We do highly suggest you try the scenic hikes and epic rock climbing though! 🙂
→ To ensure you get the best pics from your visit, why not try this sunset photo workshop at Smith Rock, with tips on the best vantage points in the park.
---
RELATED: A Guide to Smith Rock State Park's Hikes, Misery Ridge Trail & More
---
Columbia River Gorge
Where to begin? I decided to loop in this area but honestly, you can spend days shooting the Columbia River Gorge. The easiest views are Multhomah Falls and Rowena Crest Viewpoint, Dry Creek Falls doesn't get busy, and then there's Horsetail and Wakeena Falls… You should probably just read about these waterfalls near Portland.
And, of course, the Gorge itself is certainly one of the most beautiful places in Oregon…
→ There are a lot of fun waterfall tours from Portland to the Columbia River Gorge you can take too, like this half-day waterfall hiking tour, or this Hike and Bike Waterfall tour.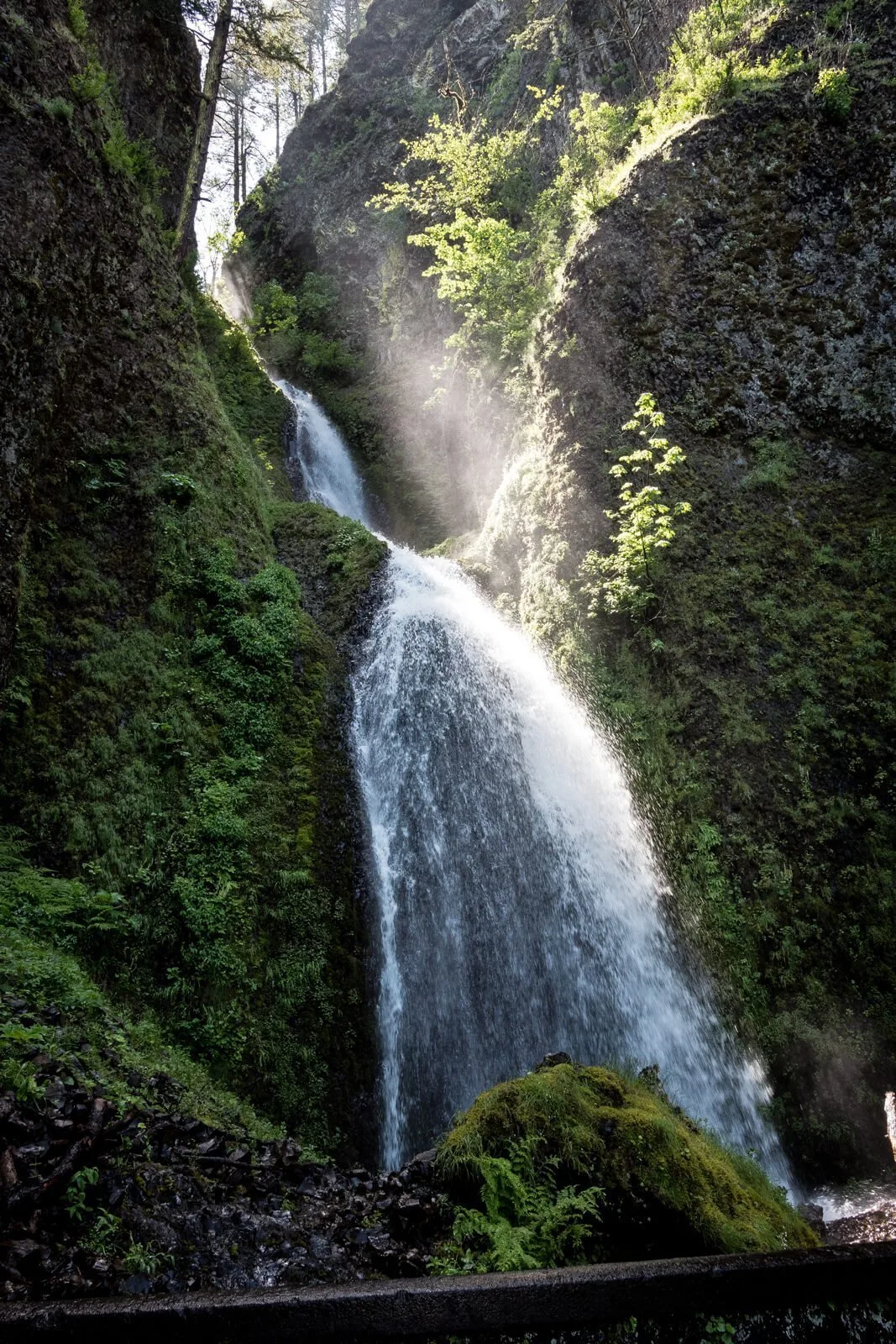 ---
RELATED: 25 Columbia River Gorge Hikes + Other Adventures
---
Triangulation Peak
An epic cave framing Mount Jefferson? Sign us up! There are some switchbacks and a trample through a burned forest to get to Boca Cave to get that shot.
Proxy Falls
The epitome of a great photography location in Oregon—Proxy Falls. It's an easy hike in, but to get the good shots there will be some rock and tree scrambling which can get slippery and dangerous pretty quick. But you'll manage just fine and the experience is worth it.
---
READ MORE: Proxy Falls Hike—Central Oregon's Most Epic Waterfall!
---
Tamanawas Falls
An easy path with a bit of a rock scramble at the end and bam, you're chilling at Tamanawas Falls. Take the rock scramble further to get behind the falls. This is one of our fav spots to hike to in Mount Hood.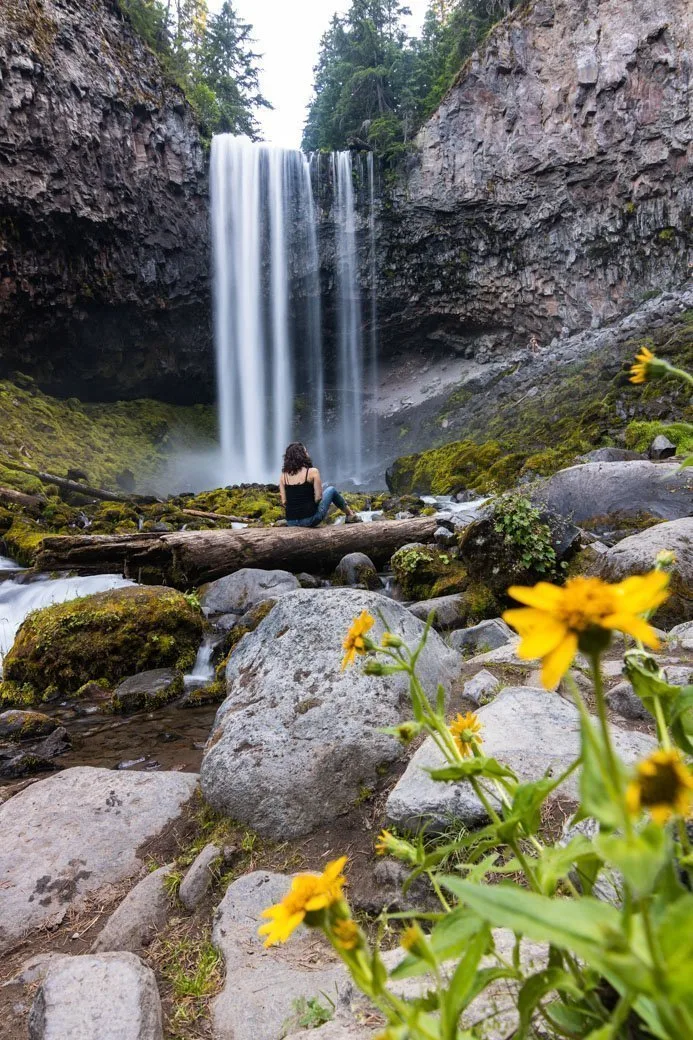 ---
READ MORE: Hiking the Gorgeous Tamanawas Falls Trail
---
Cascade Lakes
Elk Lake? Sparks Lake? Maybe Todd Lake or Devils Lake? Take your pick… I'm grouping together another nugget of Instagrammable spots in Oregon and yes, you will have a field day here! Bonus points if you bring out your kayak or SUP board (or just rent them at Elk Lake!)
Each lake has a trail that goes around it, some of them leading into the epic Cascade Mountains you see before you.
---
RELATED: Exploring the Cascade Lakes in Oregon—Hiking, Camping, & Water Sports
---
You'll Have to WORK For These Beautiful Places in Oregon!
---
Paulina Peak
Yes, you can visit Paulina Falls first for a snap but for some real views, the 6-mile hike round trip to Paulina Peak is worth it.
---
READ MORE: Your Guide to Newberry National Volcanic Monument
---
South Sister Summit
You'll have to earn this view by walking 12 miles round trip to the summit and back down. Along the way, you'll get views of Moraine Lake, Teardrop Pool, and the ultimate view at South Sister is the summit overlooking Middle and North Sister, Broken Top, and beyond…
---
READ MORE: Your Guide to Hiking South Sister in Bend, Oregon
---
Mount Thielsen
The pointy tip can be seen from miles away. You'll have to tackle 15 miles round trip to the summit, luckily the refreshing and beautiful Diamond Lake is waiting for you below! Here's more info on hiking Mount Thielsen.
Broken Top
No Name Lake, Bend Glacier, and Broken Top summit, are best tackled over a few days. You'll have to sweat and grind to get to these photo locations in Oregon.
The Broken Top trail to No Name Lake and Bend Glacier is a good start at just 15 miles round trip!
Tom, Dick and Harry Mountain
After taking a peek at Mount Hood's reflection at Mirror Lake down below, climb up Tom, Dick, and Harry Mountain for a more upfront and personal view of Mount Hood. Adorable chipmunks included.
There are probably 49489 more beautiful places in Oregon we could have added but I think we've given you enough for now! 🙂 Check out these other adventures around Oregon.