Hiking is possibly our favorite way to adventure here and getting any of these hiking gifts would have us over the moon! We hope you find the perfect inspiration for whomever it is you're shopping for. They sure are lucky!
Feel free to steal any of our awesome hiking gift ideas!
---
RELATED: 40+ Camping Gifts They'll Love
---
Hiking Gift Ideas For Any Occasion
1. Merino Wool Hiking Sock
When it comes to hiking, socks play a vitally important role. Get the wrong pair, and you could end up having a very painful trip. Merino Wool hiking socks are great for all sorts of adventure, as they will keep your feet warm in the winter and cool in the summer thanks to the strategically placed mesh vents for breathability.
They have also been created to help with rubbing, so you are less likely to get a blister when wearing Merino wool. These pairs are likely to become a hiker's best friend.
2. First Aid Kit
You never know what sort of trouble a friend or loved one may get into while on the road, therefore one of the best gifts for hikers is a first aid kit, as it can help give you a little peace of mind. The handy straps of this first aid kit allow to it be attached to another backpack in seconds. Inside there are a number of items you may need if you injure yourself in the outdoors.
3. Hiking Poles
A hiker can't be without a pair of trusty hiking poles. These three-section poles come with zero slip security, created with soft, dual-density foam grips and padded wrist straps for extra security. The poles extend from 25 to 55 inches, ideal for general use and these poles come with powder baskets to use in the snow.
Check Price: Backcountry | Amazon
4. Compass
A compass is an essential part of a hiker's pack and can be invaluable when following a path a little less trodden. This compass has easy to read markings and is lightweight, making it a good option for a hiking gift. For ease of use, this compass clips to the edge of a map or sleeve of your jacket.
5. Rechargeable Flashlight
Every hiker needs a source of light, and it can be a nightmare when the flashlight you are carrying runs out of battery. The answer to this problem is to use a hand crank rechargeable flashlight, this one has a solar panel for charging too. Just 6 minutes of cranking can provide 1 hour of light, and the internal battery can store power for later use, so you don't have to crank every time.
6. Headlamp
Cranking out a powerful 200 lumens, a headlight can be a great alternative to a hand-held flashlight, freeing up your hands for a range of other tasks such as holding hiking poles or setting up camp for the night. The simple to use button makes it easy to select the right lighting mode for your needs, and the fact that it is waterproof means that it can withstand a little rain.
This headlamp even comes with the added benefit of having an integrated emergency whistle, making it a great option when it comes to hiking gifts.
7. Microspikes
A set of microspikes can be great when it comes to walking on icy winter trails, offering that necessary bit of traction. The long-lasting soles are equipped with heat-treated stainless steel cleats that help them bite into thick ice and snow. They are also easy to put on and take off, with secure and adjustable straps.
Hiking Gift Ideas: Hiking Boots
You can't go on a hike without a proper pair of hiking boots, and there are some great brands out there, all of which would make ideal hiking gifts. It's a pretty personal gift idea but a great one for your hike-loving friend.
8. Merrell Hiking Boots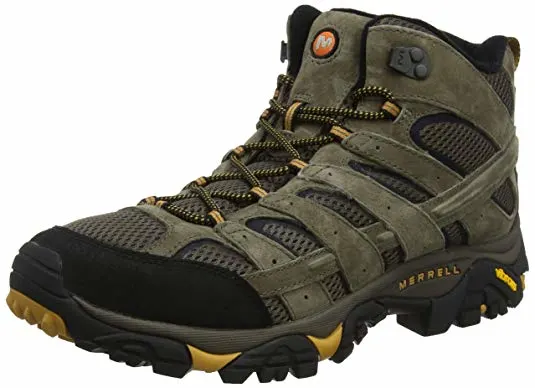 Merrell makes some great hiking boots and is known for producing shoes that have comfort, durability, design, and versatility in mind. They are made with technologies such as Vibram, Megagrip, and GORE-TEX, fantastic for exploring the great outdoors.
Check Price: Amazon Women's | Men's REI Women's | Men's
9. Columbia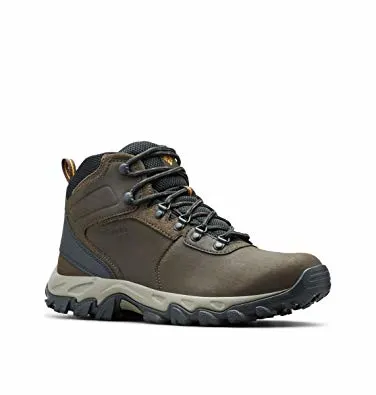 Treacherous days out on the trail will become a breeze with the use of Columbia hiking boots, another great hiking footwear brand. Boots feature a comfortable innersole for super cushioning and comfort, as well as an advanced traction rubber sole for slip-free movement on rough grounds. They are waterproof, breathable, and durable, plus they tend to look pretty cool.
Check Price: Amazon Women's | Men's Columbia Women's | Men's
10. Hiking GPS Bundle
As a friend or family member of an avid hiker, it can be a worry not knowing where they are. With this GPS bundle, explorers are still able to venture off-grid but stay in touch the whole time, making this one of the best gifts for hikers. They offer worldwide GPS coverage, with no cell tower needed, while also letting you exchange text messages and emails, so people will always know where you are.
You can even use the GPS system to share and track your journey with no cell coverage required, ideal for giving loved one's peace of mind. In terms of safety, they are also able to send out an SOS signal, with notifications to tell the user that help is on the way.
11. Flash Cooking System
Look no further when it comes to hiking gifts than this cooking system. Enjoy a coffee or a quick meal in no time with the Jetboil Flash cooking system, so effective that it boils water in 100 seconds.
Not only does this mean you'll conserve fuel, but will also allow you to tuck into your grub faster. When the water is boiling, the thermochromatic logo on the side of the device turns orange, so you know it's time to turn off the stove to avoid using any excess fuel.
12. Waterproof Binoculars
Perfect for nature lovers or those that just want to see a little bit more on their travels, these binoculars are ideal hiking gifts. They are compact and waterproof, and also have high definition low light night vision. With 8X magnification, you are able to see things in great detail at a distance.
13. Water Filter Bottle
When hiking, you never know when you are going to be able to find the next safe drinking water. Taking this bottle with you, you'll ensure you have safe drinking water wherever you go. The inbuilt filtration system allows you to take water from nature, and make it suitable for consumption, taking out any potentially harmful bacteria.
Perfect for travel, the bottle is leakproof, and also comes with a carabiner for easy transportation, and a small compass to help you navigate.
14. Vacuum Insulated Water Bottle
Thermal bottles are great, but more often than not they weigh a ton, and that's before you even put any drink in it. This water bottle is different, weighing a third less than similar models. The technology involved means it can keep cold water cold for up to 10 hours, and retain the heat from hot beverages such as tea, coffee, and soup for up to 10 hours.
The ideal if you want a hot drink halfway through a hike but don't have a way to start a fire. Give someone these sorts of hiking gifts, and you'll have a friend for life.
15. LifeStraw
If you don't fancy lugging water around with you, then the LifeStraw could be a perfect alternative. Small and lightweight, it is no bother to carry around and will give you safe drinking water wherever you are in the world. The filtration system takes out any harmful bacteria, allowing you to drink directly out of streams and lakes.
In its lifetime it can filter around 4000 liters of water, which is more than many people manage to drink in a year! It is the perfect little hikers' companion and hiking gift, ensuring you'll never be thirsty.
16. Fire Starter Kit
Give someone the gift of fire with this compact firestarter, designed to light fires in any conditions. Own your own fire starter, you won't need another one for a while, as it lasts for around 20,000 strikes. Because of the bright spark created, it can also be used as an emergency signal.
17. Hiking Backpack
Every hiker needs a backpack, and they can make great hiking gifts. The 55L capacity makes it ideal for a multi-day trip, and the multi-position torso adjustment allows it to fit a range of body sizes. A hiker's whole life is stored in a backpack during a trip, so it is a very important piece of kit.
18. Reusable Cutlery
There are many brands that offer portable cutlery in all shapes and sizes, made with a range of materials. A set of really nice cutlery, with a nice case, could make a great hiking gift for someone who is planning on spending at an extended period of time hiking.
The cutlery can be used again and again, making eating out on the trail a much easier experience. This kit comes with a knife, fork, spoon, chopsticks, two straws, a straw cleaning brush, and a case.
19. Portable Phone Charger
When it comes to spending time in the great outdoors, your phone is not going to last forever, and chances are you are not going to come across very many places where you are able to charge it. That is where the portable phone charger comes it, and this may not be the smallest and lightest around, but one of the best gifts for hikers because it has a solar charger!
It is pretty powerful and can charge your device up to 2-3 times with speedy charging time and the ability to charge itself if you clip it on outside of your bag while you hike.
Check Price: Backcountry | Amazon
20. Emergency Blanket
Ideal for hiking, it's important to carry an emergency blanket, and these blankets are the perfect combination of durable and lightweight. These blankets are waterproof and reflect up to 90% of body heat for survival in a range of different weather conditions. They are also extra-large for full-body protection, therefore could also be used for an emergency shelter or sleeping bag, or even for two people.
21. Bite Kit
Depending on where you are in the world, the risk of a snake bite could be very real. Bee, wasp and spider stings are also common when on the road, and can have some nasty consequences.
It is always best to be cautious, and this bite and sting keep can offer some peace of mind when hiking. Although it shouldn't be a replacement for medical attention, the kit can certainly come in handy and is a very sensible hiking gift.
22. Waterproof Poncho
Unfortunately, getting wet in the great outdoors is pretty much unavoidable (especially in the PNW), but there are things that can be done to make the experience a little more pleasant. Although a poncho may not be the most glamorous of hiking gifts, they do their job well when it comes to keeping you dry, allowing you to keep the umbrella and raincoat at home.
It is durable, incredibly lightweight, and is able to fold up to fit in a pocket. If needed it can also have other uses, such as a tarp or something to sit on when the ground is wet.
23. GPS Watch
This watch is certainly a handy piece of kit, ideal for outdoor activities that require the use of both hands. This lightweight watch can do so much, from sharing data with your computer or other travelers, to making sure that you never get lost again.
The best feature of this watch is its incident detection, which sends your real-time location to emergency contacts through your paired compatible smartphone in case of an accident. You'll struggle to find a better GPS hiking gift than this!
24. Coffee Maker
If you want just a warm cup of coffee, it can be a lot of effort to have to set up the stove and get the water boiling. That is where this lightweight travel coffee maker comes in. It offers a cup of coffee to any strength in as little as 30 seconds. It is fully portable and will set you up ready for another day of hiking.
25. Repair Tape
This repair tape makes great hiking gifts for avid hikers. The last thing you want when on a hike is for some of your gear to break, especially if it something vital like a tent, pair of shoes, or your pack. By keeping some of this tape with you, these problems can be avoided.
It has the ability to repair a range of items while on the move, at least temporarily, so could really be a lifesaver if the worst were to happen. It also comes with a repair manual so you'll know exactly how to conduct the repair.
26. Safety Whistle
Staying safe when on the road is essential, and something as simple as a whistle can help with this. For a budget-friendly but thoughtful hiking gift, safety whistles are ideal. They come with a clip to attach to your bag and the high pitch noise they make can be heard over a mile away.
27. Solar-Powered Flash Light
When out and about all day, why not make use of the power of the sun to create energy? Not only is this nifty little device a solar-powered flash light, but it can also be used as a car emergency escape tool, with a glass window breaker and seat belt cutter, an emergency power bank for your phone, a magnet to connect it to other metallic surfaces, and a compass. Brilliant for all sorts of camping adventures, this is one of the best hiking gifts around.
28. Water Proof Journal (A Perfect Hiking Gift for a Writer)
These waterproof journals make great hiking gifts, as it gives people the ability to document their travels, making memories wherever they go. The cool thing about this notebook is the fact that it is waterproof, so the water won't turn to mush when getting caught in the rain or accidentally gets caught in the rain.
29. Pocket Soap
These handy little pocket soaps are ideal for use on the road and there are different ones that can be used for fabrics, dishes, outdoor gear, hair, and body They are environmentally friendly and there are 50 leaves per pack, so one set should last a while, keeping you and your gear clean while on the road.
30. Multi-Purpose Tool
The owner of this multi-tool is sure to be ready for any sort of hiking emergency, perfect for outdoor survival. The kit comes with numerous tools including pliers, screwdrivers, and most importantly, a can opener. Getting that tin of beans open after a long hike is vitally important!
31. Rain Tent Tarp
For those that want to set up a shelter quickly, the hammock rain fly tent tarp is ideal. Made with ultralight ripstop nylon, it offers fantastic protection from the rain. The cover comes with everything you will need for set up, including aluminum tent stakes and guide tie lines, and takes just minutes to put up. It also comes with a handy pouch for storage and transportation. Hiking gifts like these will definitely come in handy.
32. Seat Mat
No matter where they are going, a hiker will always be thankful for a dry place to perch after a long day of walking. This lightweight outdoor camping mat seat is ideal for outdoor activities thanks to its water and moisture-proof design, and it very easy to store.
33. Leg Gaiters
Leg gaiters are a great way to stay protected from the dirt, sand, mud, rocks, and even snow that you often get covered in on a trail, therefore are some of the best gifts for hikers. The strapless design of this pair allows you to change your shoes and socks without having to remove the gaiter, and they are waterproof and tear-proof.
Rest assured that this highly breathable material will keep your shoes clear of any momentum-stopping trail debris. Just throw them over your shoes and hiking pants and you're good to start exploring!
34. Food Dehydrator
For hiking gifts that are a little different, a food dehydrator can make a great gift for an avid hiker, giving them the opportunity to make a range of long-lasting, nutritious treats for the road. The kit comes with 4 drying trays, so the food can be made in bulk ready for a big hiking trip.
35. Comfort Insoles
Hikers need to look after their feet, so the best hiking gift for a hiker could be a pair of comfort insoles which help to stabilize the feet on uneven ground, and also has a shock-absorbing foam to enhance comfort while walking. They really are a hiker's best friend.
36. Sanitation Trowel
Sure, it may not be the nicest hiking gift, but a sanitation trowel certainly is essential for long trips with little modern conveniences. It has serrated edges to make digging in hard soil easier and it is lightweight.
37. Carabiner
You never know when a carabiner is going to come in handy, whether to simply attach something onto your backpack when you are walking or attach a light to the inside of a tent when camping, the options are endless.
Avid hikers will always be pleased with a new set of carabiniers, especially those like these which are lightweight and durable, meaning they can be used again, again, and again, a true hiking essential.
38. Joby Tripod (A Hiking Gift Idea for Photographers!)
Ideal for solo travel, a Joby Tripods are some of the best gifts for hikers out there, as it can be used to capture that perfect shot, no matter where in the world you are. They are built with three legs like a normal tripod to support the camera or phone, but then also have the added benefit of being flexible, meaning it can be used on even the most uneven of surfaces. It can even be used to cling on to a tree branch or fence to capture that otherwise unobtainable shot.
39. Multi-Use Carrier
These are a great alternative to a single-use plastic sandwich bag, as you can wash them up and reuse them multiple times. The airtight seal will keep your food fresher for longer, ideal for travel and days out. They are also microwaveable, fridge, freezer, and dishwasher safe, great for a hiker.
40. Personalized Hiking Map
There are so many incredible National Parks in the US, so it is nice to have a way to keep track where you have visited, and what adventures you still have to come, using pins to track your progress. This map is pretty cool because you can also personalize it with a family name.
41. Merino Wool Buff
Made with 100% Merino wool, a buff makes for a great hiking gift, as not only will it certainly come in handy, but also comes in a range of colors to add some style to your hike. It is soft, warm, wind-resistant and lightweight, and is wearable in 10 or more different ways, with natural moisture-wicking and odor control properties.
42. Foam Roller
After a long hike, I can assure you that nothing feels better than a massage to relieve the tension in the muscles. When in the wilderness, a massage may not always be possible, but a foam roller is likely to be the next best thing.
It mimics the finger, palm, and thumb of a therapist's hand, so is one of the best recovery tools to treat muscle pain. Ideal for any part of the body apart from the spine or neck.
43. Hydrating Tablets
Hydrating tablets don't have to taste horrible, especially if you can get some that taste like strawberry lemonade. The tables are electrolyte-rich, and you just have to simply mix them with water to help you power through a hike, full of energy. Simply keep a tube in your pack to use on the road.
44. PLB
Having this device with you when hiking really can be life-saving, whether you are traveling solo or in a group. It is the world's smallest personal locator beacon at just over 4.5 inches, yet it can still accurately relay your position to a worldwide network of search and rescue satellites, meaning that you will be able to be found if something bad were to happen. The built-in strobe light is great for visibility, and the battery is certified for six years.
45. Hiking Food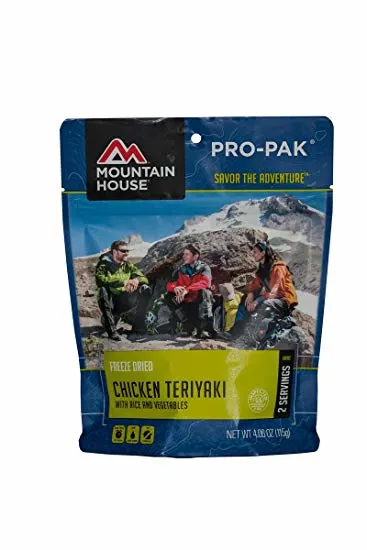 Food on the road doesn't have to be bland and tasteless, there are plenty of on the go meals that are ideal for hikers, and for a food lover, plus they can also make a good gift option. They can be enjoyed with you on the trailhead, or even go with you on the trail. They are all lightweight and easy to prepare, while still being incredibly tasty.
If you're not into freeze-dried food we found these other great hiking meals in a pouch that work and taste great. You can heat the pouch in water or dump it into the pan if you have access to a sink after.
It's not the most exciting hiking gift idea but it sure it necessary!
Check Price: Amazon Mountain House I Tasty Bite REI Mountain House | Backpacker's Pantry
3 Best Hiking Apps Upgrades as a Hiking Gift Idea
Give the gift of apps! These are such easy and cheap hiking gifts but they become invaluable on the trails.
All Trails – All Trails is an incredible hiking app. You can get the basic app for free, or just pay a small fee for the year for the more advanced option. It contains information on over 50,000 trails all over the US and Canada, plus you can even create your own trails, complete with GPS tracking, photos, and text. If you have found a great trail, then the app gives you the option to share it with friends.
Peakvisor – Who doesn't love mountains? By downloading Peakvisor, you will be able to instantly recognize the name of any mountain peak that comes into view using location tracking, 3D mountain panorama and the camera on your phone. It can also accurately measure elevation, therefore is a really cool little extra to have on your phone.
Map 3D – Reading contour lines on a topographical map can be pretty time consuming and complicated, but Map 3D helps to eliminate that problem, allowing you to clearly visualize you upcoming hikes, with any hills and ridges clearly shown in 3D. You can also plan, save and share routes with other, and load maps up in advance so you can use them offline.
---
RELATED: 40+ Camping Gifts They'll Love
---