Do you know that feeling when you just need a waterfall in your life?
We know it! Essentially, waterfalls are the ultimate reward for a hike, and luckily, you don't have to travel too far to get your fix. There are a bunch of waterfalls near Portland, thanks to the Columbia River Gorge and Mount Hood.
We have you covered on the best…
Hikes to Waterfalls Near Portland
---
We have some great waterfalls near Portland for you to hike to get out of the city and get outdoors. The first set are all the ones in the Columbia River Gorge, but I'll show you more if you're willing to drive just a bit further.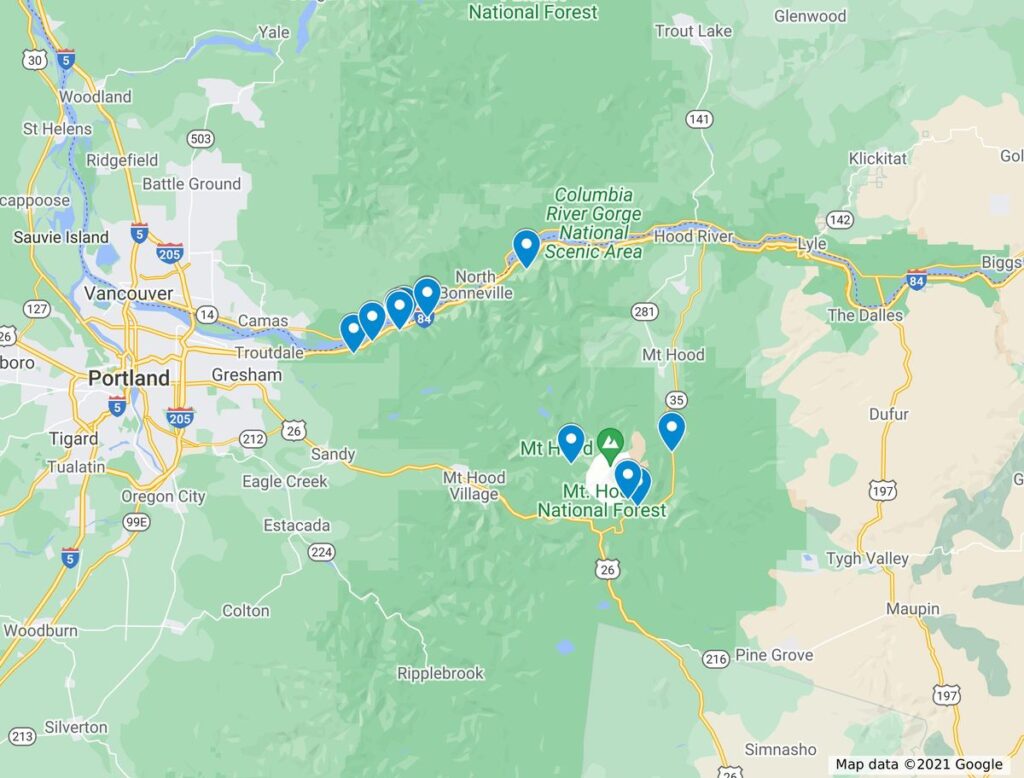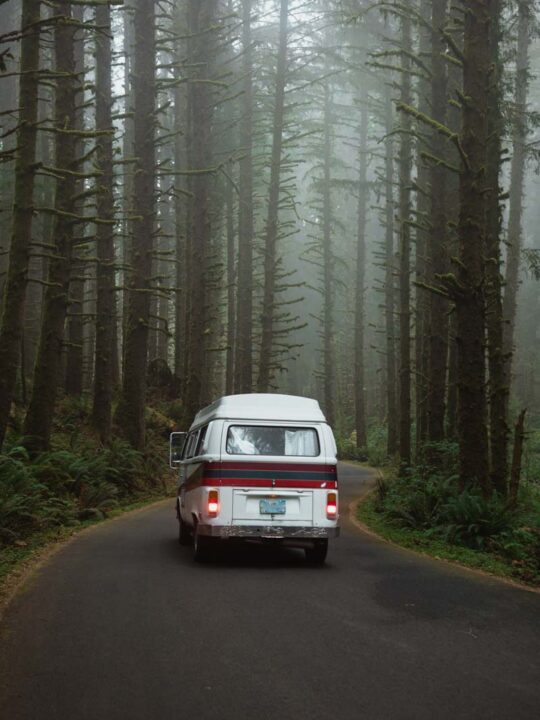 How to Get Around Oregon:
It's nearly impossible to get around the USA and check out the best adventures without a car! Here are our top recommendations…
Rent a car! We usually find great deals on cars and SUVs here:
Rent a home on wheels! For the more adventurous, rent a van or RV and forgo the hotel room.
Waterfalls Near Portland in the Columbia River Gorge
The Columbia River Gorge has a high concentration of epic waterfalls, and they will be the closest hikes and waterfalls near Portland for you to explore. The furthest one on this list is Dry Creek Falls and it's only an hour away from the center of Portland.
RECOMMENDED GEAR:
1. Multnomah Falls (Most Popular Waterfall Near Portland)
Distance: 2 miles
Type of hike: Out and back
Difficulty: Moderate
Best Hiked: March through November
Let's get the obvious one out of the way, right? Not to knock Multnomah or anything, she's a beaut! But this will be the busiest Portland waterfall you'll find on the list.
Its popularity is no doubt because of it's proximity to the road and being a waterfall near Portland—It's visited by Portland visitors and locals alike.
While the actual hike is 2-miles long, should you not want to hike up and over the bridge, you could just see it from the base below, a mere few feet from the parking lot.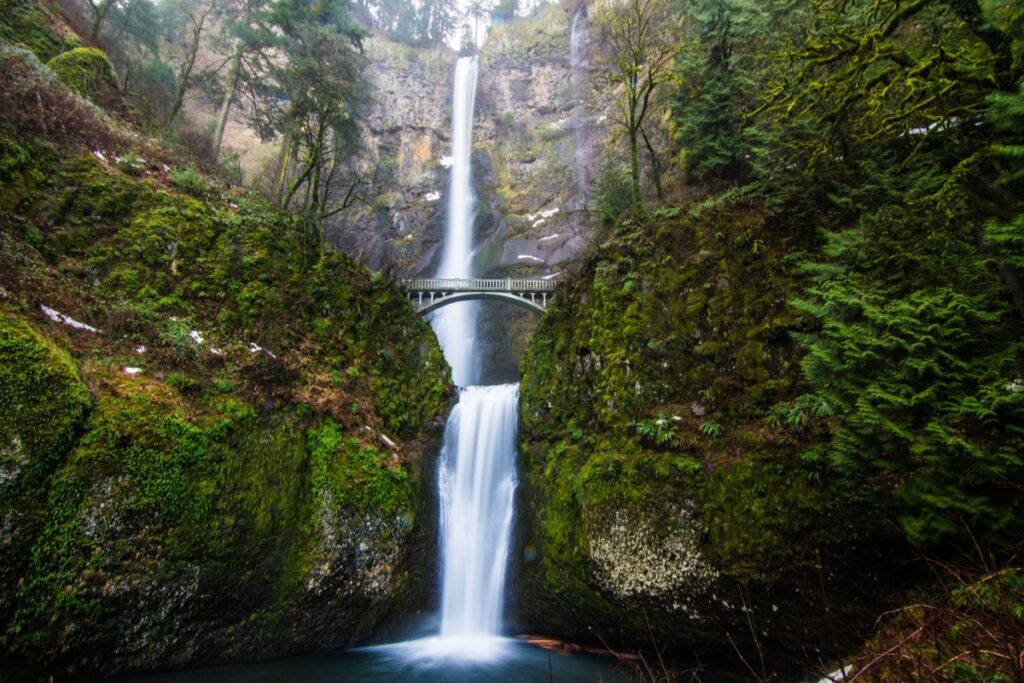 Those that are in a rush can still get a glimpse with a simple "hike" from the parking lot and not much more.
It's majestic, no doubt gorgeous, and certainly worth the visit but there are plenty more waterfalls near Portland that aren't so swamped with people to see.
If you want to see Multnomah and a bunch of other waterfalls in one big hike, there's that option too! I'll discuss that soon…
→ There are a lot of fun waterfall tours from Portland to the Columbia River Gorge you can take, like this half-day waterfall hiking tour, or this Hike and Bike Waterfall tour.
2. Dry Creek Falls
Distance: 4.4 miles
Type of hike: Out and back
Difficulty: Easy
Best Hiked: All year
Plunging over 70 feet off a basalt cliffside in a secluded amphitheater is a secret waterfall that is so easily skipped. Consider yourself in the know because not too many people make it out to this waterfall beside it being along the Columbia River Gorge.
The parking area is a bit more like you're parking in someone's backyard off their gravel trail but soon after, you're trekking up gradually to the ambient sounds of Dry Creek Falls in the distance.
Along your way, you'll likely see plenty of remnants of the 2017 fire that ripped through here, but luckily the trail is now open and safe for trekkers wanting to visit waterfalls near Portland.
The waterfall is a single drop fall and flows down a creek and eventually into the Columbia River Gorge. Don't let the name fool you! It's not dry, but it may not be gushing during the dry season, so try to hit this one after a bit of rain.
BONUS: Just down the road is another waterfall near Portland, Starvation Creek Falls. It's not a hike and just a quicky you can see a few steps from the parking lot.
3. Latourell Falls (Lower & Upper)
Distance: 2 miles
Type of hike: Loop
Difficulty: Moderate
Best Hiked: April through October
Plunging to the basalt rocks below is quite a waterfall. Latourell Falls freefalls over 200ft from Latourell Creek creating an impressive single-dive waterfall. Being that it's the closest of the waterfalls near Portland in the Columbia River Gorge, it's a popular one to visit.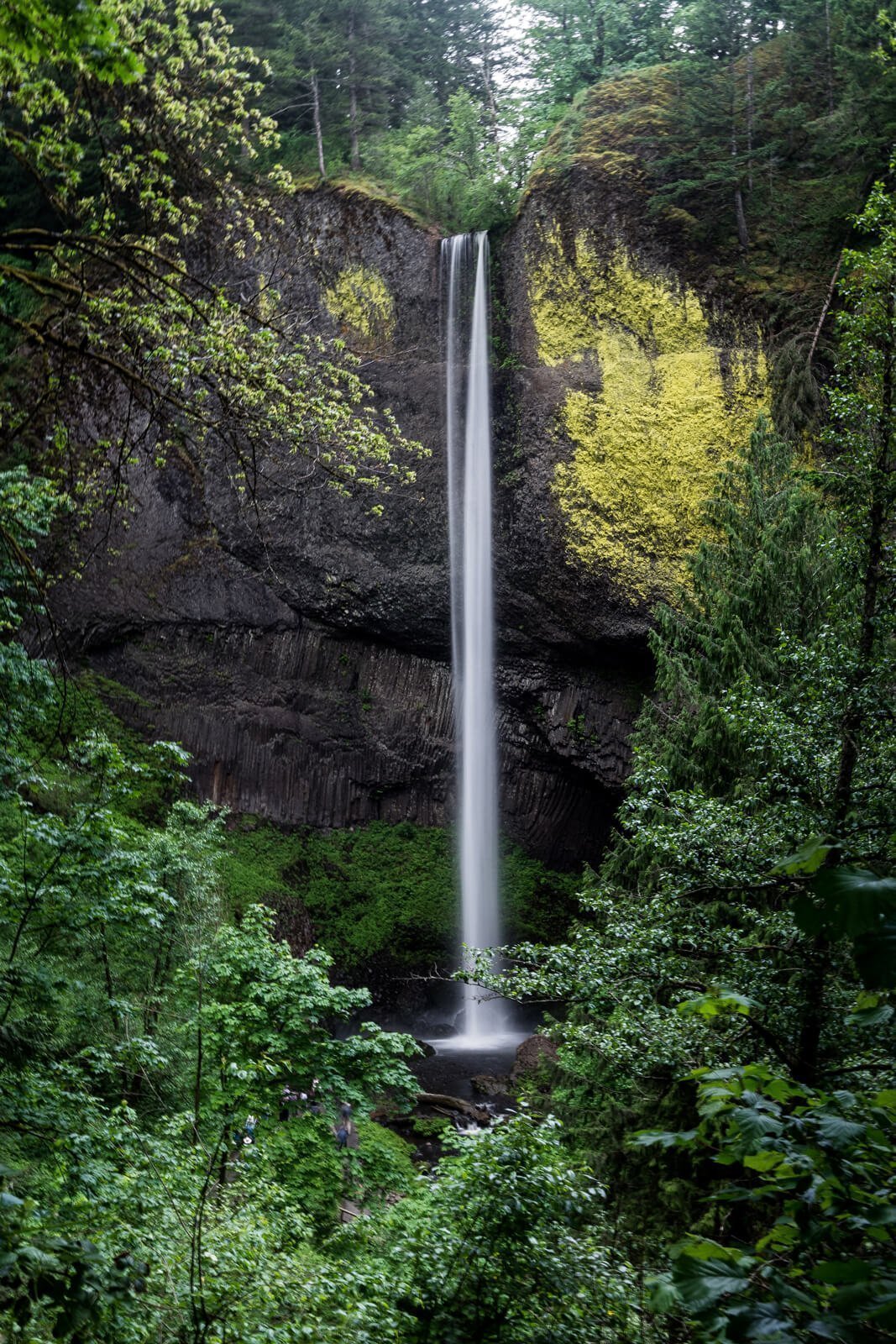 The best part of the falls? There's more than one. There's a two-tier waterfall, aptly named, Upper Latourell Falls that's on your loop that greets you with more lichen-ridden volcanic rock and lush greenery.
If you're low on time or only up for a quick walk, Latourell Falls is just a few minutes off the trailhead. Upper Latourell Falls requires you to hike further in and takes you through a loop back around.
4. Bridal Veil Falls (An Easy Hike to a Waterfall Near Portland)
Distance: .5 miles
Type of hike: Out and back
Difficulty: Easy
Best Hiked: March through October
Bridal Veil Falls is hardly a hike at all but nonetheless, still worth visiting. After a short, downhill walk through some plants you DON'T want to touch (poison oak!) you'll come to the 120-foot-tall Bridal Veil Falls.
There's a viewing deck here for convenience but the better views are getting down to the base of the water or better yet, on the massive boulder with the best view in the area.
The falls plunge from the nearby Larch Mountain and meander through cliffs and just over the edge into the pool below before leading itself to the Columbia River.
To make your walk a bit longer if you're trying to stretch those legs, there's an interpretive forest trail option you can continue walking down from the initial trailhead.
Note: You should NOT try to see the falls from the Historic Highway which runs just above the waterfalls. There isn't a pedestrian pathway, and the road is very narrow as it is. The only way to see the falls is by following this trail.
5. Wahkeena Falls & Fairy Falls
Distance: 3.4 miles
Type of hike: Out and back
Difficulty: Moderate
Best Hiked: April through November
Twisting and turning through a narrow gorge, this waterfall doesn't make you wait too long to enjoy its beauty. Just a bit over a mile in and you'll be right in front of it.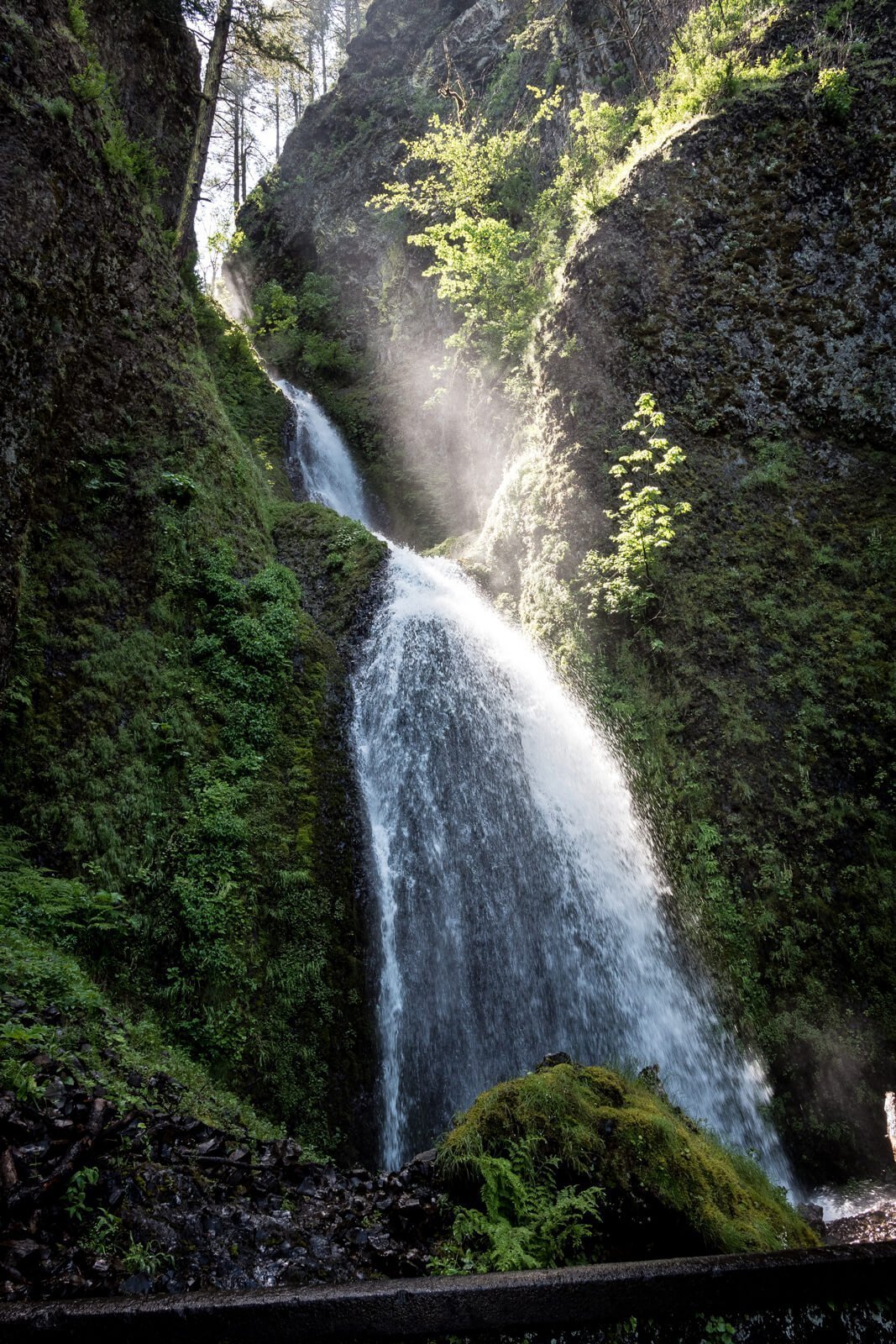 However, those who want a bit more, keep on hiking up a few switchbacks for a fantastic view of the Columbia River Gorge. From up here, you can scramble around a bit at the upper parts of the waterfall and even head a little further to see Fairy Falls. I highly recommend the extra stretch.
Fairy Falls is not as big as the rest on this list but its unique features make it a must-see amongst the other waterfalls near Portland.
Note: While these waterfalls are now open, it's still advisable to take extra care as there are still hazardous conditions like loose rocks and fallen tree limbs.
---
RELATED: 29 Stunning Oregon Waterfall Hikes
---
6. Horsetail Falls & Ponytail Falls
Distance: 2.4 miles
Type of hike: Out and back
Difficulty: Moderate
Best Hiked: March through November
There is no excuse not to see Horsetail Falls as it's lives adjacent to Multnomah Falls. It even has it's own car park and being right next to the road makes it an easy stop.
Surrounded by beautiful green foliage and shoreline rocks to admire, this waterfall had me staying longer than anticipated.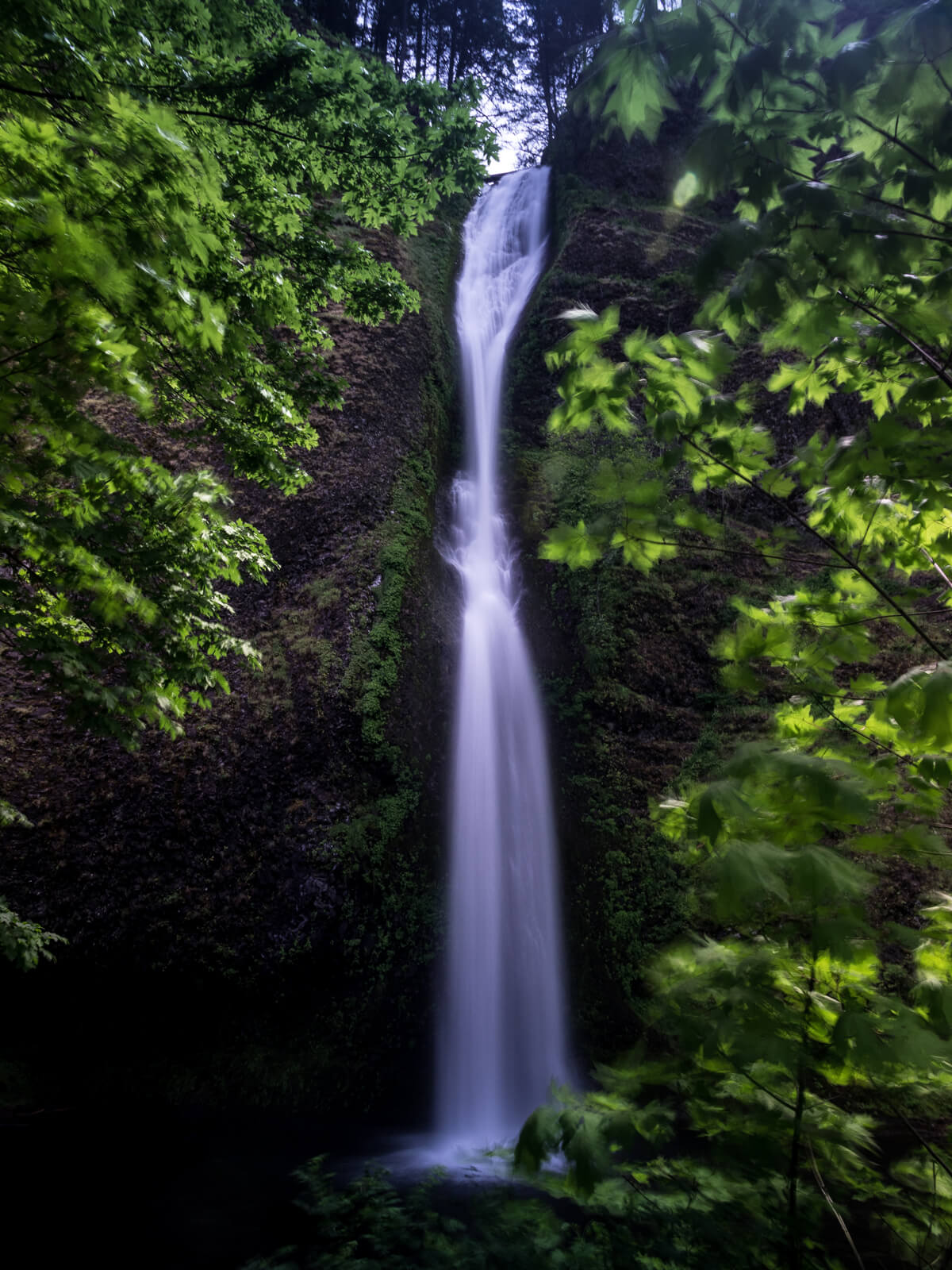 Oh but wait… there's more.
Continuing on the path a short walk of 1.2 miles awaits perhaps the most majestic falls of them all, Ponytail Falls. After seeing all these other Portland waterfalls, you may be secretly hoping to find one you could walk under and Ponytail Falls makes that happen!
7. Wahkeena-Multnomah Loop
Distance: 8 miles
Type of hike: Loop
Difficulty: Hard
Best Hiked: March through October
The Wahkeena-Multnomah Loop is a hike of verdant forest flanked with basalt cliffsides and the sounds of waterfalls in every direction, and it's potentially the most epic hike with waterfalls near Portland.
If you only have a day in the area, are up for a challenge and want nothing more than to chase waterfalls all day, THIS is your hike.
This hike has a lot of potential for customization. Many want to pass the crowds from Multnomah first, so they'll start there. After a few minutes of hiking, the crowds lessen significantly, and it's just you and the forest.
There is also another detour along the trail, and at points, it may get a bit confusing! I'd recommend using Maps.Me or Alltrails to keep to the trail or at the least can check where you're headed.
The hike not only features an incredible adventure through thick ferns, mossy volcanic cliffs and vegetation but you'll also get served with numerous gorgeous waterfalls along the way.
On this hike you'll come across: Fairy Falls, Ecola Falls and Weisendanger, Upper Multnomah Falls and Dutchman Falls.
In addition to these lesser-known falls, you'll also hike pass the main features, Wahkeena and the most famous waterfall near Portland, Multnomah Falls.
This is a long one, the elevation gain is around 870 feet, and there will be some muddy spots, switchbacks, and mist from the waterfall. Wear the right clothing and shoes for this one!
Note: As with some of the other waterfalls on this list, you do still need to exercise caution on these hikes as there are still fallen tree limbs and crumbling rocks along the pathways.
---
RELATED: Your Guide to the Abiqua Waterfall Hike Near Portland
---
Where to Stay Near the Columbia River Gorge
Ainsworth State Park: Ainsworth Campground is located right in Ainsworth State Park, and it's pretty central to any spot in the western Gorge area. There are about 40 full-hookup spots you can reserve along with six walk-in tent sites.
Deschutes River State Recreation Area: Located where the Deschutes River flows into the Columbia, this campground is a great spot to access the east end of the gorge. It has 34 electrical sites and 25 primitive sites.
Viento State Park: Viento State Park is a peaceful spot in a great area, though it's a bit less popular than other campsites. That means there's almost always a spot to camp when other sites are full.
Conductor's Cottage: This cozy cottage is located right across from the river on the Washington side of the gorge. It has two bedrooms, a well-equipped kitchen, and mountain views.
Dragonfly Creek Retreat Cabin: Located in Mosier, this artsy cabin sits on 24 wooded acres with a seasonal creek. It's only two miles from town but it feels secluded and wildlife abounds.
Cottage in the Heart of the Gorge: This beautifully remodeled cottage in Mosier has river views, which are best enjoyed from the deck. It has everything you need for a relaxing and comfortable vacation.
More Waterfalls Near Portland in Mount Hood
Mount Hood is in Portland's backyard so there are plenty more waterfall hikes near Portland if you're willing to travel just a bit further outside of the Columbia River Gorge. All of these falls are within two hours from Portland.
8. Tamanawas Falls (Our Fav Waterfall Near Portland)
Distance: 3.2 miles
Type of hike: Out and Back
Difficulty: Moderate
Best Hiked: May through October
The hike to Tamanawas Falls leads you through Douglas Firs for the first half of the hike and then you get to a rock scramble which is quite the spectacle itself.
As you emerge from behind a boulder the dirt trail continues on the path to this impressive waterfall near Portland that you now have in view!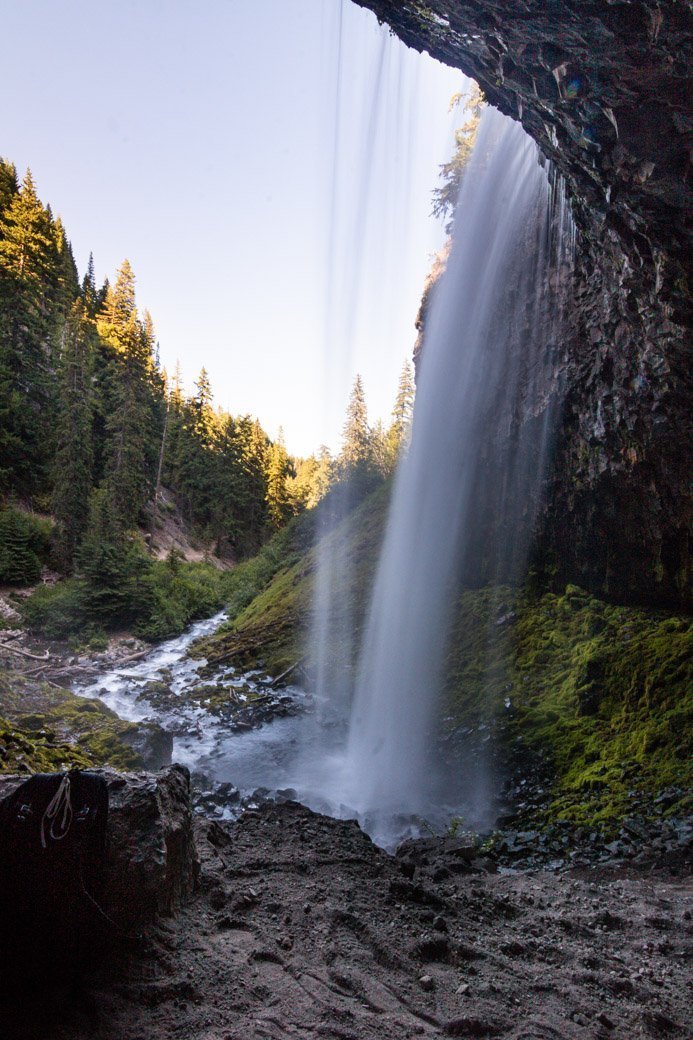 You can continue to clamber along the rocks on the right side of the falls to get behind it.
---
READ MORE: Hiking the Gorgeous Tamanawas Falls Trail
---
9. Ramona Falls
Distance: 8 miles
Type of hike: Loop
Difficulty: Moderate
Best Hiked: April through September
This is probably one of the most famous waterfalls near Portland, and it's because it's beautiful, of course! The north part of the loop is a bit more scenic than the southern route.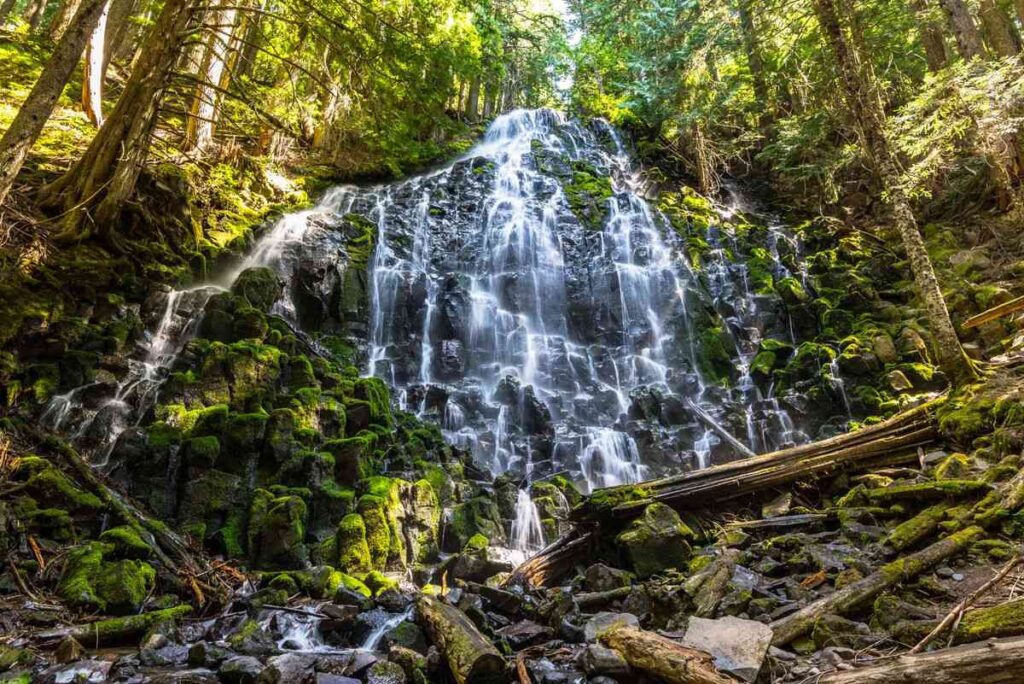 Be aware, at the time of writing, the bridge is still washed out and you'll have to traverse across broken branches to get to the other side of the stream.
10. Umbrella and Sahalie Falls
Distance: 3.4 miles
Type of hike: Out and Back
Difficulty: Moderate
Best Hiked: May through September
While Mount Hood is no stranger to visitors, these falls are rarely busy making them a great spot to visit while in the area. You can easily reach Umbrella Falls from the Mount Hood Meadows parking lot, Sahalie Falls is a bit further down.
There are a few steep areas on the hike but otherwise, it's pretty easy.
---
READ MORE: The Tamolitch Blue Pool Hike + Sahalie and Koosah Falls
---
Where to Stay Near Mount Hood
Nottingham Campground: Located off of Highway 35, this campground is centrally located and is next to Tamanawas Falls and Hood River, and you'll have a peaceful experience here.
Sherwood Campground: Sherwood Campground is further down the road from Nottingham Campground, and is located on the East Fork Hood River. The campsites here are quite close together and had little privacy so it wouldn't be my first choice to stay here.
Trillium Lake Campground: Sitting next to beautiful Trillium Lake, Trillium Lake Campground is at an elevation of 3,600 feet, and offers dozens of single and double sites for tents and RVs.
Little House on the Mountain: Relax and unwind in this custom-built, one-of-kind cabin that is furnished with art and furniture from local artisans. The cabin sits on four acres of private wooded land, bordering Mt. Hood National Forest Land.
Private Cabin With Hot Tub: This dog-friendly cabin at the base of Mount Hood has a wood-burning stove to keep the inside cozy, and a hot tub to relax in after a day of adventure.
Romantic Mount Hood Cabin: A cozy cabin with touches of home that is nestled in the Mt. Hood National Forest and is the perfect backdrop for any romantic getaway. Relax in the hot tub under a canopy of trees.
Prepping to Hike The Waterfalls Near Portland
Hey, we like being detailed over here, so while some things on this list seem obvious, it's a good reminder. Especially for those who may be visiting from out of the country and aren't sure about the crazy weather we get here in Oregon.
Here are some things you may want to bring on these hikes with you. It will definitely depend on the hike itself and when you're actually going, so use your best judgment.
Raincoat – Regardless if it's raining or not, you may need one due to misting from the falls. If it's cold out, the last thing you want is to be a soggy mess.
Sunscreen – Parts of these hikes may be exposed and just because it may be a bit cloudy out, doesn't mean you won't get a bit crispy!
Hat – Protect that beautiful face… Or not.
Hiking shoes – Not all of the hikes are intense but if it's been a bit rainy (totally typical for this area in case you're not familiar!) then hiking shoes will come in handy for some slippery and muddy situations. You definitely don't want to use open-toed shoes for these hikes.
Daypack – You're hiking, you don't want a purse or an uncomfortable and floppy bag, get a bag that will be comfortable to carry your extra items.
Water bottle – Get a reusable one for your trip! Less plastic equals a happier Earth.
Other reminders: A GoPro for any shots where you may get misted, sunglasses, and proper clothes for the weather—quick-dry items are probably a good winner.
Which of these waterfalls near Portland are you most excited to see!? Here are more exciting things to do around Portland and more hikes in Oregon to tackle.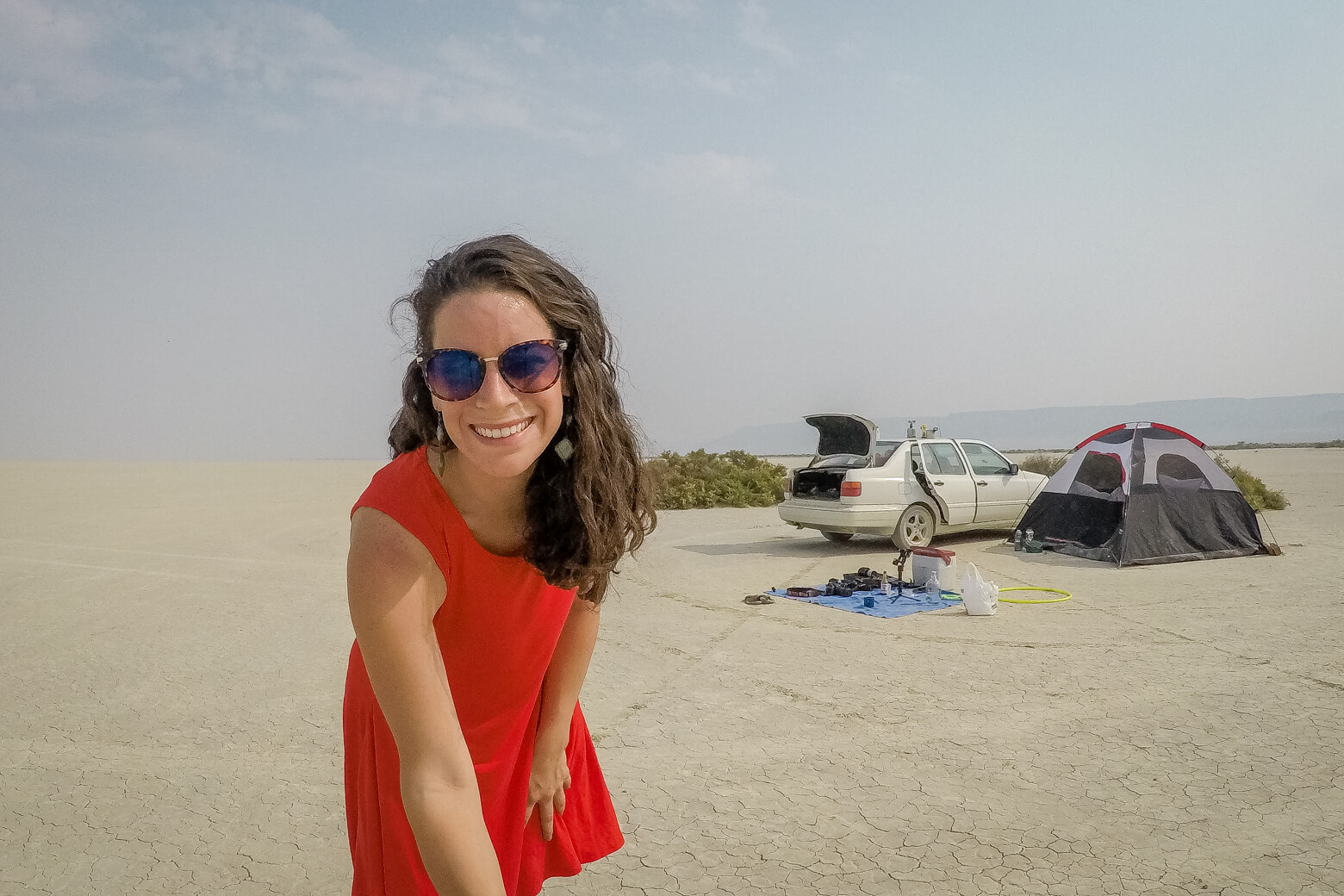 For the last 7+ years, I've been traveling around Oregon and the PNW. I'm an adventure seeker, travel blogger, lover of bread, cheese, and wine, dog person, master of the messy bun, and geography nerd.